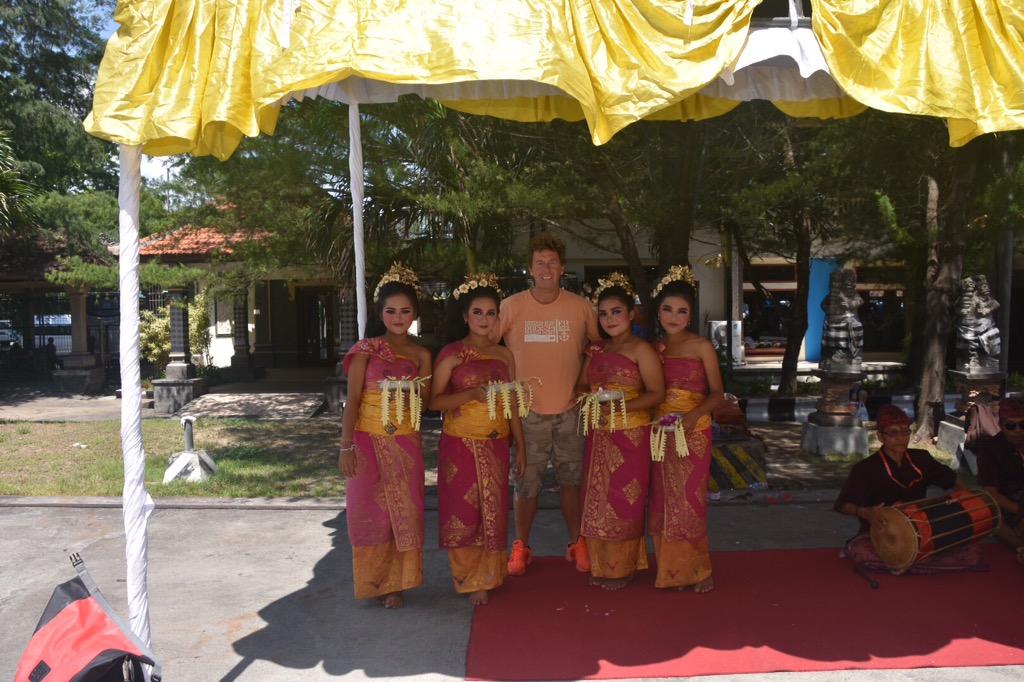 We arrived at 10am on the island of Bali which is a huge tourist destination for Australians. Again located in the Lesser Sunda island chain Bali has a population approaching 4.5m and the island is ten times the size of Ibiza. Although Indonesia is a Muslim country (87%) Bali is 83% Hindu. Last few Indonesia facts: fourth most populous country in the world and 14th in size. The president is a chap called Joko Widodo which I find mildly amusing.
Ben, Astrid and I jumped ship about 10:30 and boy it was another hot and humid one. I'm not sure I could live somewhere where I sweat so much. The free laundry has certainly come in handy.
Bali had a similar feel to Thailand with lots of people, curious road etiquette and busy streets. We found a driver called Sona who offered to show us around for the day. Our intention had been to hire mopeds but there was a lawlessness to the ways of the road so we changed our minds. After a temple and a souvenir shop we were delivered to a restaurant by a beach with the loudest waves I've ever heard crashing on the shore. Ben and I had a fresh fish feast (another good phrase in a Dutch accent) before heading to the water sports beach where I had a 4 dollar massage. It were marvellous as they say up north. The only downside was a woman trying to sell me stuff whilst I was being rubbed. I was a captive audience so I had to sit/lie through the entire contents of her bag which can only be described as an eclectic bunch of fairly useless items except for a fan so I bought one for Astrid because overheated Germans can be troublesome. She was of course overcome with exuberance.
One of my favourite sights of the day was a moped with a passenger on the back bear hugging a large orange suitcase – lengthwise. I love the way certain Asian countries just get on with the task at hand using whatever they have. Bali was a great place to visit however staying longer at one of the many resorts and planning day trips to the various sights on the island is the way to do it, not on a day trip from a cruise ship.
We were back for happy hour (naturally) after which Astrid and I hit the thermal suite and then watched the sunset from the spa balcony with planes coming into land almost overhead in a pleasing temperature. I've had worse times.