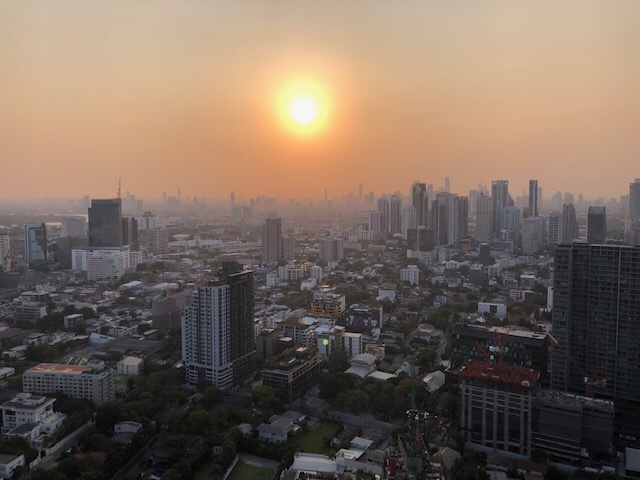 I walked my bags off the ship in order to get to the airport in time. Dimitra had scared me with tales of early morning traffic chaos so I made sure I was one of the first off the ship.
My taxi driver was an Indian chap who'd been in Sydney since the 1980's and had a curious Aussie-Indian accent. He was originally from the Punjab and had a traditional Indian name. Dave was 55 and when I told him where I was going he had many a story to tell me about his numerous trips to Bangkok between his divorce from wife one and his marriage to wife two fifteen years his junior. Well Dave didn't hold back on the graphic details of his exploits. I would even venture that the Bangkok economy may have taken a hit since Dave's been off the market these past two years. Anyway, I decided I wasn't going to shake his hand at the airport.
The Marriott on Sukhumvit has a wonderful rooftop bar on the 45th floor where I'm writing this blog. Open air with terrific views. Dianna should be here. Very romantic. I was exhaustulated after a nine hour flight in economy but managed to catch half of Billions, series 3.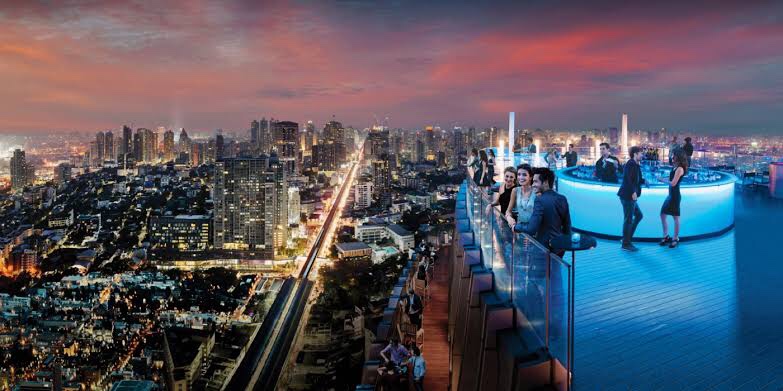 Thursday I was up before many people had gone to bed and I worked my way through the food and drink in the minibar which was actually quite reasonably priced. I didn't leave the room until 9:30 and went a wandering. My 30,000 steps a day isn't really an option in Bangkok due to the heat and humidity. It's like an open air steam room. Anyway, once I was absolutely soaked with perspiration, I jumped on the Bangkok transport system (BTS) Sky Train and headed for a shopping centre to cool down and dry off.
Bangkok's claims to fame are that it has the highest average temperature of any city in the world and it has the worst traffic.
In the evening I decided I needed to get my heart racing so I headed for Nana Plaza which apparently has the highest concentration of sex workers in the world. I'd not been there before and was looking for cultural enrichment and a quiet bar to write the blog. My journey to Nana was eventful. Like the fool I am, I started to walk the 3.2 miles to Nana and half an hour later I was hopelessly lost in a residential area with no signs of life. No bars, no restaurants, no places where the fish eat the dead skin from your feet.
As luck would have it an opportunistic motorcycle taxi stopped and offered me a ride. Let's call him Phuc Dat. I'd seen these guys on the previous visits to Thailand but never even considered using them but hey, I was lost and moist and Phuc Dat was offering me pillion stimulation and a chance to air my shirt.
We negotiated the fee which was a modest 100 baht (£2.50) which turned out to be a bargain. I hopped on and my first concern was where to hold on. Despite being Valentine's Day he just wasn't my type so I chose the slip my fingers inside his…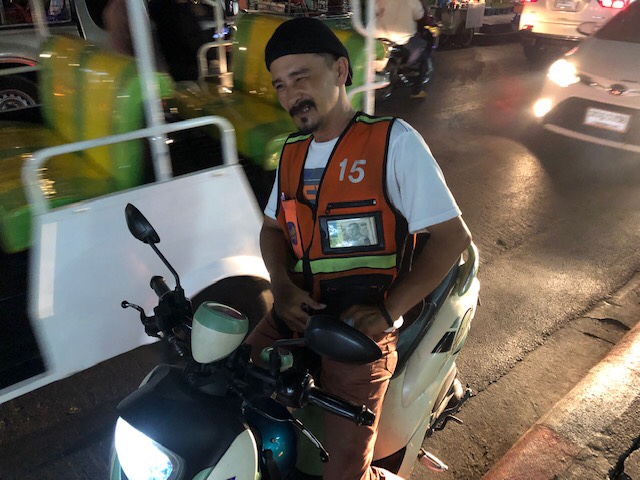 …fluorescent bib. I looked at what other pillion riders were doing and it seemed that balancing with hands on thighs was the most popular but I was a novice.
For cranial protection he had a baseball cap and I had hair. It turned out to be more exhilarating than the Sydney Bridge Climb as he weaved his way through three lanes of traffic. At one point he took a phone call which was a little disconcerting. The trip took over twenty minutes and I decided that he deserved more than £2.50. He'd got me there safely and hadn't driven me down a dark alley and killed me for which I was grateful.
I managed to find a wine bar that was set back from the road and didn't have the usual Issan girls trying to trounce you at Connect 4. I chose a seat facing the street and people-watched. By far the most interesting to observe were the single guys walking down the street trying to look uninterested. Hands in pockets and pretending to be out for an evening stroll.
Friday was another sticky day where your eyeballs sweat and I went to find air conditioning. I'm having a velvet dinner jacket made on the basis that I haven't got one so I returned to the mall and engaged the services of Louis, the Nepalese tailor who is not getting on with his wife at the moment with divorce imminent. She lives in Phuket with their son.
In the evening I went back to the rooftop bar to watch the sunset. Rooftop bars are generally the trendiest places but they normally make me feel old (unlike a Holland America ship where I feel like a teenager).
After that I stepped out to the Patpong Night Market which was selling the same stuff as last time I was here and the time before that. It's one long street with bars and gogo bars lining the sides. There are lots of touts trying to sell ping pong shows but I thought Pat in Patpong watching Ping Pong might carry a heavy prison sentence so I had wine instead. I watched a band for about an hour who payed mostly good cover versions. The Boney-M medley was rather painful though.
Saturday was sunbathing day. Dianna and I achieved a new personal best for a phone call which lasted 2 hours and 18 minutes.In the evening I headed for Khao San Road which is a vibrant night market on the other side of town. It's here that you can eat fried tarantula or fried scorpion.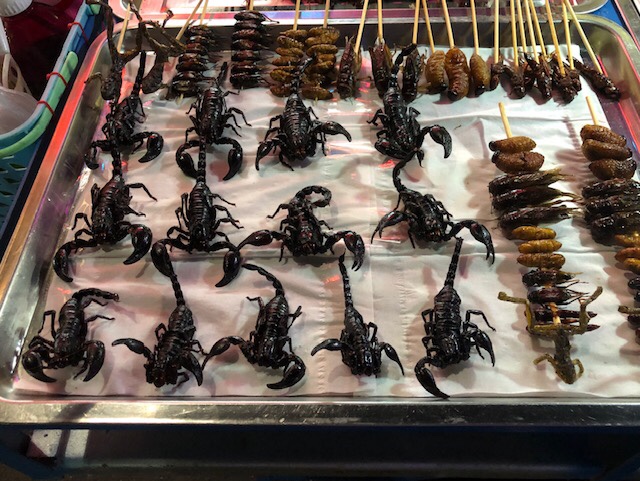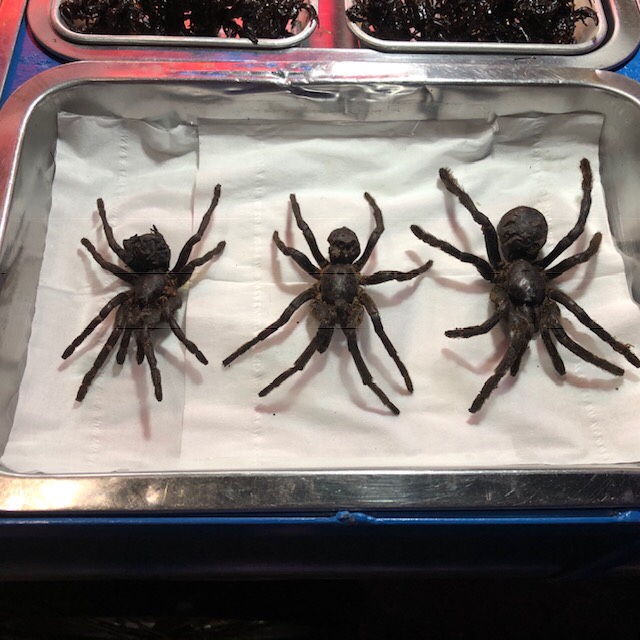 Georgia arrives tomorrow. Can't wait.