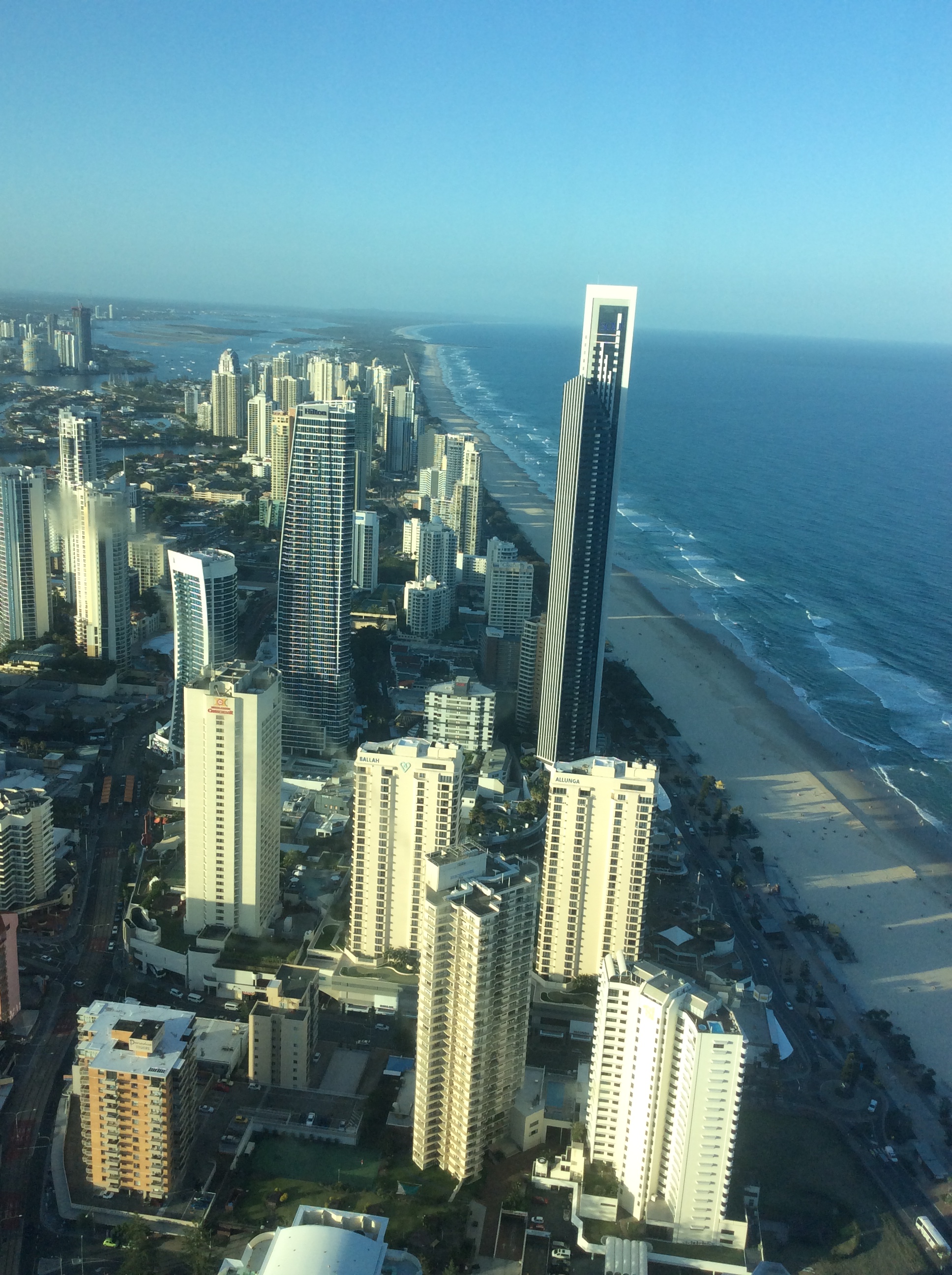 On Saturday I roused myself at about 8am (still legal in Australia) and got ready for the drive back down south. I had 1200km to drive in total before flying from Brisbane to Hong Kong on Thursday. I had no idea how far I'd get but Rockhampton, where I'd stayed previously was the target in the back of my mind.
As I drove south the weather turned and became cloudier and rainier just as the forecast suggested. I made Rockhampton after all and stayed at the best place in town again!!!
Peter, the owner whom I'd chatted with a few nights back was there again and we resumed our conversation. It's funny how being away from so many familiar people and places makes you cling to any familiarity you can find. I'd include McDonalds in that. During my trip around Asia I tried to have a cheeseburger in each country. Here I'm doing it in every city, town and village…I'd like to say it's the lure of the free wifi…
Peter and I talked about the Second World War from the Australian perspective and how the Japanese were island hopping (not in a touristy sense) towards Australia. When they captured New Guinea a controversial defence proposal was formulated called the Brisbane Line which would effectively concede the northern part of Australia in the event of a Japanese invasion. It never materialised because as Peter put it the "fuzzy wuzzies" in New Guinea put up stern resistance. I love it when someone else other than me is politically incorrect. It allows me to exist in the moral high ground (Katy land) albeit briefly.
The forecast for Sunday wasn't good but was showing sunshine back in the Gold Coast from Monday onwards (where the palazzo Versace is) so that was my plan.
On Sunday I awoke and I was about as enthusiastic as a eunuch in a brothel for the 800km journey down south. I set off at 6:15 for a ten hour drive.
I've not seen too many hitchhikers since arriving – three in fact, and two of them were the same person. At about 10:30 this morning I spotted a rather distinctive looking chap thumbing a lift. I sped past him. 250km later I drove past him again. Now what are the chances of passing the same hitchhiker twice in the same day? Put it another way, when I passed him 250km ago there was no way I thought he would reach the town of "Gympie" in Queensland before me. I was the clear favourite to beat him there. I was what you might call a "shoo-in" despite making a few stops along the way for a variety of things beginning with the letter "P". Anyway, I sped past him a second time on the basis that on recent form he's going to get to Brisbane before me anyway so I'd only delay him.
I arrived in Surfers Paradise about 5pm and checked into my home for the next three days. It was a one bedroom apartment with a washing machine! Terrific because my last encounter with a top loader was a few weeks back. The Q1 is the tallest residential building in Australia and there's a viewing deck on the 77th floor overlooking the whole area – no surprise there.
Monday
I watched a bit of Aussie TV this morning and they have a new Christmas record out called "I'm growing a beard downstairs for Christmas" and it's quite catchy. I've pasted the opening lyrics as a photo at the bottom! I will download it for Christmas Eve…
Today was a beautiful day so I took advantage of my speedo ownership and basked in the 30 degree sun by the pool. The pool is great (if you take the kids away).
In the afternoon I popped down to the beach which is about 100 yards away and I chatted with some lifeguards. There's a phrase here "between the flags" which is on all the beaches and basically means that the lifeguards will pick a stretch of beach that they consider to be safe with regard to rip tides etc. and place two flags between 30 to 50m apart and that's where people can swim. They corral the swimmers into those areas and lifeguard stations are placed approximately 500m apart from one another and the chaps monitor what goes on with keen eyesight and binoculars. It's for swimmers only. Surfers are on their own.
In the evening I went up the SkyPoint which is attached to the Q1 and the 360 degree viewing deck is on the 77th floor 230m up. The Shard is 244m so a similar height but the views are rather different. See below. Because I'm staying at the Q1 there's a deal whereby you can buy a ticket for 25 AUD and get the equivalent in food or drink at the top. Well the menu wasn't appealing but they had Heineken so I had 3 to get my money's worth – the waitresses' suggestion, honest! I only asked for two…I shared a lift with what seemed like 350 Japanese tourists and it took 43 seconds to reach the top. The views were fabulous however the sunset was disappointing. I just wish I'd invented the selfie stick.
I have to say that Surfers Paradise on the Gold Coast is wonderful. Probably my favourite place in Australia so far and certainly better than Airlie Beach. It reminds me of Virginia Beach of which I have very fond memories in 1985 when I was just a 20 year old whippersnapper with bleach blonde hair and electric blue cycling shorts. I believe at the time it was an acceptable look!
During my time in Australia I've felt lonely at times but here I don't so much which is odd. Not as odd as passing the same hitchhiker twice but it's still on the scale of oddness.
As far as cities are concerned I preferred Sydney to Melbourne despite raving about Melbourne when I first arrived. I hadn't seen Sydney at that point! See today's tornado in Sydney. Great images online. Ripped roofs off.
Tuesday
Another lazy day by the pool and on the beach trying to get the last knockings of sun before I head back home to cold England. A multitude of Australian families are arriving for Christmas with masses of kids which is quite a delight. Seldom have the words "adult only" been so desirable.
I've driven a little over 5700km in the last three weeks which is the equivalent of driving from New York to San Francisco, down the LA and over to Las Vegas (for a sneaky game of caveman keno). My speeding ticket was only on day two and to be honest I'm expecting a few more to filter through the system.
Wednesday
The check out time was 10am so I asked for an extension. We can do till 11am sir was the response. Anecdotally this always seems to be the standard – a one hour extension which rarely butters the biscuit. One day someone will say 'how long would you like sir" because one hour is worse than useless to use one of my favourite Katy phrases (she was tearing a strip of some hapless hotel employee at the time and making me chuckle). I so miss my holiday buddy.
The weather was cloudy so there was no point hanging around so I ended up checking out early and heading to the airport hotel via an outlet mall. Like I need more stuff. I'm up to 39kg and I've had to buy an increased luggage allowance for 122 AUD. I was busily trying to reduce the weight even more by throwing stuff away – stuff that was heavier than it was valuable. Lemon juice?
In the evening I checked into the airport Novotel which is adequate and went to a second outlet mall across the road. I obviously didn't get my fill the first time around. I bought nothing in either mall.
I've a had a good time over the past 24 days in Australia and seen a lot of the East Coast. There's a lot to like about Oz but I wouldn't want to live here. For me it certainly doesn't have the same appeal as America despite having only 24m people as opposed to 324m people in the USA.
I know you've been waiting for some population density stats so here goes. 53rd is the UK with 255 people per square km. The USA is 179th with 33 people per square km but Australia is 235th (out of 241 countries and territories) with just 3 people per square km. interestingly the top spot goes to Macau at a whopping 18534 p/sq/km and Singapore and Hong Kong are third and fourth respectively.