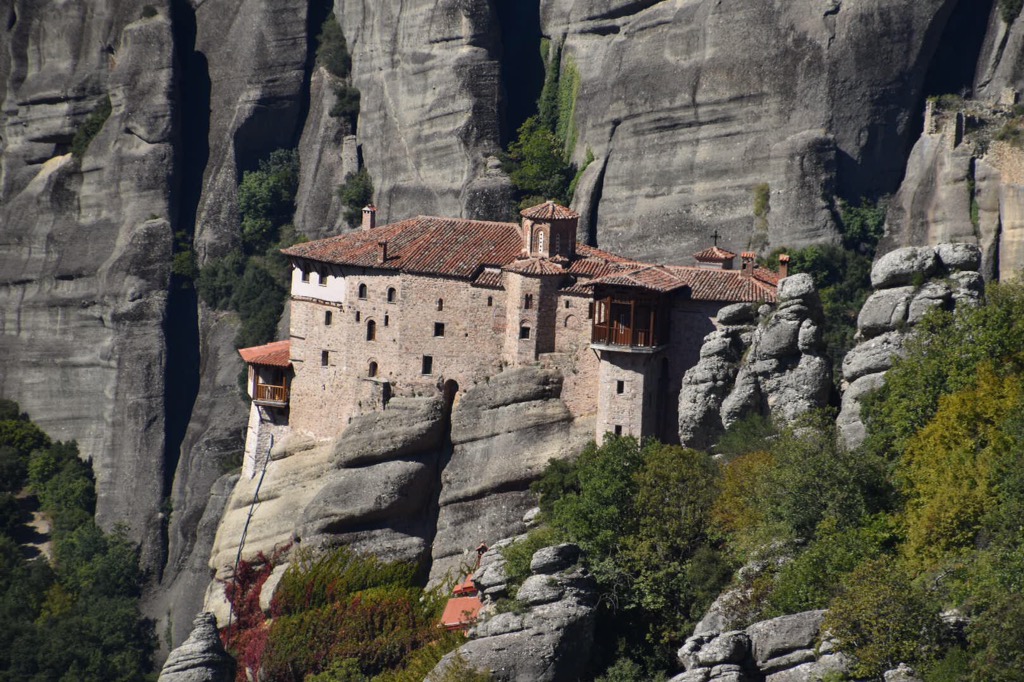 Mykonos, Volos, Thessaloniki and Lemnos
Sometimes described as the ultimate gay destination, Mykonos is a very pretty place indeed. I ventured out with three of the solos, Larry, Jone and Diane and we strolled around for a couple of hours through the multitude of narrow streets. The 1989 film Shirley Valentine was filmed in Mykonos.
Volos
Our second stop was Volos on the mainland and Larry, Brenda and I joined a local tour to what turned out to be one of the most stunning places I've ever been to. Meteora is a two hour drive from Volos and is home to 6 monasteries built on top of towering rocks. Once there were 24 monasteries with many many monks but their ranks have declined (to seven) as tourist number increased. All they wanted was a bit of isolation at the top of a rock and every day thousands of bloody tourists turn up.
Thessaloniki
Day 3 was Thessaloniki, Greece's second largest city located in the north of the country in the Thermaic Gulf. Brenda from Illinois and I took a tour which headed west for an hour to the town of Vergina which you have to be careful with but the correct pronunciation is ver-ghee-na, a UNESCO World Heritage Site. Philip II otherwise know as Philip of Macedon is buried there in an enormous tomb. Phil II was the father of Derek the Average and Mediocre Maurice but perhaps his most successful son was Alexander the Great who became king at the age of 18 when Philip II was assassinated. Alexander was reportedly only 5ft tall however at that time this was the average height for Greek men which is why he wasn't called Alexander the Shortarse or Little Al.
We then drove back to Thessaloniki for a whistle-stop city tour which took in the main sights. Aristotle was from around these parts and the Aristotle University is Greece's largest. A nice city and worth spending some more time here.
Myrina, Lemnos
Our fourth stop in as many days was Myrina on the island of Lemnos one of Greece's lesser known islands. We were tendered ashore and me and 6 solos wandered around for a while at a very slow speed. The sedentary experience took its toll on me and I had to escape which I did up to a castle which overlooks the tiny port. It was a good workout to get to the top but my sense of achievement soon evaporated when I saw some of the less mobile cruisers had beat me to it. They certainly are a determined bunch.
Back on board I headed for the sauna and I discovered that there is a downside to being friendly. More on that later.
There are 779 passengers on board of whom half are American, 25% Canadian and ten percent Australian. Only 26 Brits and would you believe it, 11 Mexicans and one of them beat me into second place on the Poker tournament yesterday.
Next stop Albania.