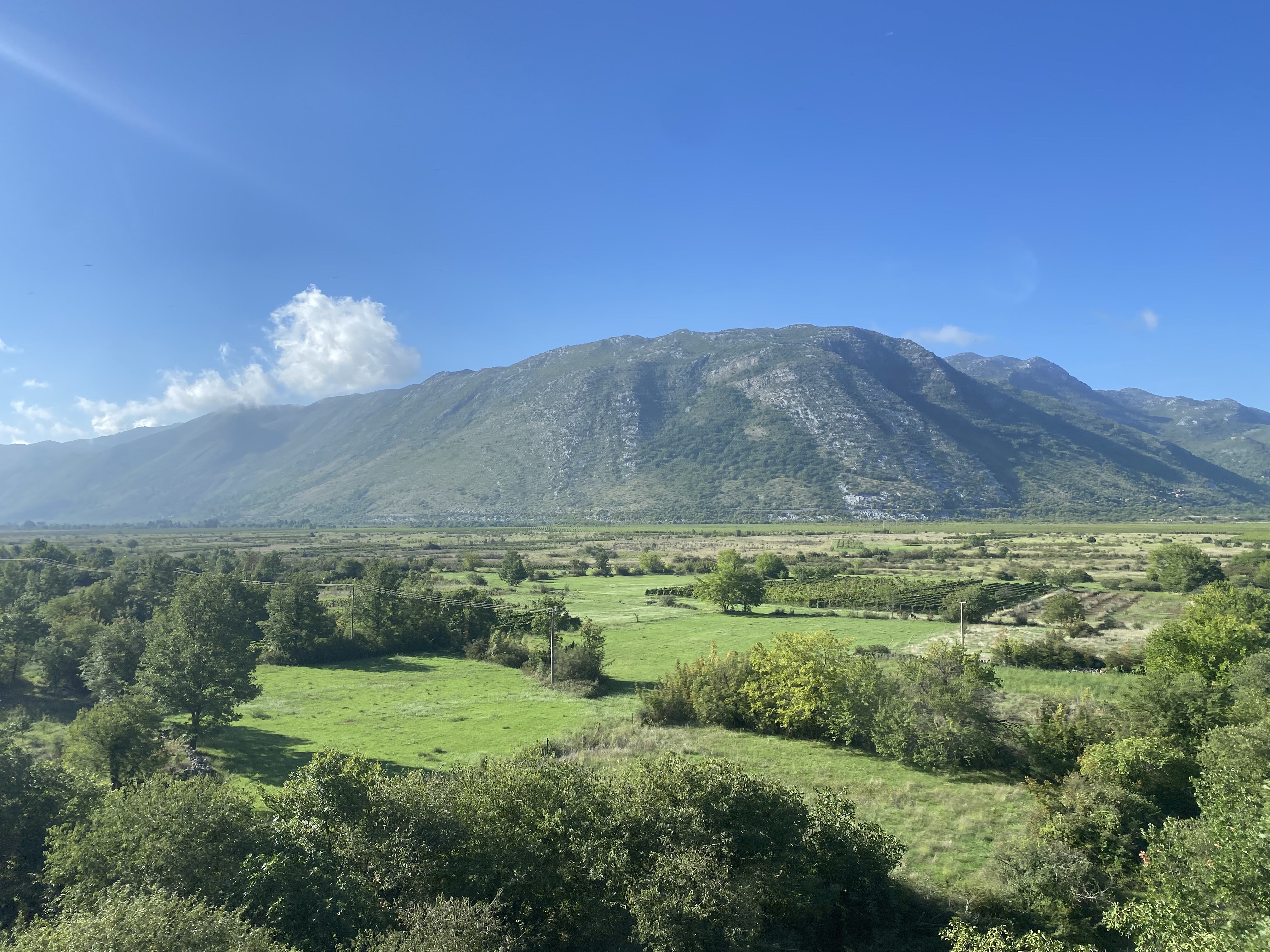 Strangers on a Train – Part 2
Wednesday
We walked with our bags about half a mile to Zagreb station for an early train toward Bosnia. Our evening destination was Sarajevo, but with issues involving trains in Bosnia, we were going to the Croatian border by train, and then transferring to a minibus.
Our second train journey wasn't nearly as enjoyable as the first one. Basically a commuter train stopping everywhere. It must've stopped at 50 different stations along the way during the 4.5 hour journey. We got to a top speed of 159 km/h at one point but it was brief, possibly even an accident.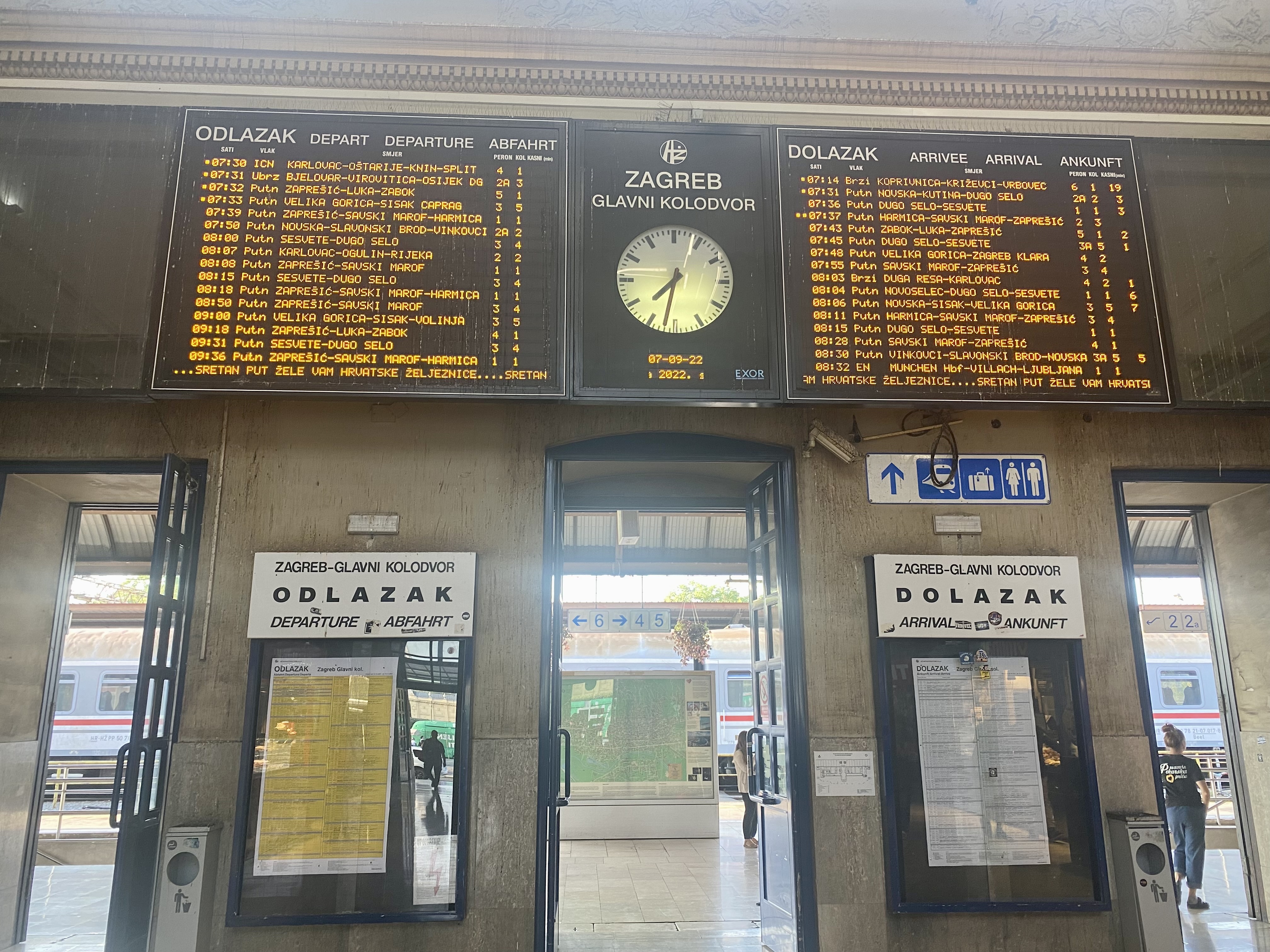 We arrived in a one horse town near the Bosnian border. Luckily, there was a cafe selling beer, as our onward transport was late. Our two minibuses turned up and then we had a four hour drive to Sarajevo. We've done more on a minibus than we have on a train. I guess "Balkan Minibus Adventure" doesn't sound as exotic. It wasn't a very pleasant day of travelling.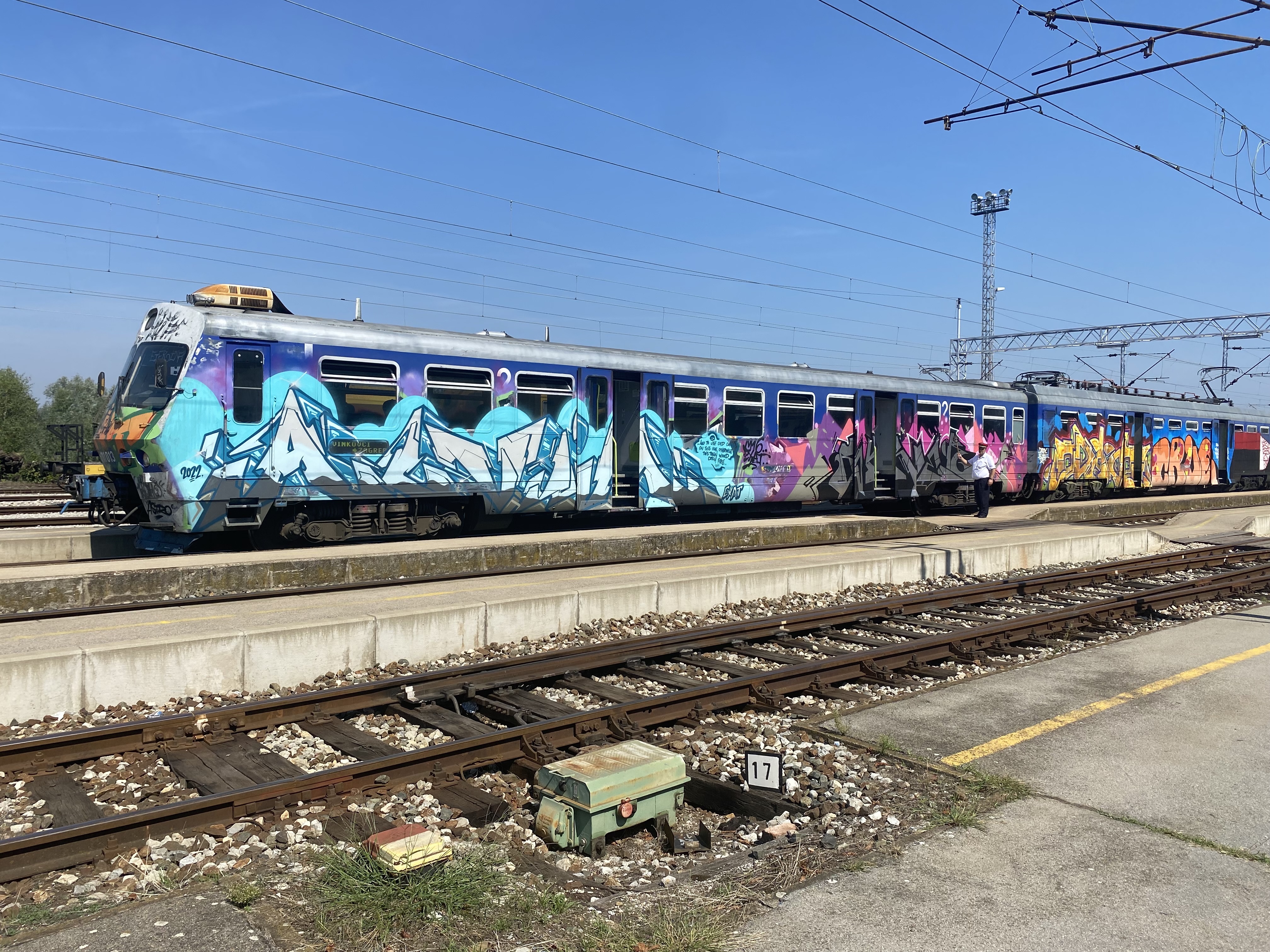 By the time we arrived at the hotel I wasn't feeling particularly good so I had tomato soup and went to bed early. We were staying in the Hotel Holiday which was where the correspondents stayed during the Balkan War in the early 1990s. It has four stars and was easily the best hotel of the three so far.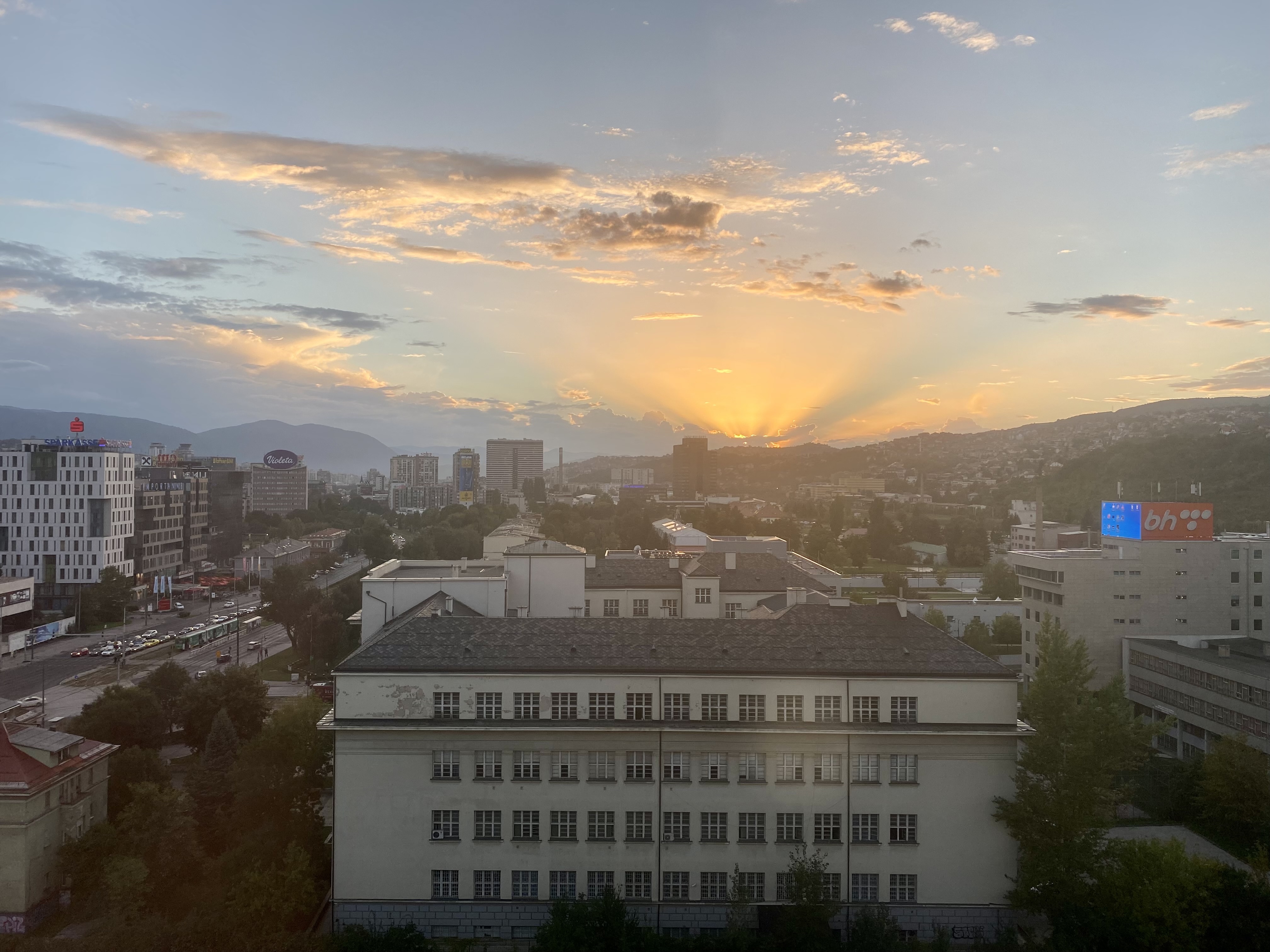 Thursday
We caught the tram, to meet our guide, for a walking tour of Sarajevo. Natasha went into great detail about Sarajevo, especially the siege. She was a talker. The old town was interesting but fairly small. After the tour we had a little free time so I chose to climb a hill to get some photos of the city. It was steep. I then visited the spot where Archduke Franz Ferdinand was assassinated, along with his wife, while in the back of a open top car, on June 28th 1914. As we all know, this sparked World War I.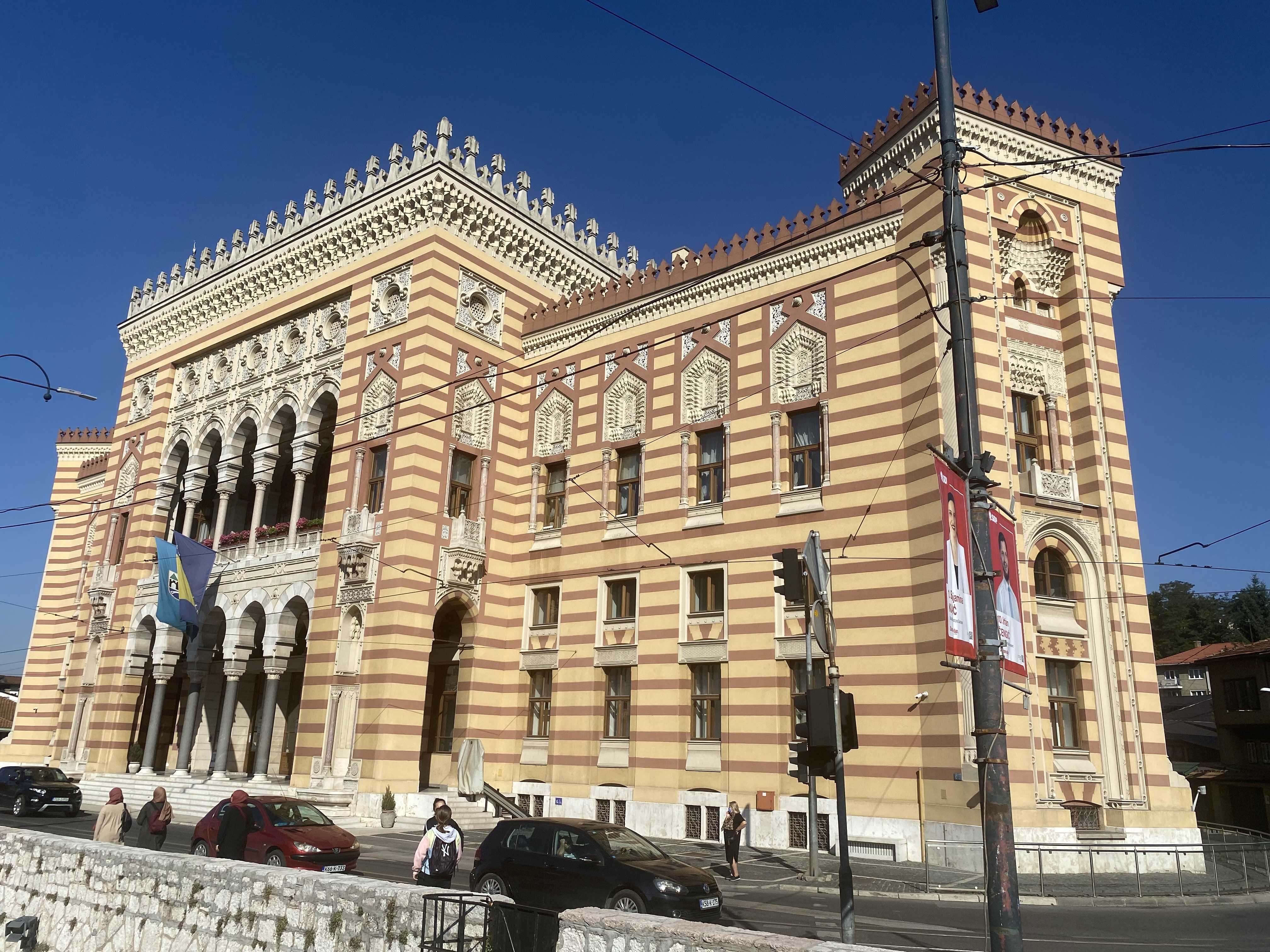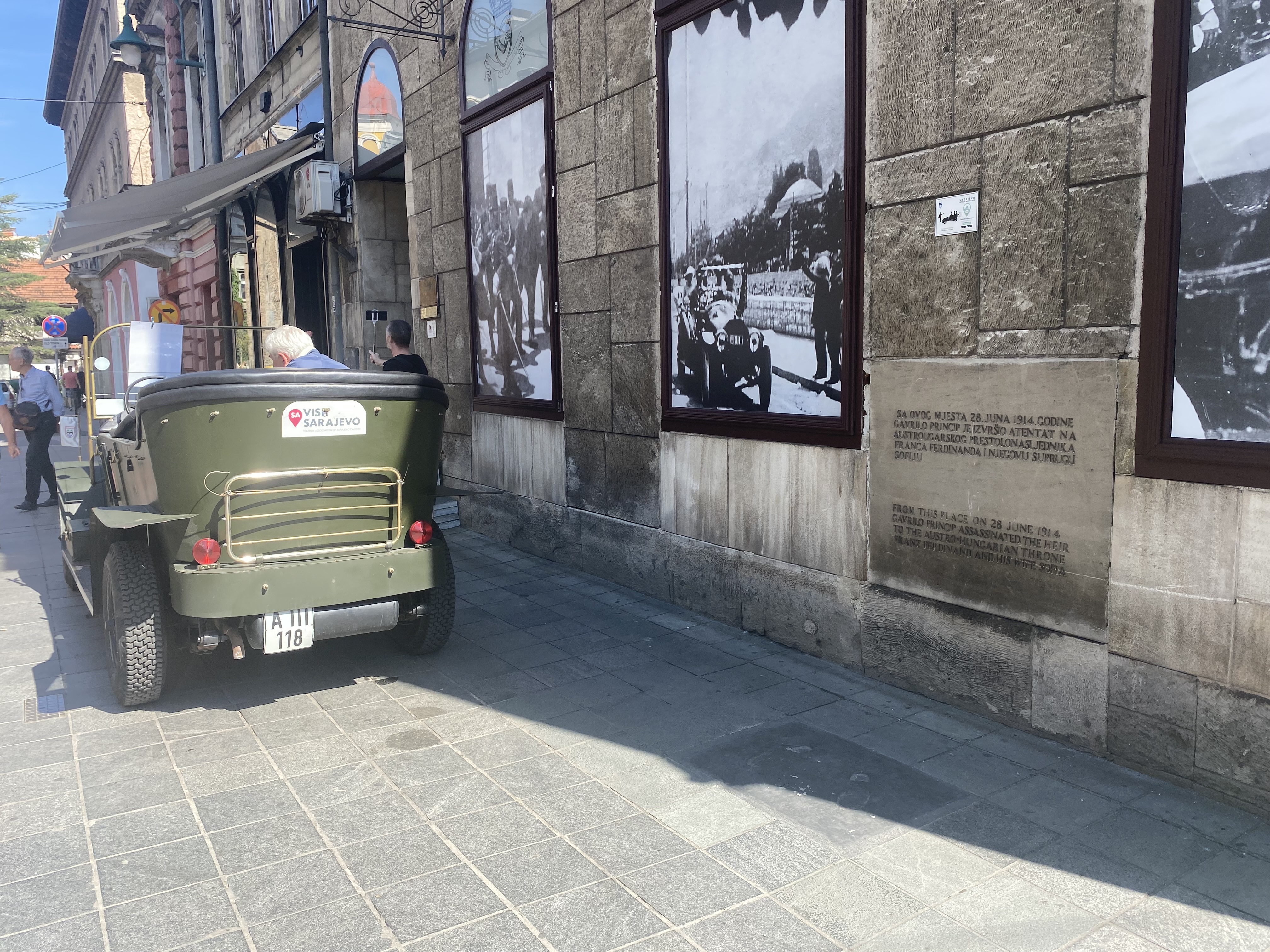 We reconvened at 1pm for an optional tour of the tunnels – the tunnels that saved Sarajevo during the siege which lasted 1452 days from 1992 to 1995.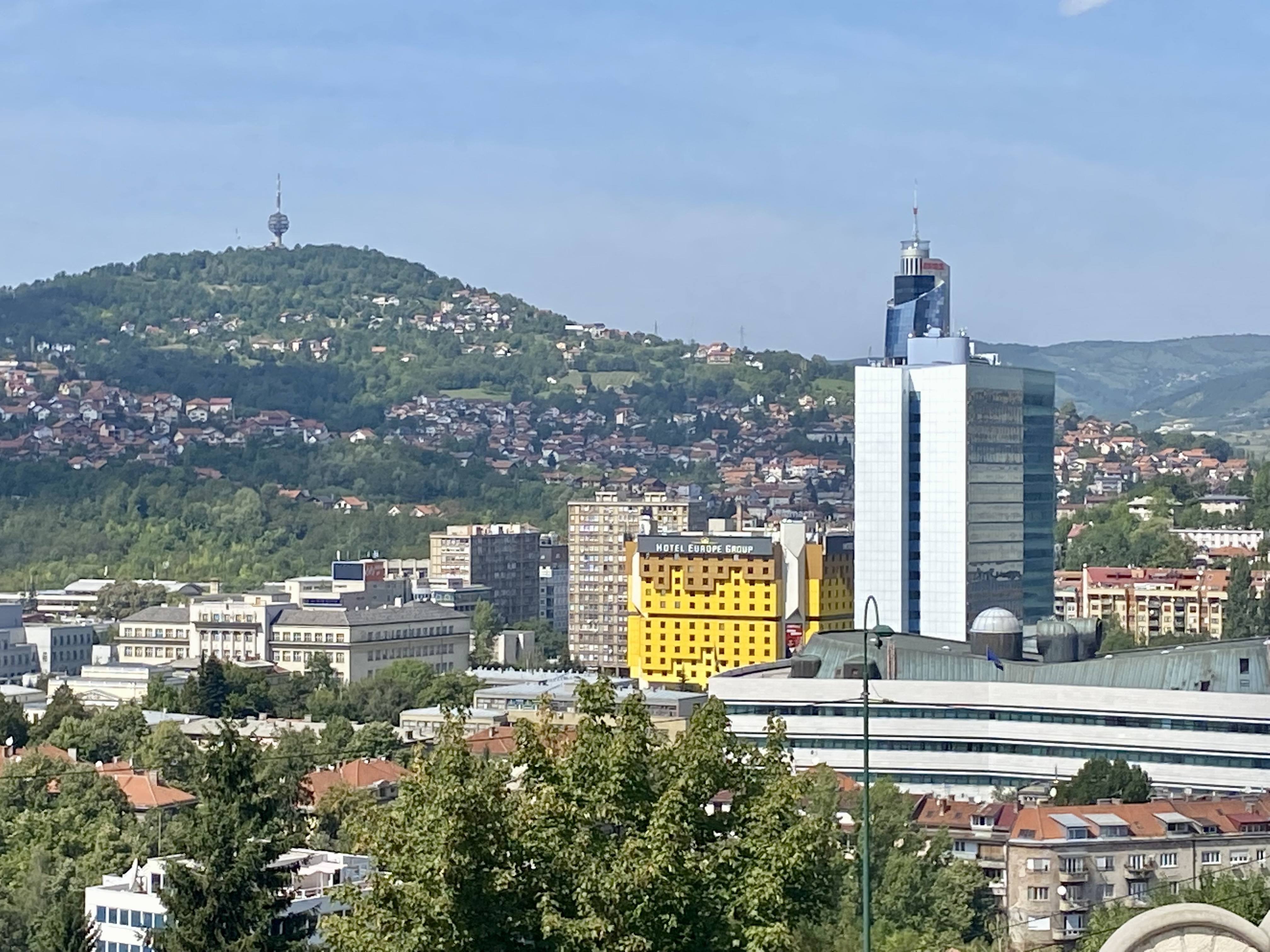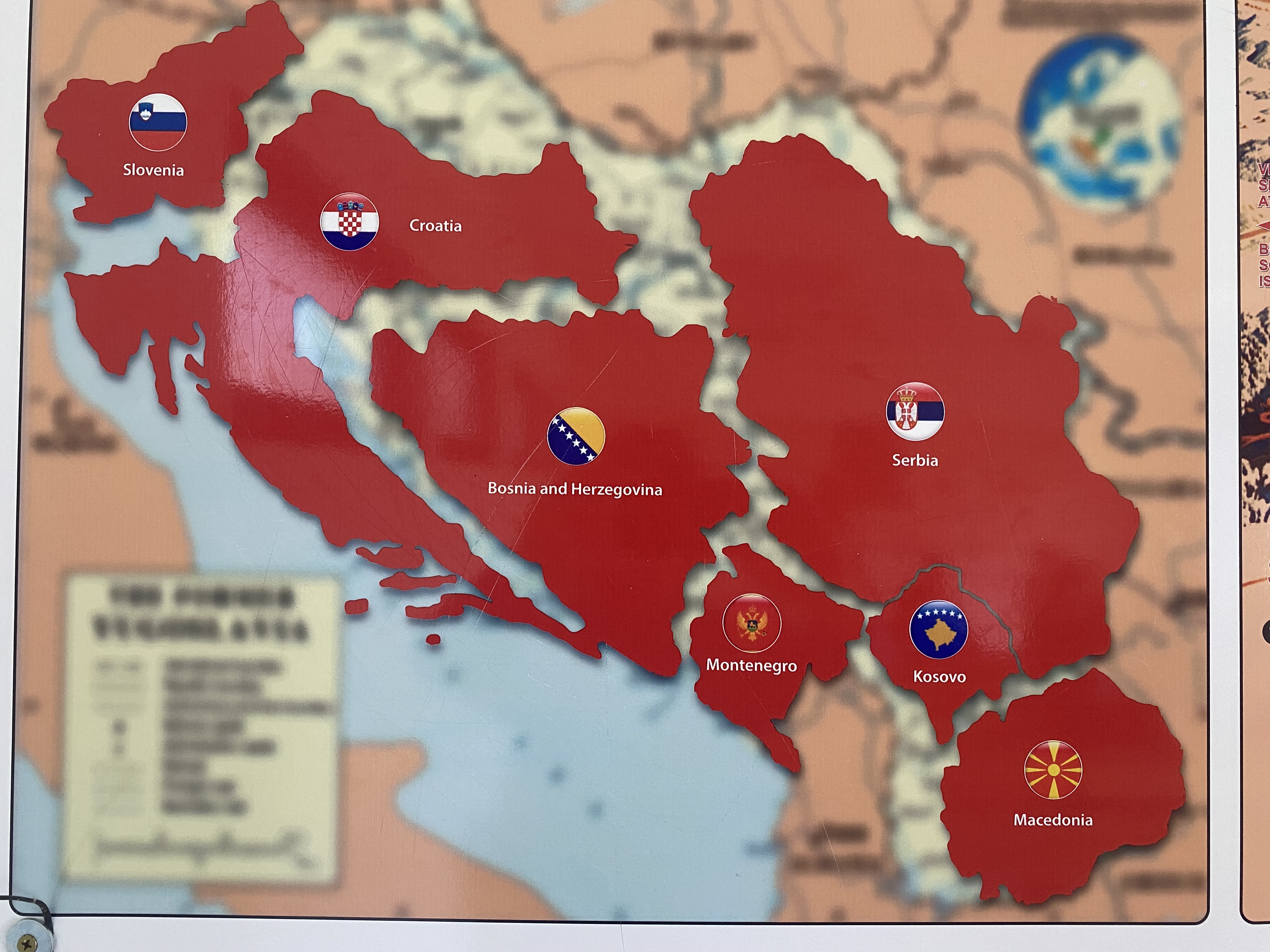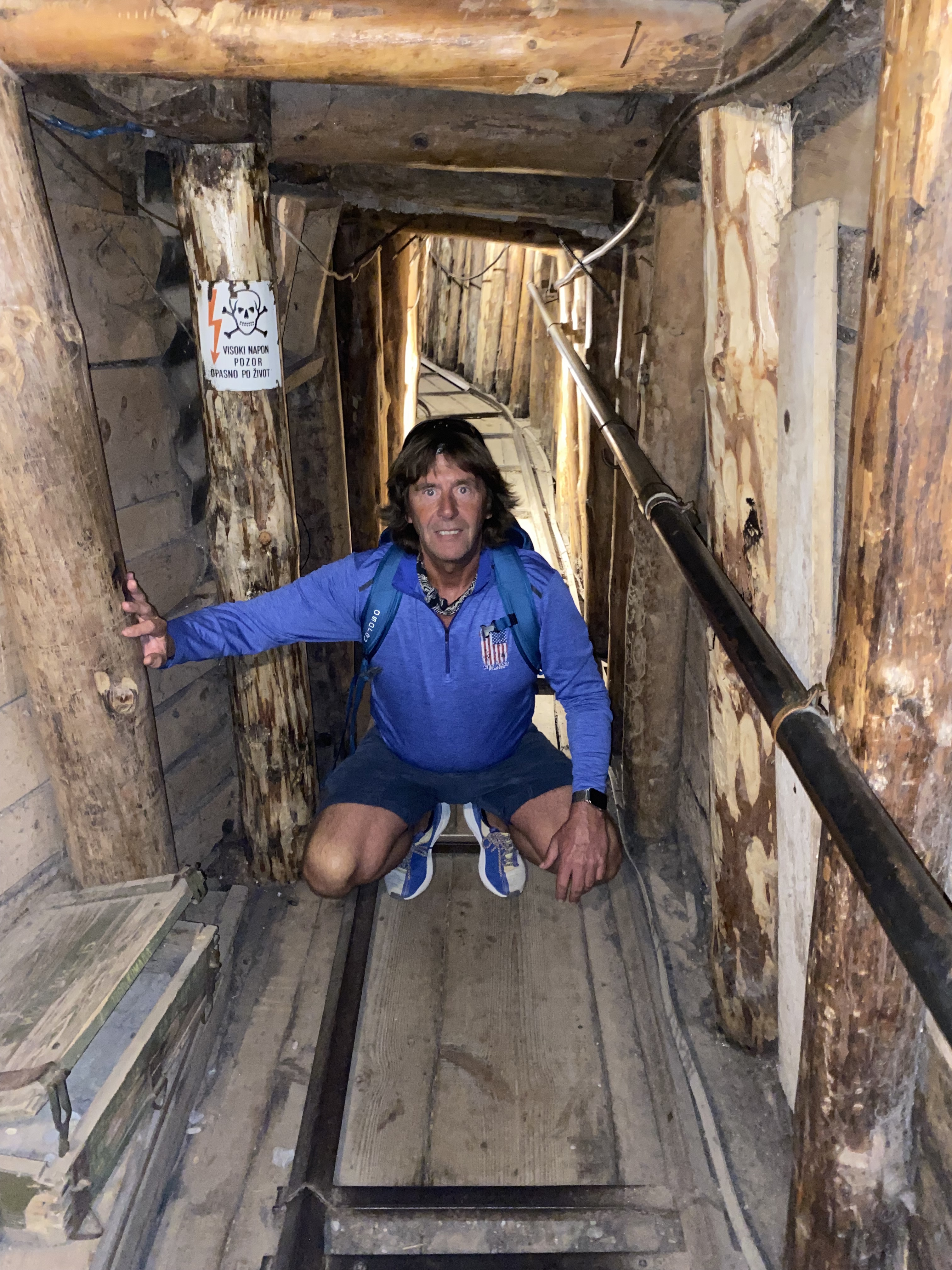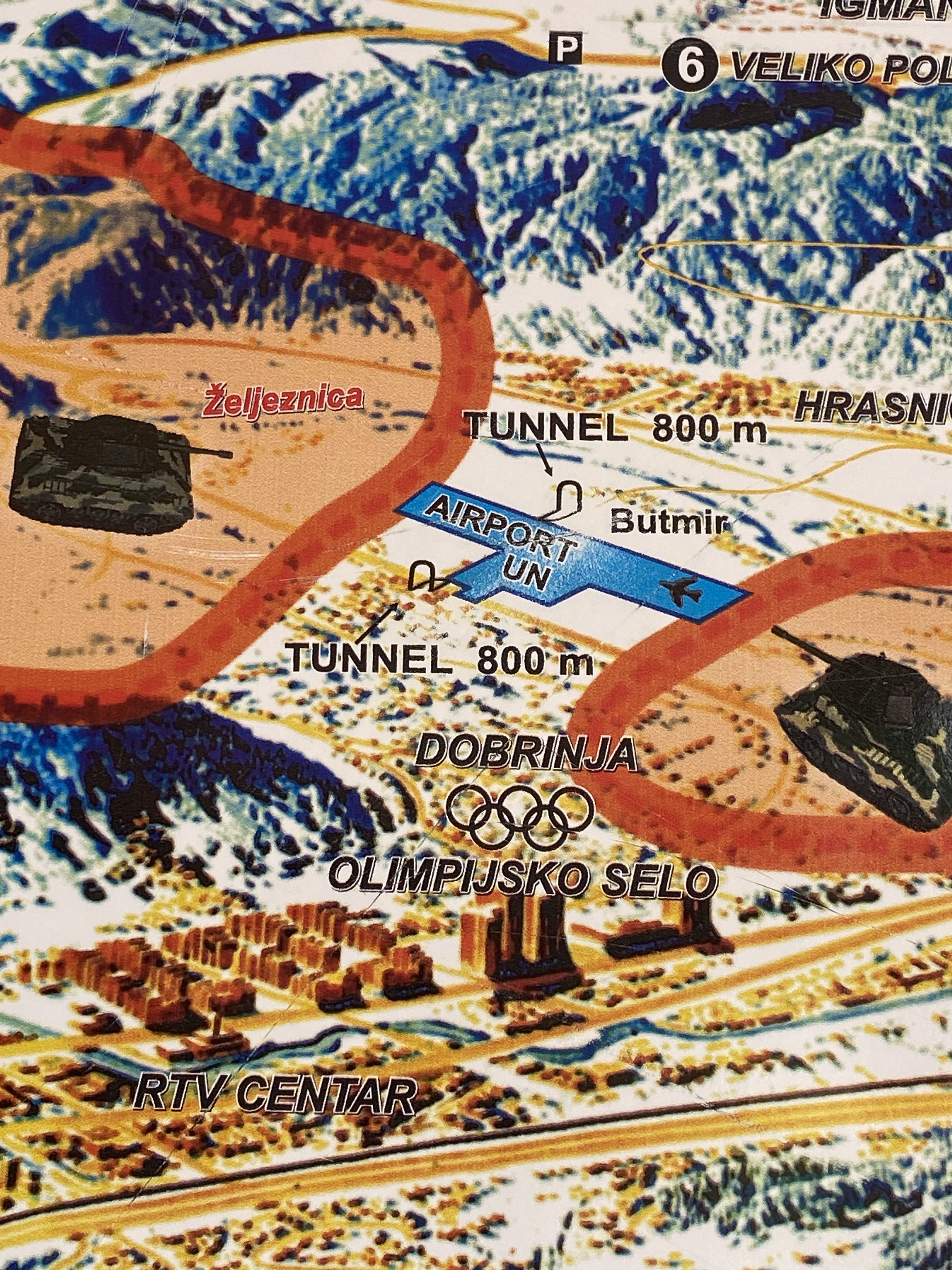 What we know as Yugoslavia, came into existence following WWI, in 1918. It was formed from territories from the Austro-Hungarian Empire and was originally called the Kingdom of Serbs, Croats and Slovenes. In 1929 they changed the name to the Kingdom of Yugoslavia. After WWII, the monarchy was abolished (Peter II had to get a proper job), and partisan leader, Josip Broz, more commonly know as Tito, established a communist government. The name was changed again to the Federal People's Republic of Yugoslavia. The name changing didn't stop there and in 1963 it was changed to the Socialist Federal Republic of Yugoslavia. There were six republics within Yugoslavia – Bosnia and Herzegovina, Serbia, Croatia, Montenegro, Macedonia and Slovenia. Tito managed to keep the different ethnic groups together as one nation, but following his death in 1980, things became a little tense.
Slovenia were the first to declare independence in June 1991 and the War of Independence, as it's called in Slovenia, lasted a little over a week. Ten days to be precise. There were only 63 deaths, 44 Yugoslavs and 19 Slovenians. 12 foreign civilians died too.
It became clear that Croatia were also seeking independence, which was seen as a much more important asset than Slovenia, so rather than waste resources on Slovenia, Yugoslav forces were deployed for the Croatian War of Independence. This conflict lasted over 4.5 years with over 20,000 killed. Croatia finally prevailed.
Following a referendum, Bosnia were next to declare independence. Once again, a conflict ensued with 101,000 people killed in 3 years and 8 months.
Recruiting soldiers to fight proved a problem for Yugoslavia. They resorted to offering prisoners a pardon if they joined the army. Just the kind of people you want to hand a gun to. Turning regular conscripts into killers was another unscrupulous tactic employed by the military leaders. New recruits were shipped off to other parts of the country and later told that their parents had been killed by opposing forces. Those who returned, and found their parents alive and well, realised how they'd been manipulated into fighting.
We arrived at the tunnels and it was fascinating. The city had been cut off from the outside with no water, power or provisions. The airport runway was part of the cordon around the city so the Bosnians dug an 800m tunnel under the runway which remained a secret during the entire conflict. Vital supplies were shipped in and the tunnel was seen as the saviour of the city. I walked two of the tunnels which were fine. Unlike the ones in Vietnam which scared the life out of me.
Bosnia has three presidents representing the Bosnians, the Serbs and the Croats. They each receive a salary of just over 3000 euros a month.
Friday
Another trek to a station on foot to catch the train from Sarajevo to Mostar. It was scenic but the skies were grey and the journey took around 2 1/2 hours We arrived in a grubby looking station that looked like a warehouse. Possibly the most visually unappealing station I've encountered.
Mostar is the main city of Herzegovina, and it wasn't quite what I was expecting. I thought it would be a very cute old town but it turned out to be quite shabby in many places. The most famous image in Mostar is the Stari Most, or old bridge, built in 1566 by the Ottomans. It was destroyed in the Balkan war by Croatia in 1993 but rebuilt in the same style. We were "treated" to taxis to the hotel and the driver said it was the first cloudy day for five months.
I'd noticed a lot of Muslims around and after a brief google search, I discovered that Bosnia has Islam as the major religion with 51%. That explained the "tank drivers" I thought.
The old bridge is located in the pretty, old part of town and I joined the throngs of tourists and mooched.
Back at the hotel, my room wasn't quite ready so I had beer and raspberry pie in the bar. What else was I going to do?
I have to admit I did enjoy the call to prayer which happens five times a day (at random times as far as I could tell).
We went to dinner as a group with a lovely terrace restaurant overlooking the famous bridge of Mostar.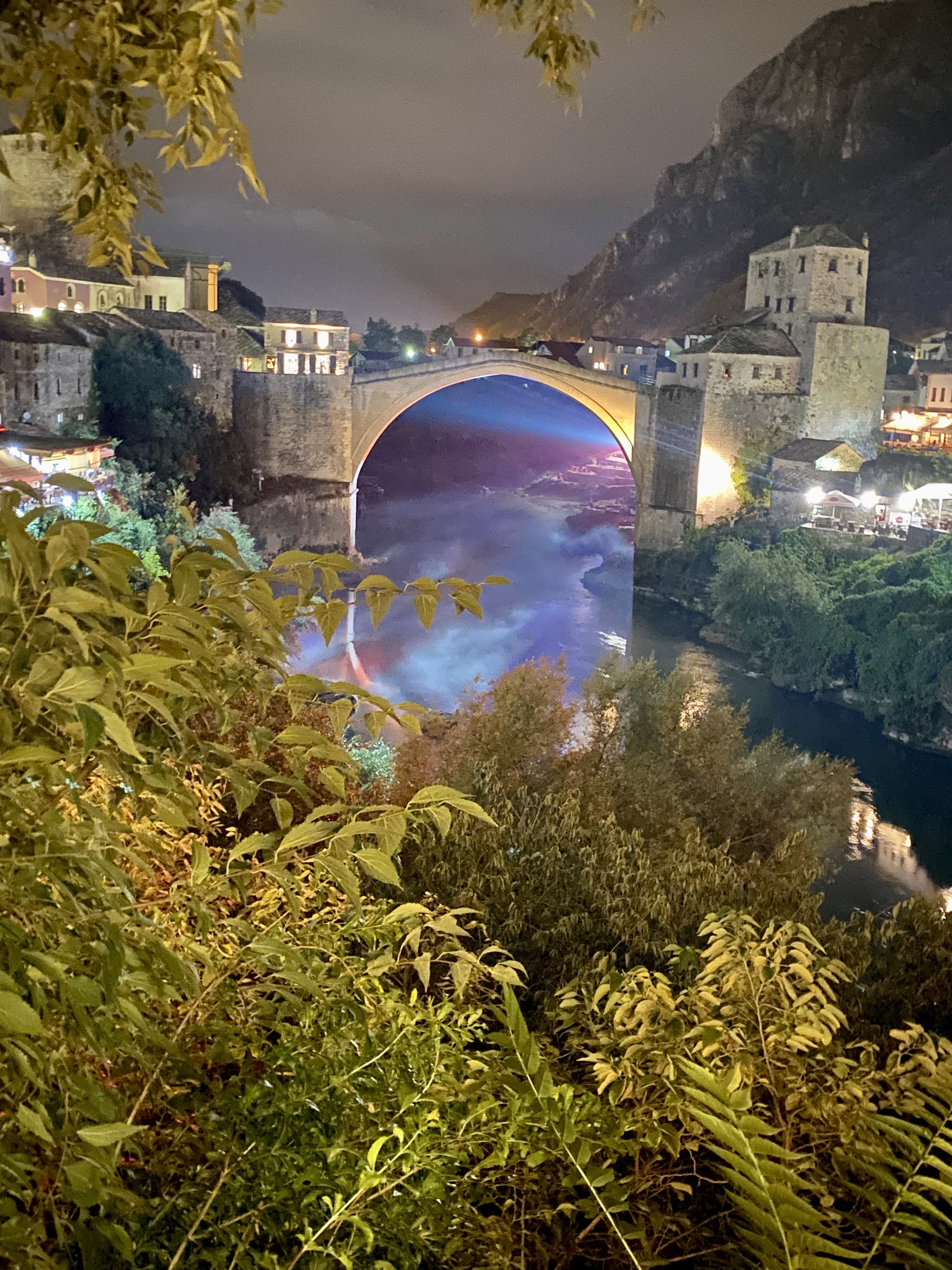 Saturday
We left Mostar early, on a minibus, with a full day of driving ahead, and a few stops along the way. It was a beautiful sunny day and we had two border crossings to break the monotony.
First stop was Dubrovnik where we had a generous two hours to explore. I'm glad I've been before because two hours isn't nearly enough time. The old town is fairly small, so after walking round it, I lunched.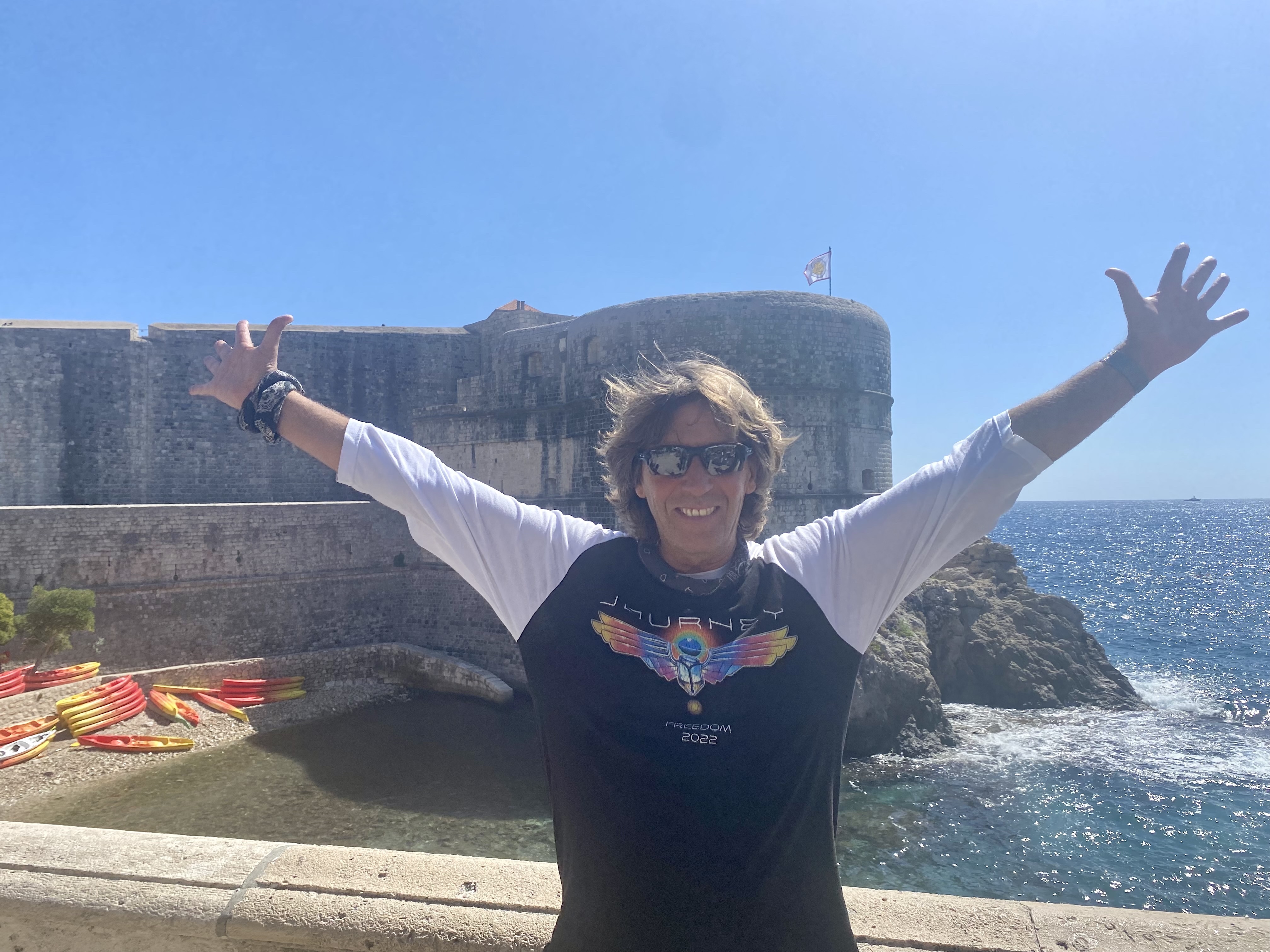 Back on the fun bus, we headed across the Croatian border into Montenegro and on to the pretty coastal town of Kotor. I'd been here before too when I climbed the hill which is rather vexing, but provides wonderful views. My legs outvoted my adventurous spirit on this occasion and after a mooch round the pretty streets of Kotor, I perched on a chair and had a Niksicko beer. It tasted as bad as it sounds.
The last leg of the day was to the capital of Montenegro, Podgorica, again somewhere where I'd been before. This was a deja vu day. The hotel looked like it may have been a former prison.
Sunday
We walked to Podgorica station which was next door to the hotel. The train was about 40 minutes late and it was going to be busy.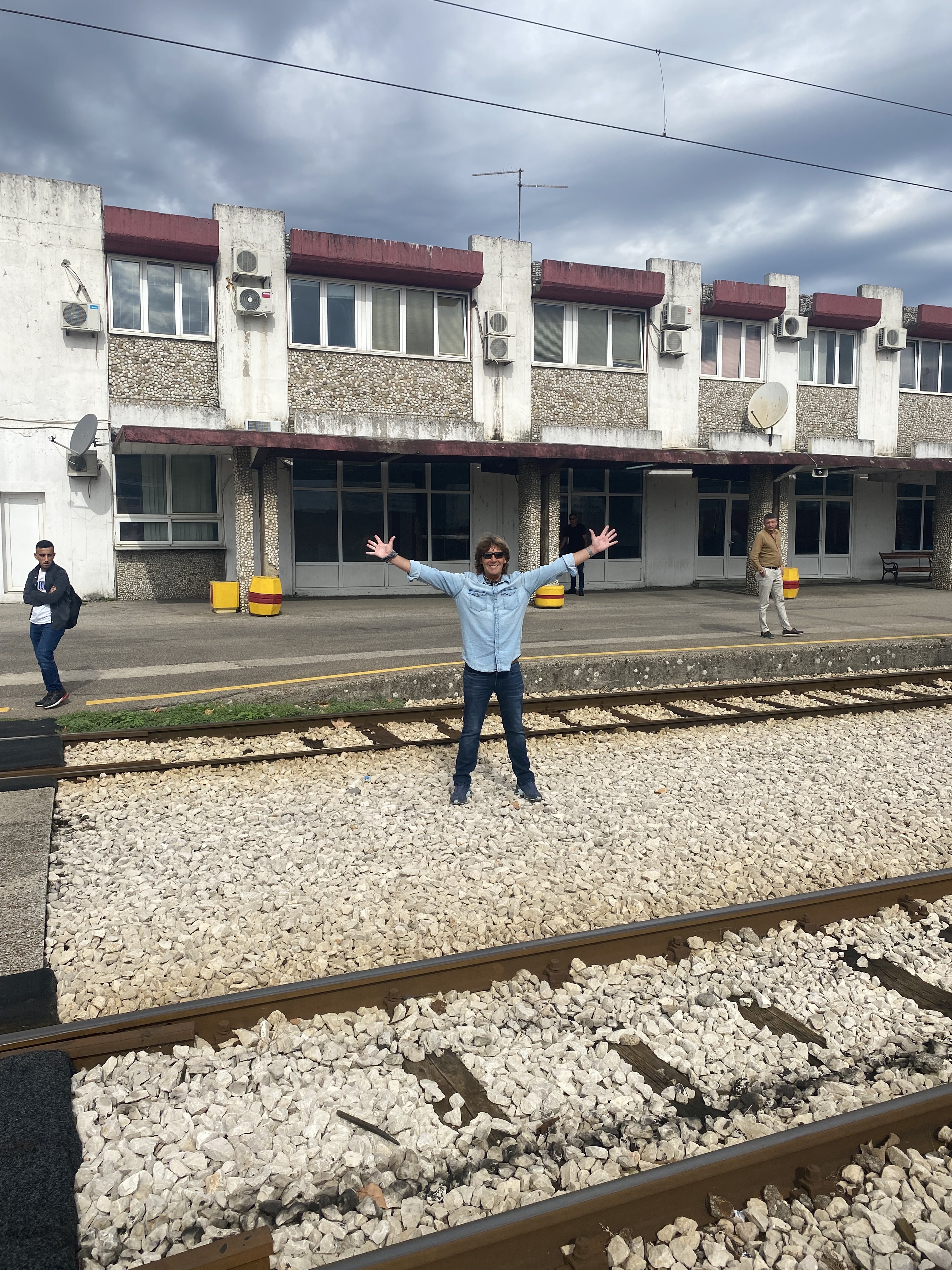 We supposedly had compartments booked but unfortunately There was a mix up and people were in our seats… and they wouldn't move. We found a compartment on another carriage but the conductor kicked us out, despite being completely ineffective kicking people out of our seats.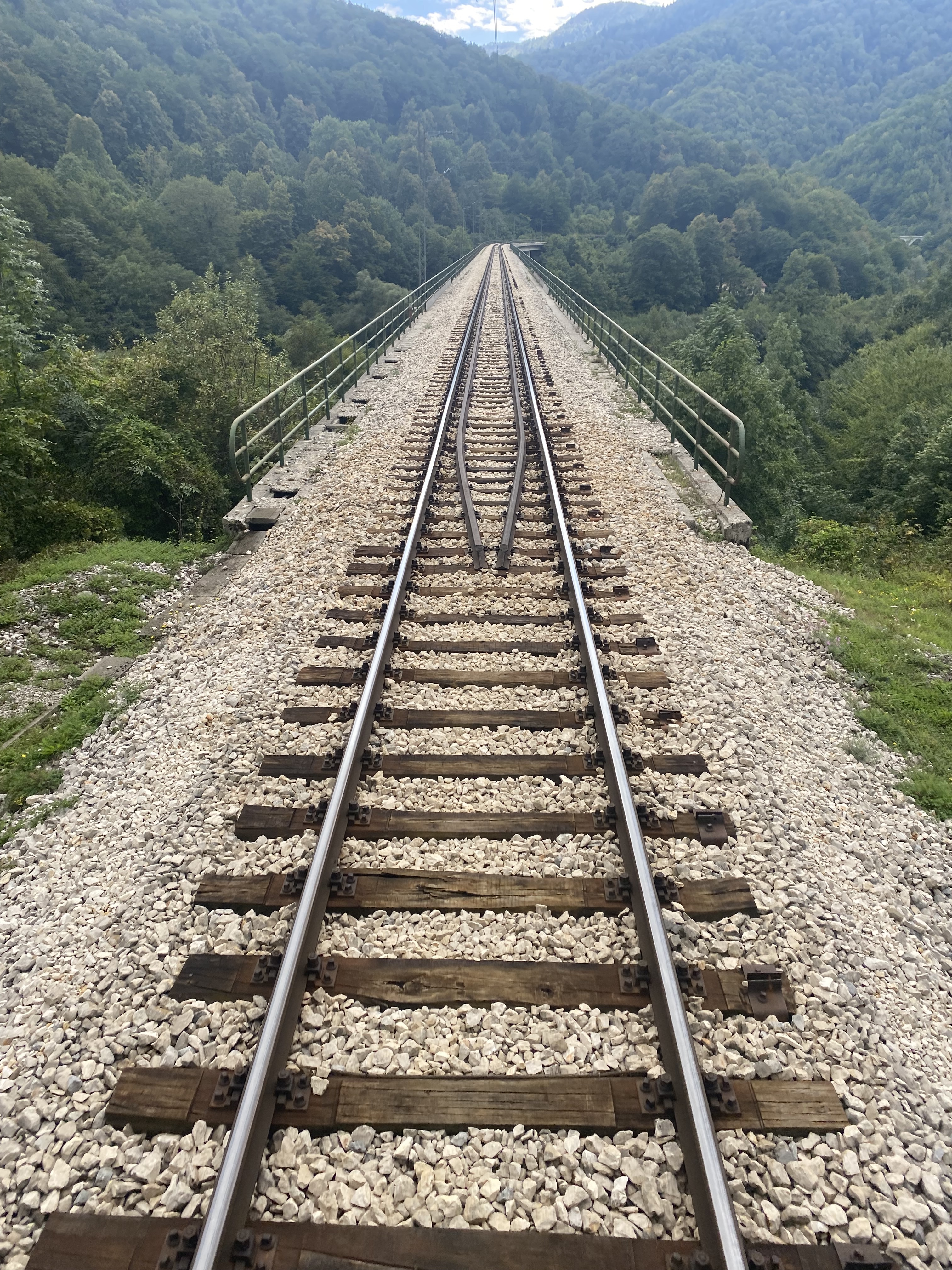 After kicking us out of the compartment he then put four people in there, that he seem to know. This was definitely favouritism. It was meant to be for train staff but he didn't use it at all.
At the first stop 60 plus Germans and Austrians disembarked leaving nearly all the compartments free, so we got what we wanted in the end.
The scenery for the first two hours of spectacular. The journey took almost 11 hours and I calculated that Usain Bolt could have done it in 10 hours 20 minutes (if he could have maintained his 27.33 mph).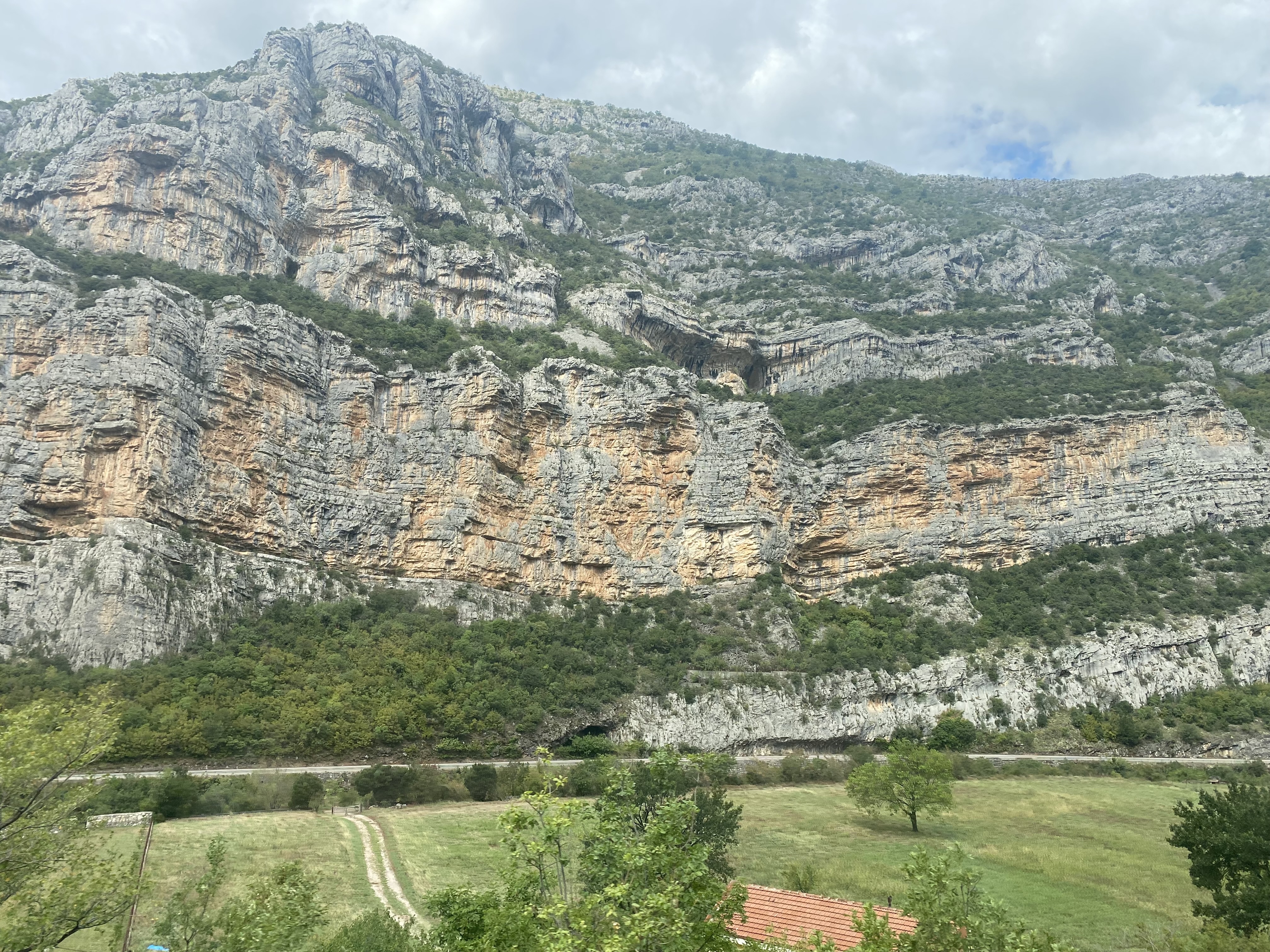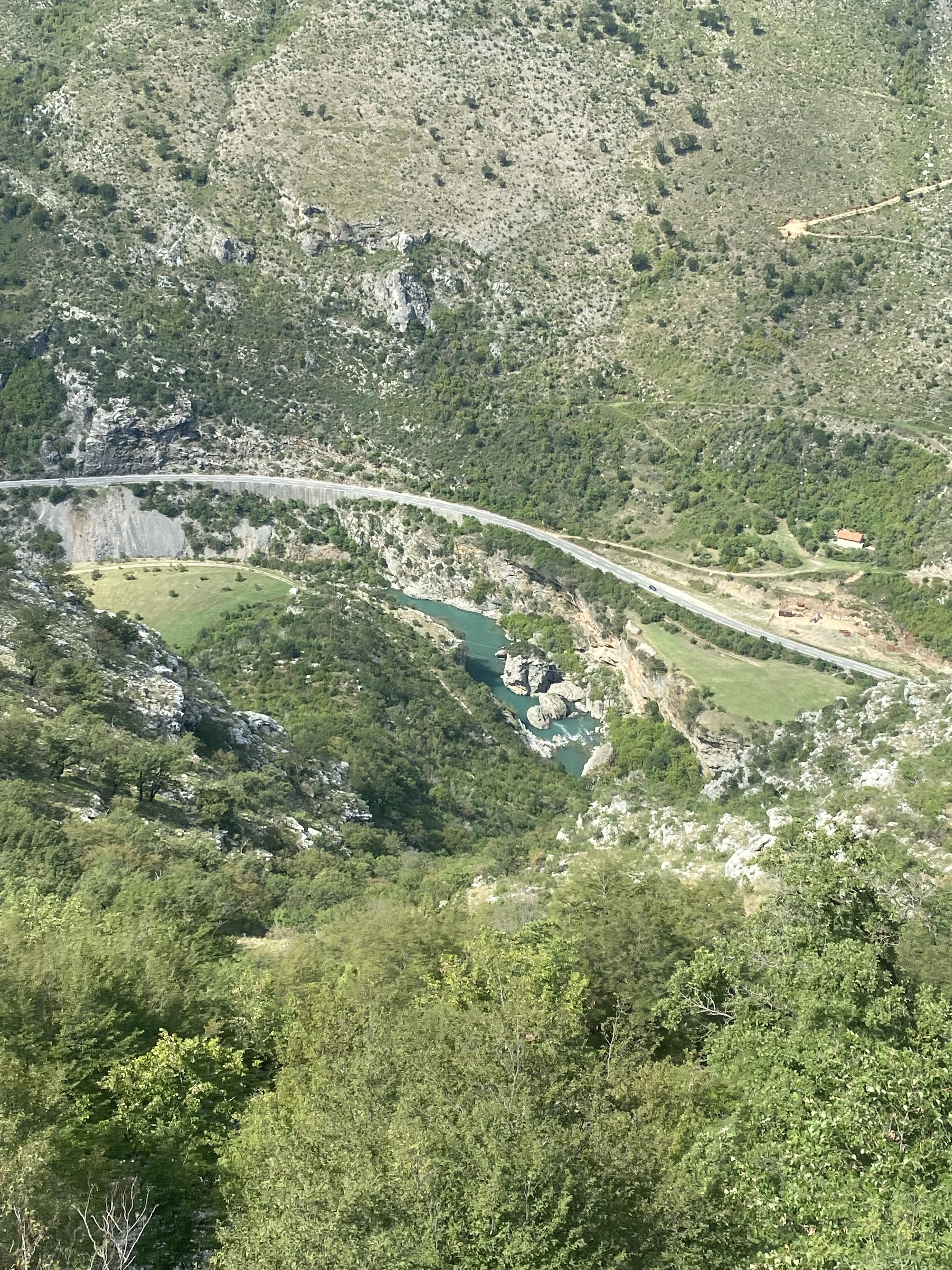 We arrived at the hotel Prag in Belgrade at 9pm and found the bar. It had been a long day. Eric and I shared a few beers and discussed his relationships. He's 63, never been married and no kids. A retired tax inspector, but I didn't hold that against him.