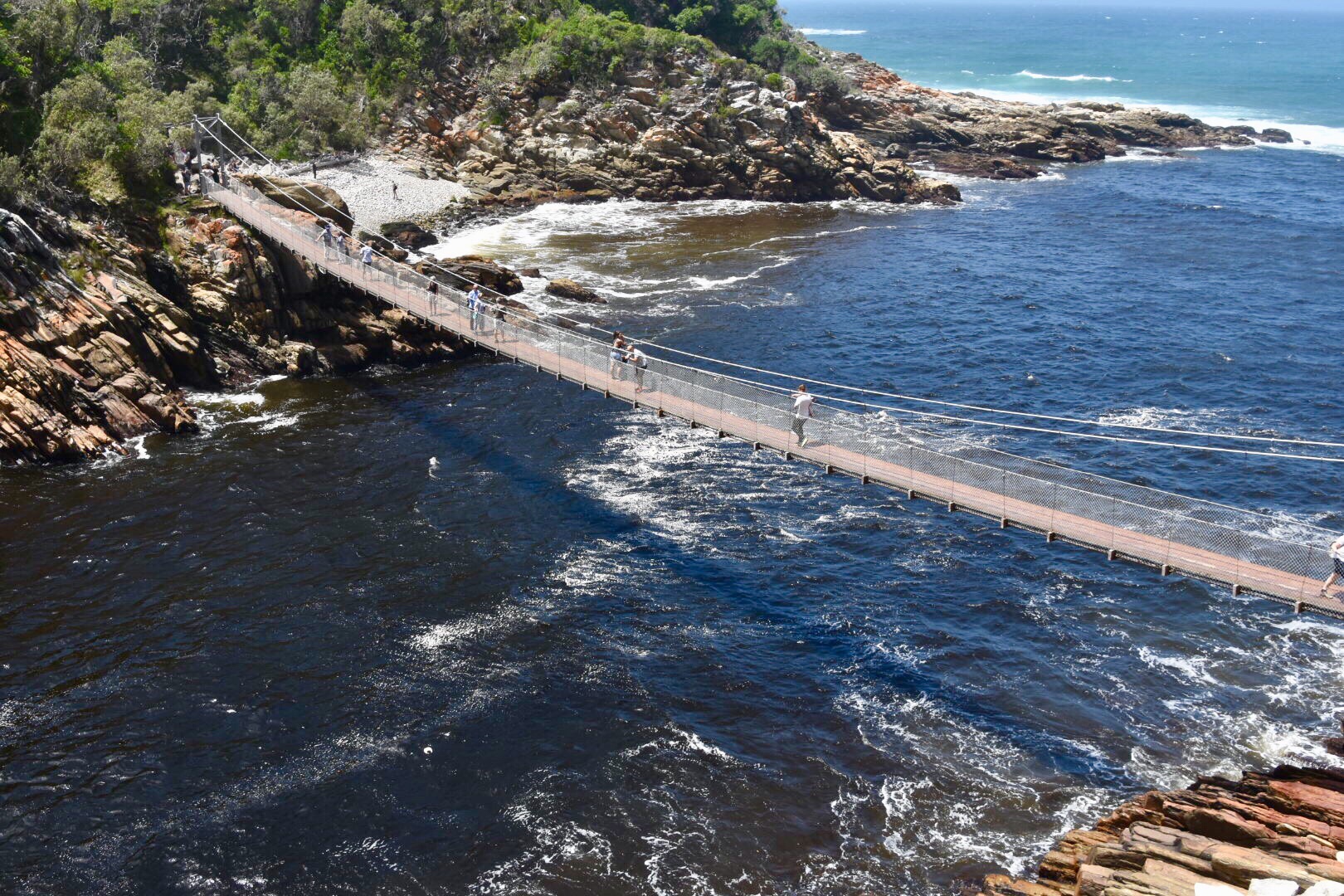 After an overnight stop in Graaf Reinet at the Obese Lodge, we continued south through the semi-Desert of the Great Karoo toward the coast and the Tsitsikamma National Park which was home for two nights.
Our cabins were just metres from a lively sea with waves crashing against the rocks. The area is full of tents and caravans and the first night was rather windy which can't have been too much fun for the tent folk. No fan or air con in the cabins made for a warm night.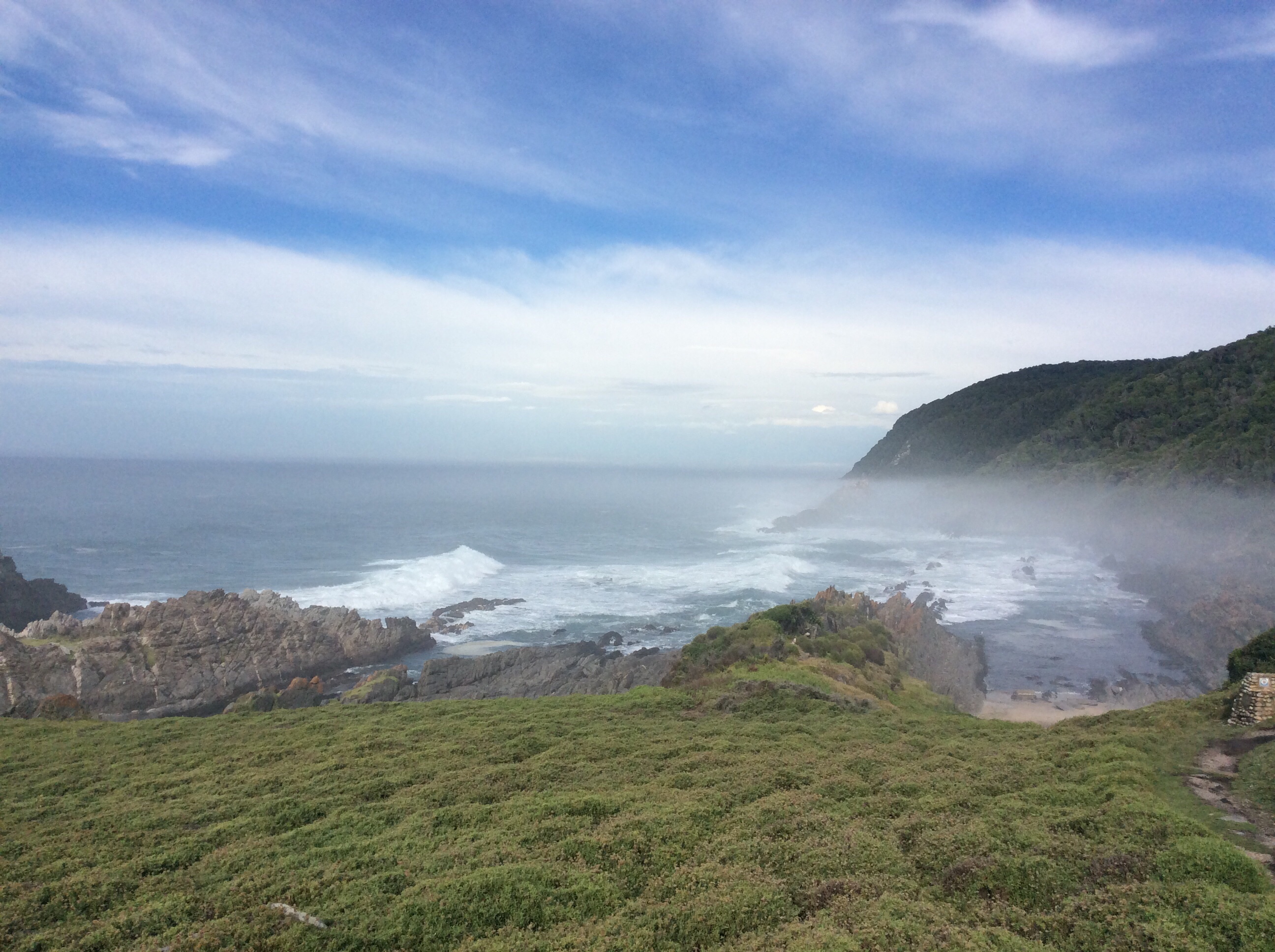 On Sunday we had a free day to choose one of more activities and I chose two of the featured hikes. The first one was over a suspension bridge however it was temporarily closed while they filmed some scenes from the Australian version of I'm a Celebrity. Unbeknown to me I walked past three celebs – Tiffany, Jackie and a dark haired chap. The series doesn't start until January 28th and the number of crew members for what ended up as a five minute scene was phenomenal.
Once they jumped from the bridge into the water (7m) the bridge re-opened and the hordes who'd been waiting impatiently filed across. I was quite happy to watch the whole thing unfold sitting in glorious sunshine snapping pictures.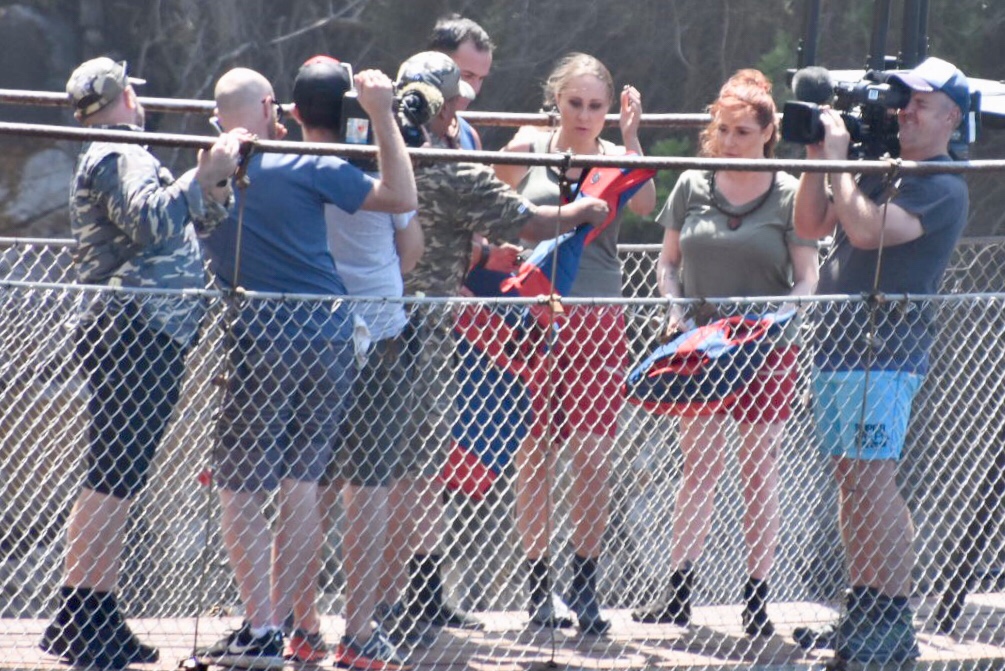 Back in the camp I got talking to a woman from Johannesburg who was less than complimentary about her home city. She said that muggers would just shoot you for your phone or camera or whatever else they wanted. No dialogue whatsoever. The muggers are black and the cops (who really don't care about crime against whites) are also black. She painted a bleak picture. She had 18 open cases of burglary with the police which she says will never be resolved. She said one of the big concerns with the new leadership is that the white farmers will suffer the same fate as the farmers in Zimbabwe and have their farms taken away against their will (with supposed compensation). After twenty minutes of her company I'd developed a great deal of sympathy for her husband.
At dusk the clouds rolled in and we were treated to the loudest thunderstorm my eardrums have ever experienced. And of course lightning and heavy rain. It would have been magical had it not been for the fact that we all needed to make our way to dinner and we were stuck in detached cabins scattered all over the place. I spent a pleasant evening with my two favourite couples, Alison and David from Scotland (51 and 52), and Christine and Brian from Coulsdon (64 and 66). If it hadn't have been for those four I might have escaped.
We drove 316 miles to get to the coastal town of Hermanus which was quite lovely. On the way we stopped for one of our familiar roadside luncheons by an statue of an aloe vera tree purported to be the largest of its kind in the world. Another one off the bucket list. Hermanus was an affluent area and I'd say whites outnumbered blacks which is a rarity in South Africa. The houses were all surrounded by walls and gates with "ADT Armed Response" signs on every single one. Hermanus's claim to fame is being the best place on land for whale watching. Sadly we were out of season so it had no more of a whale watching advantage than say, Milton Keynes.
We'd driven the famous Garden Route which is a 300km stretch along the coast however it was a dull and dreary day so it looked very ordinary.
Tuesday we headed toward Cape Town for a three night stay where the trip ends. Our route took us via Stellenbosch which is one of the oldest towns in South Africa. It's also where they produce lots and lots of wine and after a tour of the Delheim winery cellars, we had a wine tasting session which as you know, I always take very seriously. Our guide and demonstrator was called August and he was. A very straight chap indeed. I'm not sure he'd ever laughed so he was perfect for the serious business of being a wine connoisseur. We all went along with it and Brian even said that he could actually distinguish the banana flavour in one of the wines. I think Brian was seduced by the power of suggestion. To me is was zippy, herbaceous and muscular with an unrivalled aromatic lift nuanced with subtle yet flamboyant character normally associated with crisp pinots from the lower slopes of the Aconcagua Valley but I'm no expert. The founder of the Delheim Estate was German born Spatz Sperling. Some of you may have coiffed Vera Cruz wine which was named after Spatz's wife, Vera.
We finally arrived in Cape Town mid-afternoon in lovely warm sunshine with Table Mountain in the distance and an electric fence surrounding our guest house. 13th most dangerous city in the world. Acapulco is currently number one. They're going loco.