On the morning of December 9th 2018 I sat opposite Dianna on the top deck of the Regal Princess as she explained to me why she couldn't abandon her plan to drive back to Atlanta with her brother and fly off to Aruba with me. I'd known her for a week and in that short space of time she'd captured my heart. So it seemed only right that one year on we should finally go to Aruba. Fortunately things worked out and it's been quite a year visiting 20 counties, 12 states, 13 Caribbean islands and every Costco store in Georgia.
The flights were booked from Atlanta so we had a seven hour drive back to Georgia and an overnight stay before flying to Aruba. Dianna wore her Southwest uniform which can be very useful in terms of smuggling things through security. It also got us free drinks on the plane from Moroccan Aziz.
Once in Aruba the airport experience was typically Caribbean with a long immigration queue but at least the bags were waiting once we reached the other side. It seemed that all of the North American flights turn up on Saturday within a few hours of one another. The 7 mile taxi ride cost $31 which was our introduction to how expensive Aruba can be.
We'd booked the Marriott Stellaris Casino Resort and were given a super room with a separate lounge area. The hotels are pretty much all located on the west coast which as any self respecting romantic knows, means sunsets. We were treated to one of the best I'd ever seen and I've seen a few I can tell you. Even two glasses of wine costing $34 couldn't spoil the visual splendifery. Perhaps they're like this every night, we thought. They weren't.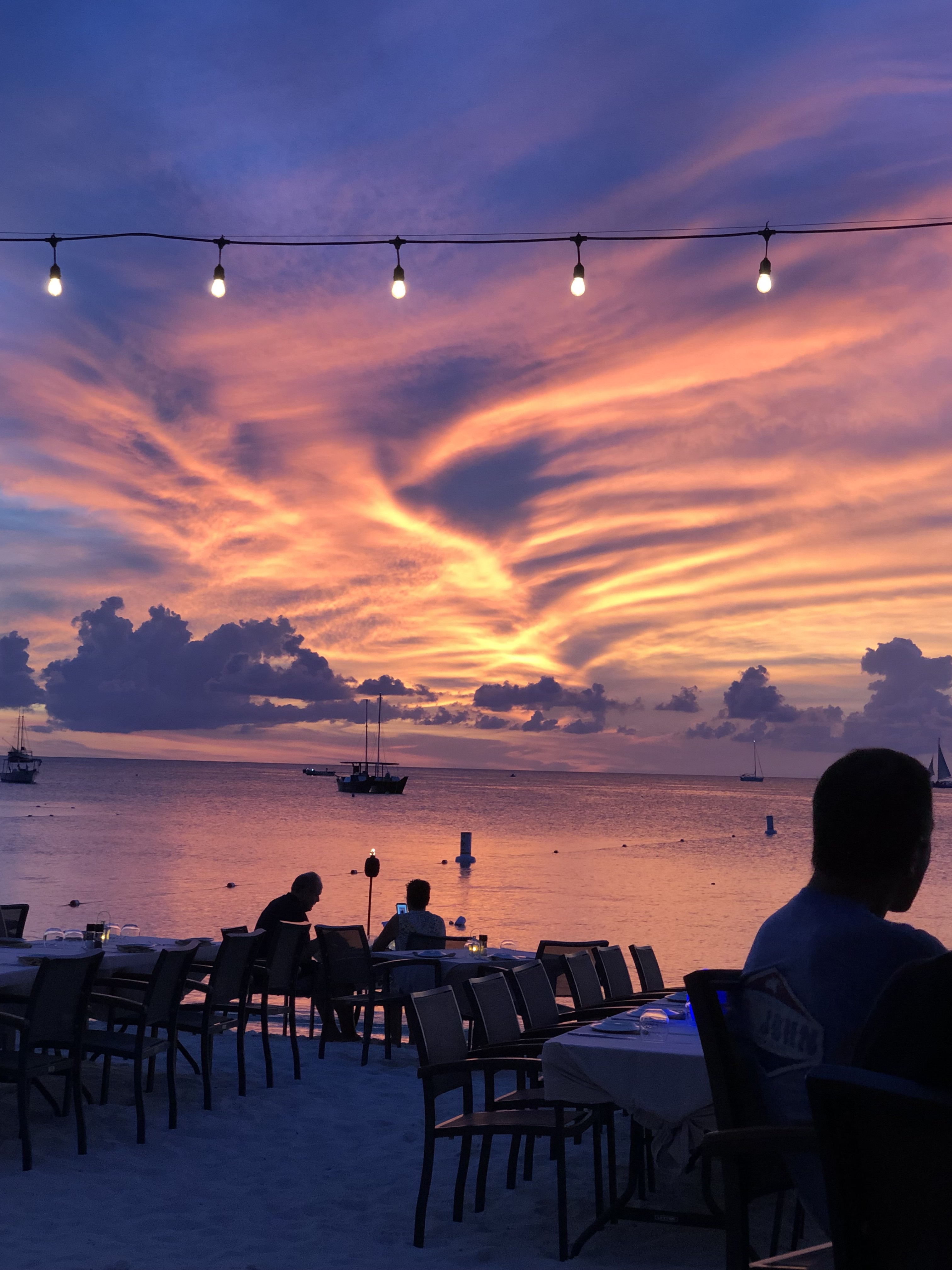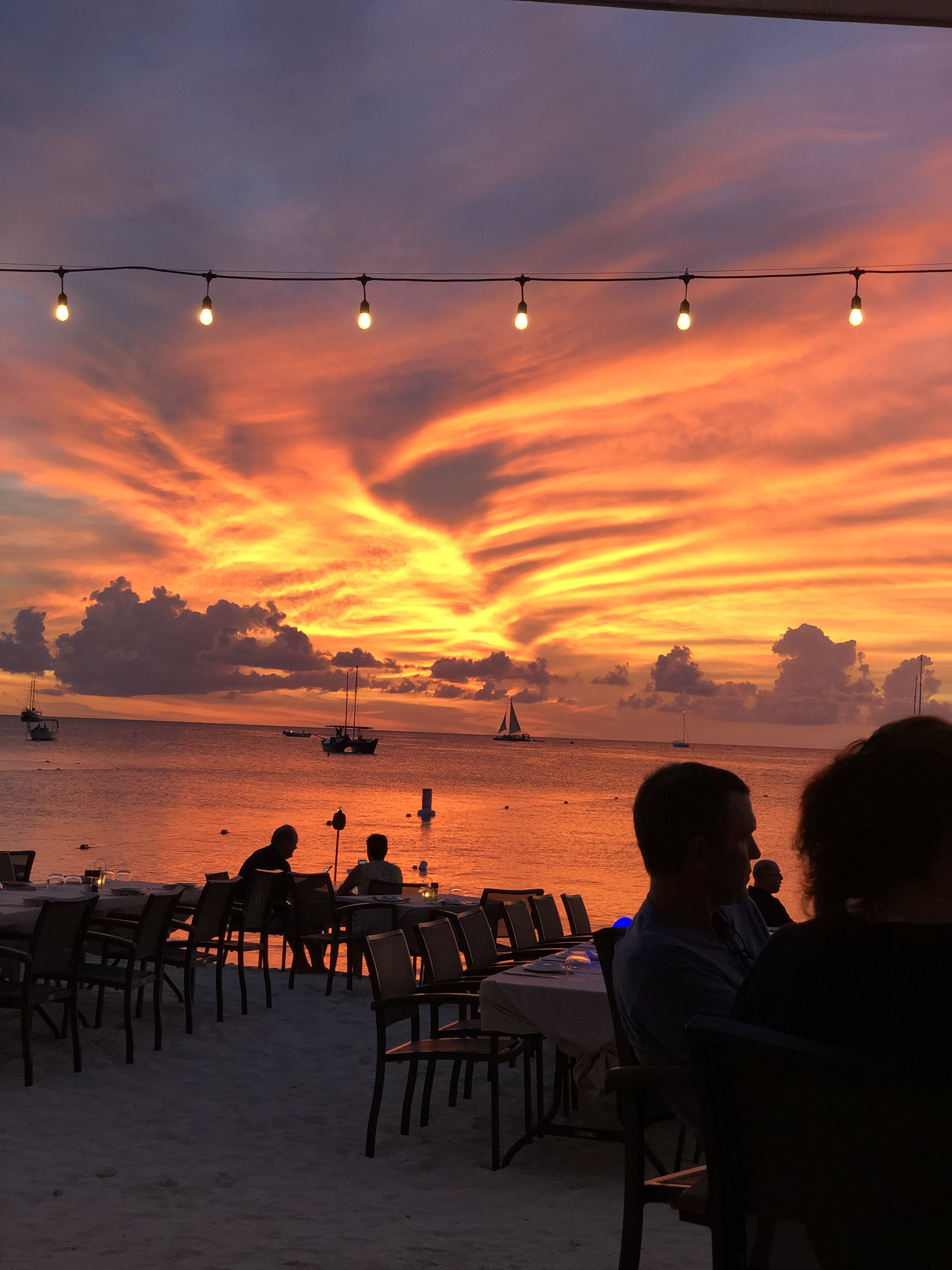 Dinner for two at Ruth's Chris (which I've always found a bizarre name for a restaurant chain) was over $200. Anyway, the rude awakening to the extortionate pricing structure in Aruba meant we headed for the super market the following day. A frustrating experience because the entire tourist population had had the same idea. Add to that the rather narrow aisles and children's trollies and you get a very unpleasant grocery experience.
Back on the wondrous beach, Nathan helped me secure a spot for maximising vitamin D intake. There were dozens of palapas which is what they call the thatched open sided structures offering shade but apparently one had to book them online the previous day at a cost. I've never known that before. And they drag out some water trampolines each morning that again can be rented – $40 for half an hour.
After a couple more lazy beach days we hired a Jeep for some exploring. The north side of the island had a rugged coastline and many parts were only accessible with a 4×4. Dianna took the wheel and seemed to enjoy herself immensely.
Aruba is about 20 miles long by 6 miles wide at its widest. It's part of the Dutch Caribbean and has Bonaire and Curacao as neighbours and together they comprise the ABC islands. Curacao is the nearest one 48 miles to the east. Aruba is actually nearer to Venezuela lying just 18 miles off its north coast putting it outside of hurricane alley. The official languages are Dutch and Papiamento which is a dialect only spoken in the ABC's. With the sheer number of American tourists visiting, English is also widely spoken. The population is around 105,000 and the official currency is the Aruban Florin which is pegged to the dollar at $1.79. Why they didn't strive for greater accuracy and at least go to a couple of decimal places remains a mystery.
The climate is semi-arid with cacti all over the island. Every day was in the mid 80's but there was little humidity making it far more pleasant than a lot of Caribbean islands. The roads were the best I'd seen anywhere in the Caribbean and there was no hint of menace, even in the capital, Oranjestad. Within a day or two, Dianna had voted it her favourite Caribbean island. And the most famous Aruban I could uncover? Bobby Farrell no less. The only male member of Boney-M. He's crazy like a fool…
That evening we had our first of many wonderful dining experiences at the Faro Blanco restaurant at the northwestern tip of the island. Located next to the California Lighthouse with commanding views of the west coast we booked in time for sunset and it was highly pleasant. I climbed the 117 steps of the lighthouse before dinner. Dianna sensibly declined.
Some more lazy beach days followed with a routine emerging – gym, beach, float, tiffin, Netflix, dinner, casino. Taking one for the team again. On the middle Saturday we hired another car, this time for the whole week and I've now driven a Chevrolet Cruze. Hmmm. We'd met a couple whilst out Jeeping who had been to the Bulldog bar in Aruba which was the same as the Bulldog bar in Amsterdam and we met the owner, skinny Peter who'd worked in the Amsterdam version for 20 years. He must have started working there at age 10 because he didn't look a day over 30. His bar was situated in a thriving area only half a mile from our hotel but off the beaten track unless you knew it was there. We did now.
Other highlights were a drive to the bottom of the island to Baby Beach with the magnificent backdrop of an oil refinery and lunch at Big Mama Grill with the funkiest dining tables. The two main beaches on the island are Palm Beach and Eagle beach which run into one another somewhere along the hotel strip. Eagle Beach often features in the Best Beaches in the World so we went there for a day, which turned into twenty minutes. It was all very nice but on this particular day whilst Dianna floated in the sea, I was being sandblasted and people were turning up from a couple of cruise ships, and anyway, we had a lovely beach back at the Marriott.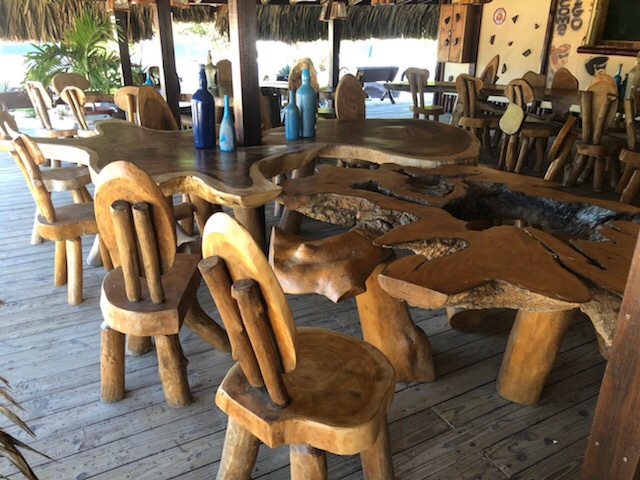 We had three beach dining experiences of which the Flying Fishbone won for me. Half the tables were actually in the water. Apart from a one year old child behind us making unacceptable noises and the fact that it rained and we had to briefly hide undercover it was terribly romantic.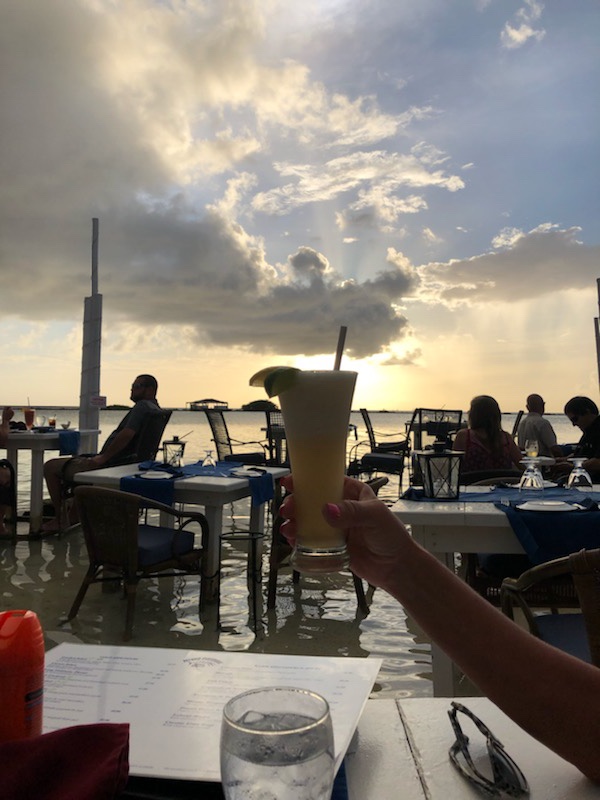 As time passed and more and more tourists arrived (probably for Christmas) lthings became more and more competitive in terms of morning beach towelling but we had a fabulous time and neither of us wanted to leave. Highly recommended.
We missed our plane of the way back but managed to get on the next Delta flight in First Class. I shall miss more flights! Apparently they clear you in Aruba for the US so you can arrive as a domestic passenger. Well no one told us so we just breezily sauntered toward our gate with 30 minutes to go only to find that we had to reclaim our luggage (that we'd only given them an hour before) and go through passport control and security a second time. Well you can imagine this took some time. This was the Caribbean after all. Great trip.