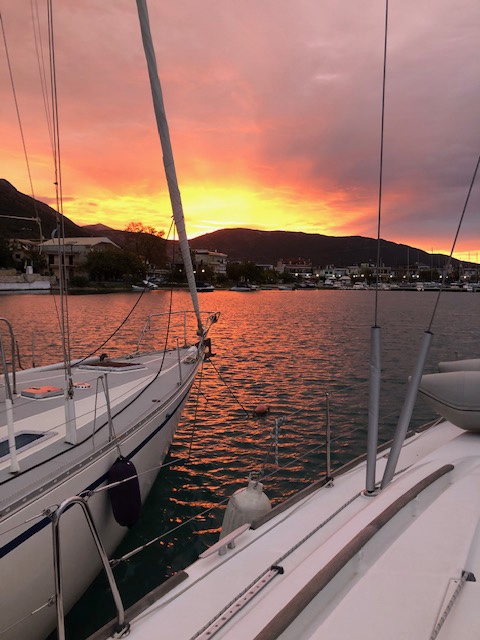 After rousing at an ungodly time in the morning we reached the airport and flew to Corfu in a little under three hours. It was a glorious sunny day and we were transported to Gouvia Marina to find our boat.
We boarded late afternoon and we went about allocating bunks. Foolishly I chose the pointy end whilst Jim and Simon had the aft cabins. Bully got the bunk beds which were like coffins.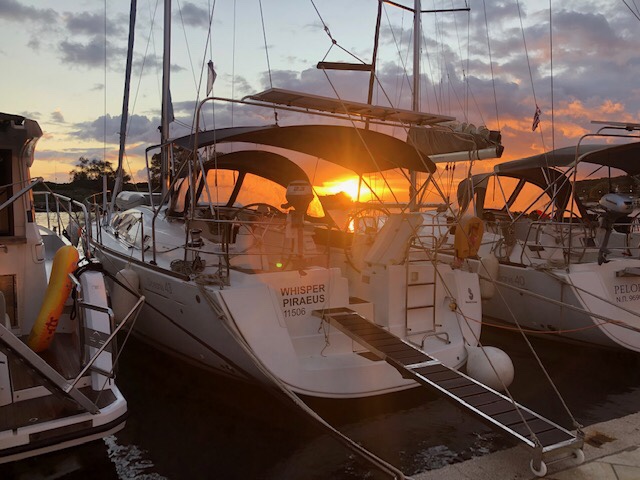 Sunday, without a hired captain for the first time, we set off and didn't exactly look like we'd remembered a great deal from the past. Lord knows what the base crew who saw us off were thinking. It took Jim and I about half an hour and some YouTube videos to reacquaint ourselves with how the sails work. Through trial and error the minutes of previous experience came flooding back and we unfurled the inmast sail and we were sailing. A lovely day weather wise but the forecast led to a change in the itinerary and we headed for the Greek mainland town of Sivota 25nm away. Bully managed to park the vessel and we had the rest of the day to ourselves. Cards.
The weather this week has been – sunshine, sunshine, cyclonic activity, rain, sunshine, rain with Thursday night proving the most difficult for anyone wanting sleep. Our lead boat is led by Kostas who keeps telling us that the weather looks fantastic for next week. You can really go off people.
On Monday we went nowhere. The coastguard even endorsed Kostas' decision to stay in port so I went for a walk to the ruins of a monastery that the Germans had destroyed at the end of WWII. They did a good job.
Walking around in the morning I met an English chap who'd been sailing for 4 years with his wife. He now had Alzheimer's so when I asked where they had sailed from he couldn't tell me. The same for when I asked where he was off to next. Very sad. Probably only a few years older than me.
Our boat was a 10 year old 43ft Oceanis called Whisper and there are a number of things wrong with it. No heater, no hot water, toilet door that didn't close, a malfunctioning freezer, a cabin door handle that came off, a broken mask and leaks in the skylight windows. Other than that it was perfect.
Jim spent the first two nights battling mosquitos in his room. Two hours apparently but he was victorious.
After a day of doing very little we headed for the island of Paxos and it was a day of large sea swells so not much fun being tossed around for several hours going at 5 knots. Our first stop was a bay on the north side of the island called Lakka which was very pretty indeed. After an hour of recovery, we headed for the capital village of Paxos, Gaios and Jim was in charge of parking although in the end it was a joint effort. We made a pigs ear of it but on the fourth attempt we managed to get in and save our deposit.
In Gaios it was €3 for a hot shower but only €1 for cold. A nice little town and we found a restaurant to Jim's vegetarian liking and then returned for cards.
Wednesday we headed back to the mainland via a recommendation from Kostas to visit the smaller island to the south of Antipaxos. It was wholly unimpressive so we didn't stop and headed back to the Greek mainland to a town called Plataria. Good weather but not very hot.
The opening to the bay was very wide and I was designated parker but halfway down the channel I decided to play a little and practice reversing. Oh! Unbeknown to us we'd picked up a rope on the prop and the engine stalled in reverse and just juddered with no forward momentum. We were less than a mile from the marina so we called Kostas who suggested we may have prop wrap. Simon jumped in to take a look and Kostas told us to free the rope with a bread knife. I jumped in with Simon so we could take it in turns. Jim meanwhile was pontificating on how this wasn't our responsibility and that Kostas and Odysseus Yacht Charter should be fixing it. After several attempts and getting nowhere Simon dropped the bread knife in 75ft of water (he thought it might float). Disaster! We'd lost our best rope cutting implement and as Simon concluded, what are we going to cut bread with now. So we radioed Kostas to tell him the news thinking that International Rescue might be on their way. His suggestion: I'll bing another bread knife but you guys have to do it because I had a diving injury to my ear. Jim's indignance increased.
Kostas arrived with two knives and Simon and I made a few more attempts and even improvised by cutting off 10ft of hosepipe to use as breathing apparatus. Still no luck but I managed to convince Simon that there was too much rope and we'd be there all night.
I said to Kostas we need a diver so he towed us with his dinghy to shallower waters near the marina entrance. He went ashore and came back with a couple of English chaps in their twenties – Mark and Tom from another company, Sailing Holidays. Mark went in and with superior lung capacity, webbed feet and Vaseline, made a few attempts before concluding that he couldn't do it either. We felt vindicated that even the Man from Atlantis couldn't do it so Kostas called a diver.
We sat there in the beautiful late afternoon sun just bobbing up and down and life was good. The diver came from the shore with a seadoo underwater gizmo and within half an hour he'd managed to free the rope. Not sure how many times Simon and I would have had to go under to clock up 30 minutes of rope-cutting time but I suspect we both would have died.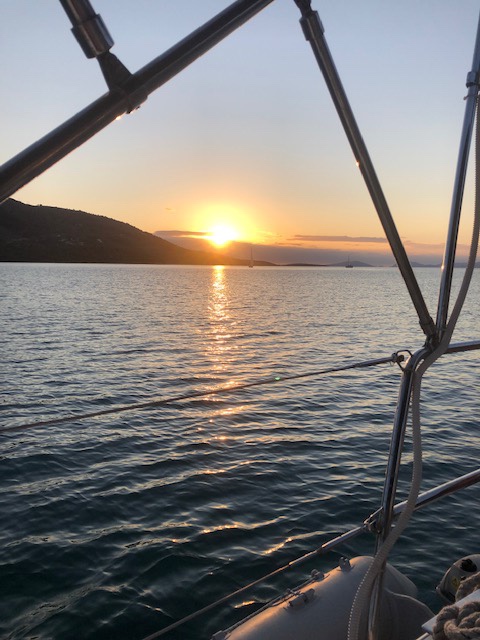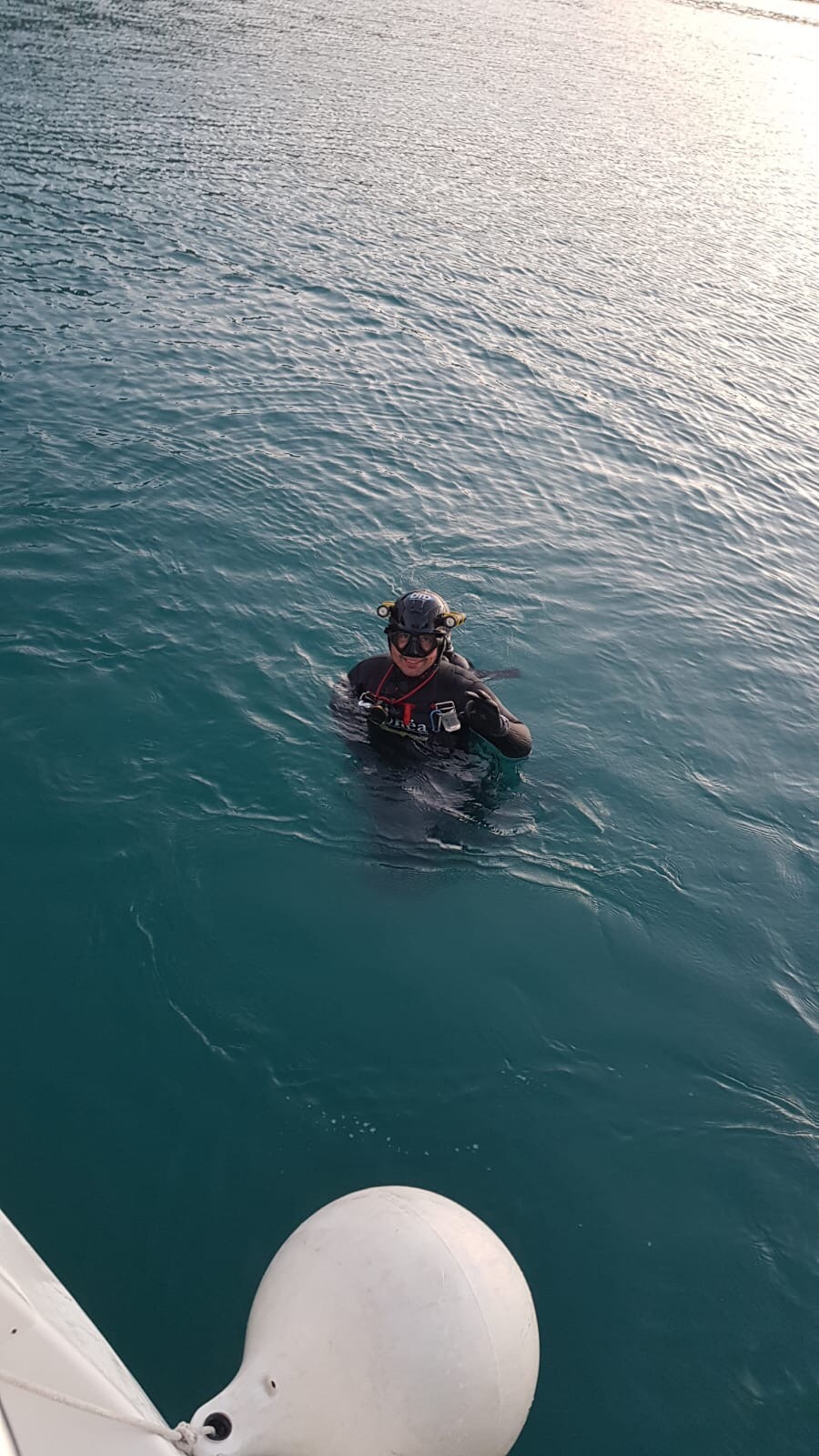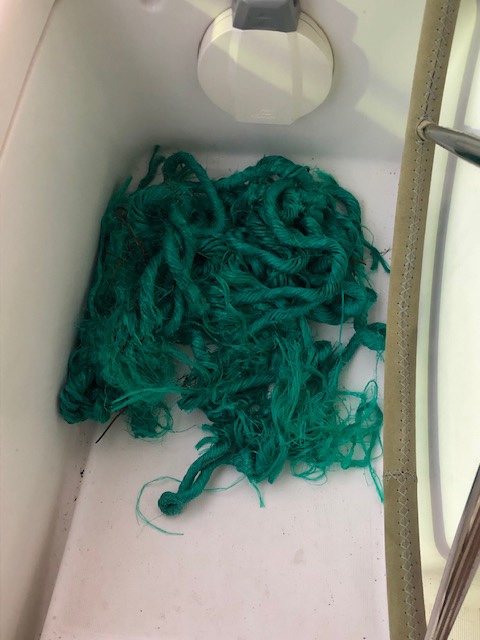 We'd been taken ashore by dinghy before the diver released the rope so I didn't even have to park the craft. I'll do anything to get out of parking. Dianna's seen what I'm like in a car!
We had dinner with the group and sat at the English table with an older couple from Liverpool and two other couples from Yorkshire. Tony is the most stand out of the Yorkies with a repertoire of one liners that his wife has probably heard a hundred times.
Thursday was another day of weather that can only be regarded as shite. 4 and a half hours of large swells back across to Corfu Old Town with its impressive fort. The wind was strong and gusty and was probably too much for our level of experience but that didn't stop us hoisting the mainsail and then the genoa. For a good thirty seconds everything was going fine as we goose winged our way to 9 knots but the swell was taking us in all directions and turned us perpendicular with the wind causing us to almost heel to the point of no return (and loss of deposit). It was a hairy few moments that certainly disturbed Bully and I whereas Jim just had faith that the boat wouldn't tip over.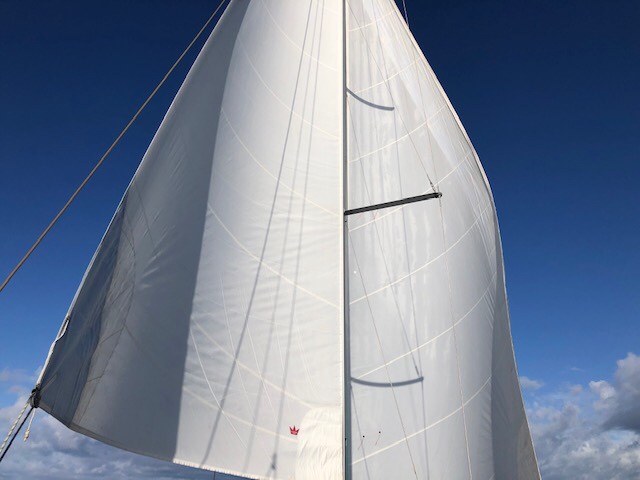 We took the sails in and motored the rest of the way in the roughest swell we've experienced in all four of our sailing trips. Bully vowed never again. Upon reaching the marina there was a small queue of boats in front of us and it was my turn to park. I managed to navigate the large vessel into a tight spot, backwards, with aplomb. It almost made me look like I knew what I was doing. Anyone watching might have mistaken me for a salty sea dog.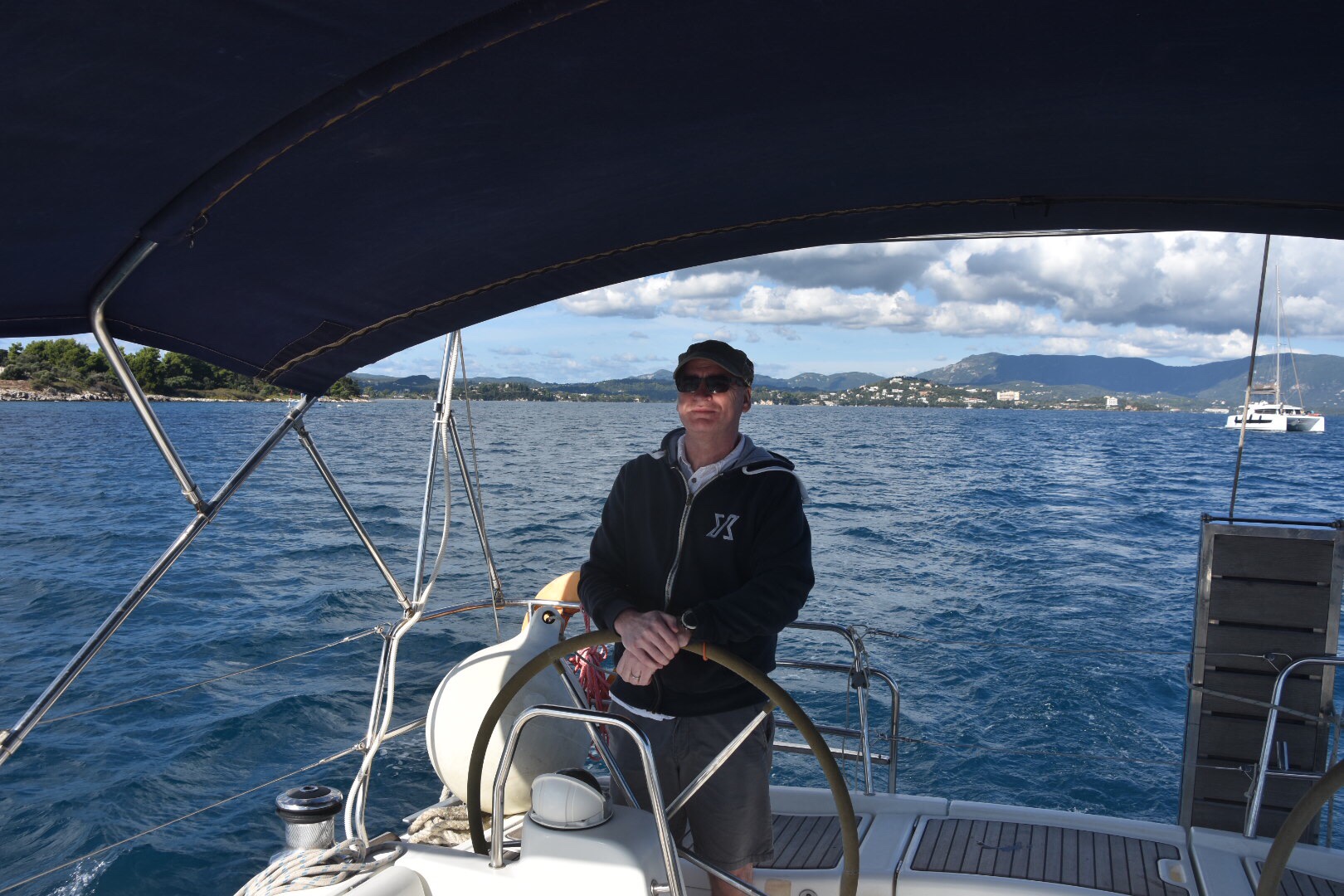 I had a stroll around the old town picking up my usual "collection" items and then climbed to the top of the fort where winds were gusting to 30mph, but great views of the surrounding area.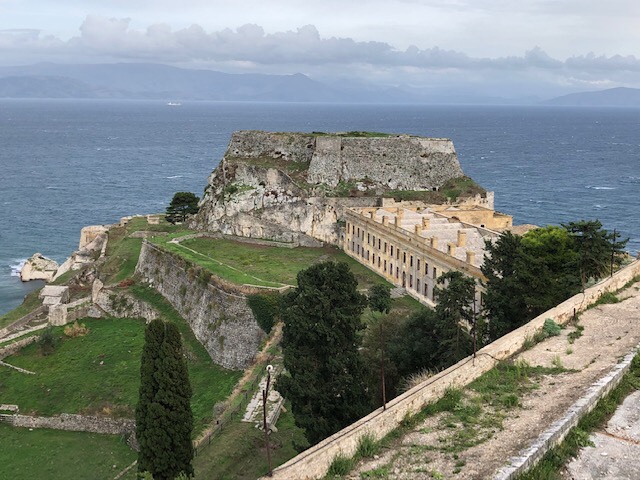 Corfu is home to around a hundred thousand people and is the 7th largest Greek island. At its nearest point, its only 2 miles from Albania. It was the birth place of Prince Philip and has a long history dating back to 735BC, but as this is a blog, not a book I shall be brief. It belongs to Greece.
After changing hands a number of times over several centuries, Corfu or Kerkyra as the Greeks call it, came under Venetian rule in 1386 and stayed that way for a little over 400 years until it became part of the French state in 1797 thanks to a chap named Napoleon. When Napoleon met his Waterloo in 1815 it came under British rule who made some wonderful improvements, and in 1864, Corfu along with other Ionian islands was donated to the King of Greece. Very generous. In 1941 the Italians decided to occupy Corfu as part of Mussolini's masterplan but that only lasted two years until the Italians decided that their skills lay elsewhere. The fascists moved out and the Nazis moved in. In a little under a year, Corfu was liberated by the British and the Germans evacuated (although they're coming back now in their thousands as tourists). More Germans than any other nationality on our trip.
We had dinner in the old town and the heavens opened. Played cards, went to bed. The worst nights sleep all week. Even Captain Kostas couldn't sleep.
On Friday morning the sleep deprivation was plain to see in everyone apart from the Swiss family who had spent the night in a hotel. Smart people those Swiss. We were the last to leave for the short journey back to base and after filling up with fuel I managed to park the boat for a second consecutive day with a fair degree of competence (or a lower degree of incompetence). Cracked it.
Back at base the owner of the company, Dimitrius, was reluctant to charge us for picking up the rope but it was only fair. It wasn't our fault but it wasn't his either. Although the diver was relatively inexpensive at €100, the boat's owner wanted her lifted out of the water to check any prop damage which escalated the bill to €1022. Good job I took out insurance which, Nautilus confirmed, would result in a full refund. As Simon mentioned, we'd been careless with our Whisper.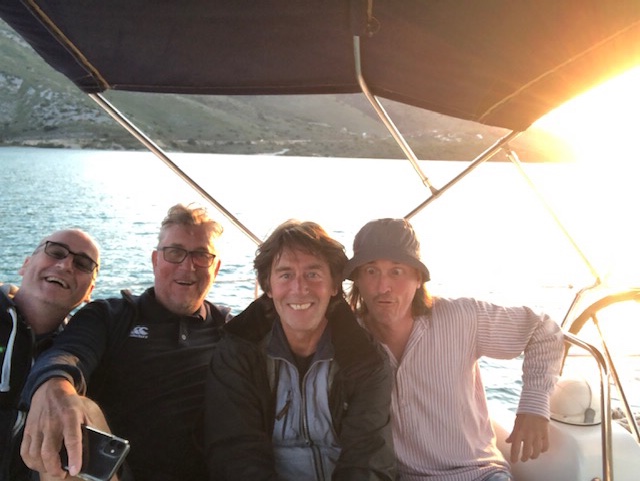 Of the four flotillas we'd done, this was probably the most challenging and least enjoyable from a sailing perspective not least because I didn't get the sunscreen out once. Corfu had had five times more rain in October than usual. But, as ever the company of good friends was fabulous and we found a great deal to laugh about.