Jamaica & the Cayman Islands
Ocho Rios, Jamaica
Once off the ship we were treated to an extortionate quote for a taxi which needed some serious negotiation. It was so ridiculous I thought about getting back on the ship. We knocked a third off the price which wasn't nearly enough and settled for Brooks (31) who was a very nice young man of slight build.
Having both been before we opted for James Bond Beach which sounded fabulous. It wasn't. En route we drove through the rainforest called Fern Gully reaching a height of 1300ft above sea level. Now here's something. Blue Mountain, Jamaica's highest mountain near Kingston is over 7400ft. Our highest mountain, BenNevis in the UK is only 4400ft. We stopped a few times as Brooks picked things for us to smell. Nothing like an early morning smelling tour to liven things up.
Passing Ian Fleming airport, James Bond Beach is named because of its proximity to GoldenEye, Fleming's home in Jamaica where he'd winter each year and write another book. Since his death in 1964 it's been added to and is now a resort where creative types come and create. Bono apparently wrote the the theme to GoldenEye there and Sting wrote Every Breath You Take.
James Bond Beach was very disappointing and they had the temerity to charge $5 entry fee. The beach was the size of a postage stamp so we declined. We tried to get in GoldenEye for lunch but we had no reservation so off we went to the Jerk Centre. Whilst there, Brooks' boss swapped vehicles with him so we were driven back to the ship in a 29 seat bus for just the two of us.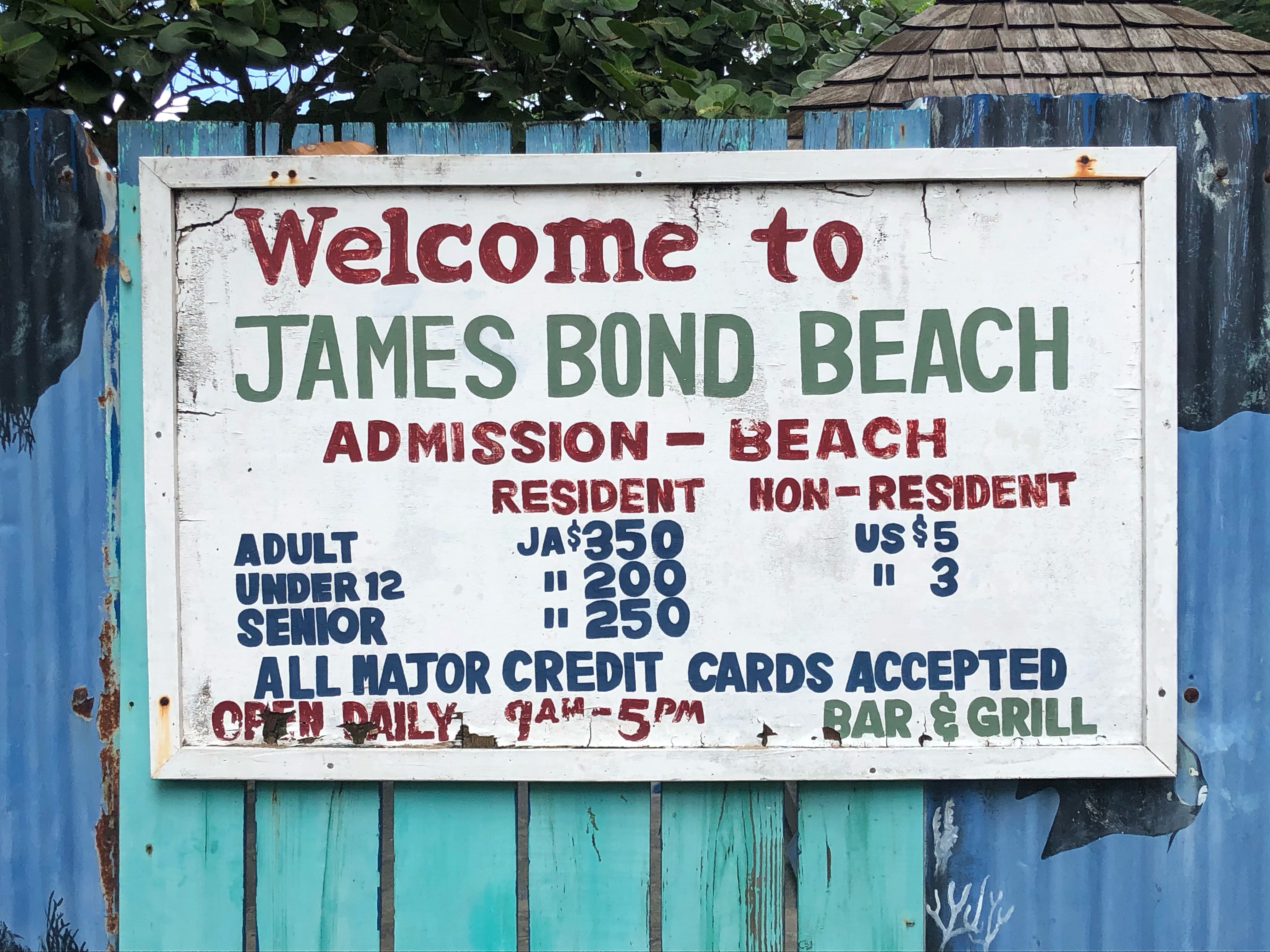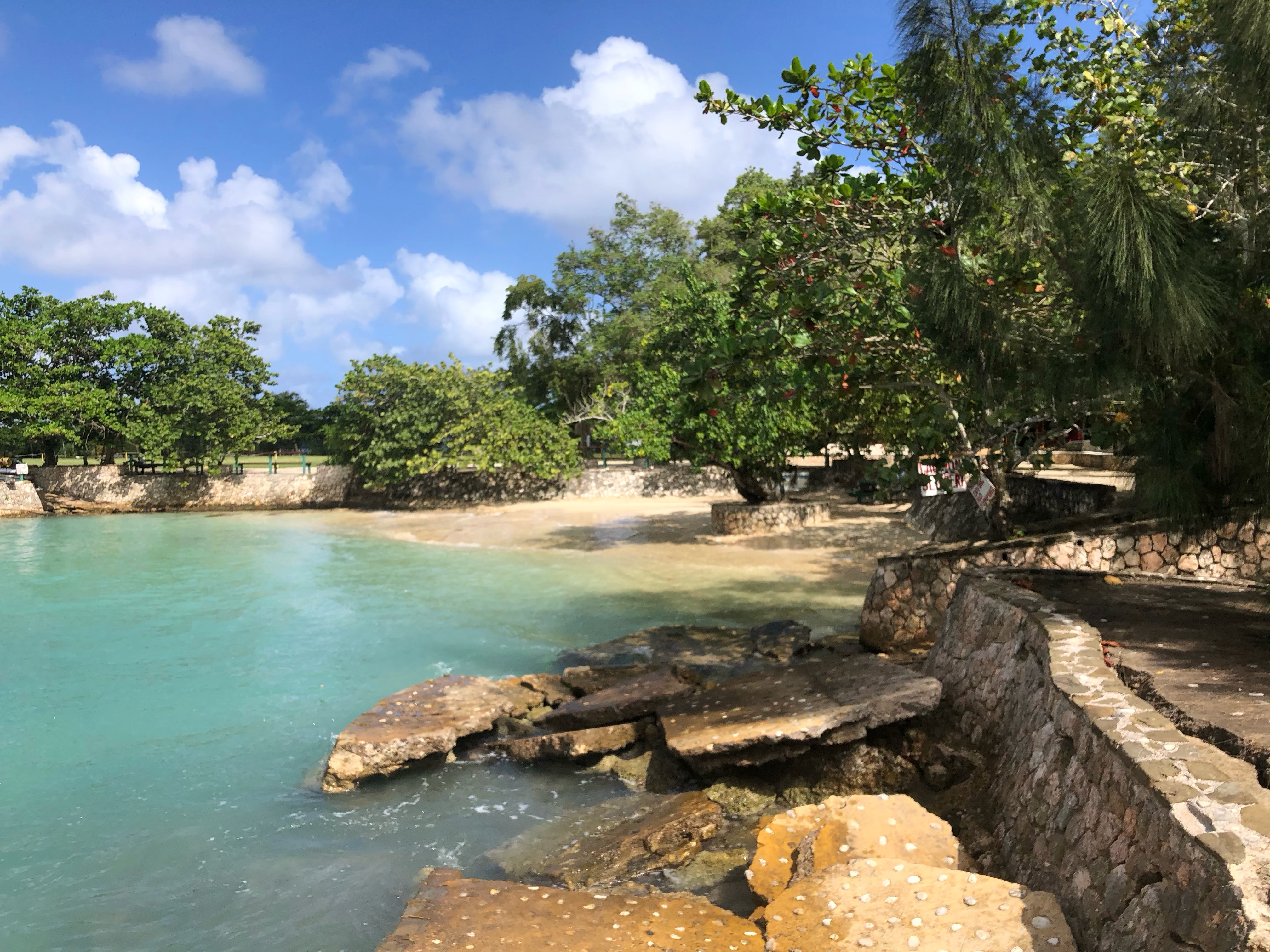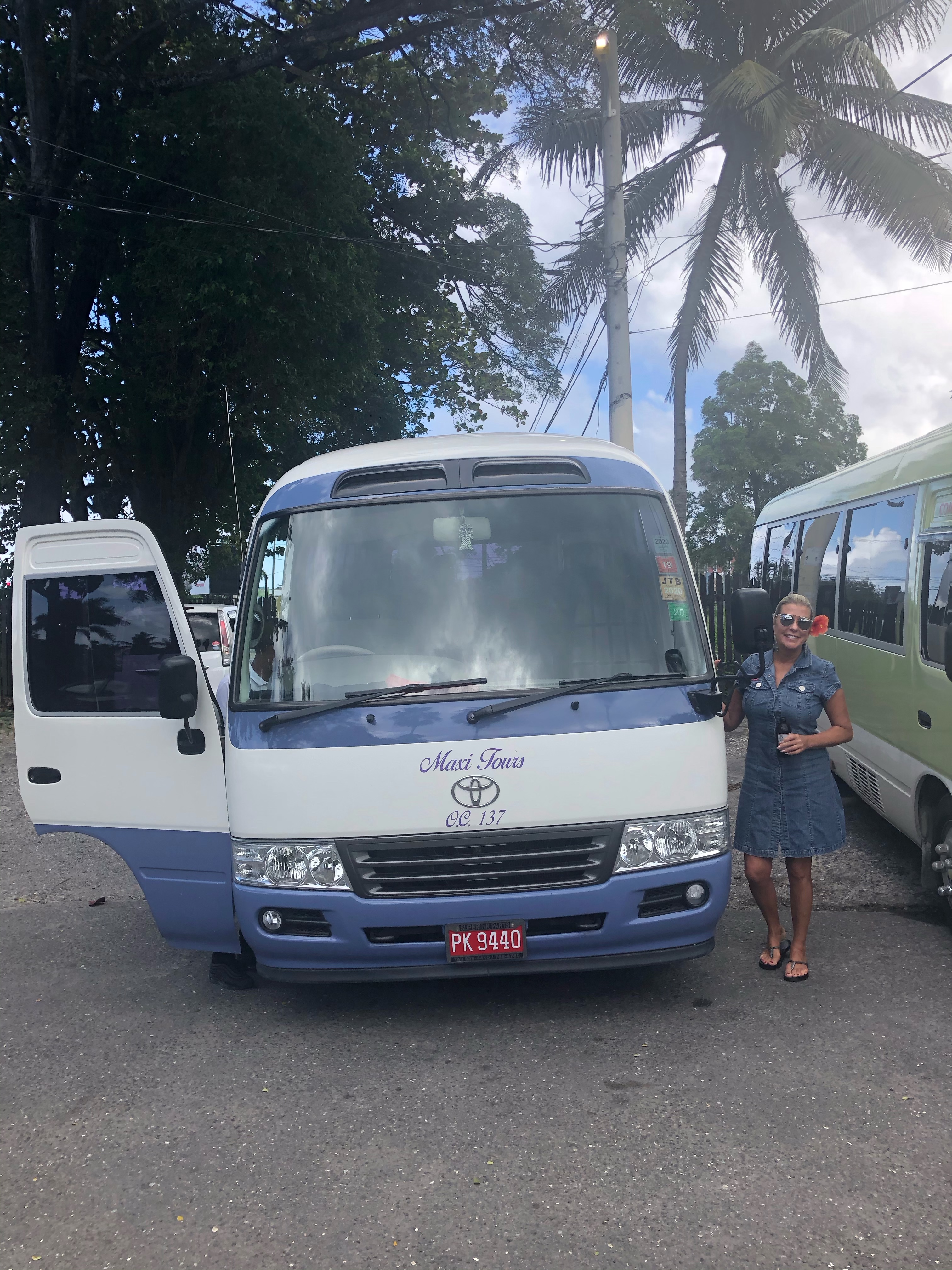 There were lots of school kids in uniforms around which we found out was because they either do 8-12 or 1-5. More kids than schools so they split the day.
Chinese Update
Jamaica now has a lovely toll road linking the north of the island to Kingston built courtesy of the Chinese for $730m. Not content with running the supermarkets in Caribbean countries, they're now heavily into construction. From Ocho Rios on the North Coast to Kingston costs around $11 for a passenger vehicle and the Chinese are receiving the income for 50 years to recoup their costs.
Jamaica became independent in 1962, one of the first Caribbean countries to break away from the mothership. It's the fourth largest island in the Caribbean and has a population of 3m.
In the evening we watched the sunset from a jacuzzi on the top deck and met various people including a couple on their honeymoon (late fifties early sixties). They were boyfriend and girlfriend when Michelle was 13 and Bill was 16 and after five kids between them and 30 odd years of marriage to other people, they reconnected and left their respective marriages. Of the five kids, only one is speaking to them.
When they left a youngish very large couple got in and he was basically a loud redneck displaying far too much self-confidence for a man of his physical disadvantages. As soon as he started booming about himself we left. No subtlety involved. Dianna then found another jacuzzi, this time full of thirty something misfits. A Mexican, an enormous black girl, a bespectacled nerd and the bearded one. Friends since middle school, these were the outsiders who'd found one another.
Grand Cayman
On Wednesday we arrived in Georgetown which is the capital of The Cayman Islands which consist of three islands: Grand Cayman, Little Cayman and Cayman Brac. We were tendered ashore and walked a mile to a little beach to meet Susie and Randy.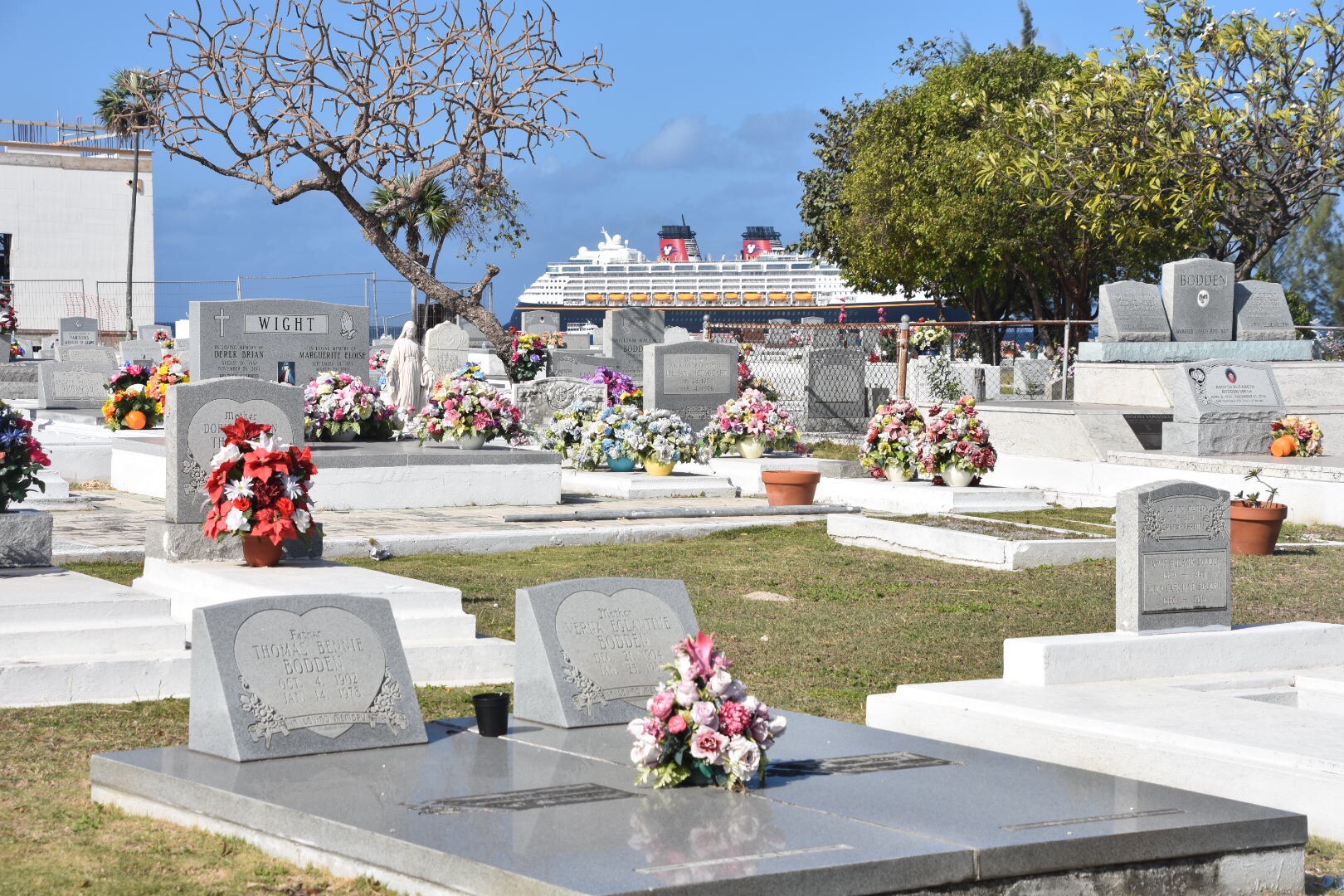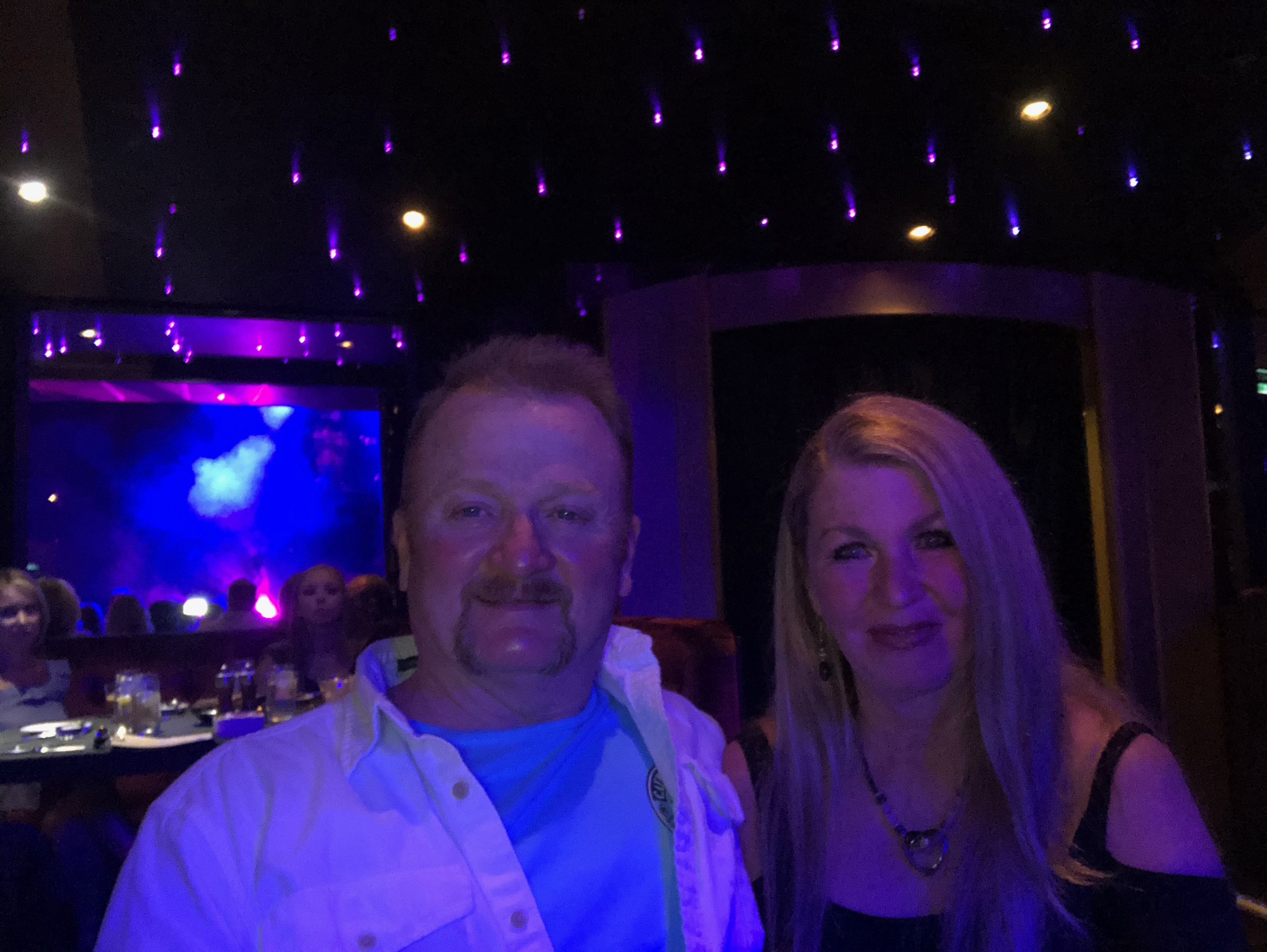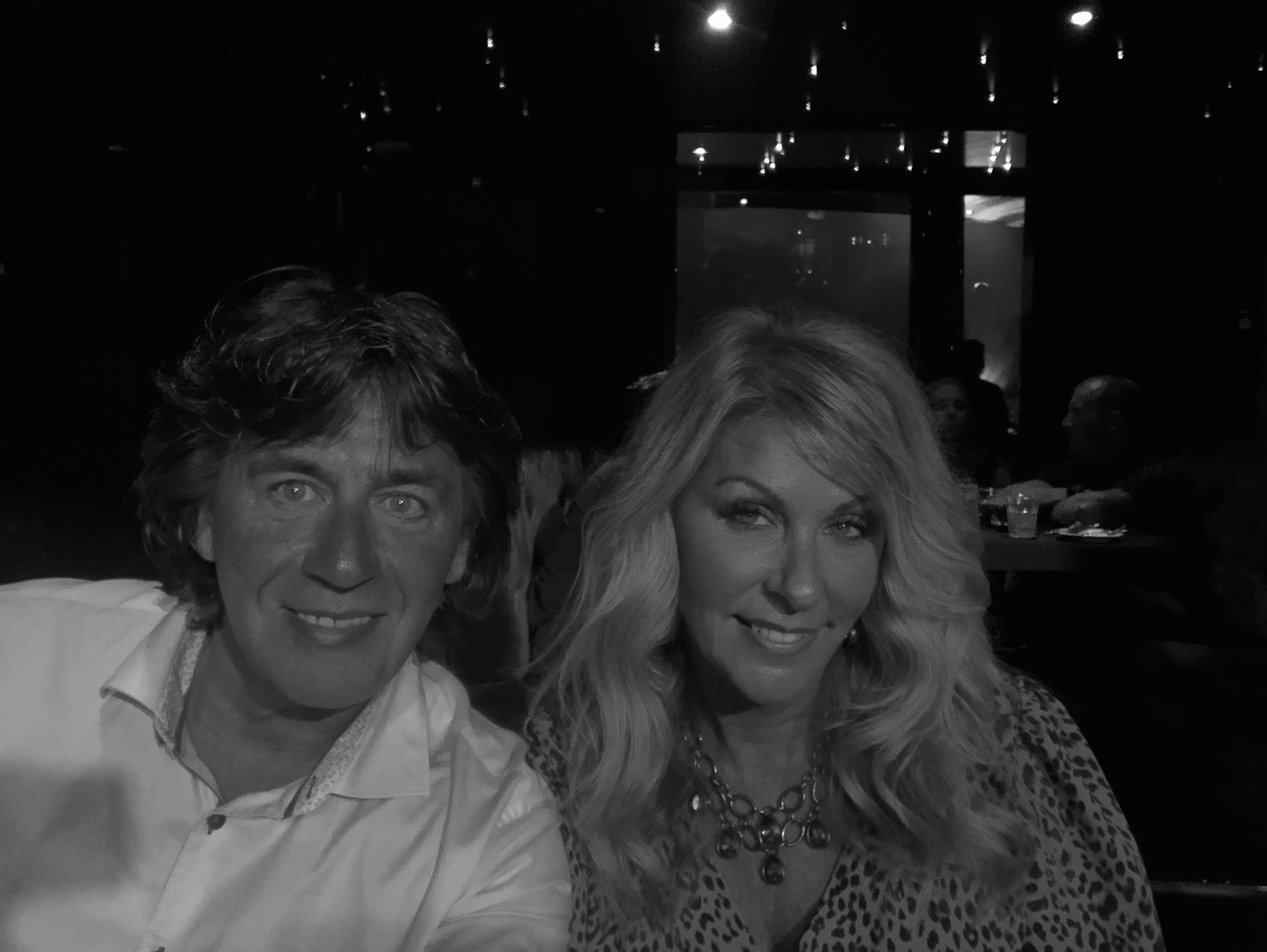 It was a great spot and we had a terrific few hours there with some snorkelling mixed in. Seeing a stingray was the highlight before getting the public bus back to the ship for the bargain price of $2.50.