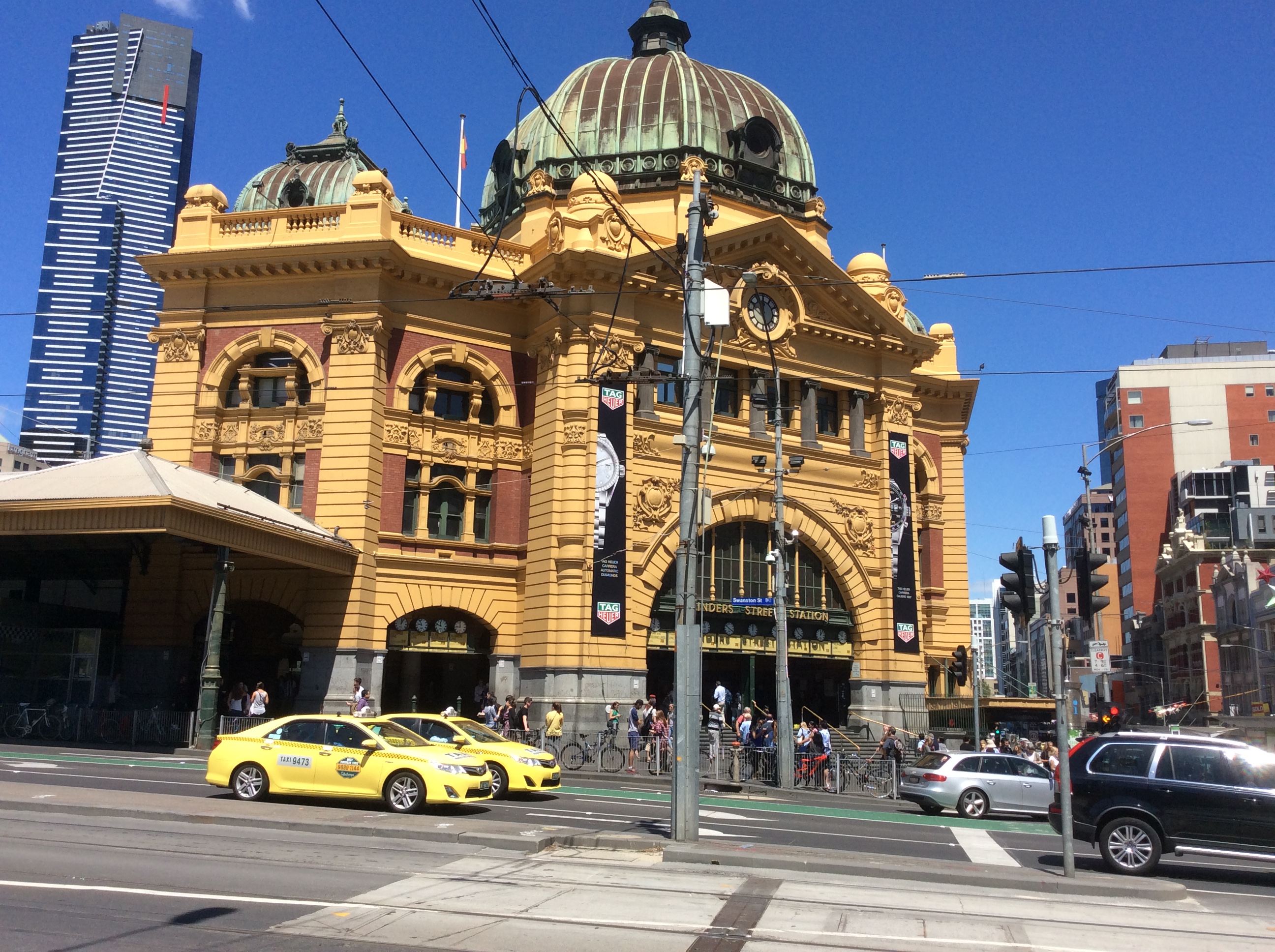 The flight from Bangkok to Melbourne was only 8:40 despite the itinerary saying 10 hours and there were 100 empty seats at the back so I was glad business was full because I would have resented paying an extra grand on such a low occupancy flight. The only gripe was a toddler at the airport. His parents in their infinite wisdom had bought him "squeaking" shoes; I guess so they didn't lose him however me and I'm sure the other passengers in "God's waiting room" wish they had months ago.
The taxi from the airport was back to normal in terms of prices. £30 for half an hour and then into the Sheraton which was jolly nice. SPG have been bought by Marriott!
The bar had shut (at 10:30) so I had to pop across the road for a beer where there was no Fosters! Apparently they don't even make it in Melbourne anymore (founded there in 18 something). It's made in the UK and China now. A bit like the Germans making Blue Nun just for export. Sneaky Krauts.
The temperature here is about 10-15 degrees cooler that Bangkok at about 75 degrees but Tuesday was a beautiful sunny day and I did the tourist thing. For those with the iPhone app I did 30,551 steps on Tuesday which in some emerging African nations would result in Olympic qualification.
Melbourne is a city of about 4.5 million people and I have to say is one of the loveliest cities I've visited. Fabulous transport system. Wide roads, the traffic moves well and an architectural revelation blending modernist, Edwardian, Victorian and gothic like they all belong together. St Patrick's cathedral is stunning and it was only built in 1910. For the fifth consecutive year Melbourne has ranked as the best city in the world to live according to the Economist's Intelligence Unit and I can see why. Although another report named Toronto, another Hong Kong  and the Bedfordshire Gazette claimed it was Biggleswade so make what you will of these dodgy surveys.
Melbourne was originally called Batmania after a chap called John Batman. It boasts people from 234 different countries which is curious because there are only 196 countries in the world. It also has one of the most extensive tram networks in the world (4th largest). Until 1966 pubs closed at 6pm.
I visited Melbourne park which is home to the cricket ground and the tennis venue where they hold the Australian Open. I tried to get inside Rod Laver's arena but it was closed so I walked round it. Circumnavigated you could say (my new hobby).
On Tuesday evening it was going in search of beer and I've found one called Hawkers Pilsner so I've kept the bottle. I'm gonna stick a candle in it.
Before I got to the bar I stopped a fight in the 7 eleven. A chap was abusing the guy behind the till for a reason unknown to me, then he left for a few seconds and came back in ready for a fight. Just as I was leaving. He put his belongings down which consisted of an piece of cardboard and a half drunk bottle of something and when he lifted his arm I grabbed it and said "that's not a very good idea" in the nicest English accent I could muster and then his friends (fellow down and outs) came in and wrestled him out of the shop. I was very glad they did!!!
Wednesday
Weather a bit overcast and very windy so I decided to go to see the new Bond movie Spectre. There were just thirteen of us (I counted) for the 11am showing. Leather seats to boot. A fantastic Hoyts cinema. Good movie although the fraternal discoveries were a little far fetched.
I'm off to the airport tomorrow to collect the car which I have now for the remainder of the trip. Everyone thinks I'm mad to drive these distances and I think they're right although I was a little suspect prior to the driving challenge.
I'm booked in to the intercontinental in Sydney from Sunday so I have three nights to get there via who knows where. Will ask for tips along the way.