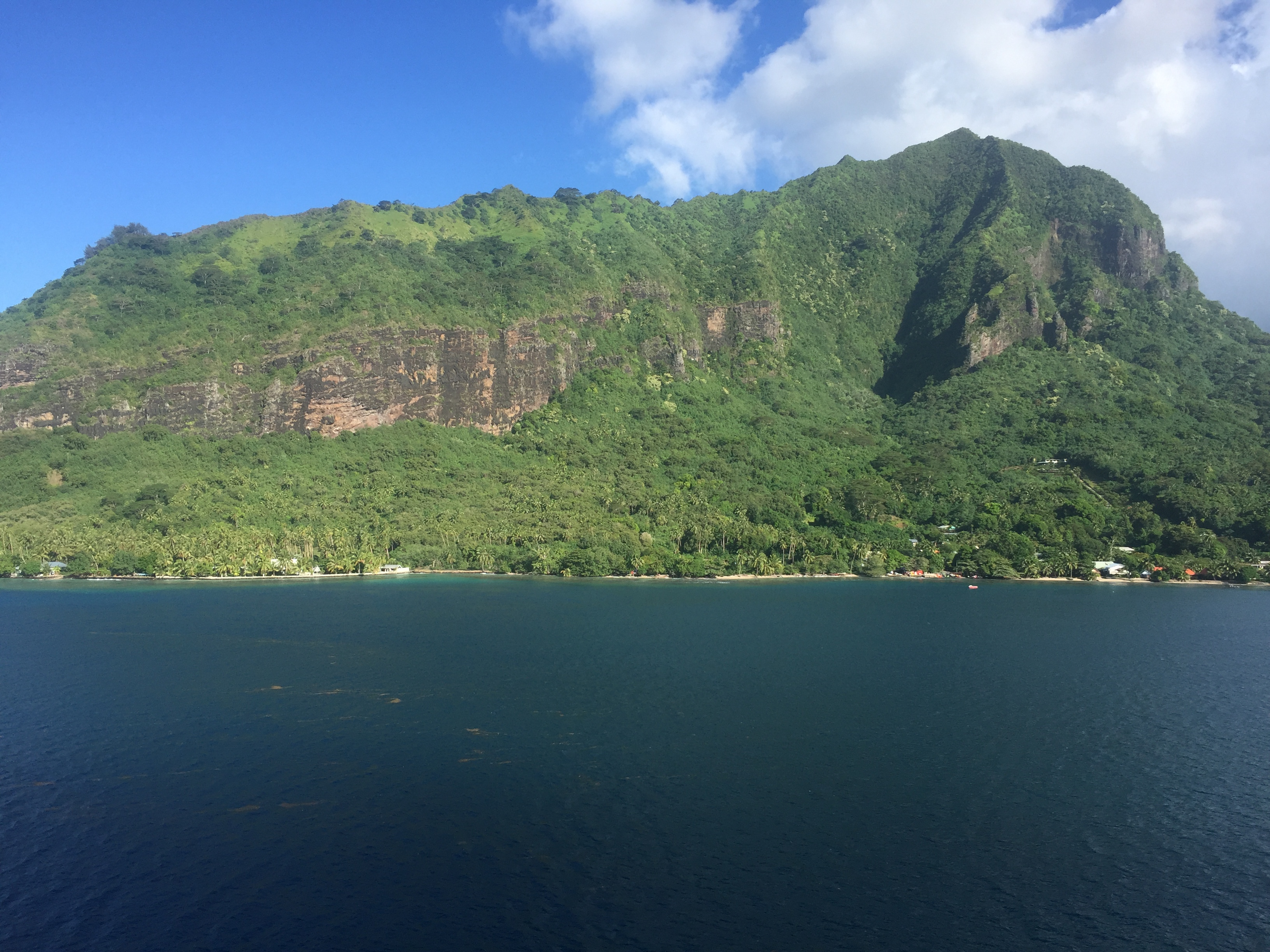 Our first stop in New Zealand was at Waitangi which in on the north island in an area called the Bay of Islands. Cruise Director Gene (from Provo Utah) urged us all to get up at 5:30 for the sail-in which was said to be spectacular. I suppose definitions of "spectacular" vary a great deal but what he failed to mention was that sunrise wasn't until 6:30 so it was dark therefore not as spectacular as it could have been. There we all were with our cameras taking pictures in the dark. In fairness it was the most spectacular "dark" I'd seen in a long time.
Karla and I were booked on a ship excursion which whilst expensive and to be avoided in most instances, sometimes offer the better option if there's not much to see around town. Also you get tendered off first and there's normally a coach ride to the starting point of the tour so it saves time and hassle. Not this time. It was a walk of at least a hundred metres to the kayaks.
Karla can't swim and although she's built like a Kenyan long-distance runner she doesn't do "sport" so the kayak adventure was out of her comfort zone. On the way out it was fairly gentle down the estuary, with the tide, and at the end there was a waterfall which was impressive. You could take the kayak right to the flow (it was flowing down to us so no danger of going over the top) which Karla didn't enjoy at all. I think I'm in trouble but what's a little spray between friends. The journey back was far harder against both the tide and wind but of the 8 boats I was determined to win! Not that anyone else knew it was a race. Of course we triumphed no thanks to my 40kg teammate in the front. I guess what she lacked in upper body strength and kayaking technique she made up for in lightness. On her own she would have gone backwards. I've never witnessed kayaking like it.
After the adventure of a lunchtime we had a look round the little town called Paihia pronounced Pie Here which was very pretty but everyone was after the internet and yet again we were thwarted. It makes you think what did people do before cell phones and iPads etc. Many people ignore the tours and just go ashore in search of cheap wifi.
On one of the tours a 95 year old woman went parasailing. They had to call ahead to make sure it was ok. May have been a bucket list thing. She moves around the ship in a mobility scooter but as they say who needs functioning legs when you're attached to a parachute. Another tour was delayed by an hour and a half as a 90 year old man couldn't make the 170 stairs inside a tricky cave system and five men had to carry him out. Why the shore excursion team booked him on this particular tour is a little baffling but I suspect it has something to do with money. From a cynical perspective, cruise ships are designed to separate people from their money and they're very good at it. As for the rest of the people on the tour they weren't happy with him at all.
Then it was back to the Wakanuinui which is Maori for big ship. We won the quiz again (had about 8 victories so far). Our quiz team consists of me and Karla plus Betsy (80) from Las Vegas whose particular speciality is talking us out of the right answer, and guest appearances from Jack and Rita from the U.S. or an English couple whose names I can't remember. They told us the first time we met but we forgot and now after nearly a month at sea you can't really say "what were your names again". The time for doing that has passed long ago.
Auckland
Up at the crack of dawn again for another "dark" sail-in. We came into Stanley Bay and arrived at Auckland about 6am and this was the first proper city we've visited thus far. The ship docked in downtown Auckland which is very handy indeed. Auckland is known as the city of sails due to the large number of sailing boats in the harbour.
The population is 1.5m of a total in NZ of 4.5m so one third live here. Auckland is on the north island which at its narrowest is only 11km. A fabulous city and one day really wasn't enough time to see the main sights. The Penguins in the aquarium were the highlight for me. The Sky Tower was also a worthy tick in the box.
The sail-away was fun and we had the best sunset yet as it set over the sea framed by distant islands.
Picton
After another sea day our third and final stop in NZ was Picton on the South Island. We came in through the Cook Strait which separates the two main islands. It's near the Marlborough wine region and there are various tours there today but way too expensive unless it includes a free case of wine and a sheep.
Picton is a sleepy little town of about 5,000 people many of whom wondered why on earth the cruise ship stopped here! It was cute enough but an hour round the town and a hike to the top of a hill overlooking the harbour was enough. I popped into the train station to enquire about any local trips but there's only one train a day that leaves at 1:15 but no return trip. Not sure how that works. The passengers were flocking to all the free wifi areas – the library is mobbed but I seemed to find the only bar in town that was wifi free rather than free wifi. It had a sign inside that said "WE DO NOT HAVE WIFI – TALK TO EACH OTHER. PRETEND IT'S 1995". I was on my own so I talked to myself. No change there.
The town was very picturesque but the sail away was something else. Words cannot describe the breathtaking beauty of the Marlborough Sound as we span 360 degrees for some unknown reason. Stunning scenery and it made me think New Zealand was one of the most magical places I've ever been. A feast for the eyes. Spectacular.
In other news circulating the ship Hillary has won the Iowa caucus by the smallest margin and six of the precincts were tied and decided by a coin toss. Hillary won all six coin tosses…she had 49.9% of the vote compared to Bernie Sanders with 49.6%. It's odd listening to the various political perspectives on the boat. One woman who used to work in cyber-warfare for 23 years thinks Hillary should be in jail over the email scandal. Others think she's the best person for the job – certainly the most qualified and others say that she was a lousy Secretary of State. Her dishonesty over the Benghazi incident also upsets a lot of people. I'm still waving the flag for Donald. They really are a gong-ho bunch when it comes to Isis, gun control, policing the world etc. it makes me glad to be British. They certainly think they're superior to every other nation on earth. But at the end of the day they're just merkins and I remind them at every opportunity.
The captain has warned us that at of midday today we are going to hit a storm with sea swells of 15ft and it will last for 30 hours. Memories of Monserrat. Everyone's talking about it and they're tying everything down in preparation.