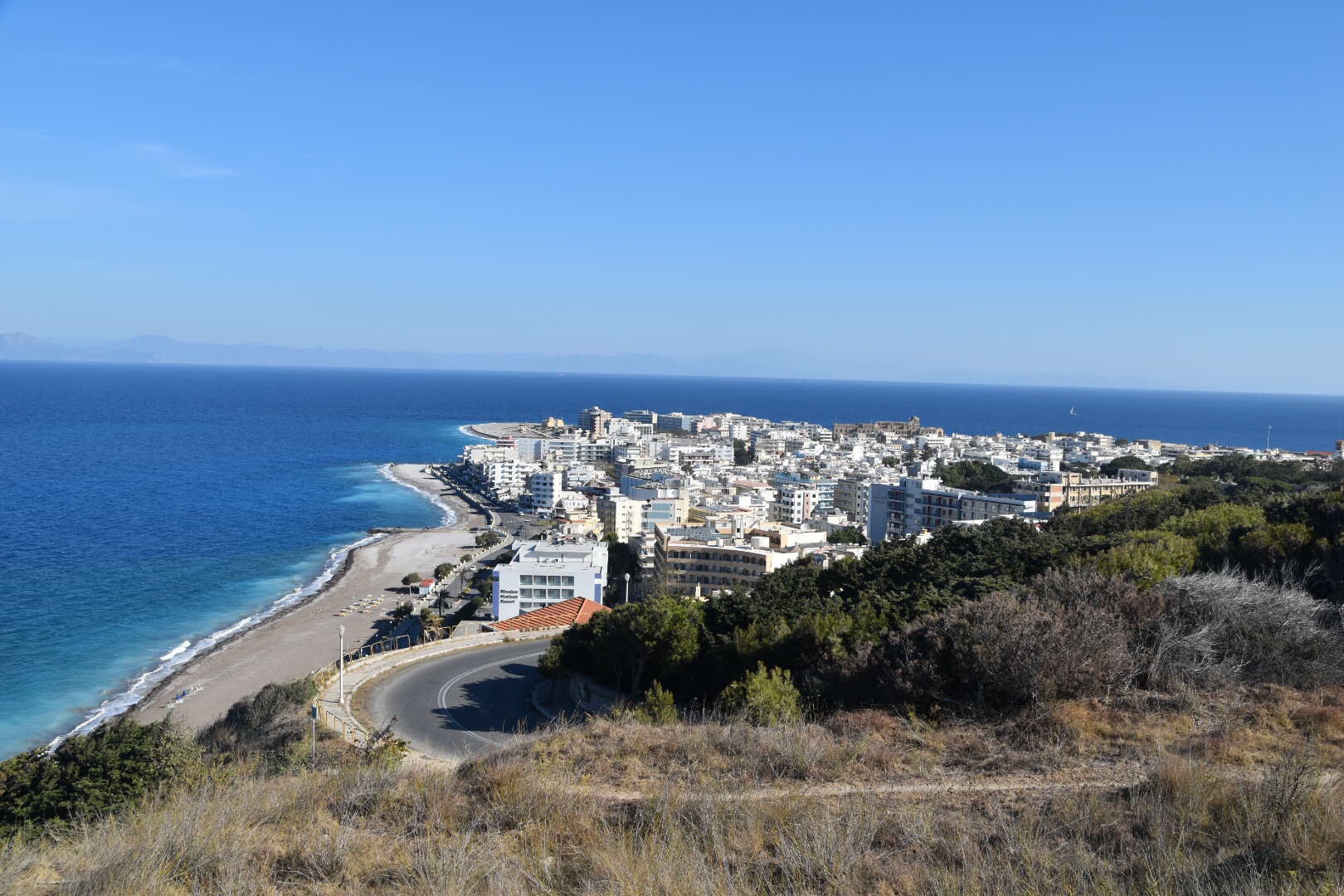 Rhodes, Santorini and Crete, Greece
Rhodes
After a sea day we stopped at Rhodes which is the largest island in the Dodecanese Islands which are a group of 15 larger islands and 150 smaller ones. Other than Rhodes, Kos and Patmos are the most well known. The tip of Rhodes is only 12 miles from Turkey.
The island is 80km by 35km and 120,000 live there which is about 1% of the Greek population. Because of tourism they are better off than many of their mainland neighbours.
We were met off the ship by a group of taxi drivers all called Michael wanting to take us on various tours round the island. We turned down the fist Michael on the basis that his chest hair was distracting us but the second Michael was successful in his bid and we jumped into his Mercedes E Class (much nicer than the Skodas of Athens).
Our first stop was the Colossus of Rhodes one of the seven ancient wonders of the world. Well, it was! Helios used to stand here. It was constructed in 280 BC and only lasted 54 years until in 226 BC it fell down. Greek builders, eh. It was actually due to an earthquake. Michael drove us to a few lovely spots on the way to Lindos including Faliraki where thousands of English people go every year.
Then it was passed Anthony Quinn Bay which was given to the actor during the filming of the Guns of Navarone in the early 1960's.
He took us via a ceramics factory where a shoeless man pedalled a potters wheel and made an urn which was good to watch. Then it was lunch at a little bay and then finally to Lindos. We walked around the cobbled streets and gift shops for an hour which was quite enough and then Michael drove us back to Rhodes Old Town for more cobbles, souvenirs shops and pretty streets.
Aside from Venice, probably the nicest place we've visited and worthy of a longer trip in the future. Michael was the best taxi driver/ tour guide any of us had had this trip (possibly longer). If taxi licences in Athens are expensive (€60,000) the equivalent would cost €240,000 in Rhodes and there are only 400 taxi licences on the island. The weirdest part: the government don't receive any money from licences at inception. They restrict the number of licences thus making them valuable. Some years ago they granted 10 extra licences from 390 to 400. Who gets a newly issued licence is something I need to find out.
Santorini
Named after Saint Irene, Santorini is in the Cyclades Islands with only 12,000 people and an area of 35sq miles. In the 16th century BC there was a devastating volcanic eruption which shaped the island we see today with an underwater caldera where rumour has it that Atlantic may lurk.
From the dock we took a cable car from the village at the foot of a cliff to the town of Fira at the top which sadly wasn't frightening in the least (the cable car ride not the town).
Brenda, Susan, Nancy and I took a taxi to Oia pronounced EE-a which is a very pretty town at the northern end of the island. Oia is where all the famous blue domed images from Santorini are taken so my hopes were high however the rest of the island wasn't that attractive. Not much in the way of greenery but what was I expecting from a volcanic island.
Oia had lots of pretty, narrow cobbled streets but more importantly for Susan and Brenda, hundreds of shops all selling the same things just arranged slightly differently to avoid deja vu. At one point Nancy asked if I had always been this patient. I took the compliment as I stifled a yawn. I didn't have the heart to tell her that I had medals for intolerance.
Once the ladies had touched base with every retailer in Oia, we hopped in a taxi and headed to the opposite end of the island to the archaeological site of Akrotiri. This is where Nancy wanted to go as she'd done Oia some weeks ago on a 9 hour ferry trip from Athens.
Akrotiri was a Minoan Bronze Age settlement destroyed but partly preserved (odd combination I know) by the eruption of 1627 BC. The earliest signs of human habitation go back to the 5th millennium BC.
The opening scene of Tomb Raider was filmed in Santorini and some of the locals tried to convince us that the wedding scene from Mama Mia was shot in Oia however I cannot find anything to verify this claim. On the plus side though, The Sisterhood of the Travelling Pants was filmed here in 2005 and it had a sequel!
Crete
Our ninth and final Greek stop was the island of Crete which is enormous. The largest Greek island by a mile (a few thousand squared ones) in fact as large as the next five biggest islands put together. 100 times larger than Santorini.
We docked in Iraklion or Heraklion as we know it. I wasn't sure why Holland America spelt it the Greek way because they didn't spell Rhodes, Rodos. It's in the middle of the north coast. The island is about 160 miles long by 40 miles wide. I promise that's the last time I mention size.
The ladies and I huddled into a taxi and headed all of 3 miles south to Knossos. Our taxi driver Michael, a man untouched by modern dentistry, had a good command of English and a Toyota. Crete has a population of 750,000 and the two most famous Cretans were Domenikos Theotokopoulos who became known as El Greco when he moved to Spain. Prior to that in Crete he was just plain Dom. He died in 1614 aged 72 in Toledo, Spain. Longevity tip: Michael's grandfather lived to 114 and drank a small glass of olive oil every day.
The second famous Cretan was Nikos Kazantzakis who wrote Zorba the Greek and the movie starring Anthony Quinn was filmed here. Incidentally Anthony Quinn was born in Mexico to a Mexican mother and Irish father but he didn't 'arf look Greek so played Zorba, Onassis and even Zeus.
Knossos is the oldest city in Europe with the first settlement dating back to 7000 BC.
Entry was free as October 28th is a holiday in Crete celebrating kicking the Turks out in 1821 so by democratic vote the ladies decided a tour guide for 10 euros each might be useful. He was rather camp and after what seemed like two hours but was probably only about ten minutes at the first stop I'd had enough so at the first opportunity I snuck off on my own to discover Knossos. Sounds dramatic I know. I had a wonderful hour at my own pace looking around and reading Wikipedia.
In Greece, historical facts and mythological facts can very easily merge into one and Knossos is rich in both. Zeus and Europa had a son called Minos who was the first King of Crete. Every few years lots were drawn and seven Athenian boys and seven girls were sent to the labyrinth in Crete to be eaten by the Minotaur. After a while the Athenians had had enough so a young chap named Theseus offered to slay the Minotaur. With a little help from his father (who gave him a sword) and Ariadne who gave him some thread (always the weapon of choice against a half man half bull) he succeeded. Worth a visit if you're in the vicinity.
Next was the grave of Nikos K and then to the Archaeological Museum which was surprisingly good. As you'd expect plenty of pots, vases, urns, ewers, flasks, jugs with the odd bridge-spouted jar decorated with lilies alabastron with zigzag lines and two stone lamps thrown in just to keep the interest levels up. I was very taken with the large jug like storage containers called pithoi which could have been a forerunner to the wheelie-bin certainly in terms of size. My favourite room was the Late Bronze Age Postpalatial Period 1300 to 1100 BC.
On our way back to the ship we became concerned as to Michael's wellbeing once the tourist season ended in about a week. It turned out that he had 1500 olive trees and the season starts in mid November and runs until February. Each tree yields 10kg of olive oil giving him a total haul of 15 tons of olive oil. We concluded he'd be fine.
Islands visited and square miles…
Crete 3219
Rhodes 541
Lemnos 184
Mykonos 41
Santorini 35
Of the 9 places in Greece visited on this trip, without doubt the one I would return to in a heartbeat is Rhodes.