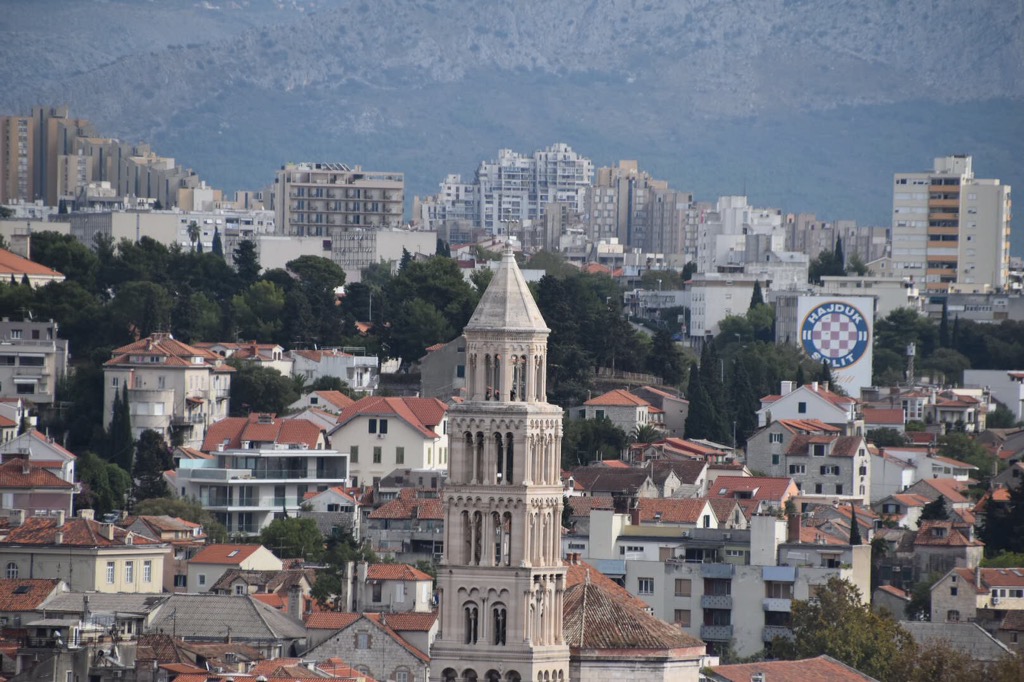 We sailed into a breezy Split this morning with the prospect of a rainy overcast day. It actually turned out quite nice and it never ceases to amaze me just how much nicer places are in the sunshine.
Me and the the old folk (Barbara 79, Brenda and Larry 63, Susan 59 and Diane 67) went out on foot but it wasn't long before we abandoned the idea of a perambulatory experience and jumped in a two carriage car train thingy. It was more expensive than the Bari equivalent and without a guide but still cheap enough for us to be tempted.
The train thingy headed up into the hills of the Marjan peninsula (UWHS) with great views of the city and the bay. Then it was off to the highlight of the day, the Palace of Diocletian who was the only Roman Emperor to retire. We entered through the north gate passing by the enormous statue of Gregory of Nin and legend has it that if you rub his big toe and make a wish, it will come true. I had a quick rub.
I was the only one of our merry group who saw the merit of climbing the bell tower so off I went and it was probably the most interesting BT I've been up not least because of the rickety stairs and numerous opportunities to plunge to a grizzly death. Five minutes after returning to terracotta the bells started a'ringing and I wondered if there had been any kind of warning to the person walking past at that precise moment. I chuckled.
Only Larry had remained and we searched in vain for the four ladies but no luck. Larry and I spent the next few hours trying not to look like a couple of homosexuals with a penchant for photography.
Split has a charming old town area and the district of Varos is also quite lovely. On the flip side, the modern part of Split, which could have given Honningsvag a run for its money, was a collection of carbuncles.
Back on the ship I lost yet another quiz and a trip to the sauna to meet my half-naked buddies. It was our second gala evening or as the Americans say gay-la, which means black tie.
Some quick Croatia chat stats. The currency is the Kuna; Shakespeare's 12th Night was set in Dalmatia; inventor Nicola Tesla was born in Croatia and perhaps my favourite, in the capital Zagreb there is a Museum of Broken Relationships.
Next stop Venice.