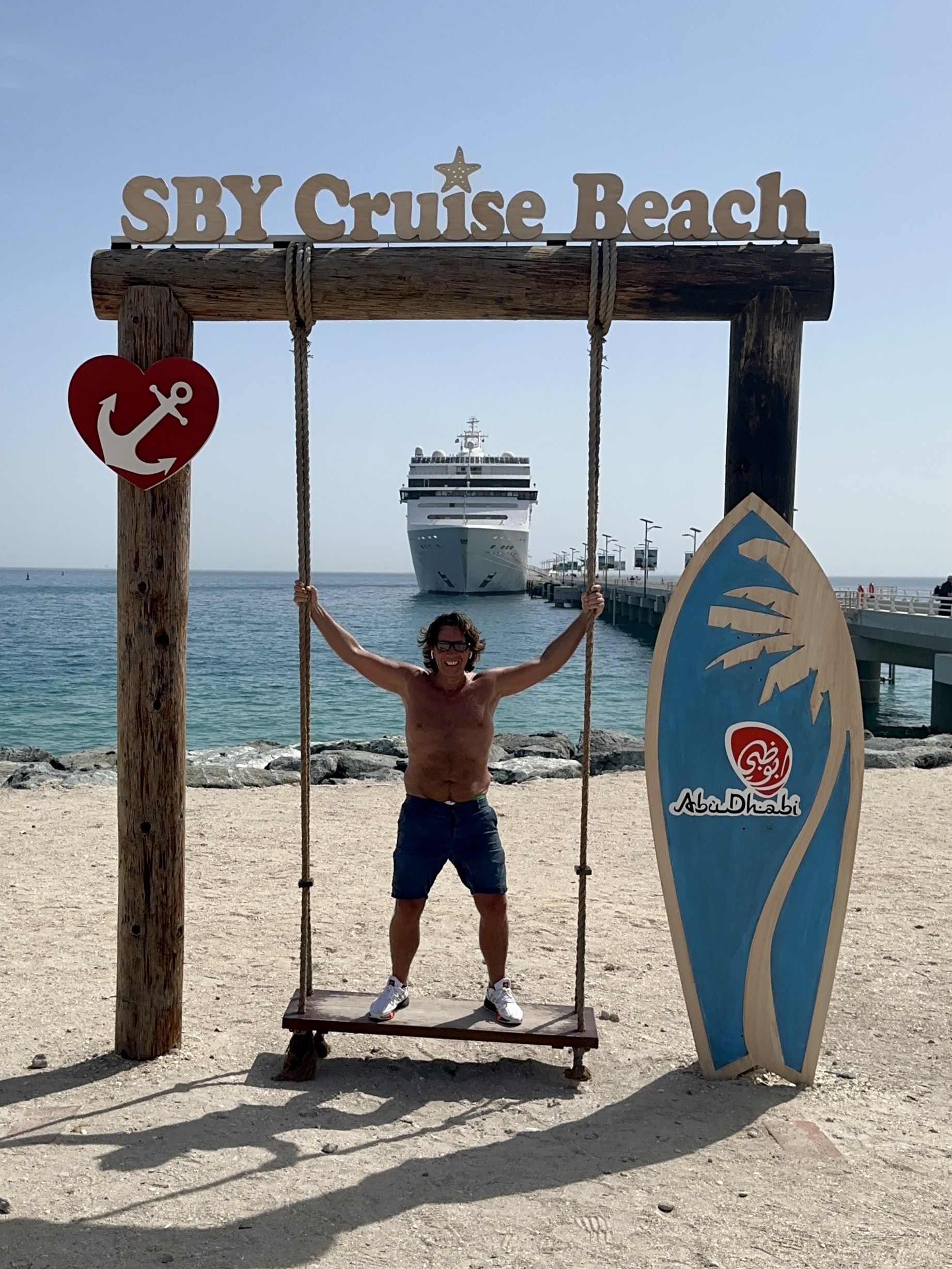 Well, the airport experience was rather acceptable although Heathrow's terminal 4 did feel like I was in a different country. A lot of international flights not involving "caucasians" is all I can say. This was my first flight on Etihad, the airline of Abu Dhabi and I was looking forward to seeing what their economy class was like.
The flight was not what I'm used to and I had to deal with an armrest hog. I thought about buying the armrest rights off him – he was youngish and might have liked the idea, but he was in a middle seat and I felt a degree of sympathy for him.
Clearing customs in Abu was very slick indeed. The only problem was the snaking line for the taxis. Luckily I was singled out by Zaha who was trying his luck picking up passengers in his private car. I think he picked me as I was travelling alone. He saved me a good 30 minutes queueing.
I stayed at Le Meridian, which is one of the many reasonably priced five star hotels in Abu Dhabi – certainly compared to Dubai which are twice the price.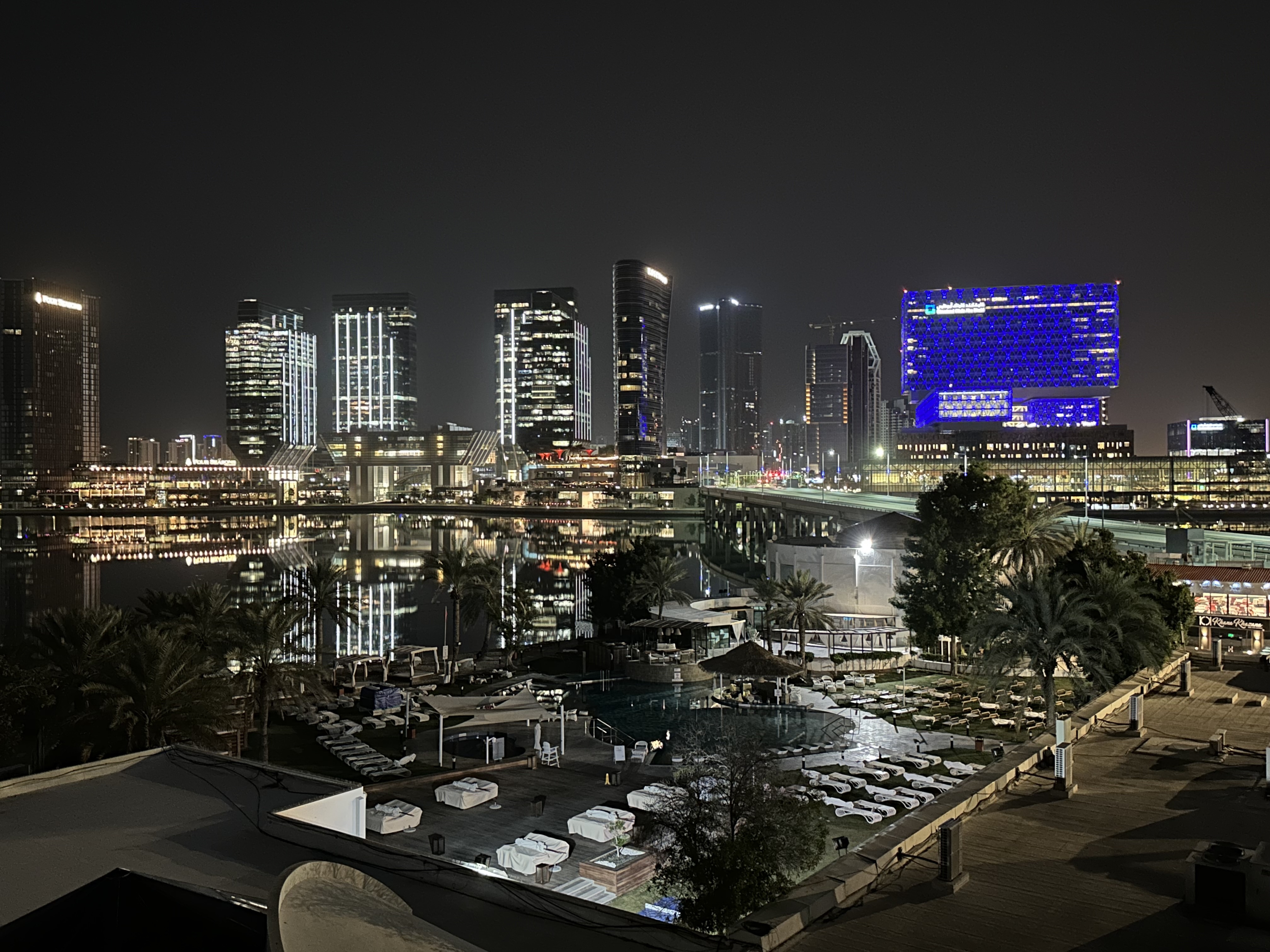 The morning was taken up with the gym, breakfast, lying on the beach and swimming. I met Delwar from Bangladesh who had worked there for 12 years. Delwar spoke English but I still struggled to understand what he was saying. I just nodded.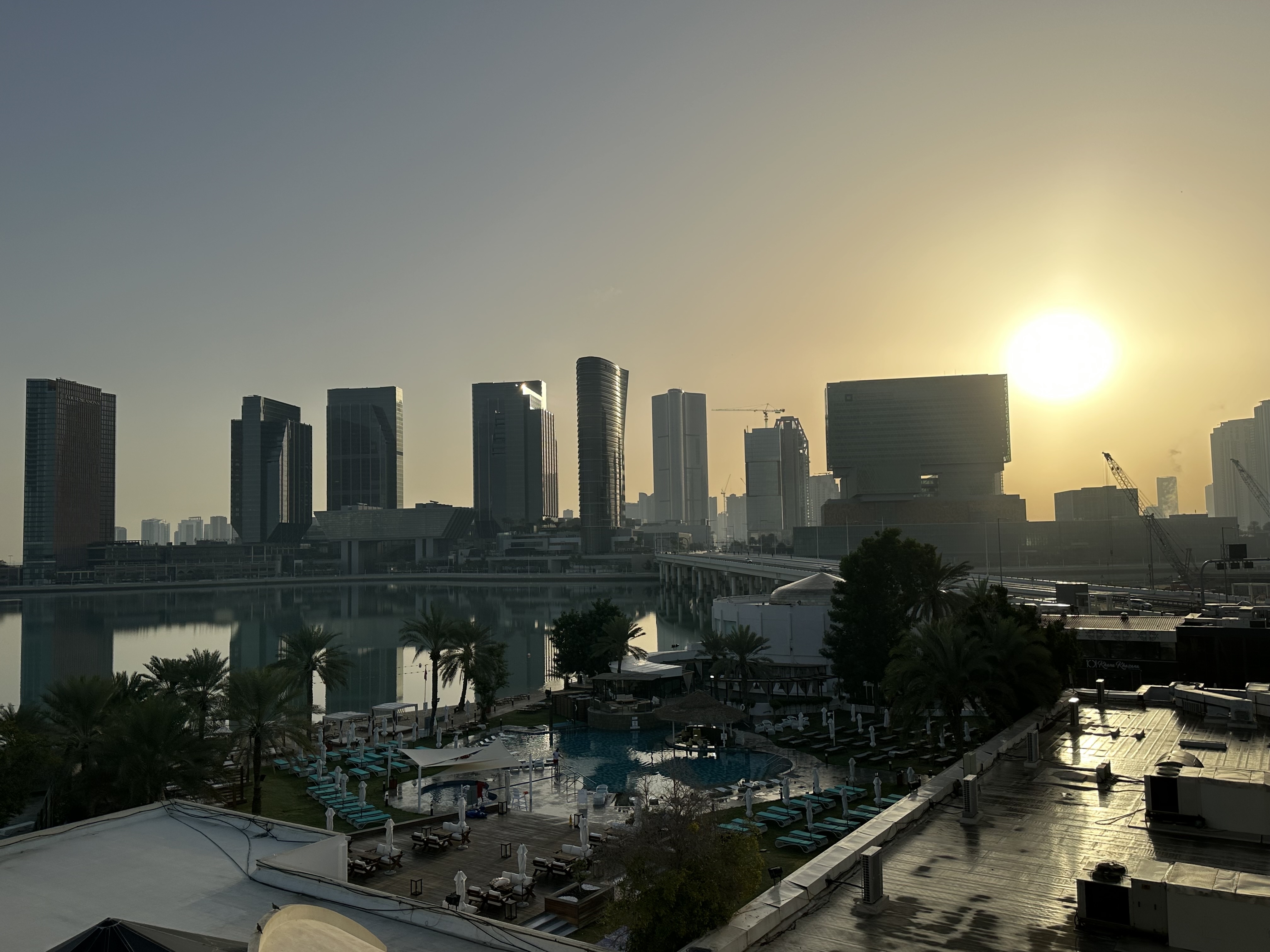 Others I encountered were a girl from Myanmar manning the gym, a security guard and taxi driver from Nepal and Kenneth, at front desk, from Uganda.I was getting the feeling that no Abu Dhabi natives actually worked.
I arrived at the cruise terminal at 2:30 after a £3 taxi ride and it was empty. 260 passengers were embarking here – the majority boarded in Dubai the day before. It was dreamy.
Once onboard I was greeted by some young Italian guy who said I looked like a rockstar. I took it well. My cabin was an upgrade from what I'd booked – I have a window! I'm on deck 7 otherwise known as Rigoletto. All the decks are named after an opera as the ship is called the MSC Opera. MSC stands for Mediterranean Shipping Company and this one had a capacity of around 2,500 which was just about right.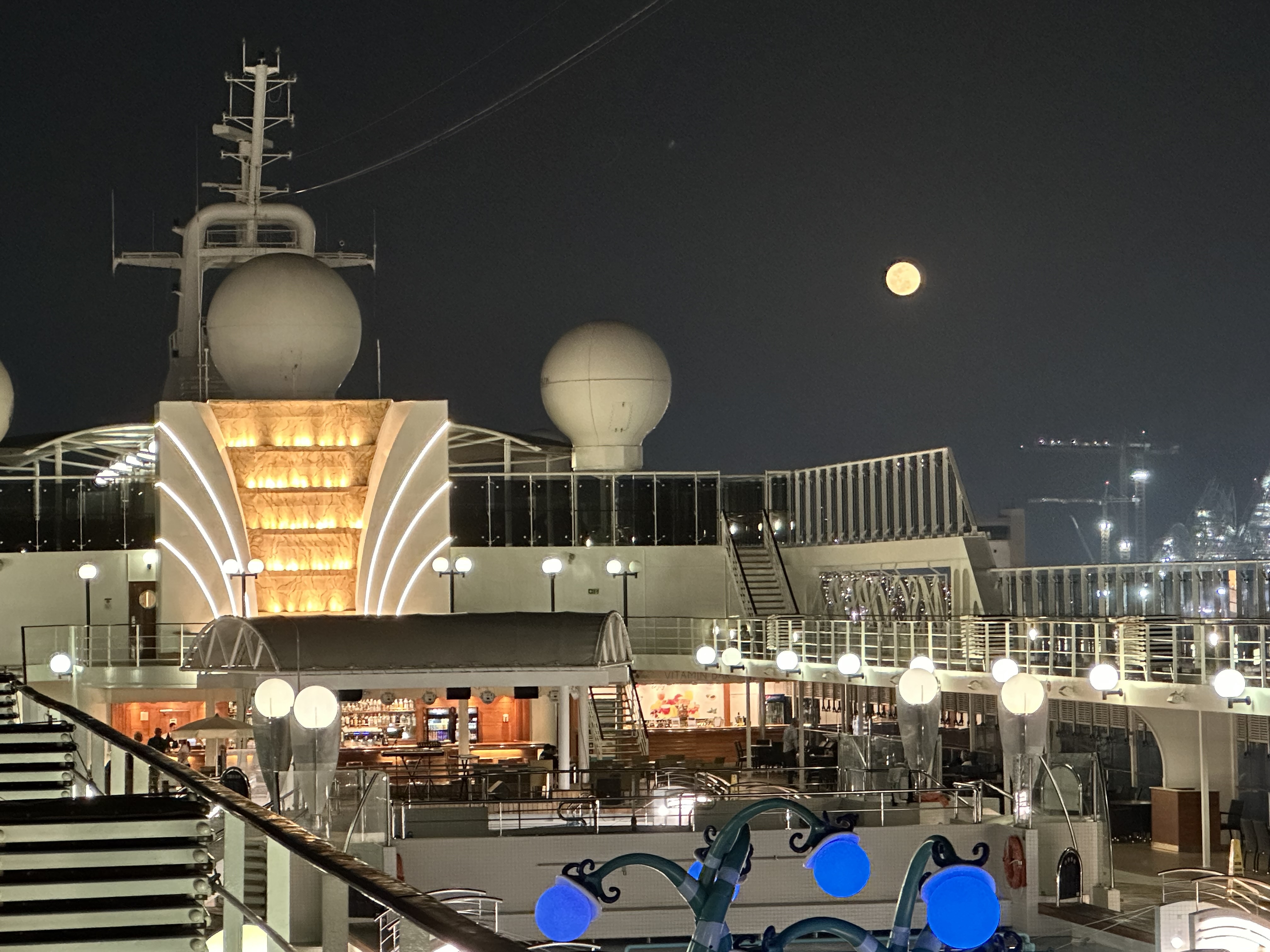 The temperature, for those of you enjoying the cold snap in England, was a pleasant 77 degrees Fahrenheit.
Tuesday 7th
I'd booked an exfoliating massage with Lenny who was a tiny Indonesian. She was about 4'8". I thought she might need a box to stand on. Anyway, don't underestimate tiny Indonesians.
Our first port was an island called Sir Bani Yas, which is the largest island lying off the coast of UAE, due west of Abu Dhabi. It was the former private island of the founder of the UAE, Sheikh Zayed bin Sultan. It's a large island and they've developed a beach for cruisers, similar to the private Caribbean islands which many cruise lines own. Except this one wasn't very good. The beach looked inviting from a distance but upon closer inspection, the yellow sand was more like yellow dirt. I spent an hour tucked away in the corner before returning to the ship.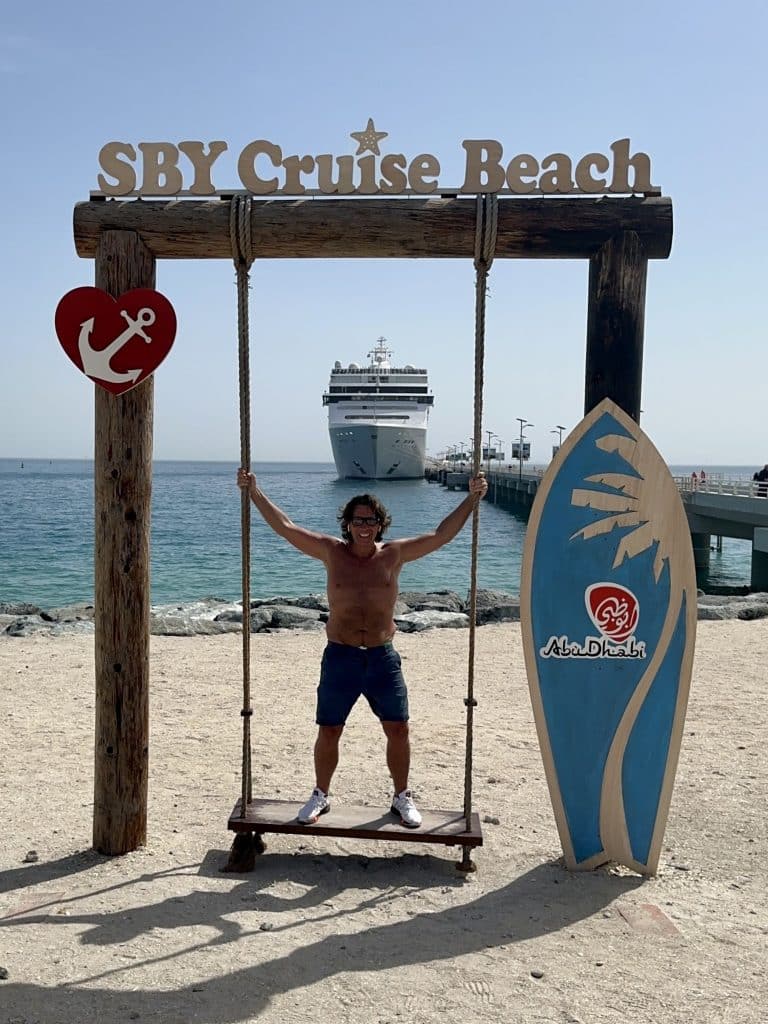 I continued my fitness regime with my second trip to the gym, which is small but adequate. A bit like Lenny. And the casino is also small but adequate. And the spa area. I bought the weekly pass to the spa and was disappointed that the maximum temperature allowed in the sauna was 75 degrees. I've not come across this before. I made my feelings known, in a gentle fashion, and ended up getting a 50% refund.
Wednesday 8th
This was our only sea day of the trip so I can tell you a little about my fellow passengers.
I've travelled around the world. I've met all sorts of people, but this group had managed to evade my observations. This has to be the biggest bunch of misfits I've ever cruised with. And this from someone who has sailed on P&O out of Southampton with northerners.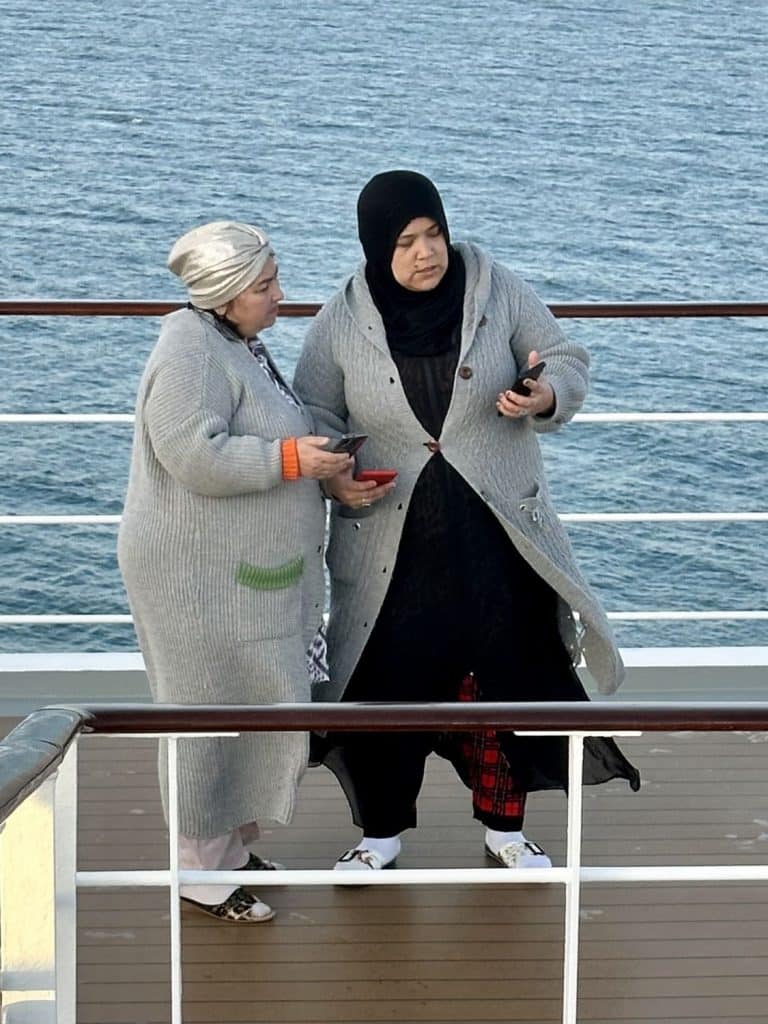 Russian speakers are the largest contingent with around 650. But they are not all from Russia. We have 300 passengers from Kazakhstan, 100 from Uzbekistan and a scattering from Kyrgyzstan. What's odd about them, for a chap from Beckenham, is that they are Asian looking. More Mongolian than Russian.
Everywhere you look there are groups of old ladies going around in packs wearing headscarves. The cruise was incredibly economical (cheap). A cheap cruise means only one thing. Note to self. The headline rate for a 7 night cruise before taxes, gratuities, drinks package, internet package, massage, magnet etc. was a mere $242 for a solo traveller. A price that was obviously appealing to the peasantry of the Silk Route.
These women are very amusing in the gym. It could end up as the highlight of the week. And the pool, swimming fully clothed, headscarves too. And I could probably write a blog just on headwear. Men too. There must have been a special offer in "Russian Peasant Weekly".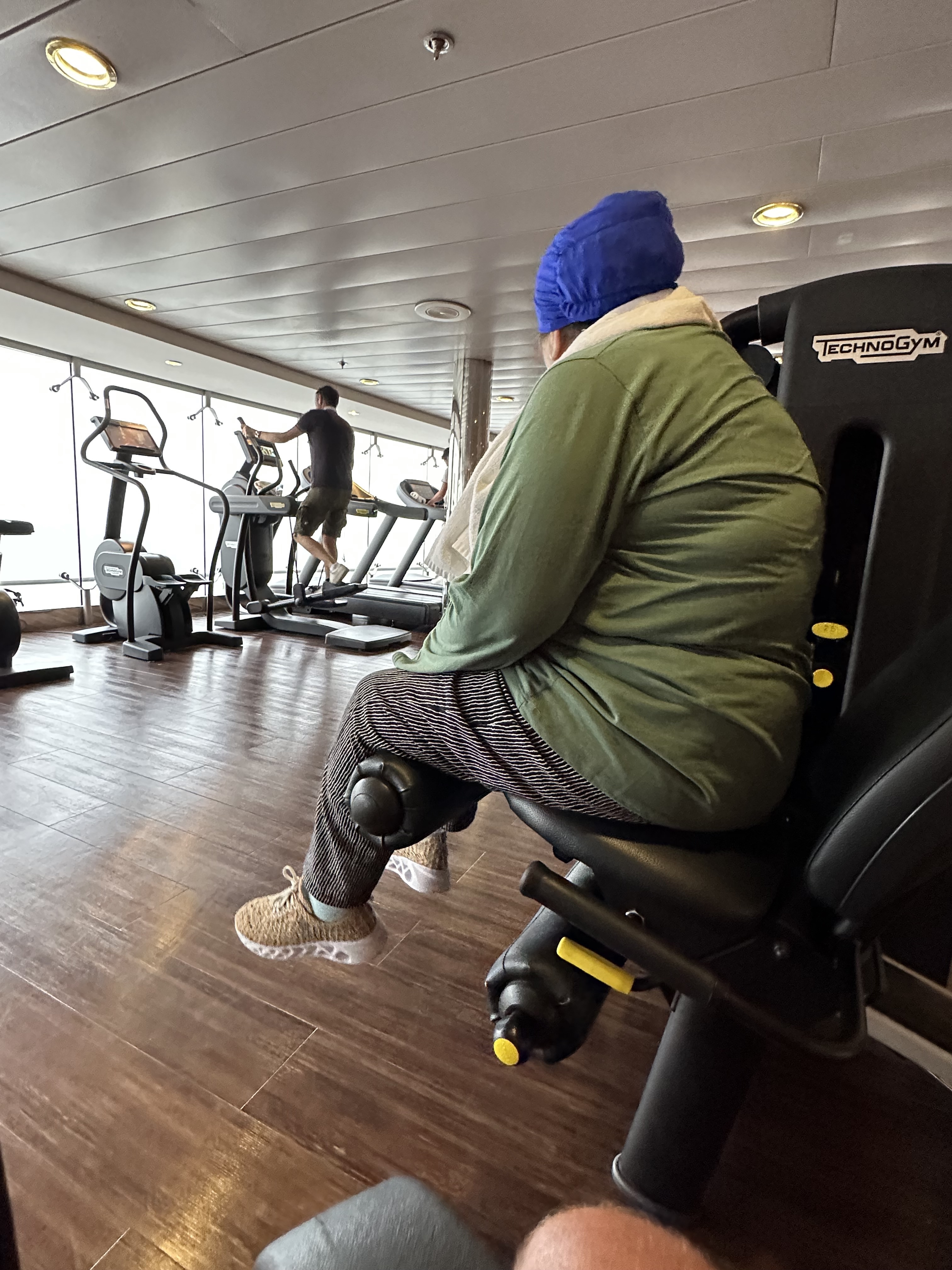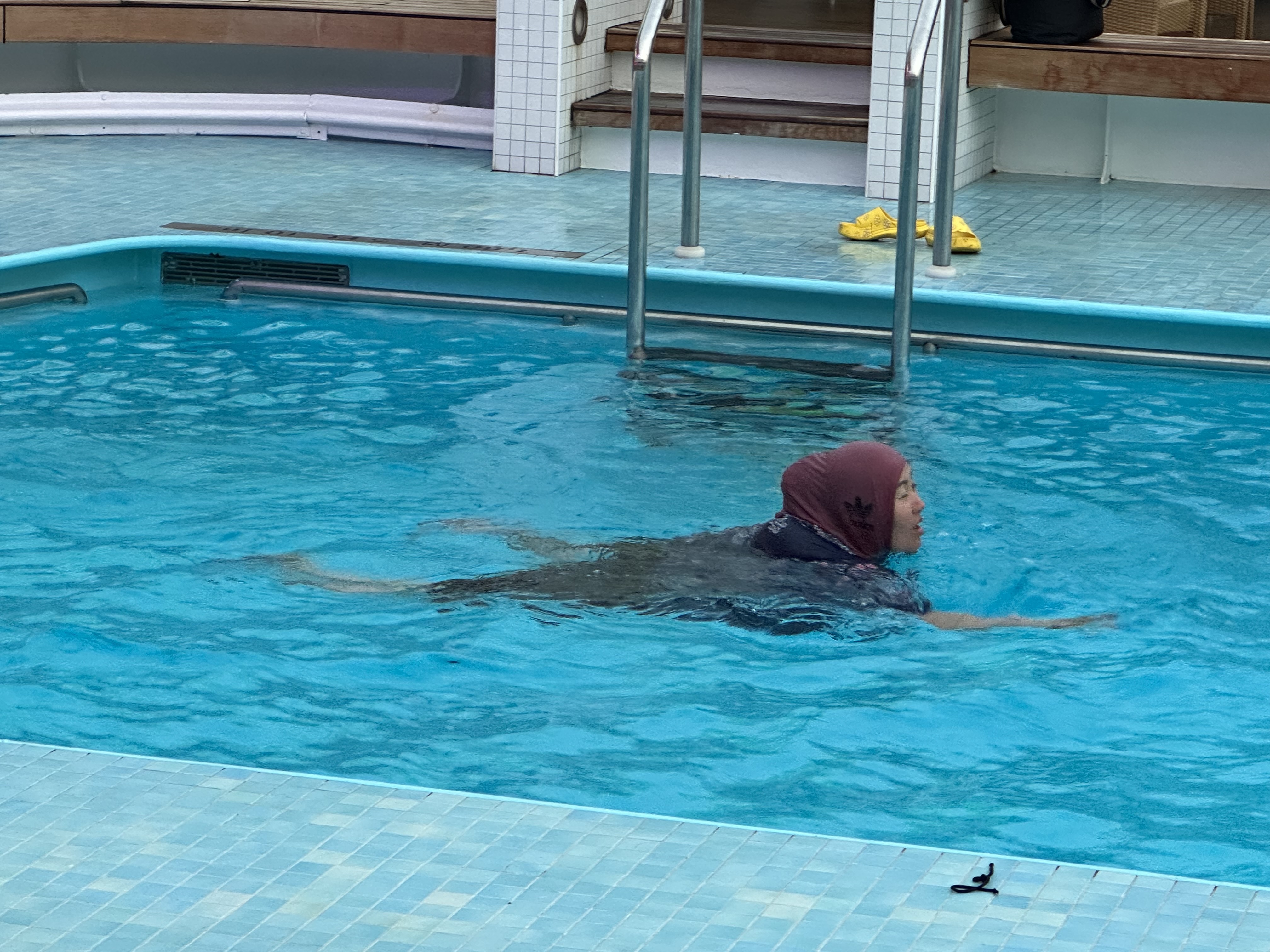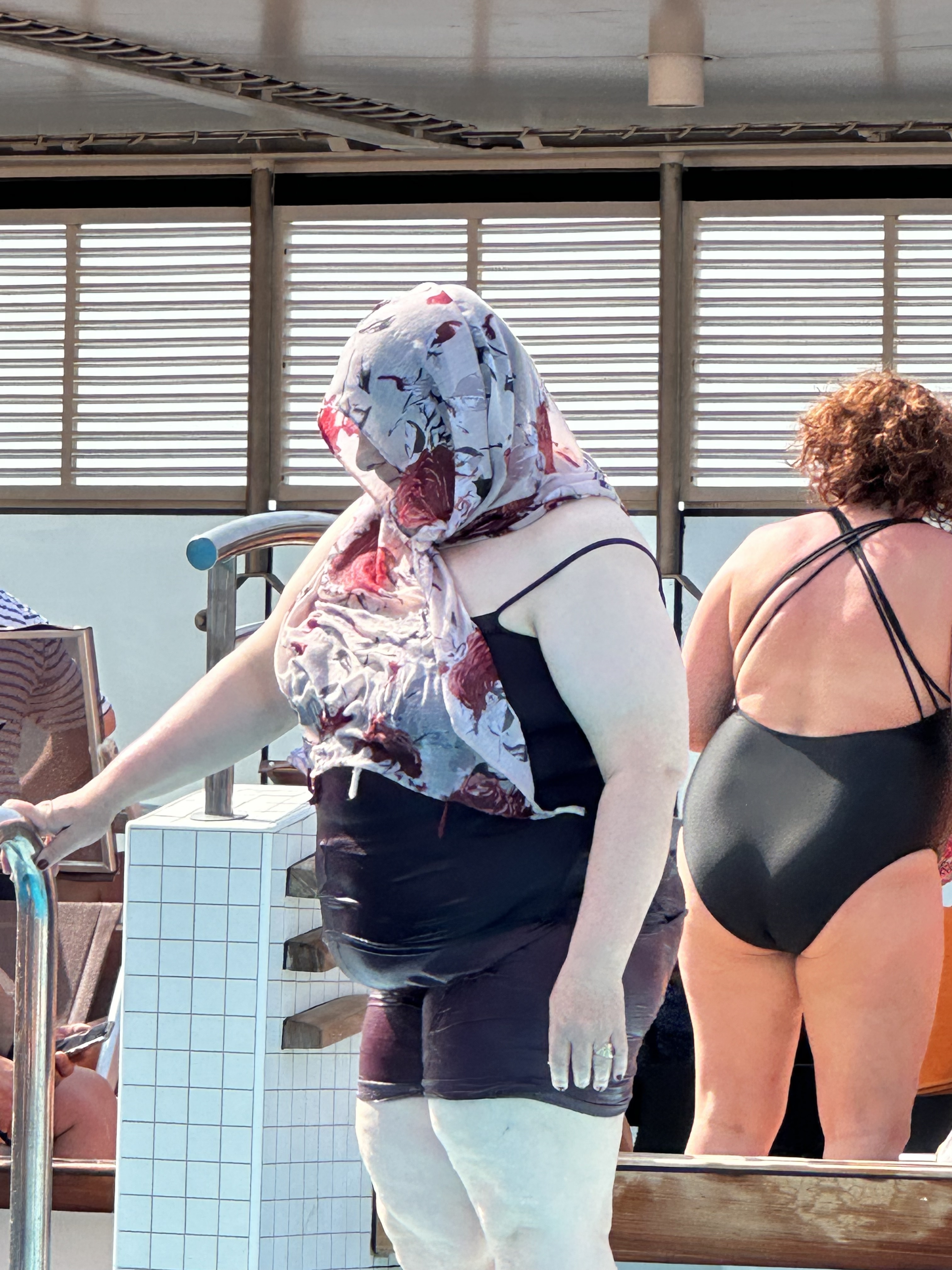 A note about the rudeness. I lower my expectations when Russians are concerned. I must have opened doors for about a hundred and I've not had one spasibo. I often wonder if the Russians have a word for "polite". I realise they don't have a lot of money, but as they say, "politeness costs nothing" therefore economic adversity isn't preventing them from being better world citizens. Rant over.
There are only around 260 with English as a first language (including a few Welsh). Announcements are in 6 languages – English, French, Italian, Spanish, German and Russian. Interesting mix of nationalities.
Next stop Oman.