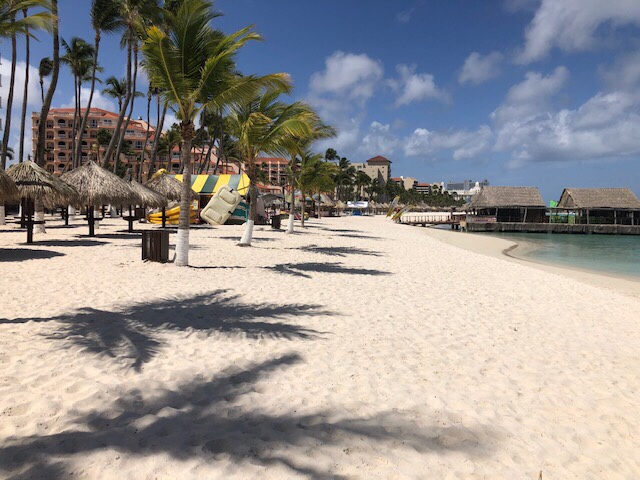 After Tui cancelled all direct flights to the Caribbean until at least October, I had to find an alternative route back to the US which I managed to do through KLM via Amsterdam. The flights didn't match up so I had a night in the Hilton at Schiphol airport. London to Amsterdam is only 45 minutes and to my surprise, the flight was full. I'd paid an extra €1.90 for slightly more legroom and as you might expect, you don't get a lot for €1.90. We're talking millimetres. I would have paid a great deal more to avoid sitting next to an large overflowing Russian peasant woman but for 45 minutes I could withstand the spillage.
I liked Schiphol. It felt more like an underground mall than an airport and I stopped at a store and bought a bottle of wine. The Vietnamese girl behind the till seemed concerned that I'd bought a bottle that I wouldn't be able to take on the flight the next day. Little did she know of my well honed proficiency at polishing off wine.
The Hilton was connected to the airport via a walkway with the typical cavernous atrium that seems to be a common feature of airport hotels. Does anyone know why? The room was fabulous with an atrium view and I had a comfortable night albeit with only 5 hours sleep.
After a relatively abstemious visitation to the KLM lounge, I boarded the midday flight which was almost full and I'd thought I'd pulled a master stroke but choosing a business seat with an empty adjacent seat, but alas. I always have to remind myself that I've only paid for one seat and not an empty one next to me. Masks on for the full 12 hours, 10 to Bonaire where half the pax debarked and we took on a load going back to Hamsterdam. Then a short 25 minute hop to Aruba. Then the fun started.
Upon booking I had to pay a mandatory $75 for a Covid-19 test and a further $185 for health insurance as per new Aruban regulations. Bloody scam if you ask me. The test was on arrival and I figured it wouldn't be the slickest of operations so I was keen to get my case and leg it. As a result, the medical screening queue wasn't too bad and after fifteen minutes I was sitting in front of Manuela the sadist. A swab taken at the back of the throat, almost triggering the gag reflex – I was nearly reacquainted with a KLM cheese and pickle sandwich on brown bread – and then a second swab up the nostril until my eyes watered. It wasn't pleasant.
The deal was that they keep you in quarantine until the results come back but that was an empty threat and I was allowed to get a taxi to the Holiday Inn and self-isolate in my room. The irony was, I could have self isolated anywhere in the hotel. The test came back negative the following afternoon. The hotel security staff are doing daily temperature checks every time you re-enter the hotel. 36.6 seems to be my average.
Flights had only resumed from Europe the day before my arrival (no North American visitors until July 10th). The taxi driver hadn't worked for 101 days (lazy bastard). Nearly all Caribbean islands are heavily reliant upon tourism therefore Covid-19 has been particularly difficult for them. Aruba has had relatively few cases – 105 with only 3 deaths out of a population of 125,000.
Monday looked lovely and sunny so I hit the beach at 9am and there was no one there. I was literally the only person on the beach. It was like a bomb had gone off and snuffed out all the tourists. The shots below were taken at 10:33 in either direction.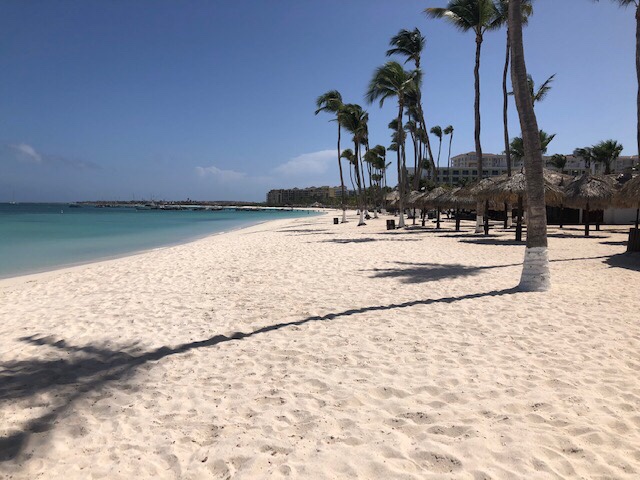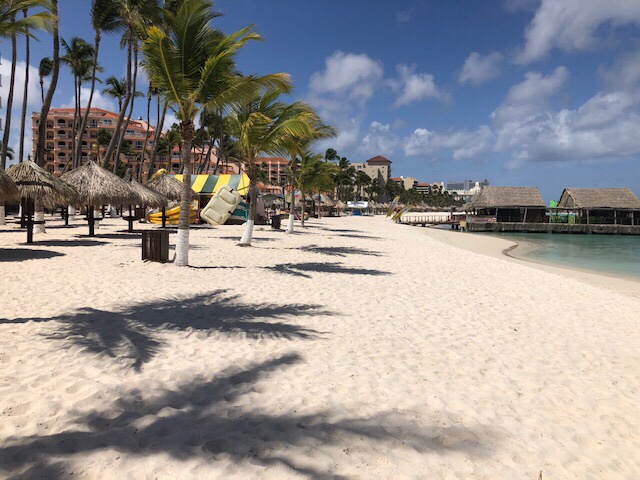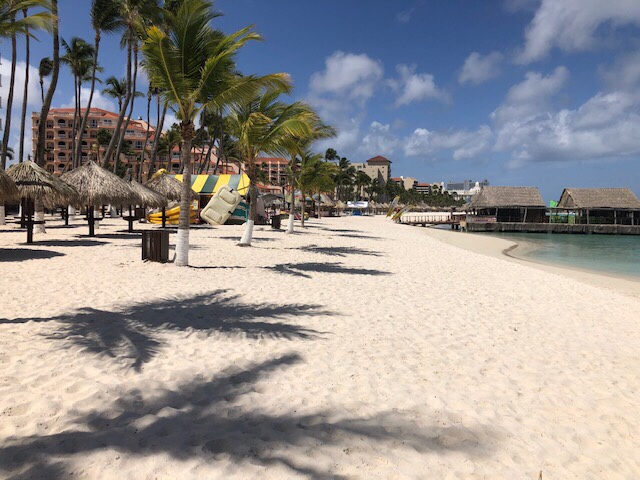 After a months worth of vitamin D and a peaceful day, I had dinner in the only restaurant which is open. More waiters than diners.
Since my arrival on Sunday 5th, when another couple checked in too, guests have arrived in single digits. Monday we had a whopping 6 new guests but things took a downturn with 3 and then 1 on the following two days. You'd normally pay a lot of money for this kind of exclusivity. My days have fallen into a lovely routine lying on an empty beach with the most vexing decision of Ethe day being which palapa to perch myself under. When Dianna and I were here in December at the Marriott, palapas had to be booked online and it wasn't easy getting one. See what a worldwide pandemic does for palapa availability.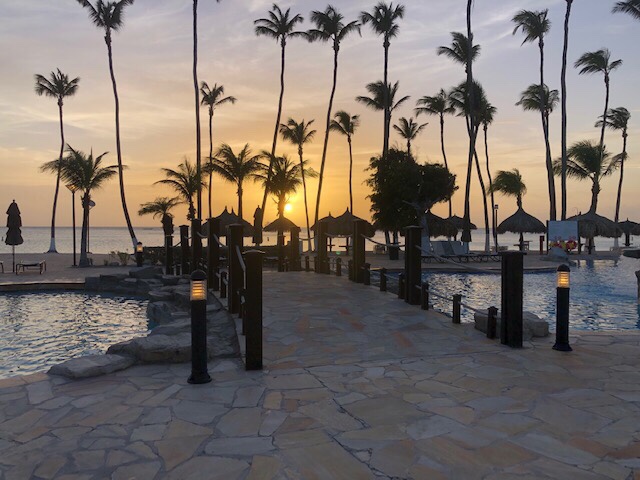 The one thing missing is Dianna and despite tempting her to come and meet me, she's not keen on travelling at the moment and who can blame her. Corpulent Russian peasant women everywhere.