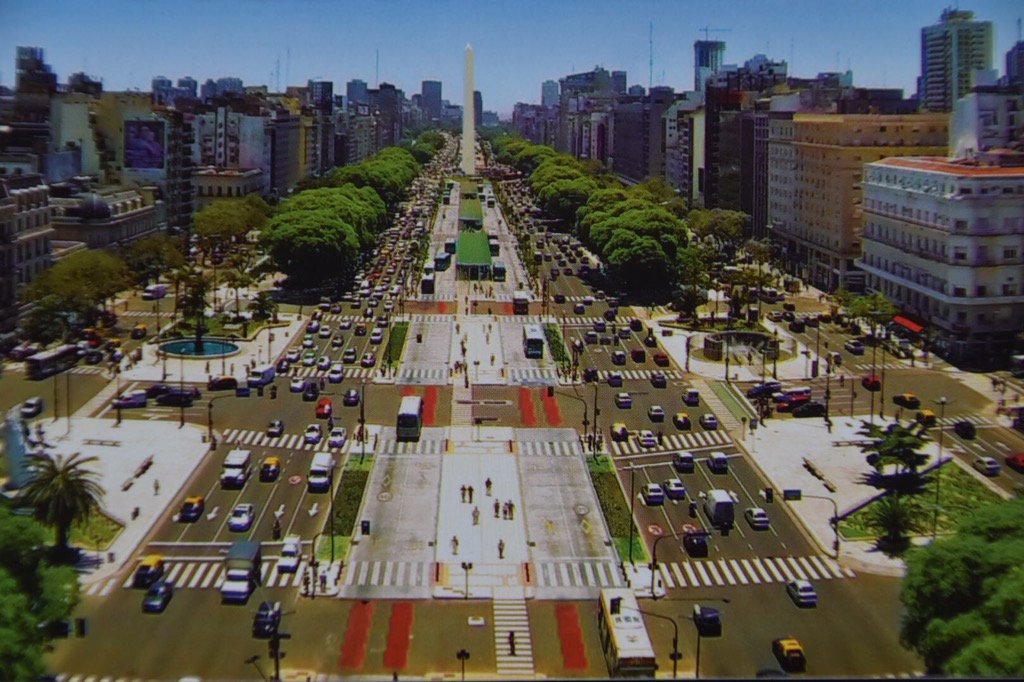 I was really looking forward to Buenos Aires and it didn't disappoint so it gets a blog of its own. A fabulous city and by far the most returnable place I've visited this trip. Lydia, Sheryl and I did the hop on bus thing for about three hours and we saw pretty much the whole city from the top of a bus being shaken about and dodging the low hanging branches. Didn't get one good photo out of 150 shots. We finally got off the bus for lunch in an area of the city called La Boca which is a very colourful neighbourhood. It is the home of Boca Juniors which is the most famous football club in Argentina and our route took us round the stadium which is painted in Ikea colours. Diego Maradona played for Boca Juniors and I met him in the street for a photo where he reenacted the hand of God for me. I don't think he realised the level of hatred the English have for him. It was a very touristic area and a number of tango couples were dancing for our entertainment. I had another photo with a rather fetching young Argentinean tango dancer, Terence.
BA boasts the widest street in the world called the Avenue of July 9th which is coincidentally the same day as their Independence Day. It has six lanes in each direction plus two bus lanes in the centre and two outer sections of three lanes each (see photo). BA also has the highest ratio of psychoanalysts and psychiatrists in the world. I'm not sure what this has to do with road infrastructure.
The ladies went back to the ship but I stayed in the city. I'd booked into a hotel as we had an overnight stop in BA. I hit the sauna which was like a gay men's club. After escaping with my dignity still intact I went in search of an Irish pub but it was packed and I wanted a quiet beer to write my blog so I headed back to the hotel bar.
Nine hours sleep in the most comfortable of beds. Marvlious. Day two in BA and I decided to take advantage of all the felicities the hotel had to offer so I had a swim after the gym and of course the sauna. I checked out just after ten with a plan. A plan so cunning you could put a tail on it and call it a weasel.
I'd not eaten breakfast so I walked all of 260 yards to the famous Cafe Tortoni which has been around since 1858. I think my waiter may have been too. It was nice enough and it felt good to have a cheese sandwich in this historical place. Next it was off to the Evita Museum about a mile away. I decided to get a taxi and my driver was huffing and puffing at the traffic and poor driving. My suspicious side said that this was nothing new. I'd even stick my neck out to say it was an everyday occurrence and that he may want to find a new line of work as things weren't about to change anytime soon.
The museum failed to arouse me in the same way that the Andes 1972 had. Too much of the exhibition was mono-lingual (is that a word? Bob? If not I want credit for it). One glass cabinet was entirely taken up with Eva's hats. Boy she liked hats. I walked around humming Don't Cry for me Argentina to myself but there was no mention of the stage show, the movie or even Andrew Lloyd Webber.
Back in another taxi and I was off to Recoleta cemetery where Evita is buried. Plots of a few square metres can cost $70,000. You have to be a somebody to be buried in Recoleta with over a dozen former presidents amongst the notable names from Argentinean history. My next stop was El Ateneo which used to be a theatre but is now a bookshop. Easily worth thirty seconds of my time.
Time was running out as we were sailing relatively early so I headed for the rendezvous point (which sounds like I was being airlifted out of a danger zone under enemy fire but in reality it was meeting a coach full of old people).
Some observations about Argentina. There were a lot of English style telephone boxes which seemed acceptable in the Falkland Islands but not here in Argentina. Of course they may have stolen them during their brief spell in charge. The women are particularly fond of platform shoes. I even saw some platform flip flops. Argentineans seem to be able to make cars last longer. I've seen many old cars form the 70's and 80's still going strong. A Ford Cortina, a Datsun 140J, a Vauxhall Chevette. Cars that we had too but you rarely see nowadays.
I could definitely go back to BA and spend some time there. It was easy to find my way around with well laid out streets in a grid pattern with the odd diagonal road thrown in for geometric excitement. Great place and no mention of the General Belgrano. I also have some unfinished business at the Iguazu Falls which sounds far more mysterious than it is. I just want to go there but the ship tour was full.