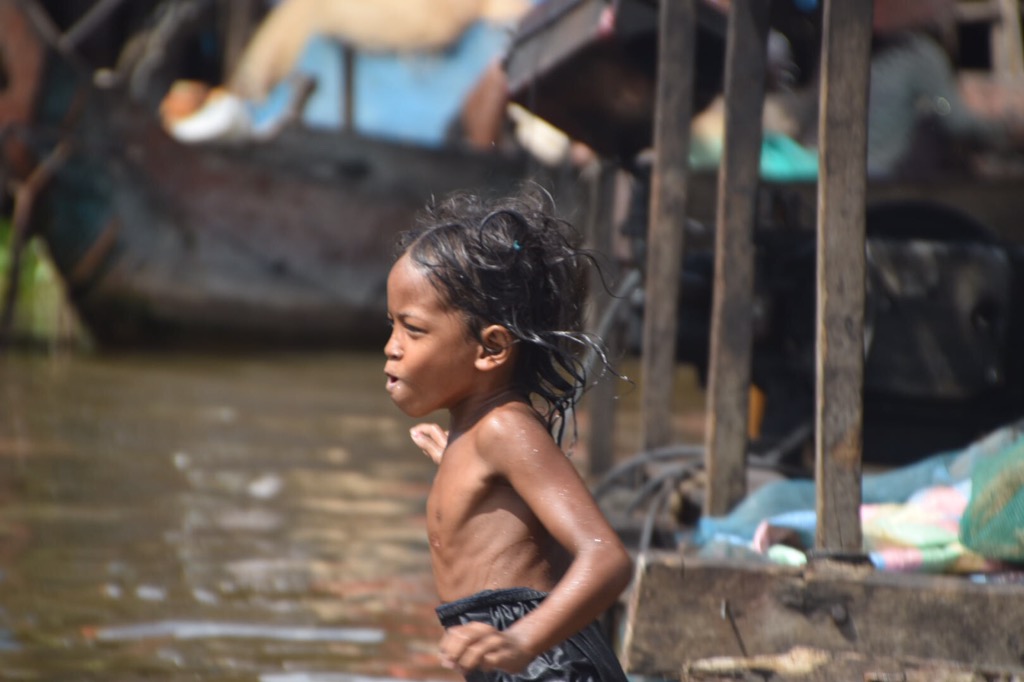 Cambodia – the land of inexpensive laundry
Three days in Cambodia have left us all with a sense of awe for this relatively small nation in Southeast Asia which is still recovering from the brutality of the Pol Pot regime. There are now 15m people living here which is less than a quarter that of Thailand. Back in 1979 at the end of Pol Pot's reign there were only 6m people after the Khmer Rouge had slaughtered 25% of the population. It is still one of the most landmined countries in the world with an estimated 8-10m still buried around the countryside. They didn't tell us that bit in the itinerary notes! Not surprisingly it also has the highest rate of amputees per capita in the world.
Cambodia is made up of 25 provinces and after crossing the border from Thailand at Poipet our first destination was Siem Reap, the gateway to the ancient city of Angkor which in the 12th century was the largest city in the world and the first with over a million inhabitants. The border crossing itself was one of those rare moments that just blows your socks off. The various crossings from Thailand to Cambodia are called border markets and the one at Poipet was a bustling town with people everywhere including men pushing unfeasibly large carts loaded with all sorts of stuff. We all got through but at one point we couldn't see Scouser Jan and Dave pointed out that they might be worried about their hubcaps.
Our itinerary took us via a silk farm where we saw the process start to finish. I never thought I could get so excited about silk worms but it was very interesting. The employees work very long hours for just a few dollars a day and it made me feel so grateful. Apparently after mating for 12 hours the male dies (the moths not the employees). Having said that there weren't many male workers.
After dumping our bags at the hotel we went to visit a temple at Angkor Thom which is one of the many temples of the Angkor archaeological site. In total there are over a thousand temples around these parts ranging from a pile of rubble all the way up to the magnificent Angkor Wat.
Friday was more temples mixed with 35km of cycling, much of it through jungle pathways inside the archaeological site. At one point we came to a standstill with 30 water buffalo coming the other way so we carefully passed one another. If the highlight of yesterday was finding a launderette that only charged one dollar per kilo of washing, today's was the jaw-dropping Angkor Wat, the main temple and the one that attracts over 2m tourists to Cambodia each year (in case you thought it was the culinary delicacies of scorpion, snake, stir fry frog or tarantula). When was the last time you said "let's go out for a Cambodian". Exactly. Anyway I've stopped moaning about the food and embraced my inner noodle. I digress. Tourist number in 1993 were just 7,500 so things have increased dramatically. Angkor Wat is the largest religious monument in the world, originally constructed as a Hindu Temple it gradually transformed to a Buddhist Temple and it appears on the Cambodian flag highlighting its significance. A memorable day indeed.
Saturday
On Saturday we had a 7am start and cycled out of the city towards Tonle Sap Lake which is the largest freshwater lake in Southeast Asia. It wasn't long before we were in the countryside going through rural villages with children waving and standing by the roadside giving us high fives. After some initial ghastliness the beauty of Cambodia became apparent and it was a fabulous cycle to yet another temple.
Whilst the splendour of Angkor Wat cannot be refuted, the next part of our journey to the floating village of Kampong Phluk (I couldn't have made up a better name) provided just as much of a visual spectacle. It was home to around 2,000 Cambodians and although I'm sure there are other occupations in the village such as accountants, doctors, florists etc. you just got the impression that everyone had a boat and fished. Kids were jumping in the water which was a curious shade of brown not dissimilar to tea. We stopped at one of the houses and had a luncheon which exceeded expectations (which were low).
Another good day and I'm starting to understand that a cycling holiday is not necessarily to be enjoyed in the conventional manner in which we enjoy things but it does provide a sense of achievement not derived from lying on a beach. An alternative comparison may be the bashing of ones head against a wall and how good it feels when you stop. Every day we get sweaty and grubby and clammy in extreme humidity with aching legs and sore arses and it makes you wonder how 14 intelligent people could have actually paid for this experience. Would I do it again? Yes, most definitely so my inner masochist is alive and well.
Cambodia is a revelation for despite having very little they are a friendly, smiling people but one of the things I've been struggling with in the past few days has been the difficulty I've faced procuring fridge magnets. News hasn't reached this part of the world that these fridge accessories really are quite popular. Glad to see I'm keeping things in perspective.
So the team are…Chris and Jen from Leeds – soon to be married, Dave and Gemma from Portsmouth – sharing but not together, Jan, Nina, Fiona "I don't like group photos" Jamieson from Scotland, mother and son Helen and Oliver "big thighs", Anne and Arthur from Luton and finally Dr Raj and Nurse Jackie from Ashford. The average age is 49 with Oliver at 21 our youngest and Arthur at 63 the patriarch of the group. We've bonded well and there's good banter although we've got to spend six hours in a coach today so things might change.
Next stop Phnom Penh