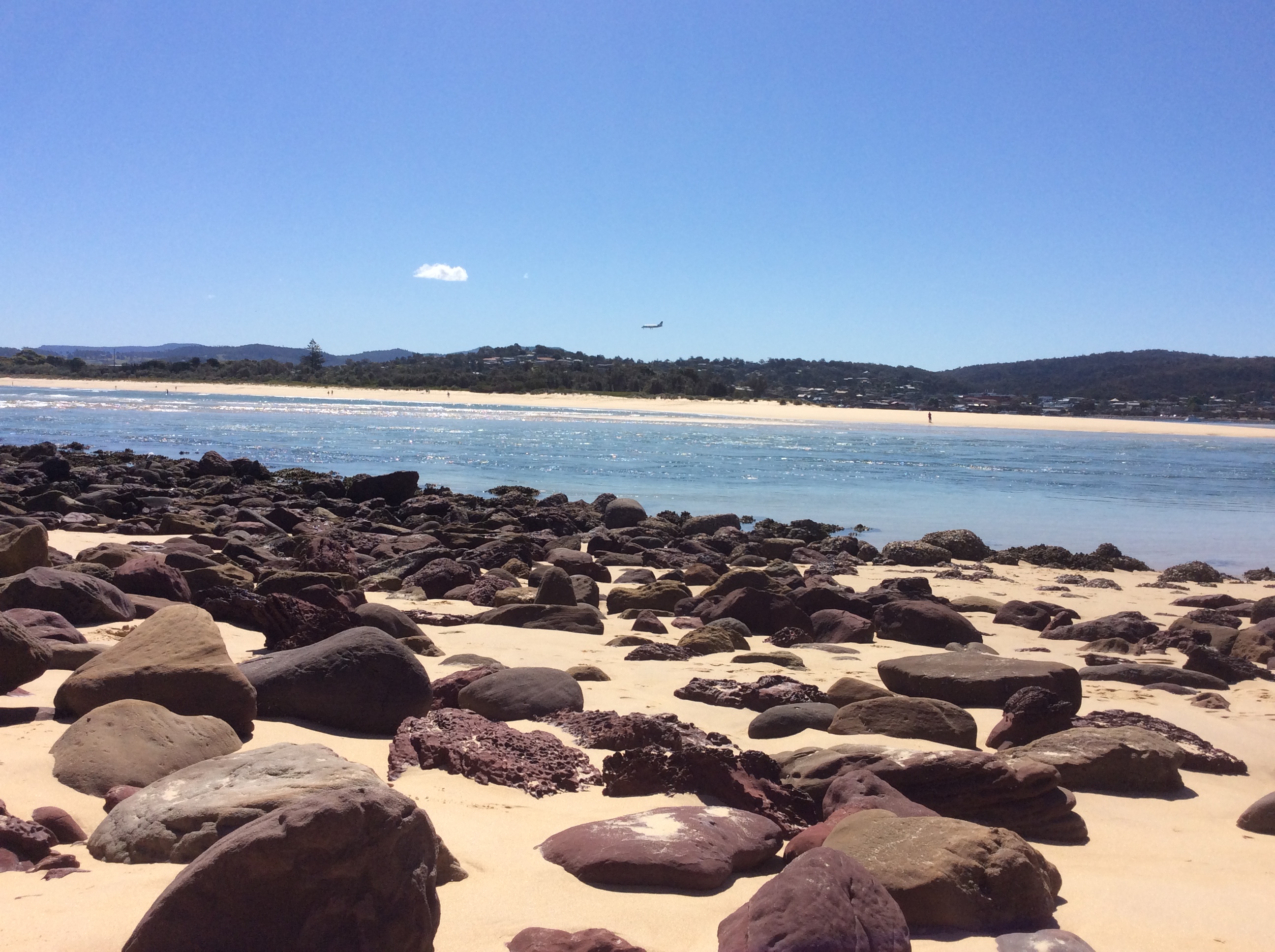 Driving from Melbourne to Sydney
I left Melbourne on Thursday morning and headed for the airport to pick up the car to be greeted by an enormous queue which was quite divine.
I've ended up with a Rav 4 and I declined the satnav for 15 dollars a day (I've got the car for 21 days) so it's back to the old method of reading maps, gut instinct and asking people for directions. Anyway getting lost can be fun. Georgia and I once spent two hours trying to get out of Washington DC. She loved it!!!
I finished my first days driving in a place called Lakes Entrance on the coast in the state of Victoria after 6 hours behind the wheel. The roads are like American interstates and very easy to drive and navigate only with far fewer cars. 110kph seems to be the upper limit and people seem to obey the limits largely.
Friday
Up at 5:15 – some indigenous Australian bird decided to start singing early (shazam couldn't find a match) so I headed off on a beautiful sunny day to somewhere.  The route (to somewhere) took me either through, or adjacent to a national park which was absolutely glorious. It's quite special when driving is actually a pleasure. I arrived at Merimbula which is still 460km south of Sydney at about 12 and found a laundrette. It was about time that the trusty denim shirt was laundered. I think it could have "walked" to the laundrette on its own but I decided to give it a lift.
I met Barb, pronounced Baaaarb, the laundry lady and when I asked for full instructions on how to use one of these types of establishments she just said "men!", to which I replied "I know – we're priceless". She was very helpful and quite a delight although she looked like she'd been through a few spin cycles herself. I started taking off some of the items I was wearing and throwing them in the top loader. I ended up in a vest, speedos and illuminous trainers? One of my more enchanting looks! 16 bucks and the whole lot was done. The Sheraton in Melbourne wanted to charge 16 bucks per shirt!
Merimbula is a charming little town if not a tad sleepy and I'm at a motel because there are no large hotel chains here. Merimbula reminds me of somewhere that's been frozen in time which was a similar case for a number of small towns I passed en-route. Walking down Main Street I saw a men's shop which could easily have been called "World of Beige" and the dining options in the evening were sparse. I found a pizza place, sat down and waited for something to happen. Anything!  Eventually a young chap came and said that alcohol was BYO and that I had to order my pizza at the counter. I left.
The second pizza option across the road had to endure the Masterson inquisition before I sat down. Do you serve alcohol, will you take my order whilst I'm in a seated position, do you have wi-fi. They passed. "Two beers and a glass" I said. The glass could have been mistaken for a thimble. Am I starting to sound a bit grouchy? Well the pizza had been bought from a supermarket and heated up/ incinerated. This is an Italian restaurant for God sake. Even I could open a restaurant if it just entailed heating up pizzas and ready meals.
A very pedestrian town and dare I say it no good for young people; a demographic I obviously still belong to – obviously. It's the kind of place teenagers would escape from as soon as they could afford the bus fare.
Anyway back to the driving. Before I worked out how to Bluetooth my iPad for music in the car, I was treated to the mysterious pleasures of some regional radio stations and the presenters were, well, how can I put this – tragic. To compare them with amateurs would be generous. The review of the newspapers was my favourite slot where they announced the page number, the headline and then proceeded to read it (badly). They had a oldish man and a marginally younger woman alternating the news stories and the woman must have had three attempts at saying "February". Who knows what kind of interview process they went through. The man had one of the most soporific voices I've ever heard.
I've seen many signs and notices that have made me chuckle in the past five weeks like "no monkey feeding" on my balcony in Langkawi. My favourite so far in Australia was a billboard advertising the "Mountain Cattleman's Christmas Get Together". Sounds like a hoot.
Saturday (today)
Bedecked with a freshly laundered denim shirt I was ready to face the next leg. A drive up the coast of New South Wales passing some very lovely places according to the motel manager. I ended up going all the way to Sydney as the weather wasn't great and nowhere on the way looked appealing to my discerning eye. Mollymook came closest (as she always does).
So I've checked into the into the InterContinental a day early and tomorrow I will have to change rooms. The efficient girl at front desk gave me the old story about being fully booked and then miraculously found a room for $600+ – an inhospitable price I think you'll agree but I've driven for 12 hours, the last two, getting lost in Sydney which is a big city with lots of one-way streets and of course I was relying on patnav which isn't as good as the plug-in version.
Now I have a total of 8 nights here so I should get to see a lot of the city and surrounding areas. Living out of a suitcase is becoming a little tiresome as this is the thirteenth time I've arrived somewhere new. Yes I'm moaning again!
The drive today was fairly uneventful aside from a toilet break at a rest stop and the dunny that was so horrific I went in the bushes outside.
I'm sure there's no need to remind anyone but tomorrow marks six months since we lost Katy. The final song from the funeral is on my iPad and normally I skip forward but today when it came on I decided I should listen to it trying to remember all the photos. I wouldn't recommend crying and driving but it is possible.