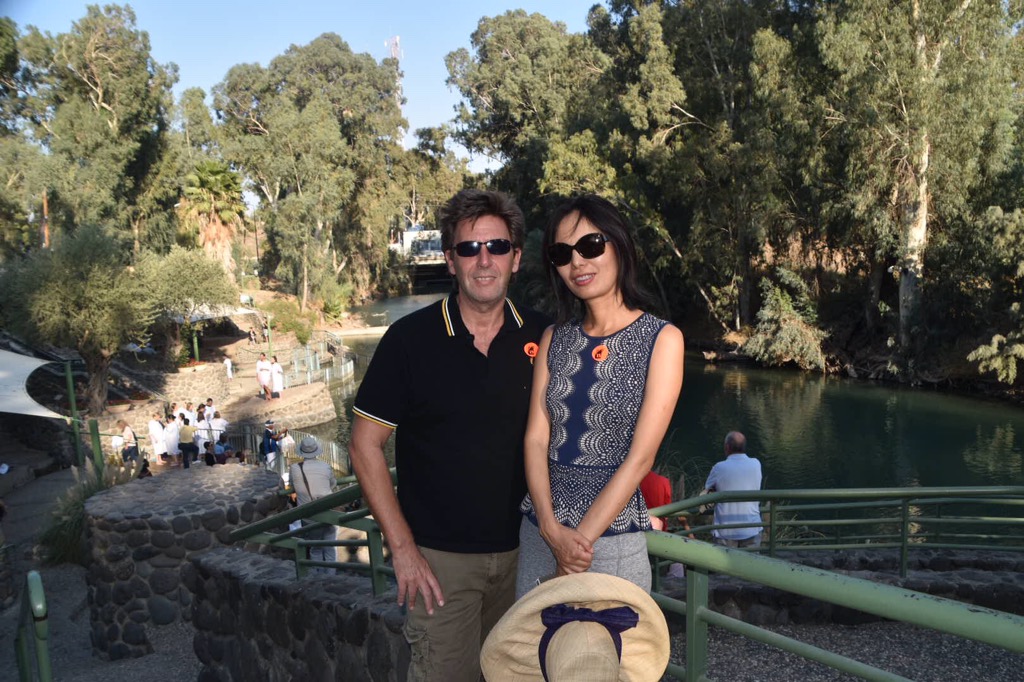 Overnight we had sailed north to Haifa which is Israel's third largest city and the name Haifa is a female name meaning slender (unlike the English term Heifer meaning not so slender).
I was booked on another tour only this time Brenda and Susan had abandoned me and found a replacement called Nancy originally from China but retired to Vancouver six years ago at the age of 42. We were off to Nazareth and the Sea of Gallilee to continue my reacquaintance with Catholicism.
Our guide had been in the business over 40 years and talked non-stop. He gave us the history of Israel as well as his political views. I'm sure some of it was interesting but because he didn't stop I zoned out. Whether a castle wall is made of limestone, granite or even lego bricks matters little to me.
Our first stop was Nazareth and I was expecting dusty streets, hotels at full capacity and a stable on the edge of town (or was that Bethlehem). It was in fact quite built up and we walked around a few churches of which the Church of St Joseph was my favourite as Chinese Nancy (who converted to Christianity in 2011) and I sat watching a church service and then a number of priests sang a hymn. It was quite lovely sitting in a church in Nazareth listening to a hymn led by a priest who sounded like he was from Lancashire. We also visited the Sanctuary of Nazareth which had depictions of Mary from around the world including Chinese Mary, Japanese Mary and Korean Mary all with oriental features. I had always thought Mary was Mary. As for Ethiopian Mary, well she'd been out in the sun too long.
The next stop was the Sea of Galilee which is where Jesus walked on water and a few of our group tried it with no success. It is the lowest freshwater lake in the world at around 210m below sea level. The Dead Sea, which is the actual lowest place on earth is saltwater. I put my hand in and then stole a small rock from the beach. I think this was also the place where Jesus performed his fish miracle.
Then it was off somewhere else but My mind was still on Galilee. I'd just put my hand in the Sea and I was finding religion again. Where was my furry hatted friend when I needed him. Lunch was another kibbutz. This place didn't look like a kibbutz either. I may have to revise my idea of what a kibbutz looks like.
The next stop on the never ending tour was the Mount of the Beatitudes where Jesus once blessed the Cheesemakers and as one onlooker said "what's so special about the cheesemakers" to which a man replied "I think he's referring to manufacturers of any dairy produce". I tried to get our cruise director Bruce to choose Life of Brian as the evening movie but alas they couldn't accommodate my request.
On the way back we passed by the Golan Heights which rise to 8400ft above sea level which were under the control of Syria from 1948 to 1967. Not any longer. Our last stop was the river Jordan where Jesus was baptised and it was just how I had imagined it. Well, minus the gift shops and cafes and street vendors etc. There were people walking down to the river dressed in white robes getting baptised for ten dollars – dozens of them. Well at least they hadn't commercialised it. 😉 On the way back to the ship I reflected what a pleasant day I'd had with Nancy.
A couple of things struck me over the two days in Israel. The first was a frisbee and the second was that Orthodox Jews look like some of the most miserable people I've ever seen as they rush around everywhere feeling not good enough. This is apparently their way – it's far worse than catholic guilt as a religious curse.
This was probably going to be my last organised ship tour on this cruise. Two 10 hour days in Israel were quite tiring (I know none of you feel sorry for me so I'm not sure why I'm lamenting my tragic life). We didn't even have a full coach load on either day but the ship tours are always subject to the lowest common denominators; slowest walker / weakest bladder. The level of physical exertion is always highlighted in the excursion booklet enabling people to determine whether or not they are suitable, but you try telling an 80 year old former firefighter from Texas with one leg, an eyepatch and an oxygen machine that he can't walk up 400 steps to a castle.
On every tour there's someone who shouldn't be on it for physical reasons and it somewhat spoils it for the rest. Some of these folk can't even walk in a straight line so how on earth they think they can negotiate cobblestones, climb stairs or rappel down a mountainside is a mystery. I popped an idea in the suggestion box for a Physical Suitability Test – like an assault course that everyone needs to complete before getting on the bus. I'd pay just to watch that. Ultimate Wipeout with the elderly. I know it's cruel but it makes me chuckle.
Next stops Rhodes, Santorini and Crete.