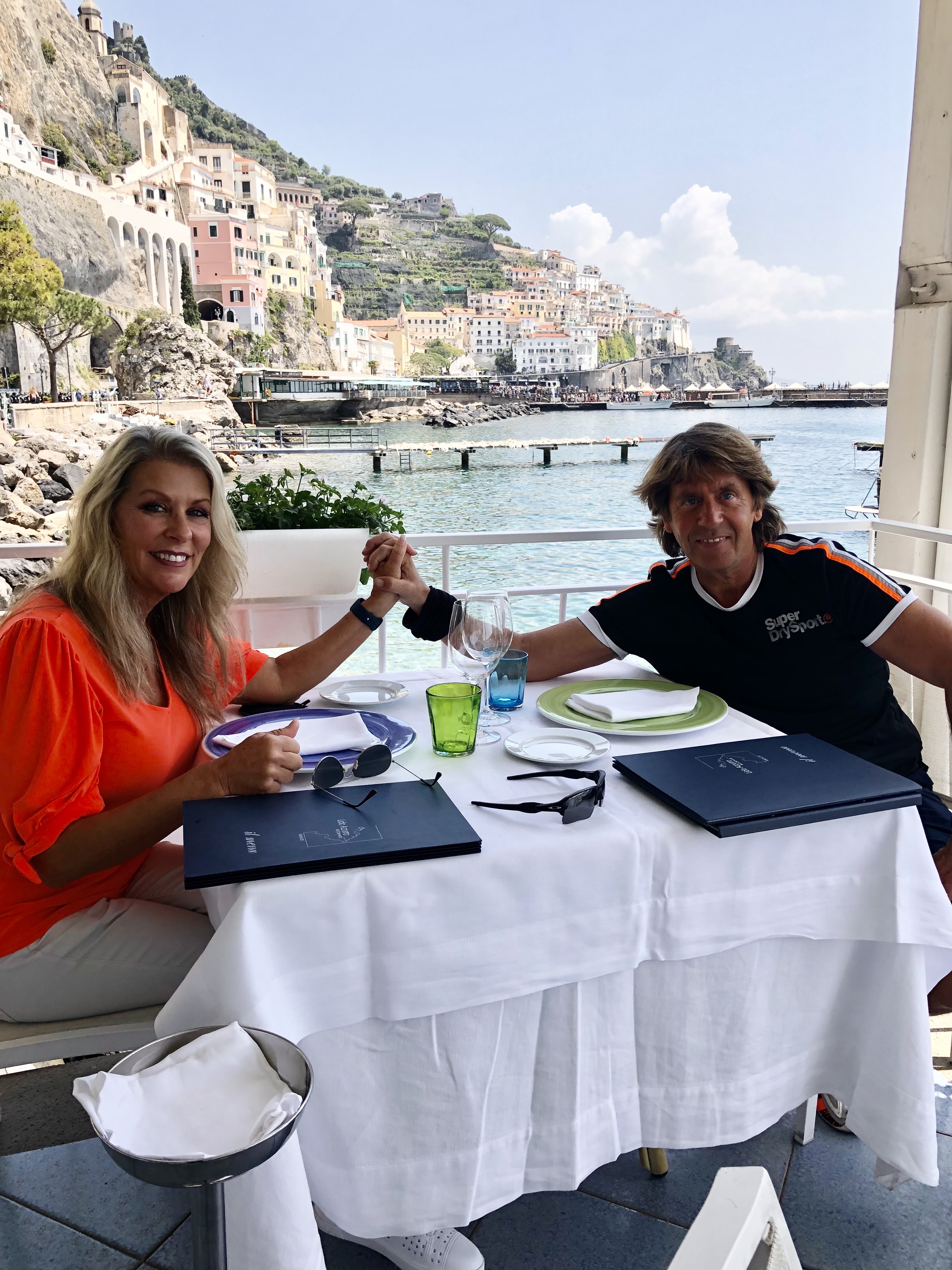 Mediterranean Cruise Part 1
Barcelona, Corsica, Naples
The flight from Gatwick was on an airline called Vueling and after they finished fuelling the Vueling we were bound for Barcelona. To describe the seats as uncomfortable wouldn't do justice to the protests from my arse. The flight attendants were a bit like prison guards, but other than that, it was adequate.
We stayed for one night in the city, at a hotel which with a rooftop bar overlooking the Sagrada Familia. We could see all the cranes in their splendour. After a pleasant hour on the roof, we discovered that the Sagrada was open until 8pm, giving us time to visit that evening. And we did. I purchased tickets online and through a process of elimination, we eventually found the right entrance.
The inside was as magnificent as the outside. I'd never been in a basilica like it, and I've been in a few basilicas. With the light streaming through various stain glass windows, we were in awe of this place.
Antoni Gaudi was the architect of this art nouveau masterpiece, and work started in 1882 when Gaudi was just 30 years old. I guess he thought they might finish it during his lifetime, but when he died, 43 years later, it still wasn't finished. It's still not finished today and they were aiming to complete it for the centennial of his death – 2026, but that looks unlikely now. After he died, there was a lack of funds to complete the project, and also, without Gaudi and his vision, the builders weren't quite sure what to do. I mean it really is a complex structure in so many ways. Tourism and donations are now providing the funds for its completion.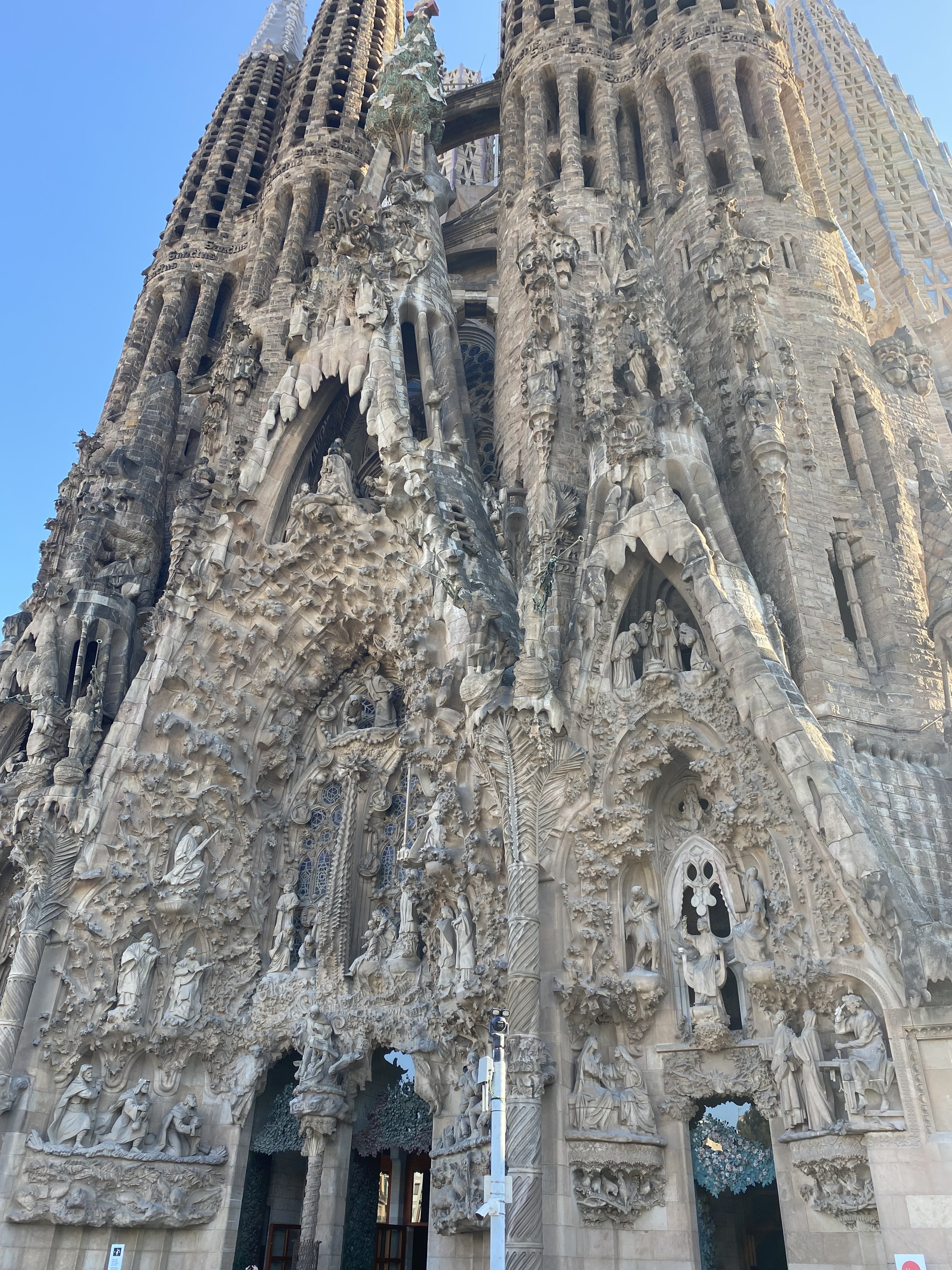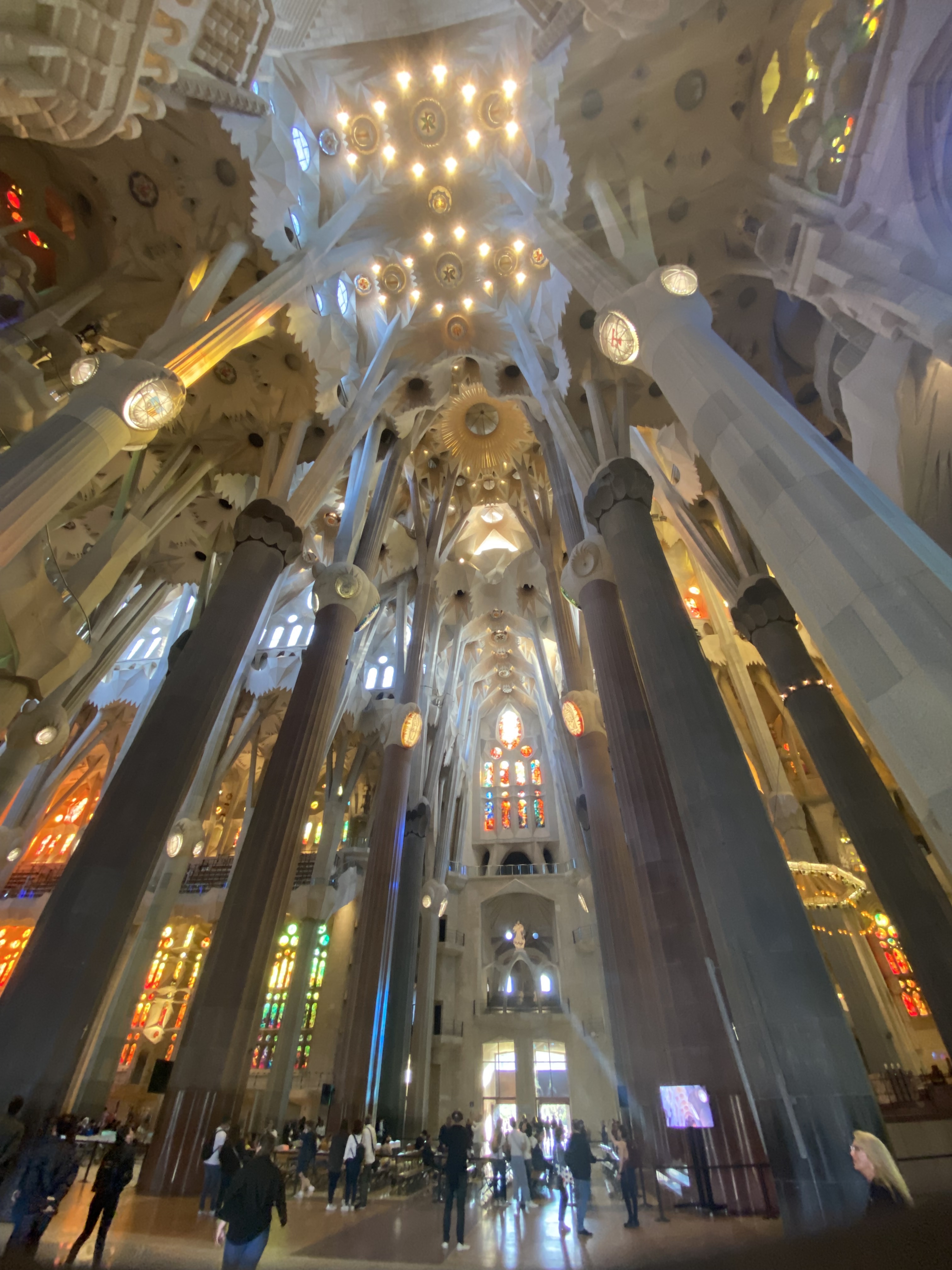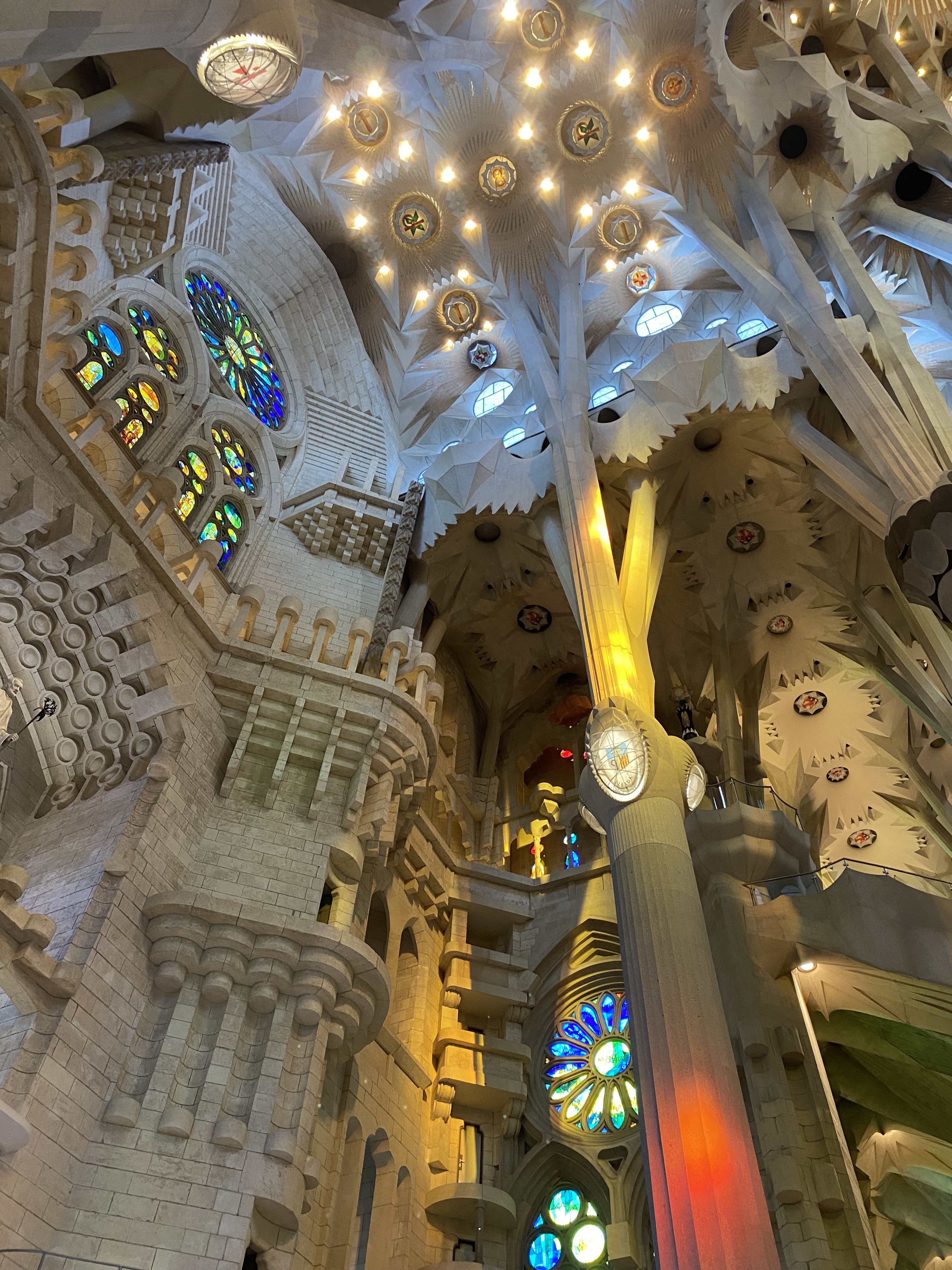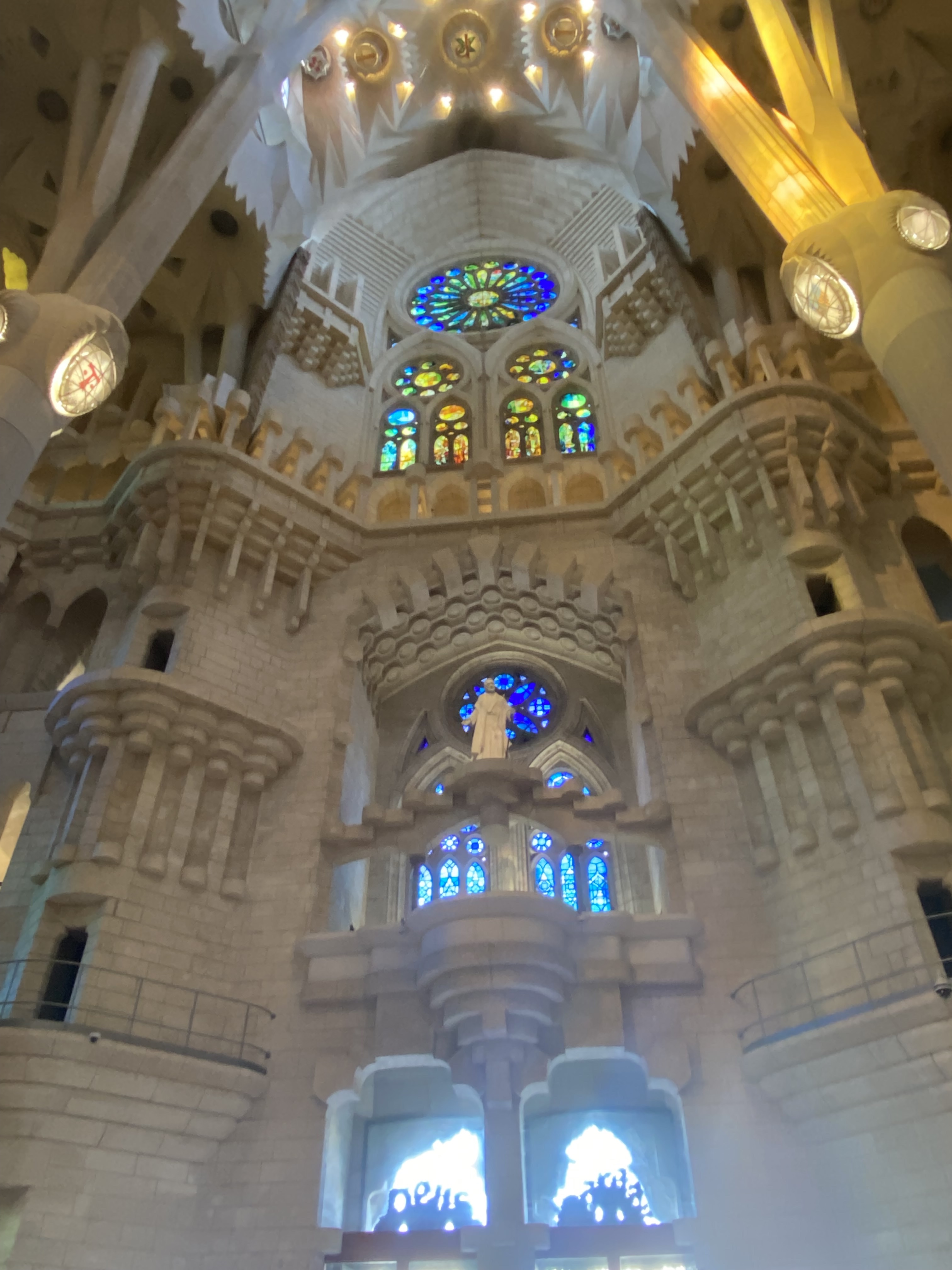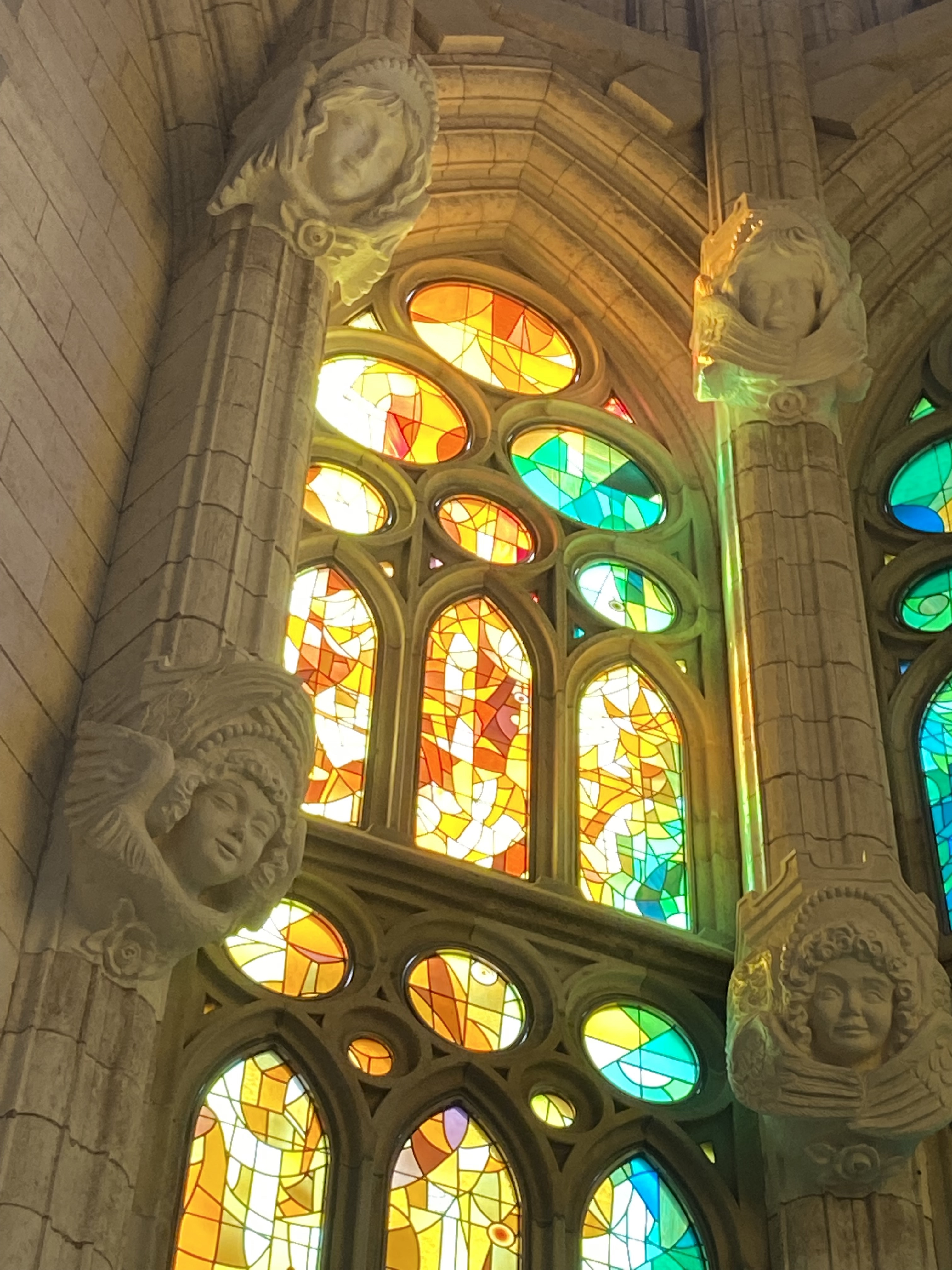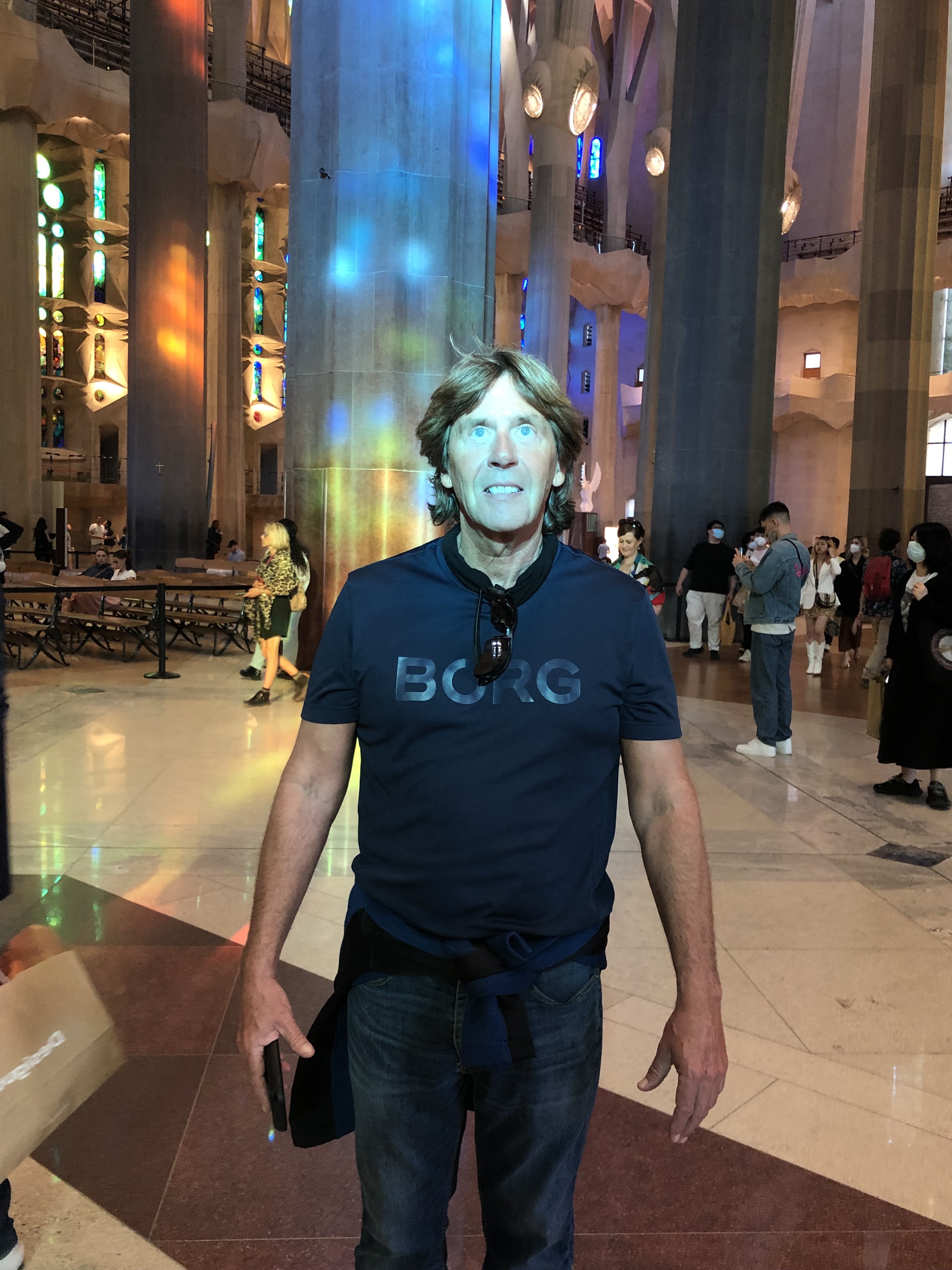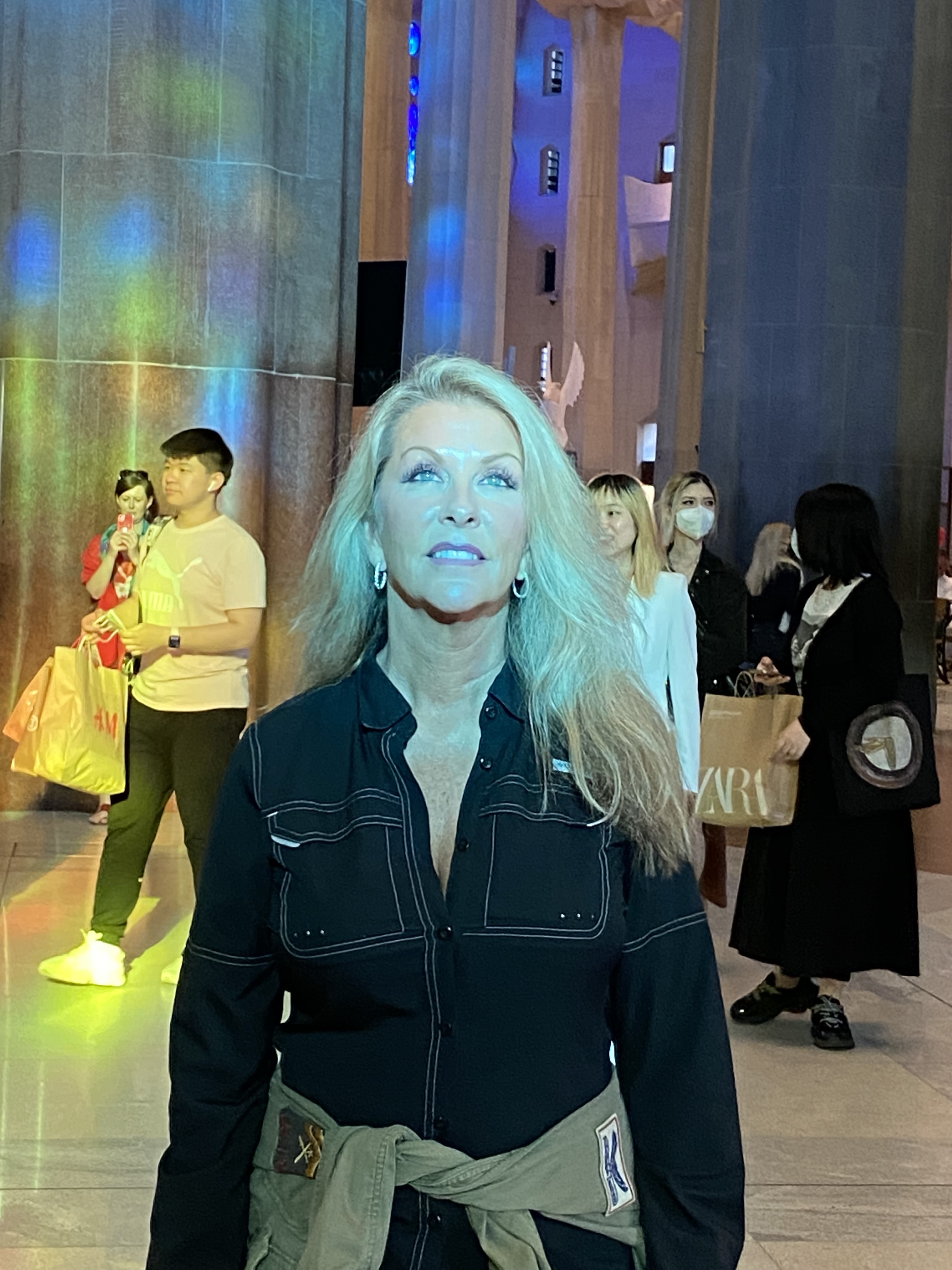 After the visual treat of the Sagrada, we headed for Las Ramblas. Our taxi driver had told us about a light show going on in the evening and if there's one thing Dianna likes, it's a light show. It was quite a trek but when we arrived it was still light, and light shows are a little better in the dark. So we headed to have a pizza on a side street.
Our dining experience lasted a little longer than we anticipated, and by the time we got back to the square, the light show had finished. Dianna was a little disappointed to say the least.
The Barcelona marathon on our day of departure caused us to alter our plans, and we got an early taxi to the ship, driven by a heavyset guy who looked a bit like Harvey Weinstein after a bender. I complimented him on his English to which he replied, "my English is a little bit shit". We asked him about the marathon and he said, "all the black people have finished". I guess he was referring to the elite runners from Ethiopia and Kenya.
It took a little longer – like 30 minutes, but nothing close to the three hours the clueless hotel clerk had suggested. We could have "hopped" to the boat in less than three hours.
Royal Caribbean's latest ship, the Wonder of the Seas, was parked next to our ship. Wonder holds almost 7000 people. Add the crew, and you've got almost 10,000 people on one ship. It's a wonder it floats!
We were on the Norwegian Epic which had a capacity of 4,200 passengers – the biggest ship I've sailed on in 20 cruises, and it felt busy. People everywhere and not my type of people at that. Too many northerners with tattoos. Interestingly, Norwegian had a Deck 13. The Princess ship the previous month did not.
Dianna had arranged for the room to be decorated for my birthday, which was most unexpected. We also had a lovely cake and then another cake turned up. At dinner a third cake appeared. We could have died of a cake overdose.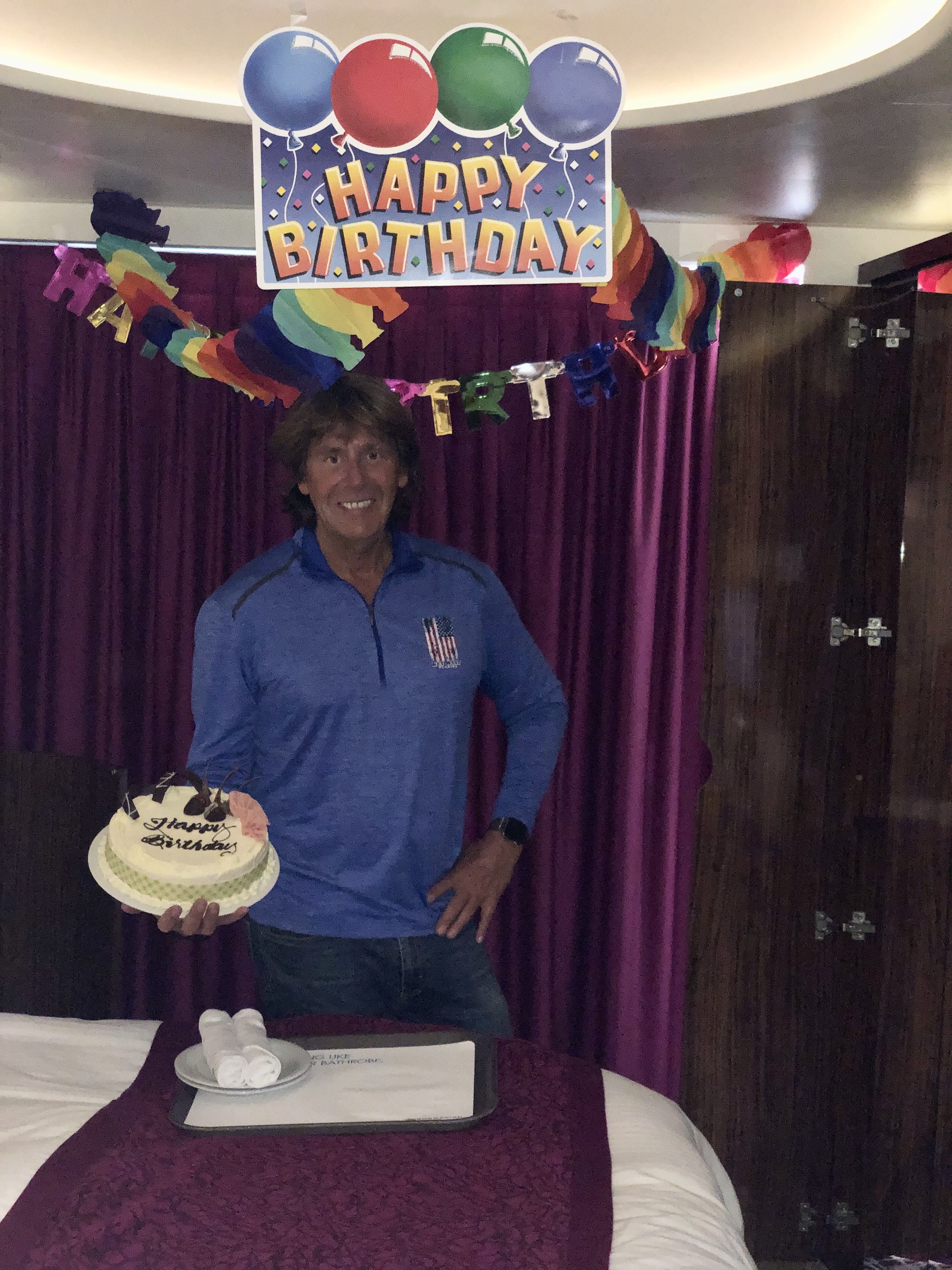 Corsica
We arrived early in to the port of Ajaccio, the capital of Corsica. A nice sunny day, we stepped off around 11 and within minutes we were on a small train weaving its way round the streets. We saw many sights (at speed), until we came to a stop at some memorial thing for Napoleon. I climbed to the top of the steps and took some photos, but it was a brief stop before we were back on the train, heading back to the start point. It was a curious tour designed to give you a very small taster of Ajaccio.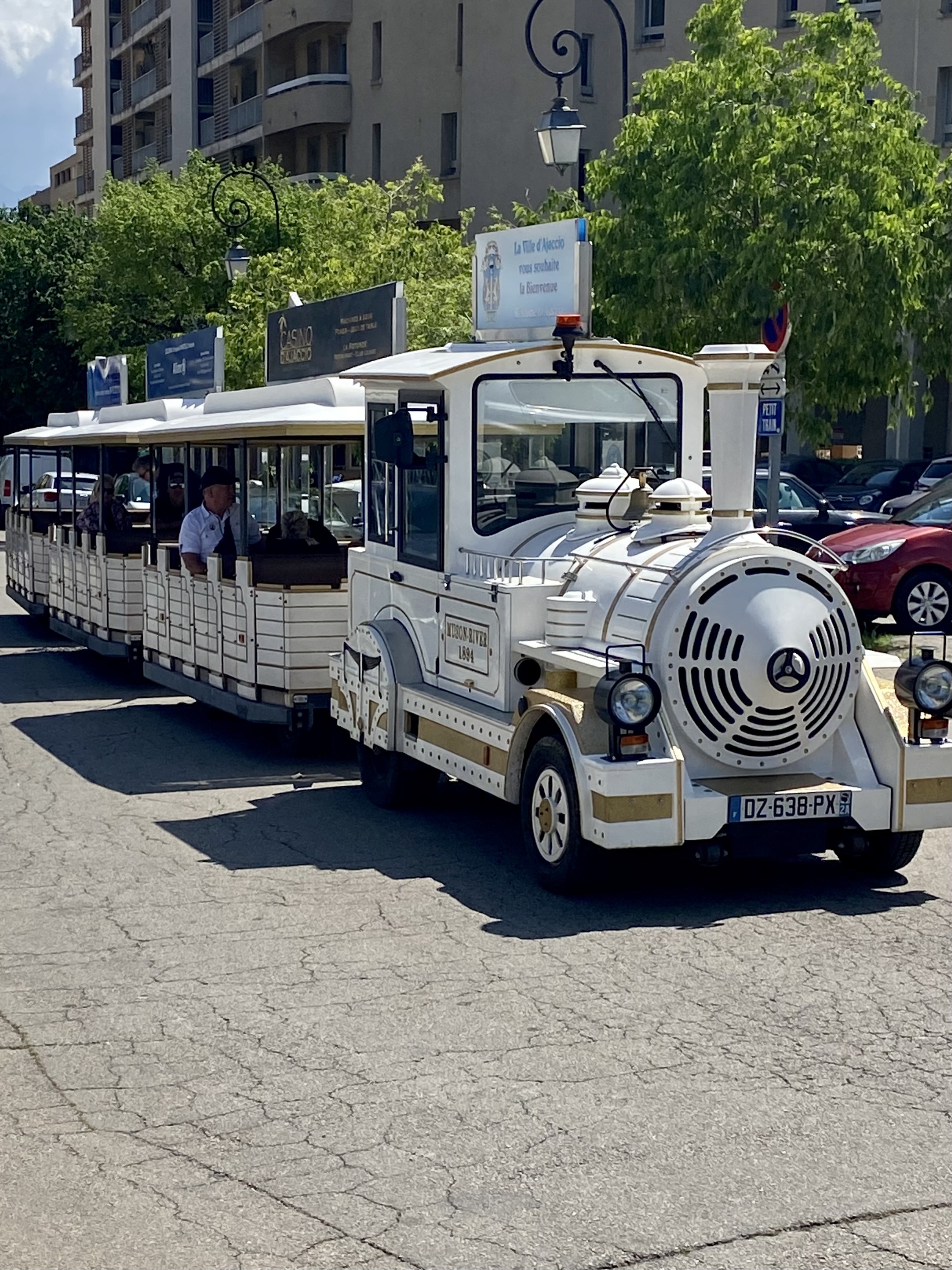 The main thing I wanted to see in Ajaccio was Napoleon's house which was only a few hundred meters away. I'm not sure we actually found it. I think there might have been a house and a museum, but all we found was a gift shop – which looked like a museum. So much so, that I tried to pay the man at the counter an entrance fee. He looked a little confused and eventually pointed me in the direction of the toilet. Glad to see my French is still bewildering the cheese eating surrender monkeys.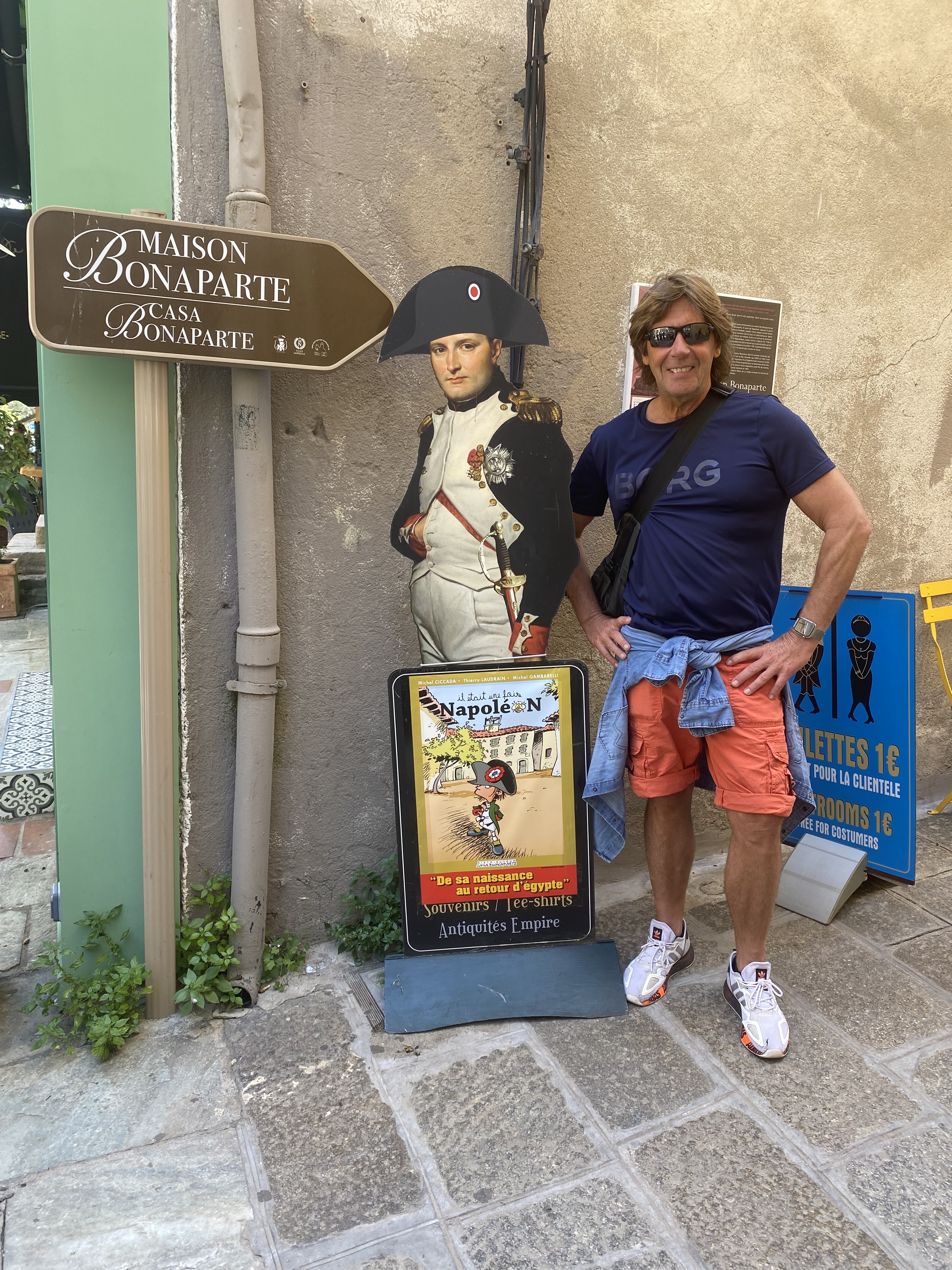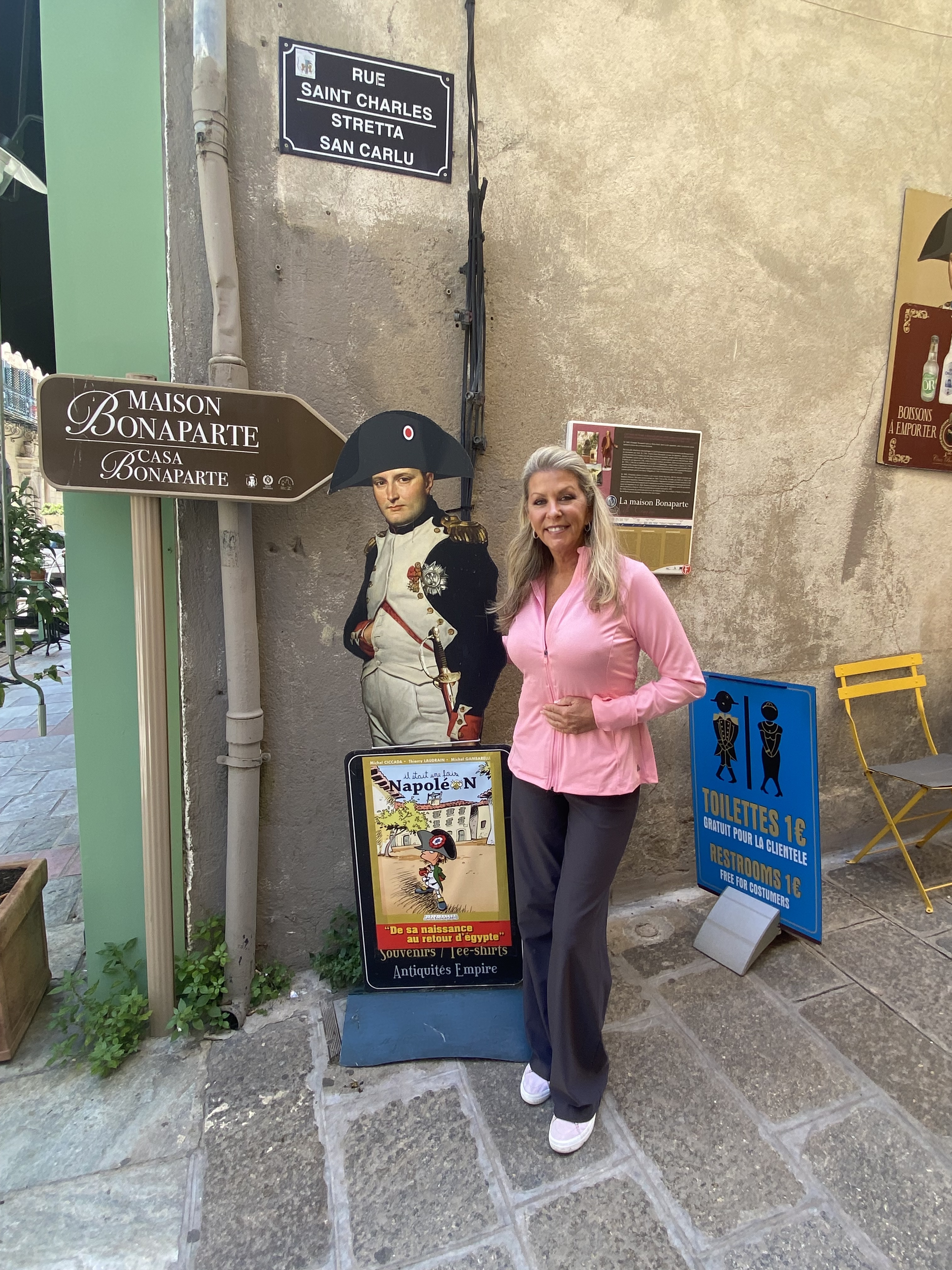 Dianna insisted on having a croissant as we were in France. It's a thing for her to taste the cuisine of each nation she visits. We found a place and a surly waiter basically gave us what he wanted to give us.
Naples
We arrived in the Bay of Naples around 6 am with beautiful blue skies and calm seas. Dianna had arranged a private tour to celebrate my birthday.
Giovanni was our guide for the day. Dianna had met him a few years ago when she was in Naples on a different cruise. I liked him immediately- great English and a really nice way about him.
We had a large Mercedes van with just the two of us and out first stop was the town of Ravello which overlooked the Bay of Salerno on the Amalfi coast. He gave us an hour to wander about and suggested we visit the Ruffalo Villa which had fantastic views of the bay.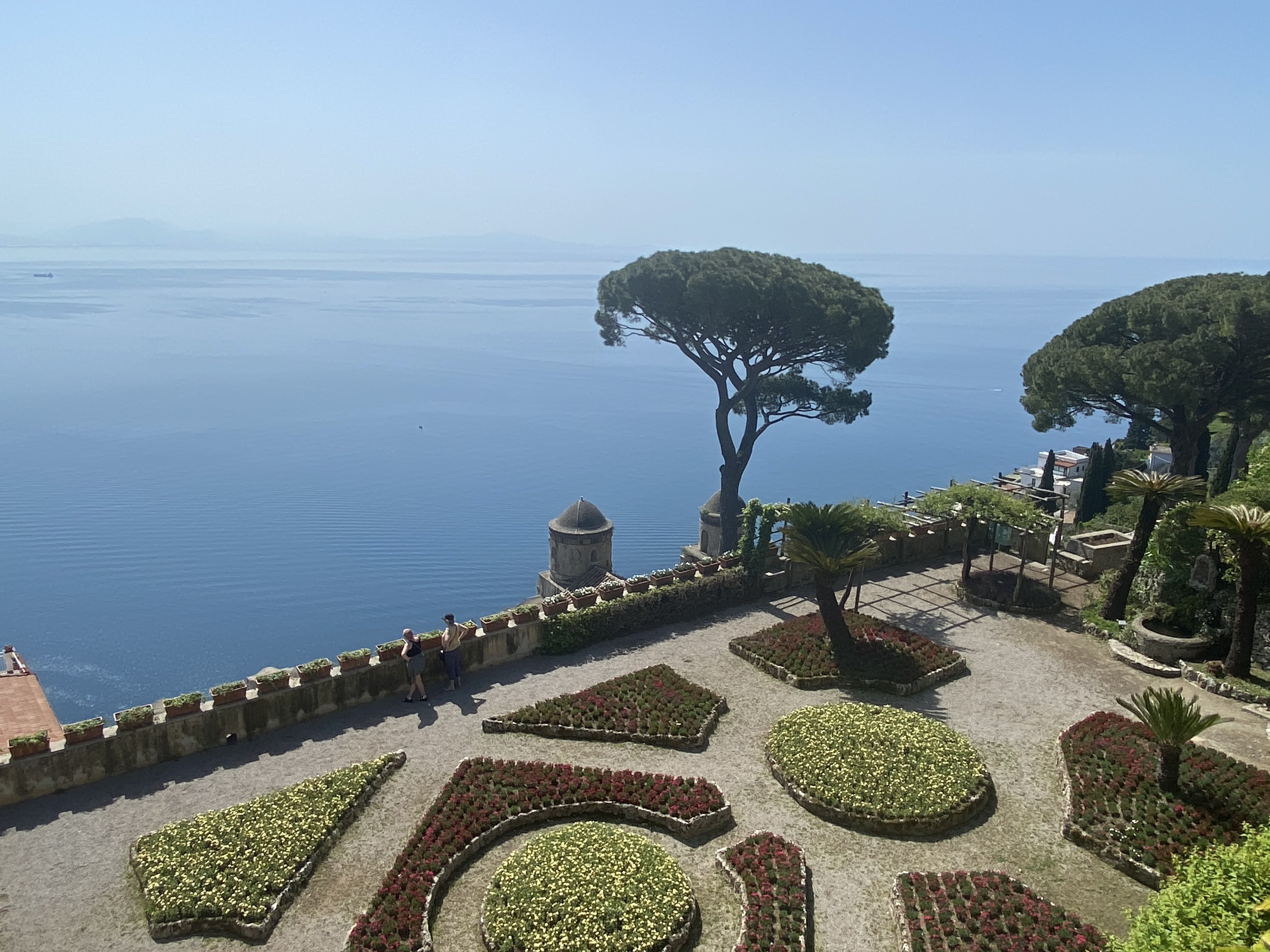 After leaving Ravello, we headed for the town of Amalfi. Again, Gio gave us some time for aimless strolling and we found the town centre as well as the cathedral which was very nice. Then it was lunch at a restaurant by the sea.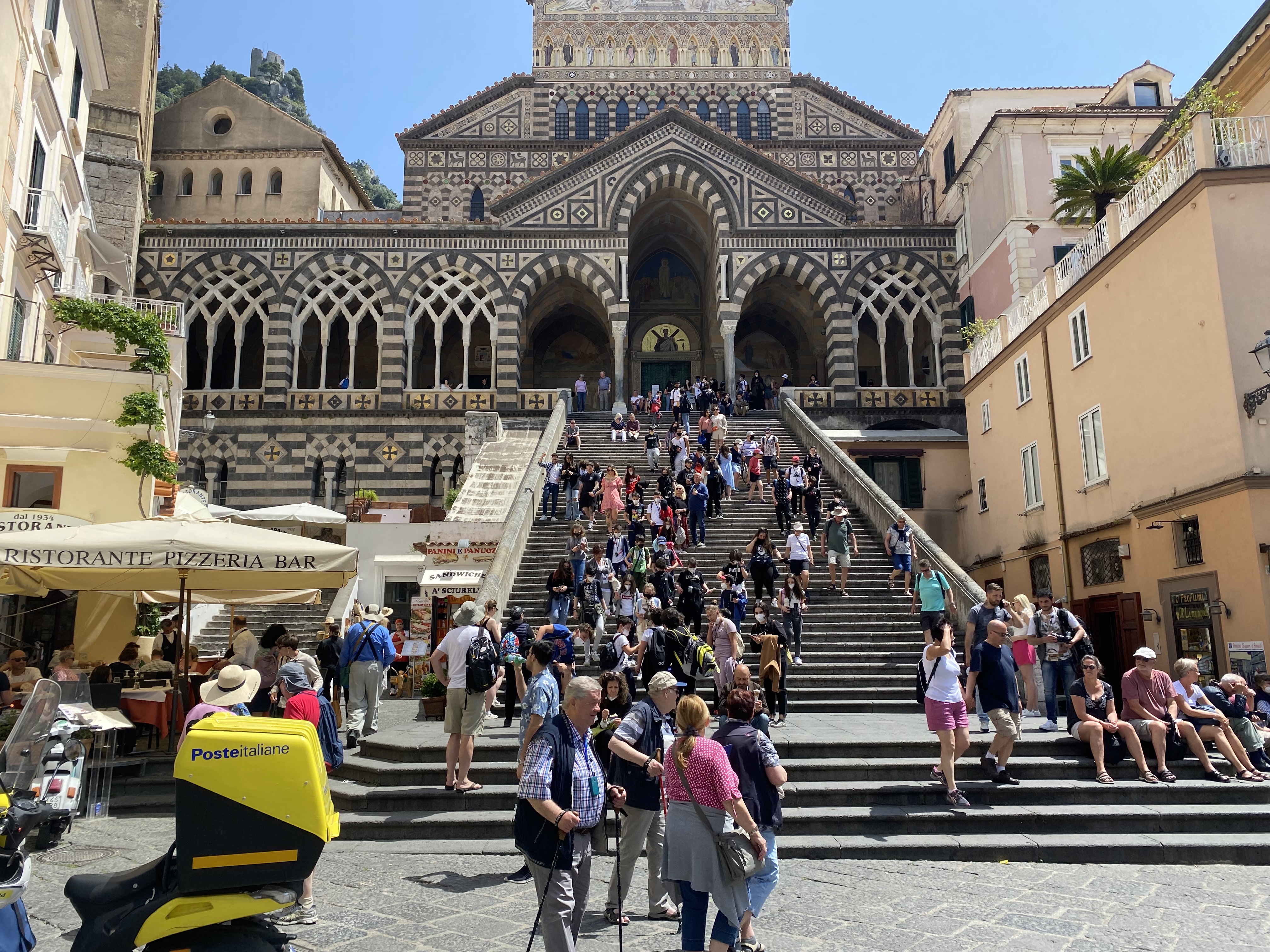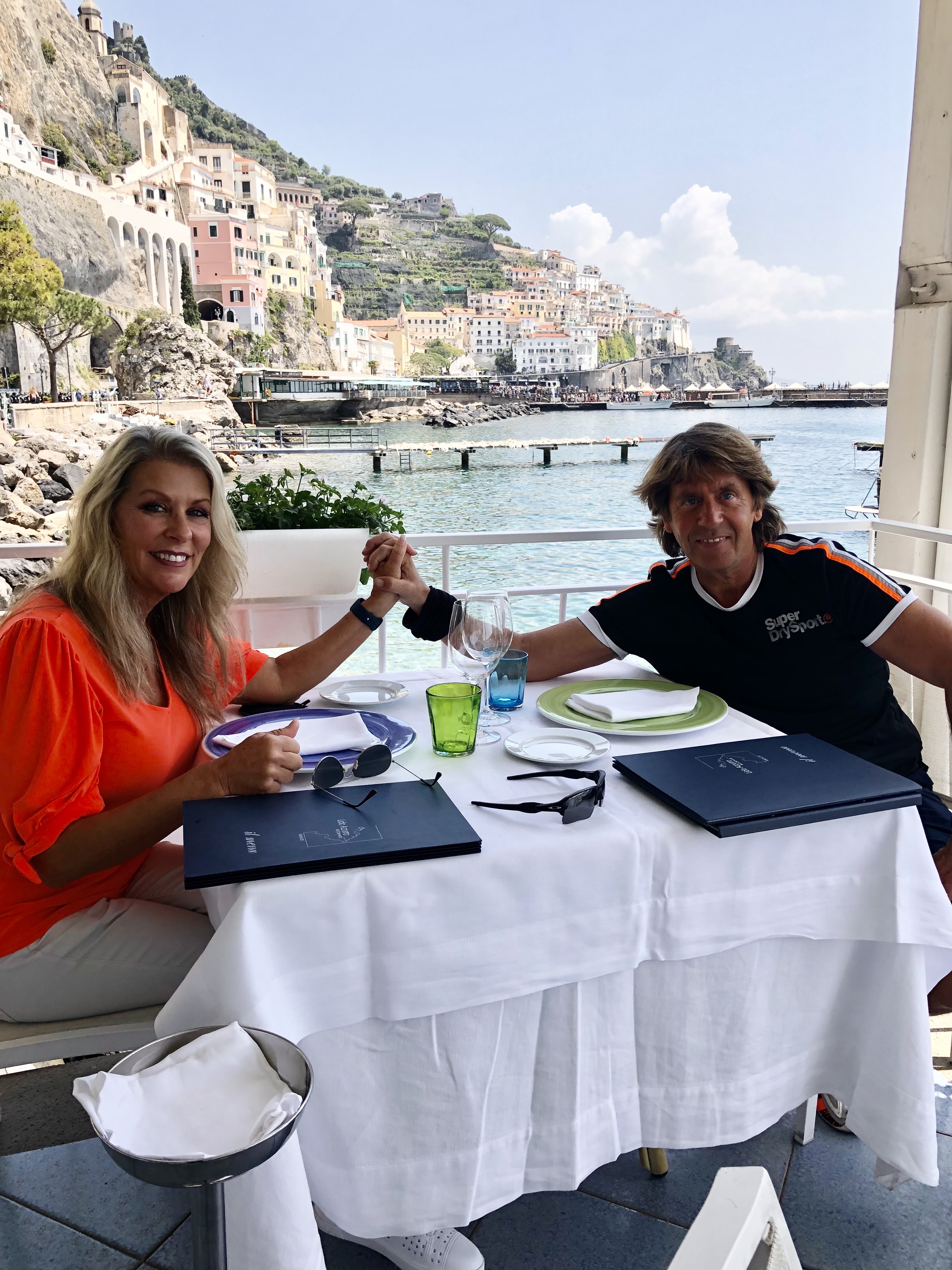 Sadly, we didn't get the chance to visit Positano, but he did drive us down (although it might have been up), the Amalfi coast on the return trip via Pompeii.
In Pompeii we were met by Pina and she gave us a two hour tour. Absolutely fascinating place and they're still digging. AD 79 wasn't a good year for Pompeii when Mount Vesuvius erupted and left surrounding areas under 20ft of ash.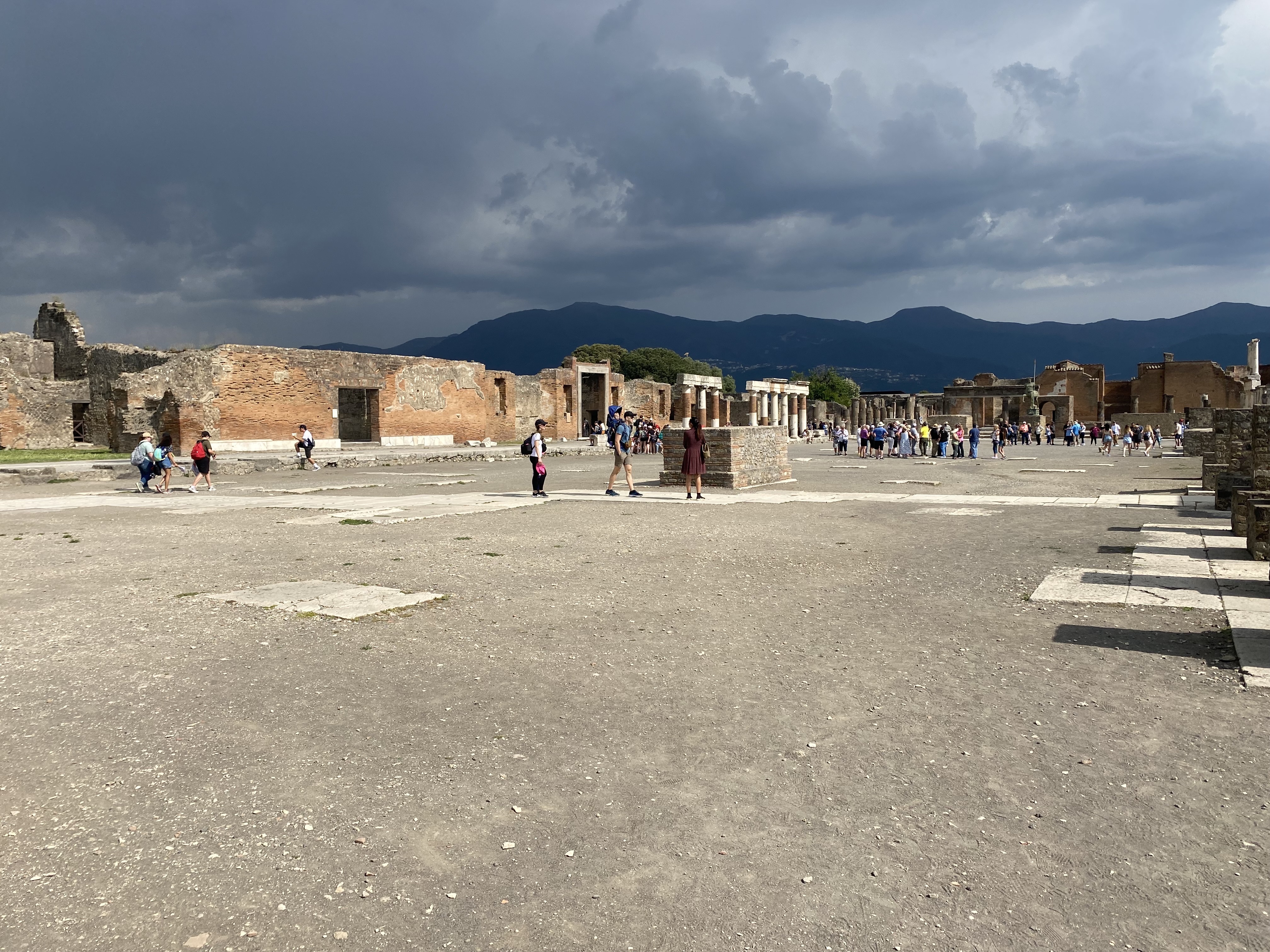 At the time of the eruption there were about 20,000 people living in Pompeii, and archeologists believe that only around 2,000 actually died. The survivors were either out of town, of left at the first sign of trouble.
What I did find interesting was that they've uncovered at least 25 brothels during the excavation. The sex workers lived in terrible conditions and were enslaved by the pimps of Pompeii.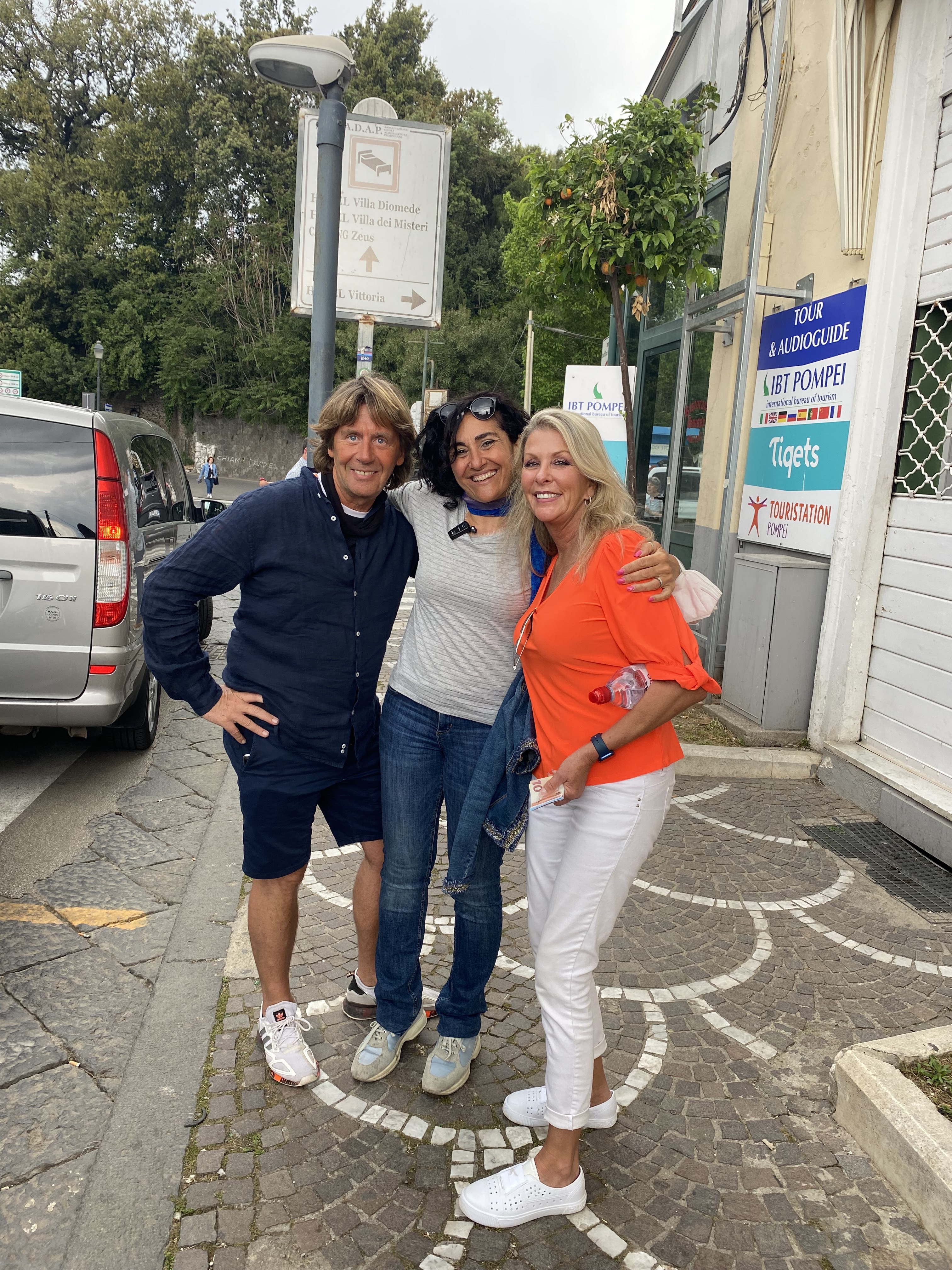 The tour ended and we just missed the rain. It wasn't heavy rain but it was enough to discourage the Neapolitans from using their scooters. As a result there was a lot of car traffic on the way back to the ship and we witnessed quite a lot of illegal road manoeuvres. Italian drivers are not known for their patience.
I got back absolutely exhausted and after dinner and a little spin in the casino, we watched a very entertaining juggler from England, who had perfect comic timing. Best juggling show I'd seen in ages.