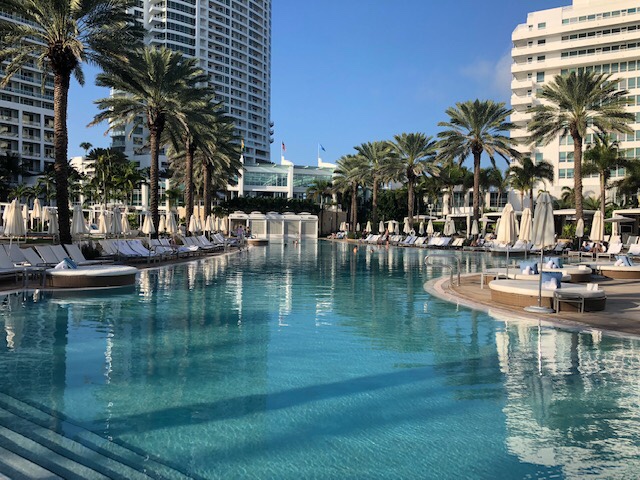 After leaving the Celebrity Silhouette I headed to Miami for two nights but before leaving Fort Lauderdale I had an appointment/ interview for the Global Entry program and I do like to enter globally. It lasts for five years and means that when I fly into the USA I simply use a passport scanning machine and it will recognise me, not only as a trusted traveller but as someone with little patience for US immigration lines. My interview was with a female called agent Hopkinson and she had a uniform and a gun. She was wearing bright pink lipstick and I would also suggest she had a home Botox kit and the previous night it was the turn of the lips. My god they were enormous. I wouldn't be surprised if they had their own Facebook page. I wanted to take a photo but it didn't seem appropriate. And she had a gun.
I was successful, so I called Haitian Linda and off we went to Miami where home for two nights was the Fontainebleau. Opened in 1954, the Fontainebleau is an iconic Miami landmark – in 2007 it was ranked 93rd in America's Favourite Architecture. Whoop whoop.In popular culture the hotel has featured in many movies – Scarface, The Bodyguard, The Specialist and Police Academy 5. But perhaps the most famous of all is Goldfinger – it's the hotel where Jill Masterson played by Shirley Eaton was murdered by being painted gold by Oddjob. I double locked the room door just in case it was a vendetta against Mastersons and I was suspicious of any Koreans I saw in bowler hats. It was also a regular haunt of Frank Sinatra.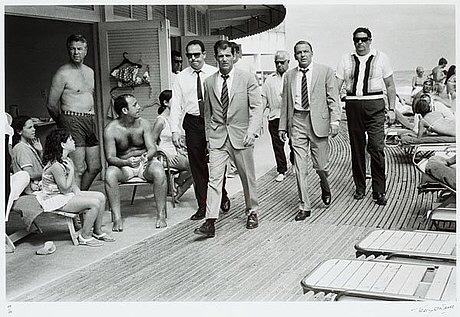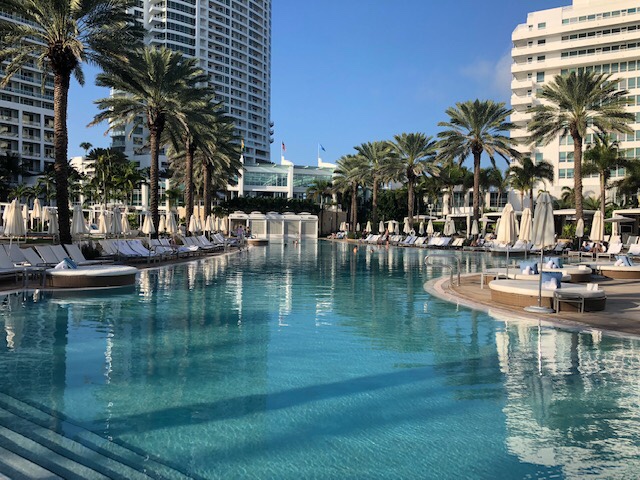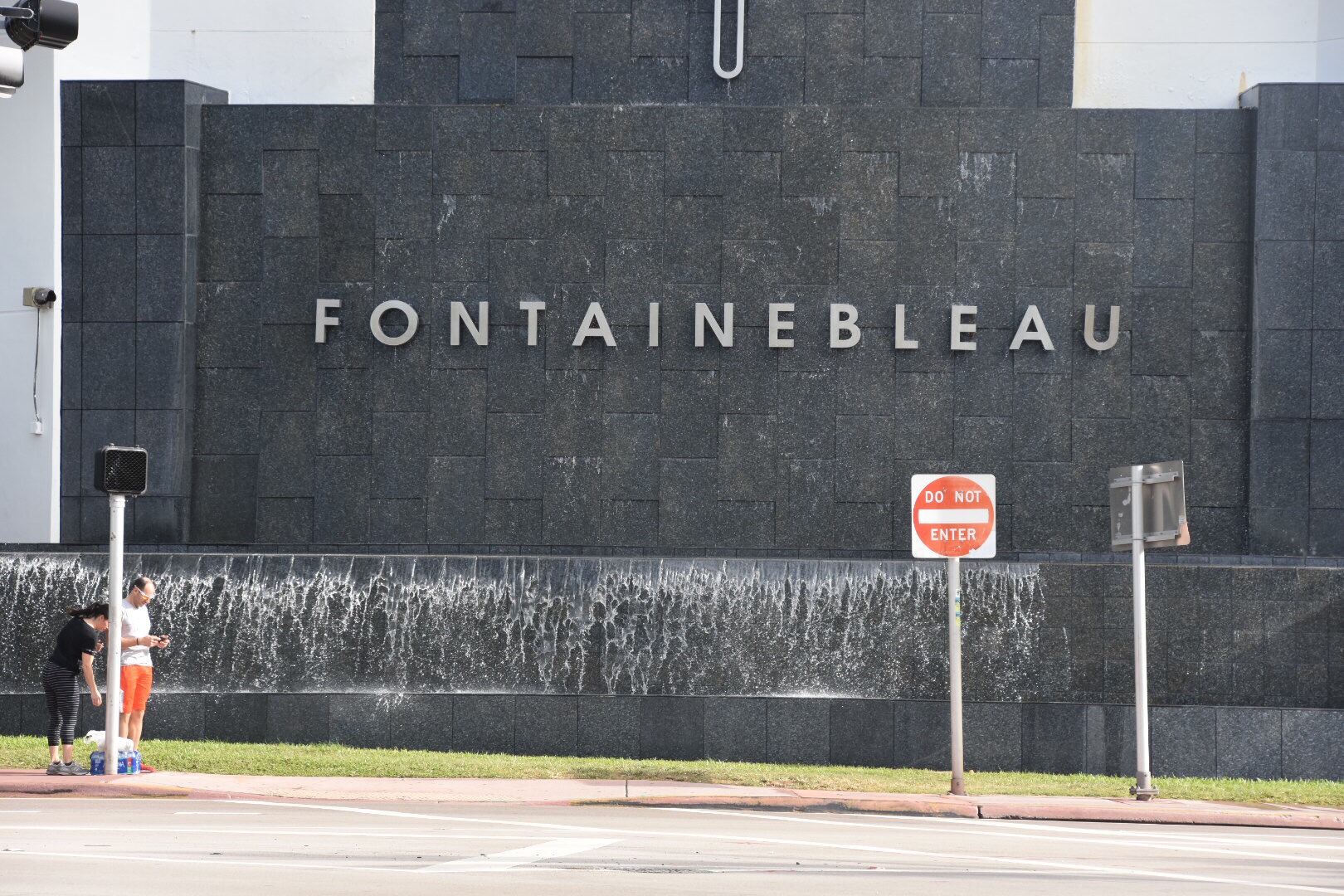 I checked in at 11am and to my surprise I was upgraded to a suite with a balcony (the same one where Jill Masterson was murdered). This place is enormous. Like a Vegas hotel that takes ten minutes to get anywhere.
It was cloudy so the beach was out. Instead I headed down the boardwalk toward a shopping area called Lincoln Road Mall. It was a long walk but luckily it was quite cool. Bought some stuff. Had some lunch. Got the Miami Beach Trolley back which is free. Used by tourists and hobos. I like that.
During the evening I went to the bar and it was noisy and trendy. I felt old (I much prefer feeling young which is why I like cruising). Chose another bar. Same thing. I bought a quiche and retired to my room. It's difficult to party on your own. Sitting in a quiet spot blogging is fine but I couldn't find a quiet spot.
After a well deserved nine hour sleep I awoke to more clouds so it was off exploring. I jumped on the free trolley, met some more hobos and went back down toward South Beach. The Big Bus routes looked good so I bought an overpriced ticket – never paid as much as $49 before. The bus was packed so no room upstairs and after crossing to the downtown Miami area of Bayside I got off and walked around. Great area and found the mouth of the Miami river which goes inland for a few miles. Bayside is a thriving area with shops and restaurants. I stopped for an avocado salad and a glass of water. I'm not sure what's happened to me. Haven't had a burger on this whole trip.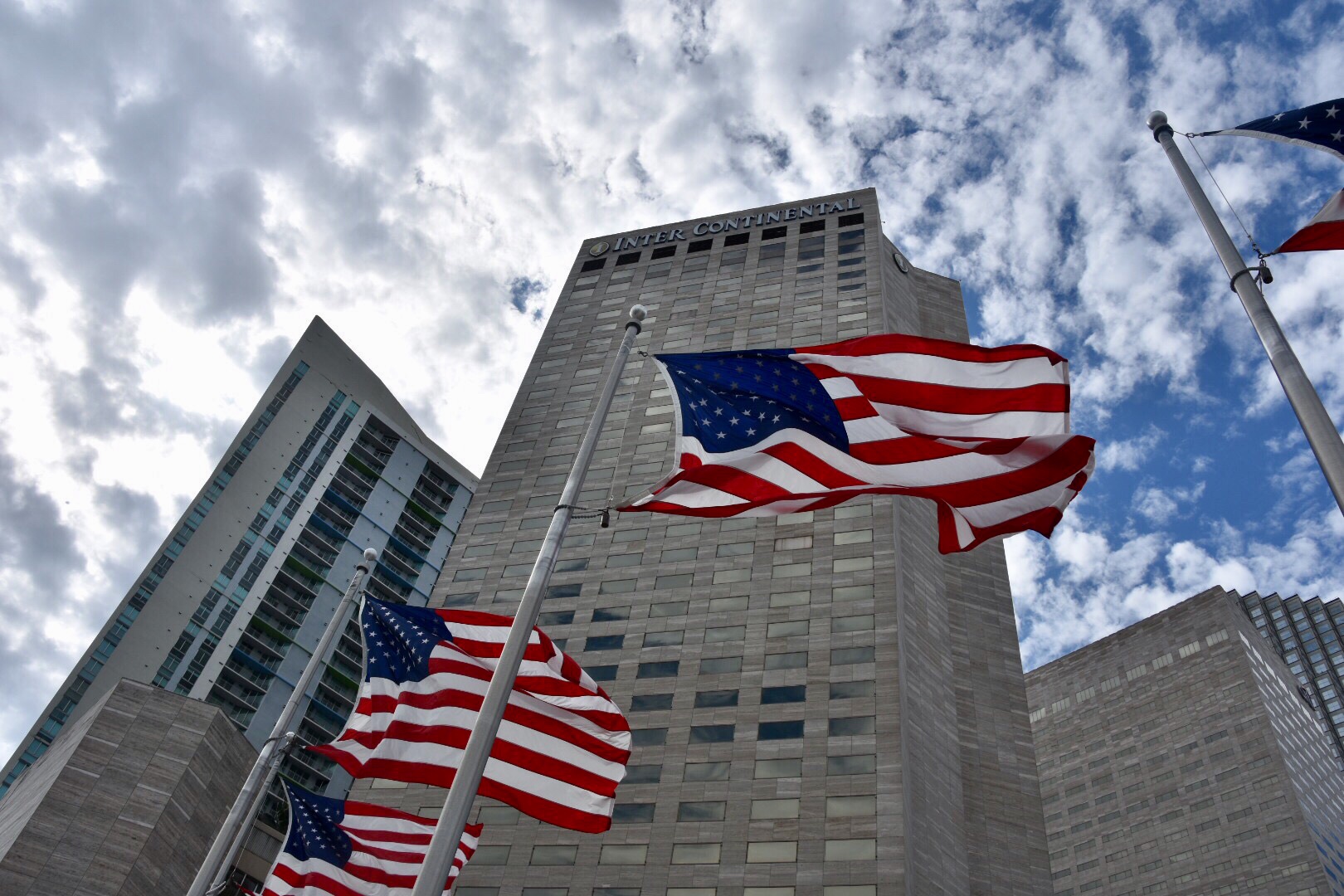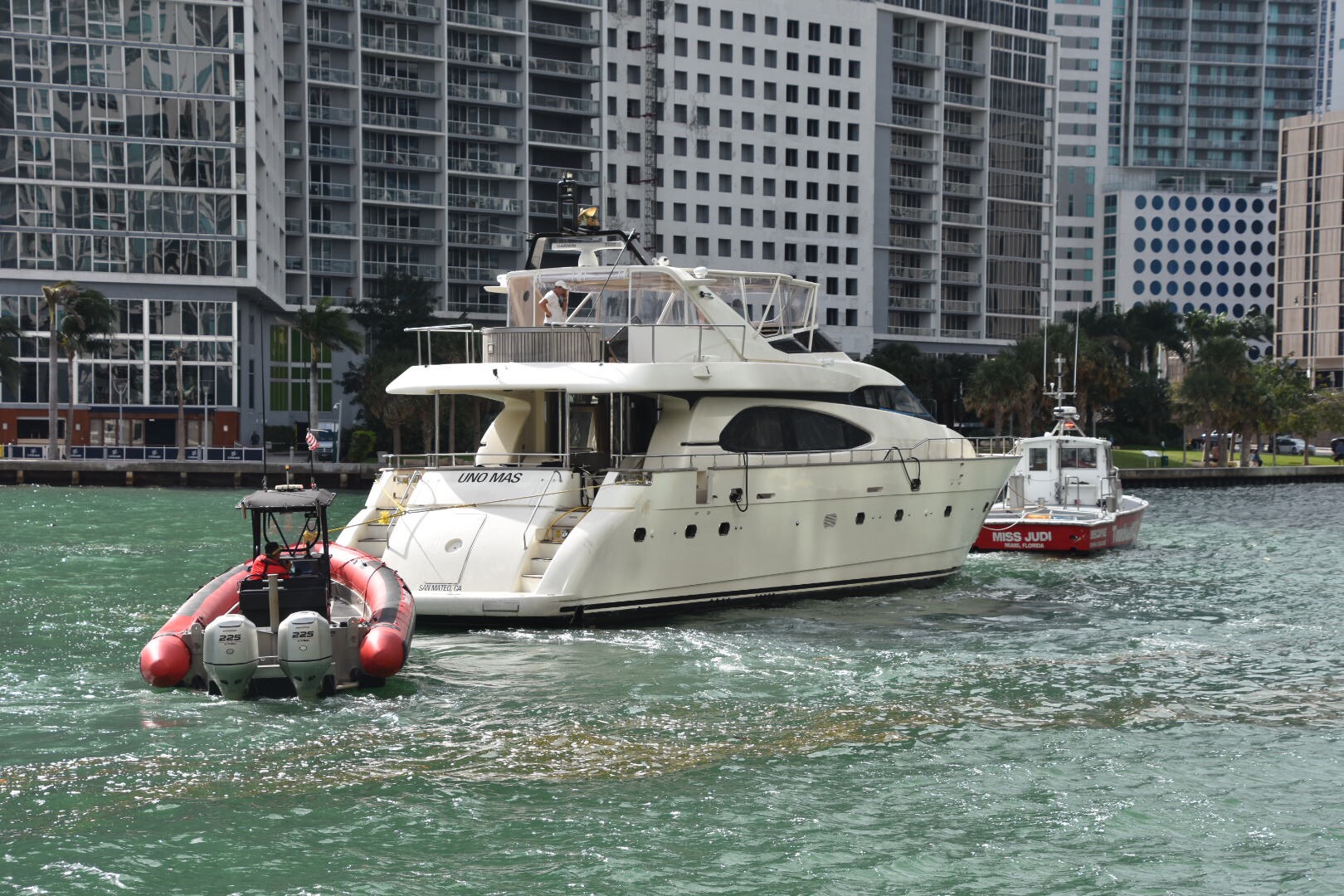 The real motivation for going downtown was to see the Wynwood Walls which is a relatively new attraction in an area cunningly called Wynwood. Wynwood Walls is urban graffiti on warehouse walls conceived by some chap to revitalise the area. I'd abandoned the idea of the Big Bus as the wait was long and the bus stops and buses were crowded. I jumped in a taxi driven by yet another Haitian called Seth. After the walls Seth drove me back over to Miami Beach and dropped me at the marina. I like the idea of Big Bus but it doesn't work in every city.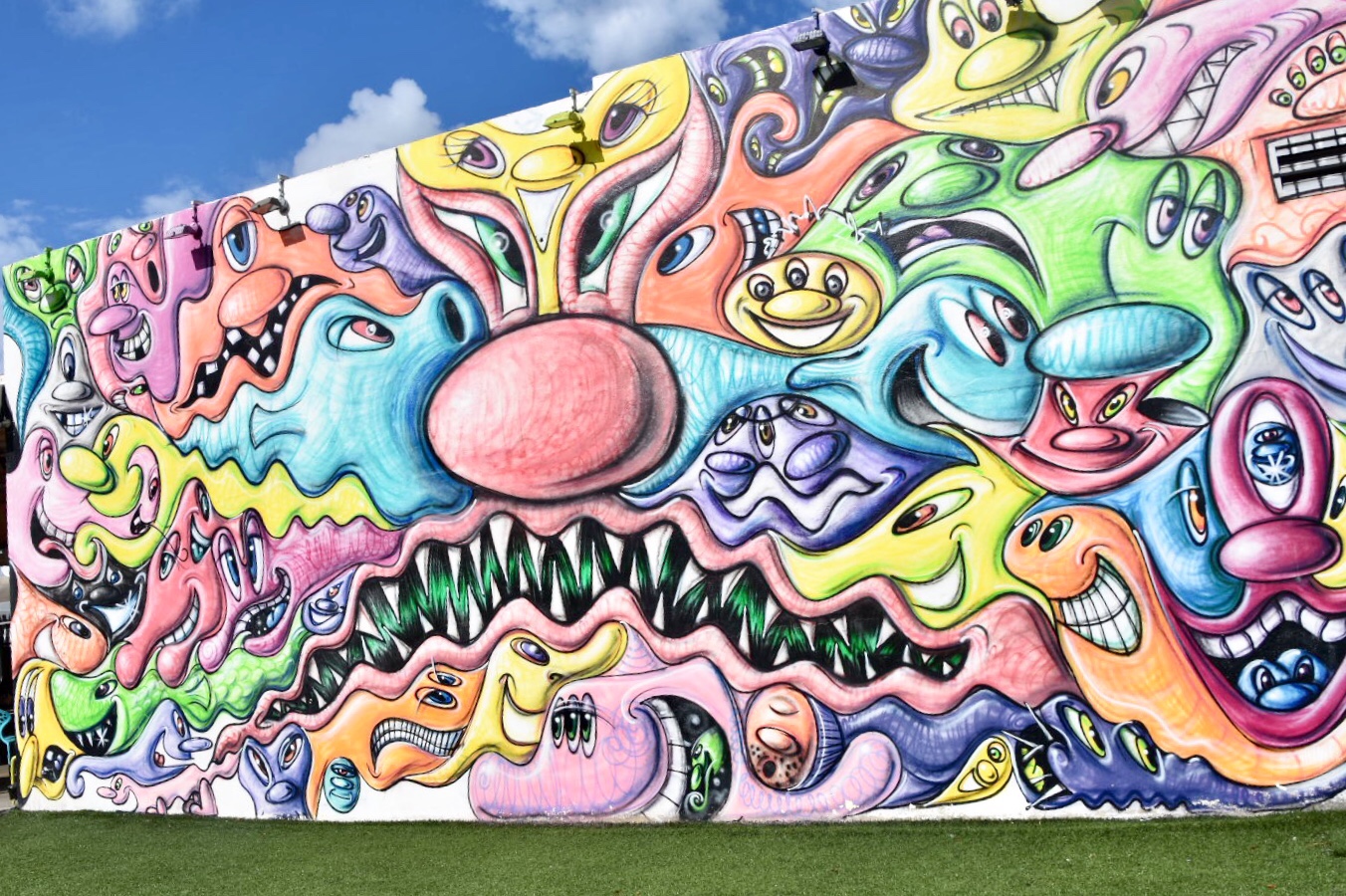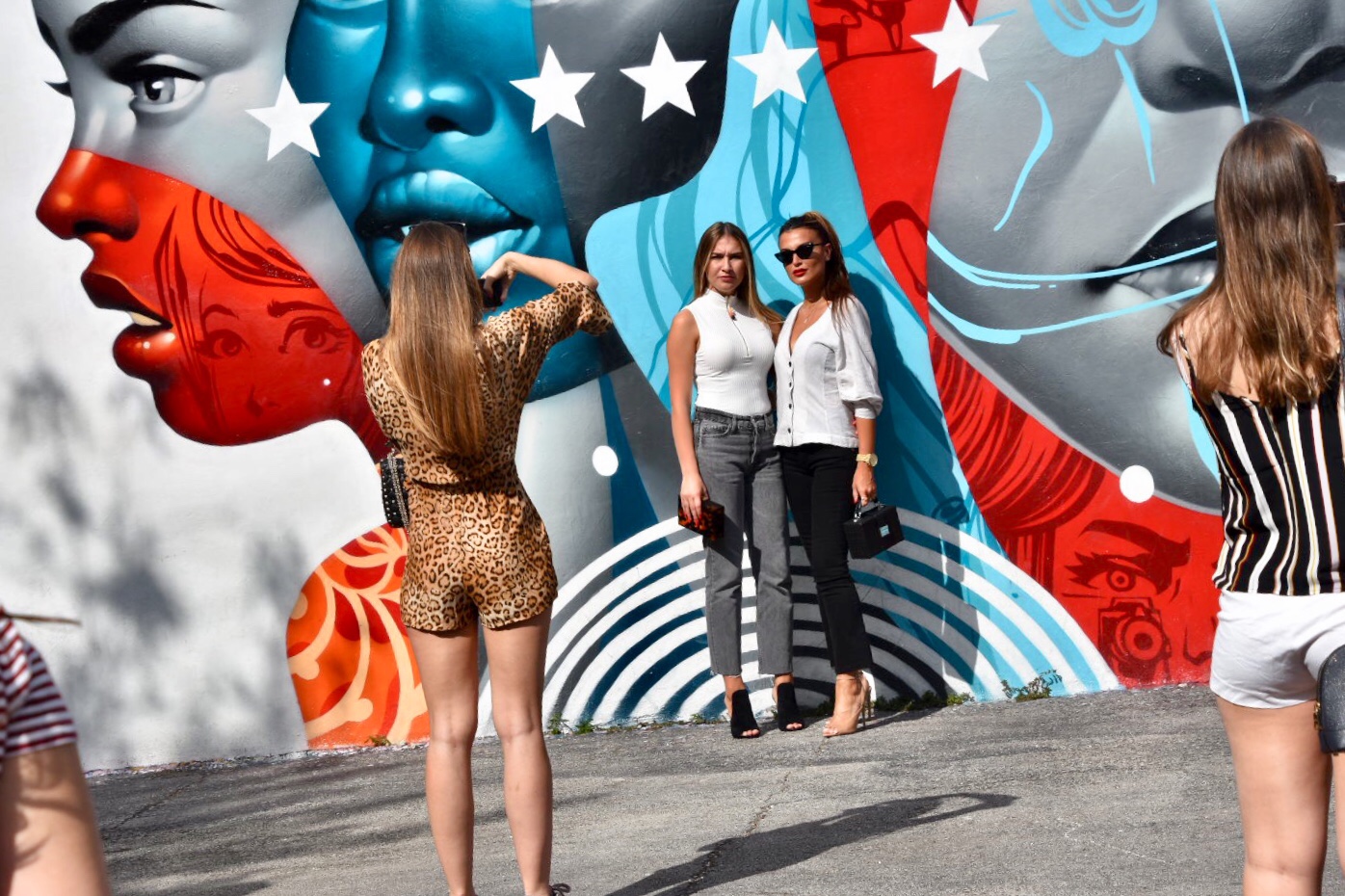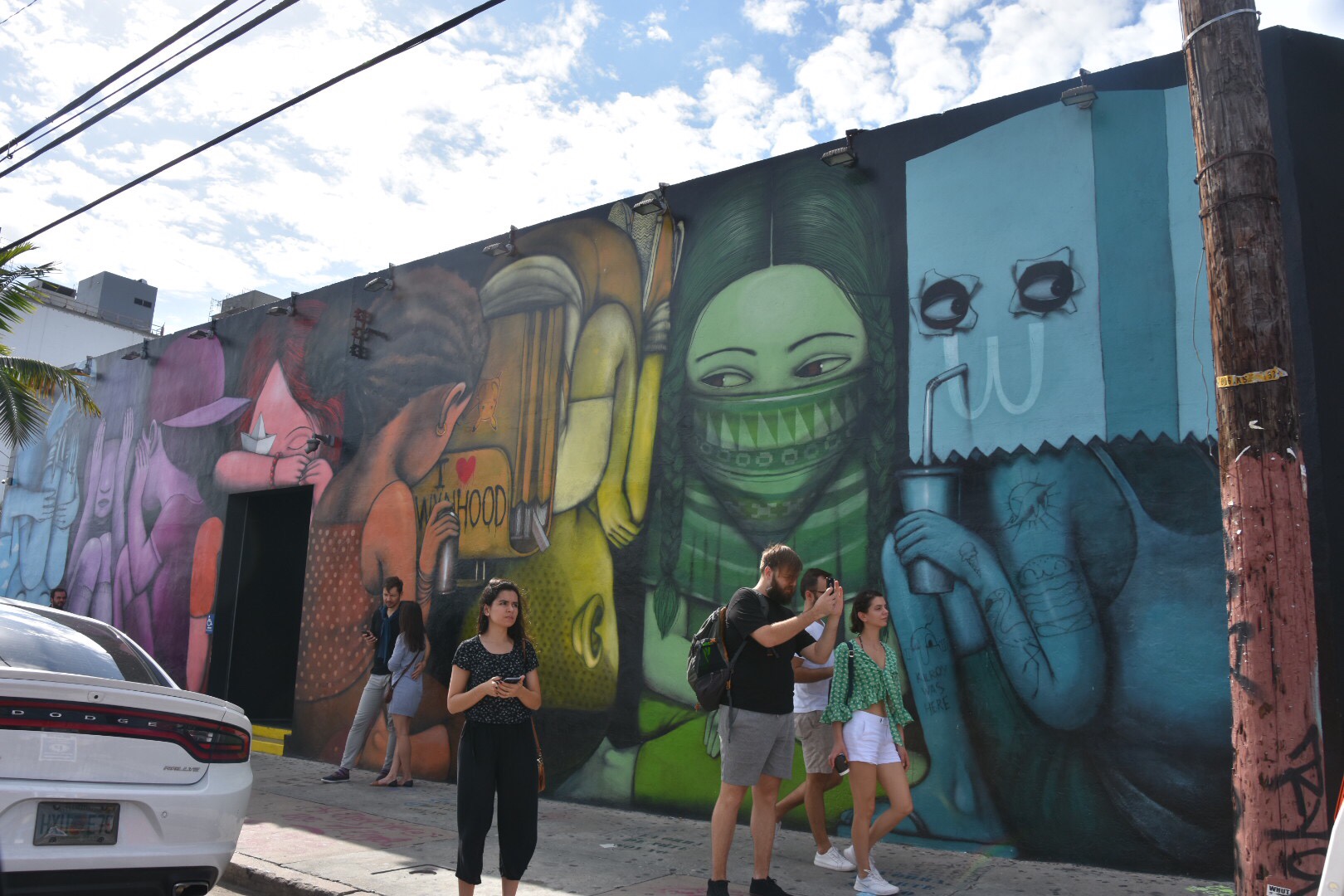 I headed to South Beach which I'd been looking forward to. Graeme and Karen had been there the day before and seen Bjorn Borg. Bjorn once and Bjorn Again. Well, I don't think I've spent so long walking around with my tongue hanging out. A visual spectacle you wouldn't believe. And that was just the guys. I love Miami and I'd really like to spend more time there but I'd need to start taking blood pressure tablets. Shwing.
I'd been timing my day so that I could arrive at the bottom of Miami Beach at around 4pm. South Pointe Park Pier was a lovely spot at the very tip of the beach area. There's a stretch of water called Government Cut and the other side is Fisher Island. Government Cut is 200m wide and it's where the cruise ships arrive and leave and there were six ships in port all due to leave. First out was the Celebrity Equinox followed by the noisy Carnival Glory party ship. I could hear the conga going on. I couldn't wait for the others as I had an appointment on my balcony with the sunset.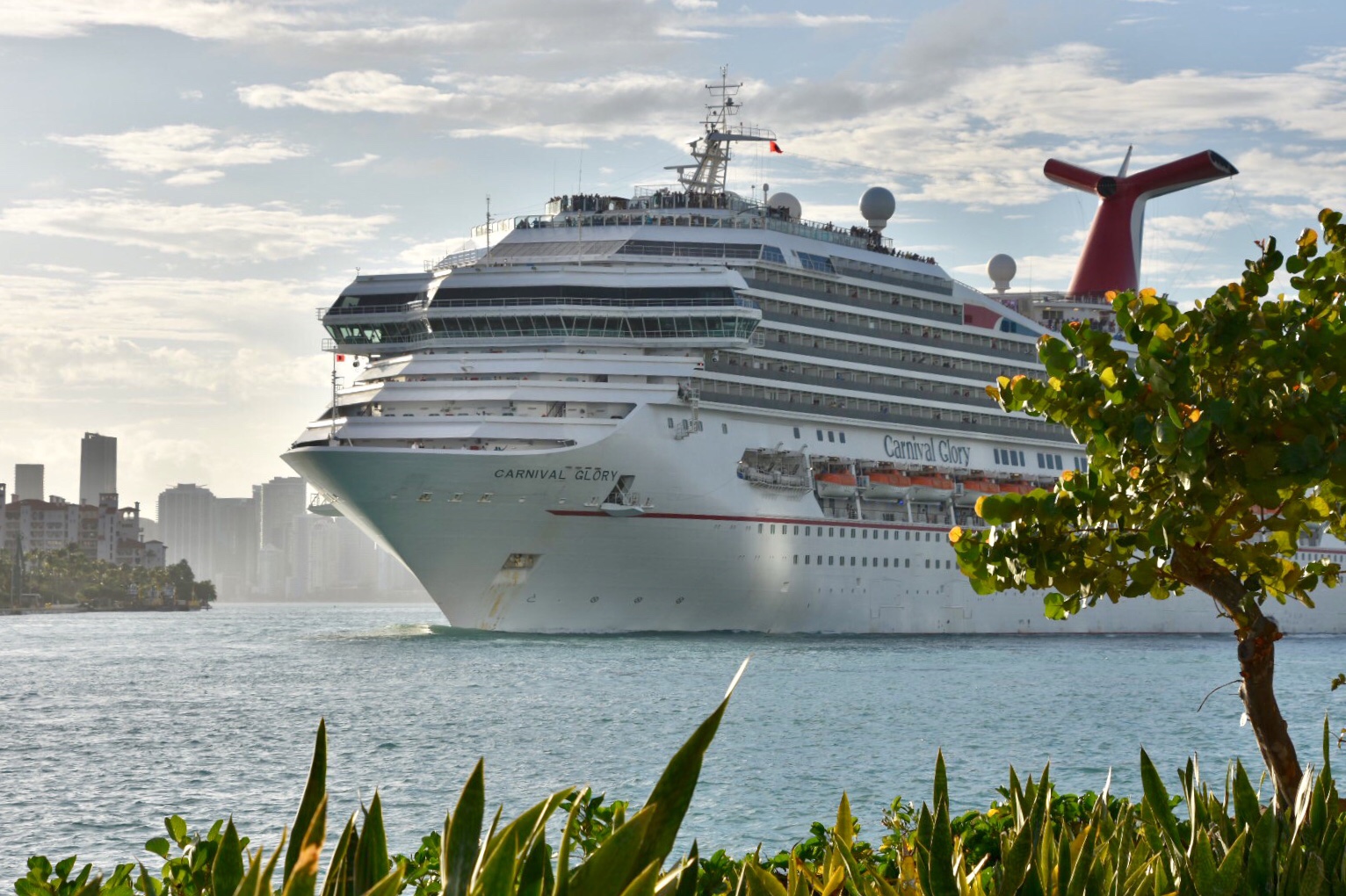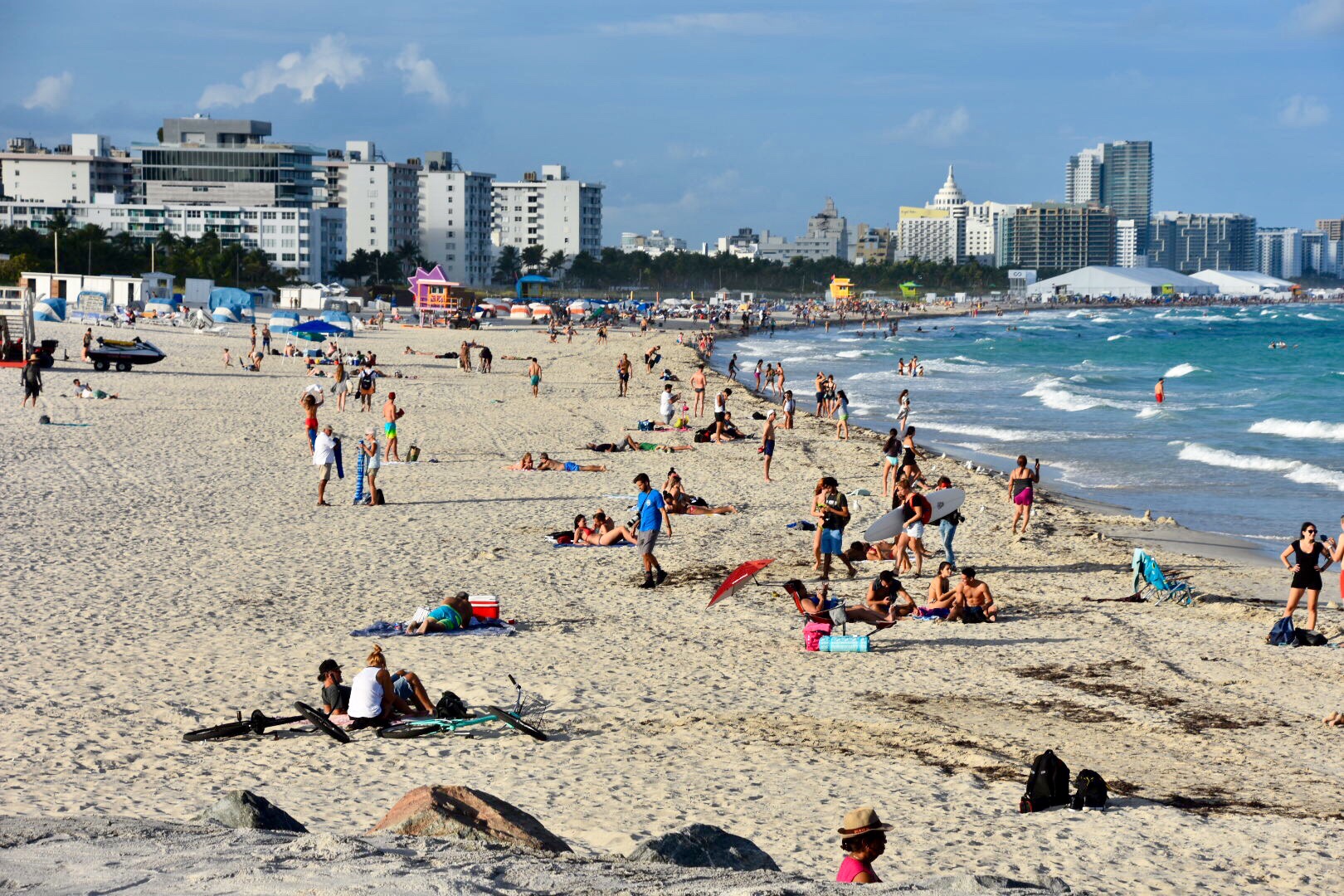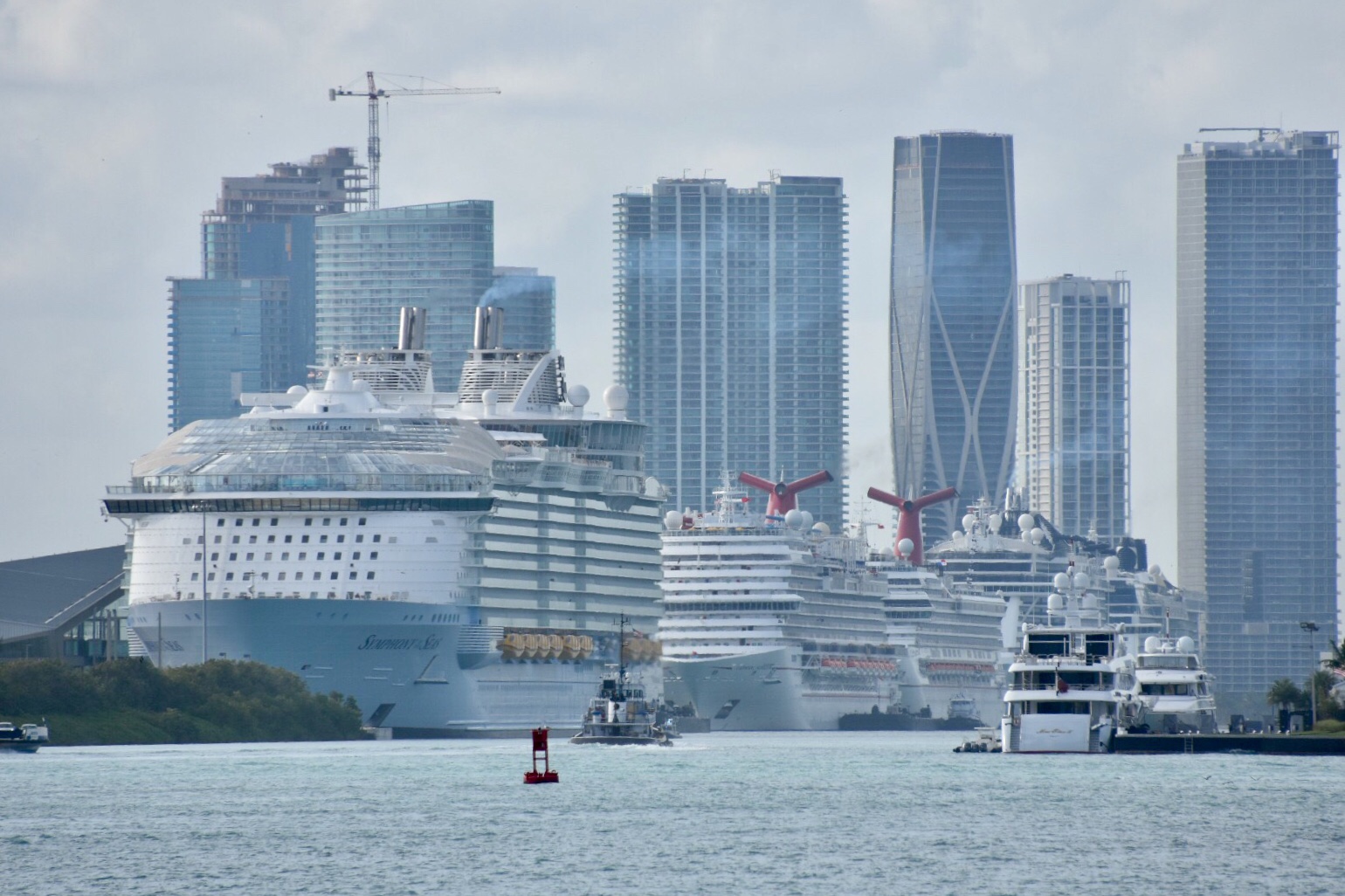 In the evening I attended a free classical concert projected onto a wall. It was staged in a small park on the corner of two streets near the Lincoln Road. For most it was a bring a chair concert but for me it was a sit on your arse concert. First up, Copeland's Outdoor Overture. 20 minutes. Arse still fine. Second was Ben Britten's violin concerto which lasted 32 bloody minutes – 25 minutes too long in my opinion. There were a number of occasions when I thought it was over but the conductor started waving his hands again. I didn't stay for Brahms. Despite the lack of a live orchestra, the odd car horn here and there gave it a touch of realism.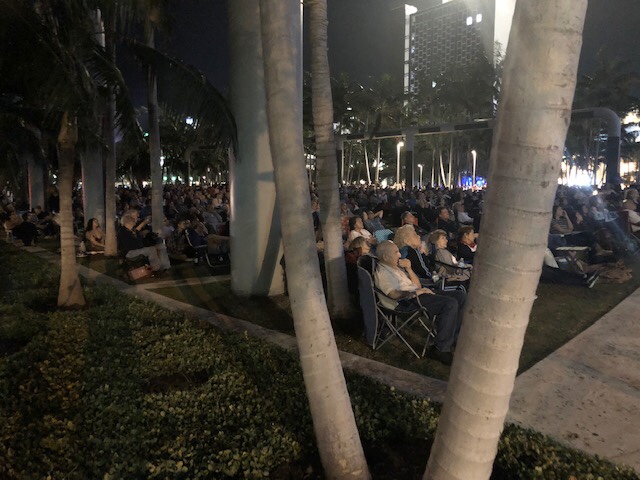 An enjoyable day all thanks to pretty Pauline in the tourist office who suggested some things for me to do. Grafitti and a free concert. On the way back to the hotel I was waiting at the trolley stop and two girls walked by in leather trousers and high heels wearing the smallest bikini tops I've seen in a while (and I've been keeping an eye out). In a little over 24 hours I've come to understand that this is normal.
It was difficult to leave Miami. I really do like it despite it being statistically the most likely city to be hit by a hurricane. Views from my balcony below. Next stop, singles cruise.