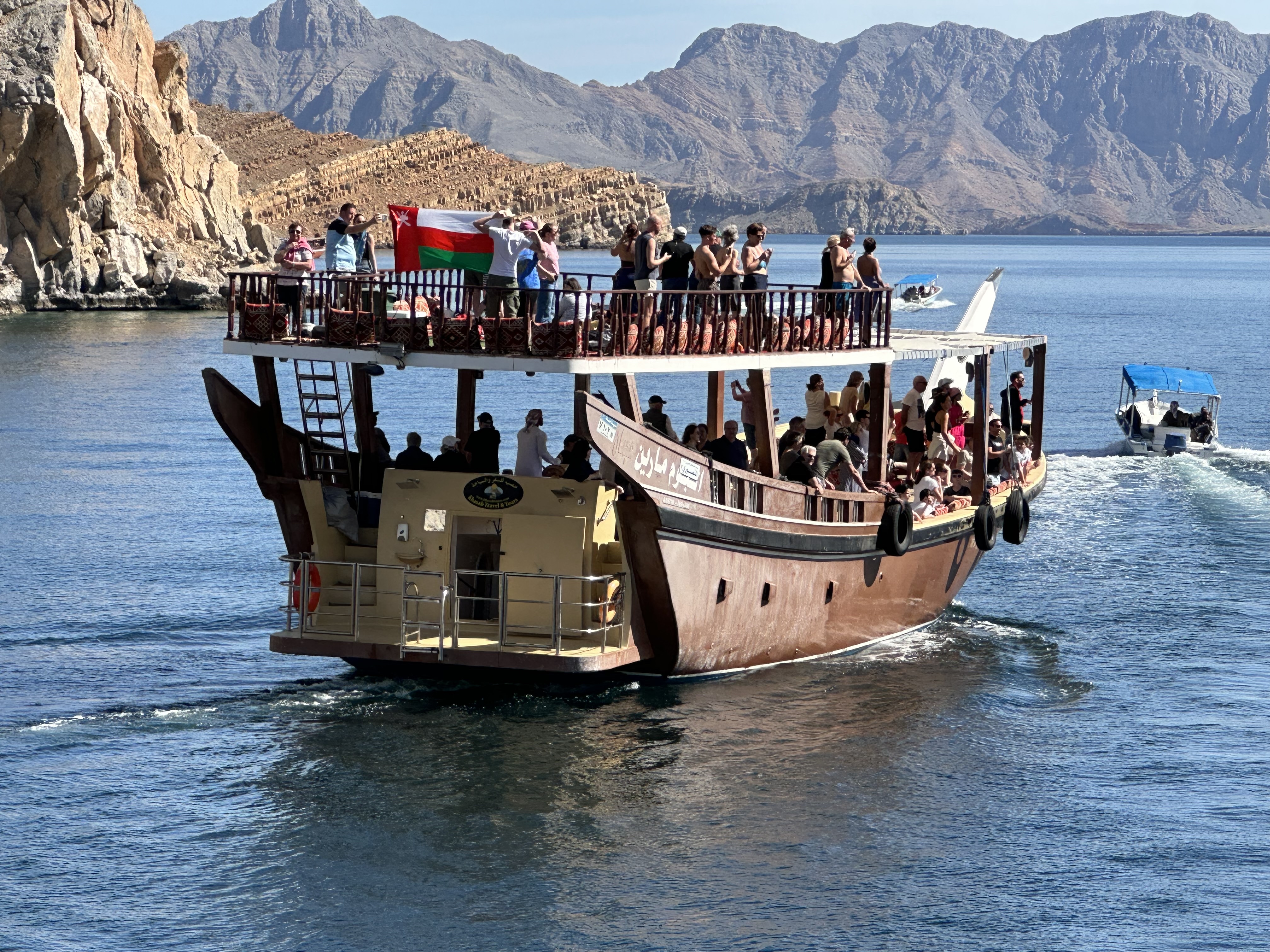 Thursday 9th
This was my first trip to Oman and we arrived at Port Qaboos in the capital, Muscat, nice and early. My unplanned late night in the casino meant that I missed the sail in. Completely unplanned you understand.
It was a beautiful sunny day and the white buildings of old town Muscat provided a fetching contrast with the mountains in the distance.
Oman's history goes back a very long way, however, the most notable periods were from 1507 to 1656 when the Portuguese ruled Oman, and then in 1892 when it became a British Protectorate until achieving independence in 1951.
I had booked the Big Bus online and boarded right from the ship. The full loop took two hours and initially transported us to new Muscat which wasn't as appealing, and then back to old Muscat which was. I bailed after 90 minutes and worked out I could walk back to the ship from where I was. I jumped off at the palace and mooched for a bit. Very neatly laid out and architecturally fascinating. I walked back on the Corniche via the fort, which was well worth the £4 admission. After the fort I was drawn to the souk or suq (for those wishing to use their Q). It was an assault on the senses and I bought a few small items.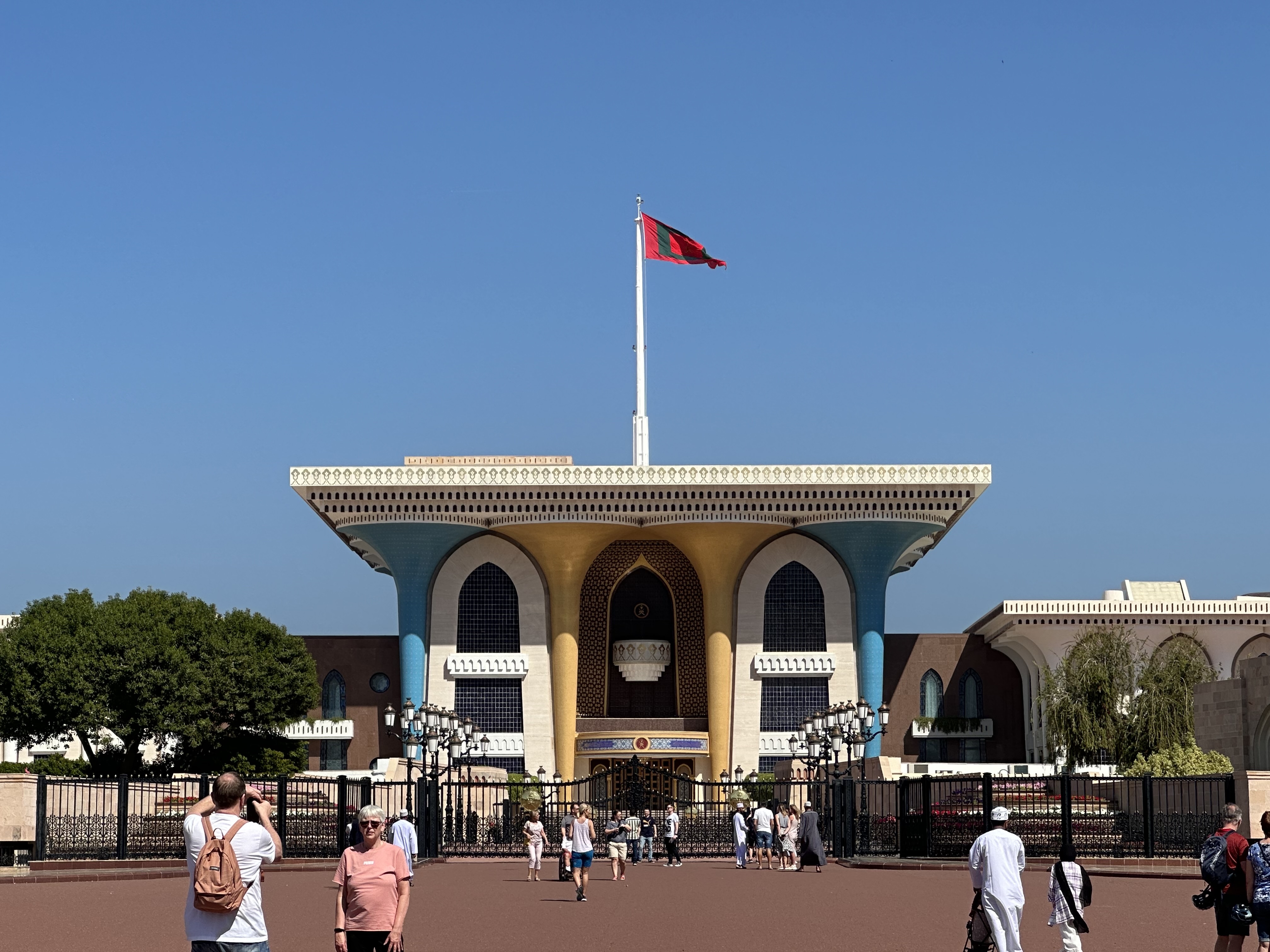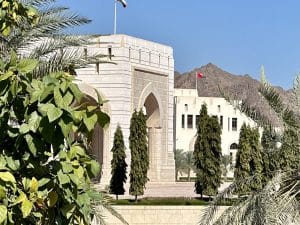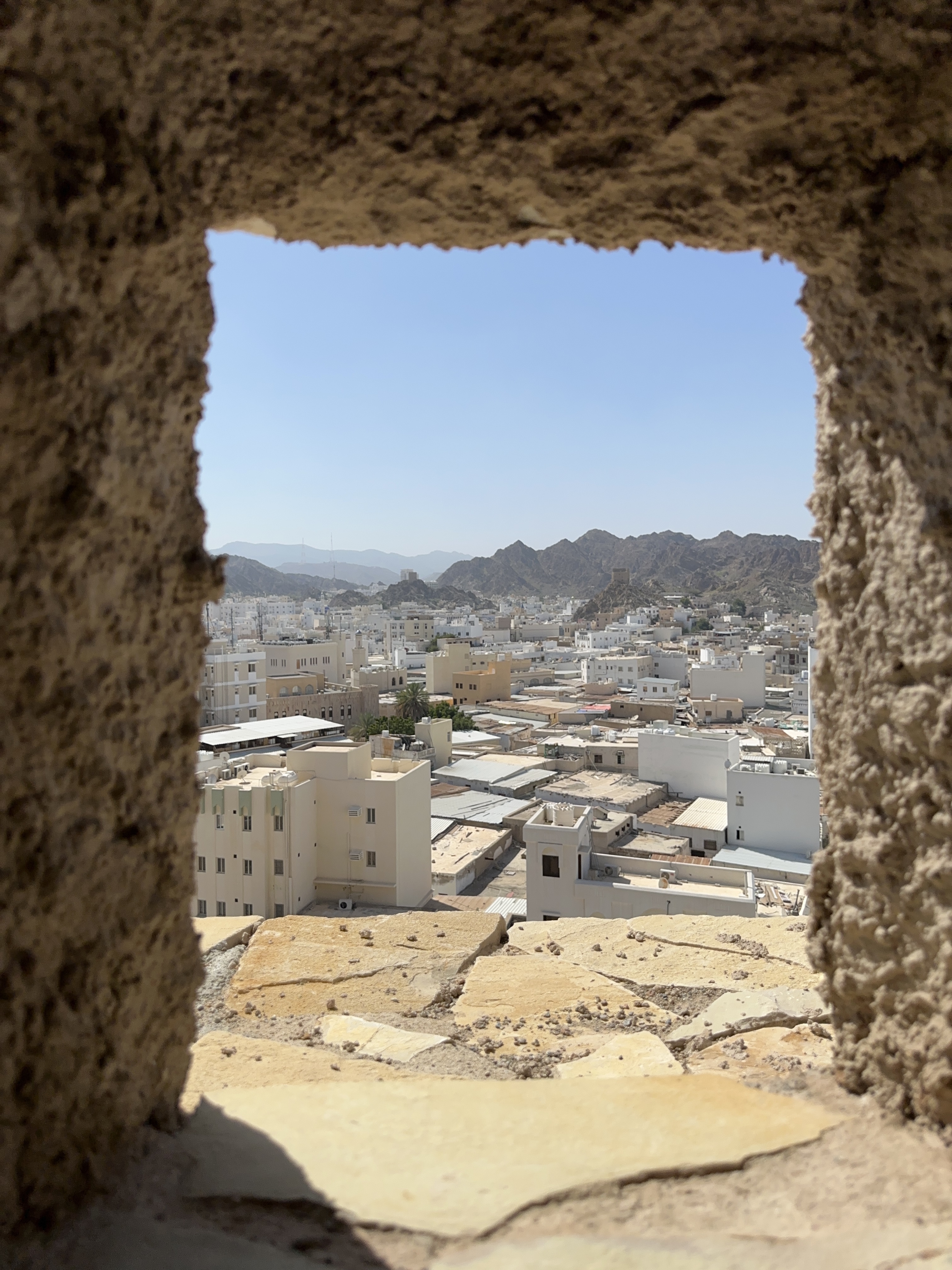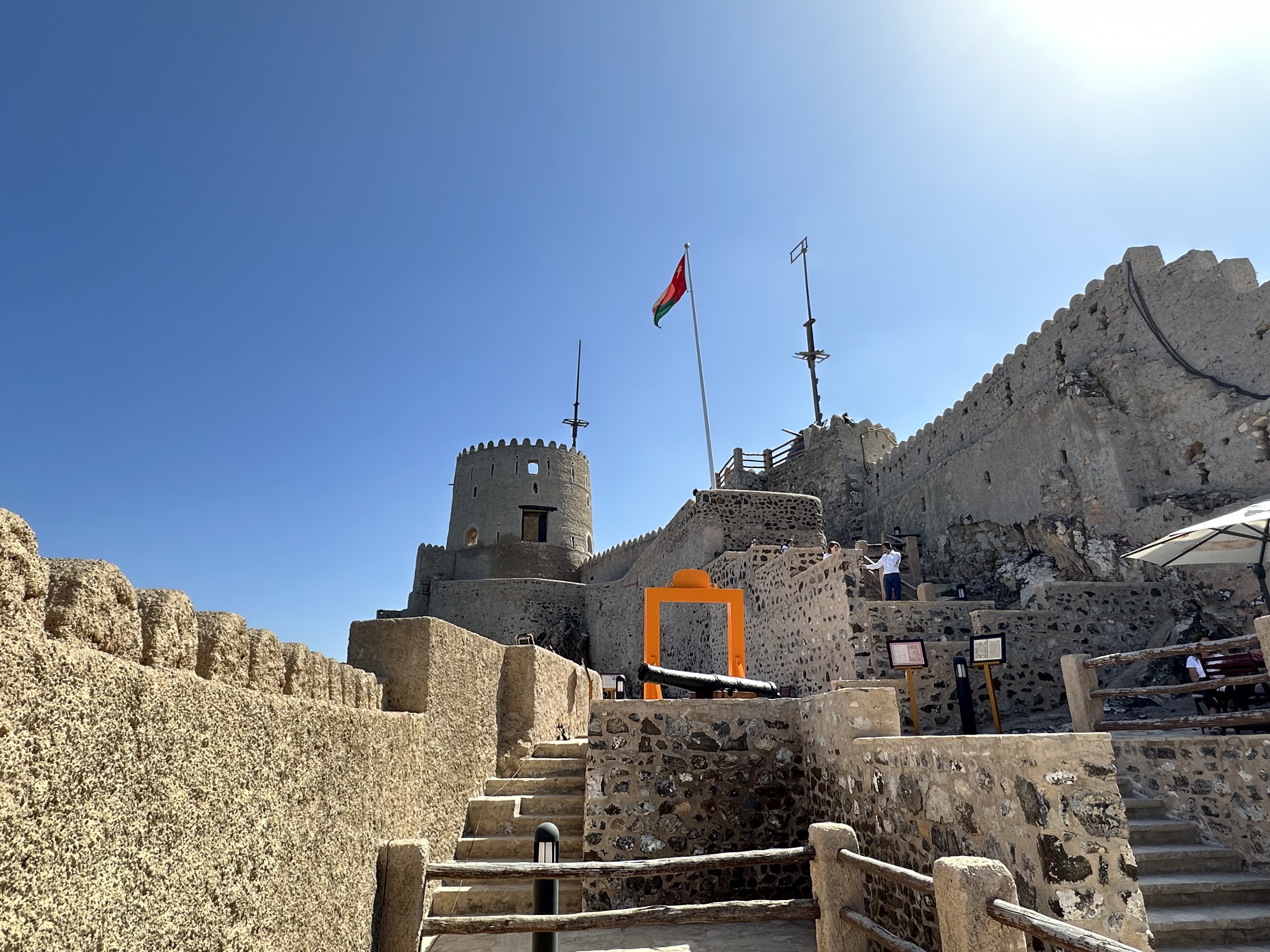 I had my masculine sarong with me in case my legs were offensive to any of the Muslims. Mosques don't allow shorts or vests. Short vests are definitely out. It said nothing about speedos, but I wasn't going to risk it. Most men I saw were in full length white dishdashas. I saw a few chaps who'd gone rogue with other colours – light grey, mid grey, dark grey, but no canary yellow or anything eye catching. And Muslim women wear black almost without exception. It's interesting that white is often associated with goodness, virtue and purity, whereas the black is is often seen as the opposite. There's never been a white sheep of the family. So, from a western perspective the colour etiquette is quite curious. Men are good, women are less good.
I saw a tall distinguished Omani man in his 30's with five women following him. In Oman, a man can have up to 4 wives, but this guy seems to have got an extra one. Of course, one of them could've been the mother-in-law, but it was difficult to tell underneath all that clothing. He certainly had a type. All about the same height and all wearing black.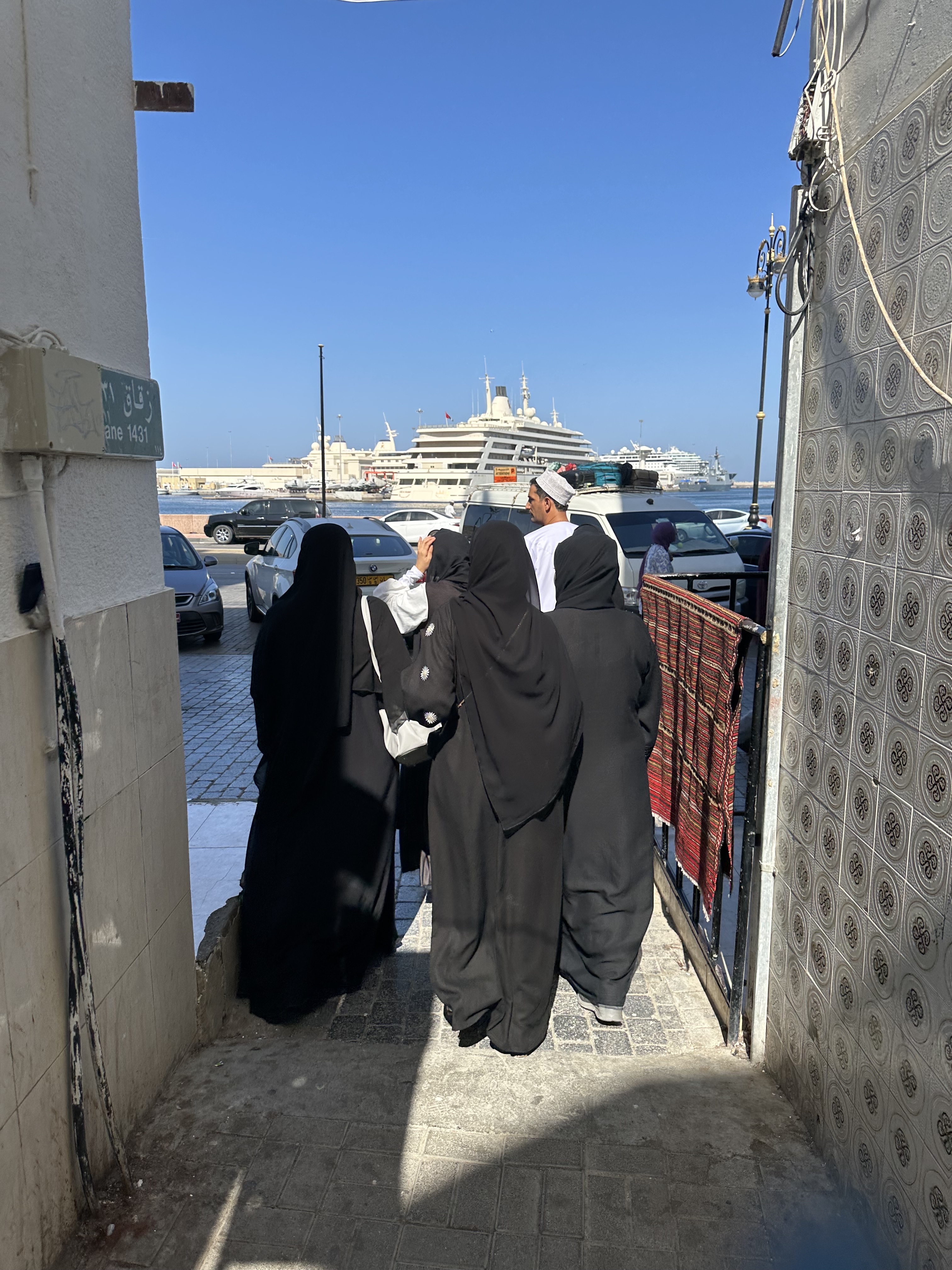 We passed an area of car dealerships and I spotted three manufacturers that I've never heard of… and I read What Car. Bestune, Hongqi and GAC Motor. These are three Chinese manufacturers that haven't quite broken into the European auto market. I might need to read Wok Car in future. Terrible joke. I knew there was one in there, but this was the best I could do.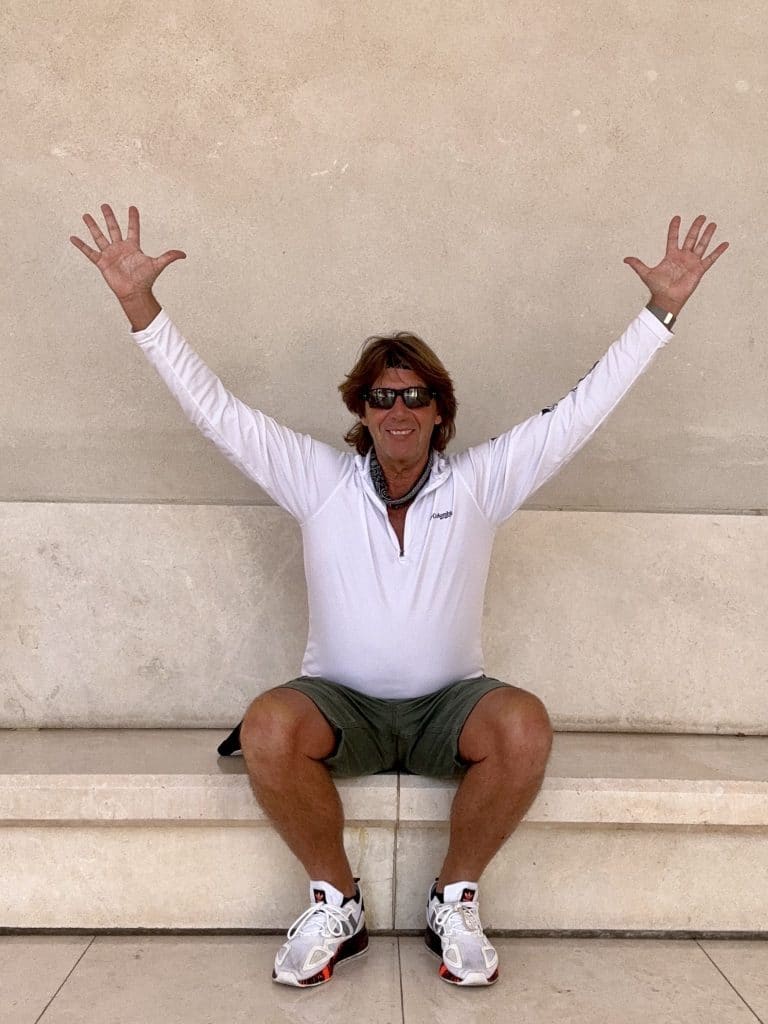 I liked Muscat a great deal. They've done a super job with landscaping. The Big Bus ticket cost $71 and it wasn't value for money. It should have cost around $25, but with no Ho-Ho competitors they could charge a higher price.
Muscat has restrictions on building heights and the current limit is 17 storeys. All buildings must be white or a shade of white.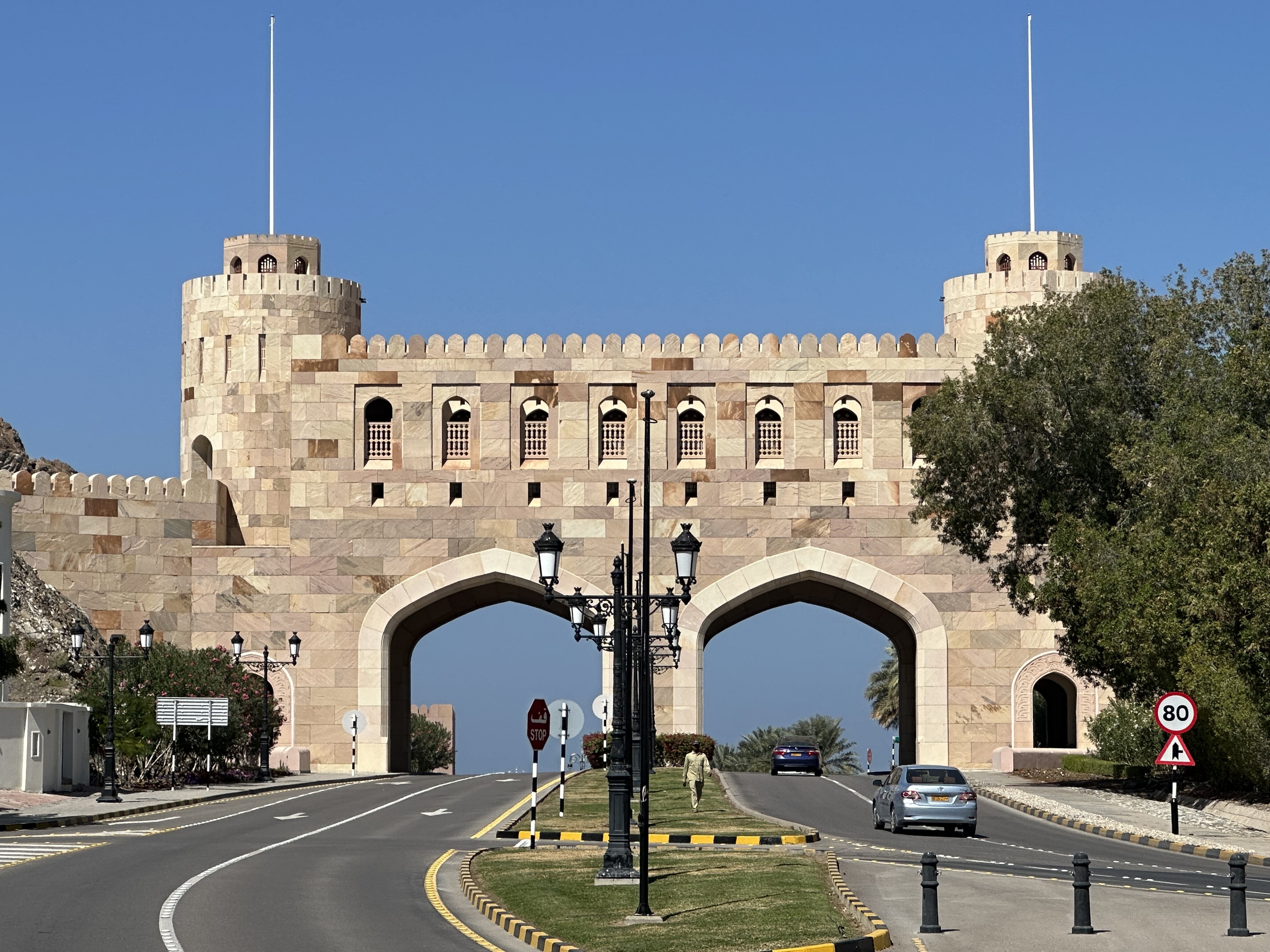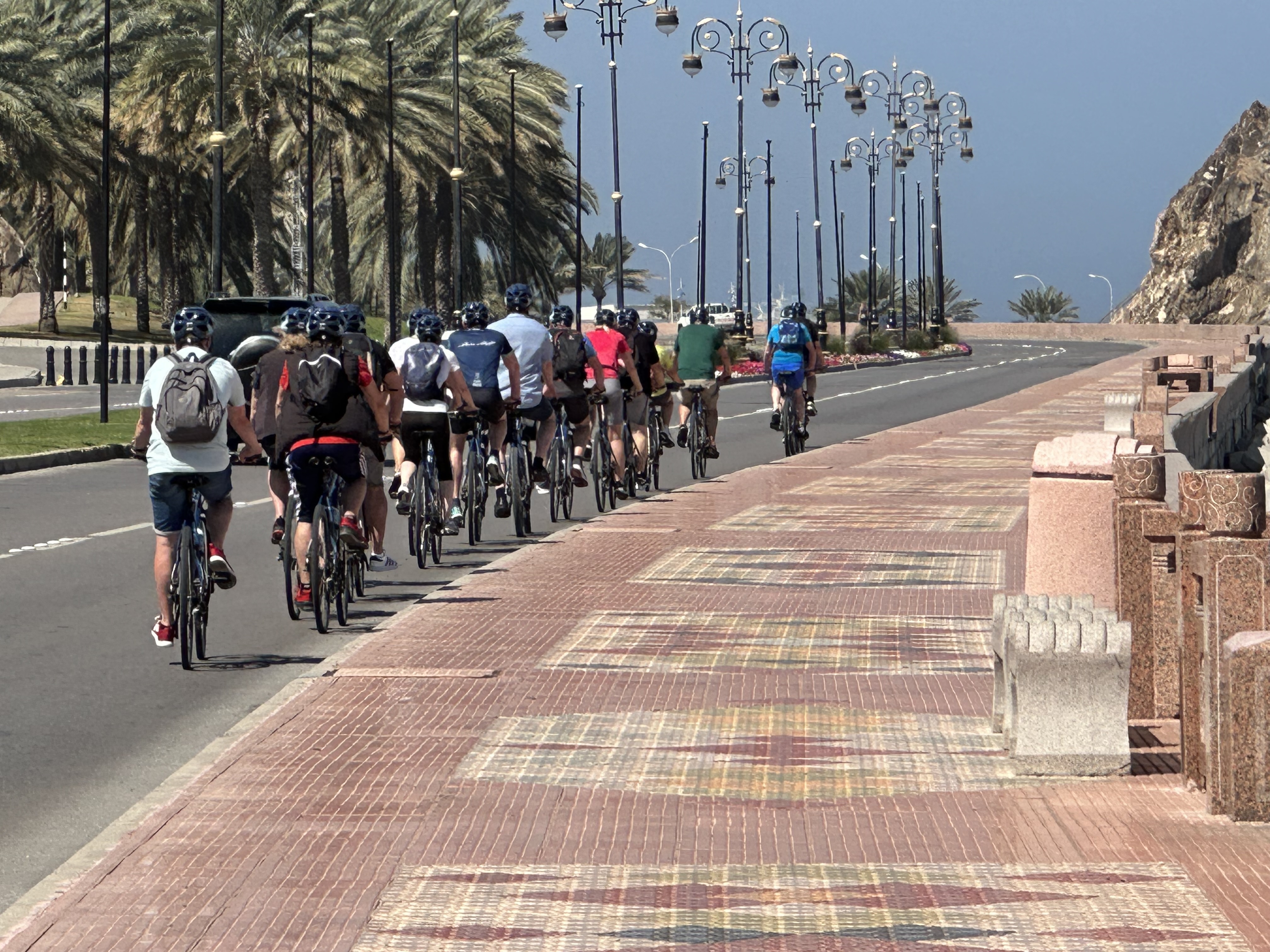 Friday 10th
I awoke to early morning wind. I went up to the top deck and it was breezy there too. We were heading back through the Strait of Hormuz which for keen geography buffs is the narrow stretch of water separating the Persian Gulf and the Gulf of Oman. We were still two hours away from Khasab, Oman. Khasab isn't connected to the rest of Oman. It's at the end of the Musandam Peninsula which is geographically in the UAE but for some reason this enclave belongs to Oman. Like Ceuta in Morocco belongs to Spain. And that bit of Russia that isn't connected to the rest. And I suppose Alaska.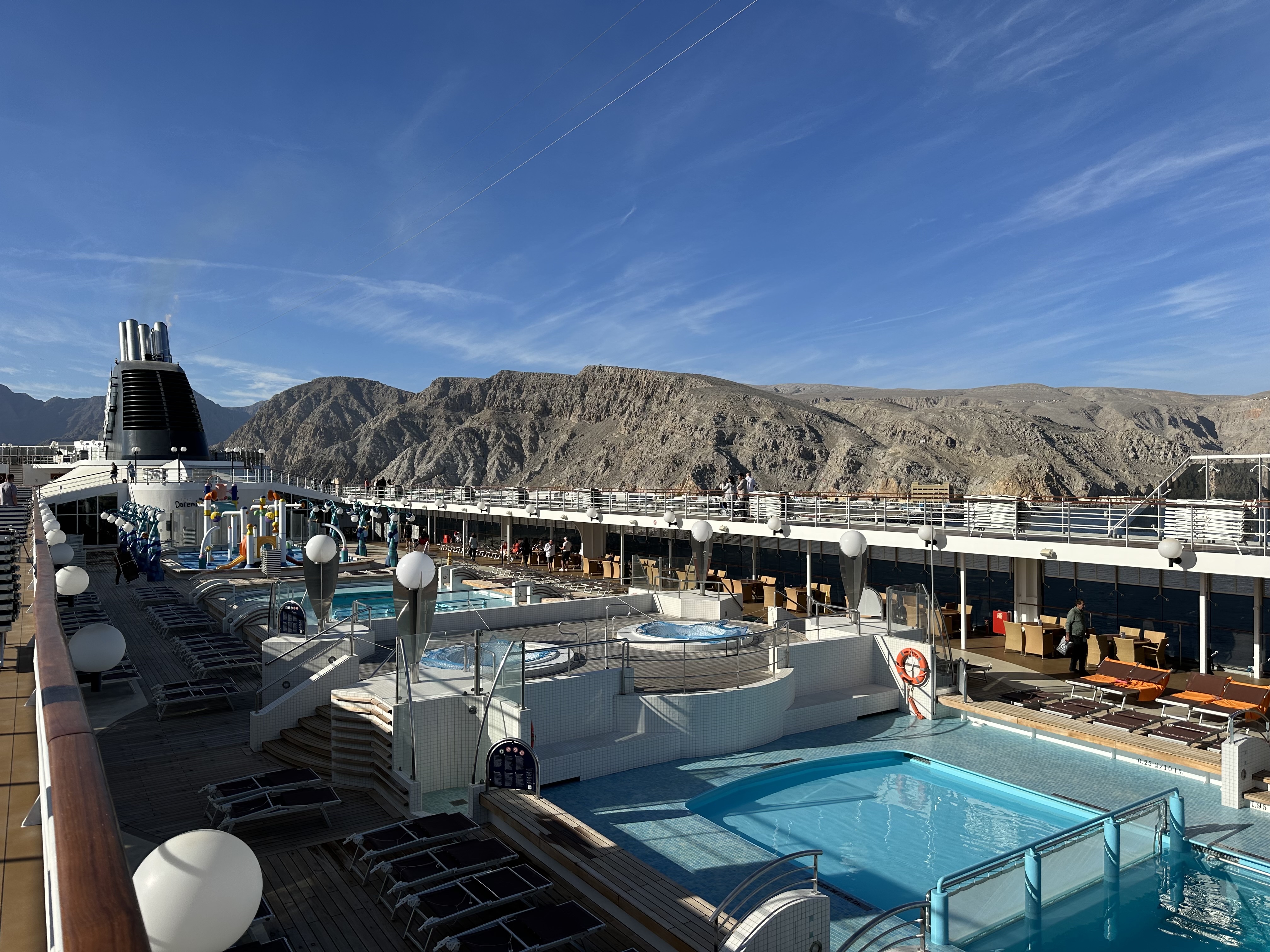 I'd booked a boat trip and was wondering about the wisdom of that decision. Luckily by the time we reached the port the wind had subsided and I joined my fellow boat trippers on a traditional Omani Dhow. The others on the trip were mostly European – French, Belgian, Spanish. It was nice to be away from the Uzbeks for a while.
I'd made friends with the guide and was able to board first and headed to the top deck for maximum exposure. There were no seats. Just large cushions on the floor and I liked it. Very comfortable.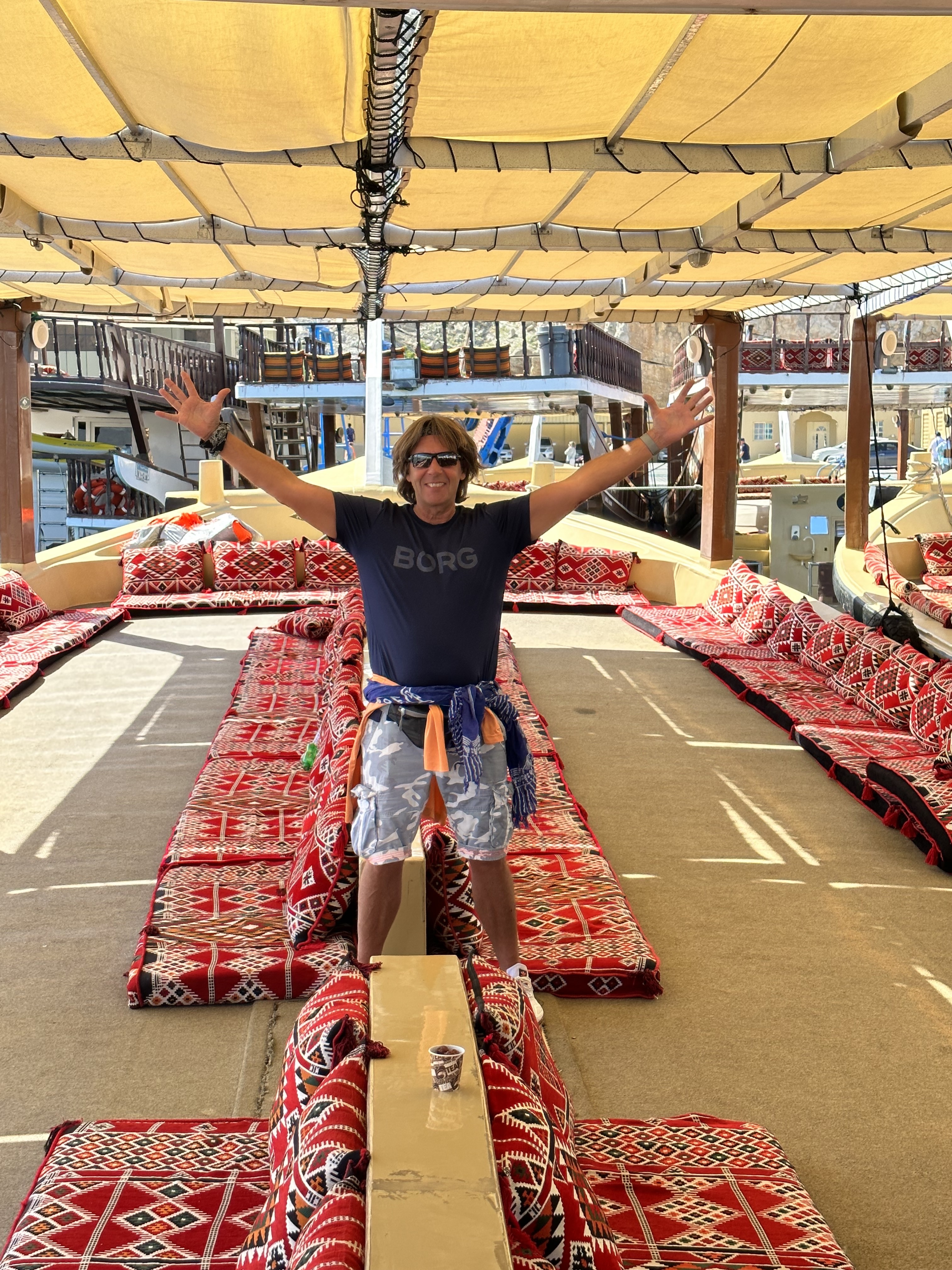 We were heading for the Fjords of Oman with some dolphin spotting along the way. The scenery was stunning and reminded me of Lake Powell in Arizona. We saw a number of pods of dolphins and people lurched from one side of the boat to the other as the dolphins toyed with us. We were dolphin watching and the dolphins were tourist watching. It was a marvellous way to spend three or four hours.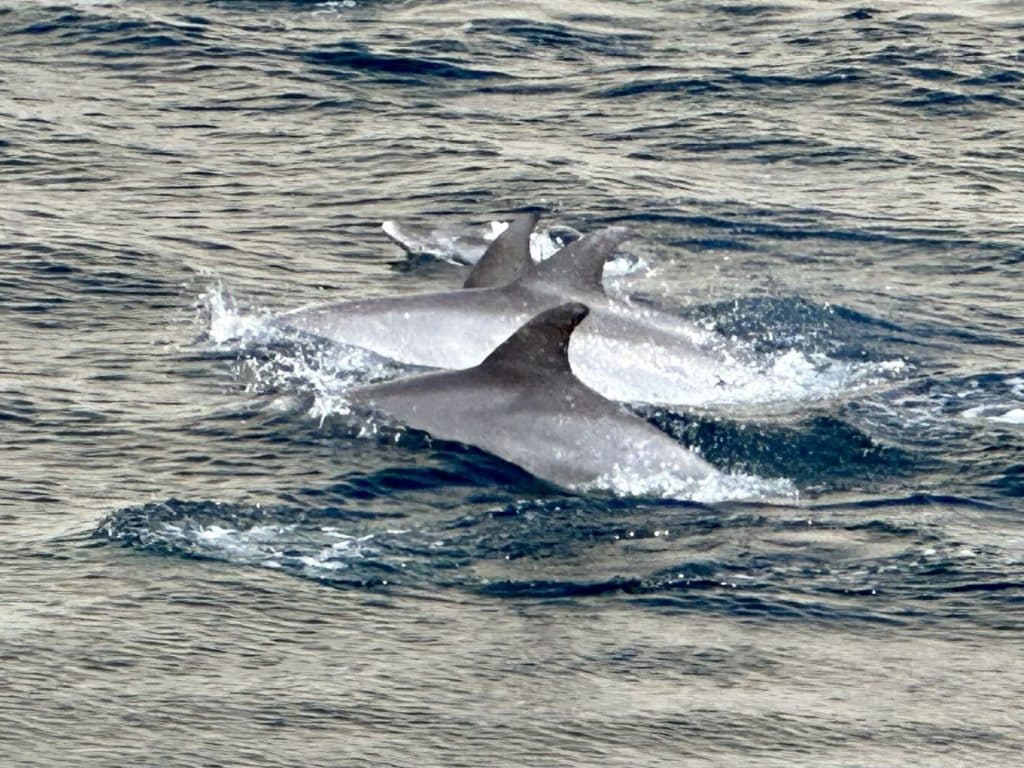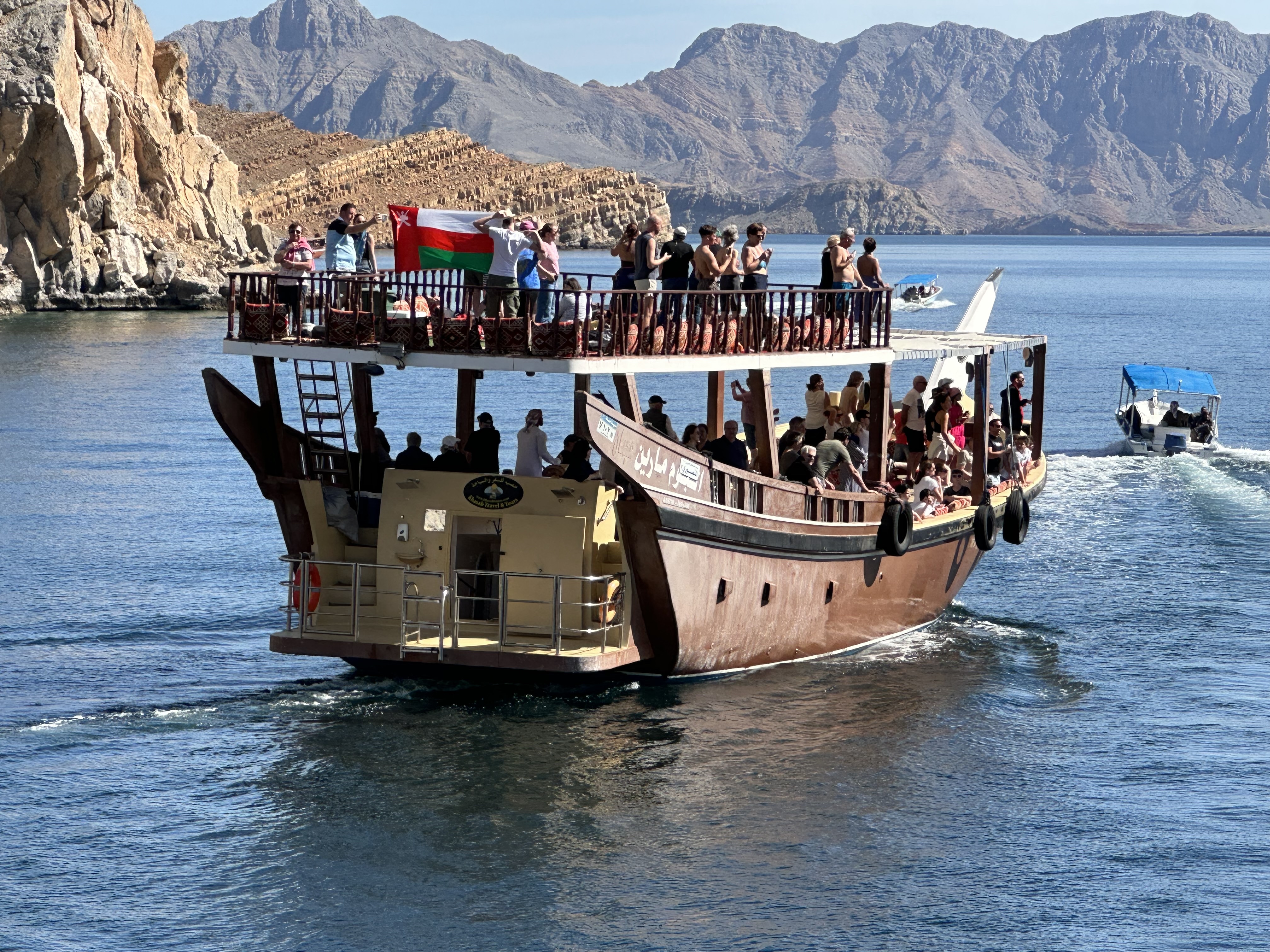 The UK is 94,000 square miles. Oman is around 120,000 square miles. However there are only about 4.5 million Omanis.
Next stop Dubai.