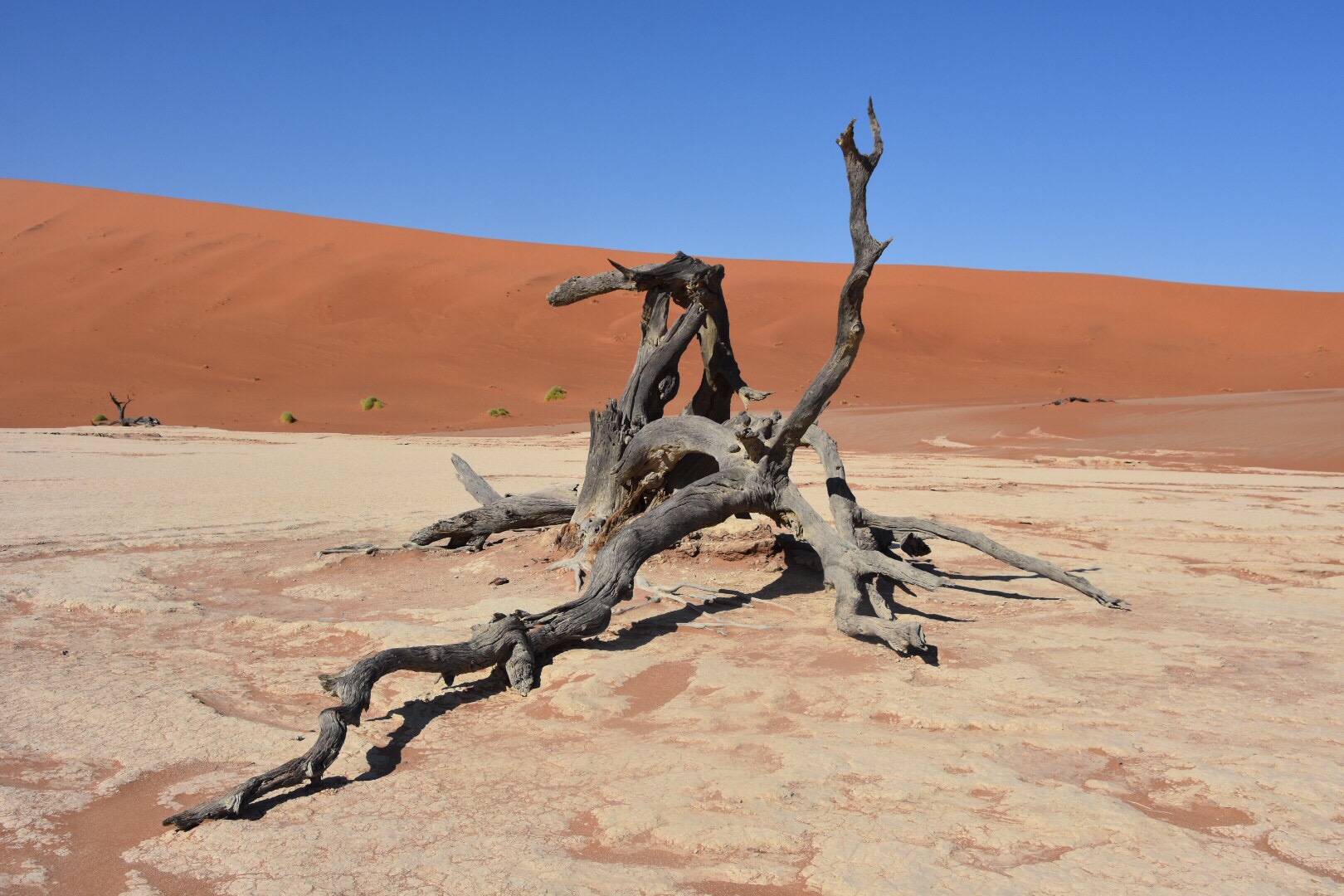 Namibia has only been in existence as a country in its own right since 1990 when it gained independence from South Africa. Past names included German South-West Africa and simply South-West Africa when it was ruled by South Africa on behalf of Britain. The currency in the Namibian Dollar or NAD for short (gotta look after your NADS). Natural resources include uranium and alluvial diamonds. As it lies between the Kalahari and Namibia deserts it is the driest sub-Saharan country with annual rainfall just over a foot. One rather curious geographic feature of Namibia is the Caprivi Strip which Queen Victoria ceded to the Germans in exchange for Zanzibar. Caprivi was named after Georg Leo Graf von Caprivi de Caprera de Montecuccoli who succeeded Otto Von Bismarck as German Chancellor. Well, if you look closely at a map of Namibia there is a small strip of land, hardly noticeable that extends across the northern border of Botswana. An amusing fact is that in the event of a collision, pedestrians can be breathalysed too. The main ethnic groups in Namibia are the Ovambo (about half), the Herero, the Himba, the Damara and the Nama. There is also a fairly large Chinese community no doubt plotting a take-over at some point.
After spending the night in the thatched hut I felt somewhat more refreshed than my camper friends. We left camp at a leisurely 9am heading for Fish River Canyon which has the honour of being the second largest canyon in the world meaning I was just about to complete the canyon trio – top 3 in the last 6 months. I had to lie down while it sunk in. Anyway the weather was a little cloudy so photographic evidence of this momentous milestone was less than ideal.
We reached out home for the night, the Canon Roadhouse by mid-afternoon and without even asking Colleen had found out about an upgrade for me. I once again seized the opportunity. It wasn't as plush as the night before but it beat the tent by quite a margin.
We dined alfredo and watched a magnificent sunset as the clouds receded. By 9pm the tent people were dropping like flies and my drinking pal Lawrie said the bar was too far to walk to (100 metres is too far for Lawrie) so I retired to my first class accommodation option.
Driving through Namibia you really get to appreciate its sheer size. Twice the size of Germany with only 2m people making it one of the least densely populated countries in the world. Only Mongolia has less people per square mile. So there is vast areas of semi-desert nothingness. Only 20% of the roads are tarmac so we were driving on dusty tracks for most of the time. With the windows open it's playing havoc with my hair.
Wednesday was a day of mostly driving but with some magical scenery and animal sightings along the way. We reached our base for two nights in Sesriem, meaning six thongs, about 4pm and the sun was still scorching. Alas there was no upgrade option so I had to slum it with the rest of them and we were fortunate enough to erect the tents in a sand storm.
Thursday was an early start and we left camp at 5:30 to enable us to see the sunset over the sand dunes of Sossusvlei which are world famous, at least to sand dune buffs if no-one else. Known as the sand sea it's one of only two World Heritage Sites in Namibia. We were the first vehicle to arrive and trotted off to climb Dune 45 which was about 300ft high. It took twenty or so minutes and provided a rather early workout for the thighs. The dunes are quite incredible and the steepness made for a slightly higher heart rate. Once on top we perched and watched the sunrise before our playful descent walking/ running down the dune. The dunes don't move and stop growing when one side hits 32 degrees and the other side hits 14 degrees. A really great experience which should have been a bucket list item. Some more sand dune exploration and a small canyon tour rounded of the activities for the day. In the evening after dinner I gave the campers a quiz to see if I could keep them awake until at least 9:30.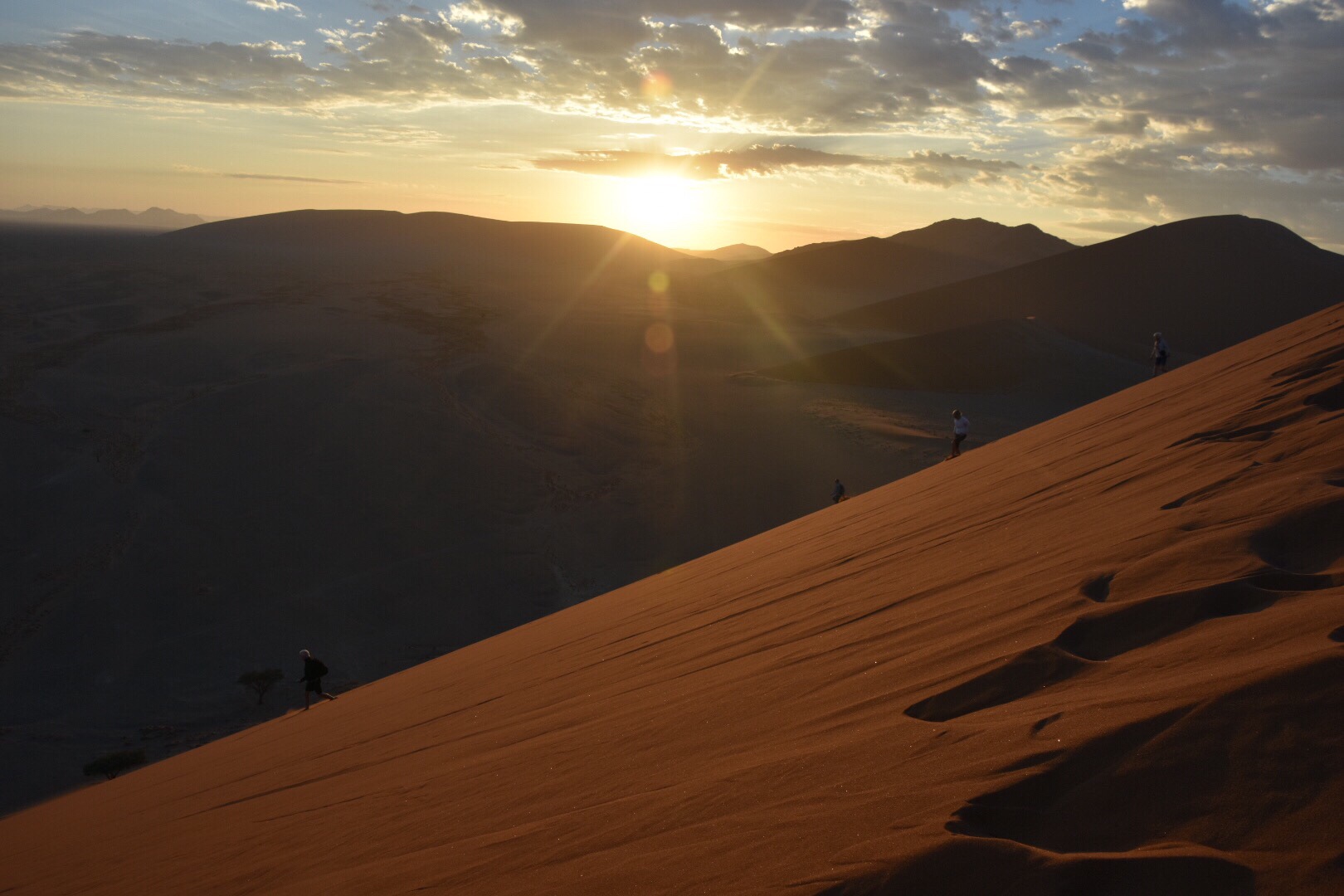 For the second night running I slept in a tent and wondered just how camping was sold to the world as a good idea. Don't get me wrong. I love the great outdoors but at night I much prefer the great indoors and I have a penchant for soft bedsheets with a high thread count as opposed to sand up me crack.
Thursday we awoke while it was still dark and took our tents down, had breakfast and left the camp heading for Swakopmund on the coast. The 350km journey was on some of the roughest roads yet and we really were treated to the famous African massage. We stopped just short of our destination at Walvis Bay some 30km south of Swakopmund where there are some rather lovely beach homes.
Swakopmund was a fairly big town by Namibian standards (50,000) and founded by the Germans in the late nineteenth century. I was able to upgrade again to a chalet with a TV. The evening and following day were free for us to do as we pleased which I'm rather good at. Saturday evening Lawrie and I had dinner together. He's 71 and live in Folkestone. Never married and worked for Thomas Cook for many years in foreign exchange. He has lots of stories to tell and is probably the most well travelled of the group. I like him a lot. Swakopmund was a fairly pleasant seaside town but not a lot going on. Two days there was enough.
On Sunday we headed inland and we won't see the coast again this trip. Our destination was the Brandberg which is Namibia's highest mountain at around 2500m. We left in cool cloudy coastal conditions but as soon as we drove inland the skies cleared and the temperature soared. We hit the camp by lunchtime but only after some eventful stops including seeing a shipwrecked Taiwanese fishing trawler (way outside their fishing waters if you ask me) and one with the Himba tribe whereby for a few quid I was the proud owner of two leather bracelets and had my photo taken with a bare chested young lady who'd had her two front bottom teeth knocked out to make her more beautiful. Not your normal Sunday morning.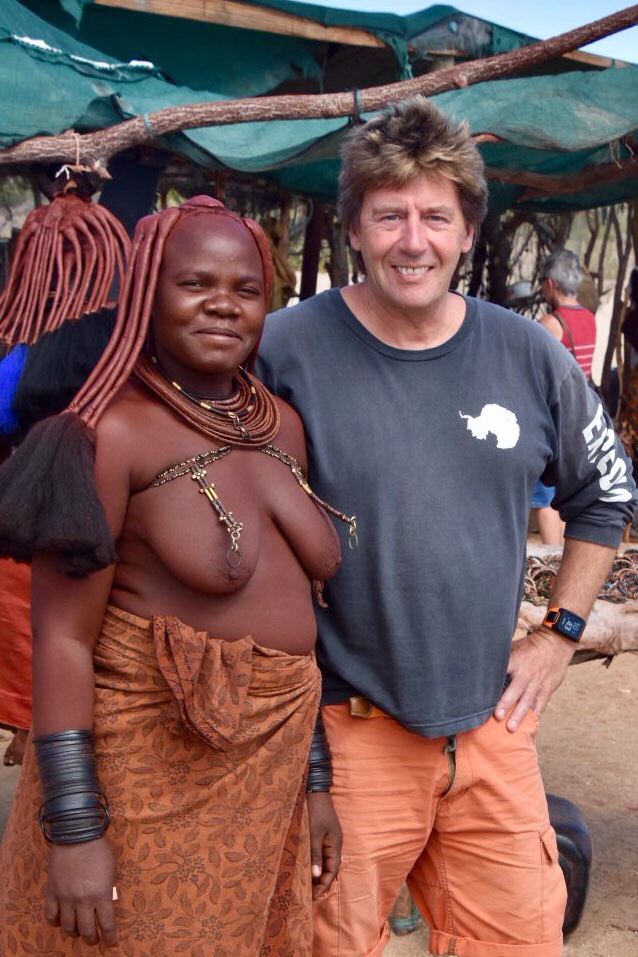 Our camp for the night was open and lions had been spotted there in recent days. Brenda could feed a large pride of lions for a goodly while so I pitched my tent near her. Our choice of afternoon activities was a two hour hike in 40 degree heat to see cave paintings or relaxing in the beautifully landscaped pool area. Late in the afternoon a dozen elephants turned up just outside the wall that circled the camp. It was a magical encounter and everyone was lined up behind a five foot wall feeling safe but the elephants could have knocked it down with ease.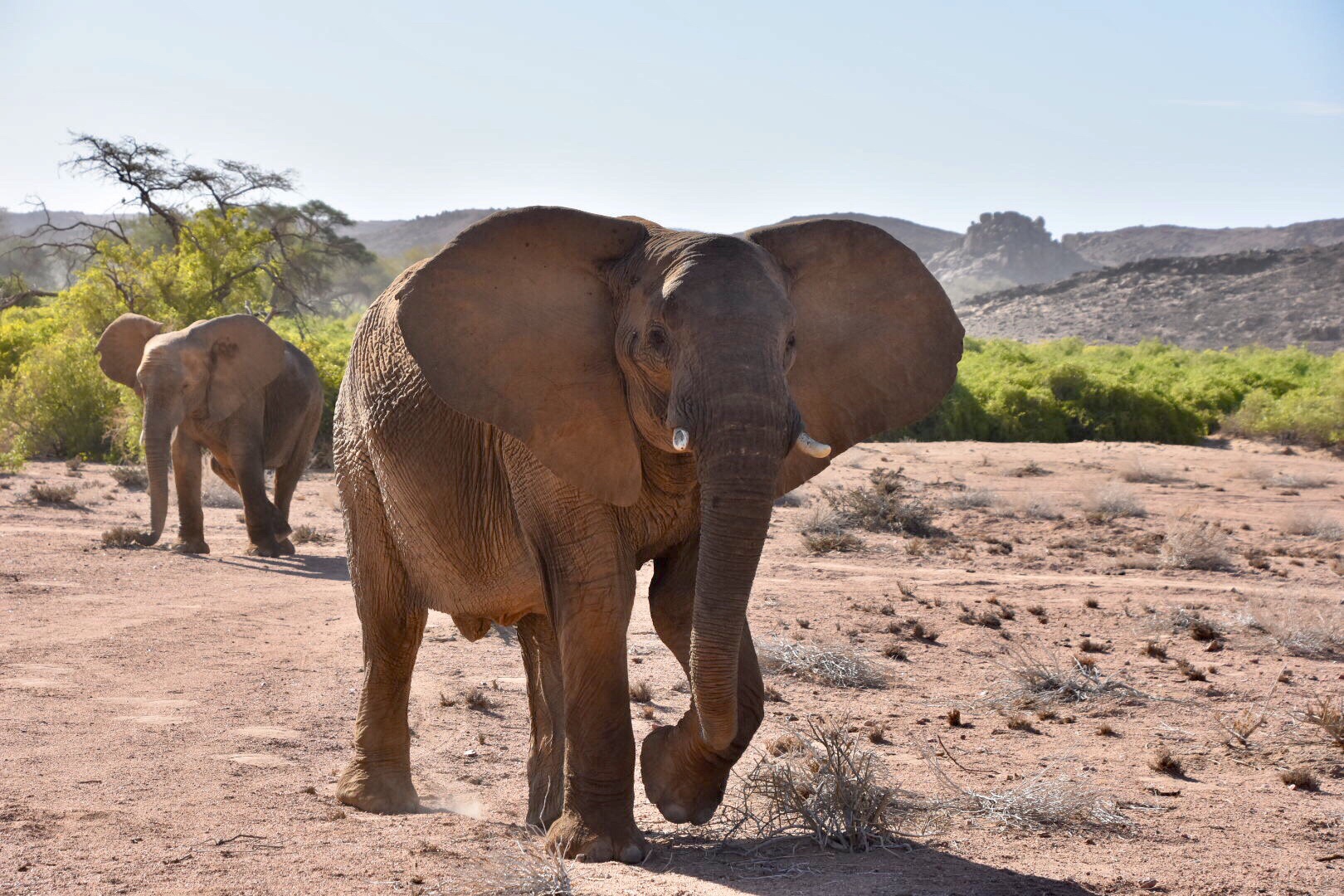 I had to do another night of camping, my fourth, as there were no upgrade rooms but Lawrie had compiled a quiz so we had a good night round the camp fire. Fergus took it very seriously. I shouldn't think it did his blood pressure any good. We won by a point so we didn't have to medivac Fergus to the nearest hospital.
Monday was another day of driving and stopping at various underwhelming sights including some rock engravings which never excite me as much as they should, the Organ Pipes which are Namibia's answer to Giant's Causeway and a petrified forest which wasn't a forest at all and had a couple of trees that had fallen 280 million years ago and since become rock. Again a mere murmuring on the arousal scale. However we did stop and meet some women from the Herero tribe who unlike the Himba dress very modestly in long colourful dresses.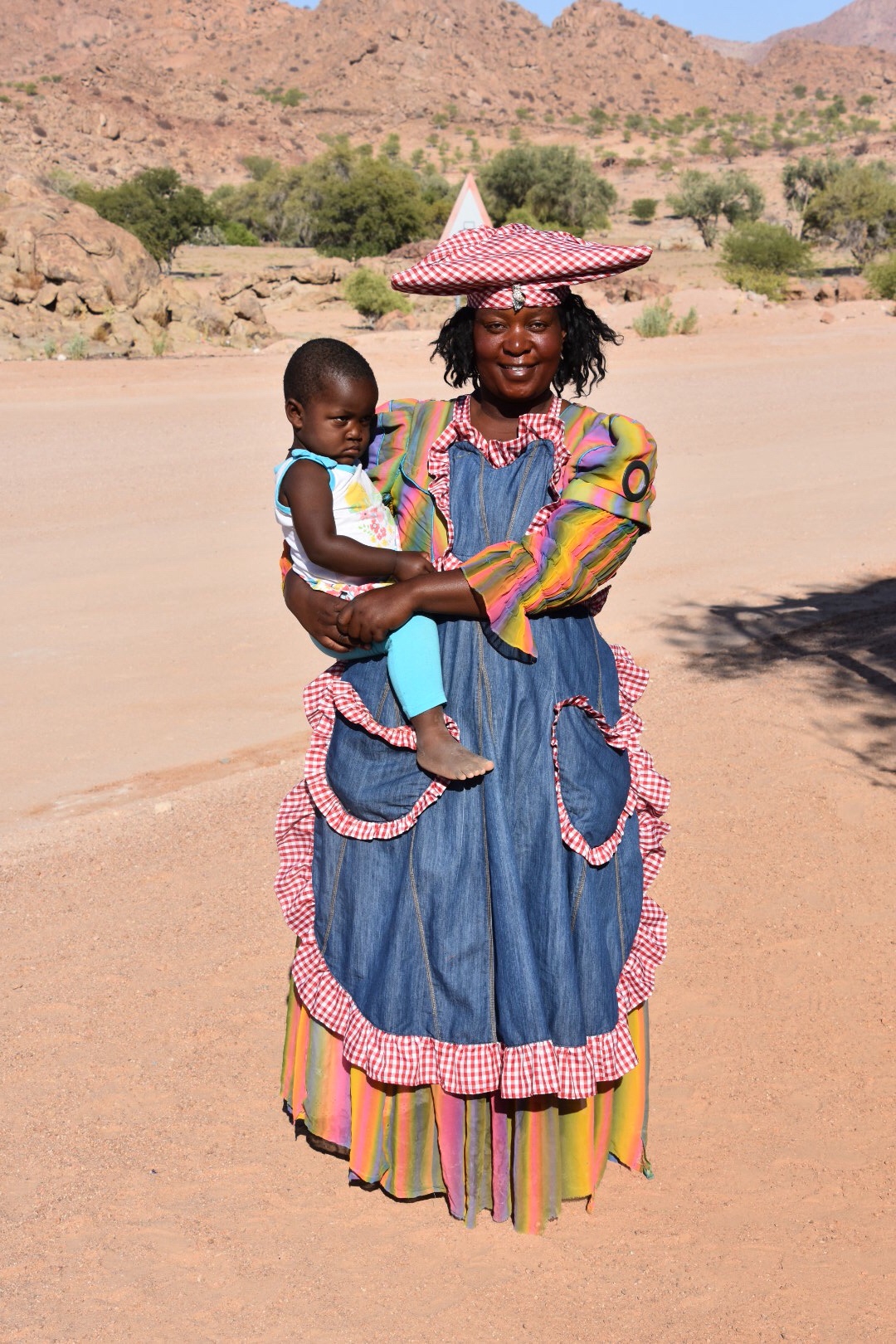 I upgraded again only this time I think the tent may have been the better option. What's happening to me? Saying that, Ellyn found a scorpion outside her tent so I was happy to have a room. Scorpions won't kill you but they'll certainly ruin your morning. Next stop Etosha.