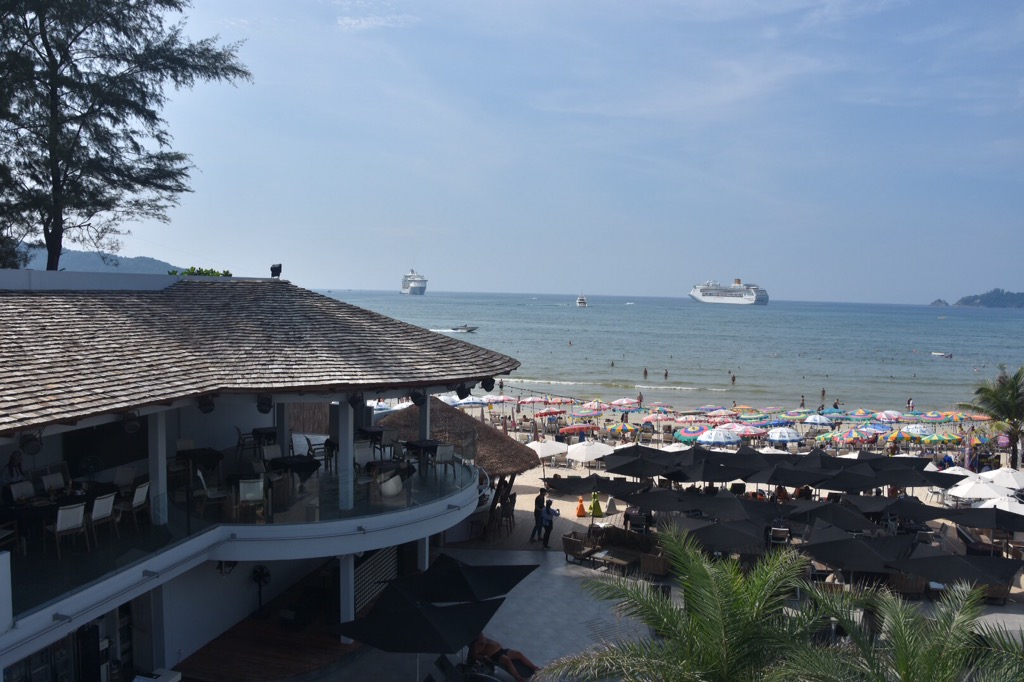 Patong Beach, Phuket part 2
Friday
Back at the sports bar I had an evening of visual wonderment watching Jay on the pole. She's 35 and used to be a massage girl but now she's the star attraction in Oscar's Sports Bar. She gets paid 800 baht each night or £18.60. Ten minutes on the pole then twenty minutes off, 8pm to 2am with four days off a month. Calluses on her hands and hard leathery skin on her arms and legs where she grips the pole. When she performs crowds gather on the street and just watch in amazement often taking photos and videos. She has a humility about her which is rather nice. She's a very sweet girl with a great talent but you wonder what the future holds. We didn't discuss pensions or career advancement but I suspect it's not going to get much better.
Later on in the evening I met another English chap, Daryl 29 from Southampton who is just about to join the airforce when he gets back. Nice guy but rubbish at connect 4. Never seen someone so inept. In the end the girl was offering to get five in a row to his four – and she still won.
Saturday
It was a beautiful sunny morning and I took advantage by the pool before heading off for a massage. On the beach they had about a dozen massage beds all set up together and run by a team of "more mature" ladies. I figured with a beach massage I'd be safe from being offered "extra services" and I was. But that's where my safety ended because unlike the girls in the massage shops, these ladies know what they're doing. My masseuse was called Chim and she wouldn't have looked out of place in the Samoan rugby sevens team photo. Trained at the Harold Sakata School of Bodily Injury. She was excellent at the temples and cheeks though (upper and lower). By the end I felt I'd been fully manhandled.
Sunday
Another beautiful day on Sunday and I was up early for a two hour walk. I went back for a second go at the beach massage. Chim was busy so I got Pornny (scrum half, London Irish). Her speciality was finding knots and manipulating them till I nearly passed out. I was proud of myself. I only screamed twice. I shall have to put masochism on my hobby list.
In the evening I watched the Arsenal in Bar Funk which advertises lots of live sport especially of an Australian nature. There's a lot of Aussie influence around. The Aussie Bar, the Kangaroo Bar, the Boomerang Hotel (lots of return guests). The Thais like Australian tourists. Brits here are less than 10%. There are no direct flights from the UK whereas there are 56 direct flights from Russia every week. That's an awful lot of speedos.
Monday
I simply couldn't face a massage as I was still contemplating going to A&E after the day before. I got talking to an English guy sitting in the shade with his wife and a few others. John (68) from Hounslow has been married to Nutch (59) for 12 years but known her for 18 years when he first started visiting Thailand. He went back year after year and then one year as he arrived through his front door back in Hounslow on a cold January day he asked himself "what am I doing here" (quite common in Hounslow) so he called her and asked her to marry him. Anyway his impetuosity paid off and they now stay in Phuket for five months and Hounslow for seven. What more could a man wish for.
Something curious I've noticed is how the date appears on internet articles. Thailand mainly uses the Buddhist calendar which is 543 years ahead of the Gregorian calendar so 2017 becomes 2560 BE. New learning.
Tuesday
I needed a haircut as I was in the running for the remake of Catweazle. I found a woman in a back street and one of her many services was haircutting so using google translate I gave her very careful instructions which she completely ignored but the end result was well above adequate so I tipped her handsomely.
It was Chez Bernard on the beach for lunch and it was good to get out of the sun. I've never seen so many people with sunburn. It was the second day with no breeze and it was like being inside an sauna with a coat on. I returned to see Pornny and had another massage. I'm not sure why.
At sunset I went up the tallest building in the area for sunset views which were quite good but the venue was tired and underused. On the way there I strayed into a wrong area. By wrong area I mean the place where men give the massages. At each offer to "rub me" my step quickened.
Wednesday
I had found a gym up the road which I was using in the mornings. It's also where they train for Thai Boxing. I ducked the Wednesday massage – didn't think I could take another pummelling so soon after the last one so I popped and had a chat with a real estate agent instead. Prices are good and the guaranteed yield is not to be sniffed at.
Thursday
Dare I say another glorious day and a two hour walk first thing. At lunchtime I was meeting a real estate agent and going to see some properties. Well, James turned out to be a very interesting character indeed. 35 years old (looked a fair bit older) with the nickname Milky as he looked like the Milky Bar Kid. He did. Either that or Eddie Edwards. Been in Phuket for 12 years and married to a Thai lady with two kids. Moved to Spain with his parents at the age of two and spent 20 years there. His folks moved back to the UK after the crash in the early 2000's and after a few years his marriage to a Spanish girl wasn't going too well so he decided to move back also. His dad bought him a round-the-world plane ticket and his first stop was Phuket. It was literally a fortnight after the Tsunami hit so he volunteered for the clean-up and after two days he tore up the RTW ticket. He'd decided to stay in Phuket. Has one child in the UK – one night stand in Fuengirola when he was 15. She turned up a year later and said "by the way this is your child". Never had any contact with him; another in Spain and now two in Thailand. Originally from Lewisham. A big fan of F1 he's been to every Grand Prix. We had a thoroughly marvellous three hours together driving around the various developments. I'm tempted. 7% net lease back guaranteed for 15 years.
In the evening I took G for dinner before she started her shift in the bar (as the cashier). At one point I ended up in the Tiger nightclub and oh my god. As good as anything in London. Quite astonishing. No-one in there as it was only 9pm. I just went in for the air-conditioning as it was muggy beyond anything that a man should have to endure. I went back to the sports bar because I'm a creature of habit and I get no hassle in there. And of course the entertainment is good.
Friday
This was my last day in Phuket before flying home via Qatar and the weather was miserable. It was cold and cloudy with squally showers and I thought that's terrible for a last day. Only kidding, it was boringly glorious again.
Went back to see James with some questions and we met later at the beach condo and I bought one. I couldn't resist. Of the three developments it was by far the best location and I was rather taken by the numbers so I said yes. It's a small development of only 25 units directly on the beach (the only one in Phuket) and attached to a beach club.
I had my last massage with Pornny. Whenever I approached the massage tent I was hoping she was with another client but alas I was out of luck. One thing I'll say for her is that she can locate knots anywhere. The buttocks for god sake! And if I look in pain (quite frequently) she stops and goes somewhere else only to return from a different angle. I admire her perseverance. It's the perfect job for a sadist.
In the evening it was to the Kangaroo Bar to meet G. We had dinner on the beach before it chucked it down and we had to run for cover. That's when I met Tony Fagan (55). He was with a girl that G knew from her bar and he and I hit it off straightaway. A character full of life, he reminded my of a cross between Johnny Depp and Matt Dillon. Five degrees, originally from England but now living in Perth and a great deal of energy. A crazy guy and we all went to the Illuzion nightclub which is one of the best in Phuket. My plans for an early night were a complete failure.
After some initial doubts I have to say I've had a thoroughly super time in Phuket. I could easily spend a month or two here every year. The best time to visit is from the beginning of December to the end of March. September and October are the rainiest months and on average Phuket gets twice as much rain as London each year.
A week of cloud in the quieter area of Kata Beach was followed by 11 glorious days in Patong and despite the enticing nature of nocturnal Phuket I've managed to keep myself intact and untampered with (aside from the masseuses on the beach). That's more than I can say for the guy in the bungalow next to me who had made a significant contribution towards the clandestine prostitution economy. Either that or he'd smuggled a cat into his room. On my way home.