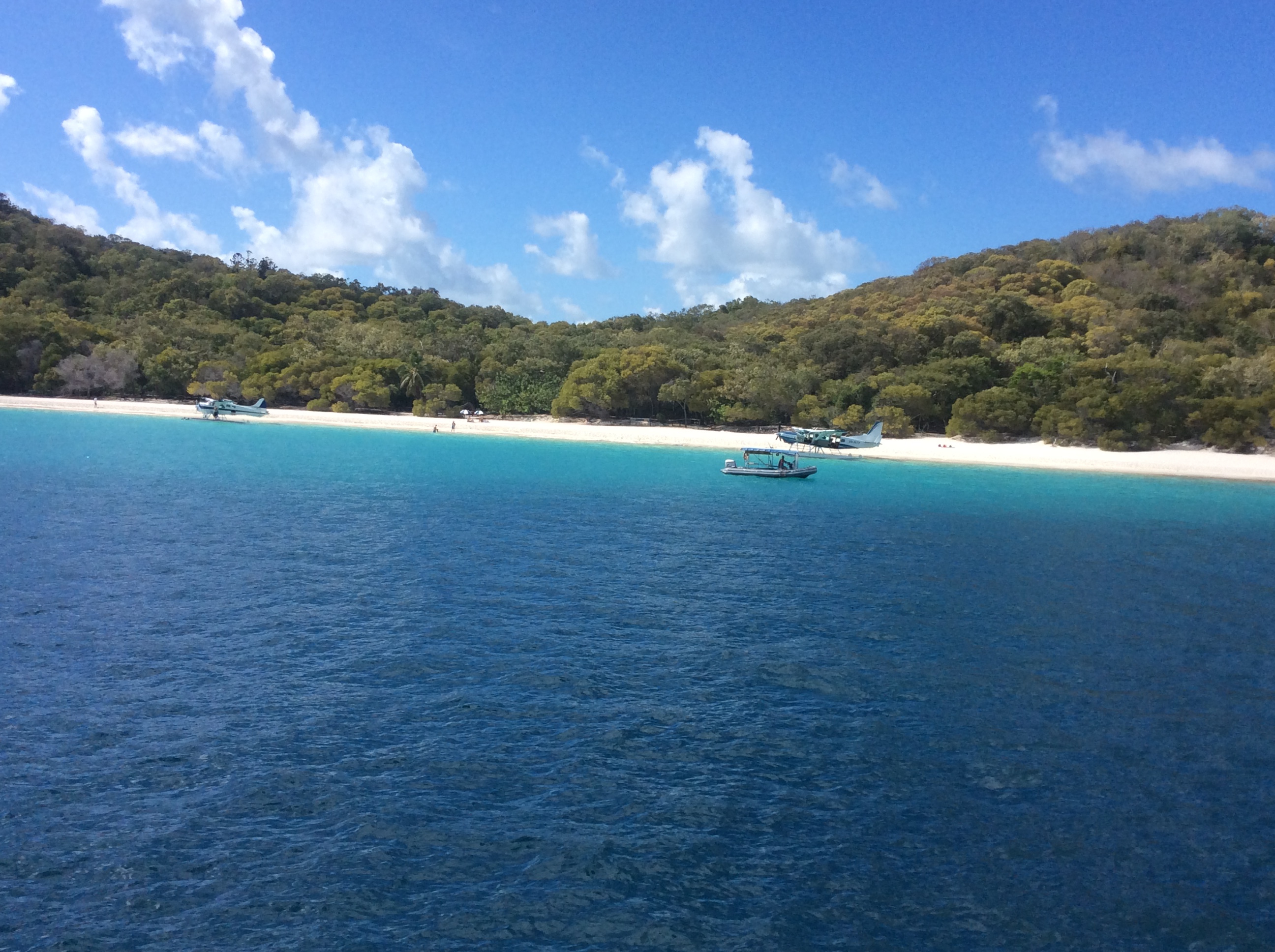 After the Lady C lift encounter I got chatting to a couple in the bar from Australia who asked me about the crowd that had assembled to see the celebs go off for their party. It turned out that they attend Ascot every year for the whole week and were one of five families that owned the racehorse Black Caviar who was the Aussie equivalent of Frankel (14 races undefeated). Black Caviar comes second in the list of all time racehorses – undefeated in 25 races. Met the queen twice don't you know.
Tuesday morning was another early start and a huge drive to Rockhampton where Rod Laver was born (the Rockhampton Rocket). There are numerous road signs on the motorways warning of fatigue and the need to stop every two hours to "revive and survive". Queensland goes one step further with a sign which says "trivia can save your life". I've always thought that. Then they start – official road signs with trivia questions. All about Queensland of course so I now know the longest river, state flower, largest island etc. although it takes a good few kilometres before they reveal the answer. The answers are the Flinders River, the Cooktown Orchid and Reduce Speed Now.
I finally arrived about 6pm as dusk set in and found a motel which was supposedly the best place in town. Hmmm! The owner Peter was outside having a beer with two other guests Trevor and Jack so I joined them. A very interesting chat, well, once Testosterone Trevor had left and it turned out that Peter the owner (69) used to be a farmer with 3000 acres. He took over from his father who had won the farm in a ballot during the 1950's when the government decided to carve up the land, often owned by British people who had never officially paid anything for it and were doing nothing with it. He retired some years ago, got bored so decided to buy a motel.
I told them I was heading north to Airlie beach and they warned me about the irukandji jellyfish which is the size of a thumbnail but can be fatal to humans (and things smaller than humans). Get stung and the result is irukandji syndrome which is nasty business – Google it. Apparently snorkelling operators hire "stinger suits" for protection. Katy sometimes referred to me as a "sea pest" (in the nicest possible way) but these are much worse. Then there's the crocs which can sometimes get to the surf from the creeks and rivers and of course the snakes on land. Not to mention the Sharks. The chaps cheered me up no end. I almost missed England – almost.
The last of my big drives for a while (that's four in a row) saw me go from Rockhampton to Airlie Beach and I arrived about midday. My favourite sign on the way was a motorway billboard for a law firm called "Splatt Lawyers" – personal injury specialists. I was laughing so much I nearly ended up in a ditch. I loved the irony of that.
Airlie Beach is backpacker land so I feel as comfortable as a nun in a candle shop (litotes alert Karla). The Whitsunday Islands are just off the coast and are meant to be beautiful so I popped over to the port to enquire about ferry times. That's when I met Ken.
I saw a chap sitting on a bench so I asked him for directions. We chatted for about an hour. Ken was 72 and he was in the Vietnam War in 1965 and back again in 1968. I hadn't realised the "special relationship" the Australians have with the Americans but a couple of weeks here and it comes across loud and clear. Ken had made a lot of money doing various things – buying and selling gold; an air-conditioning business and a boat charter company. He retired at 47. My left shoulder came up in conversation and I told him I'd had physio back home in the UK. Then he said would you like me to heal it for you? No money, he just had "the touch" which he discovered when he was 12 (not sure what he was doing but it was probably illegal). Do you mind if I put my hand on your shoulder he said. He was married with 5 daughters and didn't look like a shirt lifter so I accepted his offer (nothing to lose). So I'm on this bench and backpackers are streaming past and I've got Ken the septuagenarian with his hand on my shoulder, burping. Apparently that's the manifestation of his healing skills. He takes the pain away from the recipient and "burps it out". Of course he didn't tell me this at the start. I just thought he had indigestion. On a bench with burping Ken thinking I'm glad it wasn't a groin injury. You don't want to know what his manifestation is for more serious complaints. All I asked was "where's the ferry office".
On a different note, I've also had a speeding fine for 3033 AUD which is a little steep – caught on camera…might call Splatt Lawyers. The top limit here is 110km per hour or 68.35 miles per hour. I have to admit I've gone a little faster at times.
Thursday
Up early for the 7am ferry to the islands. Not cheap and beyond the budget of most backpackers but it was a two island tour which lasted the whole day. The first stop was Whitehaven beach which has been voted Australia's best beach and is in the top ten beaches of the world. Now here's the thing. How do they vote on such things when we all like different things. It is a beautiful beach right on the edge of the GBR and the sand is as fine and white as it comes but they have jellyfish which can kill so all these Chinese tourists were wearing these stinger suits looking like tadpoles. Added to that, there was shade in the form of trees at the back of the beach but no thatched bamboo shades with tables and hooks for your belongings and also no cheeky little beach bar. So it wouldn't get my vote. I've been to much better equipped beaches.
Two hours there and it was off to Hamilton Island which is a resort island with much more going on. I felt that we were at the mercy of the ferry timetable to a large extent and how long we spent at each island fitted with them not us! If you go on a two island tour for 170 AUD you expect the boat to be exclusive to the tour group but it dropped us off and then went and did another trip from one island to another. Sweating the assets. At one point I thought Peter H had been here and done a time and motion study. Am I moaning again? Well I don't do "at the mercy of" very well but I wanted to see a couple of the islands so I had no choice (I did meet Ken though and the shoulder is much improved. Hope his burping has cleared up).
Friday
Today I have been mostly sunbathing.  I've also learnt a new skill since being in Airlie Beach. I can now walk past McDonalds without going inside and ordering a cheeseburger. 4 "walk-by's" today. Impressive.
Tan coming on nicely now that I'm officially in the sun every day. A couple of shades darker and I'll call myself Neville and start playing the didgeridoo. A prize to anyone who gets the reference.
The Chinese are everywhere and wherever I go they are buying up land, property etc. In recent years they've bought some huge cattle farms in Australia simply to be able to feed their people. Land here is cheap so it makes sense. The news tonight said they're buying property in Tokyo because the returns are double that of say Shanghai. It's a worrying trend but investments in Africa, Greece, the airport in Antigua, cattle farms in Australia, property in London and Tokyo, reclaimed land in the South China Sea, a Burger King restaurant in Manila and I bet there are countless others. In 15 to 20 years they'll own everything worth owning (and some stuff not worth owning).
Heading back down south tomorrow. Or I might go north. I may toss a coin in the morning to decide – see what life's become! It's all Ken's fault.