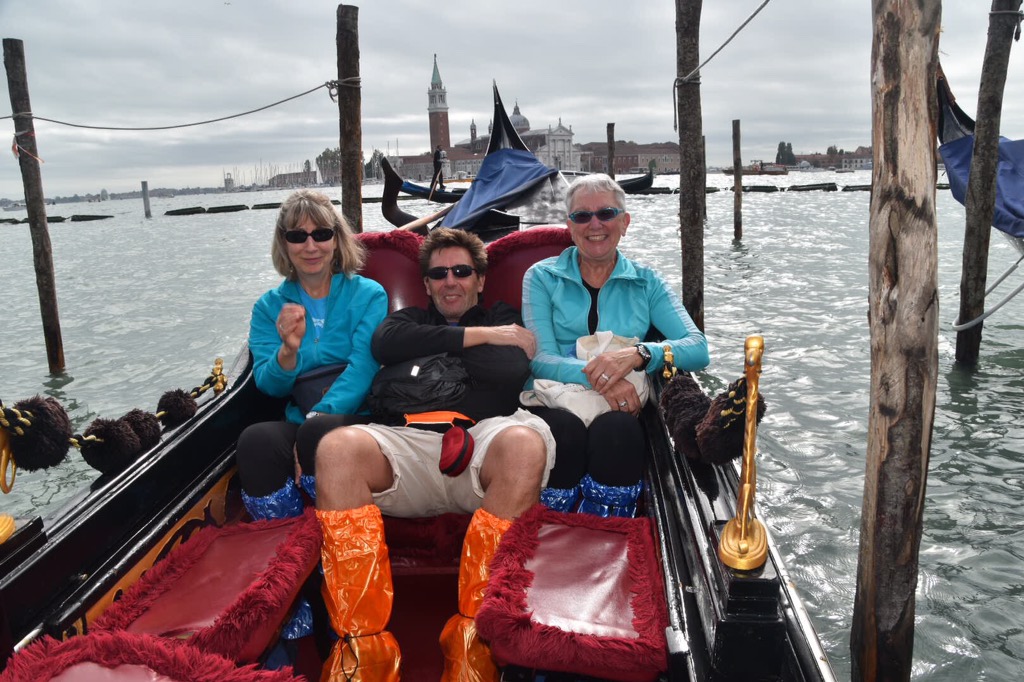 News came through that Venice was experiencing its worst flooding in 22 years as an "acqua alta" hit St Mark's Square caused by high tides and strong scirocco winds. I'd already been woken in the middle of the night by a lightning storm and high winds and we were expecting the worst (a dreary day in Venice rather than the boat sinking). We were the second cruise ship to dock but an hour later there were four ships moored up so it was going to be busy.
As a first timer I know I'm a late arrival to the Venice Appreciation Society but it has to be one of the most fascinating places I've ever visited. A photographers dream. I stepped out with Brenda and Susan and I had my best day in ages.
We jumped on the Alilaguna water shuttle from the cruise terminal to St Mark's and bought some fetching plastic overboots which were all the rage. I chose orange to match my belt. There was a bit of wading through water but not too much and by the afternoon the flooding had gone. We decided to do the gondola early and paid the standard rate of €80 for 30 minutes. There are 450 gondoliers in Venice who have to pass an exam which I suspect doesn't encompass customer service or singing ability.
We strolled for about an hour before stopping for lunch. Susan can't go too long without sustenance and the sun came out and stayed out for the rest of the day. Unbeknown to me the ladies were on a mission to visit every shop in Venice so I joined in and bought a magnet, a belt and a tea towel. I know. It's probably the first time I've ever purchased a tea towel but I have to admit I enjoyed the experience and I'm concerned it may be the beginning of something quite disturbing.
Then we meandered our way through yet more narrow streets (can a person ever have enough of cute narrow streets) back to St Mark's Square to visit the Cathedral first (no photos) and the Doge's Palace second (take as many as you like). The palace was the winner for all three of us. During the palace tour we passed through the Bridge of Sighs which connects the palace to the prison, aptly named by Lord Byron referring to the prisoners sighing as they had their last glimpse of Venice before prison and execution.
The day was slipping by so we headed for Venice's most famous bridge the Rialto which was still lovely despite undergoing renovations. It really is the perfect Venetian scene on and around the bridge.
We decided to have dinner off the ship and found a little Italian running a little Italian. Worst waiter in Venice but it didn't matter because we'd had a terrific day and all was good in the world and even Alfredo the hapless waiter couldn't spoil it. Back on board Brenda and I jumped into the hot tub on the top deck. We finally left Venice at 11pm. Fab day.
Chat stats – 118 islands, 417 bridges and 177 canals make up Venice. The narrowest street is just 53cm wide. Venice got its first female Gondolier in 2010. 18 million people visit each year or 50,000 per day and around 66,000 people live there.
Next stop Slovenia