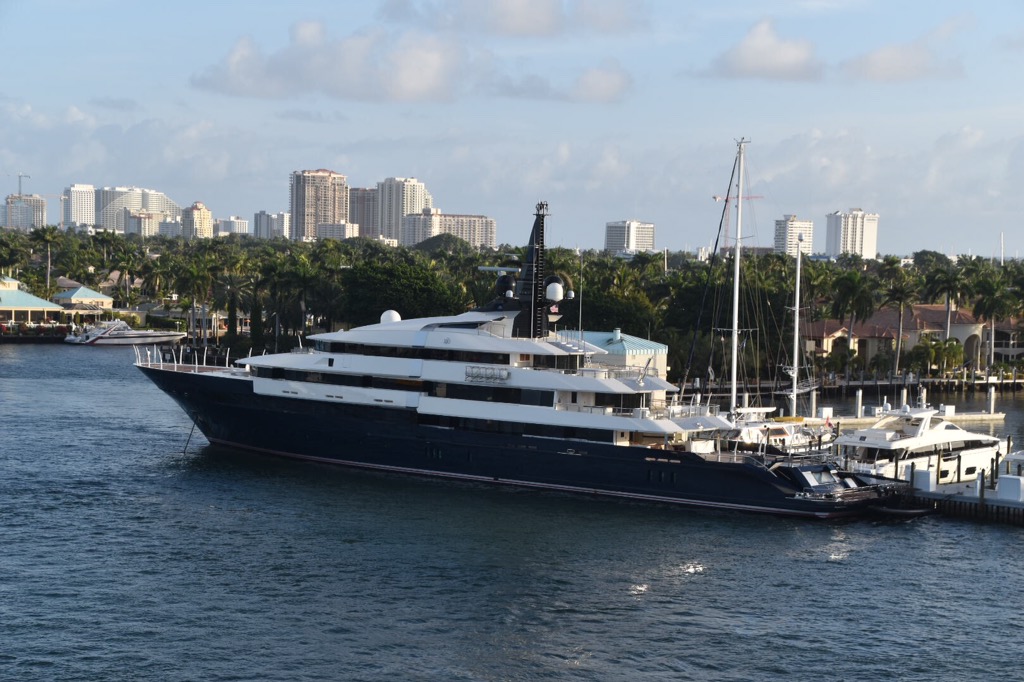 Reunion in Fort Lauderdale
Aside from a hapless flight attendant spilling a glass of tomato juice down my trousers it was a pleasant but uneventful flight. I inadvertently only watched movies with a name in the title so first up was Tom Cruise as Jack Reacher, 7 out of 10, then Jason Bourne which only got a 5 on the Paddy Filmometer but the clear winner with 9 out of 10 was Bridget Jones. I'm slightly concerned that a chick flick has trounced two action thrillers which are normally right up my alley and I shall be seeking a psychiatric evaluation as soon as I've finished the Sex And The City boxset.
The Hyatt hotel was perfectly lovely and not far from the cruise terminal. I took a stroll around the inland waterways that border the hotel on two sides and there are some magnificently enormous super yachts docked there. One in particular caught my eye called Seven Seas so I did a google search and it belongs to a guy called Steven Spielberg. I think he does stuff with films. At 282ft it apparently isn't big enough for Steven so he's commissioned another vessel that is 18ft bigger hitting the magical 300ft mark which apparently is "a thing" with owners of super yachts. Steve must have been embarrassed at times when talking super yachts that his was a mere 282ft. I guess on occasion he may have kept quiet and not even mentioned that he had one for fear of ridicule. The new one will cost $250 million. He rents the current one at $1.2m per month whilst it's on the market.
Another yacht nearby called Cracker Bay was used by Mitt Romney to entertain Republican party donors for his 2012 presidential campaign. It was owned by Gary Morse who was the real estate developer for The Villages – a huge retirement community near Ocala, Florida.
After the hottest sauna in the world (I took in some water in a plastic cup and the cup melted), I headed up the coast to a bar called Shooters which had a three hour happy hour. Lydia had organised a reunion for world cruisers from the Amsterdam last year who were either doing it again, or were on the South America trip (or who just lived nearby). There were about 20 of us including my bromance pal Mark from last year. It was a really fun evening.
By 1:30 the following day I was on the ship and had an unexpected upgrade which was nice. I now have a porthole, a double bed and enough hangers to open a shop. My only complaint is that the porthole could be cleaner on the outside but the cabin is on the port side which means I'll have land in sight as we go anti-clockwise round SA.
Early indications would suggest that the average age is significantly higher than the 28 days round the Med so I'm expecting fatalities. I was hoping the younger more vibrant crowd were hiding in their cabins but after a few days they've still not appeared. I've met the pianist who plays in the Crow's Nest bar – Australian but lives in Thailand (can't imagine why) and seen about a dozen crew members from previous cruises which is surprisingly comforting.
On the first sea day there was a solo travellers lunch and I won first prize in the lottery and ended up seated with five women aged from 67 to 88 although in fairness they were all fairly spritely. I threw myself into it as one must in these circumstances and we had a thoroughly enjoyable luncheon discussing the merits of solo travelling and how dependent and generally useless elderly men can get.
I've had two acupuncture sessions which have been weirdly satisfying. Katy was an advocate and as I trusted her judgement on nearly everything I thought I'd give it a go.
After a couple of days onboard a routine has developed of which the dining arrangements is the most important. I'm on the same table as the Med cruise and of the ten of us, 9 were on the World Cruise last year. Nothing like branching out and meeting new people. There's also a lot of chatter about the 2018 world cruise which includes Cape Town and it will also be Captain Jonathan's last WC. I may book it.
Land tomorrow.