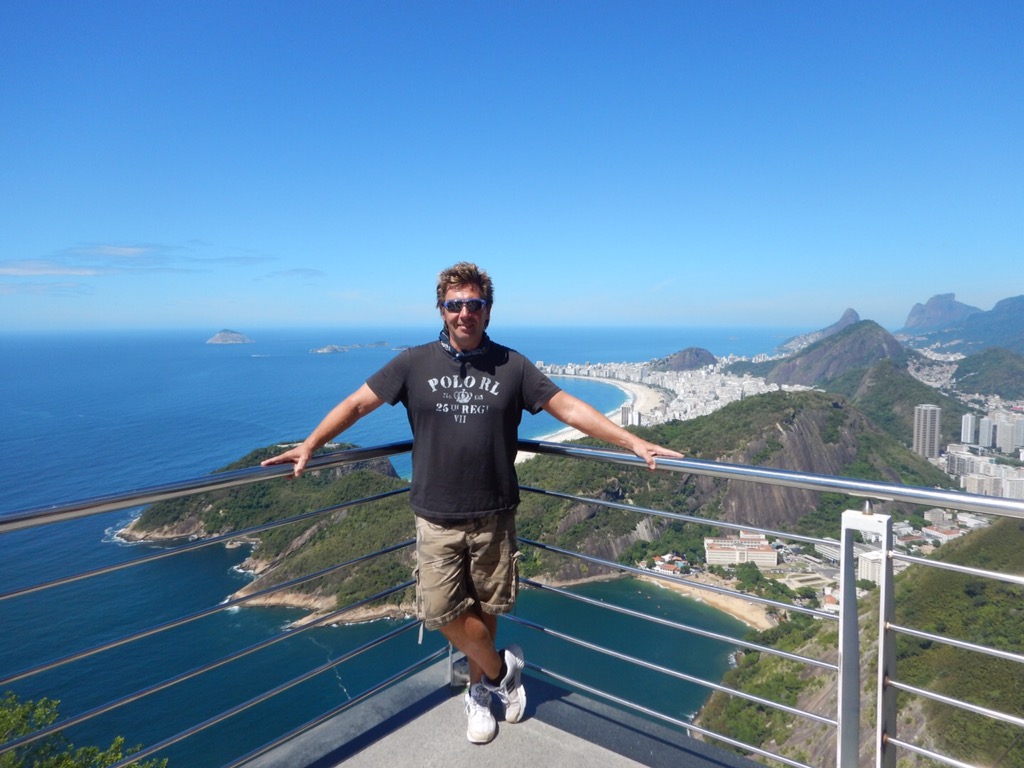 Simply stunning. Rio must rank as one of the most beautiful cities in the world. Geographically it has advantages with islands, mountains, water and beaches that would make it attractive from the get go. The climate is also rather pleasant and we were blessed with two terrifically hot sunny days where visibility from the various peaks was just perfect.
On day one eight of us went on a private tour. Alexa, Fred and Aviva had booked a van through the ship for the day – a very expensive thing to do. Alexa then invited five of us to join them so we did. We had a large van with both a driver and a guide.
First stop was Sugarloaf Mountain with its two cable car rides perpendicular to one another to the top which is 396m above the city. The cable cars were huge with capacity for about 60 people. The cable car scene in the Bond movie Moonraker (1979) was filmed there.
The views were breathtaking and many of Rio's dozen or so beaches were visible from the top as well as some of the shanty towns or favelas which are home to about a third of Rio's 6.5m inhabitants. There are around 600 favelas of which the largest one, Rocinha has about 70,000 residents. They run favela tours where entry is at the discretion of the drug lords. Rio's various economic groups coexist with one another and friendships that develop on the beaches between favela residents and more affluent residents are common. Strangely, a large percentage of favela residents are actually middle class. Michael Jackson's They Don't Care About Us was filmed in Santa Marta favela.
Rio de Janeiro has the nickname Cidade Maravilhosa meaning Marvellous City. The name actually translates to January River although Rio is not actually near a river at all but instead an area called Guanabara Bay. It was founded in 1502 by Portuguese explorers and is pretty much located on the Tropic of Capricorn. Rio was also once the capital of Brazil however in 1960 it was moved to Brasilia.
Rio had the largest ever football game attendance during the 1950 World Cup when 173,000 spectators crammed into the Maracana stadium and also the biggest ever music concert when 3.5m people turned up to Copacabana to see Rod Stewart.
Our second stop was to visit the statue of Christ the Redeemer accessed by one of two ways and we chose the funicular railway. The statue was completed in 1931 and stands 38m tall. I had always envisaged this modern world wonder being flippin' enormous, dominating the Rio skyline and visible from every outdoor vantage point in the whole of Rio. How wrong I was. From most places it's just a small dot in the distance. It sits on Corcovado Mountain where I was reminded just how annoying selfie sticks are because everyone and his wife wanted a photo with big JC and the others who were being snapped by friends and family all had to do the arms outstretched pose often without looking to see if anyone was around them. I love a crowd me, especially those with extending sticks and flailing arms. Anyway, great place, good views although not as good as Sugarloaf views which were Fido's testicles.
After a lunch stop we headed for Ipanema and Copacabana beaches which are close to one another and separated by some rocks. These are two of the most fabulous beaches I've ever seen. Long, wide, easily accessible and nothing obstructing the views from the road. White sand with lots of activity including four chaps playing volleyball using any body part to make contact with the ball except the hands and arms. And they were actually having rallies.
On the way back to the ship we passed the 700m long Sambadromo which is a permanent structure used as the main avenue for the carnival which starts on the 24th of February this year. The carnival was first held in 1723 and now lasts for five days and the fine for urinating in the street is $131. Every year the carnival is run by King Momo who is chosen to open the carnival – usually a tall fat man. We were the only cruise ship when we were there. During carnival there can be up to 11.
On the second day I persuaded a few of the team that a day at the beach would be pleasant. I should have said "awesome" as they understand that better. Anyway we taxied to Ipanema and spent some hours there and it was truly lovely. At the far end of the beach was a favela located on a hillside and the houses there must have some of the best views you could imagine which has a strange irony to it when you consider how much people pay for a view whether it be a house, apartment or hotel room.
Rio has become a lot safer and in recent years but Brazil still has 22 of the 50 most dangerous cities in the world. Rio supposedly has the bluest sky in the world and to continue the randomness of this particular paragraph, prostitution is legal but there are no casinos. I loved Rio and in a way it made me appreciate Sydney more which makes little sense but they are comparable only Sydney is safer and they speak English.