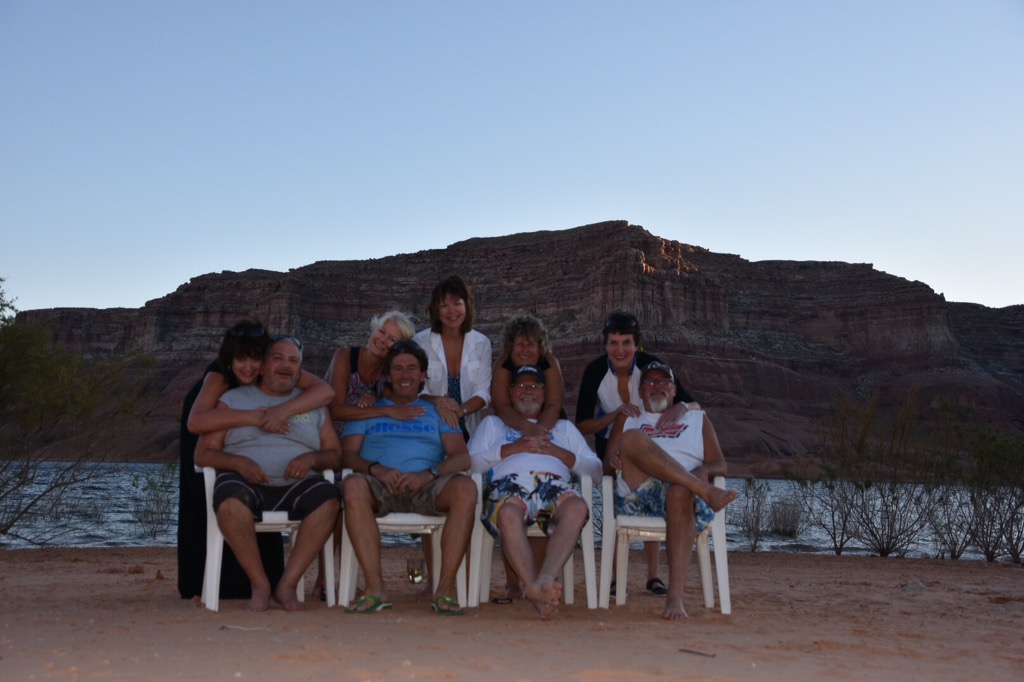 9 Go Boating on Lake Powell
Lake Powell straddles southern Utah and northern Arizona and I do like a straddling lake. The Powell is a curious lake not only because of its straddling qualities but also its shape. Like tentacles spreading in all directions rather than one big solid body of water. This cephalopod shape combined with the fascinating geographic formations made the visual spectacle quite nice. I'm tempted to say awesome. The total shoreline of 2,000 miles is more than the combined Pacific coast states – Washington, Oregon and California. It lies about 3700ft above sea level and is around 400ft deep.
We left about midday on Tuesday with Tim and John taking the controls. They live in Minnesota where there are 10,000 lakes so they both have boats. After about three hours cruising we started looking for a spot for the night. The aim was to beach the boat and secure it with four anchors sunk into the sand. We found a spot and attempted to land three times but the wind had picked up and it proved rather tricky. Sheryl and I were in the speedboat watching.
So we moved on looking for another spot. We'd lost two hours and had about an hour before dusk. Parking up in the dark wasn't going to be possible so we were racing against time. I was still in the speedboat, this time with three others and the anchors. We found a sheltered spot however it was very boggy but we parked there nonetheless. At one point they left me in the spit as the speedboat went to find the house boat which was much slower. I had visions of me spending the night alone wearing just trunks and carrying an oar. I saw animal tracks and thought this might be fun. I ended up with thick black mud all over me. A fetching sight I've been told.
Fun and games on Wednesday morning. For me it started at 5:30 on the top deck with dawn's early light becoming brighter and brighter over the clifftops. At 7 we decided to prepare the boat for leaving our boggy berth. We'd put four anchors out but in reality we didn't need them such was our snug fit on the bog. Anthony and I went ankle deep in the bog to retrieve the redundant anchors and barefoot was definitely the better option as flip flops just became suctioned in. All anchors in, we tried to reverse off the beach but only one engine was working. With the speedboat tugging and the single engine gunning we were going nowhere. After a few minutes of tension John suggested lifting the other engine and sure enough we started to move. Once in the channel we tried the second engine and it started up. We weren't all going to die. Well, maybe that's a bit dramatic but we all now realised that boating on The Powell can be challenging.
We cruised for a few hours and sent out the speedboat on a reconnaissance mission. At about lunchtime we found the perfect spot – a small sandy island measuring 100ft by 50ft with a fire pit and a few bushes. It was perfection. It also afforded some fabulous lake swimming to the caverns about 100m away.
In the early afternoon we took the speedboat to Rainbow Bridge which is one of the top sights to visit on the whole lake system. It was pretty remarkable. In the evening we had a fire on the beach and some of us got a little sozzled.
On Thursday we were losing Deanna and Anthony who were going to a wedding in Denver. There was a weather warning for strong winds with gusts up to 50mph and it was touch and go whether they went, via speedboat, to the pick-up station. There was a capsize warning for small boats. They made it though.
We enjoyed a sunny but rather breezy second day on the island before another great dinner and a campfire.
Friday we awoke and the winds had died down and shifted to the north with a few early morning clouds. What some of us didn't know was that the wind had picked up at midnight and Tim and John had fired up both engines to move us further up the beach. John said he hadn't experienced wind like it. I didn't feel a thing and slept through the whole drama.
On Friday we moved the boat back toward the marina and found a nice beach in a protected spot. I was on scouting duty with Julie in the speedboat looking for a good spot for the night. My speedboat skills were severely tested later in he day when three of us went to Labyrinth Canyon. The clue is in the name and there were some narrow passages. I finally found one I didn't like the look of and decided to turn round which turned into a bit of a panic. At one point I was at ramming speed heading for the rocks and only managed to put in in hard reverse with inches to spare.
New learnings this week include how to take a "pano" with my iPhone, knowledge that vodka doesn't freeze and Lydia's liking of Meatloaf.
Overall it was a terrific few days with the cruisers and we plan more adventures. There were some hairy moments and Tim and John did a great job of keeping us safe, which meant they didn't get to relax as much as the rest of us.