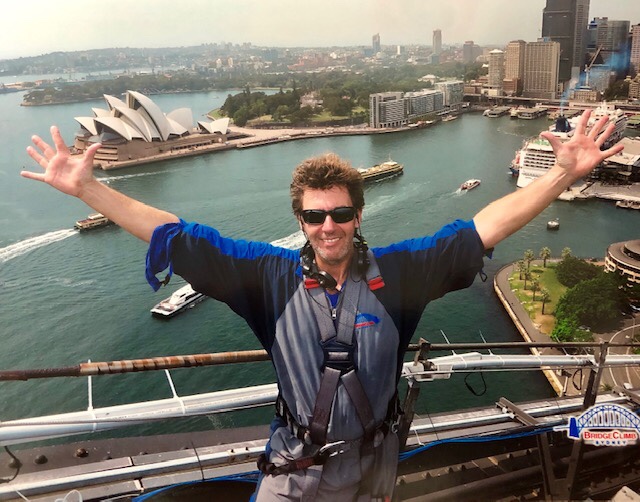 Arriving back from Uluru I had one night in the Shangri-La which had great views of the Harbour Bridge and the Opera House. Six of us were meeting for dinner. Dimitra and her son John, Anne and Keith, Barbara from the Celebrity cruise and me. It's quite odd when you know everyone but they don't all know each other. It's interesting to see if the get along. Anyway it turned out well in that there was no bloodshed.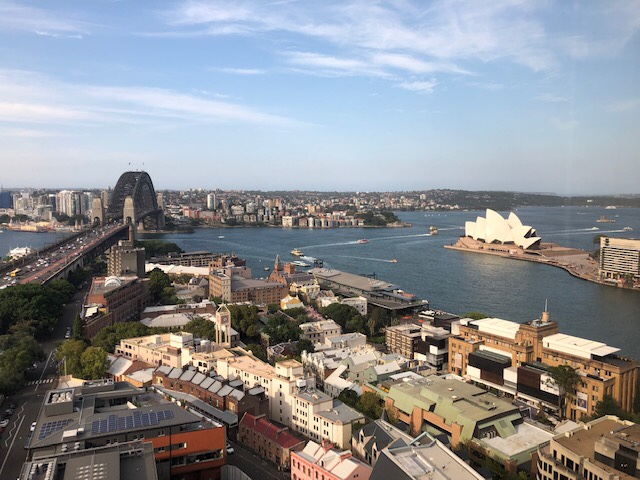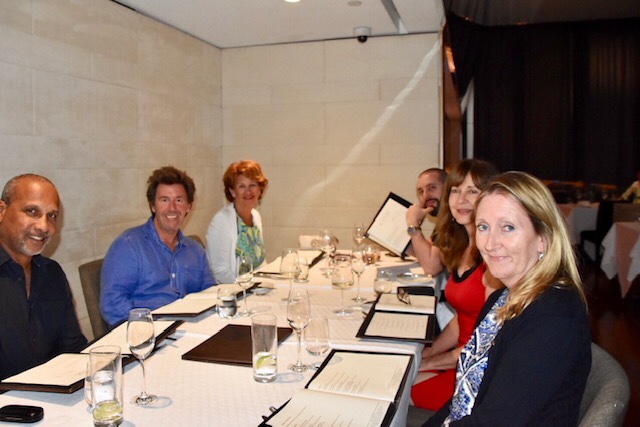 The following morning four of us were doing the Bridge Climb. Again I knew all the other three but they didn't know each other – Dimitra, Keith and Michael Medway. It was great to see him again.
The climb itself is a very slick operation. It's similar to being on a conveyor belt (which of course I have lots of experience of). First was check-in followed by a waiting area followed by signing a waiver form and taking a breathalyser test. Can't climb drunk apparently. We all passed. If someone doesn't pass, they strip them butt naked, hose them down with freezing water and move them to a later climb. I may have made some of that up.
The next stage of preparation was to be kitted out with a rather fetching boiler suit and to remove everything from our pockets. Even watches and hair clips had to be removed. We were allowed sunglasses but they supplied lanyards to secure them. They also provided a hat and a handkerchief- both attachable to our lovely suits.
Then it was through an x-ray machines to make sure we weren't smuggling anything that we shouldn't, before having a harness fitted and radio receiver installed. It was reminiscent of Moonraker when they were launching shuttles to colonise space.
Max was our tour guide and he does three ascents a day and has worked there for four years. Nice fellow and he was just ahead of me with thirteen others following. Once you're tethered to the rail there's no changing the order so the advice is, pick someone with a nice arse to follow. Max's was perfectly acceptable.
We were probably on the bridge for two hours in total with various stops for photos and also to allow other groups to move ahead. They seemed to have groups leaving at 10-15 minute intervals so I calculated that annual revenue could be somewhere in the region of 75 million AUD. Max had taken Pippa Middleton up the bridge (couldn't resist it) and of course James Matthews, on their honeymoon. Apparently when Oprah did it, she hired out the whole thing and didn't want to climb so she got the lift up. That's because Oprah's special!
There have been over 4000 marriage proposals at the top and reportedly at least 20 that said 'no'. It's a long walk back down which I'm assuming might have been awkward. We burned 600 calories.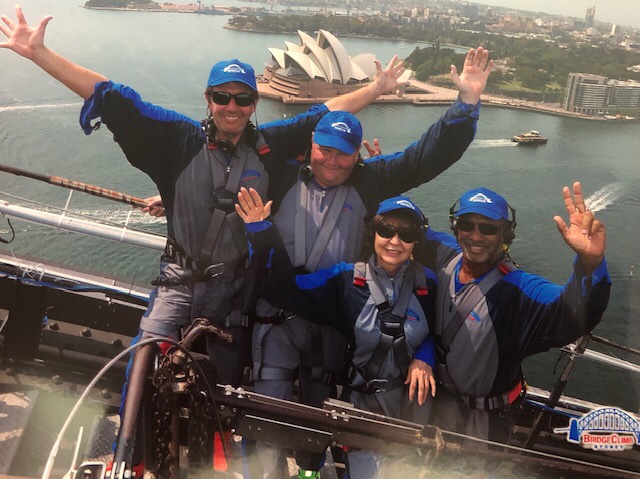 It was a good experience but not scary in the slightest. I was looking for an adrenaline rush which didn't materialise. I've had more of a buzz riding shopping carts down supermarket aisles.
Afterwards we went back to the Rendezvous Hotel to meet Dimitra's daughter Chloe (is that tautologous meeting at the Rendezvous hotel). The three of us walked down to the Quay and boarded the Norwegian Jewel heading for New
Zealand.
Dianna had been looking at various live camera shots of the ship and asked me to get to the front for a bit more torture. I'm not sure if it worked or not despite wearing my orange trainers which are visible from space so we ended up having a 90 minute conversation on the phone before I disappear into the world of extortionate phone charges. 90 minutes from the ship would cost $450. A real shame she couldn't join me for this one.