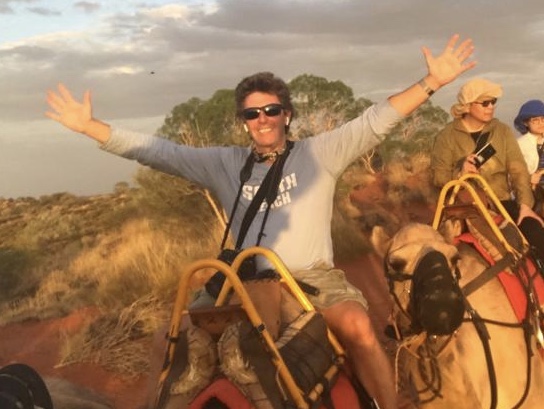 The three of us flew to Ayers Rock or Uluru as it's now called however whilst I was on a direct flight with Jetstar, Anne and Keith were going via Sydney with Virgin Australia.
I left the hotel early and arrived at Tullamarine airport long before I needed to be but I wanted to beat any queues. As it turned out I didn't have to worry because Australian airports are some of the most efficient in the world. I was rather miffed that I'd paid an extra 26 dollars for an additional 3kg of hand luggage allowance online and my bag wasn't even weighed. I'll know for next time.
The flight to the 'Red Centre' was three hours and the time difference was 90 minutes behind. Uluru is located in the Northern Territory but it really is quite central and having only really spent time around the coastal areas of Oz it felt marginally odd. 85% of Australians live within 50km of the coast. Random, but factually noteworthy.
Uluru is a massive sandstone rock standing 348m above the surrounding land. The Eiffel Tower is 324m. Tourism started in the 1950's and it draws plane loads of people every day who stay at the half dozen hotels in a circular complex. It's fair to say the place isn't exactly "happening" in a fun and exciting way. Some might even suggest it's one of the dullest places in Australia and I'd have to agree with them.
About 1000 people live there and no one is born Yulara according to the coach driver. You cannot own or rent a property so I'm not sure what people do for digs! It has the lowest unemployment rate in Australia because if you don't have a job, you can't stay. And you cannot come here without a job offer. Not that you'd want to come here without a job to distract you from committing harakiri. Did I mention it's one of the most boring places I've ever been to. Luckily I only had two nights there. The hotel didn't even have a gym so I've been swatting flies for exercise. I must have burnt 200 calories in the bathroom one morning trying to kill half a dozen robust flies with a towel. I think I swiped myself in the face more times than I got them. Still, a little self-flagellation never did too much harm.
The recommendation was for a litre of water every hour because of the excessive dry heat. It had been well over 100 degrees for weeks but when we turned up, it was in the 80's after raining the previous evening. And it was overcast so it was quite tolerable. Having said that I did feel a little cheated. I wanted my eyeballs to sweat.
I met up with Anne and Keith for drinks and tennis and watched Djokovic dismantle Nadal with ease. Then it was kangaroo for dinner before walking back to my hotel. By then the flies had all gone to bed so I didn't need the mesh hat.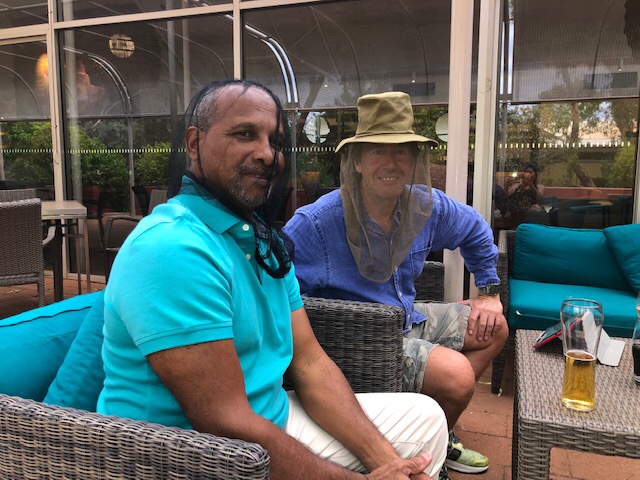 I awoke on the 28th for what will now be called Camel Day hence forth. I thought about walking to Uluru before realising it was 10 miles away. It's so big it looked like it was just down the road. So I did 14,000 steps around the compound instead. Not for the first time I asked myself why on earth I'd come here. It's an expensive two day trip essentially to see a lump of rock.
The nearest town of any note was Alice Springs some 450km away which was also the nearest McDonalds. Long way to go for chicken nuggets.
The sunset camel ride was the highlight of the two days at Uluru. There were 20 camels divided into two trains and linked by tethers through the nose. Most had two people atop but me and a Chinese chap behind me were riding solo. Did you know a camel can drink 200 litres of water in 10 minutes and then go without for 30 days. We were out for about 90 minutes and I loved it. Took some great photos and me and Lucifer got on well enough. I guess the only disappointment was that we were still several miles from Uluru. When we booked we thought it might be a tad closer.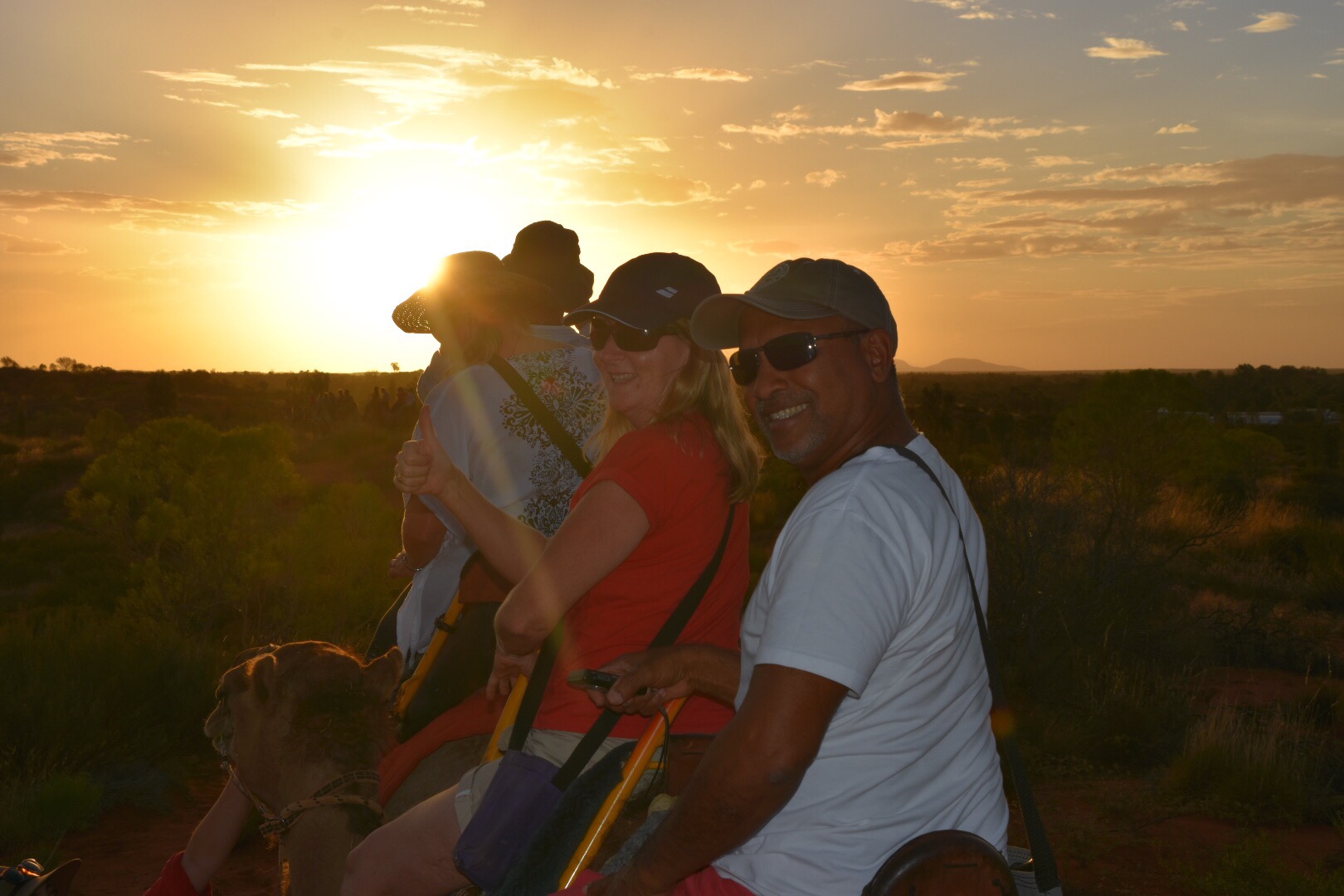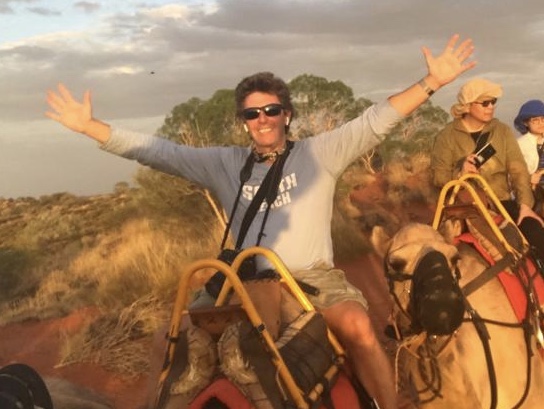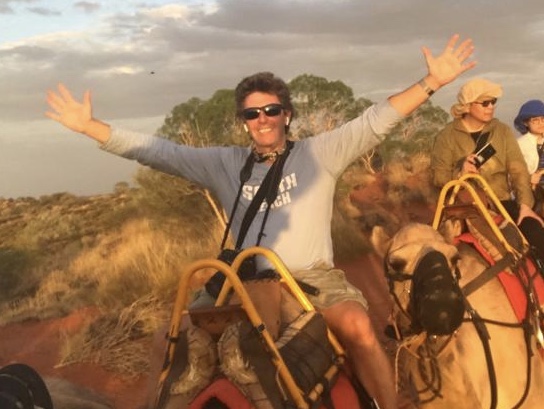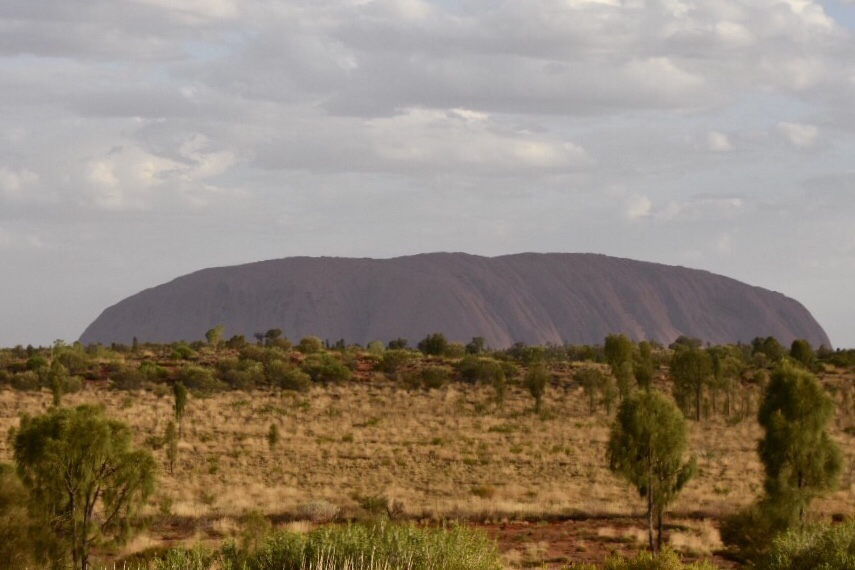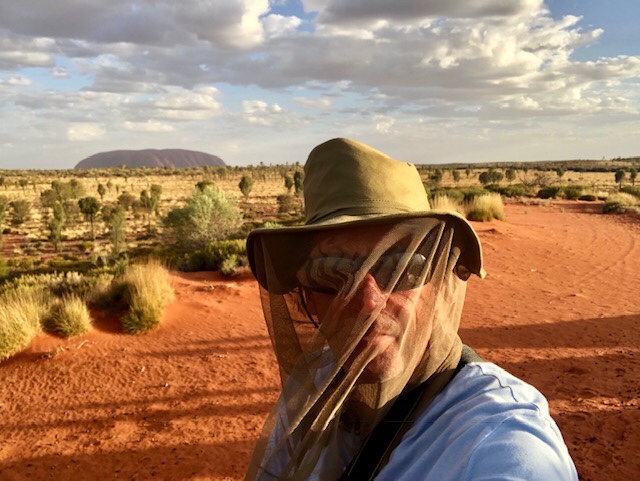 Upon check out I was asked the usual questions about my stay and for the first time I found myself making negative comments. Very unlike me. I was glad to be leaving and I thought the hotel lacked some basic facilities such as a gym. The buffet breakfast at 44 bucks didn't even have bananas to steal and the scrambled egg had more bounce than an excited wallaby. My room was very average. It was missing a bath plug so I had to improvise and the TV remote was less than useless. I'd paid 445 AUD per night for two nights – £250 GBP, $313 USD or 3800 Zambian Kwacha.
I did not consider it value for money at all and I may write my second ever Trip Adviser review (the first one was glowing praise). It would appear that the hotel trades off the fact that there's a huge sandstone rock 10 miles down the road so it doesn't need to try. I didn't even have a trouser press in the room! One thing it did have though was a shop selling overpriced Aboriginal arts and crafts. I resisted.
On the flight back with Virgin Australia there were only 50 passengers on a 737 which can hold 176 so I had an extra legroom row to myself (which I agree is a little indulgent bearing in mind I don't have long enough legs to warrant one extra legroom seat). It was interesting to note that some of the flies that had terrorised me for a few days in Uluru had also boarded for a jaunt to Sydney. Great picture of Bondi Beach flying in.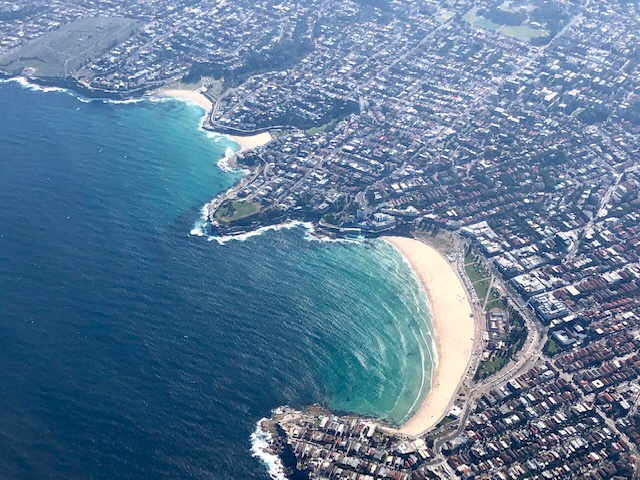 I didn't get as much out of Uluru as I could have – walking or cycling the 10k round the base or even on a Segway would have been great – which means I may have to return with a companion. Dianna? Next time I'll hire a car for convenience. There are no taxis in Yulara so you have to organise trips in advance. As a last resort there was a luxury limousine and I wanted to do it purely the relieve the boredom (I'd pay a lot to escape boredom), but it was booked so I tried the reptile performance but that was cancelled due to hot weather – it was only 85 degrees in a place where 115 is quite normal so I wasn't sure why Reptile Ralph wasn't performing but it was that kind of place. My guess is that he was playing with his didgeridoo.
Next adventure, the Bridge Climb.