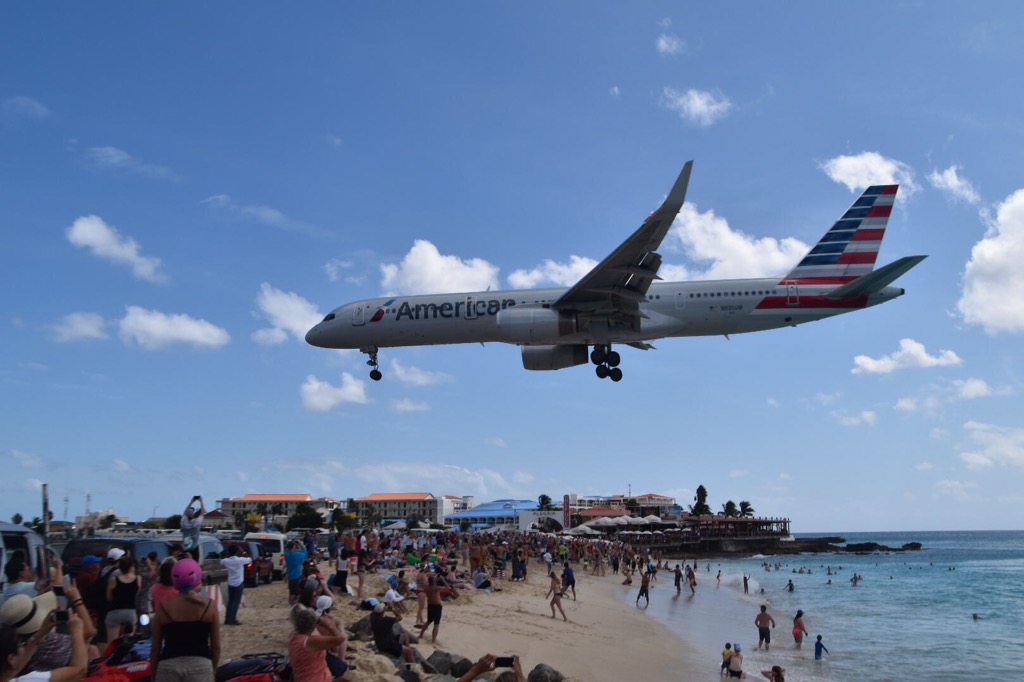 Guadeloupe is the first island in the French West Indies that I have visited. Others include Martinique, Saint Martin and St Barts. There are two main islands – Grande-Terre and Basse-Terre which are both much bigger than I'd thought. Not that I've ever lay awake mulling over the size of Guadeloupe's two main islands but when it came to referencing the place I was rather surprised – GT is bigger than Barbados and BT bigger than St Lucia with a population of 400,000 making it the largest EU territory in North America.
Eight of us headed for a beach, we didn't care which one. It's odd how with the cruise coming to an end in a few days time, the original group is bonding more and more. Caravelle beach was lovely. We stopped by a Club Med resort and had to pay to use sunbeds and the falicities but the setting was just perfect with beautiful white sand, palm trees and calm green sea. The biggest problem of the day was the locals speaking French and not accepting dollars. I'm turning into an American! But the place was so lovely it might be worth learning French.
Sint Maarten
Today was a day I was looking forward to because by coincidence, Georgia was going to be in SM on the same day during her two week Caribbean cruise with Hope on the P&O Britannia.
I was out on the top deck early morning experiencing a bracing wobbly face wind as we approached Sint Maarten. The sun had just come up and we had a beautiful blue sky as three ships from different directions were heading toward the capital, Philipsburg. There were already a couple of ships docked which turned out to be the Carnival Pride and another Holland America ship, the Rotterdam. Georgia's ship was first in followed by a Royal Caribbean ship which turned out to be the Harmony of the Seas, the world's largest cruise ship with a capacity for 6000 guests (most of them American) which has to be a frightening proposition for these small Caribbean islands.
It was a truly wonderful sight seeing so many large ships docking at this beautiful island. Two more ships, the Freedom of the Seas and the Aida Luna (Germans) joined later in the day. Apparently the record for one day is 14 ships.
Some of our passengers were scared to get off. Prinsendam guests don't like crowds – that's why we booked on a ship with a maximum capacity of 835. These 7 ships had about 20,000 people combined. In reality there was nothing to worry about. Sint Maarten was perfectly able to accommodate that many people.
The island is split into the Dutch side (Sint Maarten) and the French side (Saint Martin) with the south being Dutch at just 13 sq miles (40%) and the north being French at 21 sq miles. Total population is 78,000 split 41/37 in favour of the Dutch. The good news was that they all spoke English as so often happens when two languages collide. It is the only place in the world where the Netherlands and France share a land border and shows what can be achieved when two nations decide to coexist with one another. The Dutch side is all about tax free shopping, casinos and nightclubs whereas the French side is about small resorts, bistros and topless beaches.
The three of us jumped in a taxi and went first to Marigot which is the capital of the French side. Our female taxi driver was most pleasant and we passed the border crossing which was two Dutch flags and then two French flags. Nice and simple. She said that people born on the island just feel like islanders and that there was no rivalry between the two nationalities and live in harmony with one another. I couldn't quite imagine that happening in other parts of the world. I wonder what happens though when France play Holland at soccer.
After a short mooch around Marigot we headed for Maho beach which lies at the southern end of the runway at Queen Juliana airport. It was a small beach with a bar/ restaurant at each end and we plonked ourselves in the middle for maximum aeroplane viewing. In all we must have seen 50 planes land from small four seaters to huge jets from the US. After an hour I found some sunbeds at one of the bars and we moved for greater comfort. Ten minutes later a jet plane took off and sandblasted everyone directly behind it including where we had been sitting.
Throughout the day the beach got busier and busier and we were glad to be on comfortable sunbeds away from the hordes. Another feature of Maho beach was the crashing waves in an otherwise calm sea. We had a hoot watching people getting wiped out and not a lifeguard in sight.
We stayed for about five hours and after the last of the big jets had landed we headed back to our ships in the smallest taxi I've ever been in – a Hyundai i10 which shouldn't be classified as a car at all. It's the size of a tumble dryer. What made it all the more bizarre was that nearly every taxi is a huge American GMC or Chevrolet 12 seater van. Our driver was Nestor and I understood about one in three words but we managed to get by. He had a big crack in his windscreen which he attributed to his wife. Nor sure if he meant she was driving when it happened or he ran her over. He kept nudging me in a "know what I mean squire" kind of way and would momentarily drift into the middle of the road.
Back at the port there were lots of shopping opportunities. It's the best set-up I've seen in all the Caribbean. So often there are more vendors than shoppers but here they had an attractive shopping village with thousands of passengers buying expensive souvenirs. It was almost a frenzy. We ran into the Jackpack who were performing on the girls' ship that evening. Spooky.
I had a fabulous day and Sint Maarten was a revelation. I will definitely be returning there.