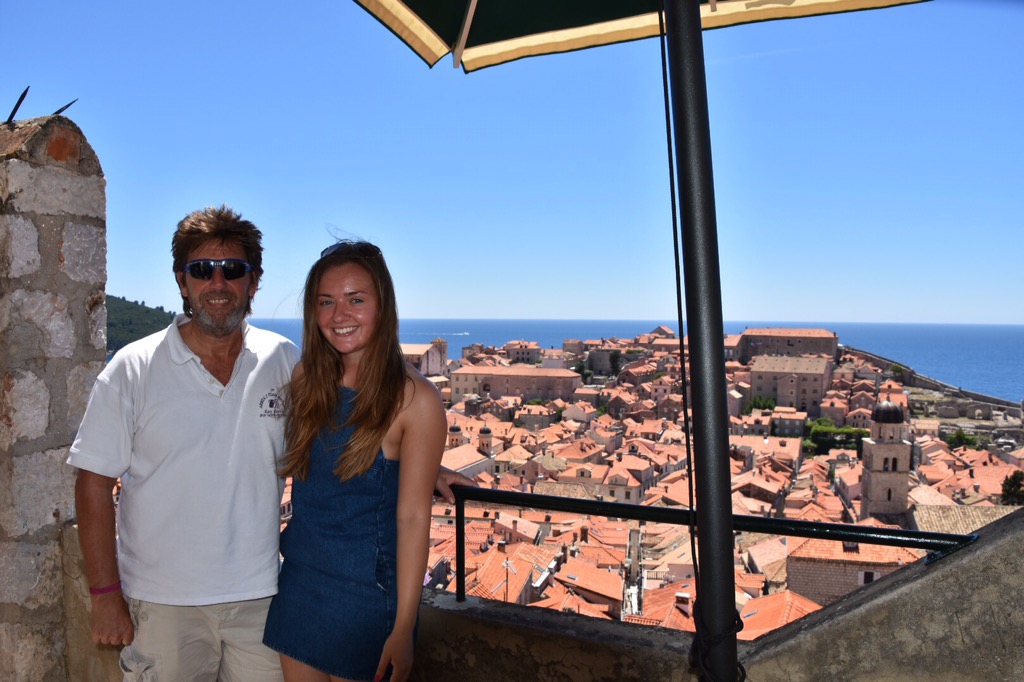 After the BA computer malfunction on Saturday which caused chaos to thousands of travellers flying from Heathrow and Gatwick we were lucky to get away early on Sunday morning without incident. It was an early start which also means an early snifter and I can report the first glass of wine was slipping down at 5:30am which is a new record (even for an airport). It's the kind of behaviour that under normal circumstances might lead those close to you organising some kind of intervention, but airport lounge drinking has no timekeeper. After a couple of aperitifs, a plateful of bacon sandwiches and some newspaper and magazine pilfering Georgia and I left the lounge with a feeling that we'd won.
BA short haul has recently started charging for snacks and drinks and I'm not convinced their corporate aim was to deliver value for money so at just after 7am I'm tucking into a Kit-Kat and sloshing it down with Pinot. Then I had a well earned nap on the tray table.
We arrived early and found a taxi driver called Andro who drove us to the Sheraton which looked more like a hospital than a hotel but the staff were fabulous and it wasn't long before Georgia and I were basking by the pool in glorious sunshine. It was a functional outdoor pool area and what it lacked in flora and fauna it certainly made up for in concrete. The spa was the highlight though – one of the best I've sweated in for a goodly long time. It made David Lloyd look average.
On Monday Georgia and I took an early morning boat trip to Dubrovnik from our hotel which is about 20 minutes away by sea passing by Tito's summer residence. We had the choice between the Game of Thrones walking tour or a historical walking tour and we plumped for the historical so about 15 of us trotted round following Ivan with the yellow hat. It was decidedly average but we were contributing to the Croatian tourist economy and it did include a visit to the steps where the walk of shame from Game of Thrones was filmed. It took 90 minutes: 90 minutes that we will never get back again, before being released to discover Dubrovnik on our own.
One of the highlights of Dubrovnik is the city wall which circles the whole of the old town. It's 2 km long and involves going up and down several steps (and a great workout for the thighs). The views from the elevated position are terrific. It wasn't particularly crowded but that didn't stop the odd foreigner vexing me. One of the most peculiar fellow wall-walkers was a Japanese chap who was taking photographs and then scurrying off to catch up with his group although we never actually saw his group. I'm sure he took a few photos of Georgia when she was posing for photos. Dubrovnik has to be one of the prettiest cities I've ever visited. It has a cute little marina at the entrance full of boats that can only be described as 'a bit shit'. No super yachts, Sunseekers or anything desirable whatsoever but they only added to the loveliness. Georgia needed a two hour sleep after our schlep around the town. I think it's the most exercise she's had in a long time. She ducked out of the evening meal with a headache. Honestly.
So I found myself in a fancy pants place by the sea with an octopus salad as a starter – from the chef. That kind of place. My champagne (Katy, two years) was accompanied with half a dozen strawberries on sticks and as I ordered some kind of main dish I thought this is going to cost a fortune. It was also the kind of joint where Katy would send back the wine (just for fun) and I had a nostalgic moment recalling nights of disappearing Sauvignon. Oh how I miss Katy in full flow. It was so very entertaining and I adored her for it.
So I was dining alfresco and then three instrument playing minstrels, who were on a break when I arrived, started playing the love theme from The Godfather – two strummers and a smaller chap with an accordion. I was being serenaded at a most inappropriate time although it reminded me of the many times that Katy and I found ourselves in restaurants abroad with serenading minstrels just hoping to god they wouldn't come to our table. She hated it.
Dubrovnik is surprisingly small with a population of just over 40,000. Split, by comparison has ten times as many people. Originally called Ragusa it was founded in the 7th century. Fast forward several centuries and in 1991 Croatia declared their independence from Yugoslavia which led to the 3rd Balkan War during which 800 missiles hit the old town (and caused rather a lot of damage). It went back to when Tito died in 1980, Yugoslavia struggled economically and politically and the ethnic divisions became more tense and when the Berlin Wall fell in 1989 things had reached breaking point. Slovenia and Croatia, who were the two most prosperous regions, declared their independence which triggered the army to be deployed from Belgrade – the former capital, in what is now Serbia. The conflict in the region gave us the likes of Radovan Karadzic (Bosnia), Slobodan Milosevic (Serbia) and James Blunt (You're Beautiful). The world has ended up with six countries instead of one and possibly a seventh if Kosovo have their way. Bosnia, Croatia, Macedonia, Montenegro, Serbia, Slovenia.
A little bit more history: in 1918 when the peace treaty of Versailles granted independence from Austro Hungarian rule, the original name of Yugoslavia was The Kingdom of Serbs, Croats and Slovenes but it was obviously far too catchy so they changed it ten years later.
On Tuesday Georgia was still alive so we headed backward to Dubrovnik for the cable car which is the number one tourist attraction.
Just to say that Dubrovnik is one of the most expensive cities I've encountered…ever. Walking the city walls cost £20 each, a glass of wine in the hotel is about 9 quid and a fifteen minute ride from the airport was £25.
Back to the cable car. The views from the top were fabulous made even fabulouser by the blue sky and most agreeable temperature. The summit was full of Japanese tourists. More than I'd ever seen in one place. They were darting all over the place with their selfie sticks and lack of manners. A peculiar culture indeed. I'm not keen. Once they'd gone the place was calm and Georgia and I managed to get lots of good photos. We came down and headed back to the hotel for sunning by the pool and concrete appreciation.
Spending time with Georgia has been lovely as has spending so much time learning about the lives of the Kardashians. Thank you Georgia for introducing me to such low brow entertainment. She's had a modicum of success whipping me into shape by eating three meals a day rather than grazing and snacking although any lasting effect is unlikely. The grazing and snacking industry needs me.
On our last day here in DBV we lazed by the pool daydreaming about concrete before heading back to Dubrovnik Old Town for dinner on Georgia's last night. I wanted to do an evening in the old town because it's less busy and the lights come on making it look ever so pretty. We found a restaurant out of hundreds in the old town and I had fish and chips.
I do so much travelling alone but it's been so nice having some company. I've definitely had a better time with Georgia. We'll do more.