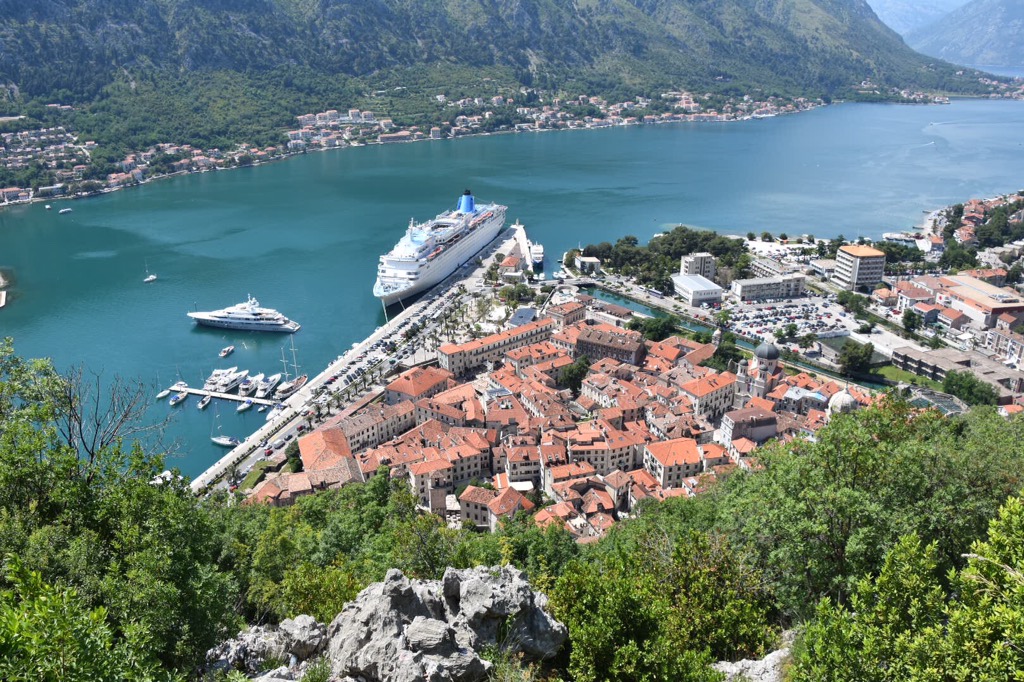 After dropping Georgia at the airport I walked about 100 yards to pick up a car for three days. There's something satisfyingly convenient about a small airport with everything close at hand. They didn't have the car I wanted so they gave me a Mercedes C Class instead. Blinking lovely. Another terrific sunny day which made driving to the Montenegro border just 20km away quite splendid.
There is only one road crossing from Croatia to Montenegro so it was a little busy but it gave me an opportunity to become acquainted with the car. Montenegro is not in the EU but uses the Euro whereas Croatia is in the EU and doesn't use the Euro.
Some three hours after leaving the airport I arrived in Kotor which is a popular stop for cruise ships with a spectacular sail-in. Arriving by car meant I benefited from driving around the perimeter of the bay to reach Kotor which was an unexpected bonus. Truly spectacular scenery.
I parked up and hit the local supermarket for a banana. I had a walk to do. The top thing to do from the old town is walk up to San Giovanni's church/ monastery which is 920ft asl. It was hot, the middle of the day and I was carrying a rucksack so by the time I reached the summit I was sweating like a nun in a candle shop. Great views though.
I thought I'd climbed Everest: achieved something Herculean. I was triumphant. It was only when I came face to face with a woman in her seventies who'd managed to climb to the top in Dr Scholl sandals that my feelings of magnificence came crashing down.
After Kotor I pressed on to Podgorica, the capital of Montenegro and my home for the next three nights in the newly built Hilton.
Now why did I choose to stay for 3 nights in Podgorica I hear you ask. Well, I asked myself the same question. It's not fared well with bloggers and travel writers. One Australian described it as "a hole". Podgorica never grew up thinking it was going to be a capital city. Belgrade was the capital of all Yugoslavia (formerly The Kingdom of Serbs, Croats and Slovenes) so capitaldom was thrust upon it late in life as it was four/five other Balkan cities. Well I don't recall Alan Whicker ever coming here, or Judith Chalmers. I'm going out on a limb here but I don't think 3 nights in Podgorica will ever be a prize in a travel competition (unless six nights is second prize).
The Hilton is only six months old and has a fabulous gym, a super indoor pool and one of the best rooftop bars I've visited in the Balkans. My room was superb and the bathroom not only commodious but also very well appointed although dispensing with the suction shower mat led to the invention of the sandpaper bath causing exfoliation of the Arsenal which is not normally an area requiring abrasion. Still, I feel better for it.
On Friday I went on a self-propelled tour of Podgorica which could be done in a day but I was going to spread it over two days. To make is a little more exciting I decided to centre my perambulations on the six bridges that span the mighty Moraca river which wends its way through PG. The excitement was short-lived although the Millennium Bridge is probably the most famous landmark in the city. The cathedral was fairly nice looking which is more than can be said for the Catholic Church which has to rank as one of the ugliest ecclesiastical structures ever built.
Six hours and 25,000 steps later and I arrived back at the hotel to the wondrous discovery that there was a casino next door. I must have missed it on the first night.
Awards for beauty might not be forthcoming but there were some lovely spots around the city for which I have photographic evidence. I'm not sure if any bombs hit Podgorica in the Third Balkans War but some places could have done with it. One of the highlights was of course the cemetery which was rather lovely with slate grey the most popular headstone colour. It's interesting to see how other countries do cemeteries/death/remembrance and a popular feature of the gravestones in PG were sandblasted images of the deceased that were very good. The headstones stated years only so no date of birth or date of death. Other than that I couldn't understand a bloody word of it. Family tombs also seemed to be very popular with several people buried in each plot with space on the headstones for more. I didn't see one grave for a single person. The slabs of stone had large metal rings affixed presumably to access the sarcophagus and place the next person in? They were definitely designed to be opened/ accessed. It could be to put ashes in of course but I prefer the idea of pulling the slab to one side, wrapping the latest family member who'd snuffed it in muslin and lobbing 'em in.
The population of Montenegro is a modest 680,000 which is less than Leeds and the smallest of the former Yugoslav states by a long way. I've noticed a lot of tall people, men and women so I googled it and Montenegro have the third highest average in the world after Bosnia and the Netherlands. The Lada Niva, for those that remember it, is also alive and well in Montenegro.
I went back to the rooftop bar on the second evening and made friends with a waitress who wanted to practise her English (I was happy to oblige). She said that most of the clientele were locals drawn to the city's first rooftop bar. Obviously the place to be seen and with very reasonable prices too. I'm getting the feeling that the hotel doesn't get many Brits. They were buying me drinks on the house and the manager came over to shake my hand the other night. All very peculiar. I went to the casino next door and I was the only person playing at the tables which meant the focus was on me. Considering the gambling scenes of Casino Royale were set in Montenegro it was a disappointing experience. I won 100 euros and left as I didn't like the new dealer, Chrsto. Never trust a man with a missing vowel.
I couldn't move on Saturday. The six hour walk coupled with a swim and a workout in the gym and I was good for nothing. I felt decidedly odd and a little nauseous so I spend most of the day in bed which is very unlike me. Only ate a banana and a cake but the afternoon brought heavy rain so I wasn't too concerned about venturing out.
I left rather early on Sunday and as I headed back to Dubrovnik I reflected on some fond memories of Kotor and Podgorica as well as having the smoothest derrière since I was a toddler. One can certainly see all the sights of Podgorica in a weekend but I'm not sure I will rush back. Off to meet the chaps for a week's sailing.