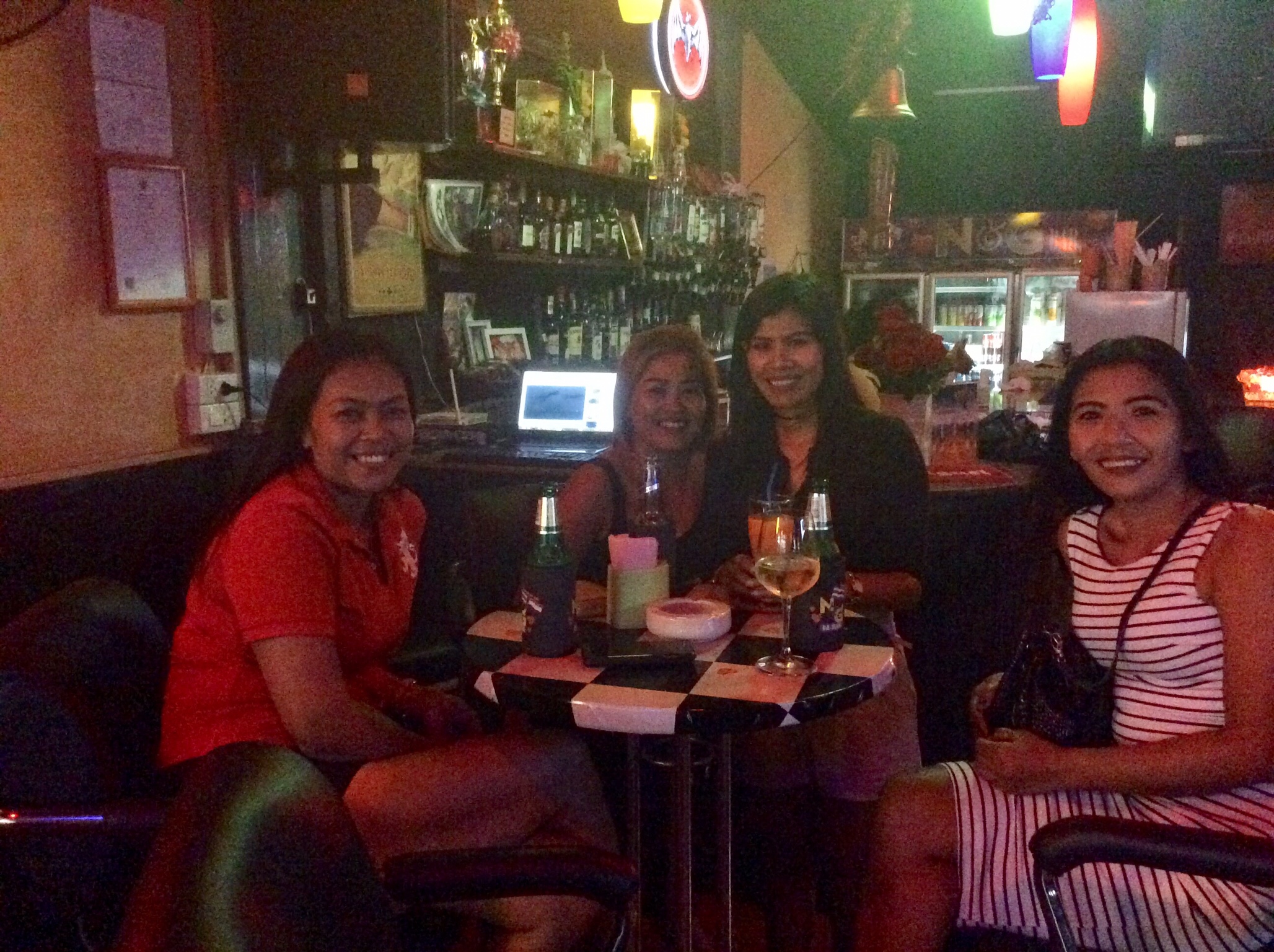 Saturday morning marked the end of the trip and we got officially released from the care of Son who certainly took his responsibilities seriously. As I was in a different hotel I'd said my goodbyes the night before so I was ready for the final few days of the trip.
My "non-visa" 15 day stay in Vietnam was up so I had to leaves. Other than my flight to Bangkok I'd made no other plans although tentatively I'd said I may return to Phuket to visit my cashier friend 😉. So the choice was Bangkok, Pattaya, Phuket or Hua Hin (new place) and I let the weather forecast decide. Hua Hin won.
At the airport I was offered an earlier flight with Thai Airways rather than Vietnamese Airways and I gladly accepted although I suddenly had the deal or no deal moment. What if it crashed? What if my originally booked flight crashed?What if neither crashed but Arsenal Wenger stayed for another five years? I needed to sit down. It did mean being whisked through passport control and security – both queues were horrendous so I was very pleased with my diplomatic/ Buddhist monk status. Of course it also meant no lounge so I had to get on the plane without the sharpeners. I much prefer to fly in a state of semi-blither. A triple 7 for an hour long flight no less.
At the other end I jumped in a taxi driven by Mr. Suwan whom I suspect was responsible for the recent theft from Michael Portillo's wardrobe. With no traffic it could be done on 2.5 hours but no traffic near Bangkok is impossible so it took 4 hours but the Marriott, which I'd booked en-route, was stupendous. It even had a kids club! How bloody marvellous. I hope wordologists amongst you have realised that I've used two of the four words ending in d-o-u-s so far.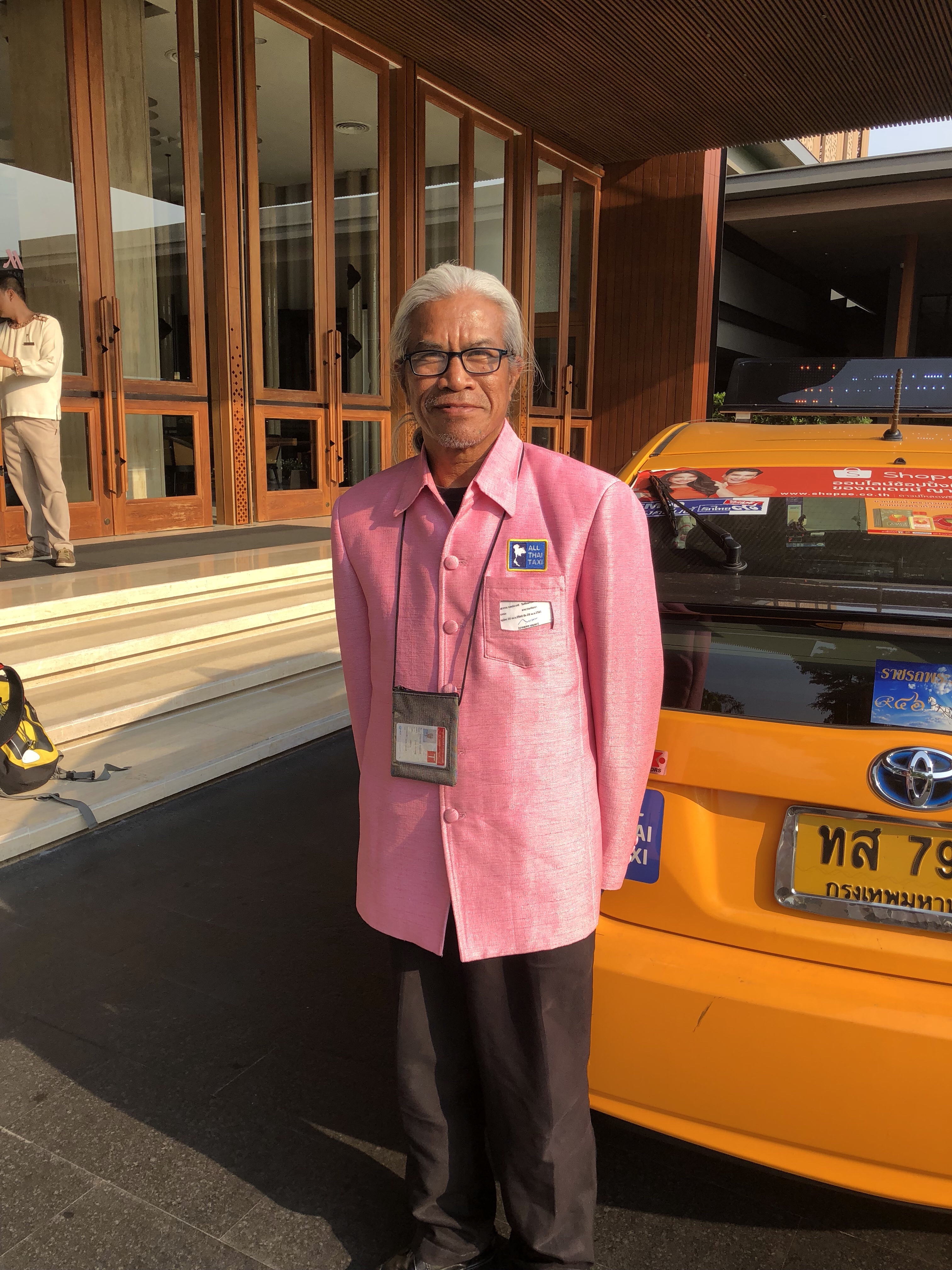 Hua Hin lies on the opposite side of the Bay of Bangkok/ Gulf of Thailand to Pattaya. It became fashionable in the 1920's and is a weekend getaway destination for Bangkok residents. It was also where the Thai royal family built tremendous (3) palaces. It's not known as a place for tourist nightlife though.
One of the advantages of the economic disparity between the UK and southeast Asian countries is the cheap massage. There are times when I regard it is the "main" advantage. For £11.62 I had Miu the forty-something masseuse with a teasing cleavage rubbing rosemary oil all over my exposed parts on a white sandy beach in glorious sunshine with a cooling breeze gently caressing my tanned skin for an hour. Now that's good value. Of course you need to enjoy being rubbed by a stranger, albeit a professional stranger so it's not for everyone. Some of you will note that the expenditure for such dexterous terpsichorean trickery has increased somewhat but it's still way below the "HOW MUCH!" level and I did have a result with the tax-man.
Hua Hin is a much quieter resort than Phuket or Pattaya or any number of other tourist resorts. There are foreigners but much fewer and lots of Thai families with kids and I do like a kid friendly resort town. For that reason the "nocturnal entertainment" is contained within a few streets which I found by accident you understand. I'd visited the night market (did the nibbling fish spa thing) and from there it was across the road and down a few side streets then a left then the second right straight on for a bit and you're there, so it was easy to stumble across. I'd done 30,000 steps so it was bound to get hazardous (full set)😉 at some point.
Anyway, I think the word "munter" was first coined here. Some of them are older than me. The streets are full of the usual mix – couples, groups of men and "single" men (trying not to look like sex tourists who obviously were as lost as me) walking around. A lot of the single men try to do the "I'm just out for an evening stroll" thing. They don't fool anyone. It goes without saying that I blend in seamlessly and look the picture of probity.
I had dinner out and found an Italian which is pretty much what I always do. It's the red and white checked tablecloths that lure me in. After two glasses of Chilean last night at the Marriott I realised I'd be bankrupt if I stayed there too long. The minibar is the same. The curse of the five star. It's 8:02 and I've finished the pizza and I'm wondering whether I should go and have a game of connect 4 or pool with a cheeky glass and an even cheekier lass.
Well that was a mistake. I found the Honky Tonk bar and Nad who was the cashier (I know). We played pool and drank wine and then I was involved in some sort of birthday celebrations with another one of the girls and we went on a bar crawl and I got thoroughly pissed but I refused the offer of a bar fine and went to bed (alone mother).
The joy of Monday was that most of the kids had left the hotel and gone back to school. The resort felt much quieter which suited me finely. I'm not sure of the mix of nationalities at the hotel but there aren't many Brits and judging by the swimwear I'd say European. I had a spectacular time doing nothing on the beach today other than losing half my body weight in sweat and another massage with Miu. Now there's one part of the body that rarely gets massaged and today was my lucky day. No, not the filtrum. No, nor the tragus. Good guesses though. 'Twas the belly. In fact the whole torso tantalisingly treated to a superb rubdown. In the evening I returned to the action area and found another Italian restaurant. In bed by 9 (alone again mother). She worries about me you see.
On my last morning it was a little overcast so I went for a walk that turned into a 7.5 mile trek…in flip flops. I'd walked all the way to a promontory and back and met a whole load of baboons on the way. Once I got back the sun came out so I was straight to the beach. After the cycling trip I wanted a few days on the beach and that's exactly what I got and it's been terrific. Sun, sea, sand, sauna and a masseuse. I've enjoyed Hua Hin, in particular the sunshine whilst Pattaya has been raining everyday according to the forecast.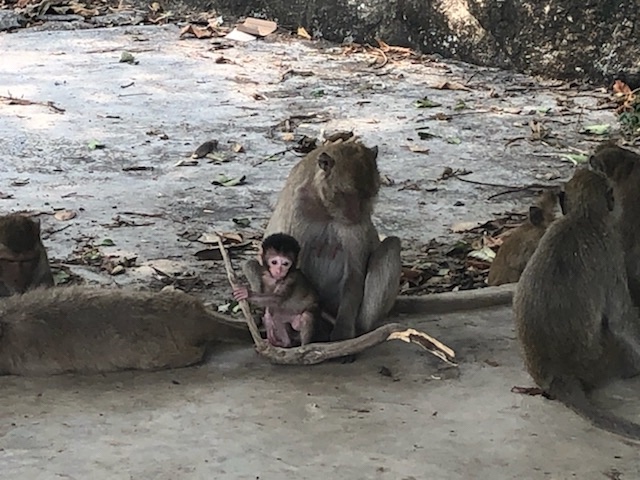 The cutest monkey I've ever seen and I've seen a few.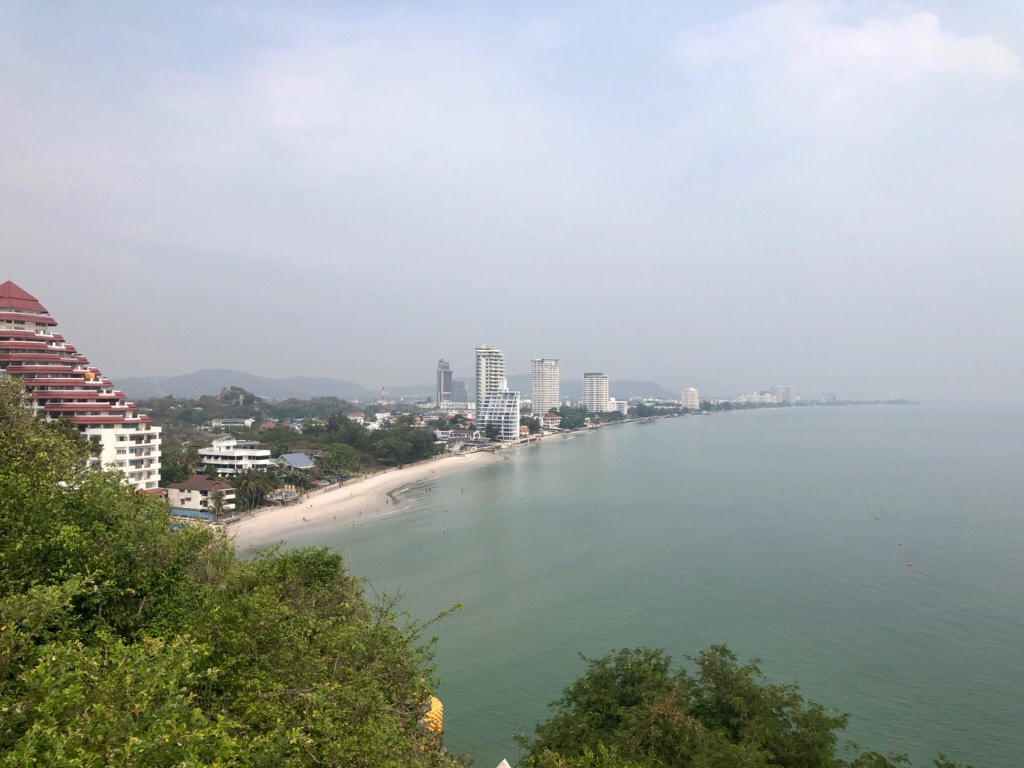 Miu the masseuse; well her English is very limited but she's popular. Often has a queue which is more than I can say for her two colleagues. She's quite pneumatic for a Thai. Another belly rub today and a new technique which I can only describe as the "testicle flick". She fashions my modest shorts into a pair of speedos and off she goes. I could spend a month here doing the same routine and rotating the Italian restaurants. I've found four so far. I've discovered the following. If there's no one in a restaurant people walk by. If there's at least one punter they come in. Nobody (except me) seems to want to be the first customer. I should charge a fee! Give me a free pizza and the place will be packed by the time I leave. I myself like an empty restaurant because I get personal service. Others, it would appear like to herd.
The Marriott resort here is marvellous. And they've nailed it with the kids by creating a number of features that make it like a mini waterpark and a lazy river running round the whole gardens. I do like the kids to be happy.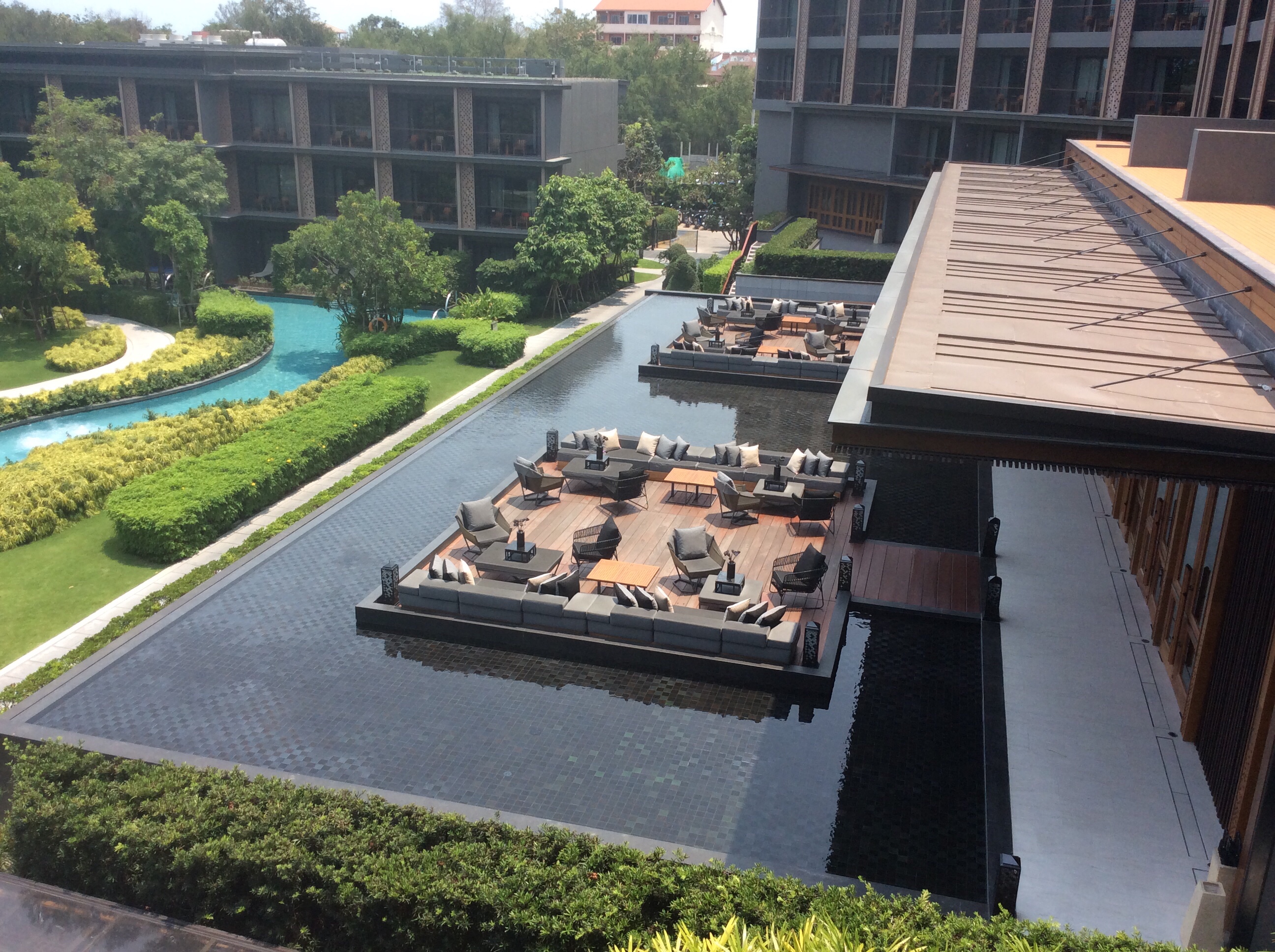 Up at the crack for my journey home and a lovely taxi ride shaving 90 minutes off the outbound trip. I received my priority slip at check-in which not only keeps me on a level par with Buddhist monks, diplomats and aircrew but also the over 70, the disabled, parents travelling with infants, infants travelling with parents, pregnant women, women who are trying to get pregnant, men who are trying to impregnate their spouses, ABTC and BOI. I mean is there anyone left? It took half an hour to find the Cathay lounge and when I did I was less than impressed with the breakfasting options and bar service rather than help yourself so I left and went to the Dragon Pass lounge. As soon as I saw the tuna sandwiches with the crusts removed I knew I'd made the right choice.
A fabulous trip and my love affair with Southeast Asia continues. I shall return. Didn't say that about Jo'burg!