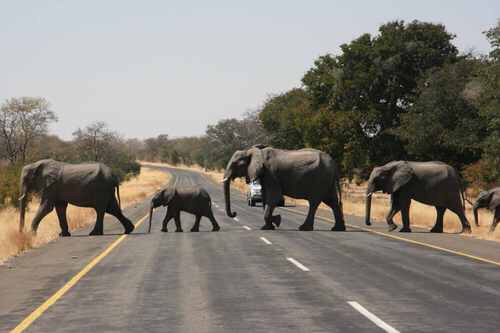 Kasane and Chobe, Botswana
We left Drotsky's early and headed back over the border into Namibia to drive further along the Caprivi Strip before dropping back into Botswana. A bit of a faff with the borders but there were no queues and it saved us a heap of driving.
A few hours in and we got a puncture on one inside back tyres which provided some entertainment for an hour as Lulu and Colleen changed it. We weren't allowed to do much to help because of possible injury. It's all about the contract and insurance. Anyway, the tyres were boiling hot as you'd expect and they were also rather large – it was a 16 ton truck after all. They did allow us to help to some degree.
Last night I found out that one of the single ladies of the group, Sarah, a retired GP from Glastonbury used to live in Burnhill Road, Beckenham some 30 years ago. She spoke fondly of Kelsey Park. Small world. She did a number of stints as part of the medical team for the festival.
Botswana was far more humid than Namibia and the blue skies were replaced with cloud and heavy rain. There were also squadrons of mosquitos and as such we've commenced the malaria tablets so on that basis and despite the German historical influences, Namibia wins it for me despite the poor internet. Namibia also has a coastline which makes Botswana a distant second.
We reached Kasane which was host town to the World's Strongest Man competition in 2016 and also the location for the second marriage of Elizabeth Taylor and Richard Burton in 1975 sixteen months after divorcing. It is also a few miles down the road from a quadripoint – the only place in the world where four countries meet -Zim, Zam, Bots and Nam.
Monday was supposed to be an early morning game drive and an afternoon boat trip however I was ailing which gave me the perfect excuse to duck out. I ventured to town for drugs and thought they might give me some amoxicillin OTC but oh no. Not in Botswana. I needed a prescription from a doctor but there was one next door to the chemist so I popped in to see him. Delightful chap. For ten dollars I had my prescription and moments later the drugs I needed. Another one off the bucket list. By all accounts the four hour game drive was average and during the three hour boat trip there was a mini monsoon. I made the right choices.
Tuesday I decided that two more days of long drives and game watching might not be the best remedy for my malaise so I got Lulu to drop me at the Victoria Falls early which by some fluke of logistics we were passing right by. It was only 50 miles away so I found a lovely hotel and bade a temporary farewell to my camping buddies whom I shall catch up with in a few days. Of course this means no more camping and no more camp sites for me. I don't even have to look at a tent. Of 21 possible camping nights I managed a pathetic four. Of course another way of putting it is that I bravely slept in the African bush with just a flimsy piece of canvas between me and certain death at the hands of a troop of pink-arsed chacma baboons which sounds far more heroic. Suffice to say, I will not be subscribing to Camping Weekly or the Tenting Times.