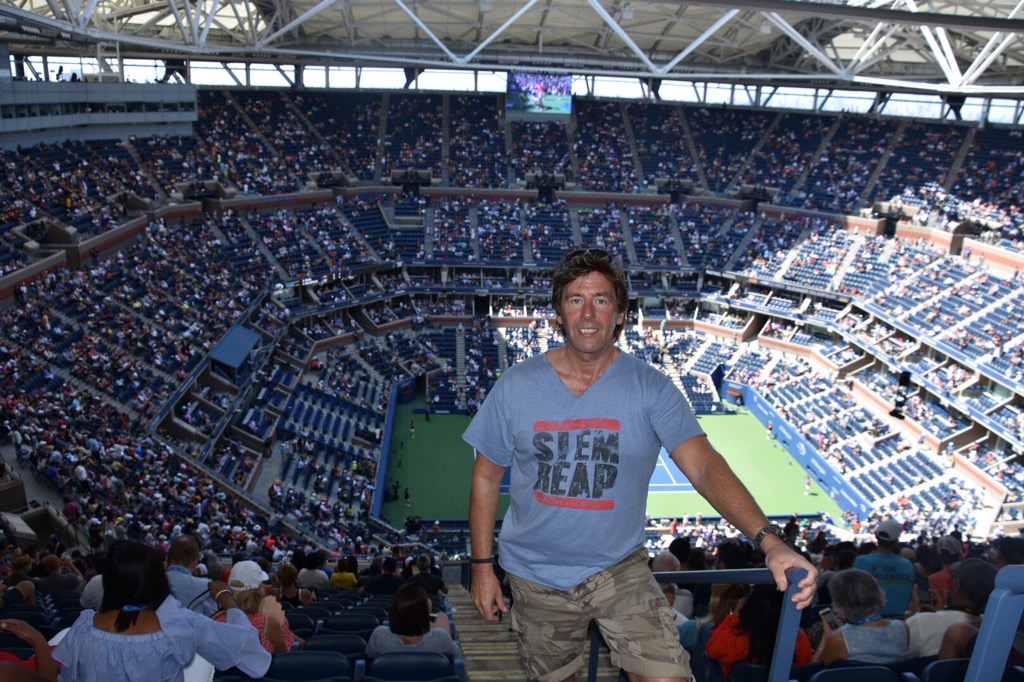 As long as you can count, New York is an easy city to navigate your way around and in three and a half days I managed to do most of the sights including some repeats from my last visit 30 years ago.
Flying in to JFK we aborted the landing not once but twice within metres of the ground which was quite disturbing. Never happened to me before. Another one off the bucket list I thought.
Once off the plane Kumar, from the Punjab, drove me to Manhattan and some street closures meant I was dropped off a few blocks from the hotel leaving me and my 50 kilos travelling on foot. Thanks Kumar.
On Monday I got up at an ungodly hour (even for me) and found myself in the gym before the hour of 5. My morning stroll took me to Central Park and I rented a bike for a couple of hours. I took in the sights including the famous Central Park Reservoir which was renamed the Jacqueline Kennedy Onassis Reservoir in 1994 (she would have been thrilled). Still it could have been worse. Rodney C. Able had a wastewater facility named after him.
After the bike ride I bought a subway pass and was off to the tennis. I managed to confuse uptown with downtown (a simple mistake to make) so it took me a little longer than it should have. Once at Flushing Meadow I was greeted with officialdom and anyone with two straps on a bag had to rent a locker. Unfortunately I was a two strapper. Twenty bucks for a programme, 48 bucks for a t-shirt and ten bucks for a cheese toastie. I feel a book coming on "Federer: My part in his fortune". Not only that but they sell daytime and evening tickets to the show courts so they double up on ticket sales too.
I sat next to a chap from Taiwan who'd already visited two of the tennis grand slams in 2017 – Australia and Paris, and I told him how I'd once circumnavigated his country. He looked underwhelmed. I guess if he told me he'd once flown over the UK on his way to Düsseldorf I would have been equally unimpressed.
I was a little taken aback by the way the Americans do things. Ballboys chucking the balls to each other cross court instead of the controlled rolling at Wimbledon. There were no restrictions on movement or noise in the upper tiers. They even had music playing throughout. And as for the loud music during end changes – positively barbaric. The thing that surprised me the most though: if the ball goes into the crowd, they keep it. At Wimbledon they throw it back. Anyway, Nadal won in routine fashion in what was an uneventful match but it was a box ticked, nothing more. My back row seat gave me maximum viewing of the stadium however the players did look rather small.
Tuesday I awoke to disaster. I had a tour booked to the Statue of Liberty but my iPhone had packed up causing me to declare a personal state of emergency. Not even a sharp bang on a hard surface could revive it. The reliance we have on these pocket-sized computers cannot be understated. Staying in contact with family and friends, taking videos and photographs, tracking the progress of the international space station. The list goes on. I bravely faced the day without it.
There were 11 of us on the tour (the September 11), 5 couples and me. One of the chaps was the CTO for Boeing so we talked planes. Great tour of the Statue of Liberty and Ellis Island where I became a little emotional at the thought of those 12 million people from all over Europe being processed as the USA continued to populate the country with immigrants fleeing from war and economic hardship. Famous Ellis Island immigrants who went on to achieve fame of one sort or another were Bob Hope, Cary Grant, Max Factor, Al Jolson, Irving Berlin, Igor Sikorsky and Felix Frankfurter. The Statue of Liberty is actually modelled on the mother of the sculptor, Frederic Bartholdi. It was supposed to be his girlfriend but she was considered a little too provocative. Pouty lips and all that.
After the tour I popped into the Apple Store in the World Trade Centre and a young chap of Indian origin showed me how to do a "hard" reset. It was like receiving wisdom from Yoda. It worked and my phone was fully functional again. I could have kissed him but my powers of resistance prevailed. I was fully expecting to have to buy a new phone.
The Apple shop was right by the Ground Zero 9/11 memorials which are simple but powerful. A pair of reflective waterfalls covering the footprints of the towers. The Freedom tower is now the tallest building in New York at 1776 feet (to commemorate the year of independence) and is taller than the Twin Towers.
My favourite story of the day was about 63 year old Louis who works for the National Parks Service and is the only person on the planet who has access to the light on top of the Statue of Liberty. He's been the light man for 21 years and only a handful of people have ever held the position. More people have walked on the moon.
After two gloriously sunny days the clouds rolled in on Wednesday so it was indoor stuff. Some museums I thought. As Katy would have said "who are you, and what have you done with Patrick".
I went on foot to the Upper East Side to the Guggenheim which was designed by the architect Frank Lloyd Wright. Some good art on display including many Kandinsky's and a load of Jackson Pollock's. Almost enjoyed myself.
Just down the street was the Metropolitan Museum of Art or the Met as its called which was fabulous. The largest art museum in the US and the best museum I've ever been to. Two million square feet and 2 million exhibits. Truly breathtaking.
A few blocks down was the Frick Collection (not to be confused with the Brick Collection which started after 9/11). Poor taste? It was the private house of Henry Clay Frick, a wealthy industrialist who died in 1919 and it housed dozens and dozens of paintings by the old masters including Gainsborough, Reynolds, Constable, Turner and van Eyck. I wasn't in there long but good all the same.
So in three days I've been to St Patrick's Cathedral, Bloomingdales, Sak's of 5th Avenue (that had a whole floor dedicated to Wellery), the Statue of Liberty, Ellis Island and the 9/11 memorial. I've walked over the Brooklyn Bridge, been up the Empire State Building, cycled round Central Park following callipygous men and women, ridden the subway, watched some tennis at the US Open, had a cocktail at Cipriani's inside Grand Central Station, beaten my record for continuous watching of the Weather Channe (hurricane Irma) and seen some art and old pots. Great city. I left NYC on an Amtrak train from Penn station headed for Williamsburg VIrginia.