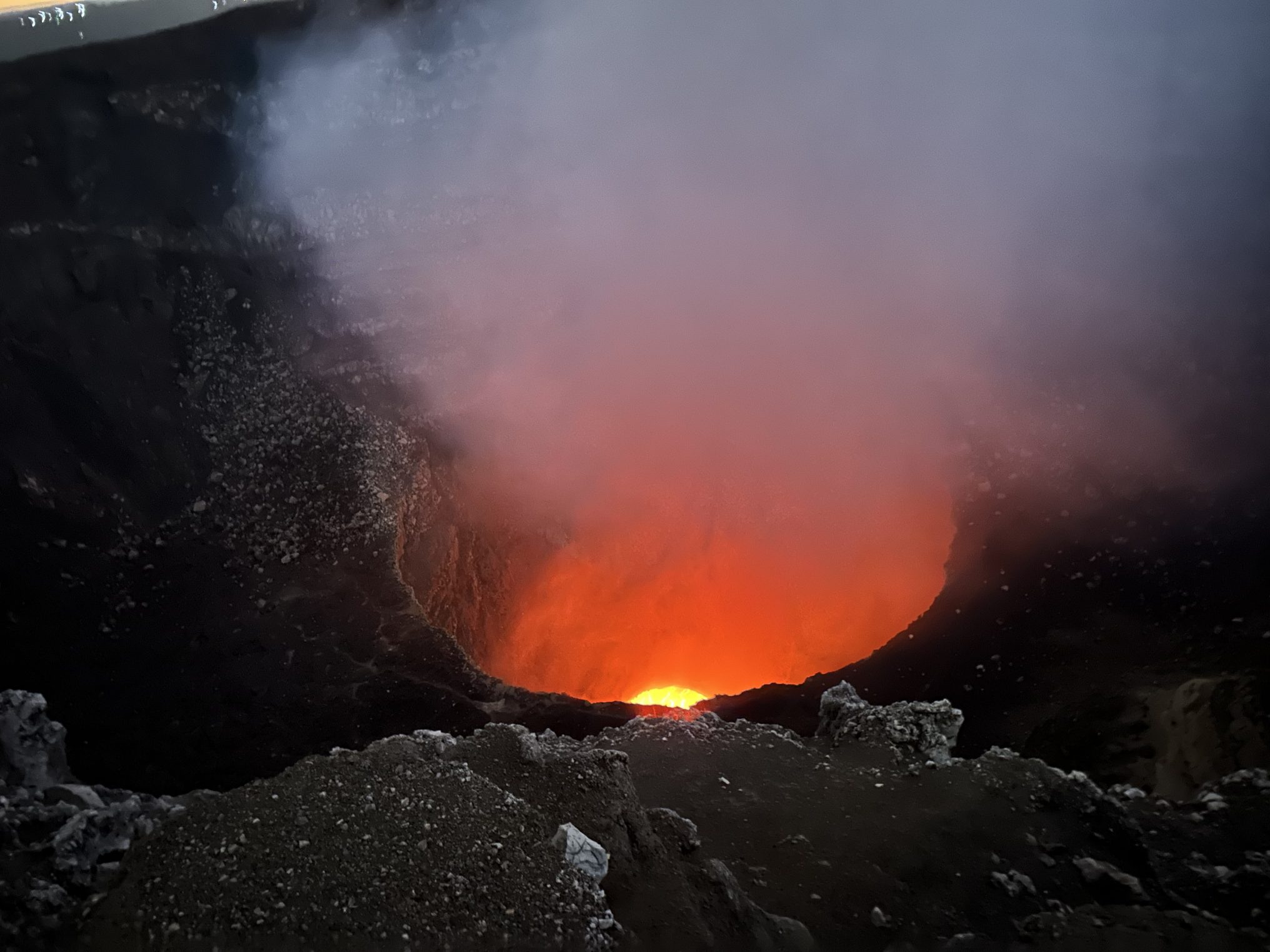 Day 5 – San Juan del Sur to Granada, Nicaragua
We had a free morning to do as we pleased so I went walking and exercising along the shore. Australian Allan persuaded me to go for a morning livener and I succumbed. We found a beach bar and had a couple of early glasses of wine.
We all left at lunchtime and headed to the city of Granada. Our first stop was to have a better look at Lake Nicaragua. It's the largest lake in Central America at 3200 square miles. A decade ago a Chinese businessman by the name of Wang Jing headed a project to built a shipping canal in Nicaragua to rival the Panama Canal however the project was abandoned for a variety of reasons. On the other side of the lake is the San Juan River which flows all the way to the Caribbean. Lake Nicaragua is supposedly the only lake in the world where oceanic creatures such as Bull Sharks live. These sneaky sharks have adapted to the freshwater. The website "Shark Attack Data" says there have been three shark attacks in the lake – two fatal and the other not. The last one was 1944.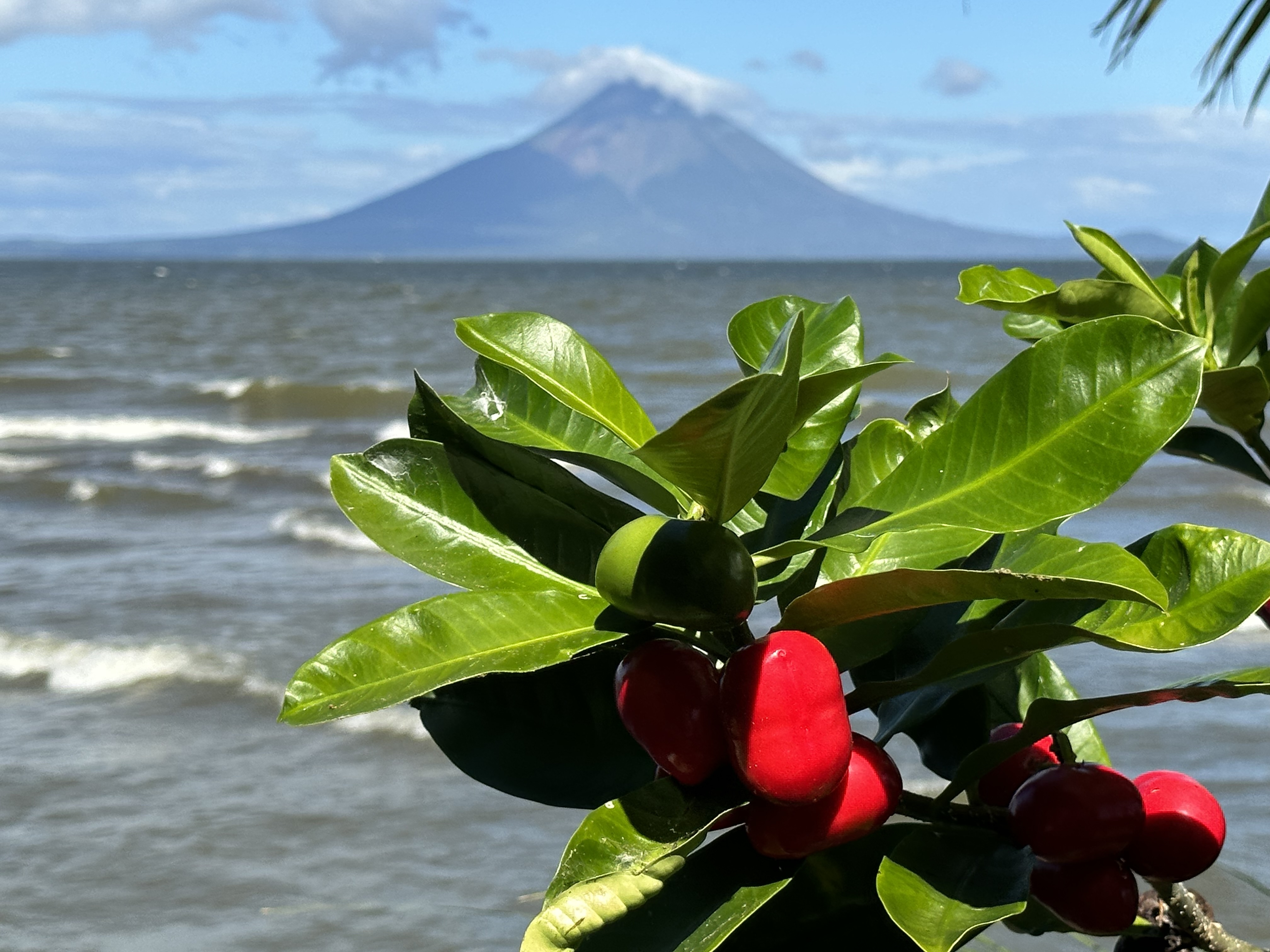 There are 13 of us on the trip. 5 men and 8 non-men. The two couples – Australians Allan and Christine, and Canadians Dennis and Gail, have both been to over 100 countries. Weidong Shi is the surprise package. He's around 60 and lives in Singapore although he is from China. His Chinese passport was somewhat restrictive in terms of travel so, last year he paid $150,000 for a St Kitts & Nevis passport. He has been to about 130 countries. The big reveal came at dinner one night when he shared a video of him opera singing in a restaurant. He's an amateur but very good. I asked him if he knew Nessum Dorma and he immediately burst into song. It was a Susan Boyle moment. He can sing in Italian, French and Spanish, but he can't speak the languages.
We arrived in Granada and one website claimed was one of the prettiest towns in Central America. The historic area of Granada is apparently "stunning" according to this inter web source. Well, after checking in to a very nice hotel – the Hotel Patio del Malinche, we were met by Ramon who would be our extra guide form two days. He showed us around and I have to say I wasn't overly impressed. We went to a couple of churches and we'd been told about the "Black Jesus" which the Spanish created in order to get the indigenous people on board with Christianity. In the first church we thought we'd found Black Jesus. But no. This wasn't the one. This must have been "Tanned Jesus" after two weeks at a beach resort.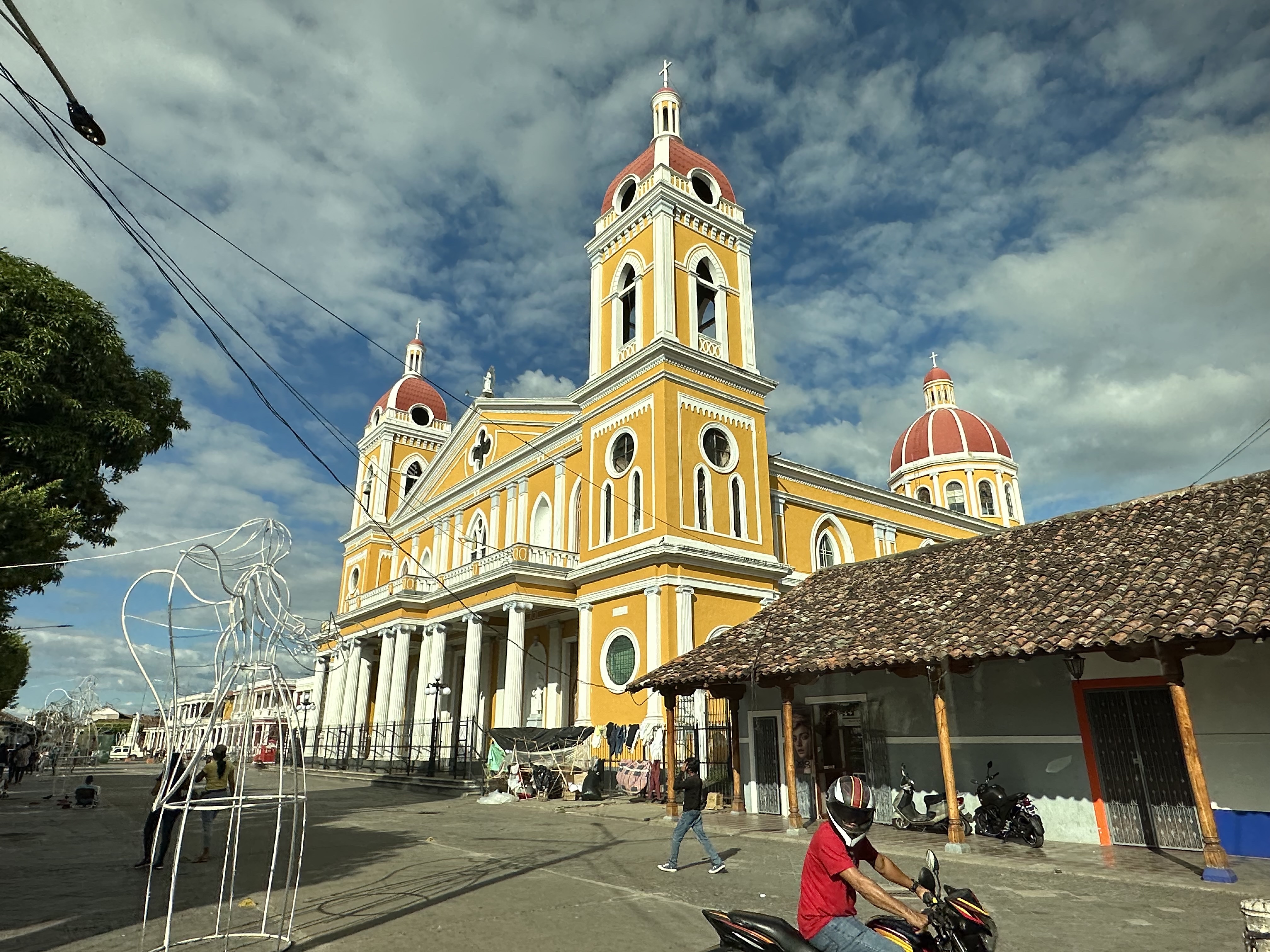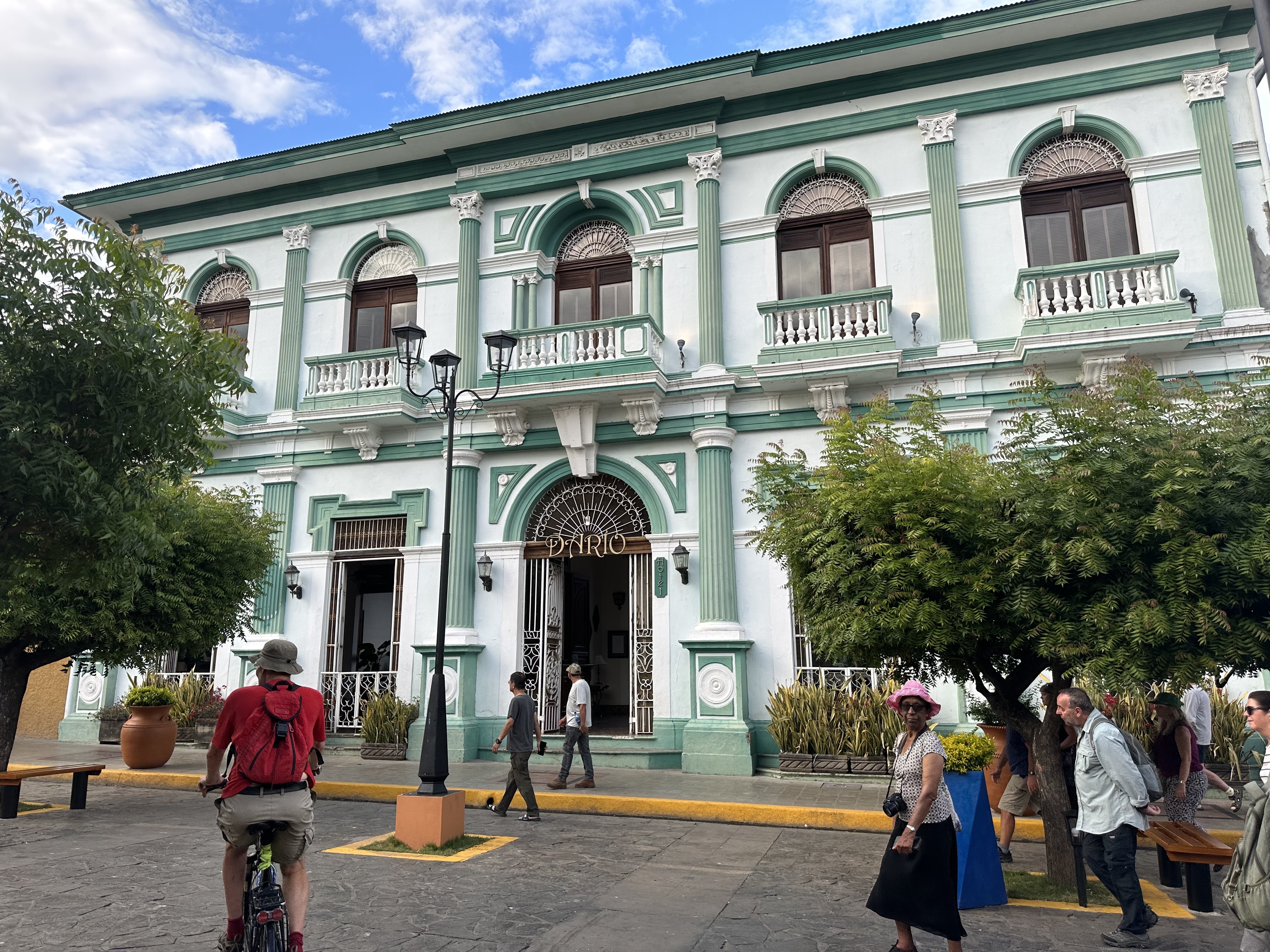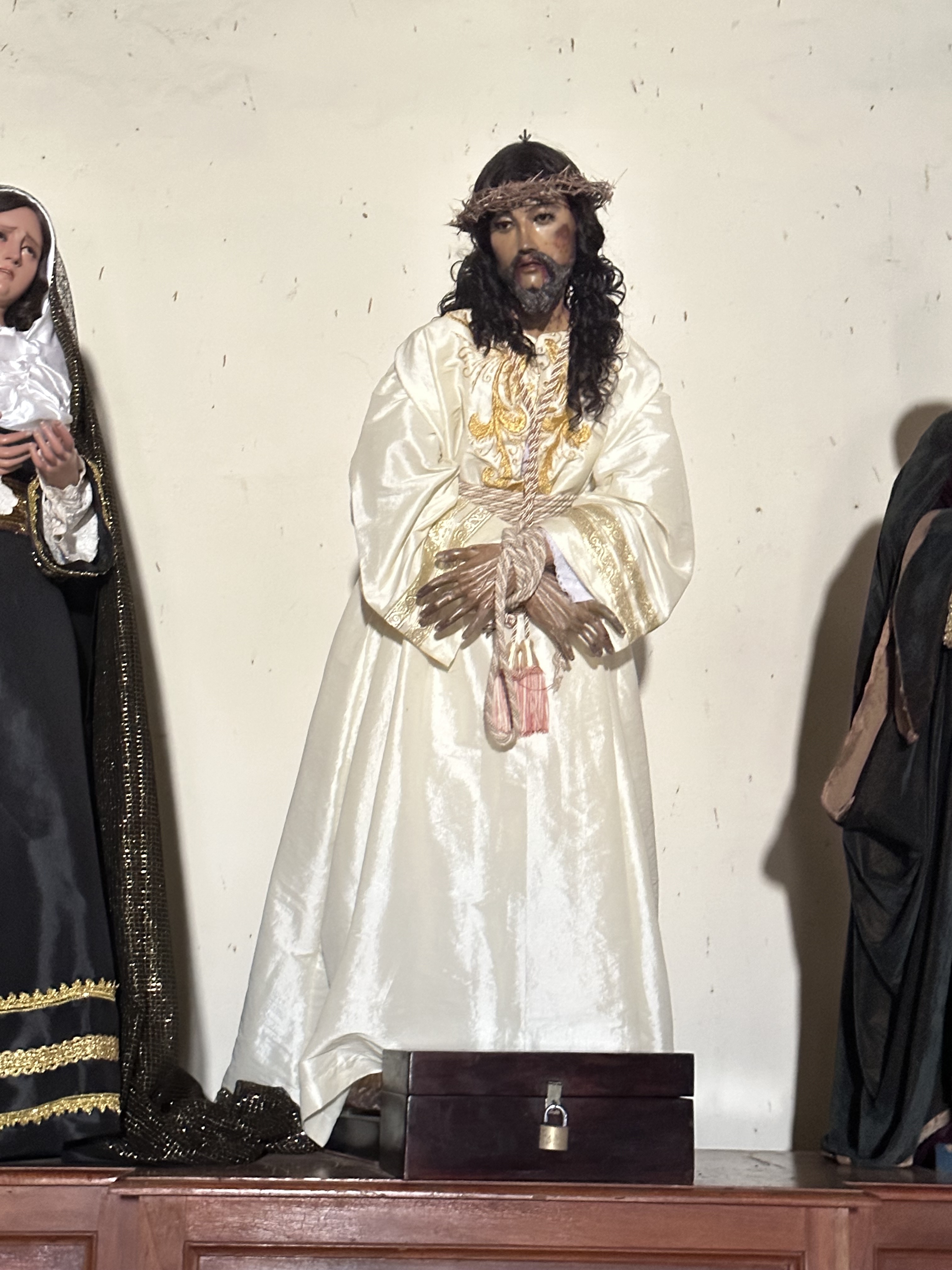 Ramon had warned us about being approached my young men offering to make us something from a palm leaf. According to Ramon, glue-sniffing is a real problem in Granada amongst the youth. After the tour most of the group dined together and I had one of the most unsatisfactory cheeseburgers of my cheeseburger eating career.
Day 6 – Granada, Nicaragua
At dawn, I headed down to the lake to see what I could see. It was only a few blocks away and it was mightily breezy. We had a second night at the same hotel and were offered some early morning activities – a boat trip or kayaking, both on Lake Nicaragua around the islands close to the shore. There are 400 islands created by volcanic eruptions, and most of them are near the shore in Granada.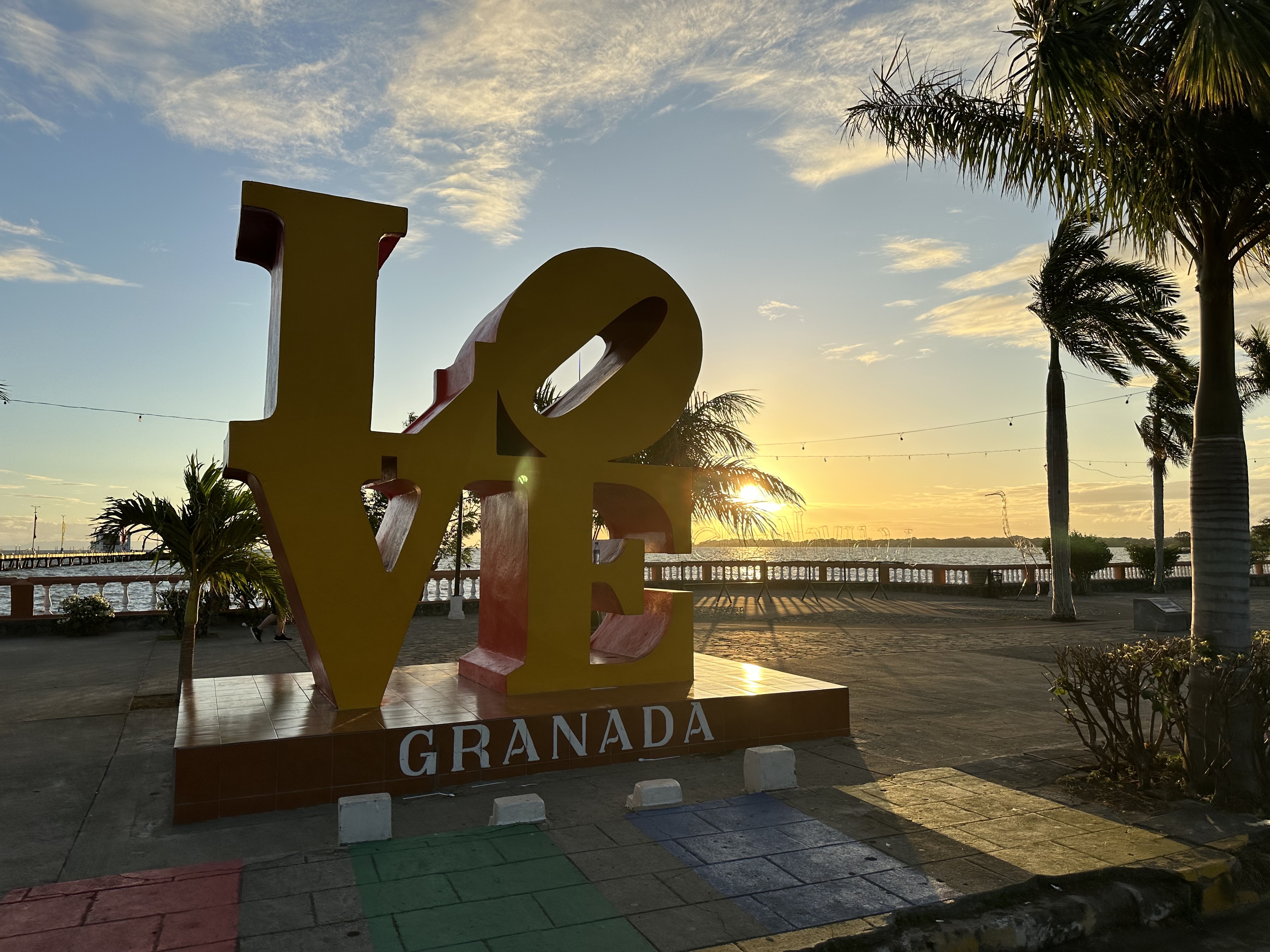 I chose kayaking for the exercise. Within minutes I realised my error. It was a bit rough and wobbly. Things improved when we had the protection of the islands. That part was lovely through mangroves with cows in the water. But it wasn't long before we were exposed again with a swirly sea throwing me in all directions at times. We stopped at some trees and I got a little tangled trying to take photos. I ended up getting bitten on the face by killer ants (that's my name for them), and those buggers stung. It turned into an ordeal and my arse was aching (not enough cushioning). I was glad when we got back. It was two hours long, 30 minutes which were enjoyable.
The evening activity was probably the pinnacle of the whole trip. At 4:30 we climbed aboard and headed for an active volcano – one of only 2 in the Americas. The other one is in Hawaii. We arrived before sunset and it was busy. This was a nighttime spot. The sunset was fabulous and there were viewing platforms to look down to see the orange magma. The platforms didn't give the best viewing and you couldn't really see the orange stuff but my selfie stick came in very handy. I got some great shots. It was a truly wonderful experience. The last eruption was 2008. It's called the Masaya volcano but in actual fact there are four craters – Masaya, San Pedro, Nindiri and Santiago and Santiago is the active one.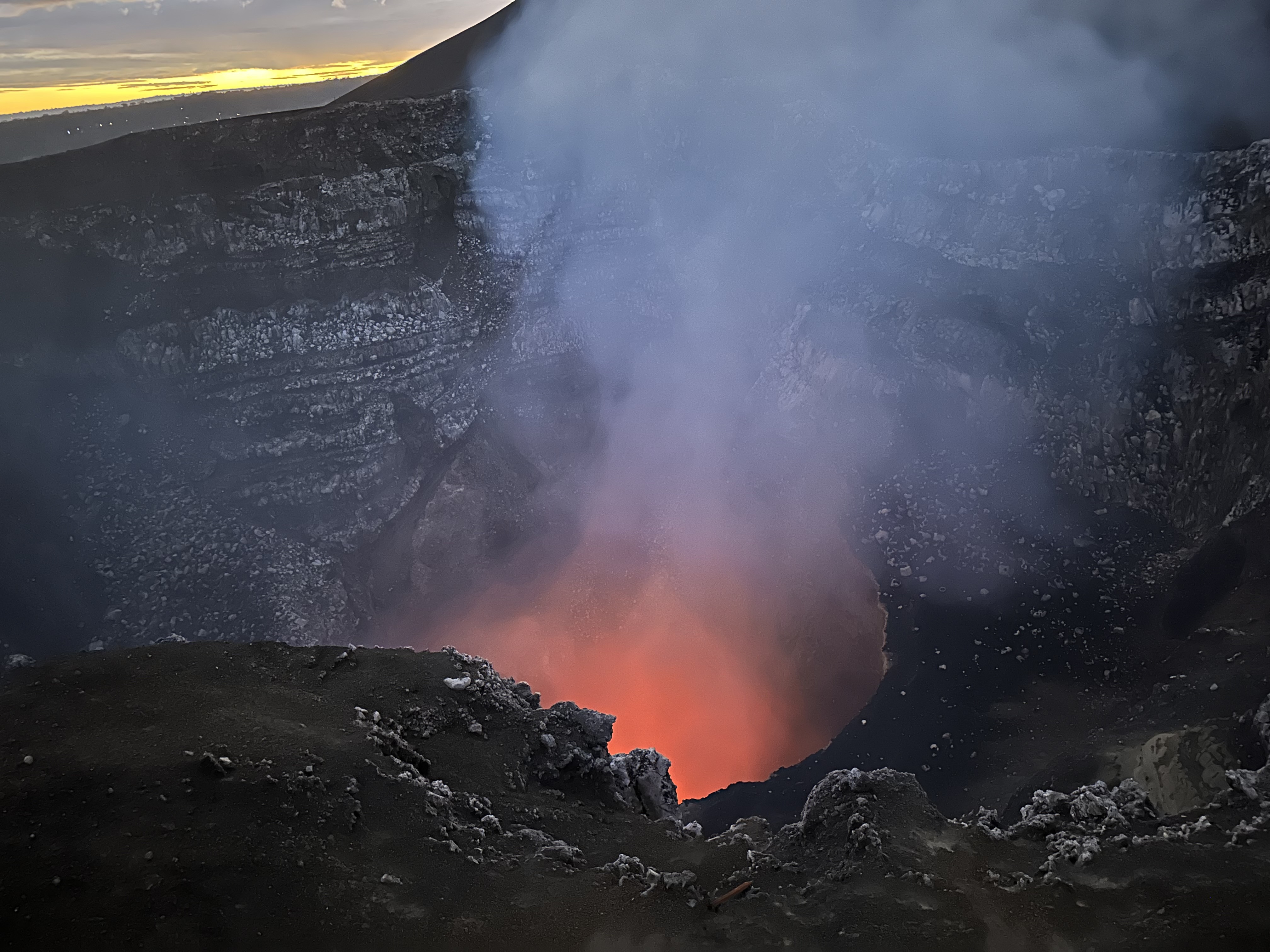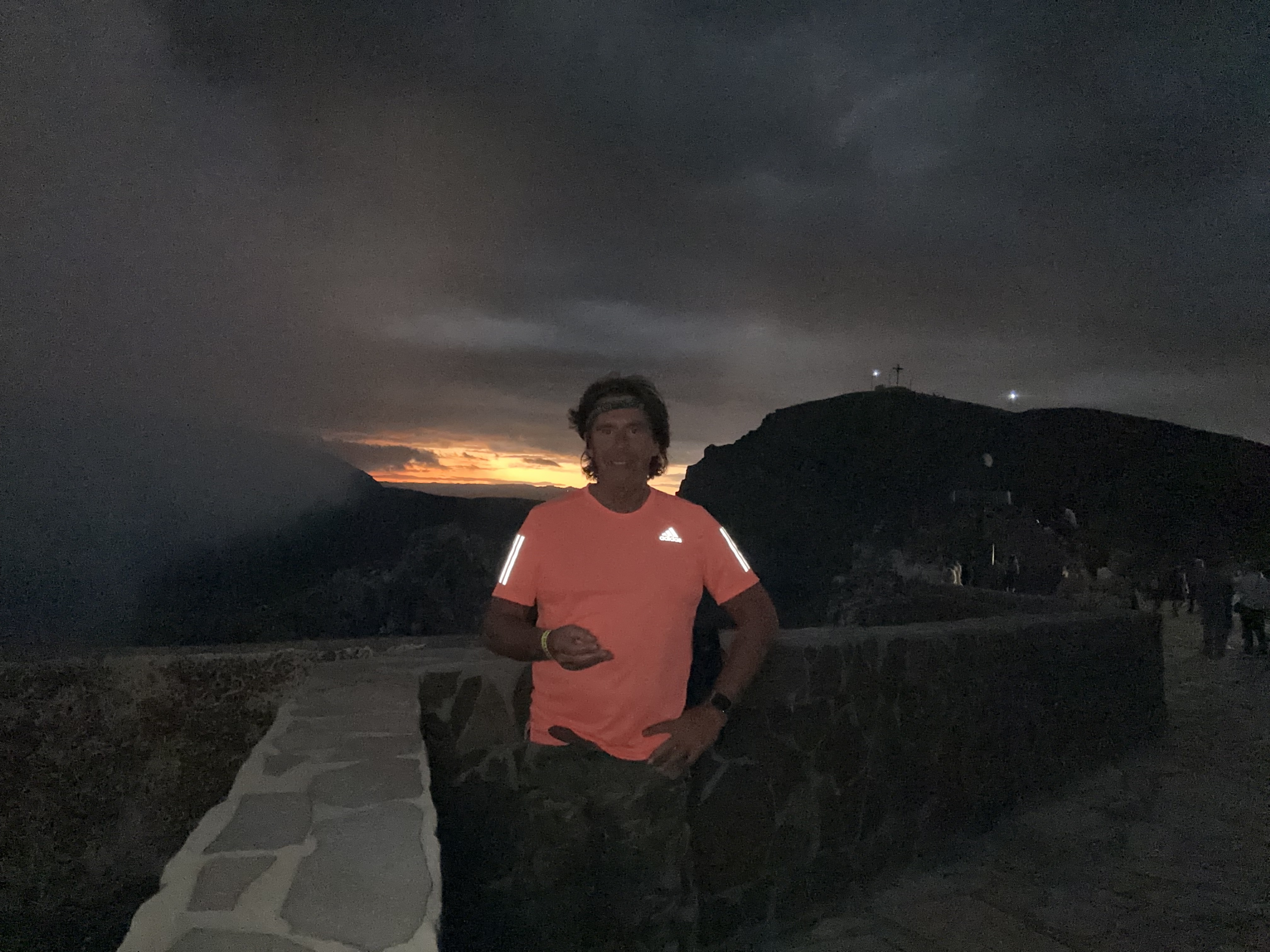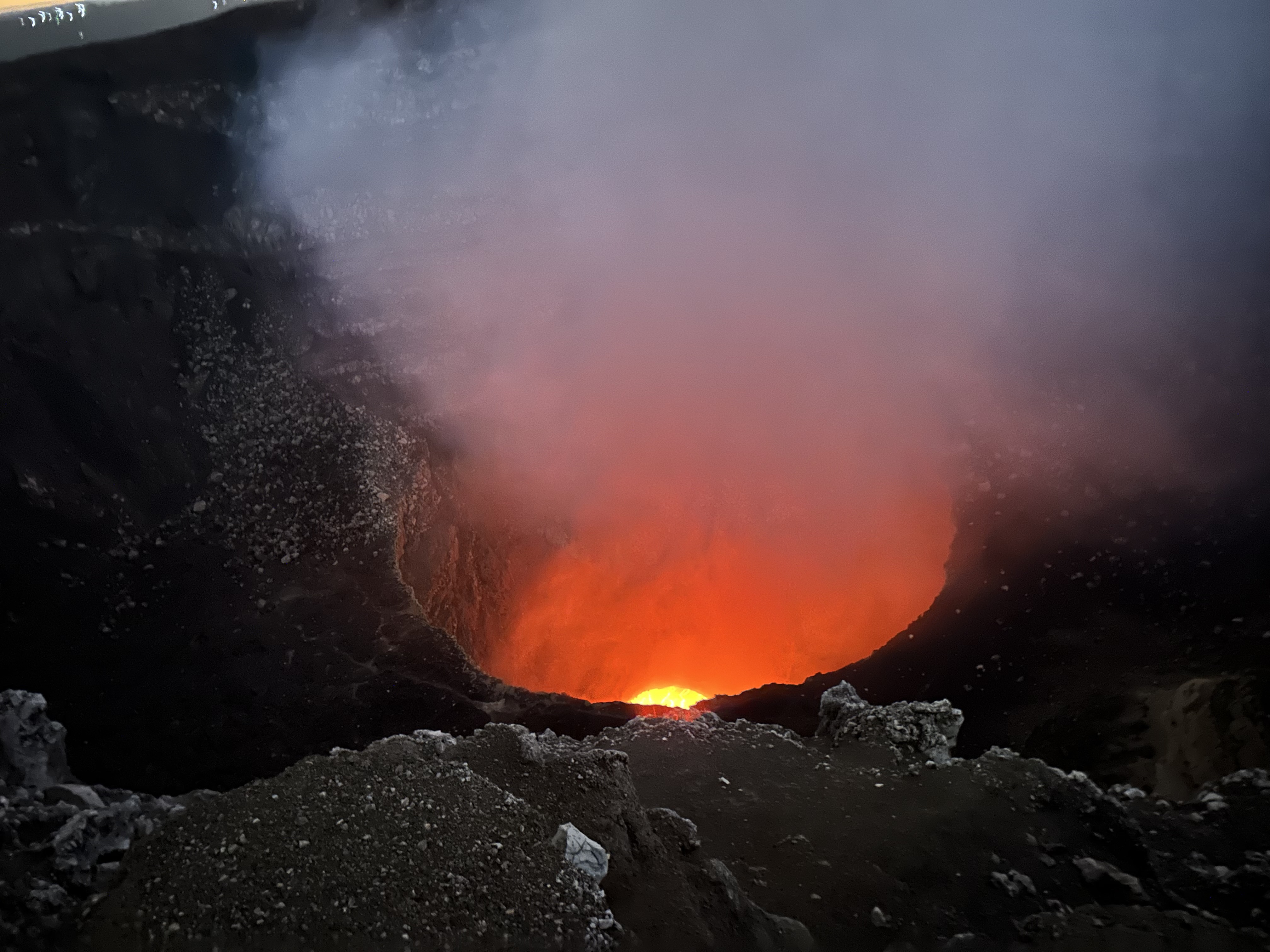 Day 7 – Granada to Leon, Nicaragua
I was up at the crack and headed down to Lake Nicaragua again to see the early morning sun. If I lived here (unlikely) this would be my morning ritual. After two nights in Granada we packed up and headed to a market in a nearby town of Masaya. I bought a belt. We headed up to the volcano again with a short activity planned. In days gone by, they'd throw children and virgins into the volcano as human sacrifices. If ever there was an incentive to be promiscuous from an early age, this was it.
We continued on and had a brief tour of Managua in our bus, stopping at a few places of interest. Lunch was a curious buffet place with a security guard stationed outside. The whole place did feel a little big brother.
Ramon was a fabulous guide with excellent English and a keen regard for country music. He spoke about student riots in the country which occurred on Mother's Day – May 30th 2018. President Ortega was in Cuba receiving a blood transfusion at the time and his wife, Rosario, who had only been the vice president since the year before, ordered the troops to open fire. The rioters were demanding the president resign. One student actually faced Ortega and demanded his resignation with an impassioned speech. She left the country soon after for her own safety. Upon returning she was imprisoned for 20 years although my internet research informs me that she may have been released.
In other news, Nicaragua has taken the protection of women seriously and if a man wolf whistles at a woman, or engages in other inappropriate advances, he will likely get three months in jail.
We arrived in Leon 90 minutes later and checked-in to the Hotel Austria located in a rather unappealing street. We had a tour with a local guide, but after 15 minutes of him talking, we were still in the hotel lobby so I decided to go freestyle.
Before leaving the hotel on my self-directed mooch, I managed to secure the use of a refrigerator for $2 a day. We hadn't had a fridge in any of the hotels thus far. I asked if they also rented trouser presses, but alas,I was out of luck.
Walking round Leon, it felt just like other places I've been to in Central America. A degree of squalor, buildings in a state of disrepair and a general sense of poverty.
Day 8 – Leon
The description of Leon is that it is "trapped in time" which is generous in my view. There didn't seem to be any effort to preserve or restore the Spanish architecture which I guess is about funding. We had a free day with two unappealing options therefore Aussie Allan and I decided to go to the beach. When we arrived it was deserted and during our couple of hours there, we didn't see a single person on the beach. We were missing towels and lying on the dodgy looking sand wasn't going to provide me with the joyous feelings I was after, so we found a beach bar and he made me have a beer or two. After seeing the photos from the hiking excursion, I wish I'd done that.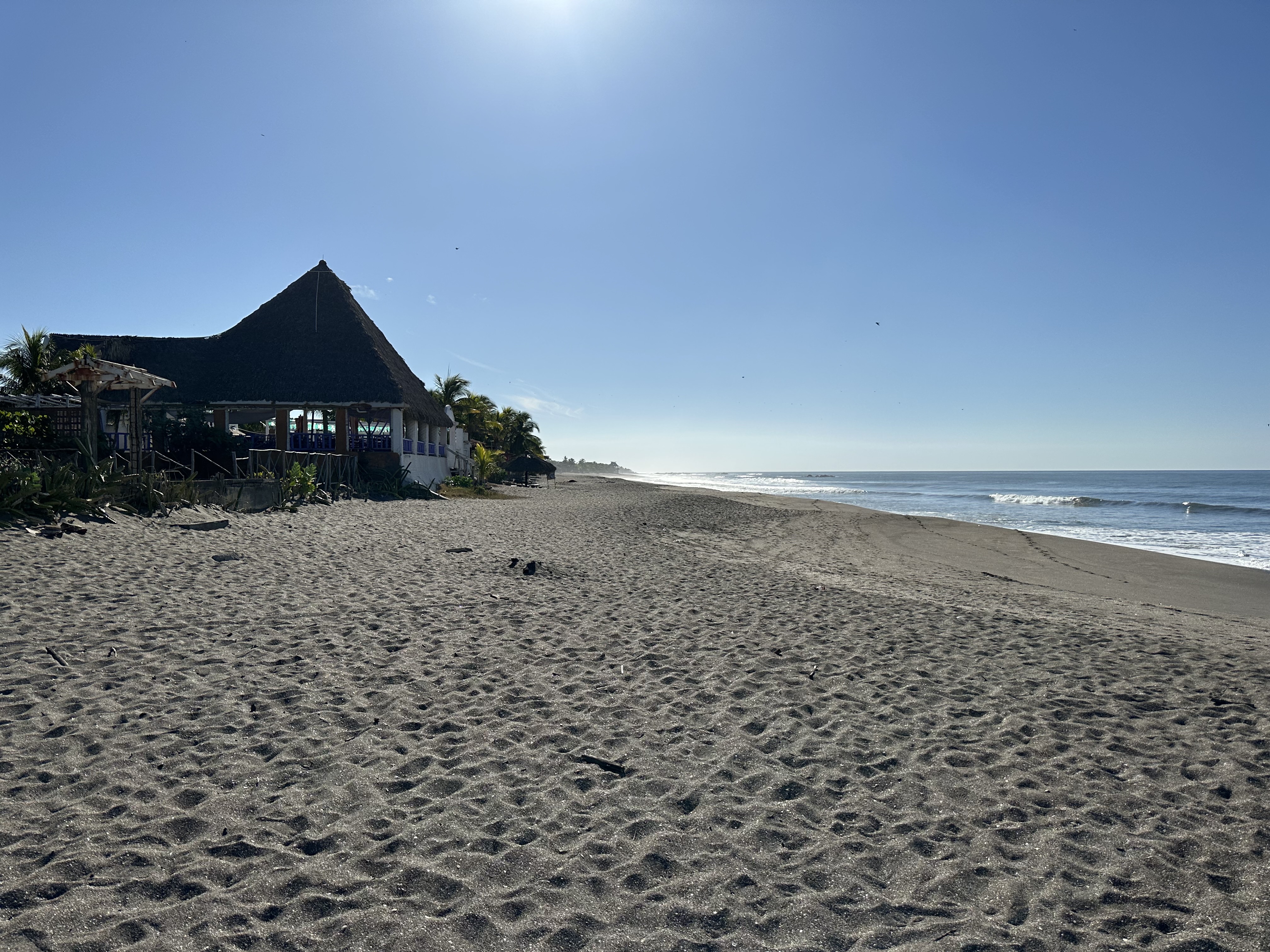 The following day, we were heading to El Salvador and had to go through Honduras to get there. The Honduran authorities have come up with an online form for arrivals and it's shit. Completely ridiculous. No wonder the country is in economic trouble.
Day 9 – Nicaragua to El Salvador
We left at 5 am and today was going to be a long day with two border crossings and lots of minibus time.
We arrived at the border of Honduras shortly after 7 am and just waited. It was quiet but undermanned. Once again the luggage had to go through an airport scanner. I'm not sure what they are looking for. Volcanic rock maybe. Then the bags went back on the bus. This whole process took us an hour.
It was custard creams and rum and coke for breakfast. We stopped just over the border for a banos break. Dual pans. Very original. There was a line of trucks waiting to cross the border which stretched for a couple of miles.
We crossed the border for a second time. It was busier but quicker. Then lunch at a gas station. Then on to a town halfway to our evening stop. Ilobasco famous for its ceramics and you know how excitable I get around ceramics.
We had left in the dark and we arrived in the dark, 14 hours in total. We had arrived in the town of Succitoto and the hotel was exceptional. It certainly made up for the long day travelling. We had two nights in this hotel which was highly pleasing. Hotels in Central America like a courtyard and this one was stunning. I thought my room was fabulous until I saw some of the others. Colin and Isabel had the equivalent of the King Julian suite. It was actually quite appropriate as Colin was on the eve of his 60th birthday.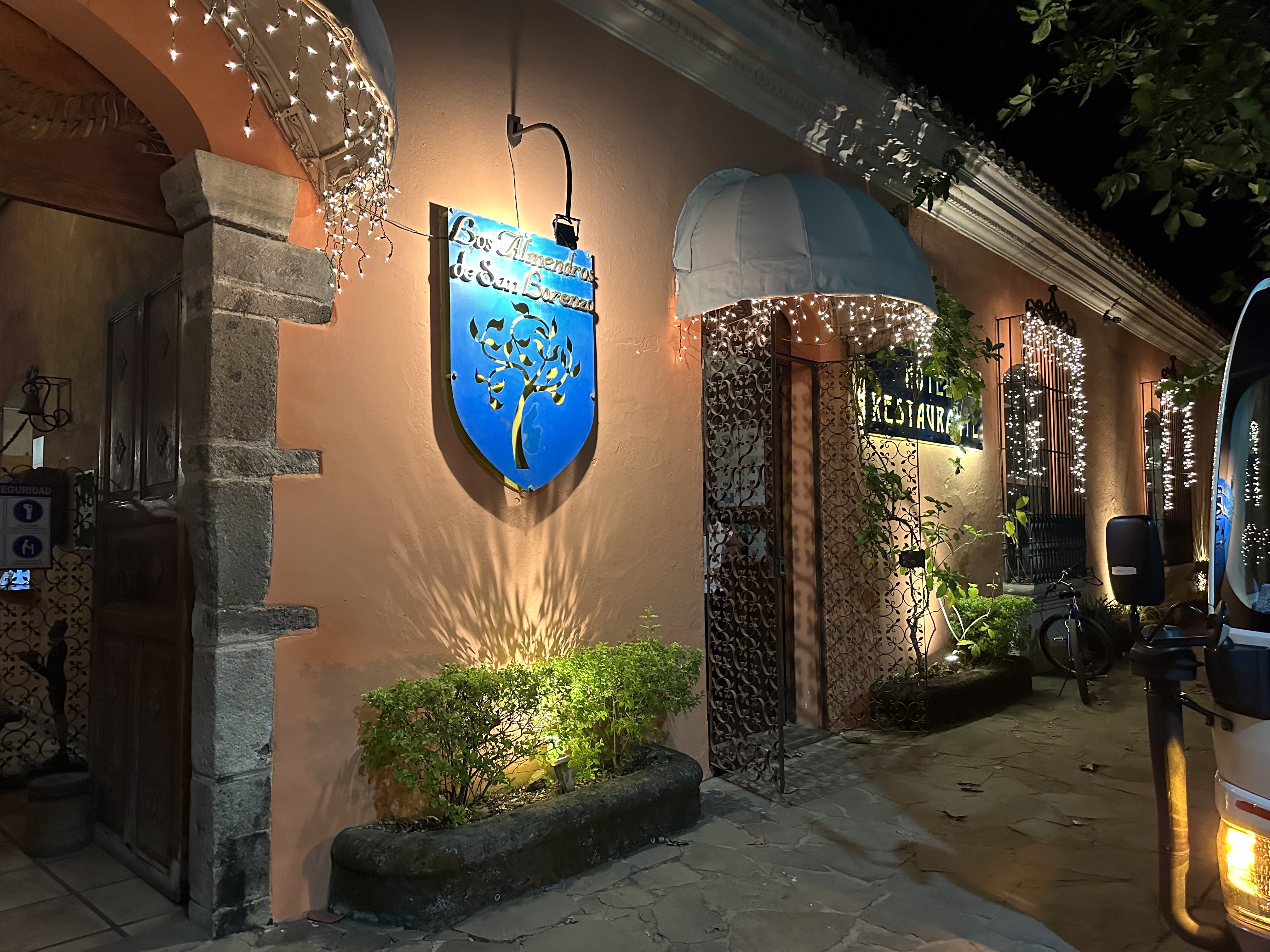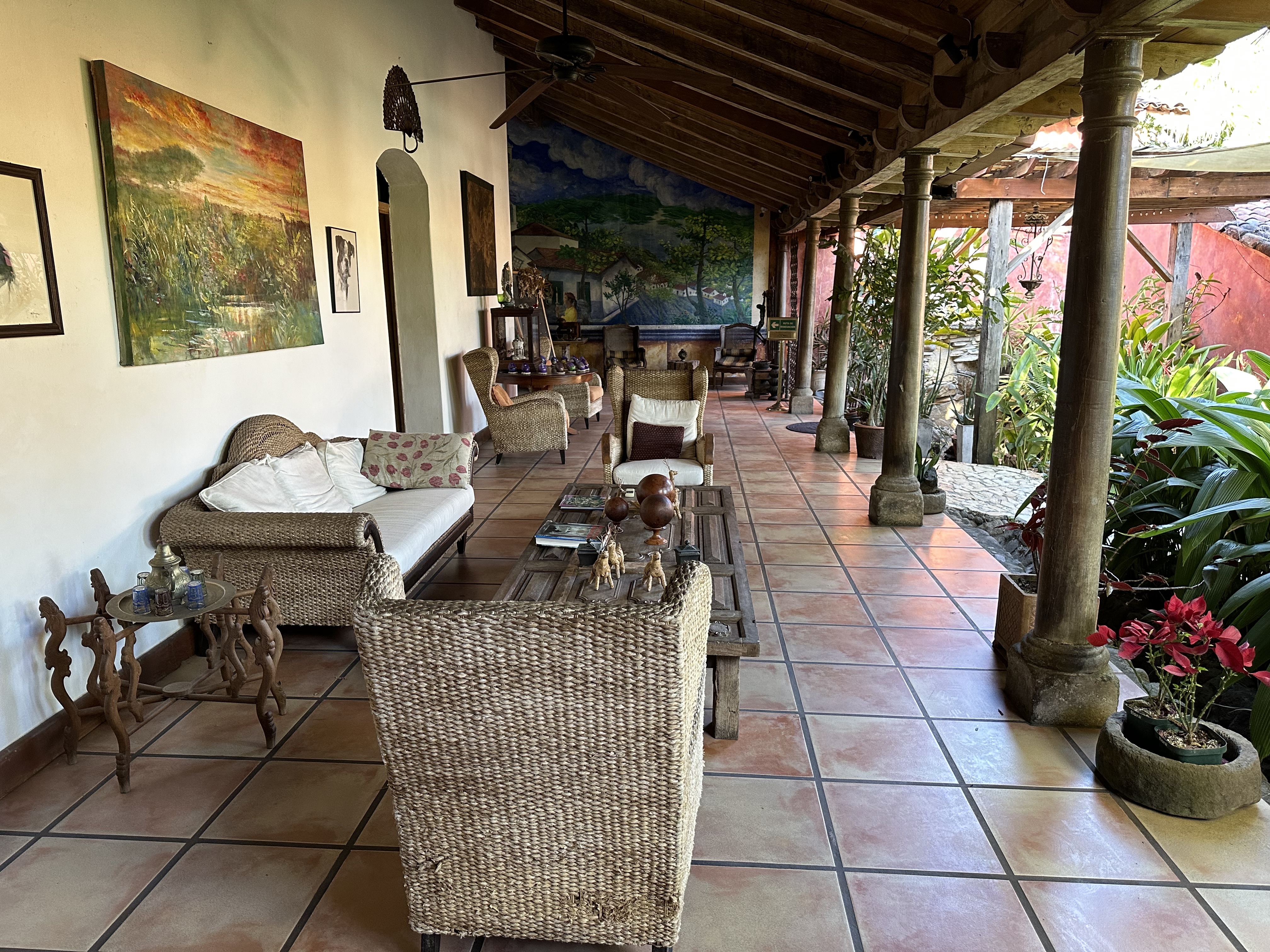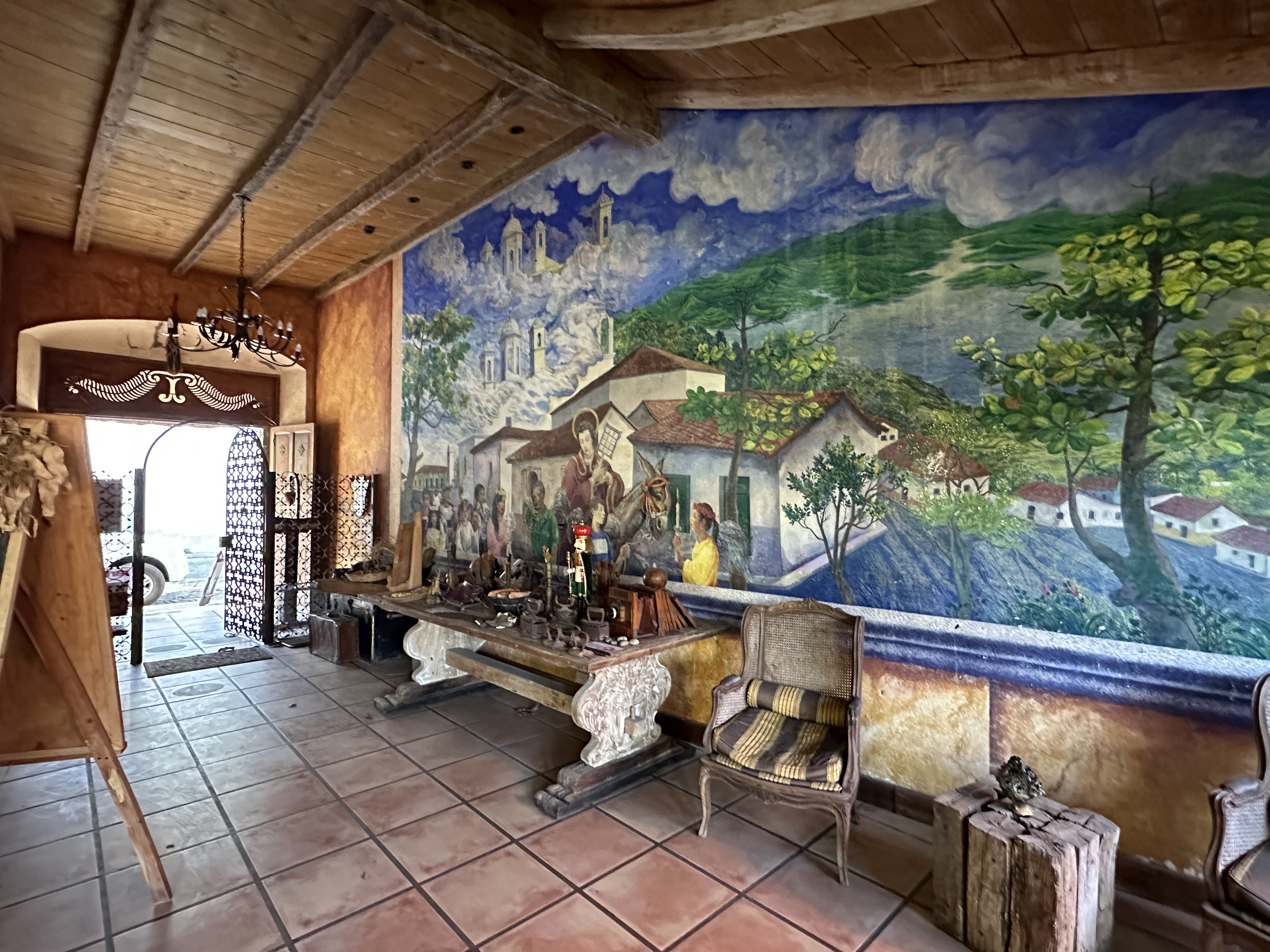 Day 10 – Succitoto, El Salvador
Before going on a boat trip with four of the others, I had a quick scoot around town and bought a t-shirt. Sadly, I am an XL in El Salvador. This place was lovely. The best vibe of all the places I'd been so far.
I'd signed up for the boat trip and ten minutes in, I realised it was more birdwatching. Miguel loves birds. I found a spot at the bow of the boat to receive my daily dose of vitamin D and just decided to enjoy the tranquility. We only saw two other boats on the water and it was a fabulous day with great scenery with greenery and mountains – and birds of course. It was unspoilt and undeveloped allowing many species to thrive. We chugged around some of the 66 islands in the lake. The lake was created in 1973 and now provides 60% of El Salvador's electricity needs.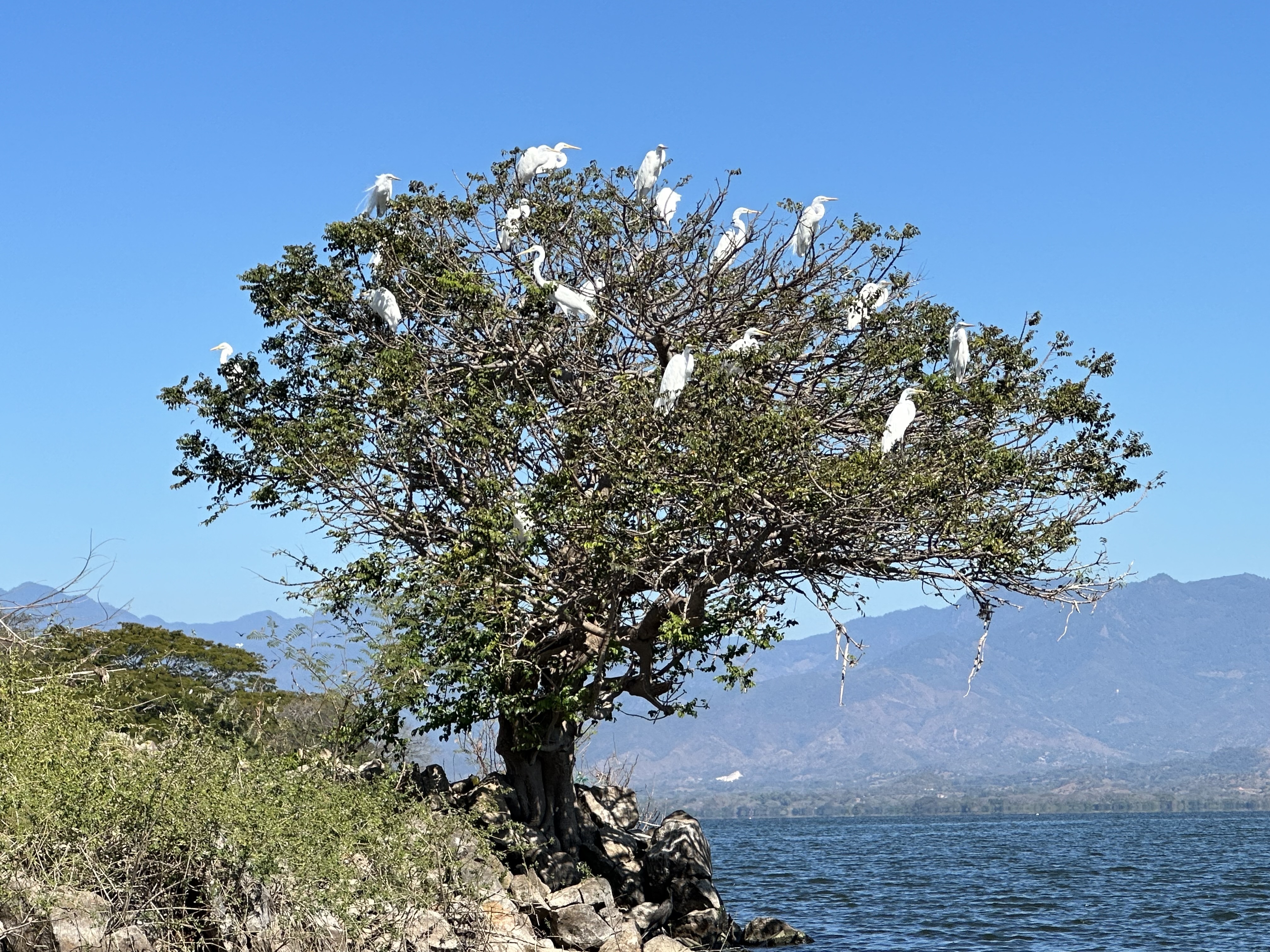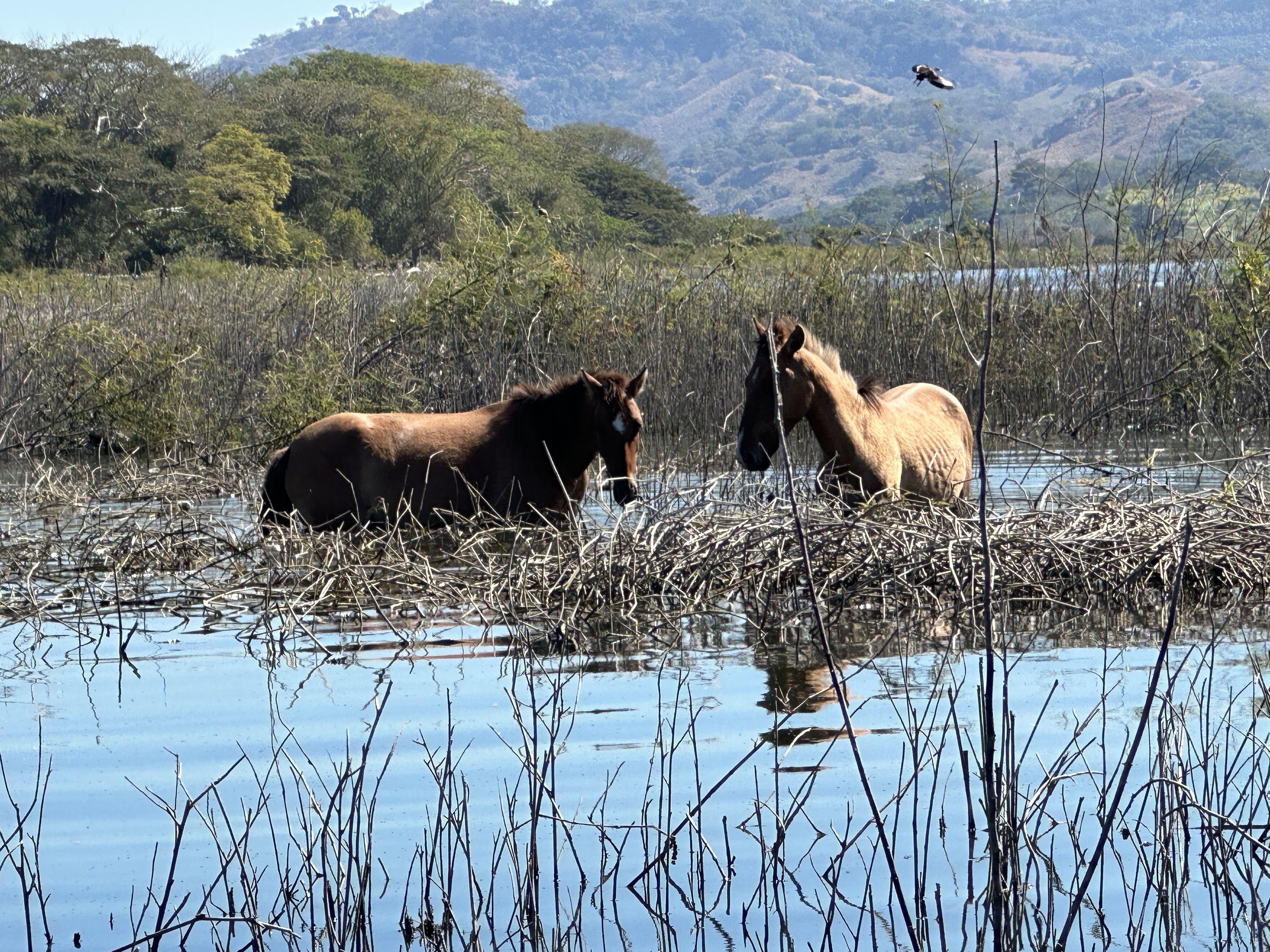 Not wishing to upset bird lovers, here is an in-exhaustive list of some of the 19 species we encountered. The black bellied whistling duck, the black-necked stilt, the neotropic cormorant, the yellow crowned night heron, and the great tailed grackle. It was twitcher's heaven.
Our guide is Miguel Vasquez from Guatemala and along with extensive bird recognition skills, he knows about volcanoes, highest elevations, and national trees, birds and flowers. It's information overload at times however I'm sure I will remember the important stuff. Such as, Panama isn't counted as Central America because it used to be part of Columbia. This is what Miguel said but I think it's up for debate.
Currencies in CA are all different. Costa Rica has the Colon, Nicaragua the Cordoba, Honduras the Lempira, Guatemala the Quetzal, and El Salvador uses the US dollar and the Bitcoin. They also have a dollar coin which cannot be used in the US. I didn't realise that various presidents appear on the coins. I ended up with nine different presidents. If I'd known this up front I would have started a new collection.
Excluding Mexico, the largest country in CA is Nicaragua, the richest is Guatemala, and Honduras has the most curious public toilets.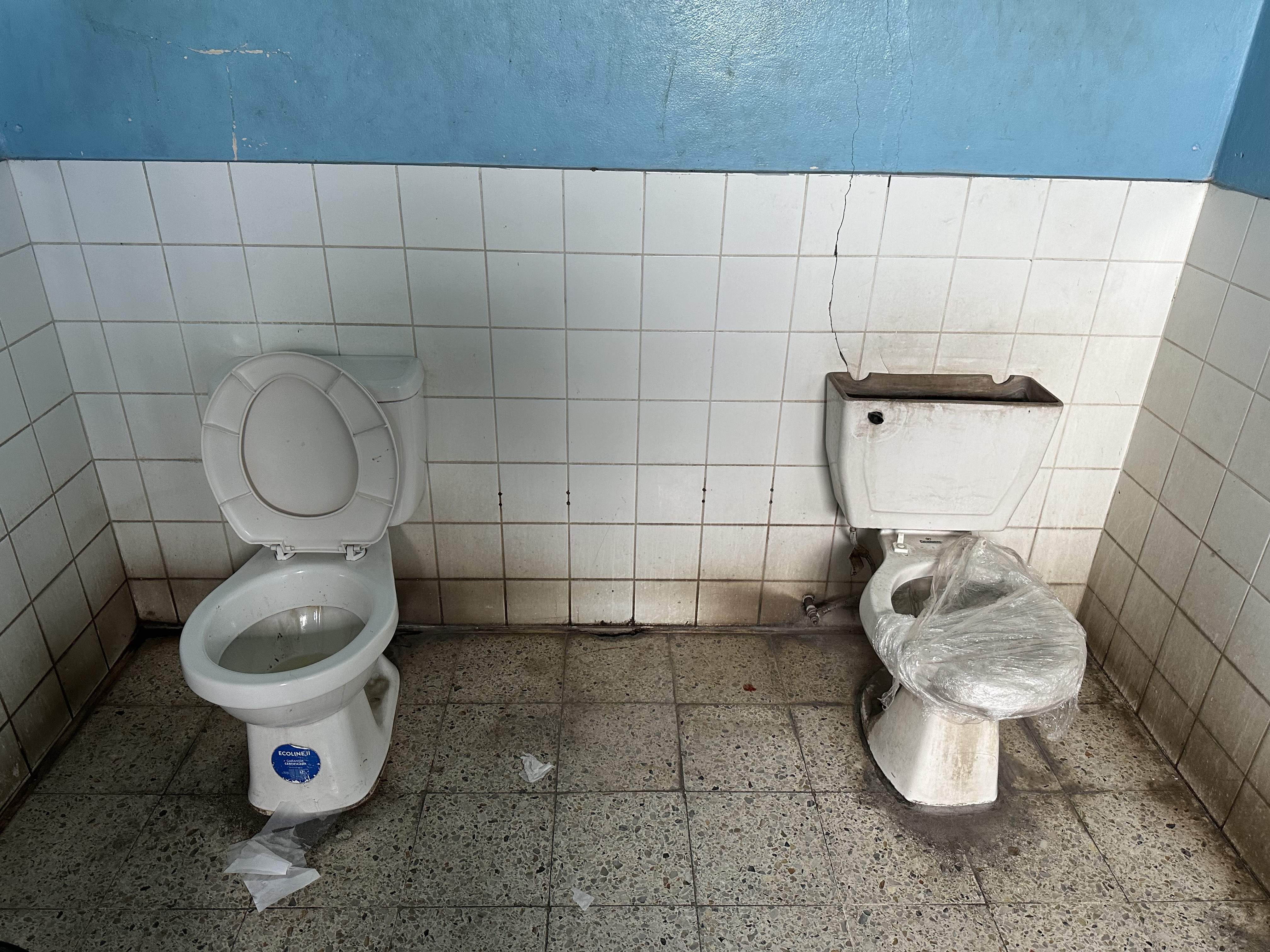 The evening was devoted to celebrating Colin's 60th birthday with cocktails, cake, dinner and a piñata. Biddy had done a great job securing the piñata (known as Antonio from now on), and also procured a broomstick. The broomstick didn't survive Colin's aggressive thrashing. A fun evening.