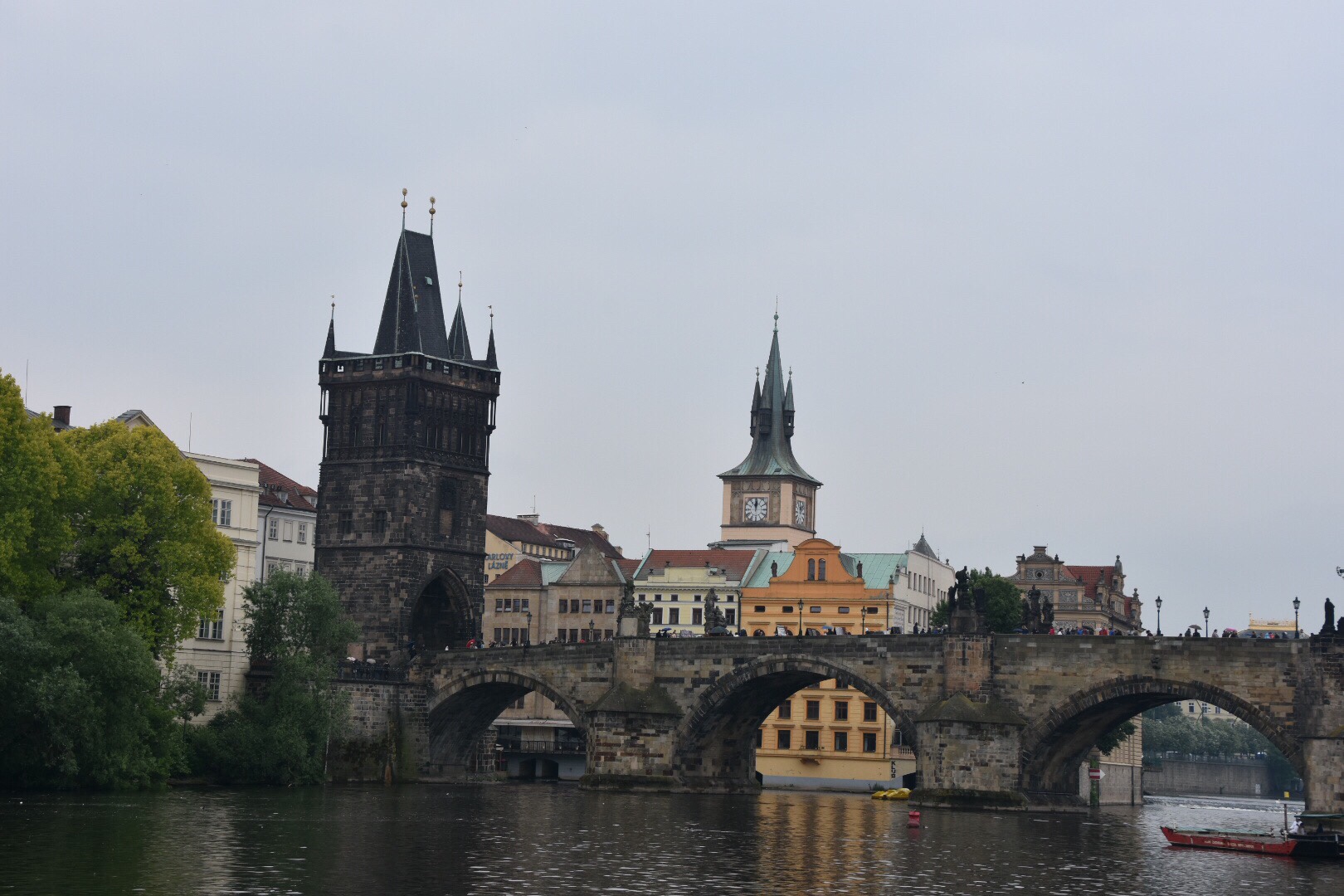 I arrived into Prague in the early evening on Tuesday and checked into the Sheraton which is home for three nights. The nicer hotels in Prague are fairly expensive and I can't say that it represents value for money. I've certainly stayed at nicer Sheraton's with lower rates but this is Prague which is one of the more popular destinations that people choose. It ranked 7th most visited European city for bed nights in 2016. London was top.
I arranged to meet Dimitra in the bar and we took the option of the hotel Mercedes to the Blue Duck restaurant. We both had duck. Six glasses and a shot of fire water later I passed out and my next conscious moment was at 5am the following morning wondering who put the TV at such an ungodly hour. Felt great. You see that's what happens when you avoid the sauce for a few weeks. You get out of practice.
After dropping off again I managed to miss my 7am rendezvous with Dimitra in the gym. I got there at 8 and managed very little before deciding that it wasn't a very well appointed fitness room with a few random machines and David Lloyd it wasn't.
After a long spell of dry weather in Prague it had decided to rain which made sightseeing less enjoyable but we persevered and walked to Prague Castle which is more like a complex of buildings but is considered the largest castle in the world. The word defenestration was invented there in 1618 following an "incident". It means to throw someone out of a window which helps to explain the "incident". One of the buildings inside the castle walls was St. Vitus's Cathedral which was impressive but full of very wet people.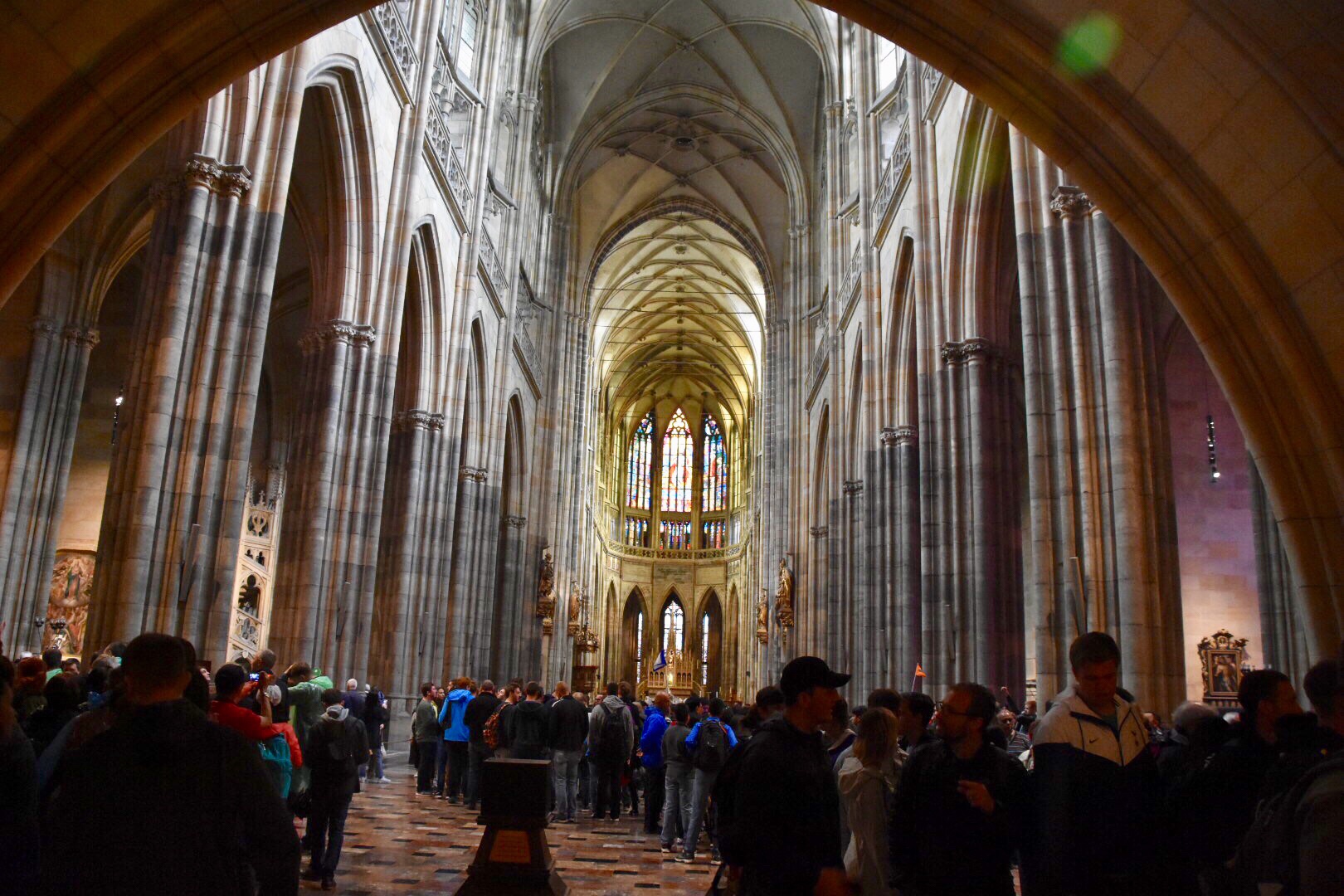 We'd crossed over the Vltava River using the world famous Charles Bridge (top ten bridges of the world) which is a pedestrian bridge with the first stone laid in 1357 on July 9th at 5:31. ' 1357. 1-3-5-7-9-7-5-3-1. After the castle the rain had eased so we went back to the bridge and spent some more time there climbing the towers at each end for panoramic views of the city (and a thigh workout).
In the evening we met Peter (Jones) who is a friend of Dimitra from Sydney. Originally from the Wirral he moved to Australia in the early 1970's aged 23. He's travelling from Berlin to Madrid in a motorhome and Dimitra is going to travel with him for a week. Peter was great company and I liked him a lot. He's almost 70 now and lost his wife 12 years ago aged only 49 so we had things to talk about. Dimitra, as I may have mentioned before is coming up to 63 and the youngest of 17. When she was born her father was 68 and her mother 51.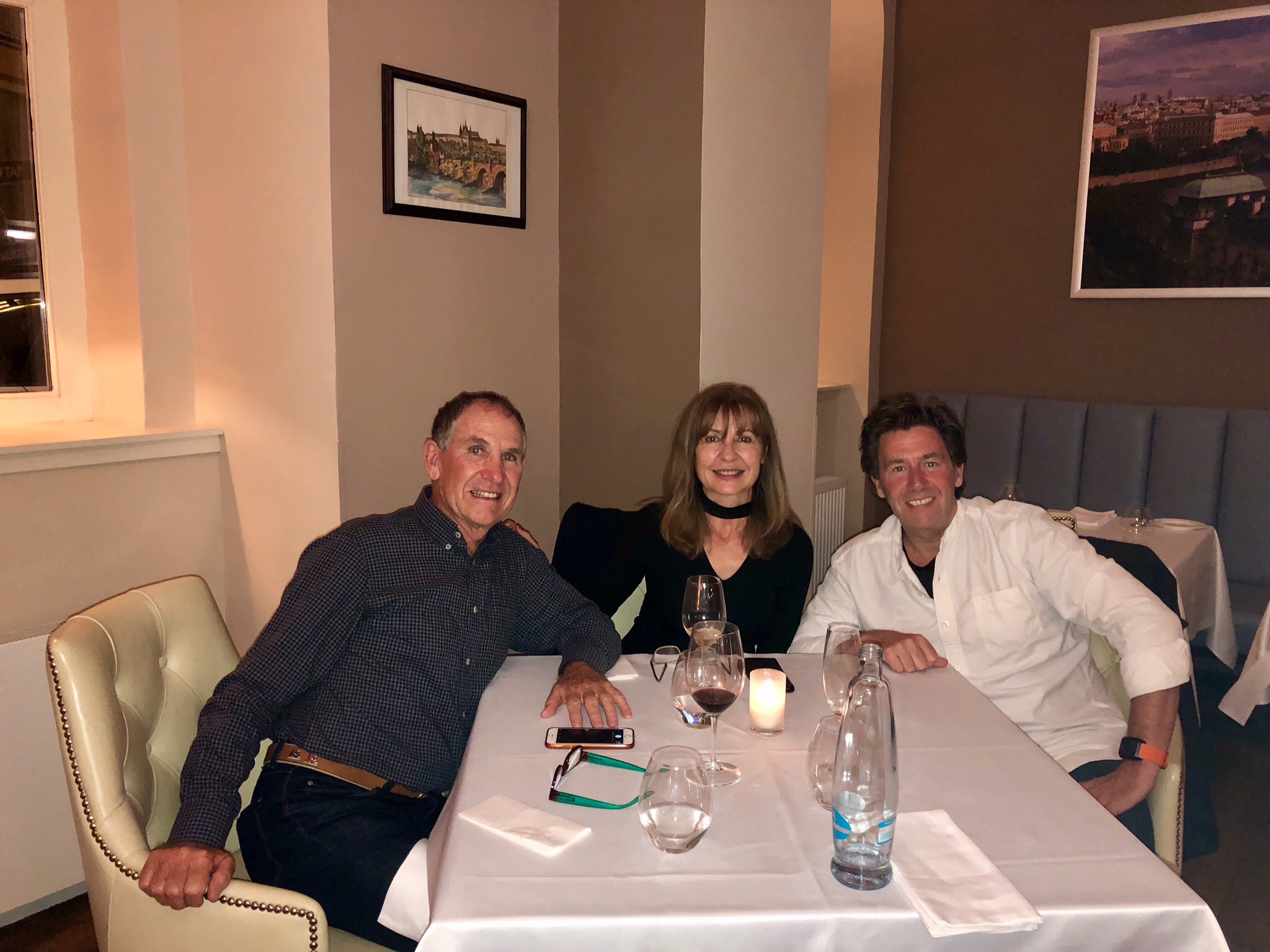 The three of us stepped out on Thursday to an overcast Prague but the rain stayed away that goodness. First stop was Wenceslas Square. Wenceslas was a king and ruled Bohemia from 921 until his assassination in 935. Bohemia is a region making up about half of the western side of the Czech Republic.
Then it was another of the observation towers followed by my favourite building in the whole of Prague, the Church of our Lady Before Tyn. Fabulous inside and out. Dimitra and I then climbed our fourth and last tower with great views over Old Town Square.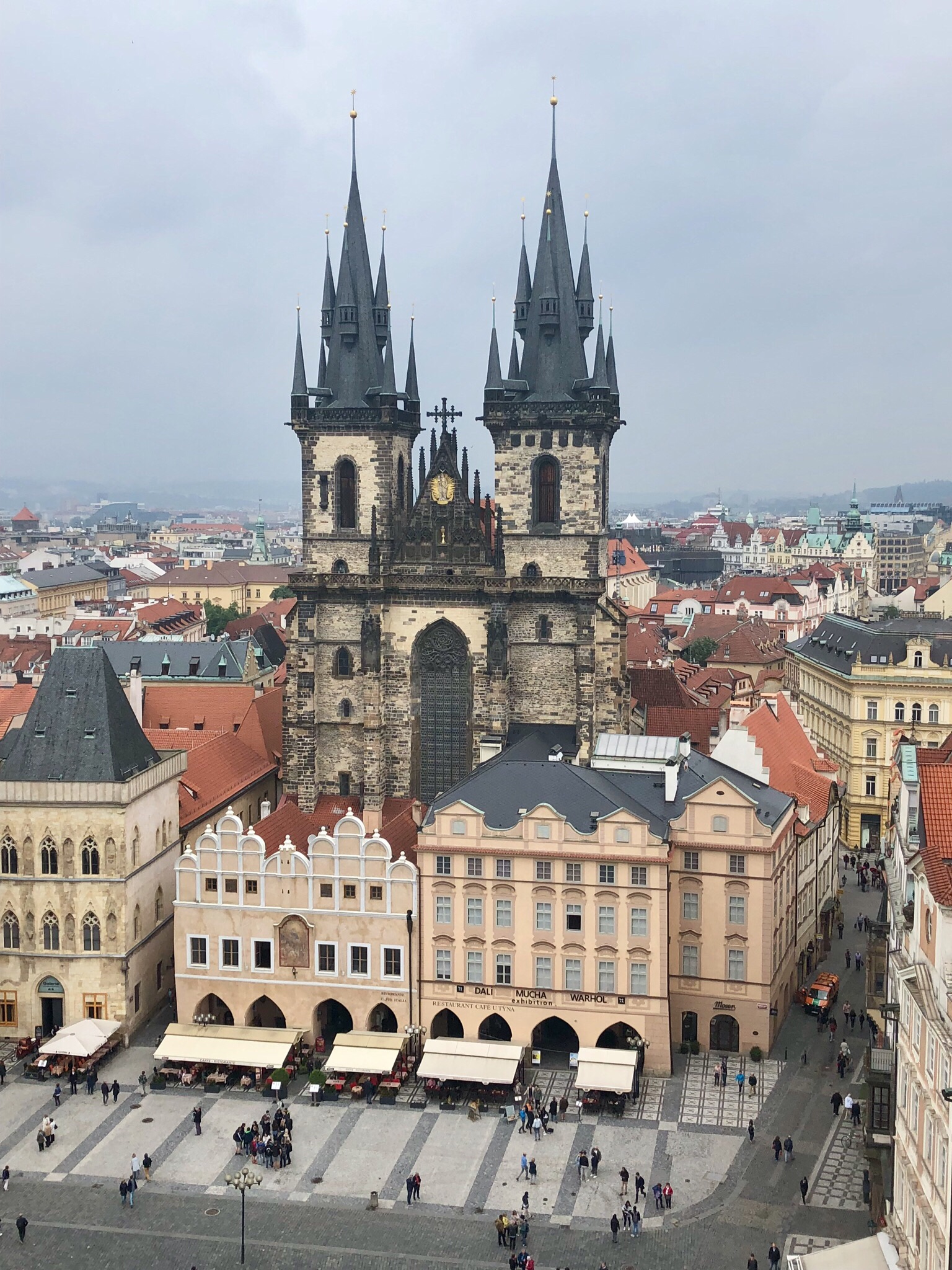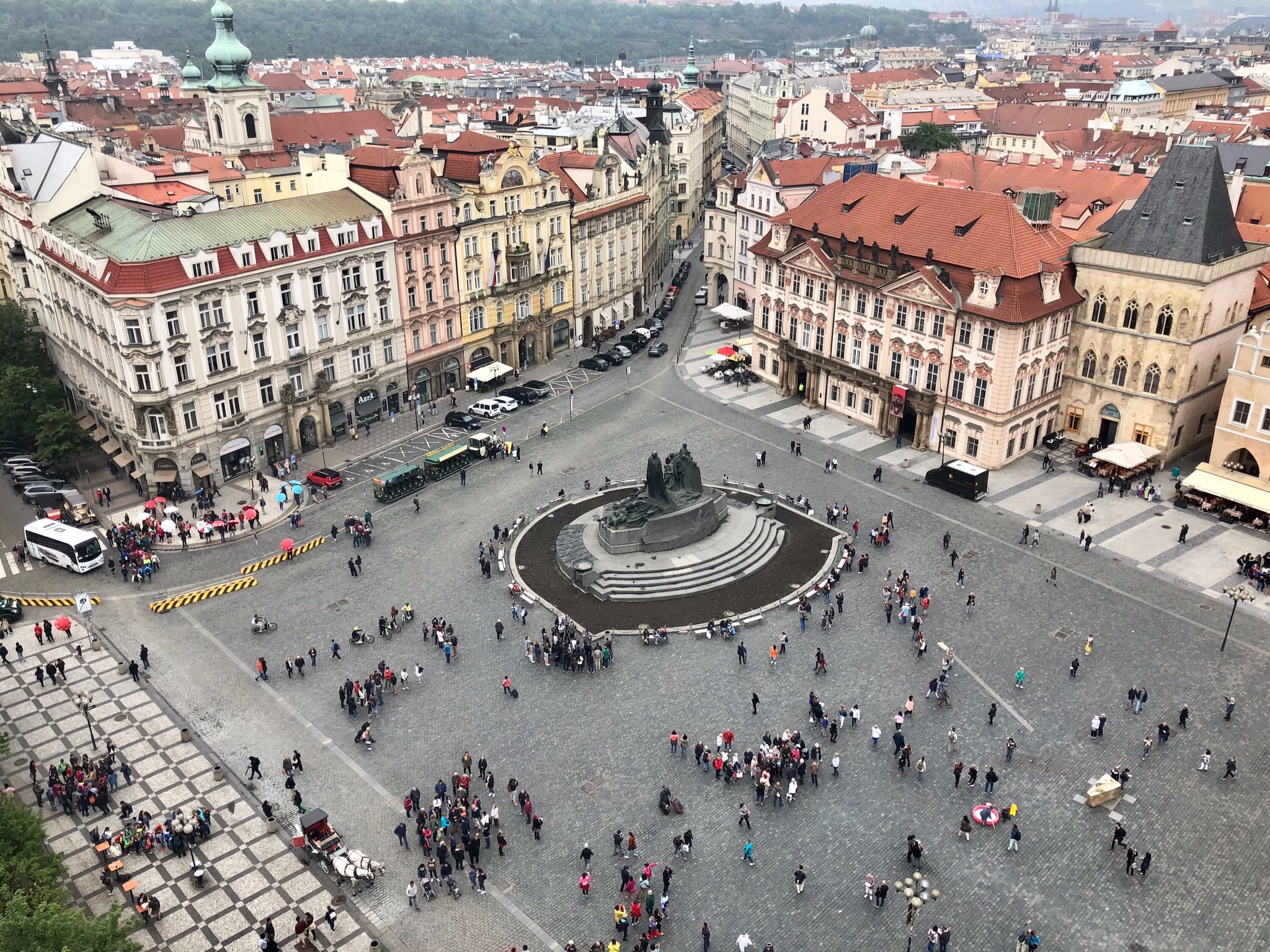 We headed over the river again using another of the bridges and for some reason I suggested we did a boat trip. It was brass monkeys – 15 degrees which is pitiful on a boat and indeed for Prague in mid-May. We were the only ones on the boat so it was a private tour of sorts but we passed several other boats that all had inside space unlike our "alfresco craft" so perhaps that's why! The commentary was in six different languages and we had to listen to them all as the recoding looped. I've now added city river boat cruises to the list of overrated experiences along with breakfast in bed, having sex on a beach (apparently) and Bob Marley. It's a small but growing list.
Prague, known as the city of a thousand spires has a graffiti wall dedicated to John Lennon who never actually visited the city however it was where Hitler was planning to retire: perversely in the Jewish quarter. It could have been plucked from a fairy tale such was its beauty. Around every corner was architectural wonderment. Two full days provided a taste of what Prague has to offer and it even looked good in overcast skies. I will happily return.