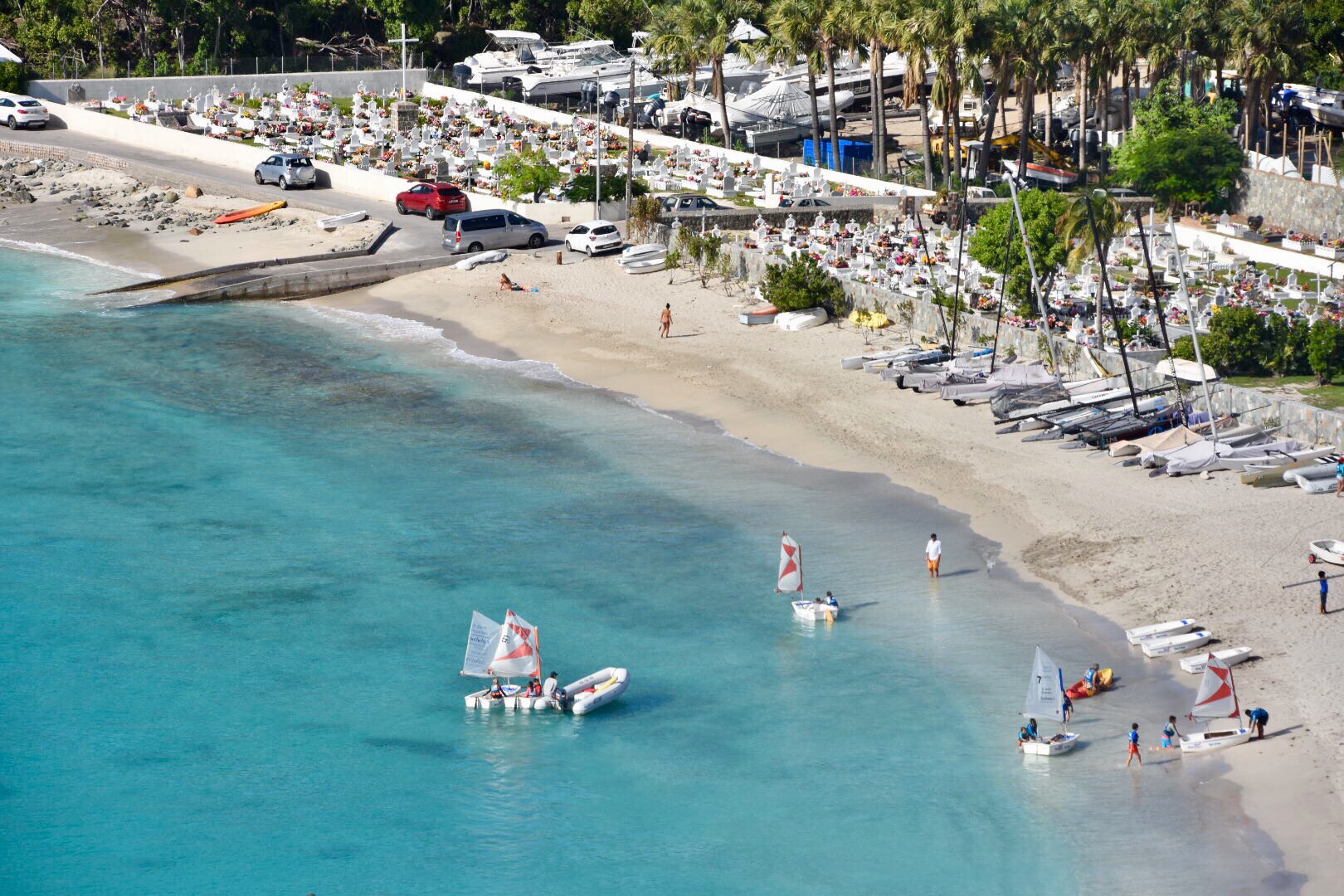 For the second time in two weeks the ship docked in St Maarten so in search of new experiences I booked a tour to the neighbouring island of Saint Barthélemy. More popularly called St Barts (or Barths or Barth) this small exclusive French island is only 20 miles southeast of St Maarten and our high speed ferry promised to get us there in 45 minutes. Lordy, Lordy is was lively. I've not been tossed around like that in ages. It went straight in at number 3 of roughest crossings. Only Montserrat with the bilious three and Calais to Dover 1984 when Simon E and I were holed up in adjacent cubicles, eclipsed it. Some of the passengers succumbed to the motion of the ocean. I'm generally okay so long as I can't see them or hear them: the pukers that is.
There were 32 of us on the tour and we had to go through passport control once we reached Gustavia, the main town, however as an EU passport holder (for the next four and a bit months) I was waived through. I think I was the only Brit on the tour.
St Barts is only 9.5 square miles – you know it's small when they count the point five, and it's home to 9000 people, a lot of them from France. It can only be accessed via small plane, boat or by swimming. Barts is named after the brother of Christopher Columbus, Bartholomew. Once there, I went on an island tour with driver Philippe from Toulouse and four Americans and our first stop was at the airport overlooking the runway. One of the most dangerous in the world to land at by all accounts and the small runway can only accommodate planes of 19 seats or less. There's no flying after sunset.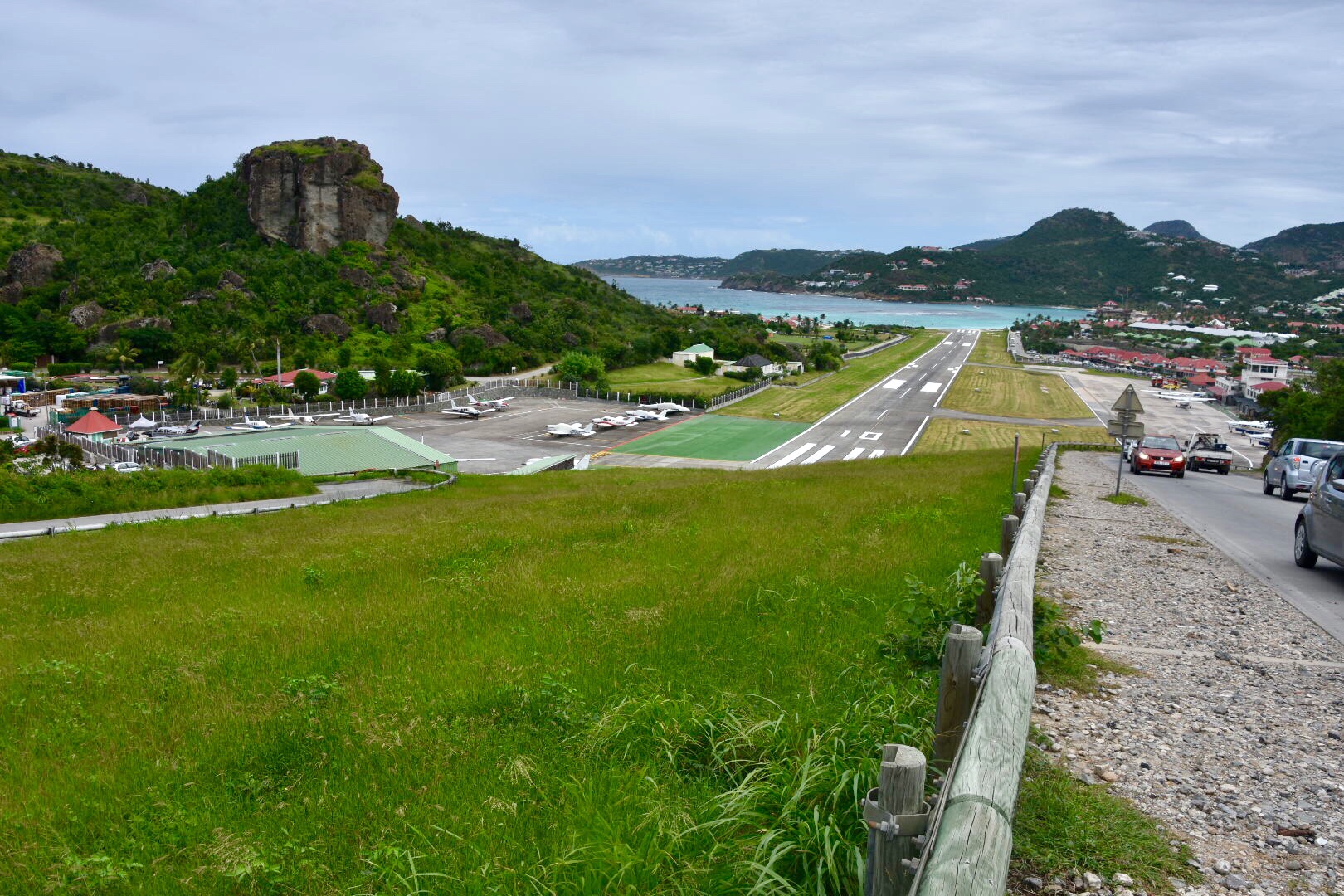 Despite being discovered by Columbus, he wasn't really interested in the place as it did not possess any natural water and was pretty much just rock. So it was the French who established a settlement there in 1648. The Swedes has it for about a hundred years from 1781 but gave it back after a hurricane hit. In 1957 the Eden Rock hotel was opened and by the 1980's tourism had become the main source of income. There are no traffic lights and I saw some of the prettiest cemeteries I've come across in my world travels. The theory is that the place is so small that there's no excuse not to visit the graves of loved ones and festoon them with flowers.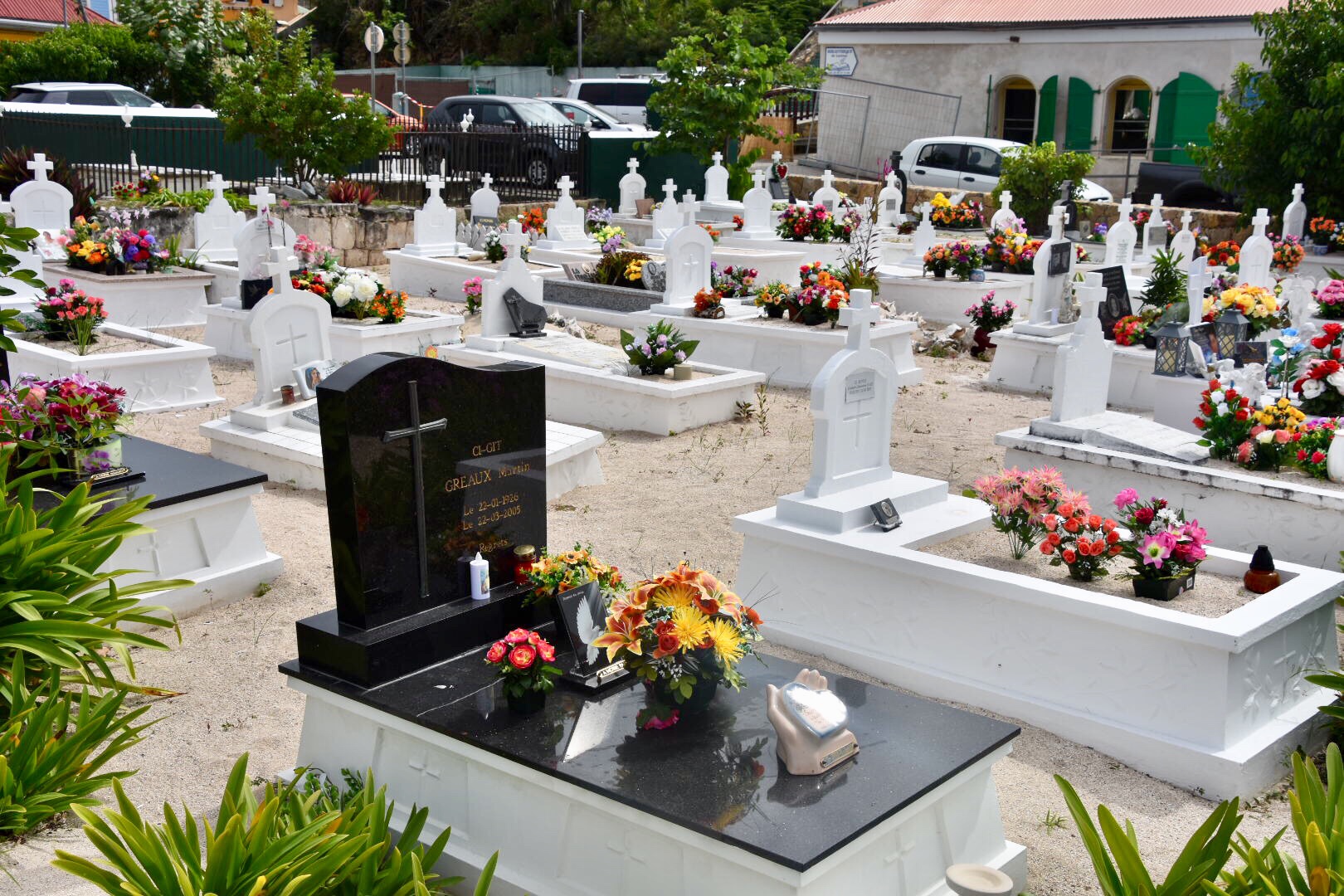 During the tour, one of the Americans asked Philippe if it ever snowed on the island. I was impressed how well he kept a straight face. One thing I did notice was the number of highly attractive, well dressed women there were. The handsome Philippe concurred with my observation with a cheeky smile.
The tour only took an hour as the island is so tiny so I was freestyle after that in search of adventure (magnets). The shops were all of the branded high-end luxury variety so it was touch and go whether I would find somewhere as tacky as a gift shop but I was lucky enough to find a suitable establishment, which as you'd expect, sold high-end luxury magnets. This shop below was closed but I did rather like the shoes!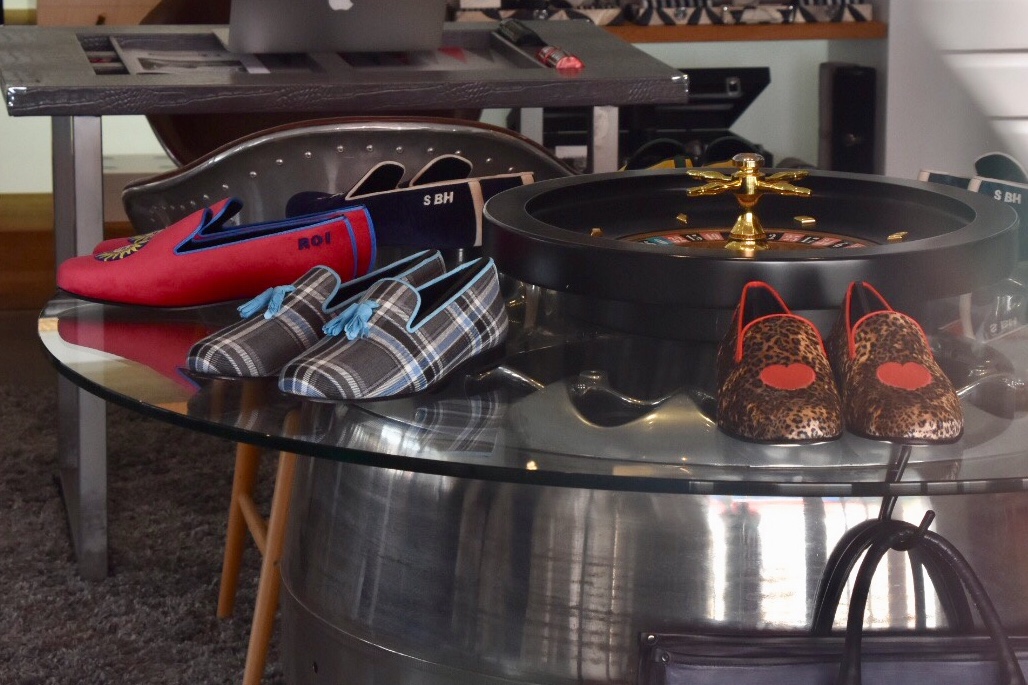 I then found a lovely unisex boutique and became seduced by an assortment of fine apparel and ended up buying a casual shirt for the same price that I could get 61 massages on a Thai beach.
I bumped into Geoffrey who was the sign language interpreter from the cycling tour who was again with the deaf girl and her deaf partner who apparently has a good job at Boeing. Anyway, they were off doing their own thing so Geoffrey was free. We chatted and this is what I discovered.
He's 42 and been working on cruise ships as a SLI for 15 years. It's all free and he even gets paid. As soon as a deaf person books a cruise, he gets contacted and booked by the cruise line regardless of whether the deaf passenger needs him or not. So long as the ship includes one American port, the cruise line will book an interpreter.
Then I ran into taxi driver Philippe who was taking a well earned rest in a chair who suggested I head up to the lighthouse for great views of Gustavia. He was right.
The captain of the high speed ferry promised us a smooth sailing on the way back. I got chatting to an American couple from California who lived near the forest fires. They'd just been on a cruise but decided to book this one at the last minute rather than go home. I can only assume their house was safe. No casualties on the return trip. Another cracking day and re-boarded in the nick of time.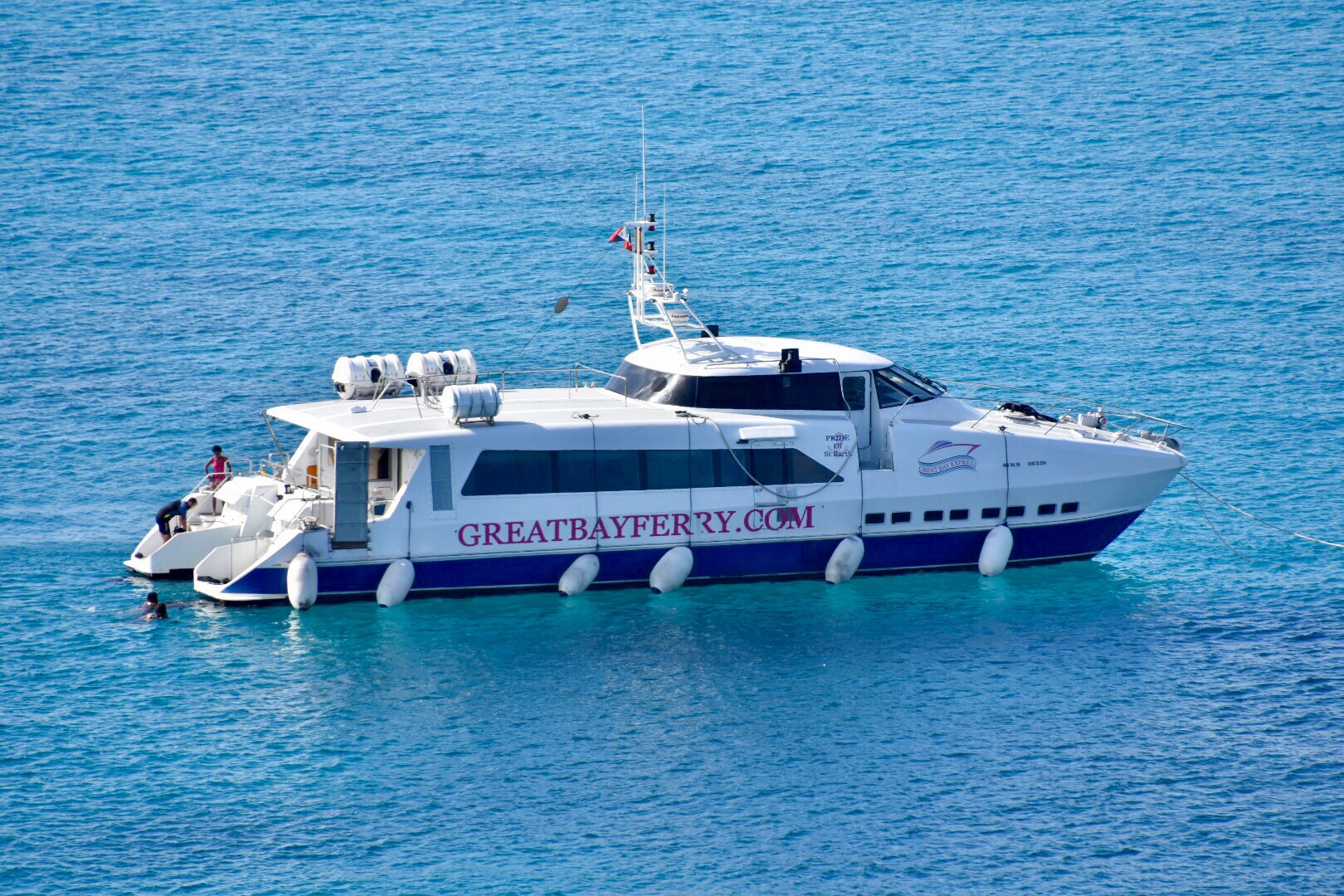 The spa were doing a thanksgiving special so I took advantage of a 30 minute back massage for a much better rate (only 12 Thai beach massages). For some reason it felt like a win. The masseuse was actually from Thailand so we talked Chang Mai and child prostitution.
The casino was kind to me again. One thing Celebrity do offer are free drinks to gamblers which is quite unusual on cruise ships. However this does not include non-alcohol beer. I can have beer or wine but god forbid that I might want to play sober!
Incidentally, the Eden Rock hotel which suffered hurricane damage from Irma last year and in the process of being rebuilt, is owned by David Matthews who is Pippa Middleton's father in law and also the dad of Spencer Matthews.