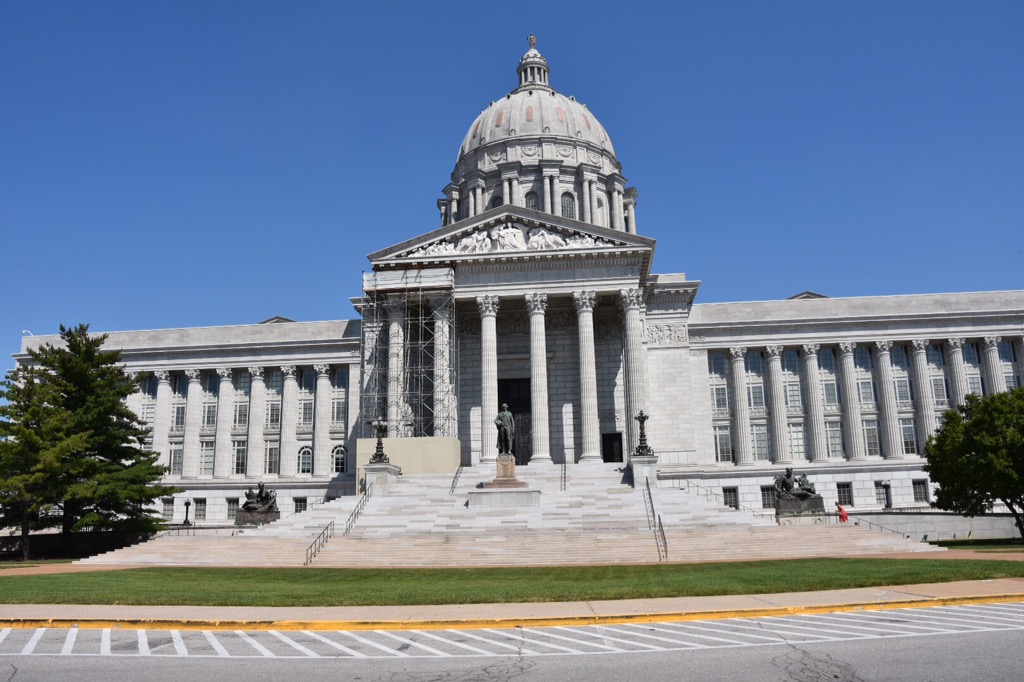 I decided to mooch around St. Louis before heading off as I wanted to avoid the rush hour. Now here's a thing. I would have thought that St. Louis was in the top 20 biggest cities in the US. It's actually number 61 with only 311,000 people – the same size as Bromley. And of course it's one of four US cities to make the 50 most dangerous cities list. I'd forgotten that yesterday walking around.
It looks like I got out just in time though. There was minor rioting after a policeman was acquitted of killing a black man in 2011.
It was a long day of driving and at one point I came across four guys from the UK on 1800cc Harley's riding from Chicago to LA over three weeks. I drove across the whole state of Missouri in 90 degree heat via Rolla (listed as one of the top 100 small towns in the US to live – not visit!) and Jefferson City which is the capital. For some of the route I escaped the interstate highways and it was much more intimate. Driving through small towns – Freeburg, pop. 437, Westphalia, pop. 389, Syracuse, pop. 172 with a huge cemetery. I stopped for gas in the middle of nowhere and became a minor celebrity. Not sure an English person had ever stopped there.
I arrived in Kansas City about 5pm. It's a city spread over two states; Missouri and Kansas and I was in the Kansas side at the Hilton Garden Inn. Another dubious choice I must say. I'm going to have to have a word with my travel planner. Let's just say it's the darker side of town. It's not inviting at all. No chance of me taking an even stroll. The bar was quiet but one older chap asked me where I was from. I said London after which he ignored me! Then he went off to bed and didn't even say goodnight. Most bizarre. I can only presume he was slightly mental. The bar woman (married three times to the same man) said he stays there a lot and she had the same issue with him.