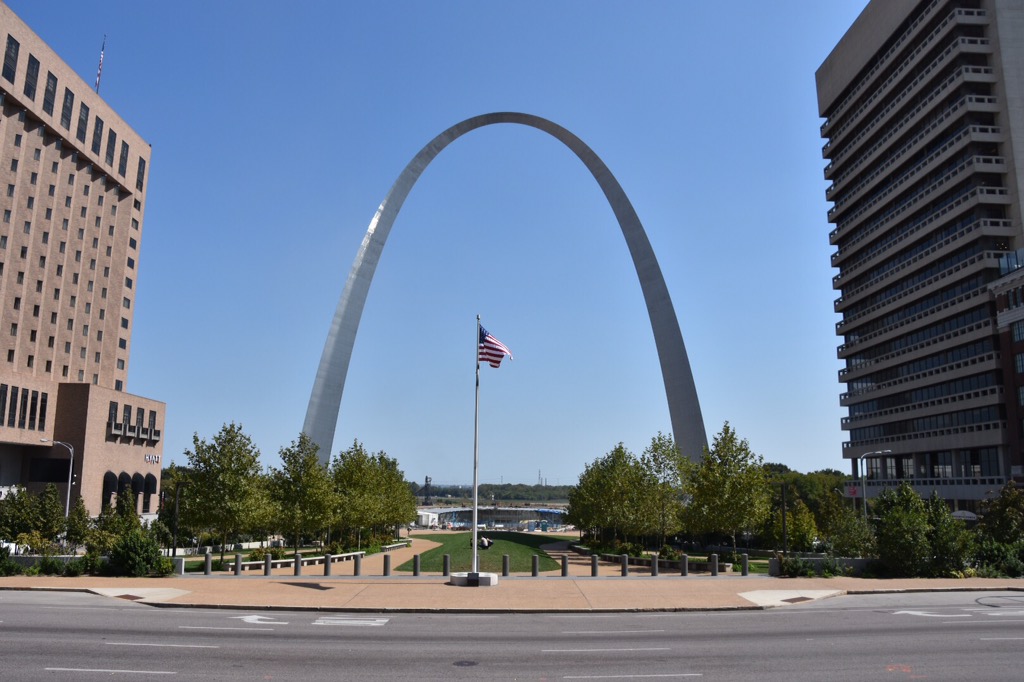 I left Clarksville early, and I mulled the accuracy of the lyric from the Monkees song, "and I don't know if I'm ever coming back" and wondered how many others had sung that same line to themselves.
I was meant to be heading to Columbia, Missouri but after one night in a Country Inn (by Carlson) I couldn't face another. They're not for people like me. They're for people like Billy-Bob with missing teeth who drives a pick-up truck with an NRA sticker and goes hunting and fishing or like Tracy-Lynn who can bench-press 500lb, drinks Jack D through a straw and causes a partial eclipse when she walks by. Not for refined Englishmen who uses cutlery, drinks wine and can spell (that's where my refinement stops).
The route took me through Kentucky and southern Illinois passing Paducah where the National Quilt Museum is located. Hmmm! Sometimes temptation gets the better of me but not this time. Early in the day an orange thing appeared in the sky that I hadn't seen in a few days and all was good. Why is everything better when the sun is shining? Well, except Coventry.
Only 270 miles today and it was a good driving day primarily due to the weather. I even came across a religious/ country music radio station for those who wish to blend those two passions. On some of the religious stations the music ain't half bad. If you're bored, try listening to any of the following. My Victory by Crowder; I Believe by Wes King or Open the Heavens by Gateway. The lyrics are a bit sickly but they are tuneful.
One of the more curious sites on American interstates is the Harley pulling a small trailer. Obviously he wanted to get somewhere and he wanted to bring some stuff with him. I had always thought that's why the car was invented. Also I've seen a lot of coach sized Winnebago's – like the one Robert de Niro had in Meet the Fockers. Nearly all of them were towing a car.
I arrived in St. Louis at lunchtime and it appeared my reservation with booking.com had malfunctioned (user error) – I blame the Chardonnay in the tumbler. So young Katie had to book me a room from scratch and I ended up with a better rate and a whirlpool tub.
I went exploring with one real goal: the Gateway Arch completed in 1965 (good year that) which is a monument to the exploration of the west. St. Louis lies on the banks of the Mississippi and it was the furthest people had ventured until Jefferson became curious. He commissioned what has become known as the Lewis and Clark Expedition from 1804 to 1806 which crossed the western portion of the United States all the way to the Pacific Ocean.
The structure is 630ft high and the 30 minute video documenting its construction gave me vertigo. They estimated 13 deaths during the build but lost no-one. An amazing feat of engineering (and 'elf and safety). Apparently it sways 18 inches in high winds.
Other than that, St. Louis doesn't have a great deal of well-known tourist attractions but it's a very attractive city and I would happily return and stay at the other Hilton because when the Cardinals are playing at home, they have a rooftop bar overlooking the stadium. There was a game today but I was at the wrong Hilton.