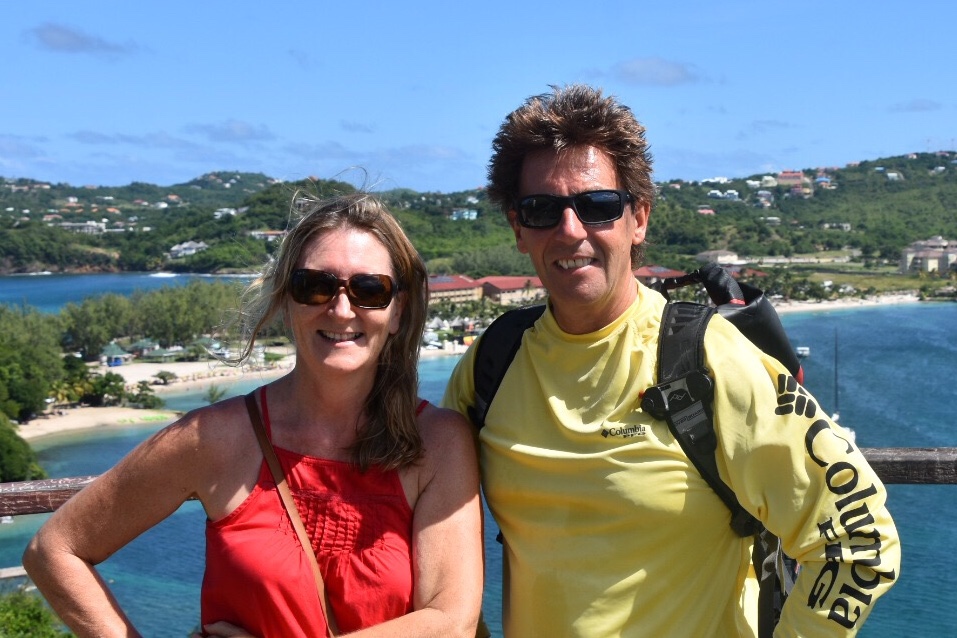 I spent my time on the beautiful island of St Lucia with Anne and Keith who were waiting as I left the ship. In their semi-retirement they've taken to four day weekends and as it was Black Friday it was an official weekend day for Mr and Mrs Noel.
First stop in their brand new Toyota was their new house on the edges of the Cap Estate. They live in a small development of a dozen or so ground floor chalet style condos which are very quaint. I can see why they downsized from their big house. After booking a camel ride for January they showed me round their gated estate before we headed off to one of my favourite spots, Pigeon Island. It's a national landmark and the moderately challenging climb provides great views of Rodney Bay and the surrounding area. I concluded it would be a splendid place to take your sandwiches and have a spot of lunch.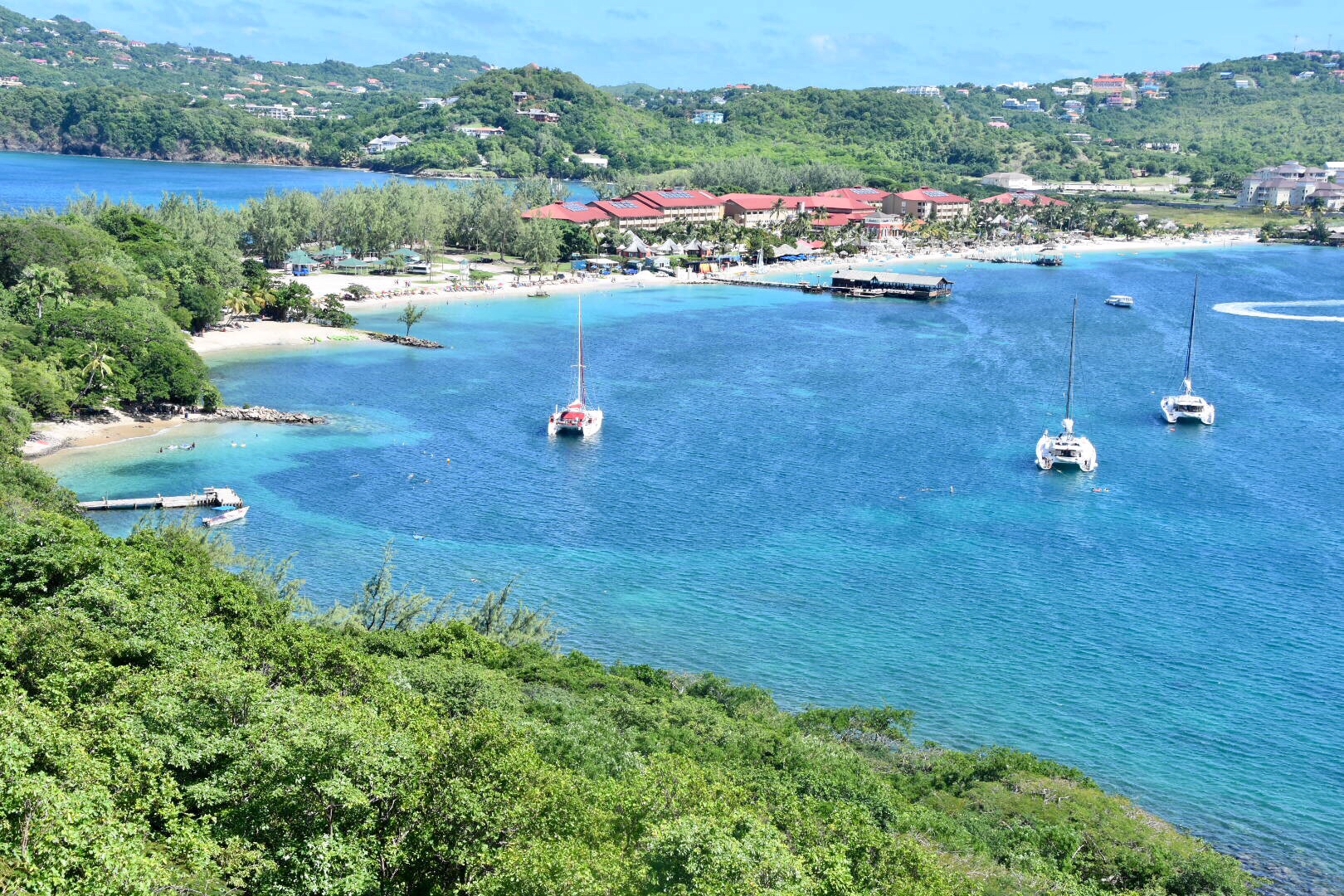 We descended from the summit (did that sound dramatic enough) to have lunch overlooking the water in Jambe de Bois which translates to wooden leg – named after a French pirate. It had a stunning setting and if I lived in St Lucia it would be a regular haunt for me (on non-cruise ship days). We actually discussed the possibility of me coming here for three months in early 2020 and I'm keen.
The traffic had been bad in the morning so we headed back to the ship in plenty of time. It would appear that Black Friday is catching on the world over and after a day of spending time with family and being thankful for all the blessings in our lives, the following day we breathe a collective sigh of relief that it's all over and say "fuck it – I'm off to find a bargain and I don't care who I trample on to get it".
Back on board I came a disgraceful second (on my own) in the 80's music trivia. Must try harder. After dinner I walked the deck at sunset and found myself becoming increasingly sadder. I'd had a great day spending time with two people I'm very fond of. It's so nice seeing them together. The flip side was that it reminded me just how much I'd enjoyed Katy's company and how so many of my happiest times were with her and I couldn't stop the tears as I did my evening laps around the deck. How much I'd like to have her with me on these travels. Into the fourth year and it doesn't seem to be getting any easier. Went to the casino. Won.
Grenada
We docked next to a Cruise & Maritime ship, the Marco Polo that looked like it may have been around at the same time as the Venetian explorer. It looked rough. It was actually launched in 1964 which for a cruise ship is ancient.
I was first off the ship and headed straight for the beach. Katy and I came here maybe 6 years ago so I've seen most things on the island and was desperate for some beach time. Grand Anse beach is the closest and also the largest beach on Grenada and upon arrival I had my choice of hundreds of sunbeds. Not wanting to be with the riffraff who were soon to descend en-masse, I plumped for an unloved couple of loungers under a poisonous tree. That should secure a degree of solitude I thought.
Sometime later Derron turned up with an official looking lanyard and he quite rightly charged me for both loungers that I was occupying. Later on when he was running short of lounger cushions he did attempt to remove the one housing "my stuff" on the basis that "my stuff" didn't need a cushion but I informed him that as I'd paid for two loungers with cushions, my stuff was going to be every bit as comfortable as me thank you very much. He retreated and as I glanced over in his direction I was stupefied as to how his low slung shorts actually stayed up.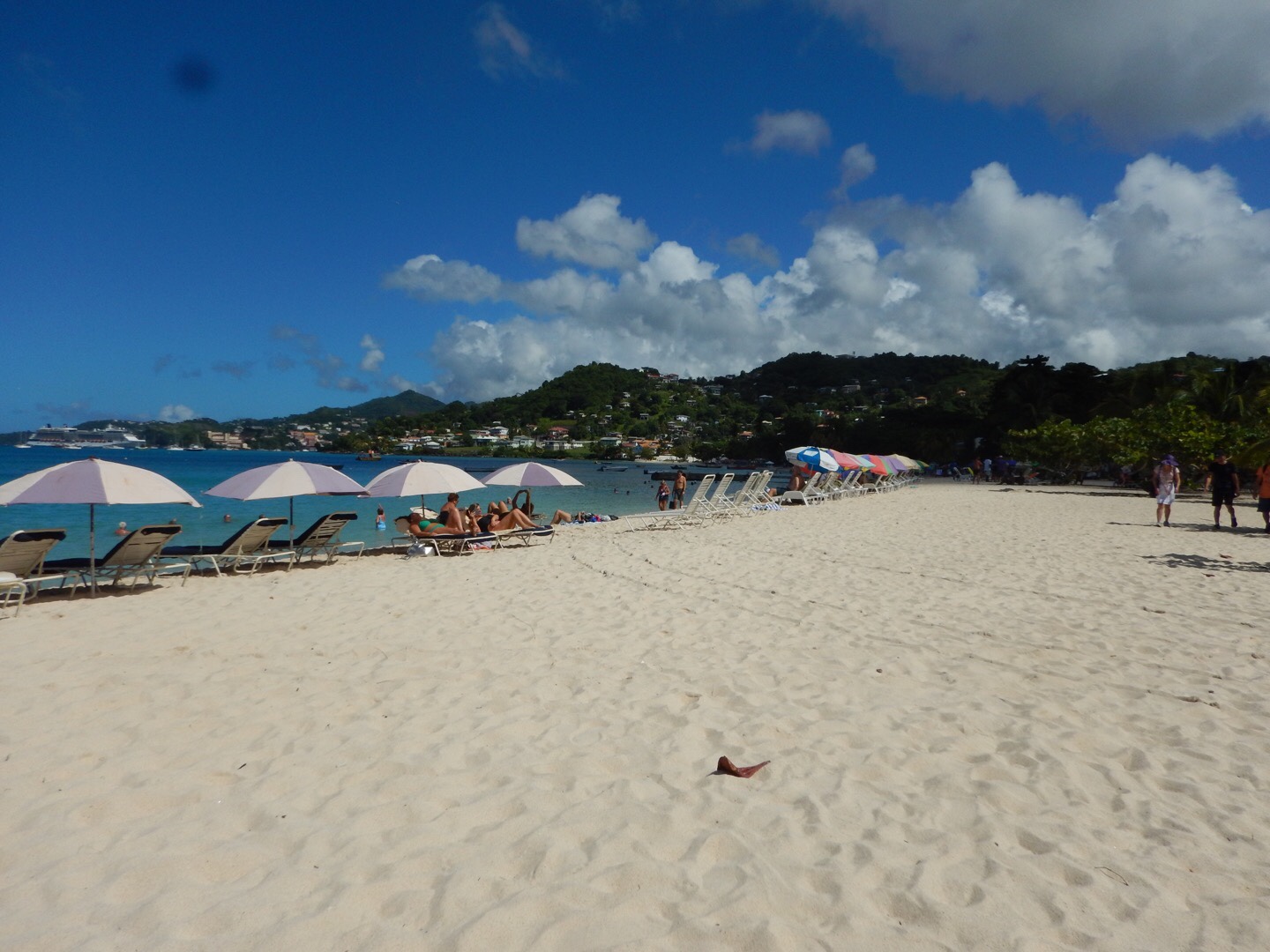 The day was pleasantly hot with intermittent clouds and waitress service. The hostess brought me a Carib beer on the hour, every hour. I was hoping she had one of those a fantastical conjured up names like Devonda or Laquita or Volpusia or Bogatina but it was just plain Anna. Lurking nearby was Alystra (only one of the island) and judging by the look of her I'd say she was possibly a sports star. Maybe a heavy lifting event of wrestling. Anyway she was offering massages at a dollar a minute. She asked if the pressure was okay and like a fool I said "you can go as hard as you like". I think she saw that as a challenge. I survived.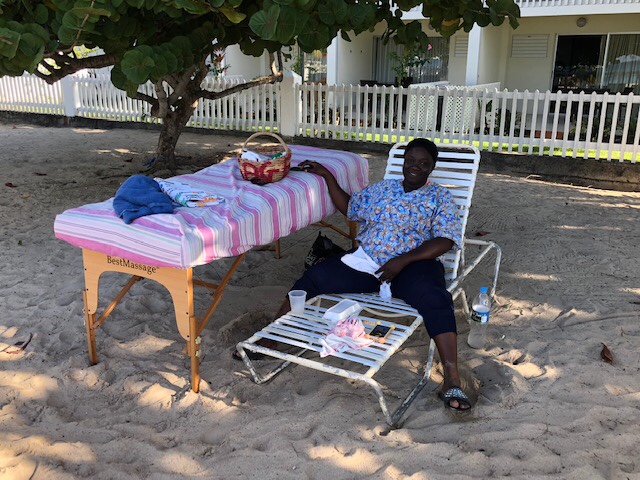 On the beach I got talking to a Romanian girl trying desperately to keep her bikini top up (I suggested she had a word with Derron and his gravity defying shorts), who was working on the Marco Polo and she said it came over from Tilbury. I was shocked. It looked like it might struggle on the Thames! She said is used to be a Russian ship called the Alexander Pushkin. That didn't surprise me at all.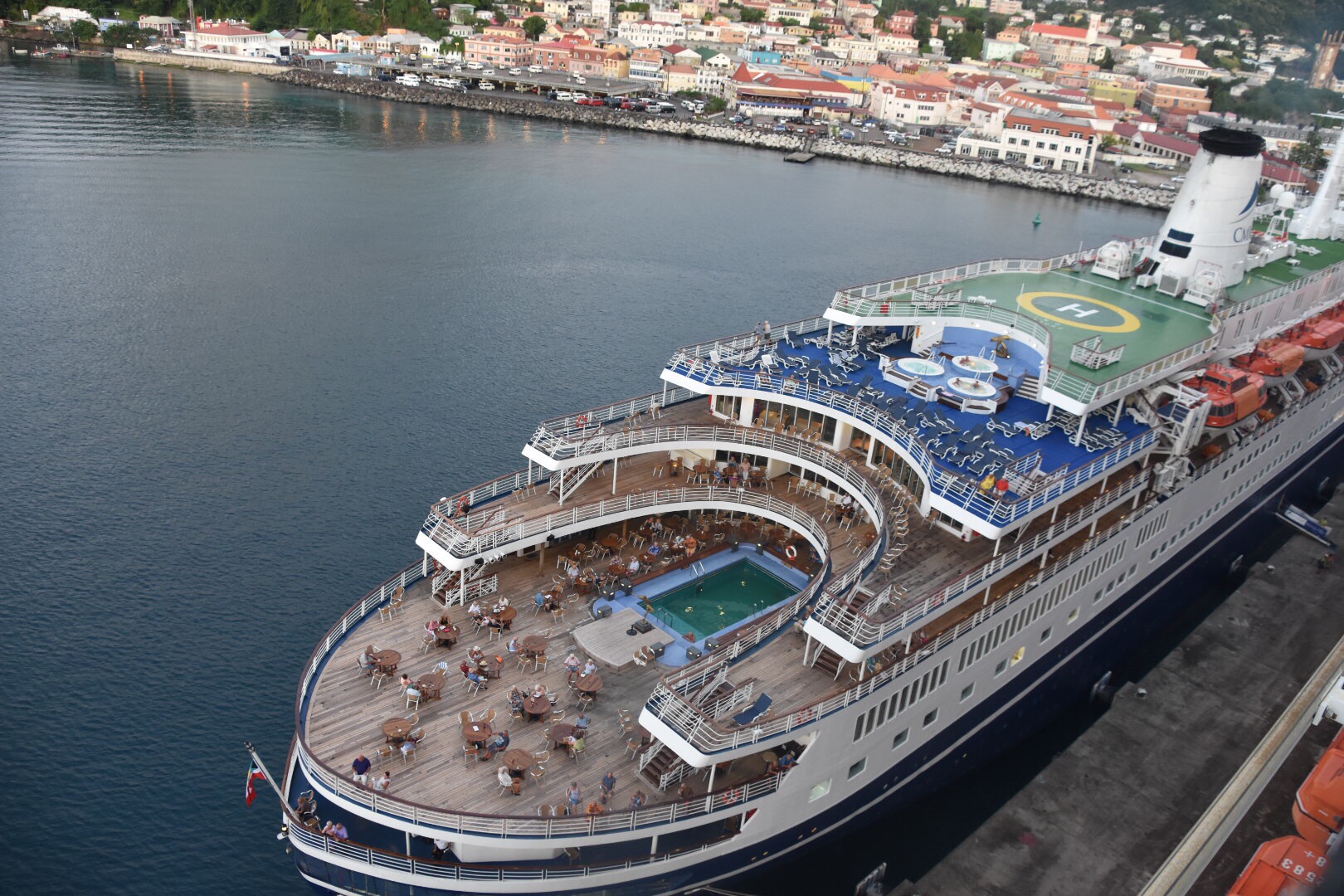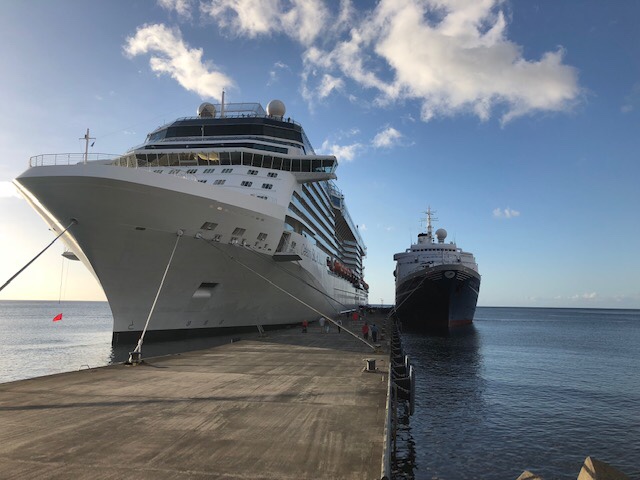 I spent so long on the beach I nearly changed my name to Sandy Gusset. I headed back to the ship with Rastafarian Thomas the taxi driver who dropped me in town by the Catholic Church. The capital of Grenada is St George and it's your typical Caribbean capital. Scruffy, lots of people doing nothing, bit of an edge to it. I refused to be intimidated by the place so walked with purpose back to the ship.
Grenada is 135 square miles with a population of 107,000 including one Kirani James who won the 400m at the London Olympics making Grenada the most successful country at the games based on medals by population.
Grenada came to the attention of the world back in 1983 when Clint Eastwood, playing Gunny Highway (Heartbreak Ridge), invaded the island. The war codenamed Operation Urgent Fury lasted four whole days.