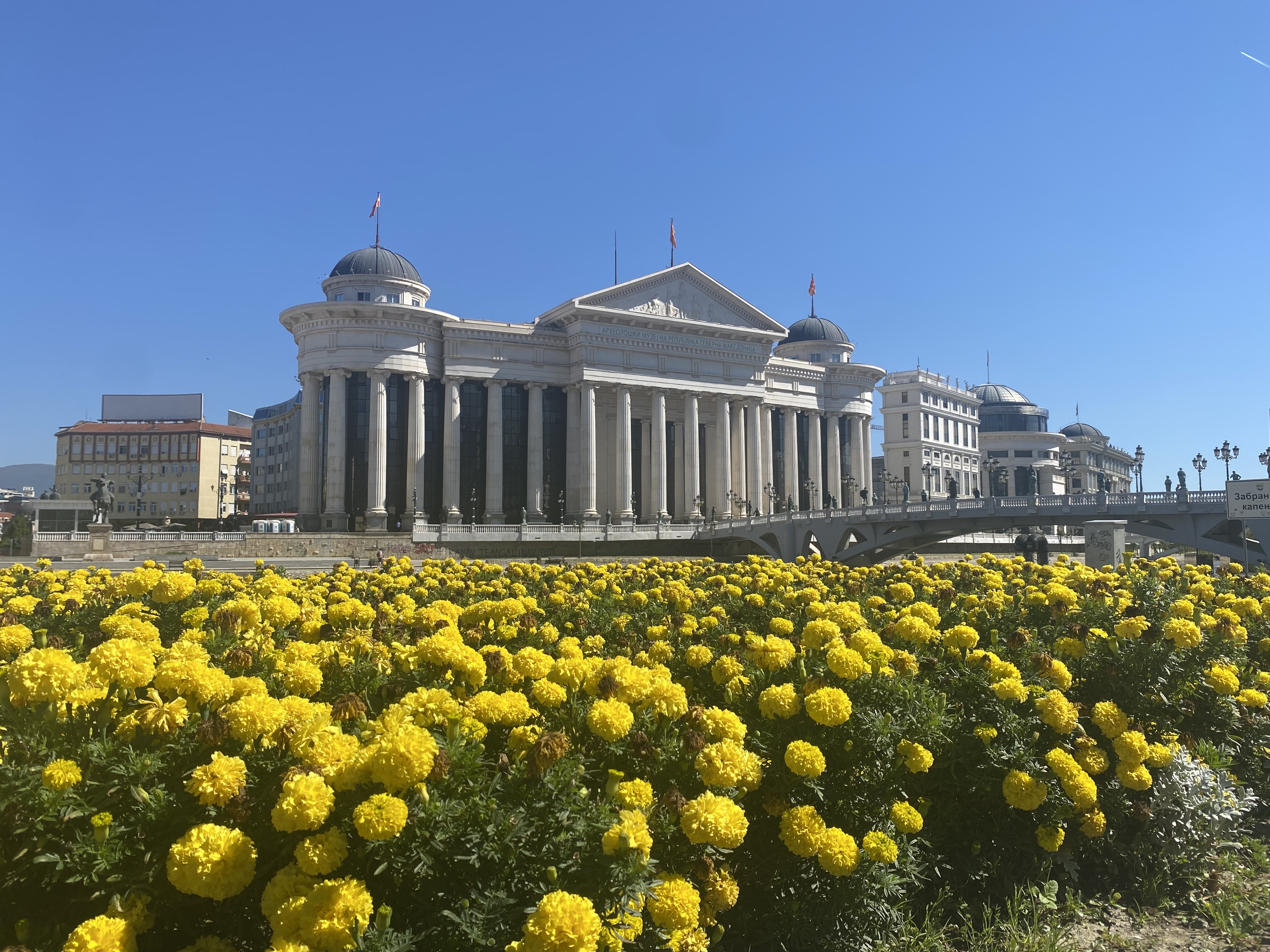 Strangers on a Minibus – Part 3
Monday
Our adventure continued as we traveled from Belgrade to Novi Sad on a high-speed train. Novi Sad is Serbia's second largest city and is also located on the Danube. This was a nice train. When I say nice, it was spectacular. Unlike some of the grubby rolling stock that we'd been on thus far.
I was seated upstairs (I know – double-decker), and it looked very futuristic. It left on the dot and travelled up to 200kph during the 34 minute ride.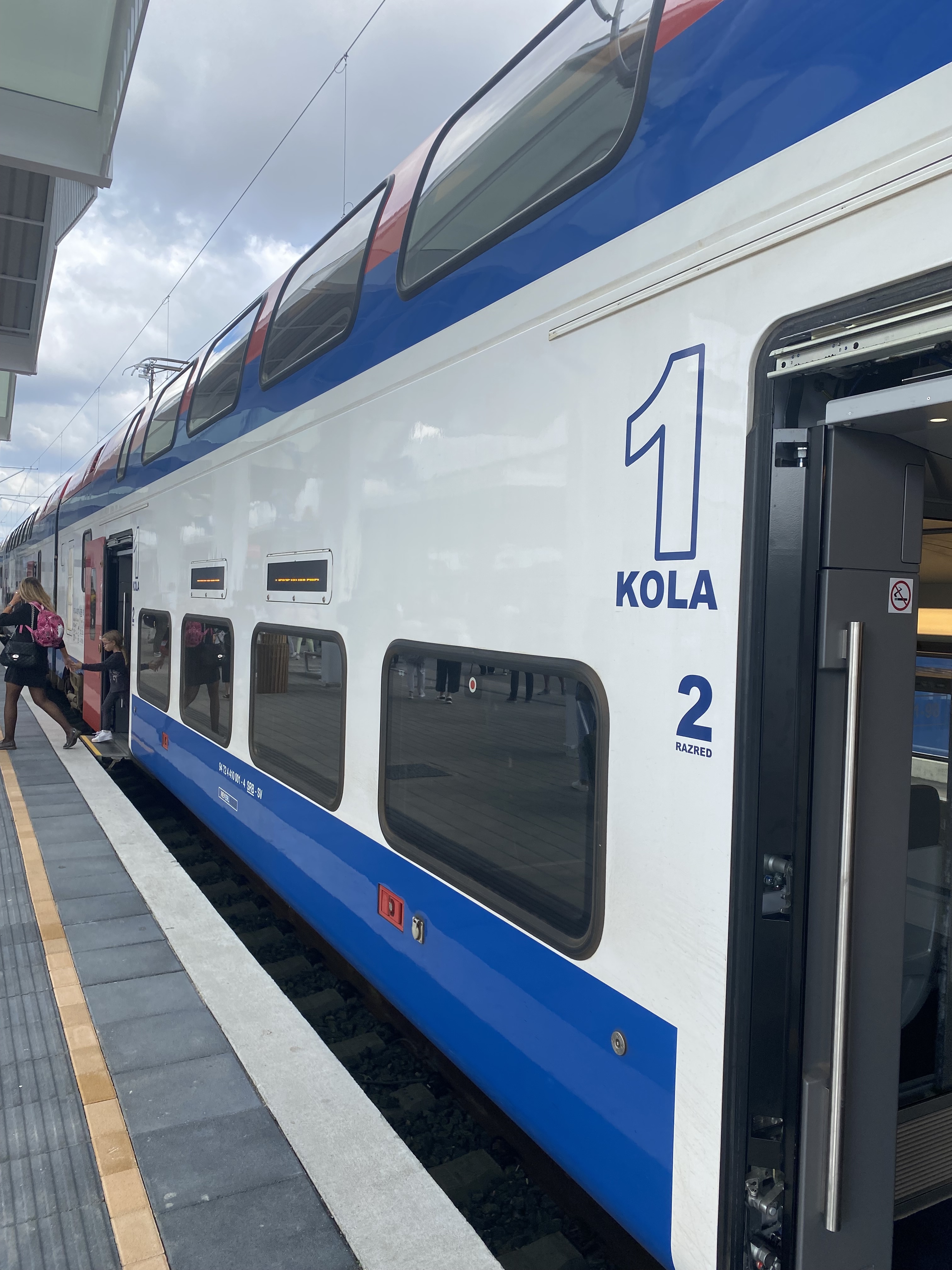 At Novi Sad we met our guide who was a cheeky happy full of jokes that no one understood. He took us on a public bus, across the Danube, to a castle, and we strolled around in bright sunshine.
After being fully "castled" we walked back over the bridge, across the Danube, into the old town. It was fairly attractive but certainly not the best "old town" I've seen on this trip. I'm becoming quite fussy about my old towns.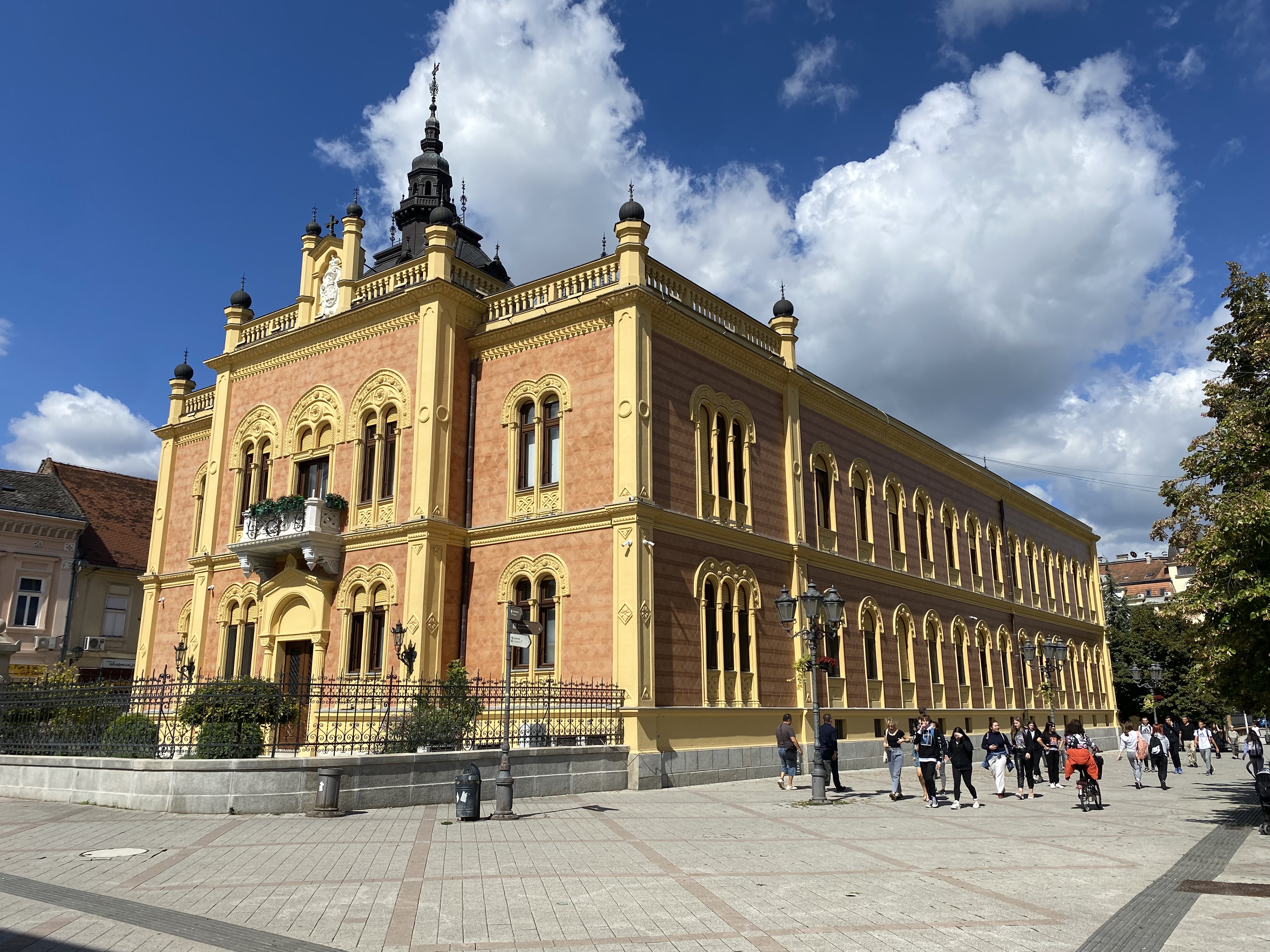 Once the tour finished we had a few hours to please ourselves (in a sightseeing way), and after some pizza and beer, I chose to peek inside some of the churches. Novi Sad was okay but nothing special. The best part of the excursion was certainly the train ride. We boarded our super train back to Belgrade and we were there before we knew it. The group dined together however I decided to do my own thing.
Tuesday
We were met at the hotel by Milan, who was our guide for a tour of Belgrade. About five minutes in, a stray dog decided to join us and stayed with us for the entire tour.
Milan was my favourite guide so far, even though the city of Belgrade wasn't particularly attractive. He didn't talk too long at each stop and it was a nice gentle walk around the city. Belgrade lies on the confluence of two rivers – the Sava and the Danube. All of the Balkan cities seem to have a castle and Belgrade was no different. The castle was located in a park and when the tour ended, I decided to explore the castle a little more.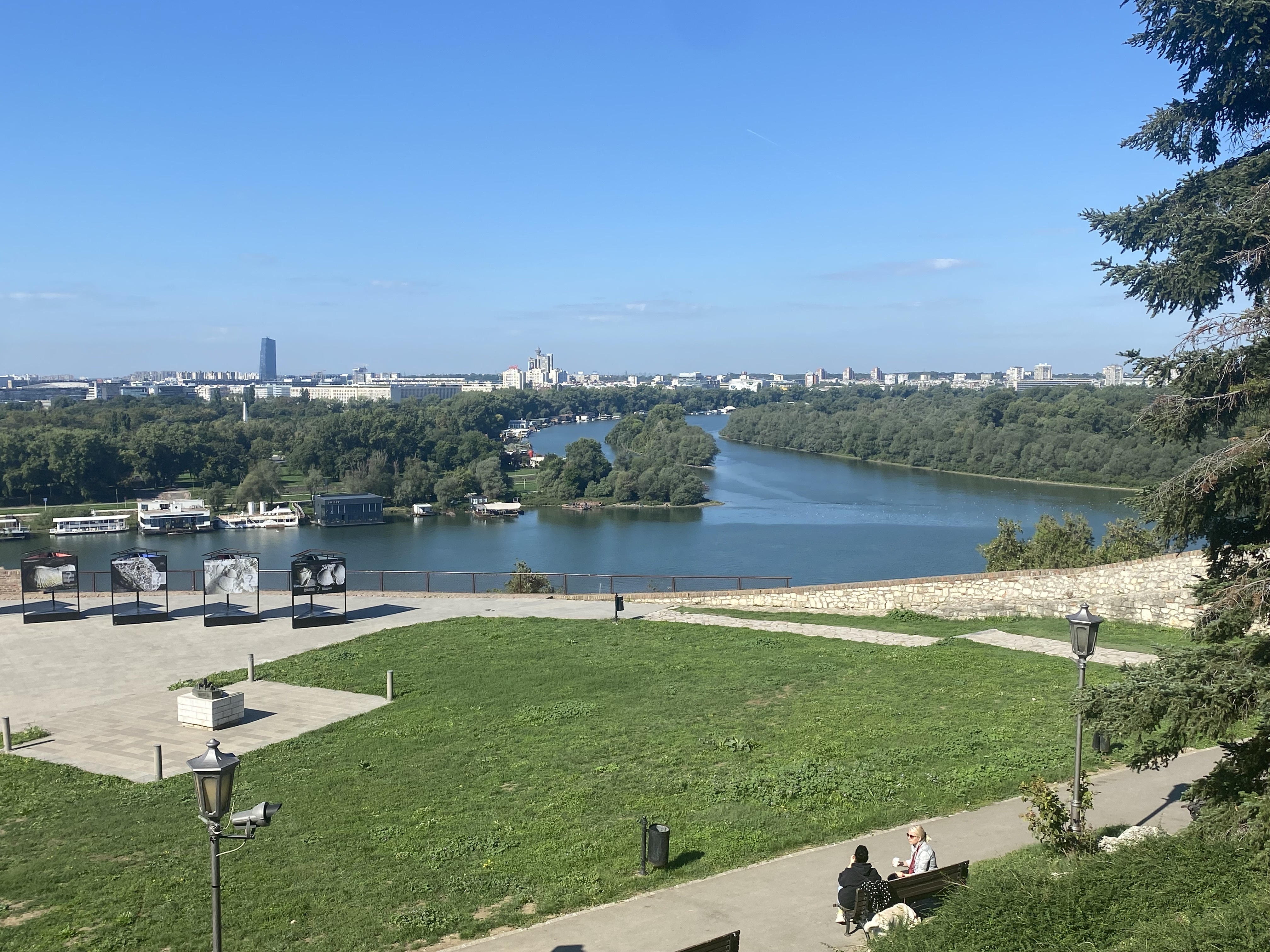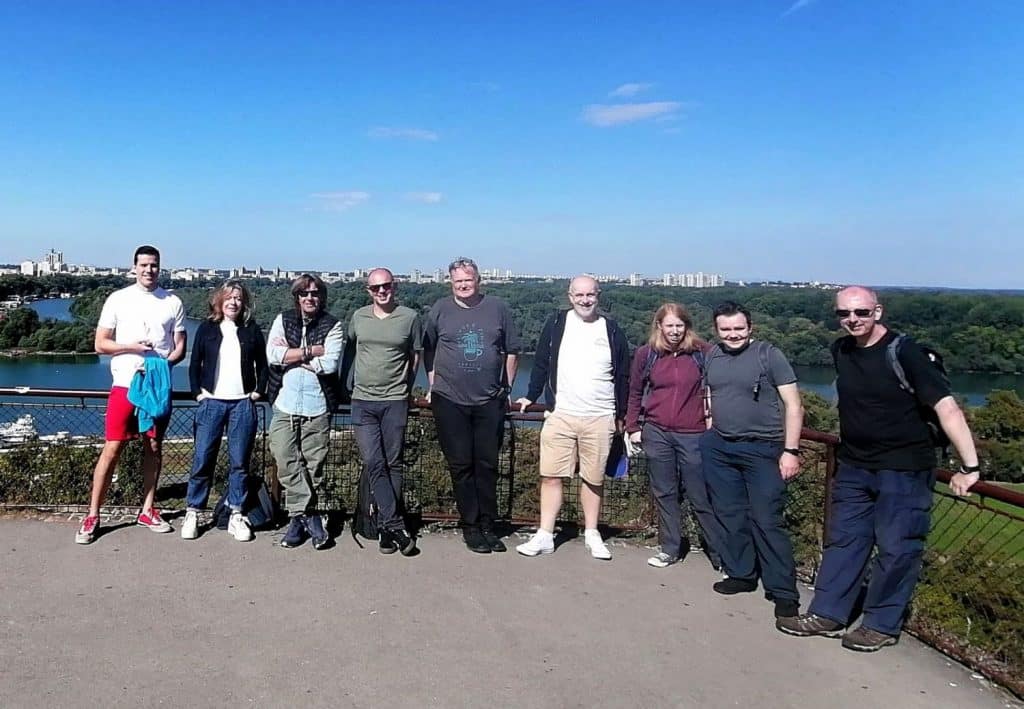 I had noticed with a number of our guides, how they became quite political at times and would readily express their worldviews.
At midday we jumped on the fun bus and headed to Macedonia. The drive probably took around six hours with a stop mid-way for essential stuff. We've actually done as much touring on a minibus as we have on a train. On Thursday we get our seventh and last train of this whole 16 day tour.
We arrived at the hotel Karpos, and for the first time, I had a bath tub. I jumped straight in. We dined as a group in an outdoor restaurant which was very pleasant.
Wednesday
Jan took us on a tour of Skopje. He was very excited about showing us his home capital. He told us about the earthquake in 1963 which destroyed 80% of the city. 1070 people died when it struck at 5 am in the morning. Prior to this it was the third largest city in Yugoslavia with 250,000 people. They sent all the children away to relatives around the country and it became a city with no kids. Sounds dreamy. The task of rebuilding the city went to a Japanese architect. They know a thing about earthquakes. The city has grown and now has around 700,000 people.
Scopje was part of the Ottoman Empire, but the Turks were kicked out in 1912. Two years prior to this, Mother Teresa was born here in 1910. She was known as Agnes to her friends. There are various statues and memorials around the city dedicated to her, including the site where the house where she was born, used to stand.
Our tour continued to the main square of Skopje and it was incredibly impressive. Very open with statues and fantastic buildings all around. One of the nicest squares I've seen in all my square viewing.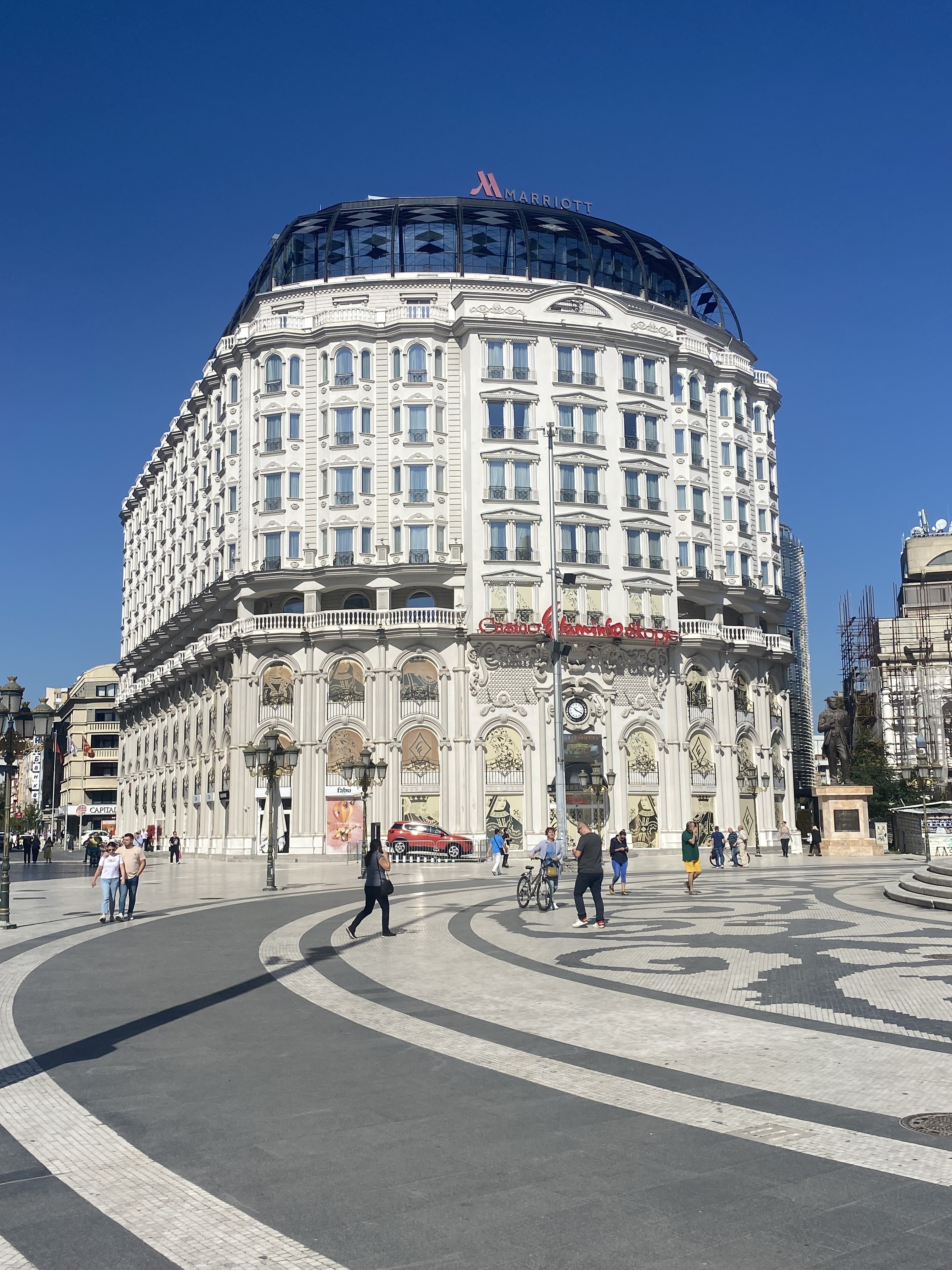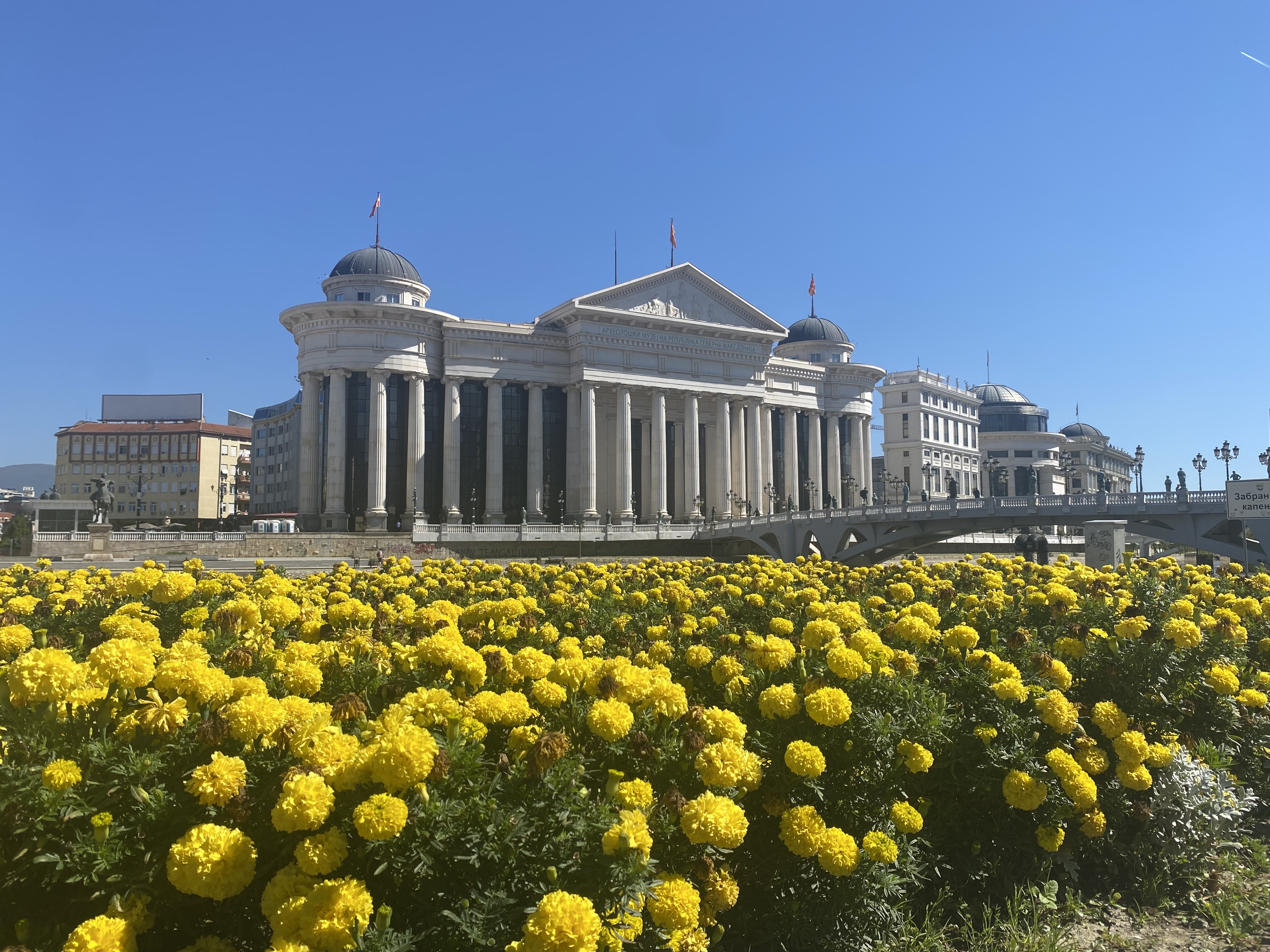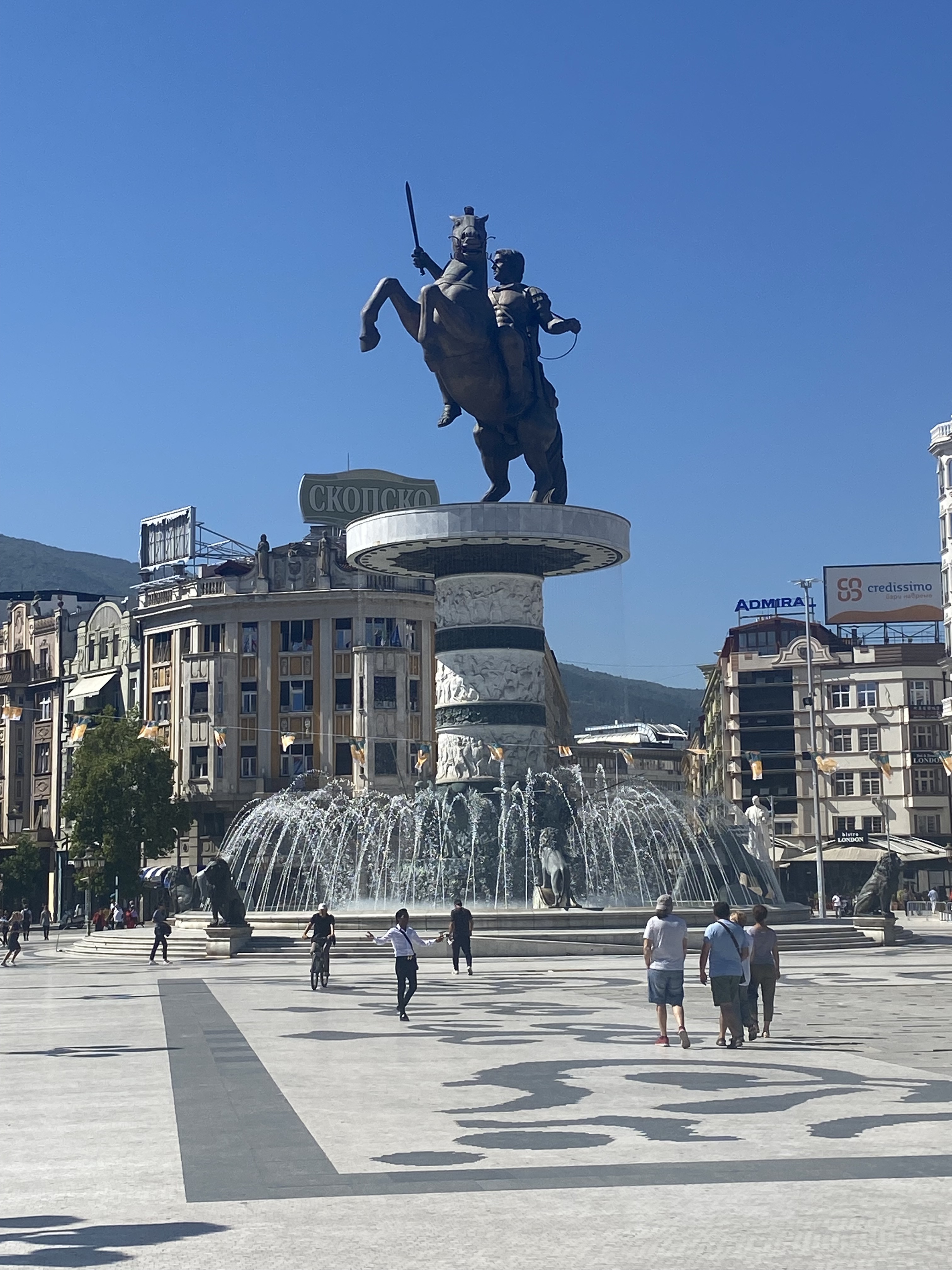 We crossed the fast flowing Vardar River on the Stone Bridge, which used to hold public executions, including one chap who was impaled. It's one of the oldest structures of the original city, completed in 1469.
We strolled through the old town bazaar to a church at the top of the hill. This marked the end of the tour and we were given some free time, no doubt for magnet purchasing.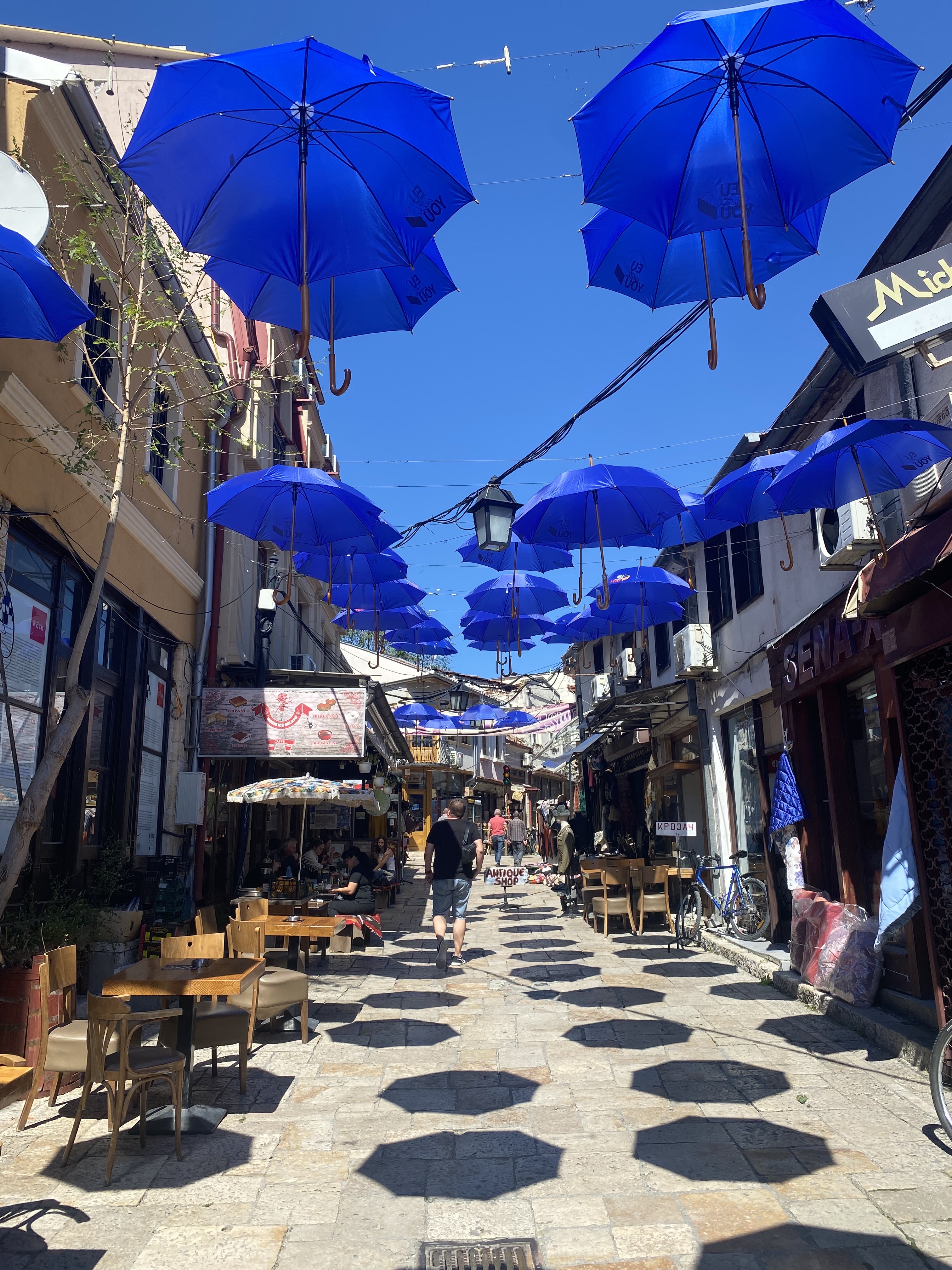 I went wandering and found a mosque with a tower. Apparently you could climb to the top, so long as you took your shoes off, but alas, the door was locked.
I did use the toilet though. The cubicles had those holes in the floor, but there was also a long trough that looked very much like a urinal to me. As I was relieving myself I noticed that there were taps and soap dishes (with soap), spaced about two feet apart, all along the 15ft trough.
That's weird, I thought to myself, mid-flow. Then it dawned on me that this trough, masquerading as a urinal, was for mass footwashing. Luckily no one was in there and my crime against footwashing went unnoticed. It could have been dicey and I might have joined Salman Rushdie on the fatwa list.
Next was the fort at the top of the hill overlooking the city. There wasn't much to see except the perimeter walls, but I walked round regardless and took photos. At 1 pm there was a call to prayer, and from various locations around the city you could hear the familiar wailing from circular brick towers. It sounded quite mystical.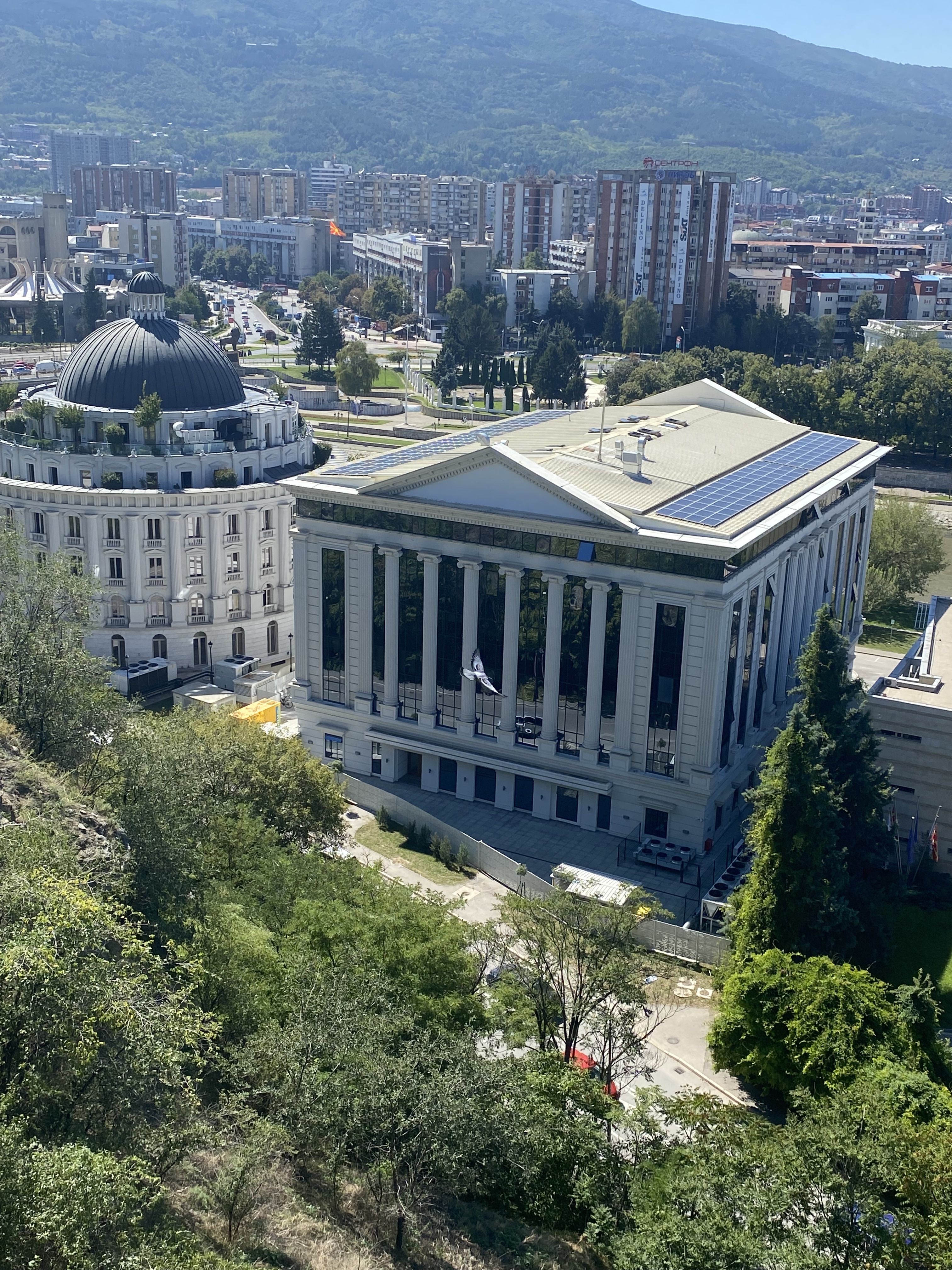 I have to say, Skopje has been the surprise city of the whole tour. It's by far my favourite and if I had to live anywhere in the Balkans, which is highly unlikely, it would be here.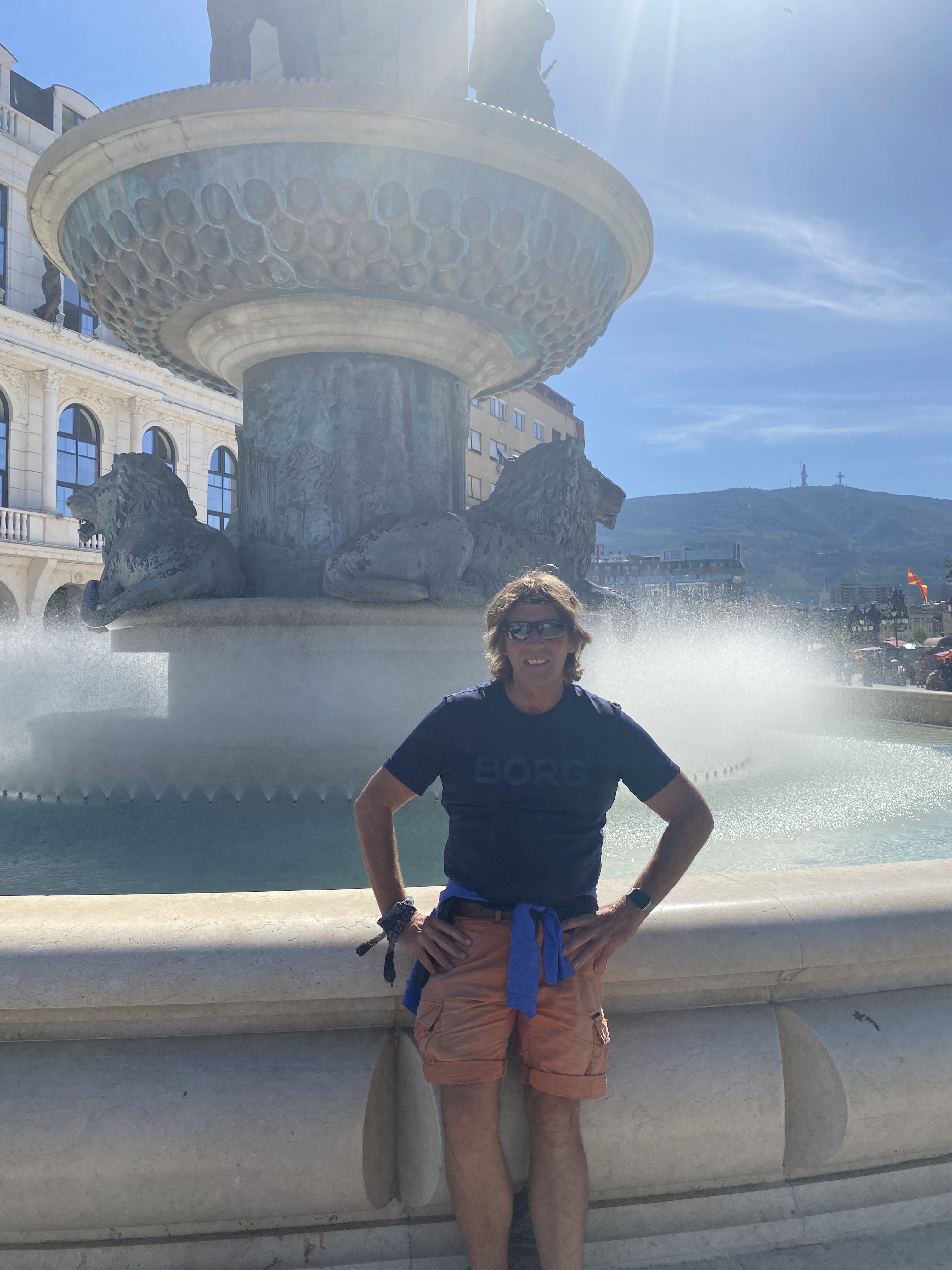 Thursday
The buses in Skopje look like the iconic route masters that used to be a feature of the streets of London, but in fact they are Chinese imitations. Here's a little fact for you. There wasn't a single bullet fired in Macedonia during the Balkan War on the 1990's.
After two nights in Skopje we were heading for another Macedonian city called Bitola, which none of us had heard of. The journey was just under 4 hours – our last train trip on this tour. Bitola is actually Macedonia's second largest city.
A short distance away were the ancient ruins of Heraclea Lyncestis which was founded in the middle of the 4th century by Philip ll of Macedon. It started life as a Greek city in the Macedon area but was later ruled by the Romans. The site also had an amphitheatre which wasn't discovered until 1968. It was rather large so I'm not sure how it was missed. Once gladiator fights were banned, at the end of the 4th century, it was no longer used.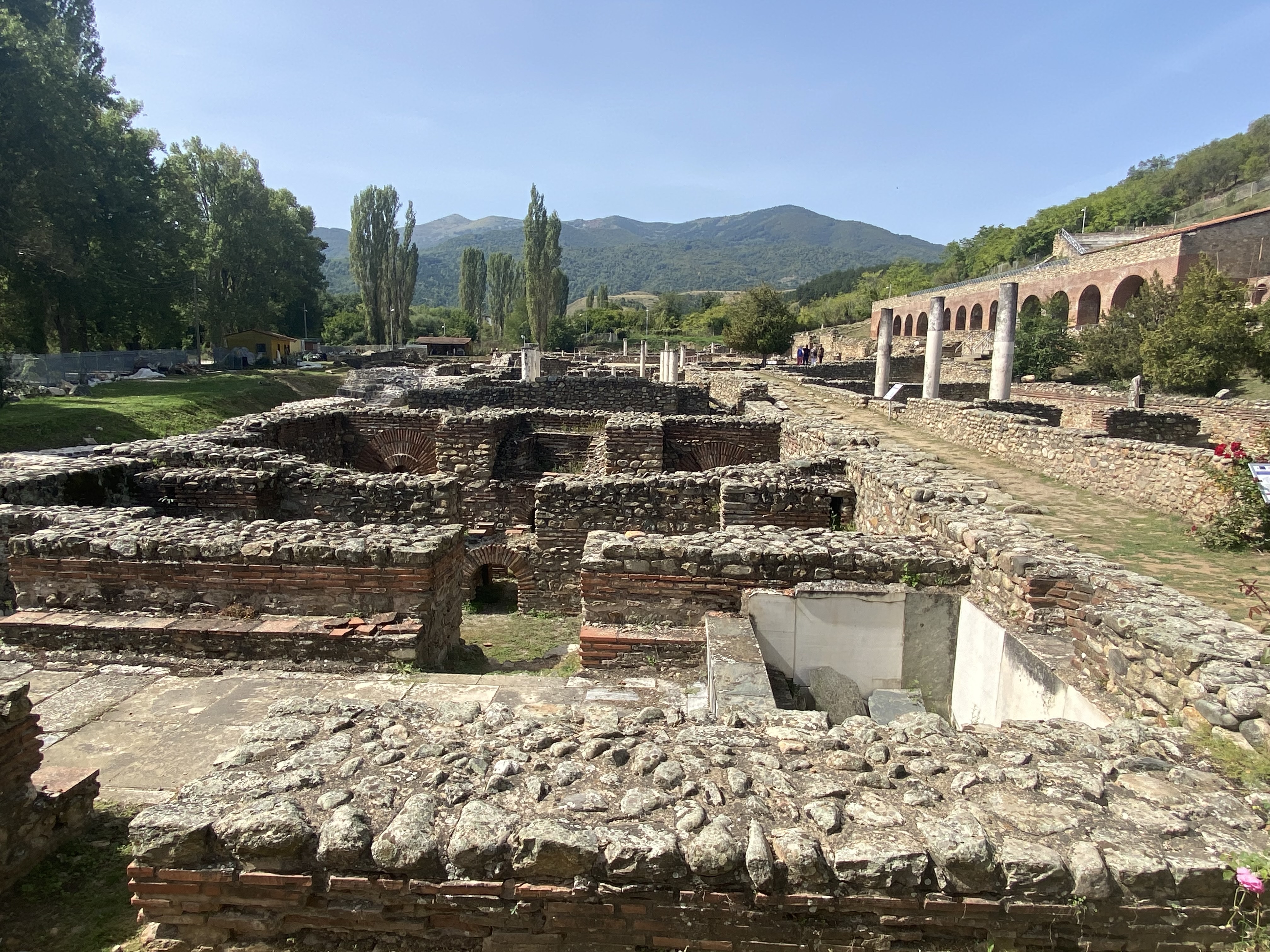 After Heraclea, we toured the city which included a statue of Mustafa Kemal, more commonly known as Kemal Ataturk, one of the biggest killers in history. After the tour we were taken to our hotel which was out of town. The Hotel Shator was a delight and certainly much nicer than it sounded.
Friday
We left early heading for the Macedonian city of Ohrid which was located on a hillside next to Lake Ohrid. The first two interludes were scenic viewpoints looking down on some lakes. First was Lake Prespa, which is shared between Macedonia, Albania and Greece. The second stop was to see Lake Ohrid itself from upon high. Very scenic indeed and also shared with Albania.
We headed down the mountain to the lake shore to visit a the monastery of Saint Nahum. It was set within a large lakeside complex including a hotel, beach and about 40 souvenir shops selling very similar stuff. The monastery was very serene with some attractive landscaping.
Back on the fun bus, we headed for the Millennium Hotel which was located on the lake. I was thrilled to see that I had a balcony and a double bed, but alas, no fridge. An hour later we were off to explore the city which started with a fifteen minute boat trip along the coastline. It was a fairly pointless addition as we could have just walked.
Jan took us up a jetty and at the end was a sad looking boat. "This can't be the boat", I thought to myself. It was. I was reluctant to embark and suggested I walk and meet them, but I was persuaded to board. Well, it turned into quite the trip. The water was rough and the boat was small. Despite having two motors, neither one seemed to be working particularly well. Our captain reversed out and needed to turn the boat however, the waves were pushing us back. Jonathan tracked us on his phone (photo below), and you can see what a pigs ear captain Ahab made of the departure.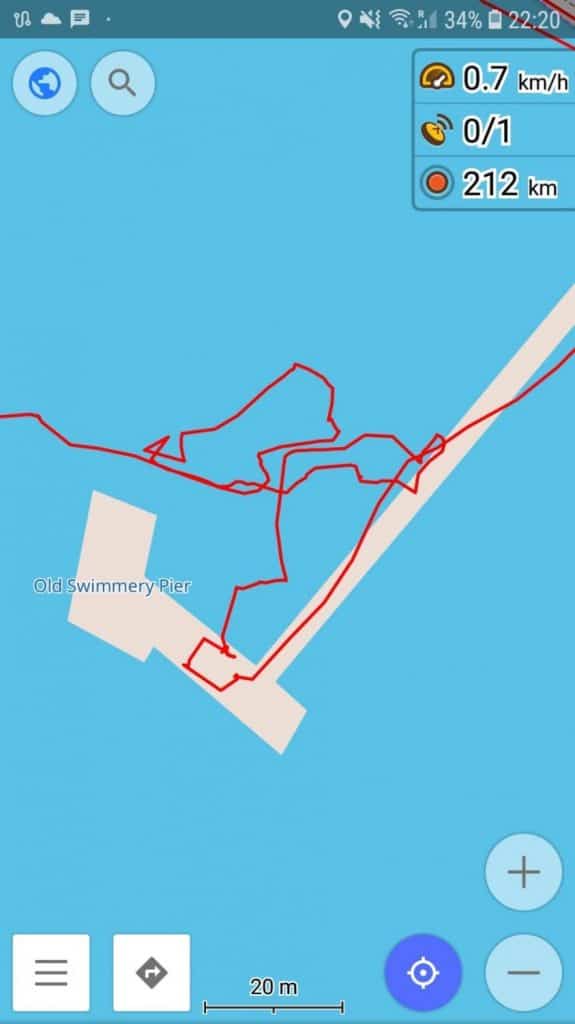 I moved to the back to avoid getting wet. Eventually he turned us around, and we headed up the coast for a very short and unnecessary boat ride. We were all pleased to get off.
We walked up a hill and found a very picturesque monastery overlooking Lake Ohrid. Apparently it has featured in many travel magazines. Jan then proceeded to give us a tour of his home city. Finally he had told us where he was from.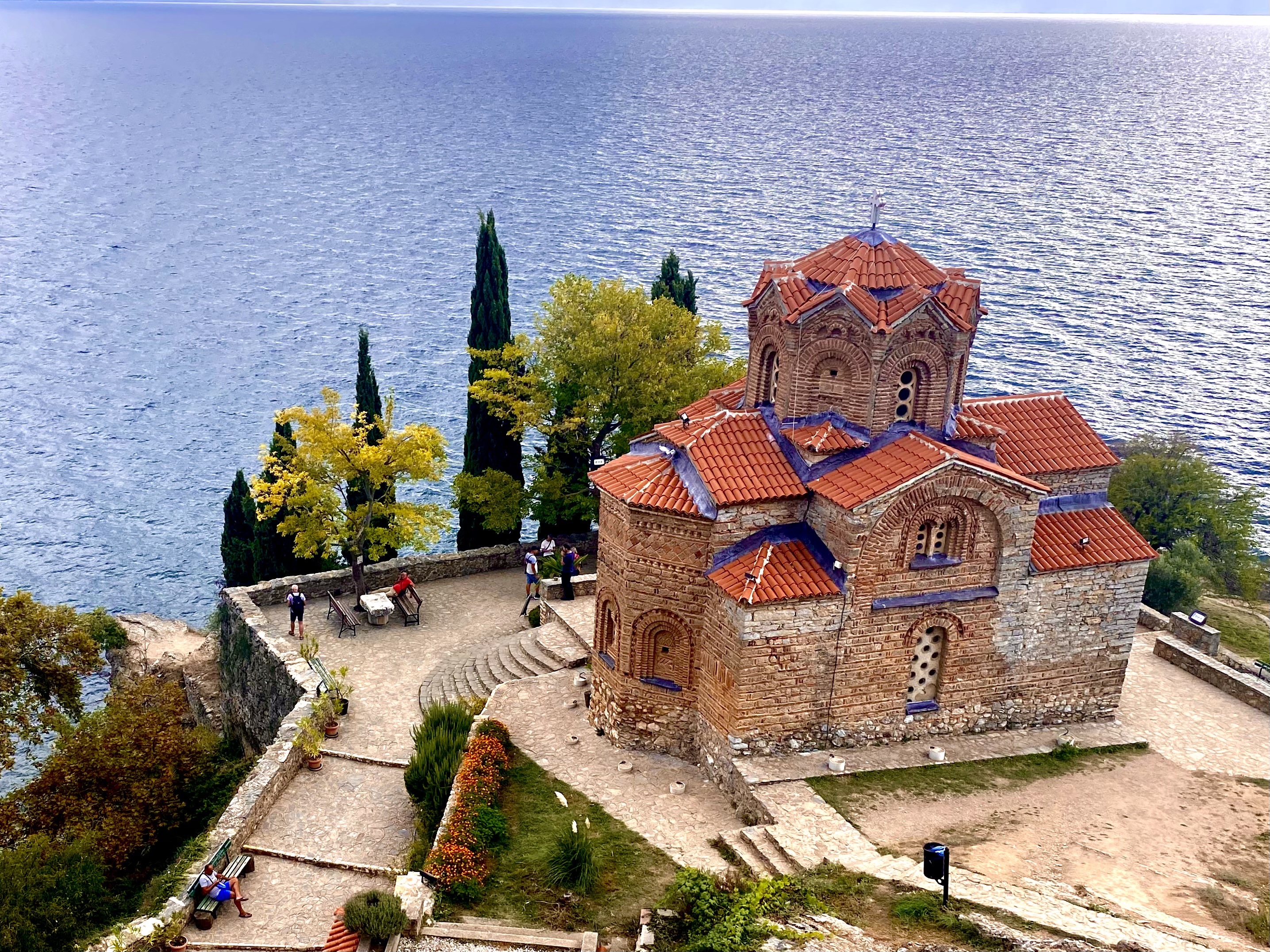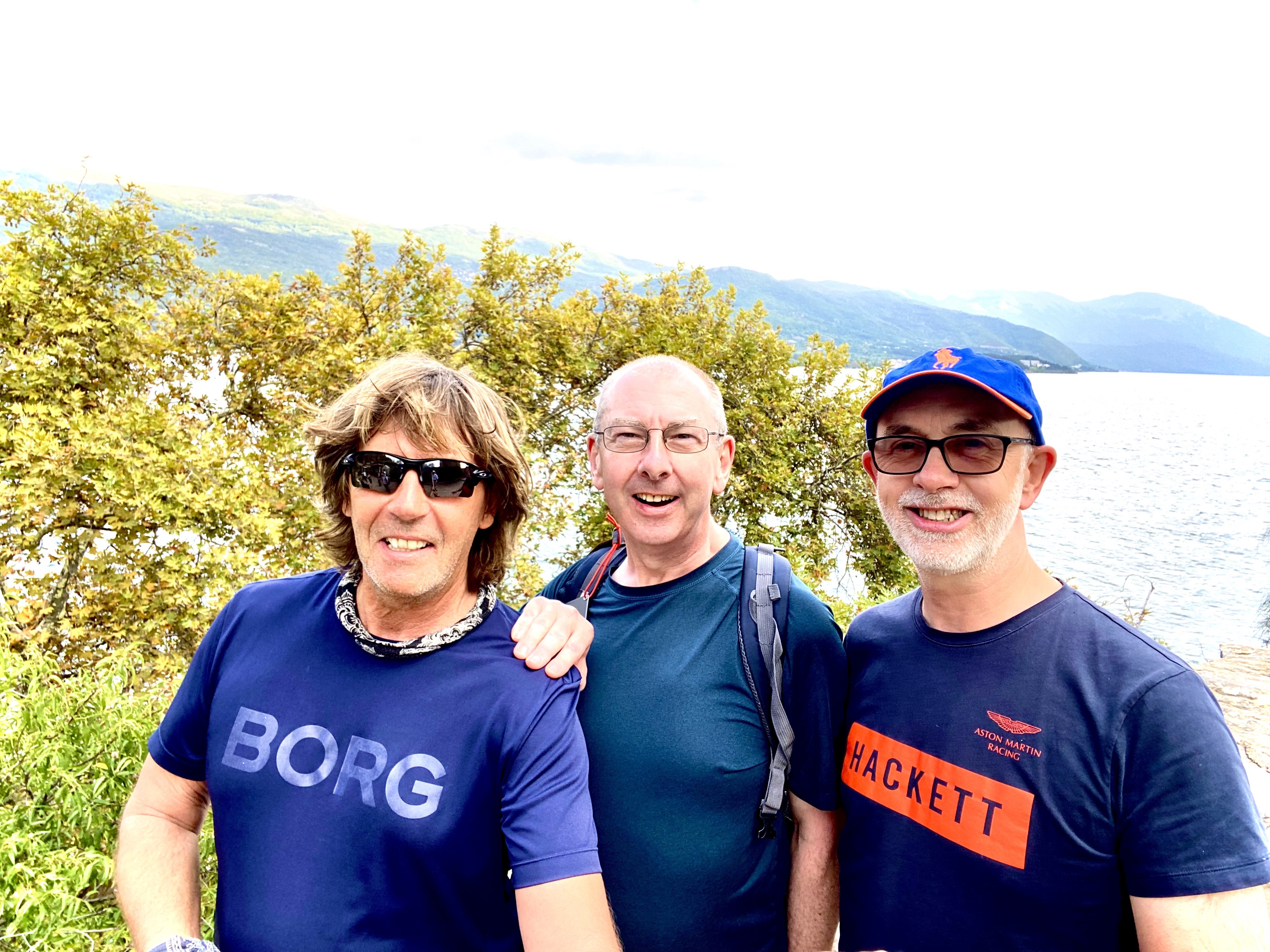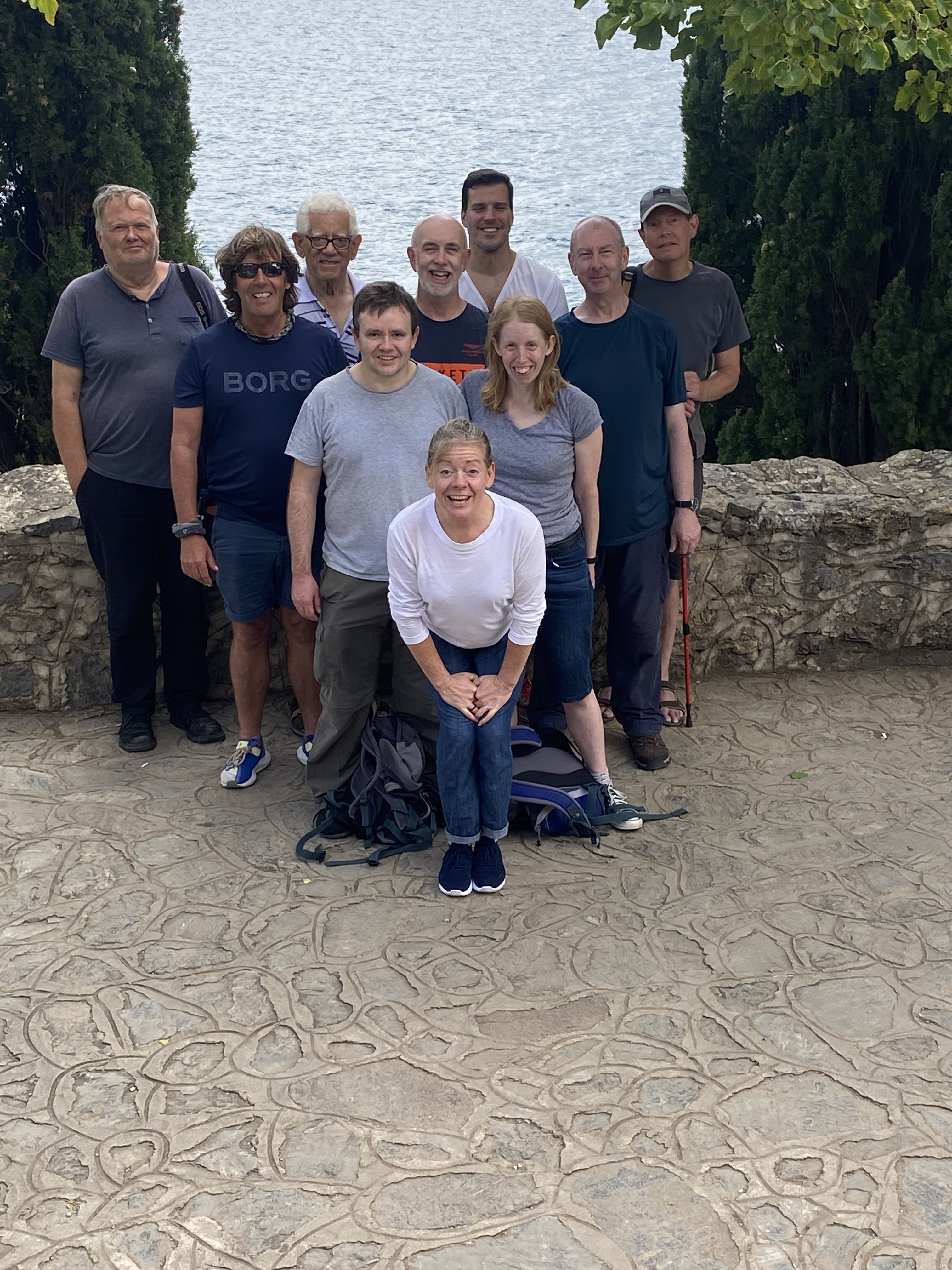 Next up was the amphitheatre which was not as impressive as the one in Heraclea, but still not something you see everyday. It was a fairly attractive town, and once again, the old town was the most attractive part. After some free time at the end of the tour I had a doner kebab on the way back to the hotel. We dined as a group again in a rather busy restaurant on the main street overlooking the lake.
Saturday
We left early in our minibus on a rainy grey day. It was going to be a long journey to Kosovo, with a couple of stops along the way. It wasn't long before we were on the legendary 65km stretch of motorway, notorious for its bumps. Built by the Chinese.
A few hours into the journey we stopped at a large monastery which was home to 25 monks. We saw a few of them milling about with black robes and long, unkempt beards. They are required to shun all forms of vanity.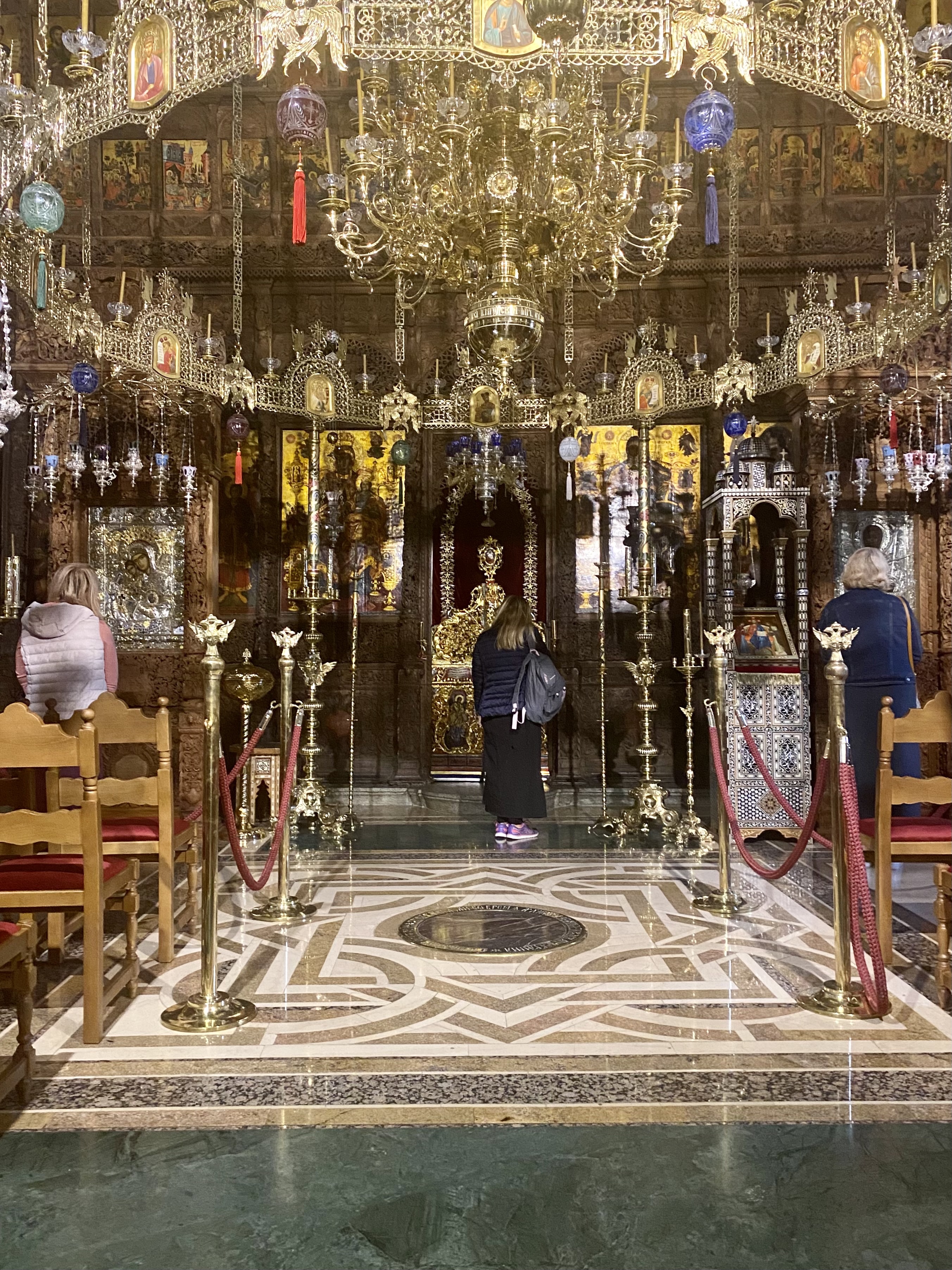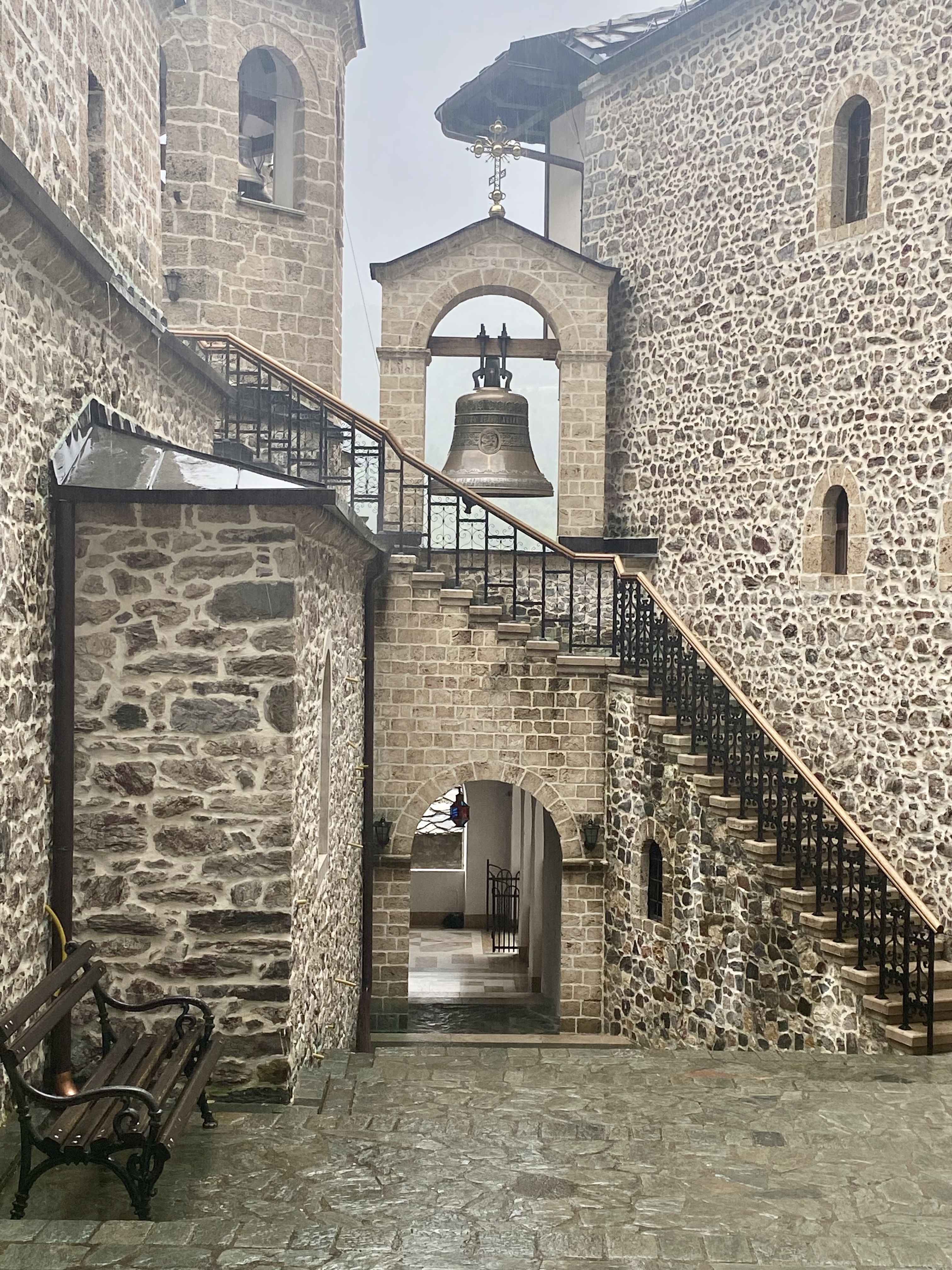 I'd been inside three monasteries in in recent days and they were all highly impressive. After the monk business, we drove a few more hours to a restaurant in the middle of nowhere. It was due to close for refurbishment two days hence, therefore stocks were low and choices were limited.
The rain persisted all day however, we'd been extremely lucky with the weather for the vast majority of the trip. An hour after we crossed the border from Macedonia to Kosovo (we all got passport stamps), we arrived in Pristina which is the capital of Kosovo. We were delighted that we had a hotel with five stars – for the first time. It was very nice albeit 30 minutes walk to the city. And the sauna was working which was a very nice treat indeed.
We dined for the last supper, and Dr. Jonathan, from Cambridge, made a nice speech with a scattering of cheese jokes, and presented Jan with an envelope containing tokens of our appreciation (cash).
Sunday
We didn't have much time in Pristina so I rose early and went for a walk to see what I could find before heading to the airport. My main focus was the statue of Bill Clinton, who is a hero in Kosovo. Well, I was clueless in finding where it was located and Google maps wasn't cooperating. I found a taxi driver and just blurted out "Bill Clinton", and he knew exactly what I was looking for. We drove around the block and it turned out that I'd walked past it ten minutes before. I was back at the hotel by 7:30. I certainly didn't see the highlights of Pristina.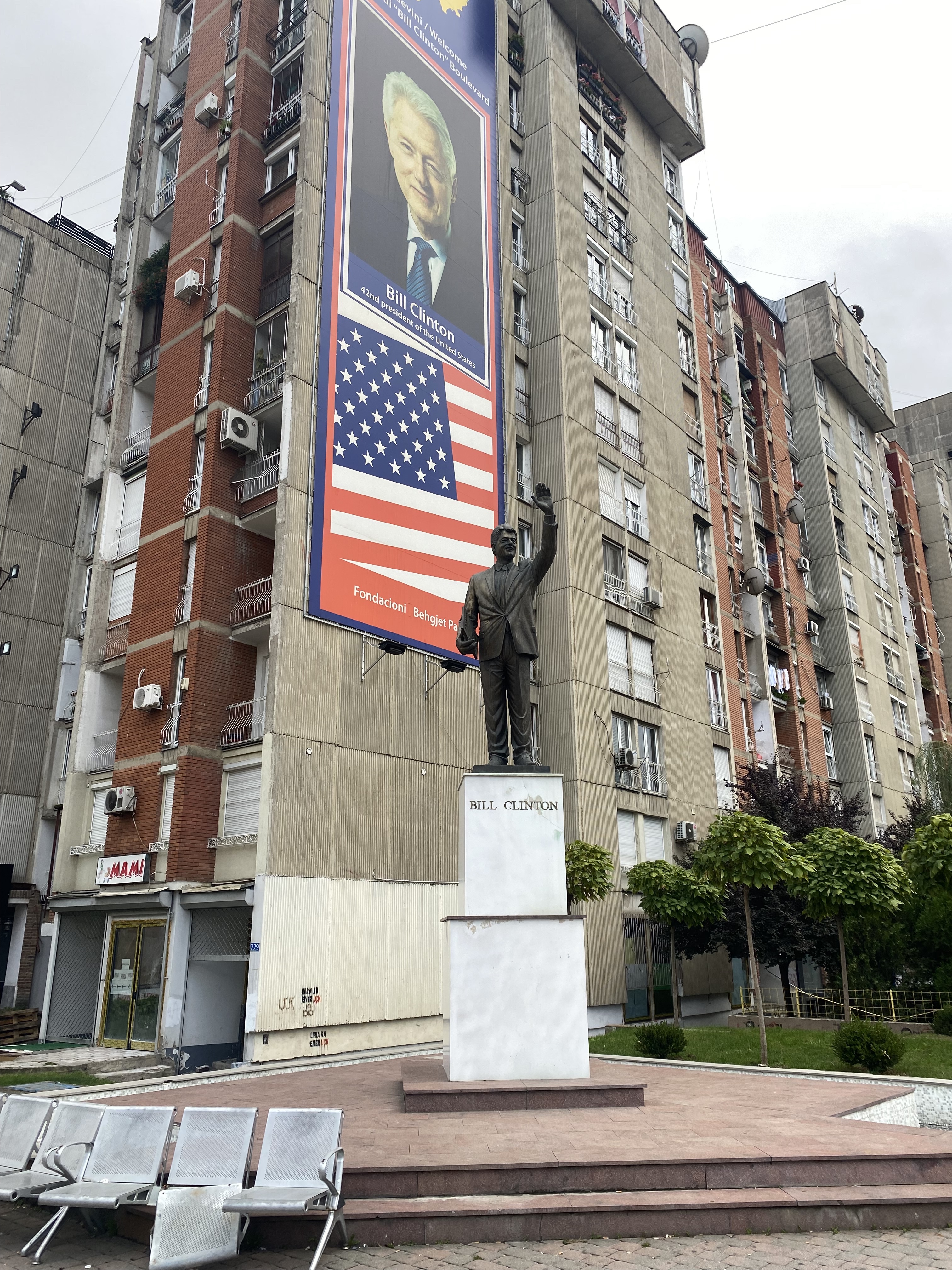 Eric and I got a 20 minute taxi ride to the airport and with very few delays, we were through. Eric didn't seem to understand the concept of "flying wine". Once onboard we were whizzed home on Wizz Air. First time with this Hungarian Airline who have been flying since 2003 and have 160 aircraft.
Some Balkan titbits that I know you've been looking forward to.
With regard to language, it's a real cluster. Slovenians speak Slovene and the alphabet has 25 letters. They don't have the letters Q, W, X and Y, but have two version of C, S and Z. And they throw random J's in words.
Croatian has 30 letters, Serbian has 30 characters, Montenegrin has 32 letters, Bosnian has 30 letters, Macedonian has 31, but the clear winner is Albanian/ Kosovan with 36.
Ethnicity is also very different. Kosovo is 96% Muslim whereas Croatia has just over 1%. Kosovo, Montenegro and Slovenia all use the euro but the other four do not – Croatian Kuna, Serbian Dinar, Macedonian Denar and the Bosnian Convertible Mark. I've ended up with leftover currency from them all.
A good, full-on trip with a nice bunch of people. More minibus than train but I managed to tick some places off.