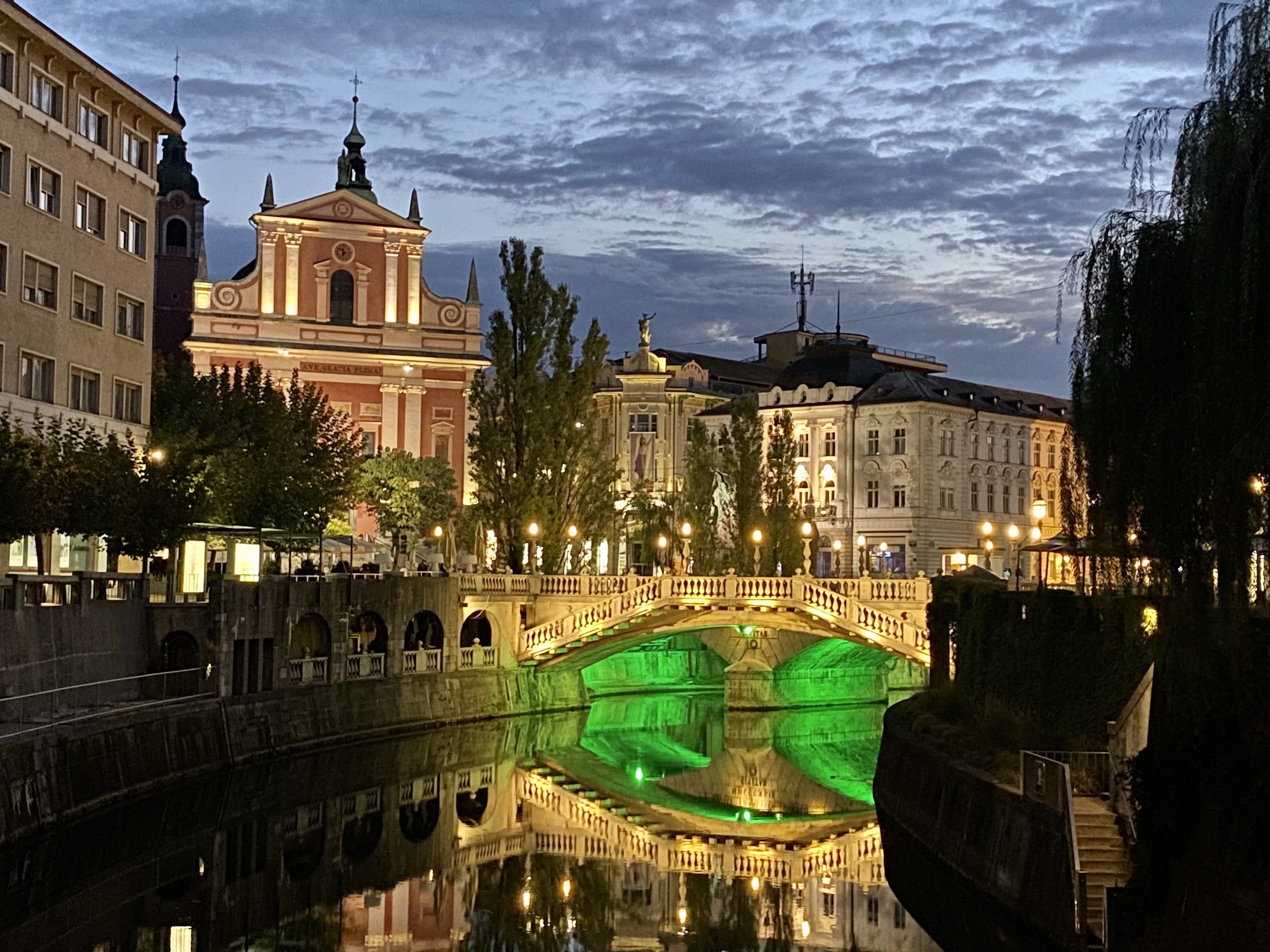 Strangers on a Train – Part 1
My Balkan rail adventure started with a long weekend in Ljubljana, the capital of Slovenia. Three nights in the 3 star Hotel Park was mostly acceptable although the bar had peculiar hours which included shutting at 8pm on a Friday night, and closed all day on Sunday. When I say peculiar, I mean catastrophic.
Booking.com stated it was "highly rated for cleanliness". It was also well located, close by the old town. That would be it for the highly rated credentials.
Saturday
I strode out early in beautiful sunshine looking for excitement in the old town. It was way too early for excitement but I did find comfort in a ham and cheese panini. Then on to Ljubjlana castle up a very steep hill which had great views over the city. I traipsed all over town and managed to clock up 25,000 steps.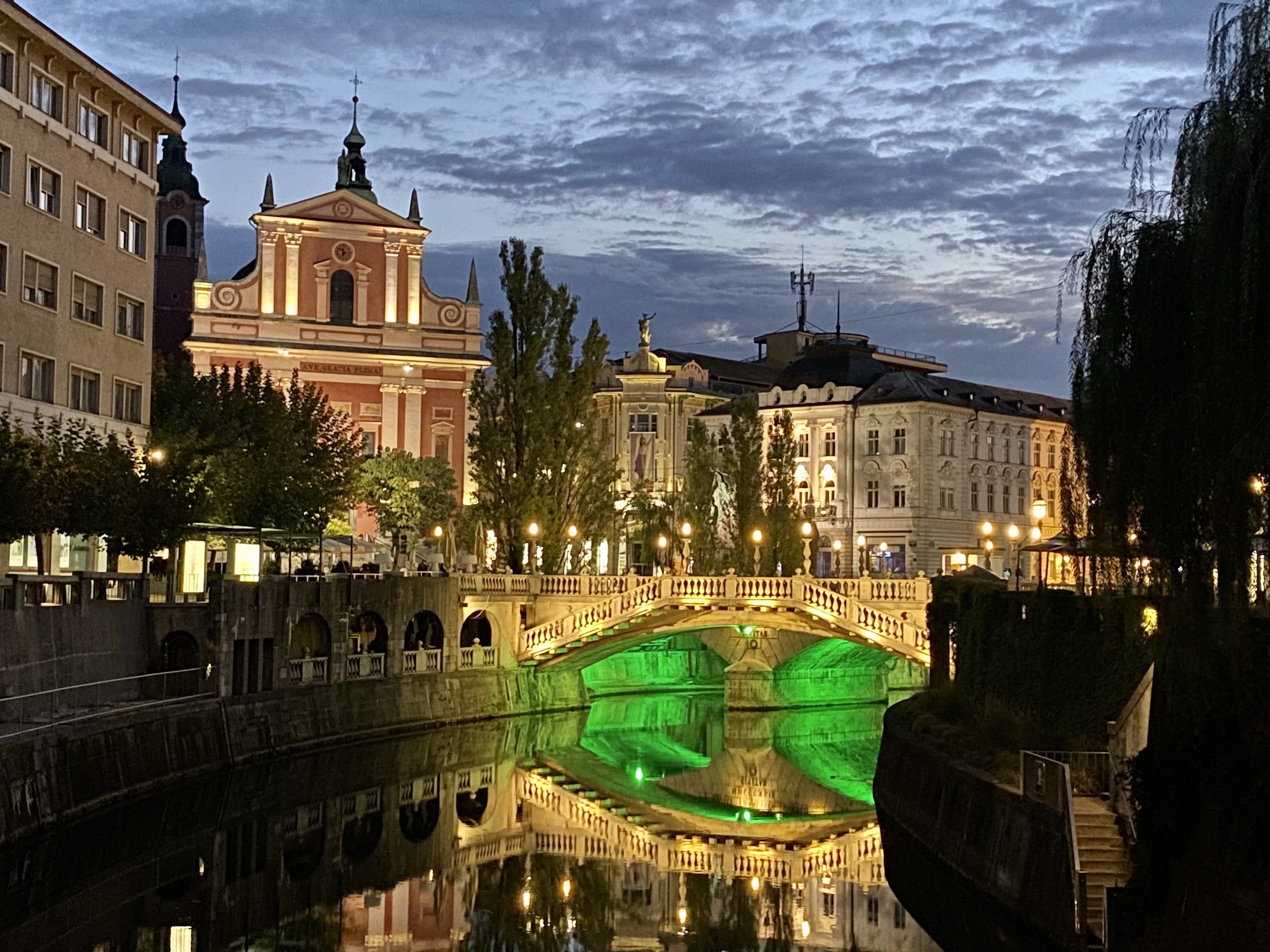 Sunday
I went for a walk when it was still dark. I followed the river and as I left town and entered the more suburban areas, it became lovely and leafy.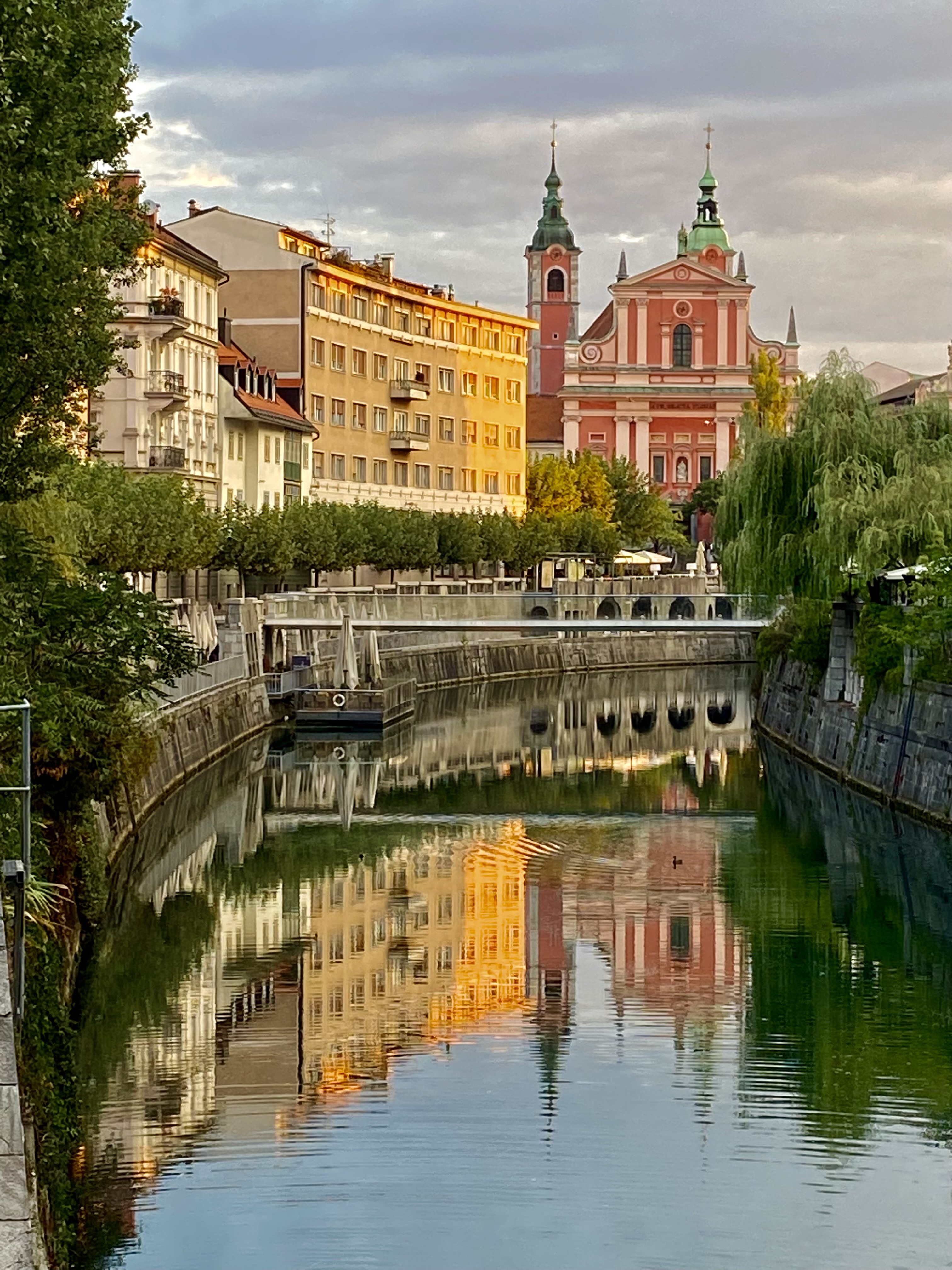 I attended the orientation meeting with our guide, a Macedonian chap named Jan pronounced, Yan. He spoke to us like we'd never stepped foot outside the UK before. What should've taken 10 minutes took Jan an hour to explain. The best advice was not to talk to Bosnians about politics.
I'm starting to understand that trips with explore.co.uk often involve single people with no kids who have never been married. This trip has nearly all men, with a couple from Cambridge, and a lady from Scotland. Oh, and a guy from Montréal Canada called Claudio.
The group went off for a walking tour but I decided to do my own walking tour. I'd already seen the city the day before. I headed to Tivoli Park which was a huge recreational area 20 minutes away. There were all types of sports courts including eight clay tennis courts and the standard was very good. All eight courts were being used on a Sunday morning.
I found a mini-golf/cafe, with tables set amongst the holes. Rick Astley was playing so I had to stop and have a golf burger.
My journey around the city continued with a visit to the Slovenian National Gallery. Slovenia isn't known for its famous artists or sculptors, but there was enough there to titillate me for half an hour. All I can say is that they love nude sculptures.
I then swerved into a vintage clothing store I found an orange leather gilet. I said to myself, I don't have an orange leather gilet, so I bought it for €18. Not sure where I can ever wear it.
I had an absolutely wonderful morning strolling round Ljubjlana on my own. It's a nice city with some very tasteful graffiti.
I reconnected with the group for an afternoon trip by minibus to Lake Bled, which for me was one of the highlights of the itinerary. Our driver was Nina and she had fantastic English with an American accent.
Lake Bled is one of Slovenia's biggest attractions and is located in the Julian Alps in the northwest of the country. It's very picturesque and Bled Island, lying in the middle of the lake, features in many photographs of the Balkan region.
We took a traditional pletna to the island and had 40 minutes to explore. A pletna is a flat-bottomed boat, similar to a gondola, but with two oars. It wasn't a big island and the highlight was a church with a bell tower. I bought a ticket and climbed. Only people who purchased a ticket could use the toilets in the cafe nearby. I had to scan my ticket to use the facilities. We shared the boat with two guys from Des Moines, Iowa who were very pleasant indeed.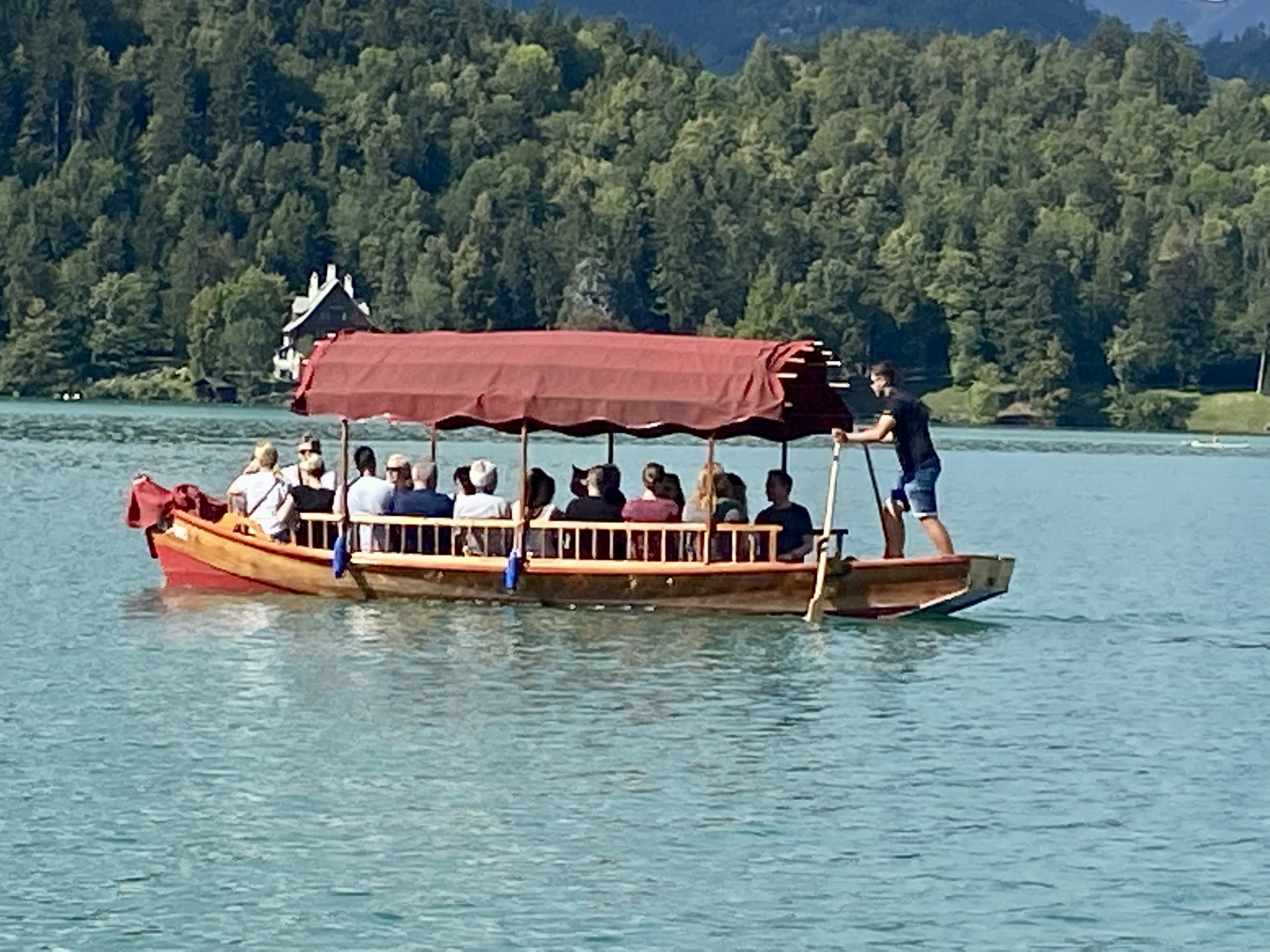 After the island, Nina drove us up to the castle which overlooks the lake. She told us there was a cafe inside serving a type of Slovenian cake, as well as a bar, a museum and of course spectacular views of the lake. She had me at cake. A little while later after taking some photos, I was sitting at a table, directly overlooking the lake, with a beer and some cake. A fabulous afternoon excursion.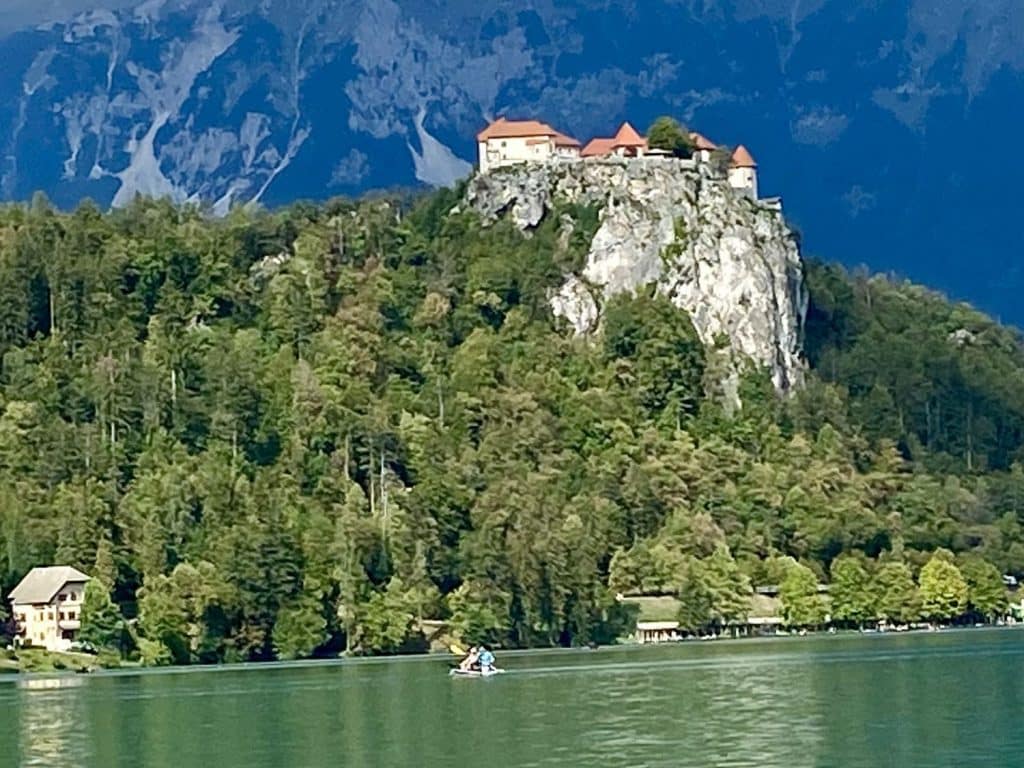 Back at the hotel, they dined as a group but I ducked out and did my own thing. It's becoming a thing. Anyway, I only wanted a beer – I'd had cake. By all accounts I didn't miss much. A good day with another 25,000 steps.
Monday
On Monday afternoon we boarded the train to Zagreb which was due to take just under three hours. At the border, officials from Slovenia and Croatia boarded the train and walked through, carriage by carriage, checking our passports. I'm using the Irish one in Europe because I can. Watching the countryside go by from large open windows was a rather pleasant way to pass the time. All for nine euros. Bargain.
Once at Zagreb station, a very nice station, we had to walk from the station to the hotel – a hotel that was initially built for servants. My expectations were lowered. It lived up to my low expectations being located in a somewhat shitty part of town with no bar. Whilst I can do without a pillow menu, no bar is taking things a little too far.
Jan took us on the tram to the centre of town about a mile away. He led us to a place for dinner which didn't look very appealing at all so I decided to go off and do my own thing. I found an acceptable establishment and had tomato soup.
It was interesting to see what Booking.com said about our Zagreb hotel – the Orient Express. Features listed were, a lift, daily housekeeping, and my favourite, fire extinguishers.
Tuesday
The group went off at 8am for a tour of Zagreb. As I've been here before I decided to do my own thing, yet again. I headed for the Museum of Broken Relationships. I was intrigued. I mentioned it in my last blog about Zagreb. The artefacts, if I can call them that, were items left behind, items of sentimental significance and items taken. One inscription from a jilted partner from Denver, Colorado, detailed how they'd taken the toaster so that the remaining partner could no longer toast anything. Now that's revenge!
I rejoined the group late morning for a two hour jaunt to Plitvice Lakes, National Park. Our guide decided to talk for the entire two hour bus ride. It was painful to listen to the level of detail she imparted. Most of the others zoned out. I chose music.
I didn't really know what to expect from Plitvice and I was literally awestruck by the place. Second only to Dubrovnik, as Croatia's most visited tourist attraction, it was breathtaking in so many ways. There are 16 interconnecting lakes with cascading waterfalls all around. We spent three hours walking around, interrupted by a boat trip across one of the lakes.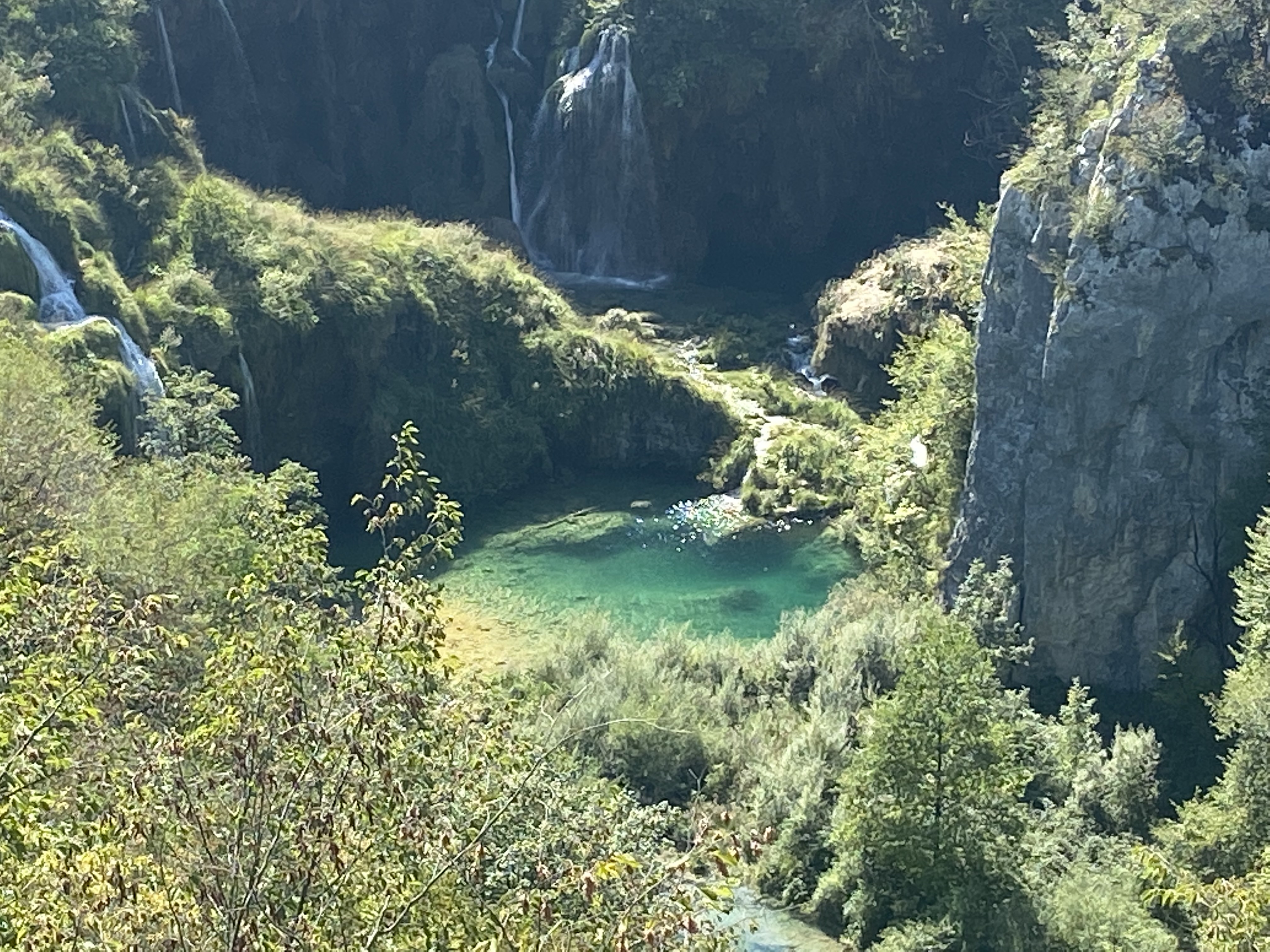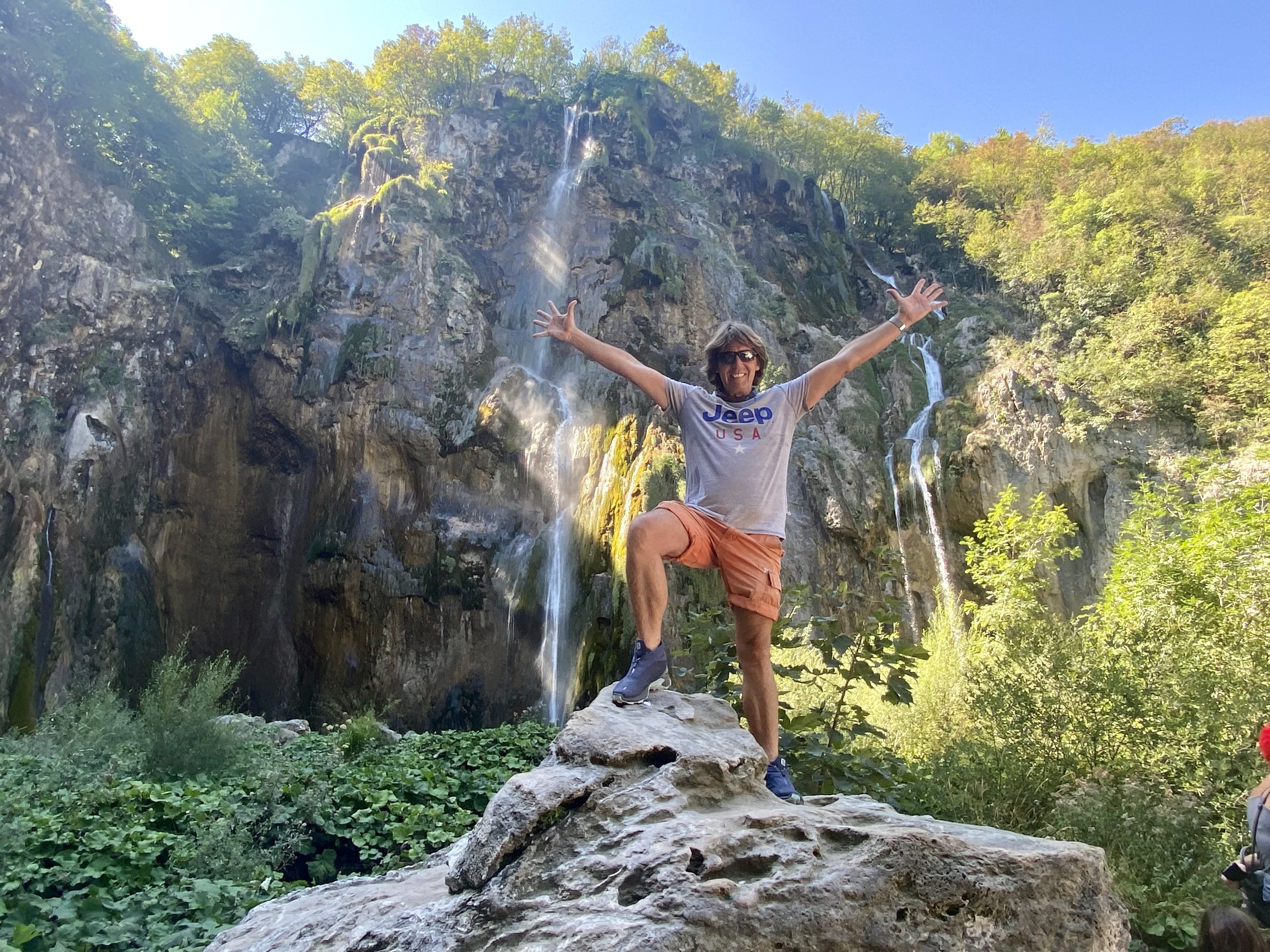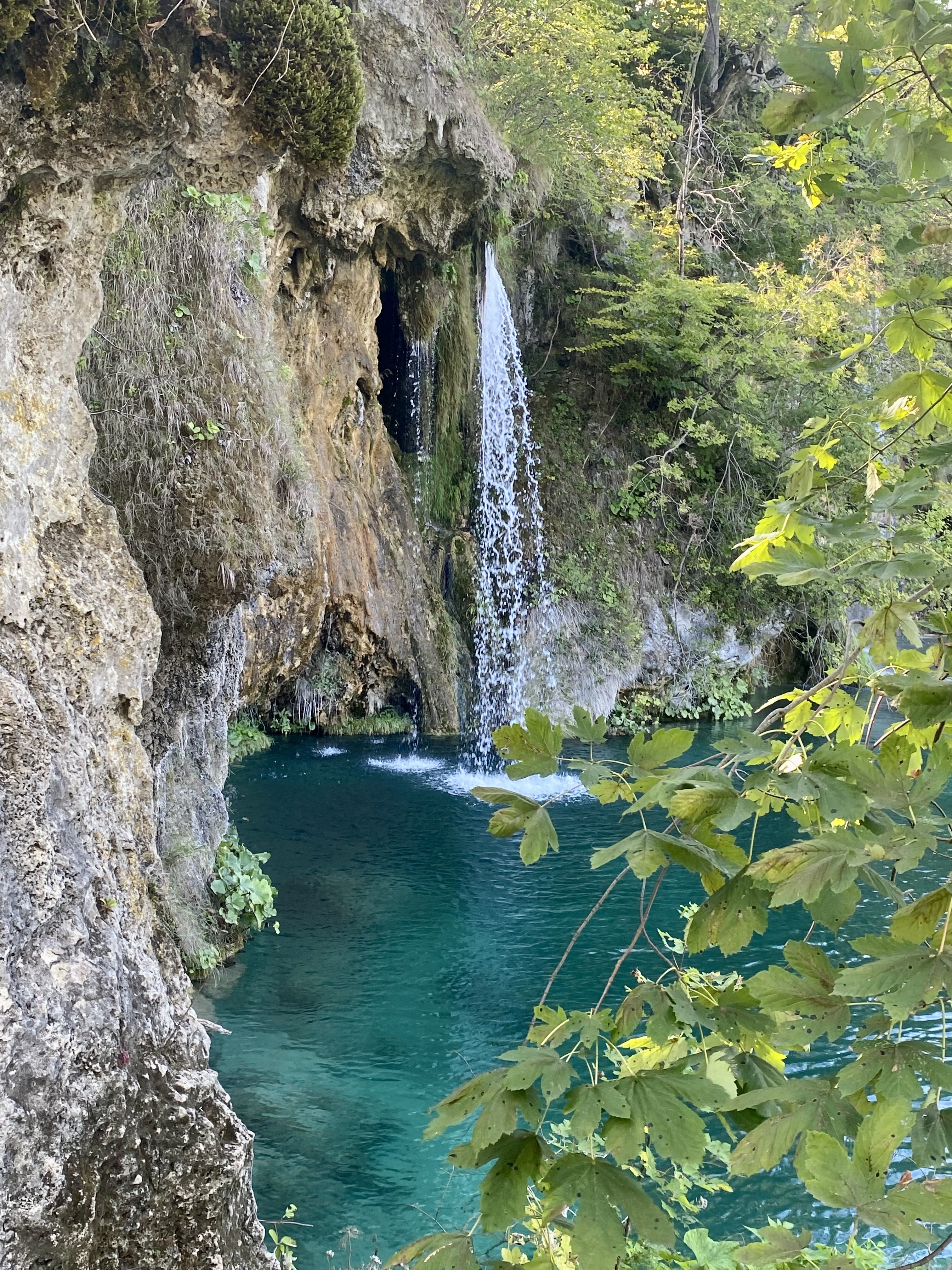 I had a bit of a disaster when I lost my remote control for the selfie stick through a gap in the planks. I was determined to retrieve it and went in to the water fully clothed. It was cold and apparently, no one is allowed in the lakes. I got away with it and came out soaking wet, but most importantly, I had my remote.
On the way back our guide promised to be quiet, which she was… for an hour. And then it started again. This was a woman with decades of experience. You would think she would've honed her craft by now. I decided to find it amusing and wondered how many people she'd driven insane over the years. Possibly even to suicide. Just when we thought it was over, she stood up, walked down the bus and asked "any questions"? I couldn't think of anything. She even told us about the butterfly species in Croatia. There was nothing left to know.
The group were dropped off at a restaurant but I elected to go back to the hotel as I was still very damp. I changed and went to a bar to write the blog. I keep doing my own thing. I suspect the group think I'm very antisocial.
A very interesting first few days in the Balkans.