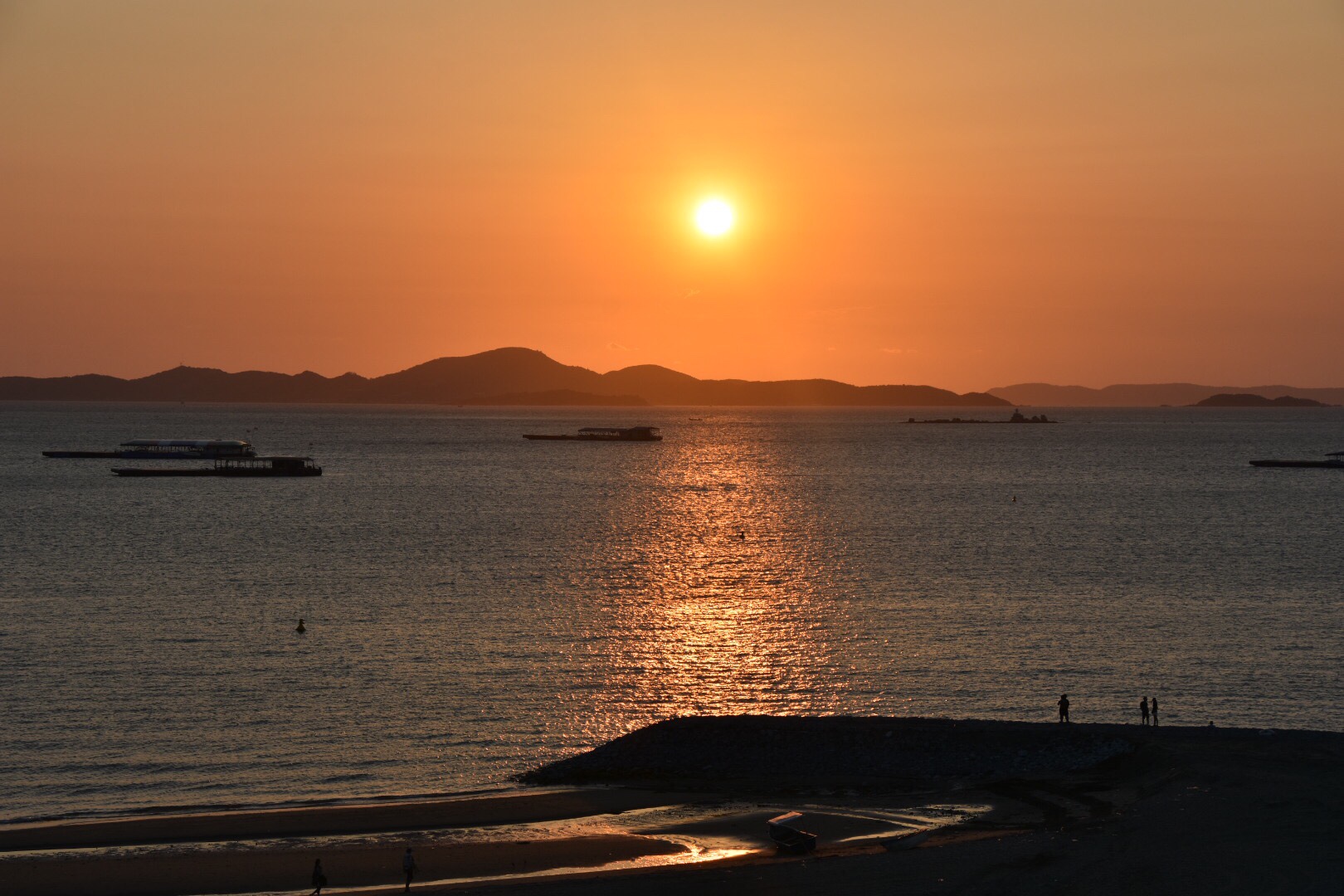 I know, I know. I should have taken Georgia to a nicer part of Thailand than Pattaya but hey, it was her first time so it's best she sees the seediest part first. The advantage of Pattaya is that it's only a 90 minute taxi ride away from the airport whereas most vacation spots require a flight.
The proximity is good in some ways but it does mean coach loads of people turn up every day from Bangkok. I say people, but I mean Chinese. Hundreds of them, and they are treated to the same one size fits all tour consisting of a speedboat ride to a platform at sea where they all do paragliding before a quick snorkel and a go on a jet ski followed by lunch on the beach. In the morning you can see up to fifty Chinese people at any one time dangling out at sea. It's quite the spectacle.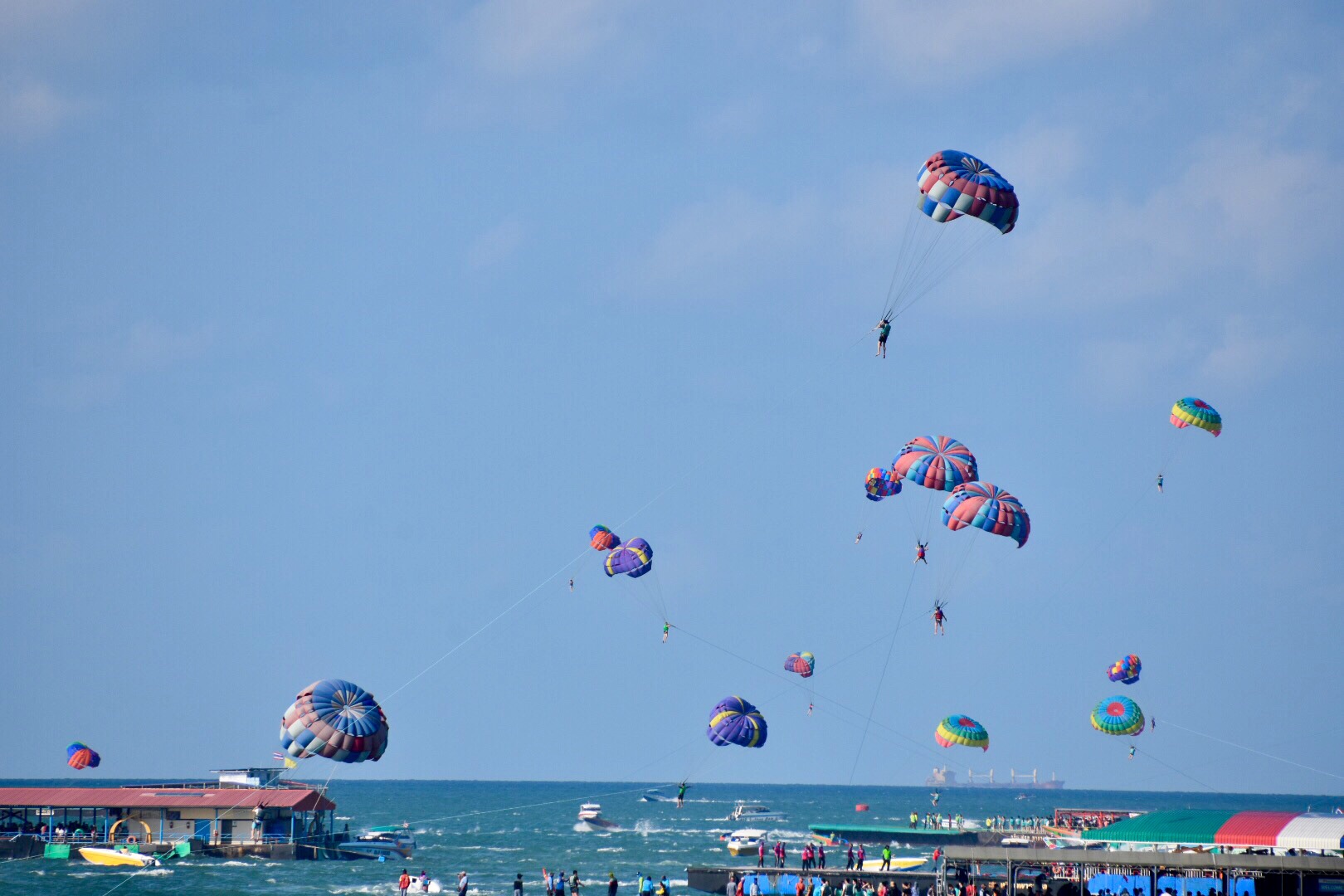 I met Georgia at the airport and she looked tanned already considering she'd spent the winter in England. This time she'd actually brought her credit card with her which is an improvement upon Dubrovnik where no cash or cards were in her possession.
We got a bouncy taxi driven by Mr Miyagi to the Dusit Thani which is a five star Thai resort and what a revelation. It was the extras thrown in that surprised me. Western hotel chains charge for everything but this place did a nice line in freebies. Three pieces of laundry a day for free, a two hour happy hour with FREE drinks every evening and the club lounge providing nibbles all day long. Nibbling all day long is a particular passion of mine.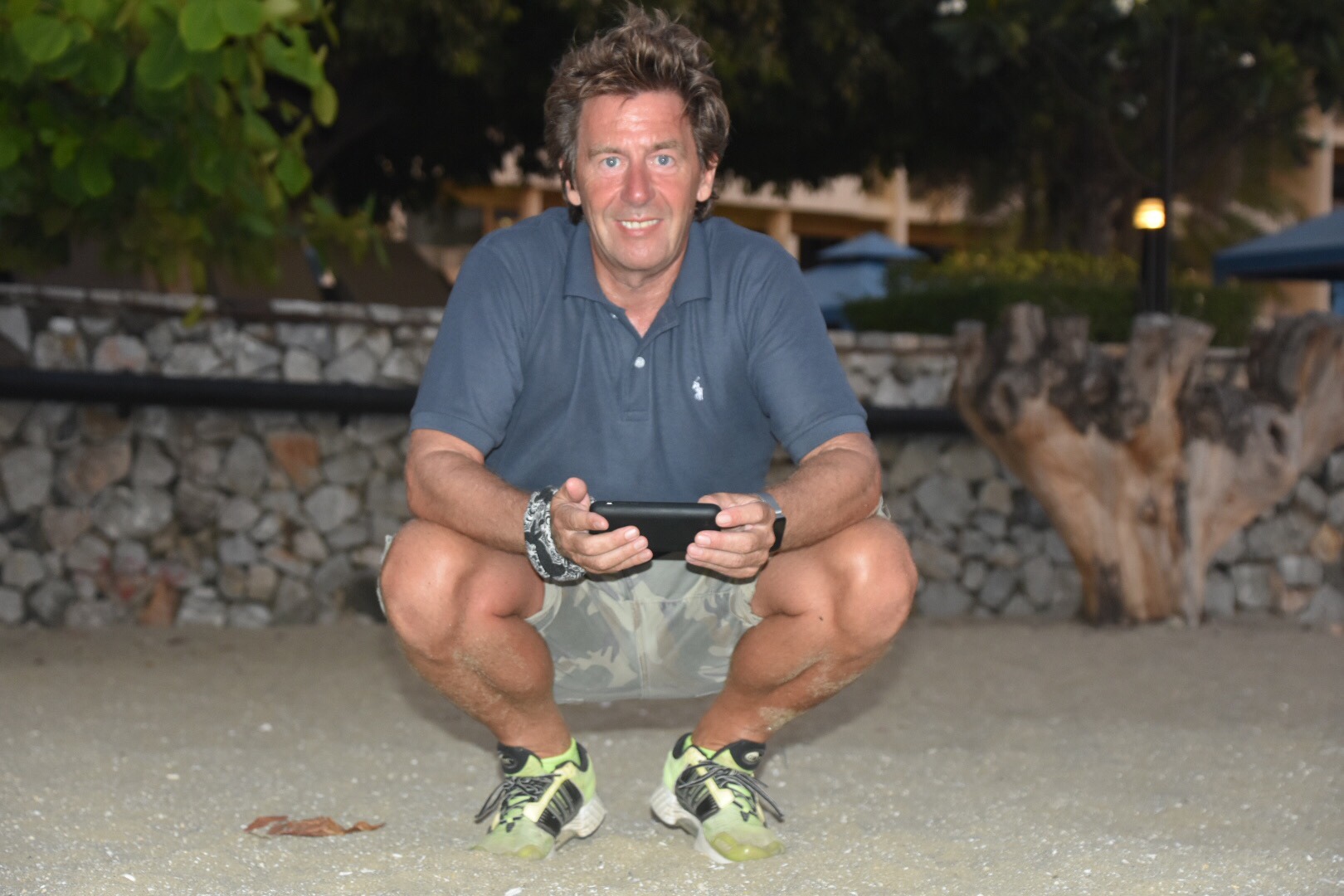 I went and got fitted for a leather jacket as Georgia caught up on some sleep. I swear she's part Koala. In the evening we went to Walking Street which is where all the action is. Despite being with Georgia, it didn't stop Street salesmen making numerous offers to go to a Ping Pong show which I explained wasn't a table-tennis tournament and that a woman's vagina is a multi-talented body part that can fire ping pong balls, smoke cigarettes and shoot a dart with deadly accuracy to burst a balloon. Despite this amazing set of skills Georgia's enthusiasm was not of the required level to warrant the entrance fee so we declined. We did do the fish spa thing though and I was pleased that I managed to get her on public transport in the form of a songthaew which is the main method for getting around town at a cost of only 25p.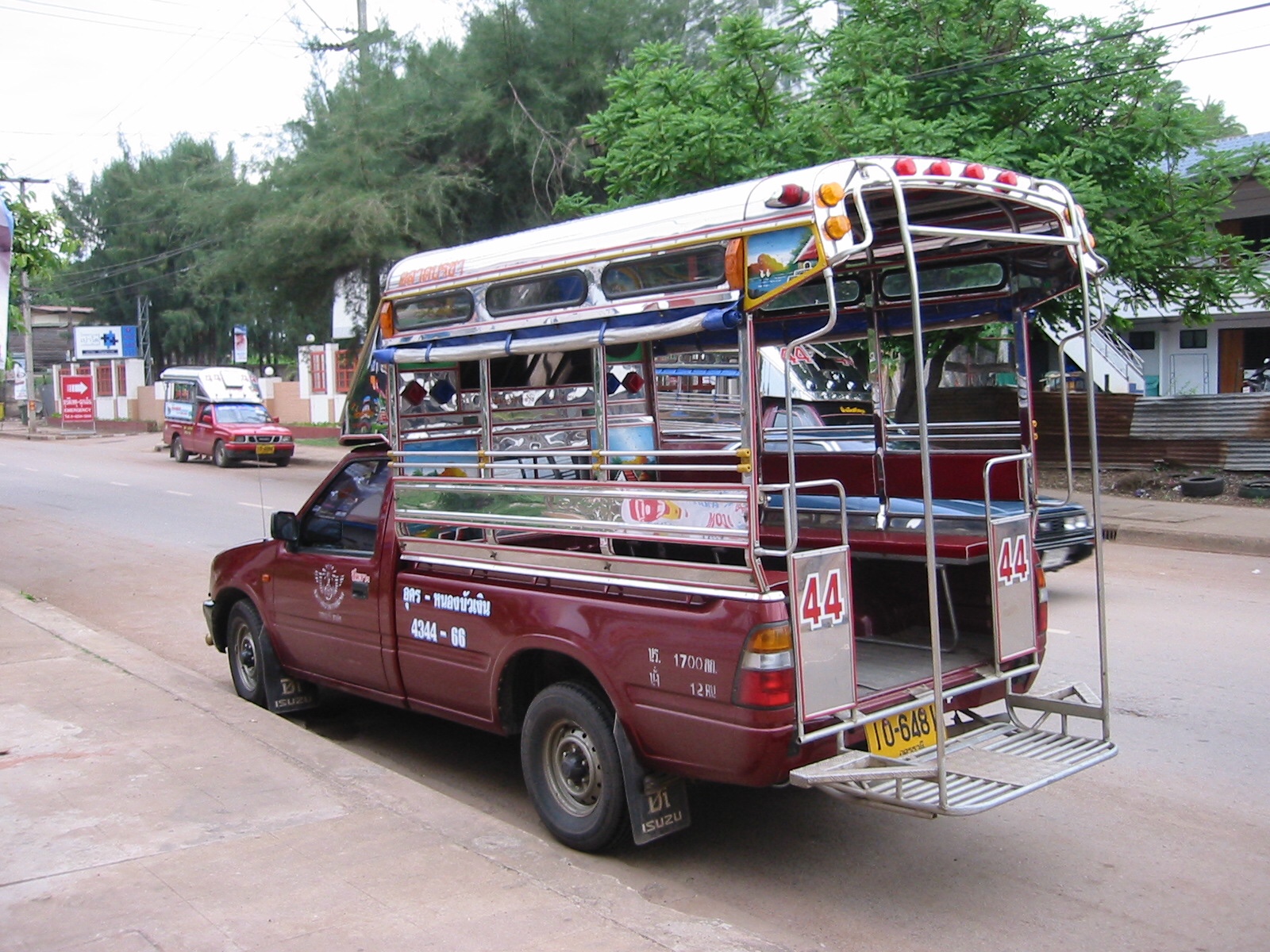 Georgia was still jet lagged so went to bed and so I popped to the bar for a glass of wine which was rather empty but did feature a singing pianist. Whilst the songs were familiar and to my liking, his singing was atrocious in a very amusing way. He may have been the reason that the bar was sparsely populated.
You may recall my blog of a few years ago where I mentioned that the Crown Prince's pet poodle Fufu was in charge of the Air Force. Well Fufu has since died, aged 18 and was cremated but not before four days of Buddhist funeral rites. Not sure who has taken over the role of air chief marshal but the front-runner was a rabbit. In Thailand is is against the law to openly criticise the monarchy.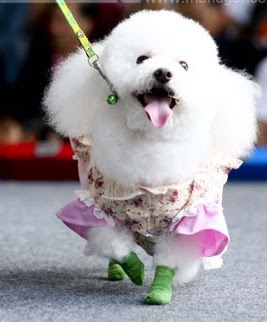 The highlight of the week was visiting the elephant sanctuary. It was an early start and we shared a songthaew with four American couples who were good fun. Maryland, Philadelphia, Wyoming and Orlando. Other tourists were already there and we had seven elephants to 35 of us. After a brief orientation of dos and don'ts we fed them bananas and watermelon, either directly into their mouths or via the trunk. My years of watching nature programmes led me to believe that this wasn't the normal diet of the Asian elephant but they seemed to like bananas (more than me). I was concerned that they didn't peel them though.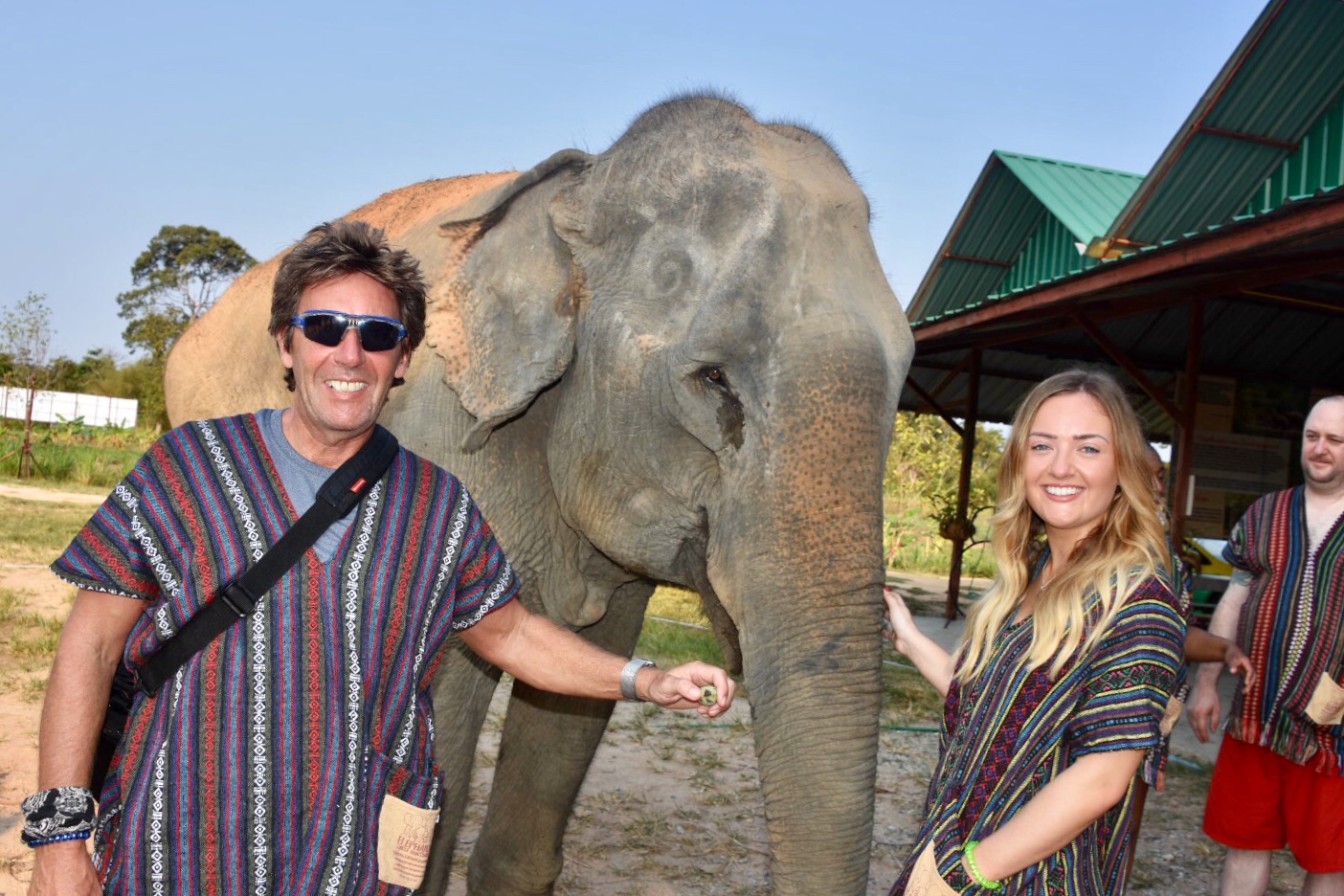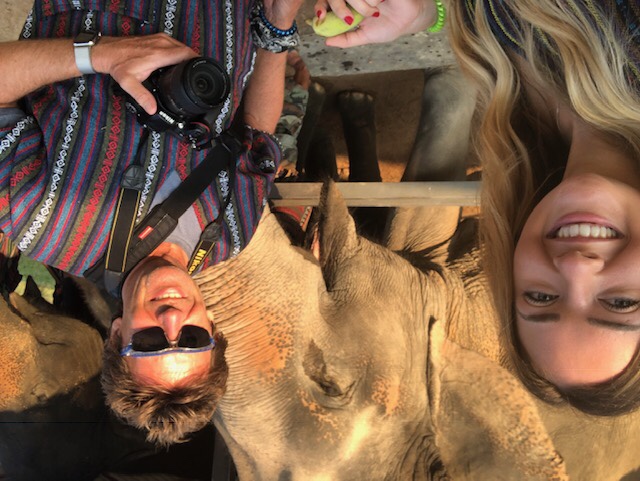 It was a great experience and we followed this with a chance to cover them with mud before washing them off. I mean basically we'd all paid £50 to be elephant keepers for the day. I decided not to do the mud and washing as Georgia needed photographic evidence of her adventure. That's my story and I'm sticking to it.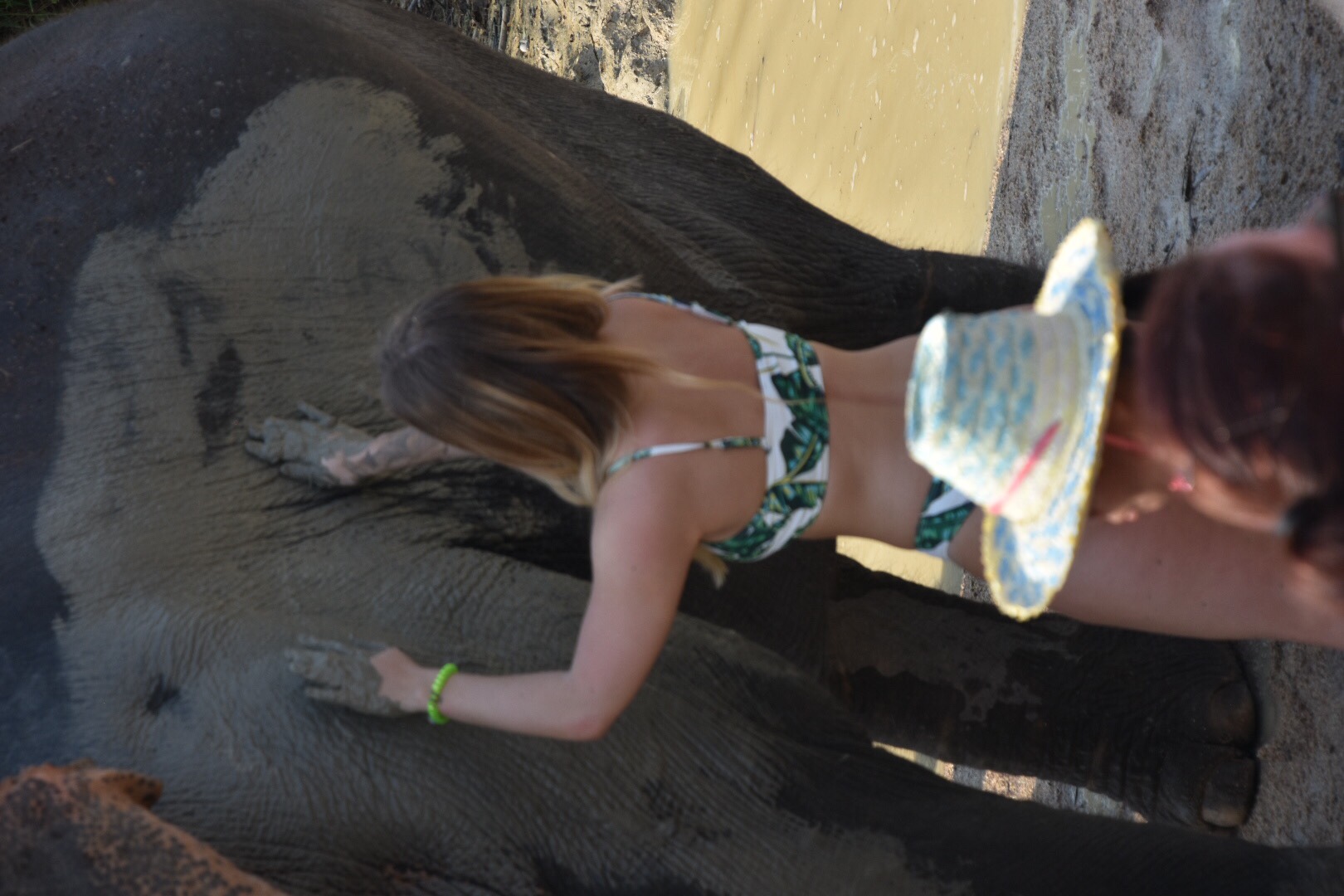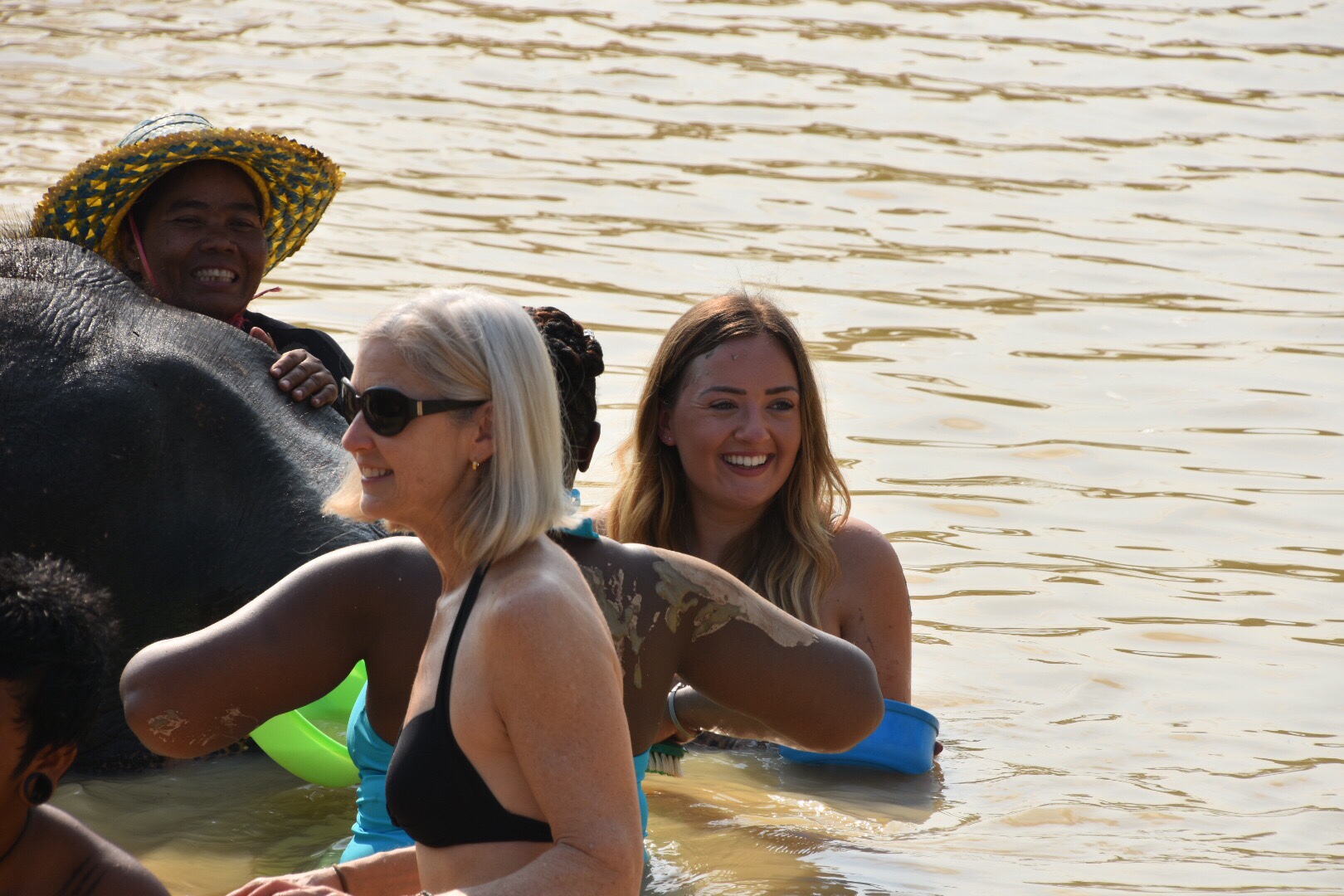 The last activity was making paper out of elephant dung and we were all given a sample the size of a baseball which had been previously boiled for several hours. I don't know about you, but I much prefer my elephant dung boiled. We separated the dung ball in trays submerged in water until it was evenly spread. I was in heaven. These bucket list items were falling like skittles.
It was truly a fabulous thing to do and I thank Georgia for suggesting it and allowing me to pay.
The LPGA Thailand Open started on the Thursday and the golfers were staying at our hotel. We saw a lot of coming and going and Michelle Wie was there somewhere but other than her, I don't think I could name another female golfer.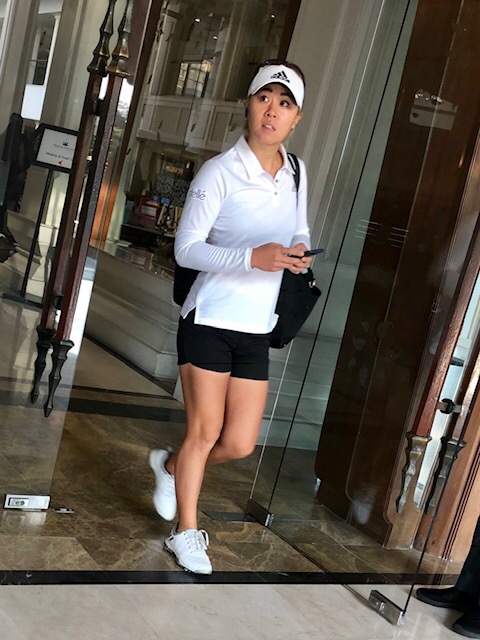 The 19th was Big Buddha Day which meant restrictions on the sale of alcohol. This has been the case since 2009 on various days in the calendar out of respect for Buddhist monks.
On Thursday we went to the Sanctuary of Truth which I visited a few years ago. It's a magnificent wooden structure that looks like a boat from certain angles. It was only started in 1981 by a Thai businessman and scheduled for completion in 2050. Lots of work going on and we had to wear hard hats. We got there early so near the crowds and as we left the Chinese and Russians were turning up.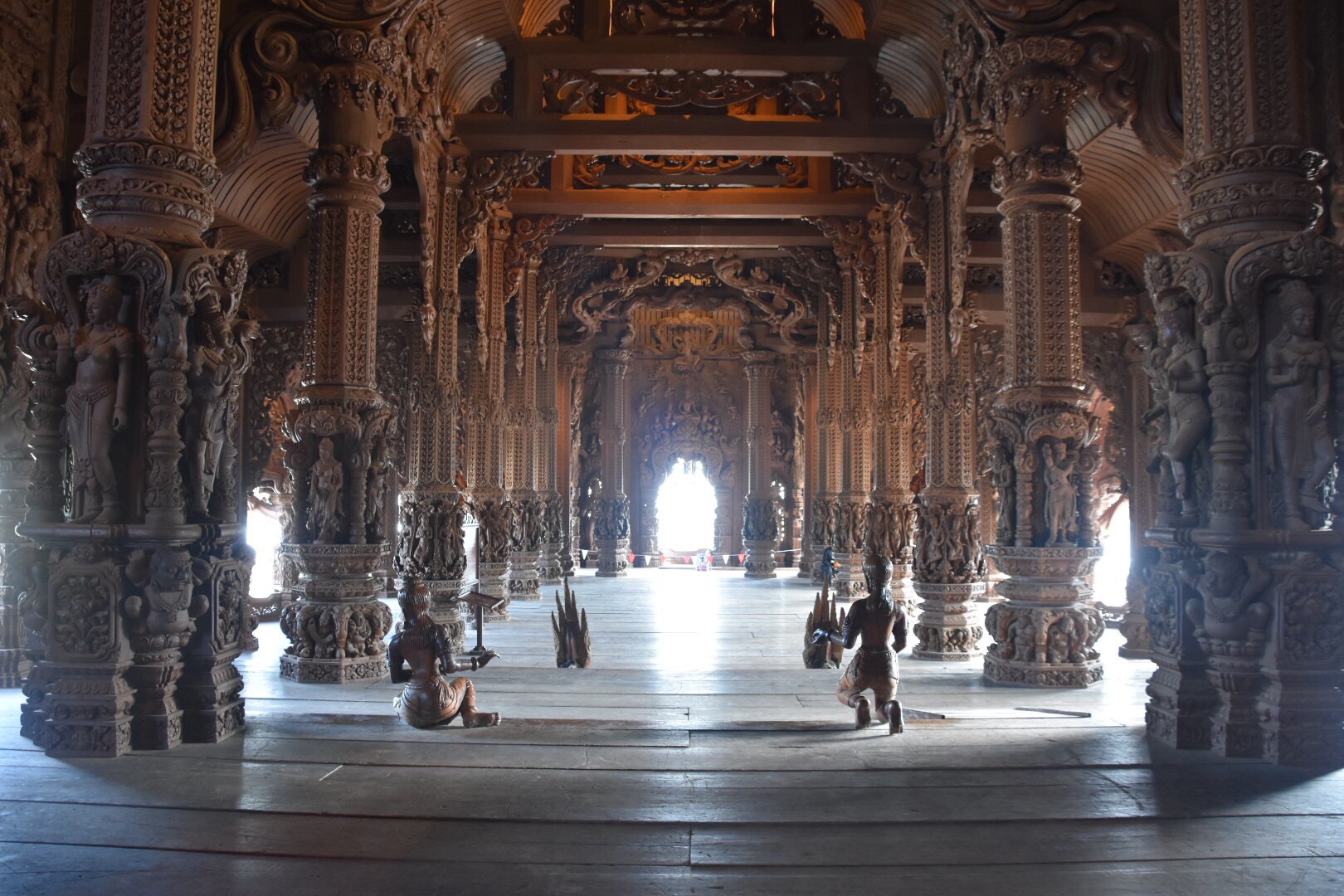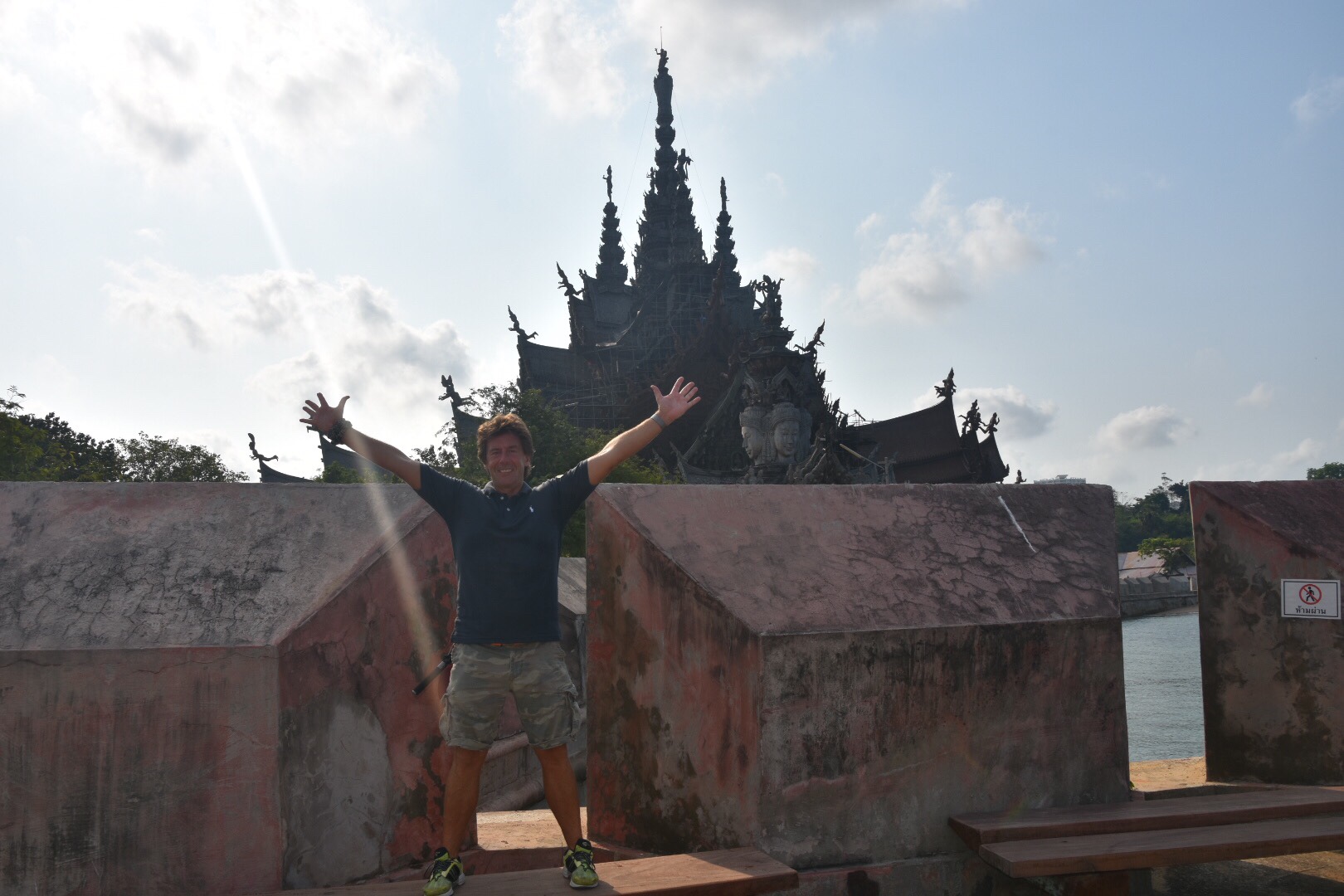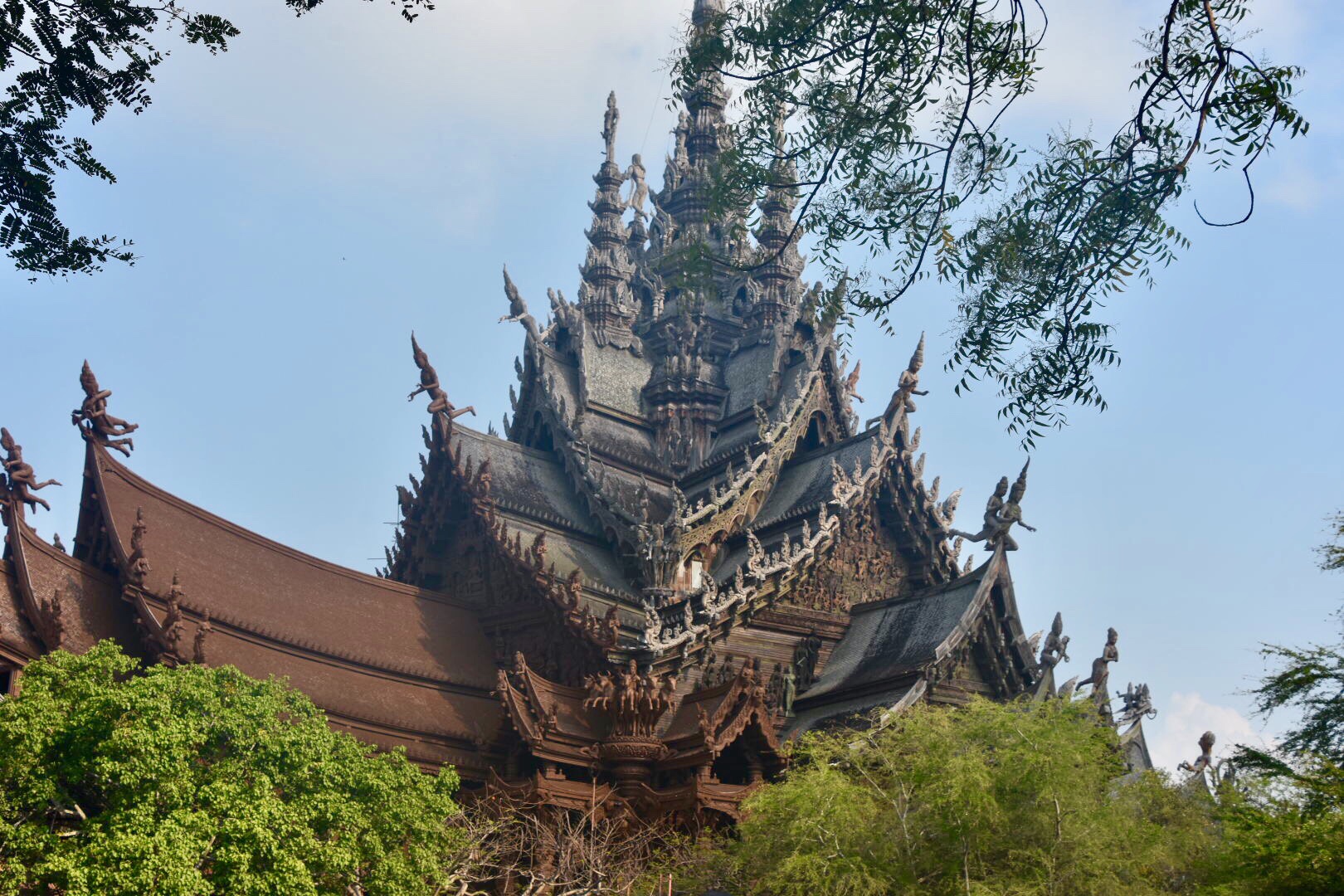 Bangkok
After six days in Pattaya we headed for Bangkok for the last two nights. In truth it may have been better to stay in Pattaya because Bangkok, although large and busy, doesn't have an abundance of well known sightseeing spots to excite a 21 year old. Jim Thompson's House just didn't cut the mustard with G.
We thought we'd beat the crowds again and visit the Grand Palace at 8:30 when it opened however a few thousand others had the same notion. We didn't stay too long before heading for the river in a tuk-tuk. We wanted to see a floating market but I didn't like the price or the chap so we opted for a river boat trip for 6 baht or 15p. What a result I thought until I realised the boat trip was only from one side of the river to the other. The best part was leaping on and off the boat. I'm used the cruise ships where the tendering operation is strictly monitored by overly cautious Filipinos making sure the mainly older crowd don't fall in the drink. Safety first. Our riverboat experience couldn't have been more contrasting which made it much more fun.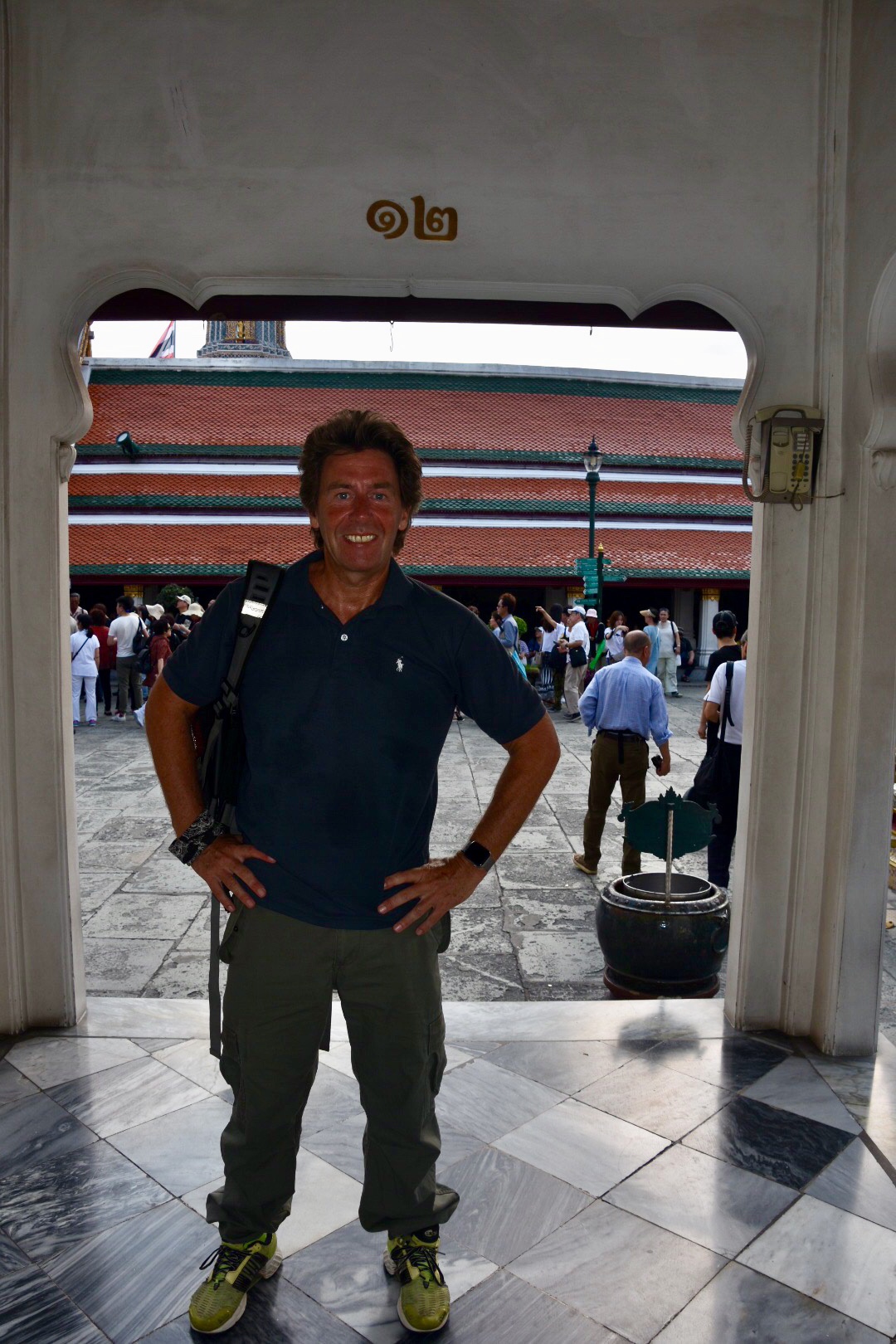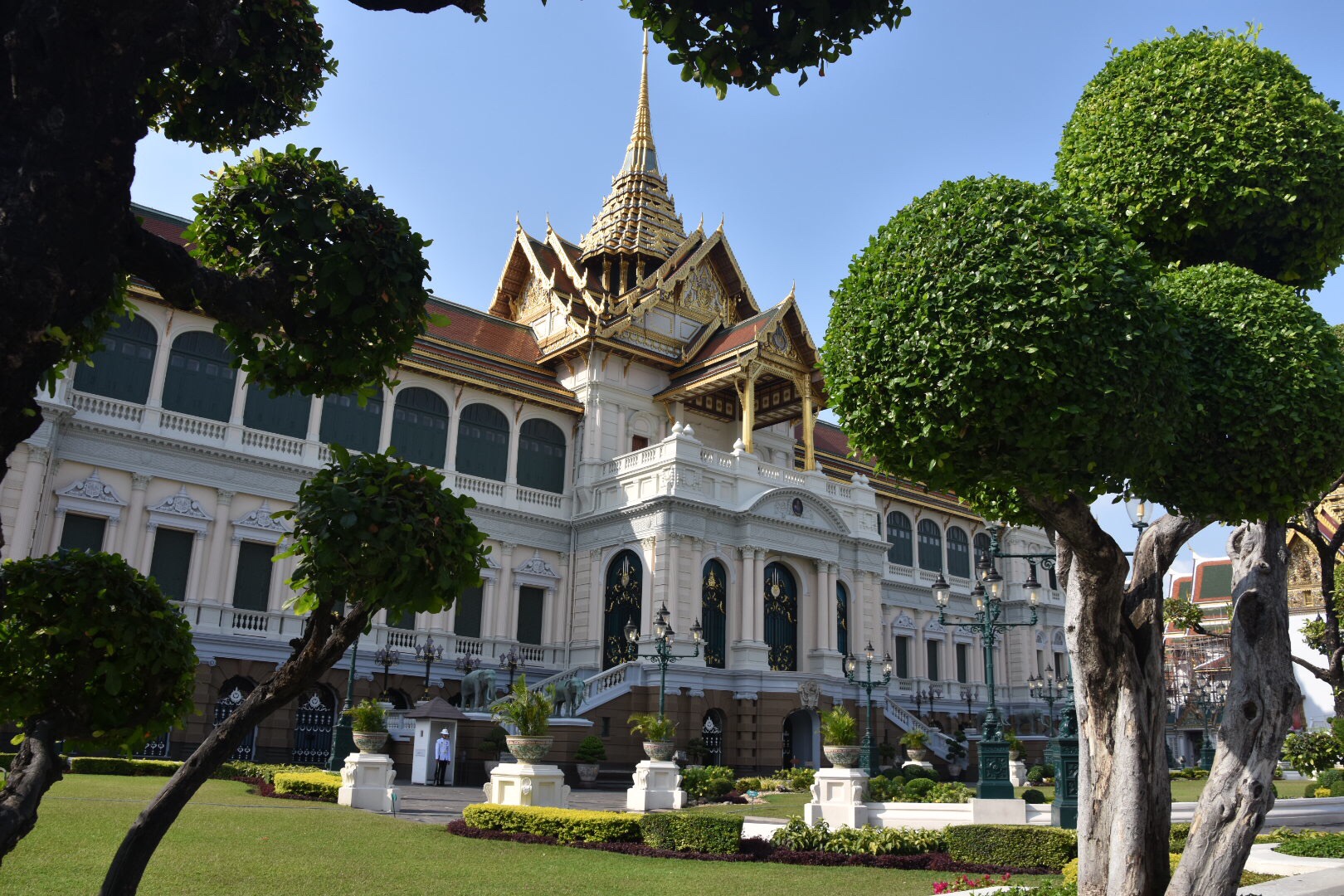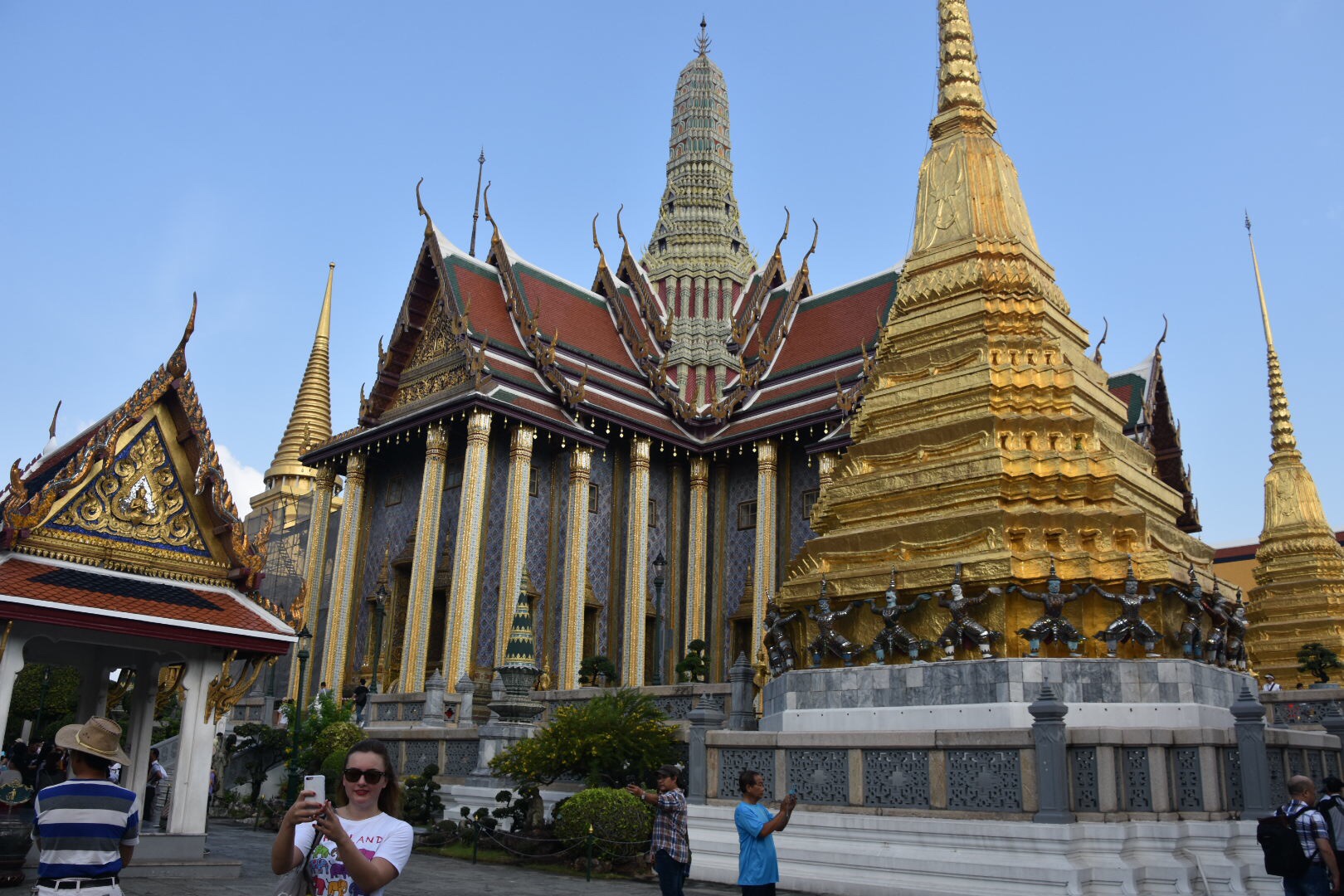 As for the credit card. It didn't see the light of day.