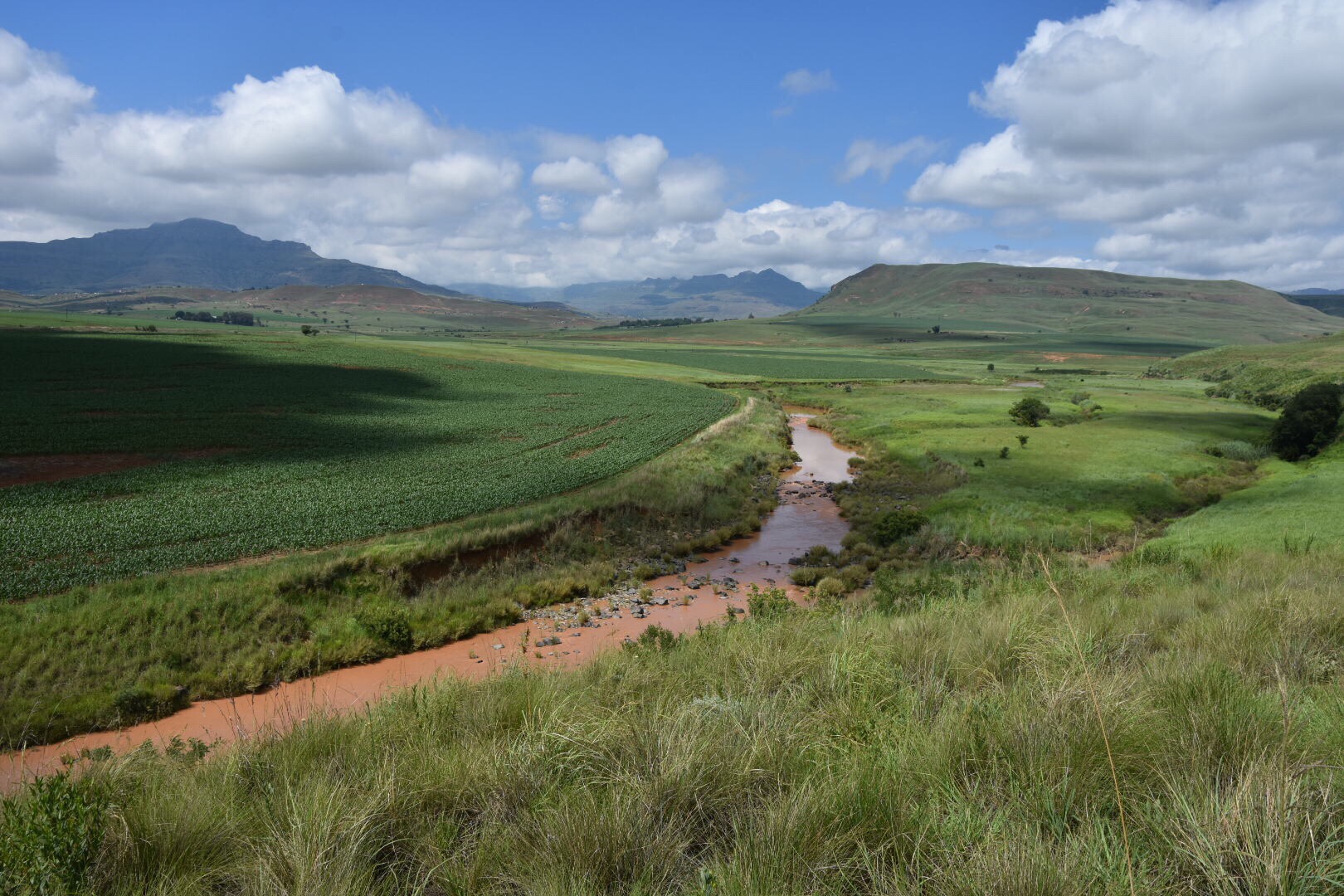 The Drakensberg, meaning Dragon Mountains in Afrikaans are split into three areas: Northern Berg, Central Berg and Southern Berg. They border the mountain kingdom of Lesotho and are pretty spectacular. We are staying in the Northern Berg in the Royal Natal National Park in some thatched hillside cottages about 5000ft above sea level and it's absolutely fabulous. When we arrived there was a moody lightning storm in the distance with thunder rumbling sporadically. There is also a rock pool swimming pool which looks like something out of the Flintstones. We've stayed in some lovely places on this trip and this is one of them.
There are various animals around the farm including Shetland Ponies and miniature horses. They might suit Peter (79) who admitted the other day that he's too short to use a urinal. Him and Jon are both Masons and they've been trying to talk me round!
Our full day in the Drakensberg involved a six hour hike. Some less agile members of the group decided not to take part. I had every intention of going but I decided not to and did my own hike around the mountains for a period of time decided by me and at my own pace. I'm discovering a greater desire for solitude on this trip as we're spending so much time together as a group – breakfast, lunch and dinner and hours in the minibus and all the stops and excursions. They're a nice enough bunch but no lasting friendships will emerge. A day in the mountains on my own is just what I needed.
Within a minute of my solo hike a snake slithered across the path in front of me causing hyper-vigilance from then on. After an hour I found a signpost to the Leopard Trail Cascades and my fondness for cascades never seems to diminish so off I went armed with a stick. No ordinary stick though. This was a snake deterring stick and they knew it. Didn't see another one all morning so I know it worked.
It took an hour to reach the cascades which fed into the Tugela River and their magnificence cannot to understated. Luckily I was hiking for the exercise rather than visual splendifery. Saying that, the early morning clouds had cleared somewhat and the scenery was stunning.
There were animal droppings all over the place but no animals until I came face to face with four male kudus. I much prefer the female kudu because they're smaller and don't have bloody great horns. Luckily they were more scared than me and trotted off but being out there alone does make the mind wander.
Toward the end of the hike I finally managed to get a photo of the magnificently coloured grasshopper who was clinging to an upright piece of straw. I wanted a photo from behind to show the fabulous colours but every time I moved behind him he shifted round the straw. It was quite comical as I must have followed him round the straw three or four times before giving up.