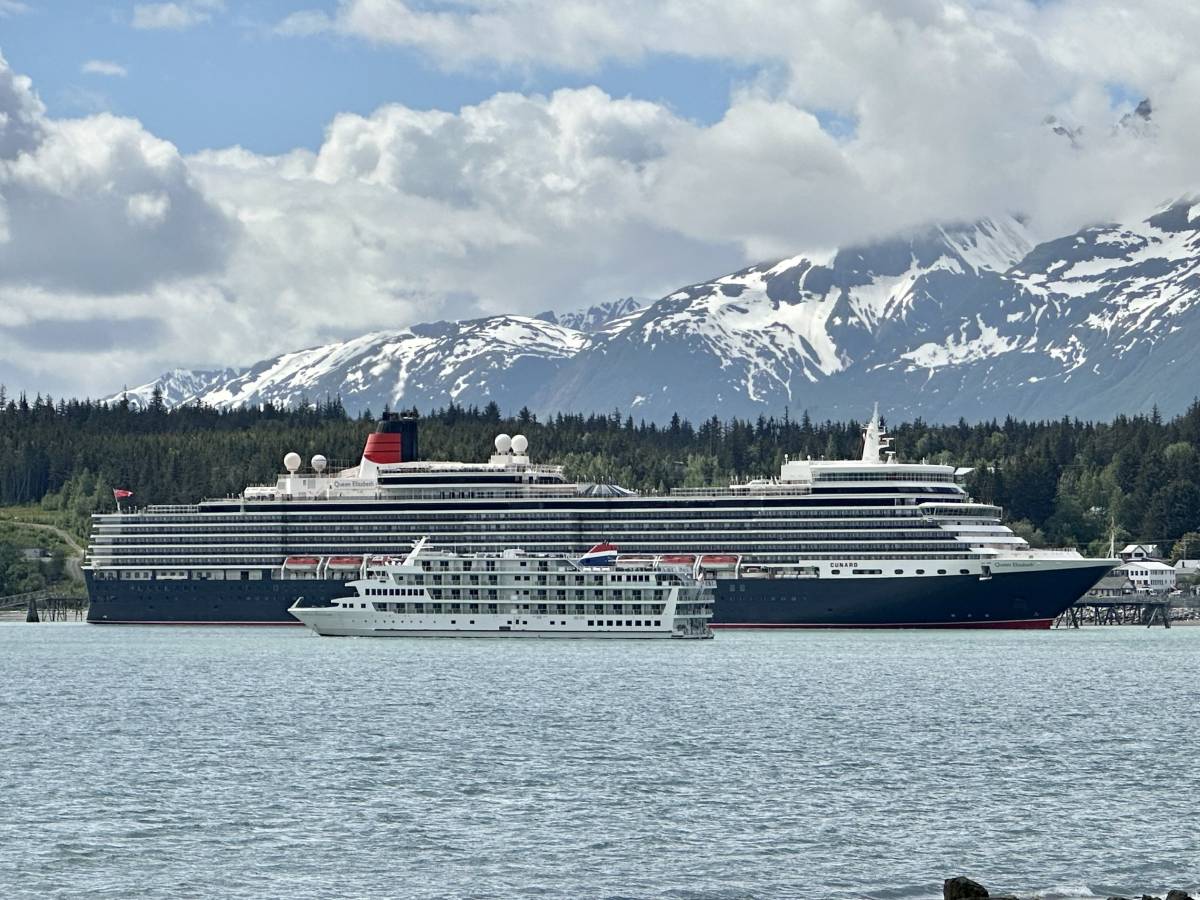 The next stop was the Alaskan town of Sitka which we had visited the week before. It hadn't become any more interesting in the interim. I went to shore for a couple of hours and decided to go into one of the local bars. Ernie's Bar is one of the oldest in Sitka and I got the impression it was the perfect place for locals to meet during the cold winter months.
There was an old guy sitting in a booth called Michael. He was wearing a Korean veteran baseball cap and looked like he was part of the furniture. I sat down and chatted with him. He had lived in Alaska for 56 years and was the self-appointed knower of everything that needed to be known about Sitka. He was 89 years old and had four daughters – two in Wisconsin and two in Alaska. He said that the Alaska daughters put him on a pedestal and he can't get off. He was an amusing chap albeit a little deaf. He asked where I was from and I said London. He said Scotland. I said no, London. He said Southampton. I said no, London. In the end I had to write it down for him.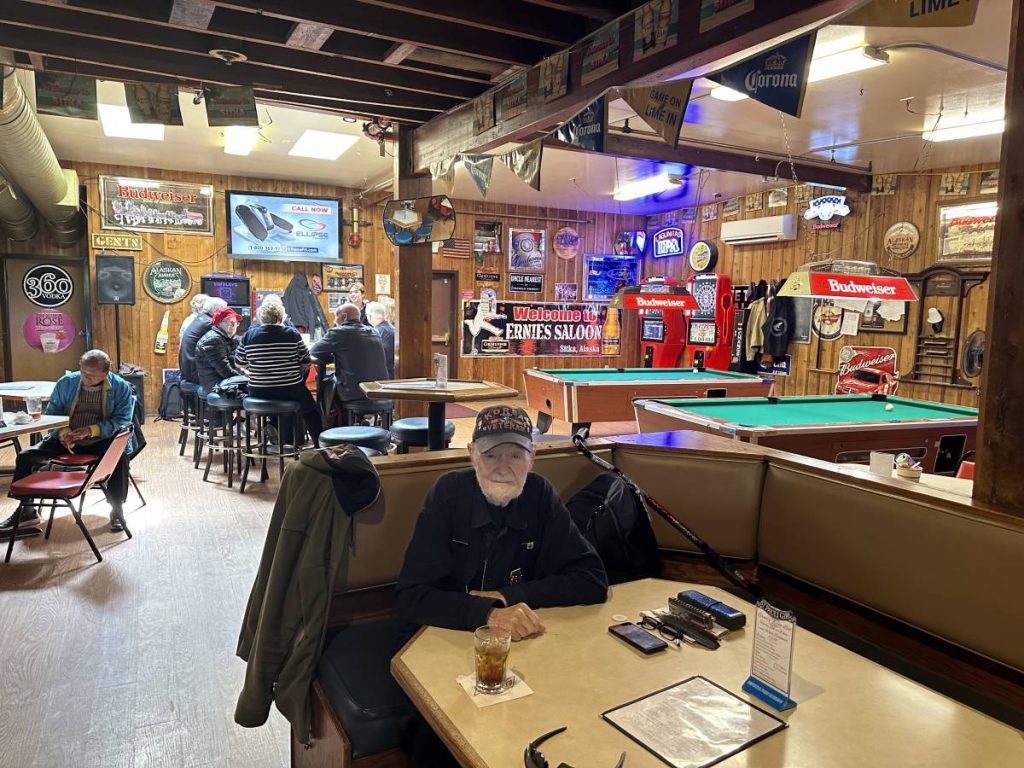 He was in Korea in 1951, which was a little confusing because I'm sure the war they didn't start until 1953. He was in the airborne division and did three combat parachute jumps. He told me the week before in Sitka, a boat had sunk with five people on board. The captain and for tourists. They still haven't found one of the bodies. In a small town like Sitka, that's quite a tragic event.
On Tuesday we arrived in another small town called Haines. There's not a lot going on in Haines, but the backdrop is spectacular. I visited the Hammer Museum which was established in 2002 thanks to one man's passion. He already owned 1,000 hammers, had a wife, two kids and a dog, when his wife said, "something's gotta go". So he opened the hammer museum in town which now has a collection of 2,500 hammers.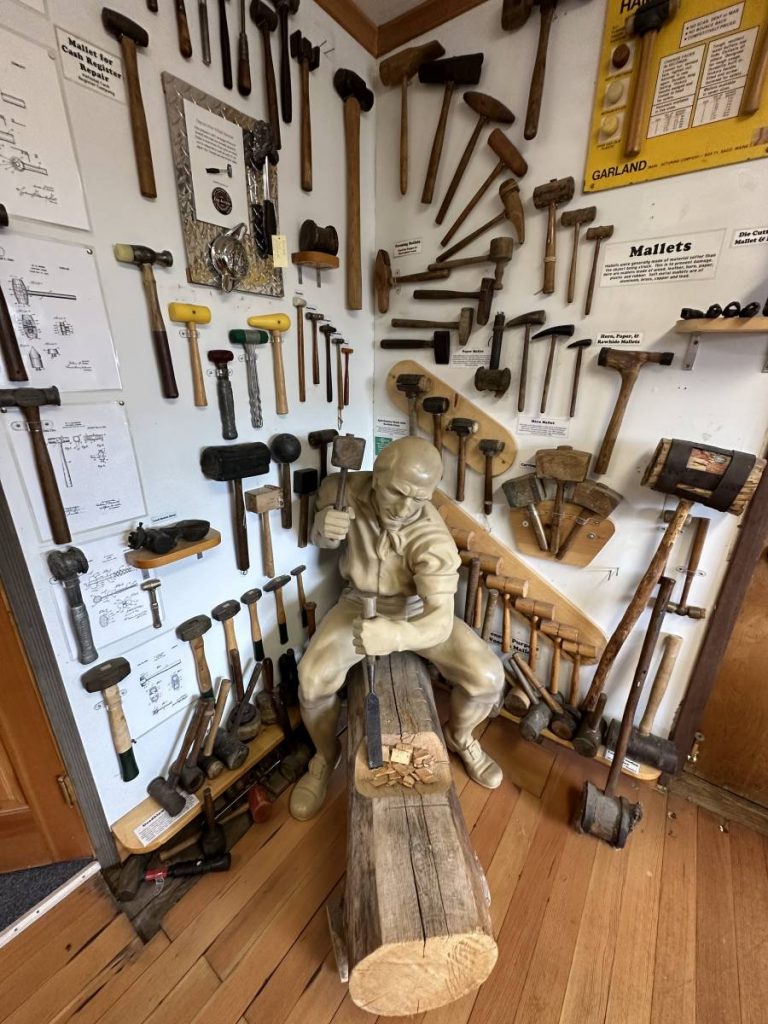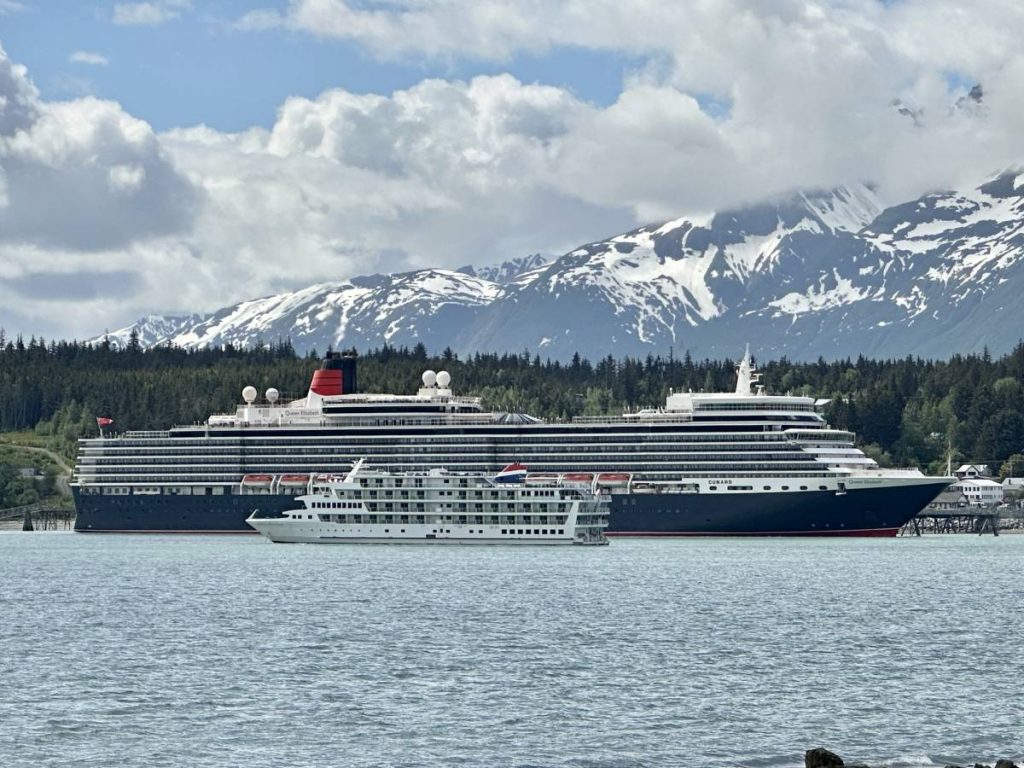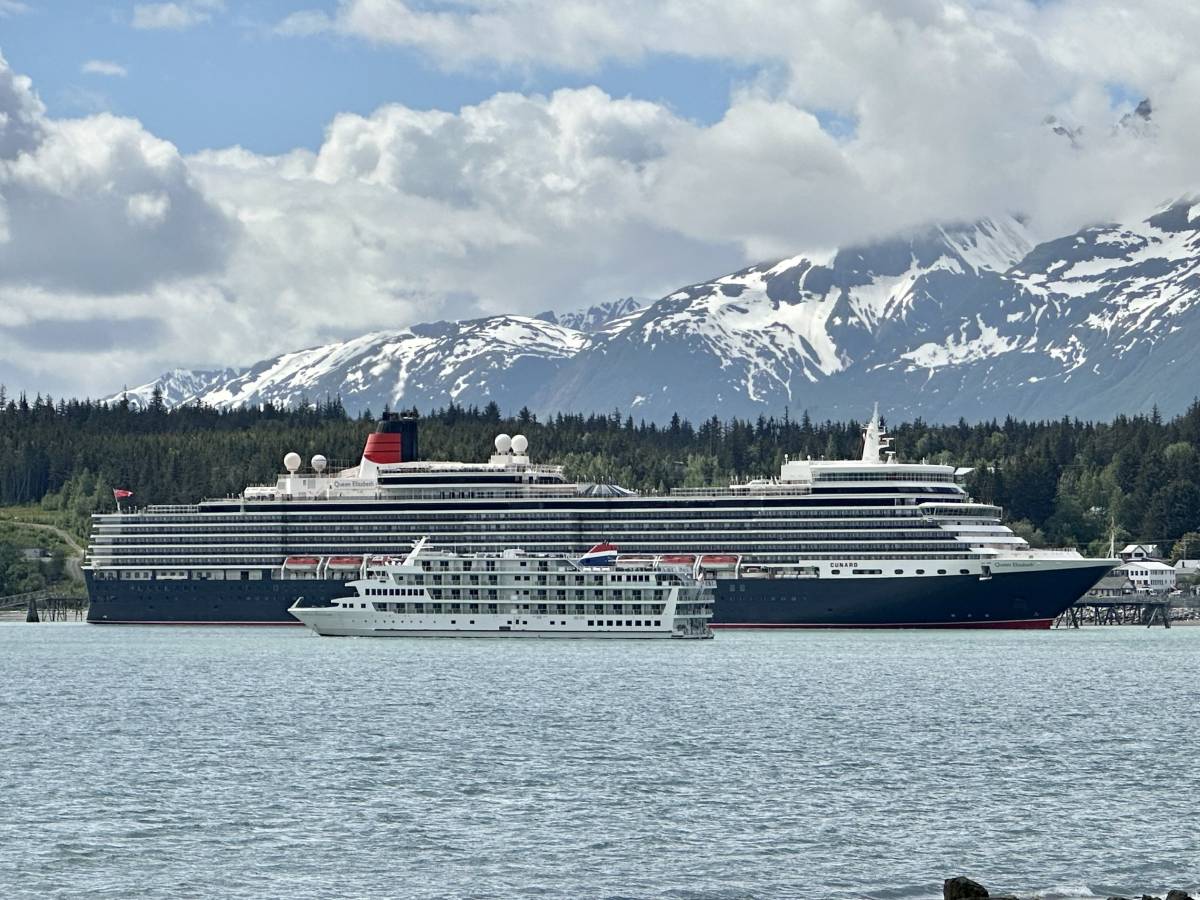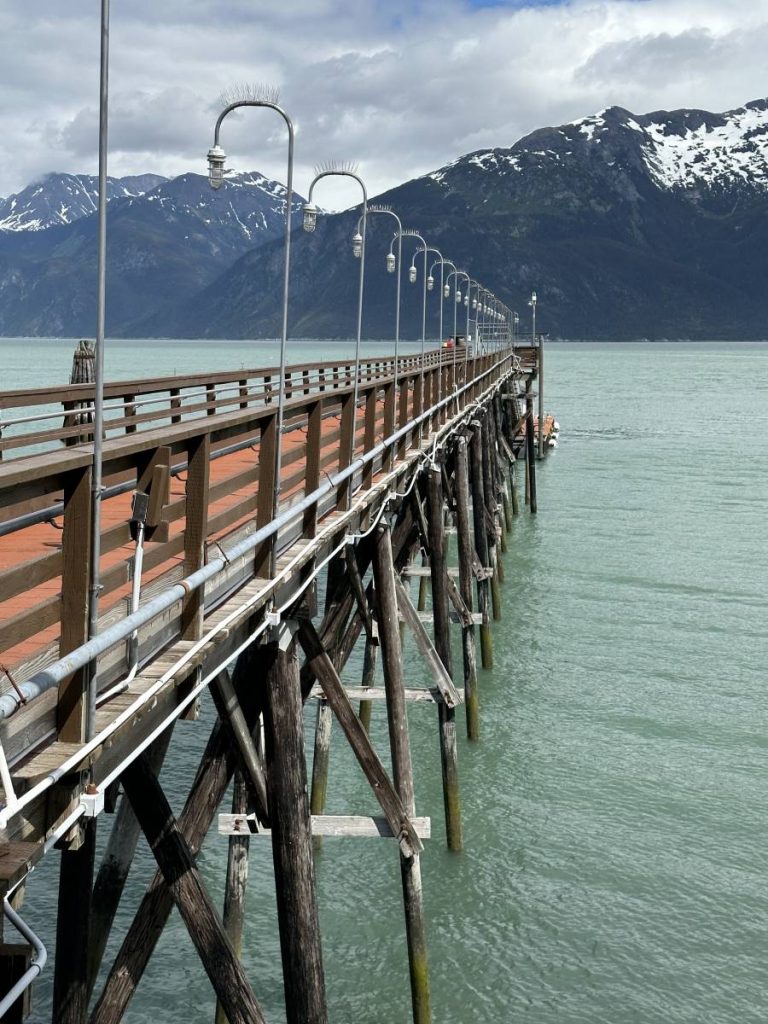 Once hammer time was done there wasn't much else to Haines so I hopped on the 1 pm ferry to Skagway. $82 for a return trip taking 45 minutes each way. Not cheap but the scenery was impressive. Skagway lies at the top of the fjord and can we described as Alaska's Disneyland. There were four cruise ships in port with around 10,000 people.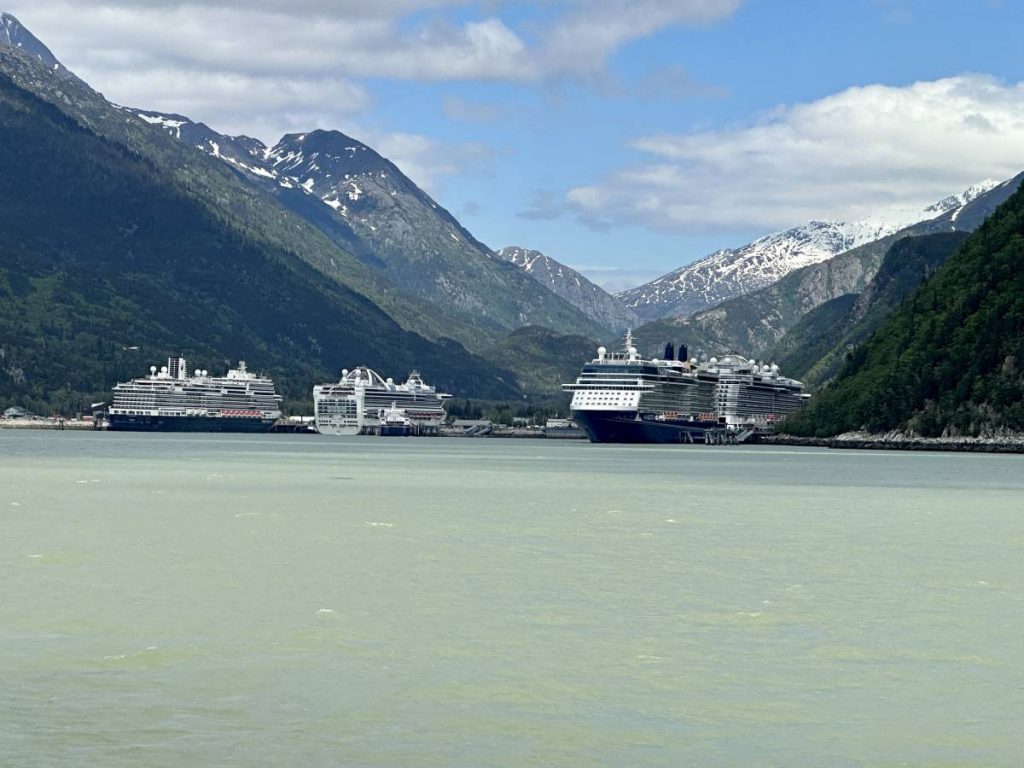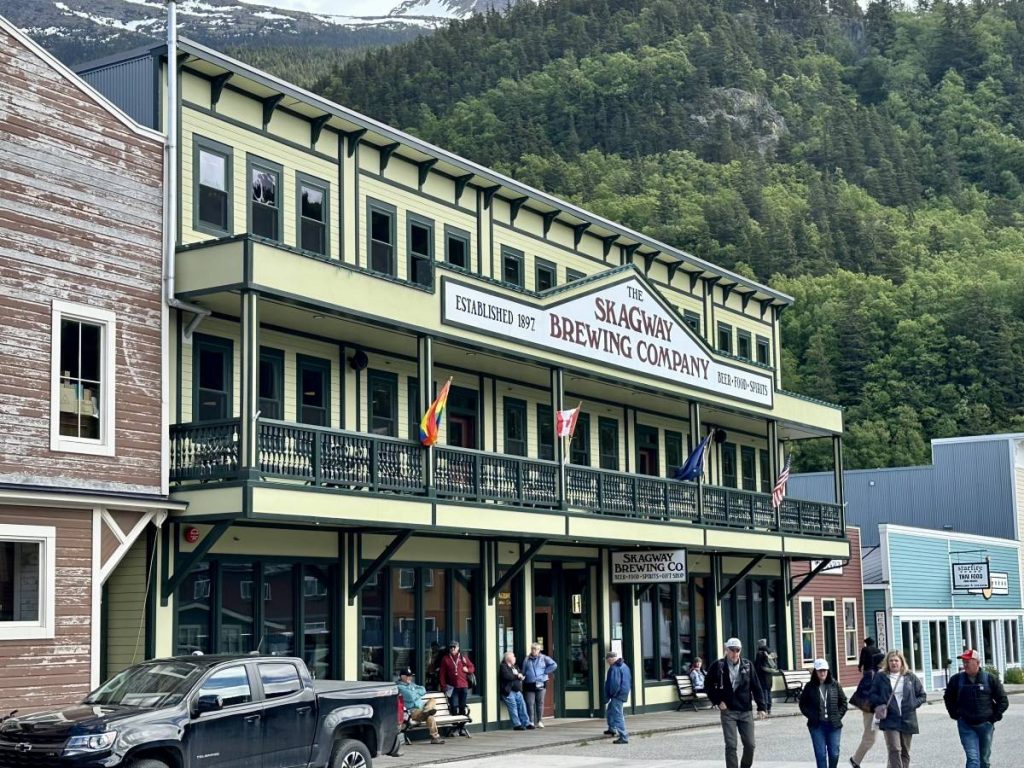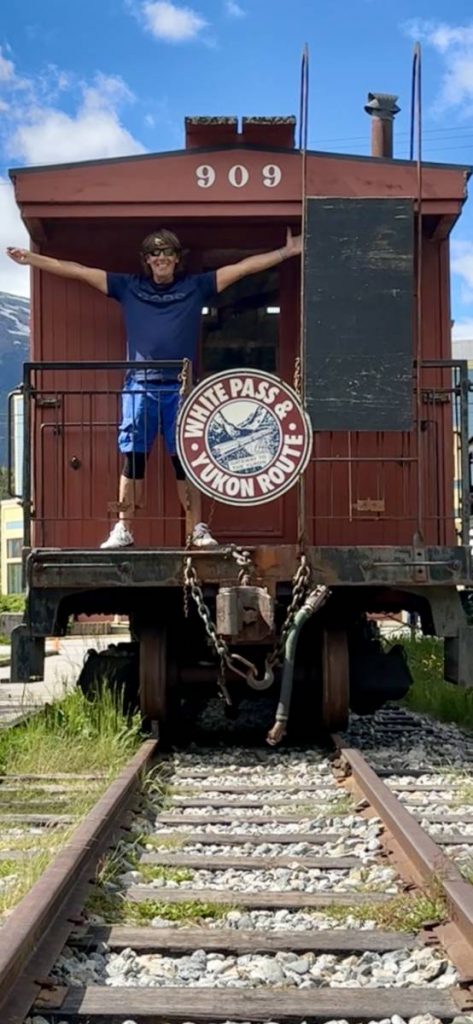 I walked to the town which had lots of building fronts designed to look like the gold rush era. And thousands of Americans who looked like they'd been eating well. I wasn't a fan of Skagway. It wasn't a "real" place. There were some things that may have interested me such as the train ride however, I didn't have enough time and it was rather busy.
Skagway became a boom town when gold was discovered in the Klondike region of Canada in 1896. During a three year period, 100,000 prospectors went in search of gold and Skagway was one of the gateway ports to the Klondike area. Three years later, gold was discovered in Nome which is in western Alaska. The prospectors left the Klondike region and headed there instead. Towns like Skagway and Dawson City started to decline.
The people who live in Alaska look earthy. Lots of wild hair and beards (and that's just the women). There's a Grizzly Adams unkempt look that seems to be common. Some even look like they were born in the wild. Having said that, they do look healthy with all that fresh air.
In the evening as we left the fjord, a JetSki was following us. He seemed very determined as he rode in the ships engine froth. He lasted about 40 minutes before deciding he had better things to do. At one point I thought it might be a passenger who had missed the ship.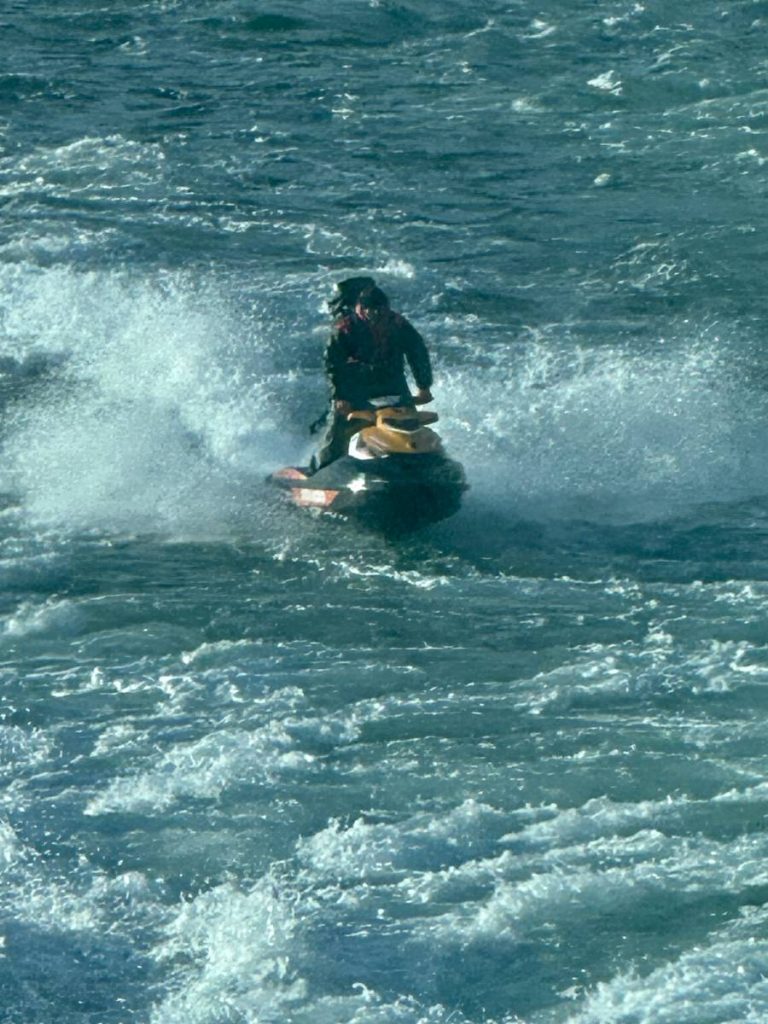 The following day we were back at the Hubbard Glacier and once again the weather was better than expected. We got closer this time as we were the first ship to arrive.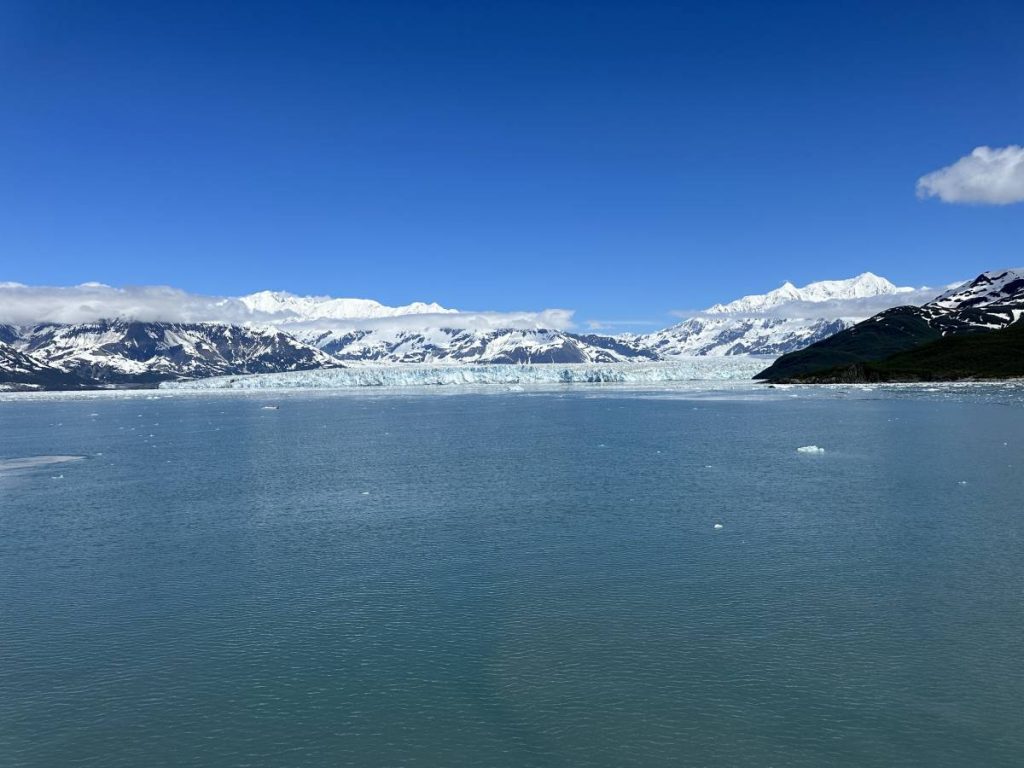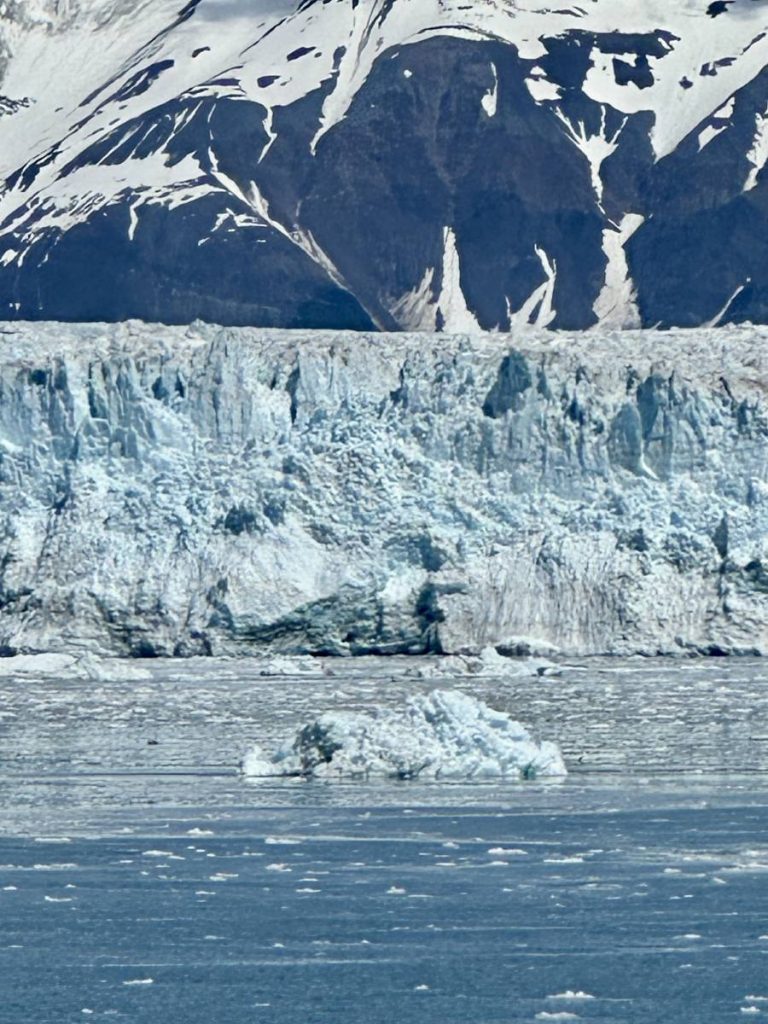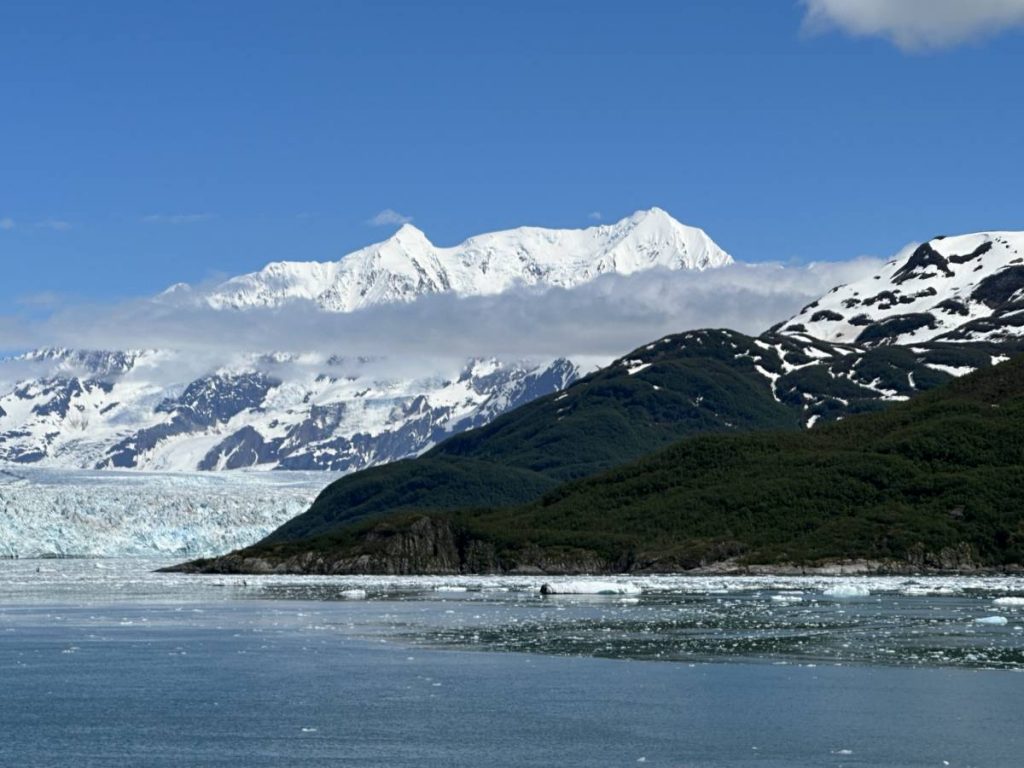 Other than Kiwi Bob's eyebrows, wildlife spotting has been rather absent. All sighting have been "in the distance". A bear a mile away, a humpback whale half a mile away, an otter somewhere over there, a mountain goat on some hill over yonder.
On Thursday the weather was abysmal. We arrived in Juneau which is Alaska's capital, and there were three other ships already docked. Another one was joining later making a total of five. Cunard had lost the docking lottery and we were the only ship using tenders. Tendering for the very first time is a new experience. Any subsequent tendering is a pain in the arse. Loading 200 slow moving folks takes ages. Then we had a seven minute ride to the dock. Then a further 15 minutes getting everyone off. I could have swum it quicker (aside from the cold water and likelihood of hypothermia).
Juneau was heaving but I managed to get a coach tour to the Mendenhall Glacier some twenty minutes away. It's unique as glaciers go, in that you can drive there. The coach was like the United Nations. 60-70% were Indian families with small children. I could have been in Calcutta. I was definitely on the wrong bus!
The glacier was appropriately impressive, but the real star of the show was Nugget Falls. There was a mile walk to these waterfalls and you could get very close indeed. I say close, you could actually have a power shower if needed. I've never seen anything quite like it.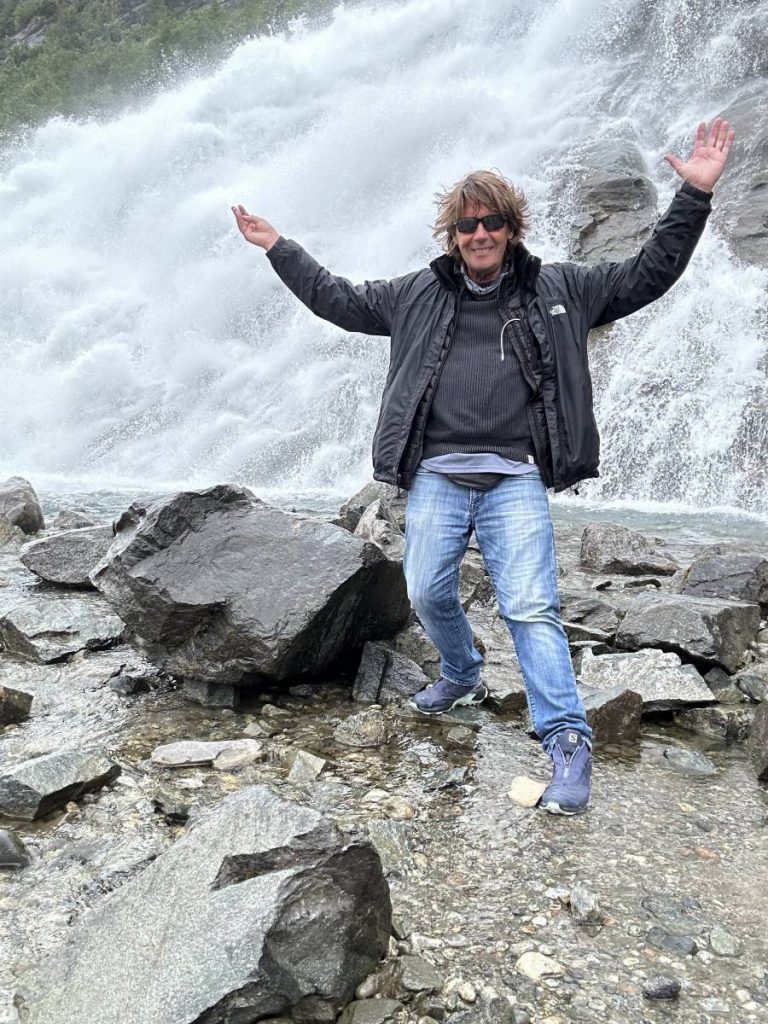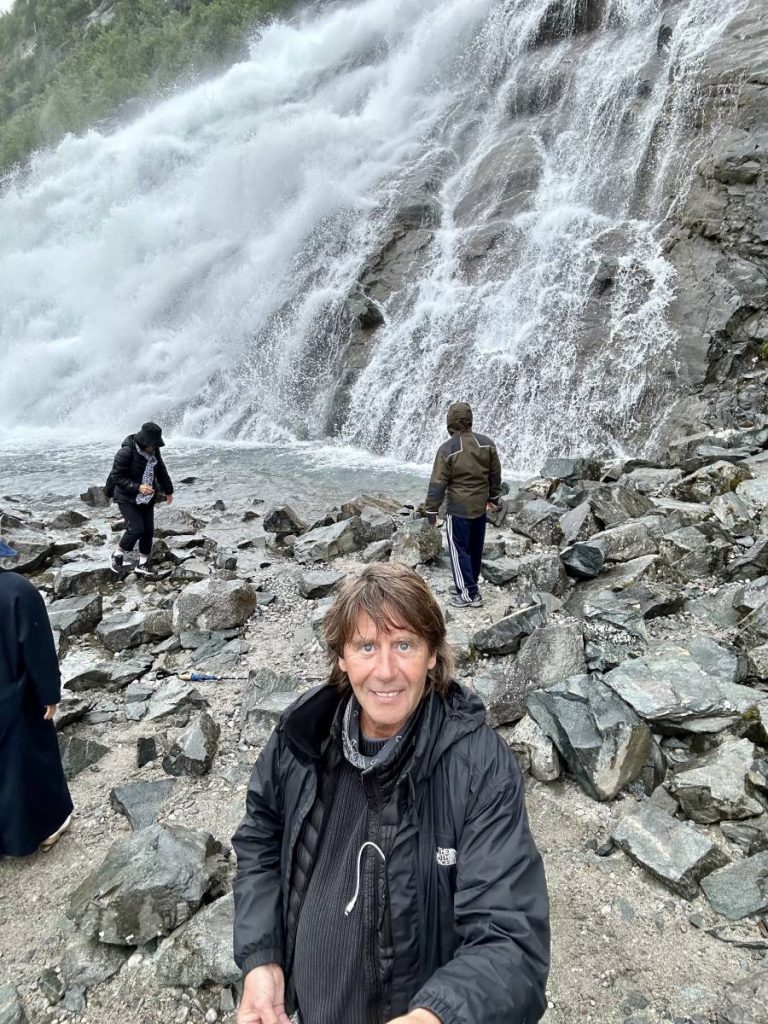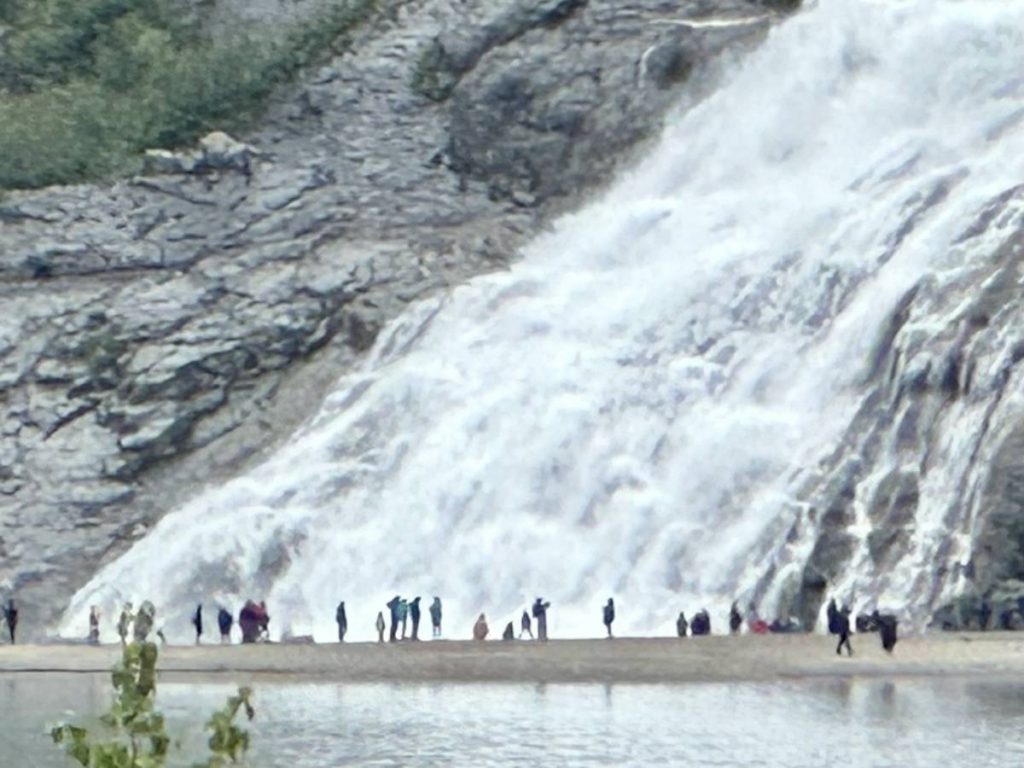 On the return trip I decided to be first on the coach and sit at the front so as to be the first off. These were slow moving people and this had been a day of queueing, waiting, more queueing, more waiting, and the weather was shit. You can probably tell, this wasn't my favourite day. And did I tell you about the hordes of people in Juneau wearing ponchos and carrying umbrellas. Juneau is a tourist town. A chap serving me in the magnet shop said that sometimes they have ten ships in port. If I had been to Juneau before, I would have stayed onboard the ship.
Anyway, enough complaining. Juneau is named after a prospector by the name of Joe Juneau. The naming of the city came down to a vote and Juneau bought everyone in the bar a drink. This secured him the most votes.
Two buildings in Juneau that indicate it's position as the state capital. The governor's mansion built in 1912 for $40,000, and the state capitol building which looks more like an office building. Definitely the least impressive state building I have seen.