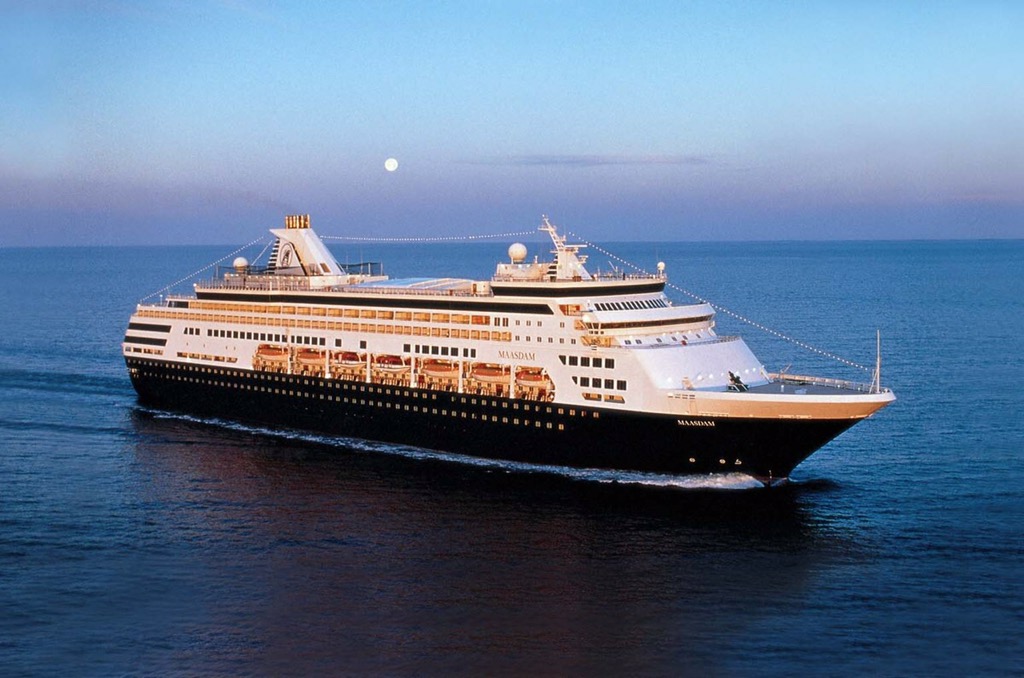 I joined the Maasdam as a 4 Star Mariner which entitles me to half-price wine packages, tender priority and of course the biggest boon of all, free laundry. They'd taken my Swiss Army knife away at security. Apparently they'd changed the rules from allowing a four inch blade to 2 and a half. Mine was three inches. Anyway they gave it back to me once on board.
I was reunited with Susan and Brenda from the Med cruise and also gay David from Australia who I'd spent many a sauna moment with. We left four hours late as we were waiting for the fruit and vegetables to arrive. I'm tempted to make a vegetable joke but I shall resist. Brenda had been on for 25 days and there have been two deaths already – one during dinner and, as you'd expect, most of the diners left the scene. A few remained as the soup was particularly good that night.
The morning keep-fit walk round the deck has got its usual types. The hand-holders, the arm wavers, the professionals, the overdressed, the strollers and of course, my favourites – the clockwise walkers. The couple in question need a mention. Three mornings running they've bucked the "directional" trend and I'm considering making a formal complaint to Holland America head office in Seattle. The male of the species walks ahead of the female and looks like he's been dressed by his mother. White pulled up socks, thigh revealing shorts, pasty white legs and a tucked in t-shirt. A pair of glasses and a constant grin complete the ensemble. Mrs. Tucker walks about ten paces behind Mr. T in a dutiful fashion. Again a tucked in t-shirt and a look of subservience. Early sixties would be my guess.
I'm undefeated in pickleball. Richard and Romero so far – both considerably older than me so I'm not getting too excited about my victories. They found me hitting a ball against the wall and thought I wanted to play with them. In truth, the wall gave me a better game.
We've been accompanied by a Hawaiian troupe during our sail towards Oahu and they've been teaching us some pretty useful life skills such as how to play the ukulele and how to speak Hawaiian. The other morning was another session of how to dance the hula and two dozen hearty sailors volunteered to leave their dignity behind and take part. It was like a scene from One Flew Over The Cuckoos Nest.
We have 1,111 passengers on board (25 Brits) and in Sydney about 800 disembark and 730 new people get on. Our group consists of myself, Susan and Brenda with Gwen, Linda and Pam making up the rest. We've all been dancing the night away in the Crow's Nest bar and I don't think I've ever seen someone dance with such determination as Pam. I reckon she could take out a whole rugby team as she flies round the floor. She says it's been thirty years since she's danced. My guess is she caused some fatalities and was forced to quit. A chap made an inappropriate comment to her the other day. That was his first mistake. I bet he wished he hadn't even got up that day after she'd finished with him.
The sauna scene is quite subdued. David, Maurice (hairdresser pronunciations) and Arthur are all good value.