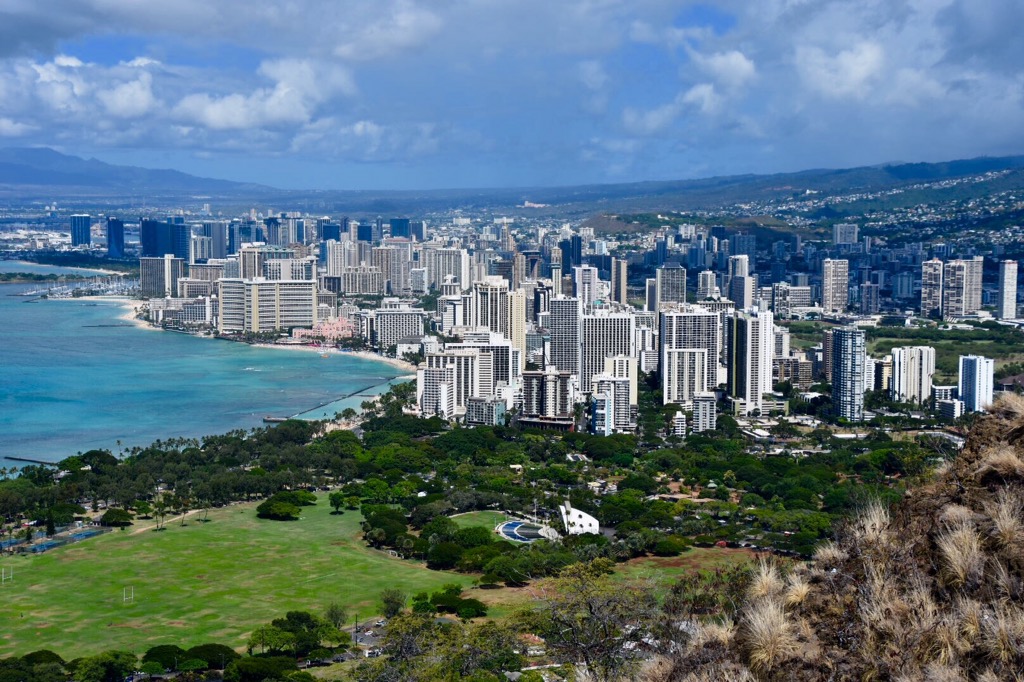 This was my second visit to the Hawaiian Islands and I have a feeling I will come back again to do Big Island and Maui. Also a longer stay in Waikiki would be rather jolly good.
Susan and Brenda thought it would be a good idea to hire a car for our two days in Oahu. They also thought it would be a super idea if I arranged it and a splendid idea if I did the driving. I do like it when those two have a plan. L.A. Linda also joined us in the convertible mustang.
First stop was Diamond Head Crater which is a 90 minute hike providing great views of Waikiki. It was hot out there. Even our eyeballs were sweating. Lots and lots of Japanese tourists; my second favourite tourist type.
The heat and the absence of a roof on the car meant a shopping stop for a hat. As the three ladies disappeared through the doors of Macy's I wondered if I'd brought enough reading material. But my fears were misplaced. Less than ten minutes. An island record!
We drove the coastal road until Susan's desire for food became overwhelming so we stopped at an unpronounceable town on an unpronounceable road for some tucker. After lunch it was onwards to the North Shore famous for huge waves and surfing competitions.
As the sun was dropping we headed back down south towards the Honolulu and Waikiki. Oahu has three interstates names H1, H2 and I forget the other one. It's a little disconcerting driving down a five lane freeway on a remote Pacific island. Then we hit an hour of traffic, which is quite normal, before arriving at Waikiki at dusk. After a pleasant few hours there we ventured back to the ship not knowing where it was or where we could park but we eventually managed both and arrived home at 10:30. A super day.
Hawaii is made up of 8 major islands and the capital, Honolulu is on the island of Oahu. It became the 50th state (hence Hawaii 5-0) on August 21st 1959. The most famous historical event in Oahu's history was of course Pearl Harbor on December 7th 1941. Of the 2,390 people who were killed over 1,000 were never recovered from the USS Arizona which is now a memorial and the centrepiece of any visit. Interesting little factoid: Honolulu has become the first US City to ban texting while crossing the road. I think they could go further with this.
On day two with the mustang I had a 5am start filling the parking meter at 50 cents and hour to avoid being towed. The plan was to find a lookout point and a waterfall and despite failing on both counts, we did find a fabulous road which rose 1700ft into the lush rainforested hills with dozens of switchbacks giving us some fabulous views of Waikiki. We also found an arboretum and as you know, few things get me more excited than an arboretum. We then headed for the west coast of Oahu and were surprised at the number of homeless people that have taken to the beaches with makeshift tents and tarpaulin. If I was going to be homeless anywhere in the US, west coast Oahu would be the perfect spot. Great climate, fabulous beaches and fish.
We returned the car (Enterprise: superb customer service) in the afternoon and were lucky enough to have the most wonderful taxi driver back to the ship. Chinese Andy was possibly the most delightful driver I've had in all my travels. An absolute gem with a beautiful way about him which was chatty, humorous, self-aware, smart, engaged, interested. We all wanted to adopt him and a lovely way to end our two fab days in Oahu.